NFC South:

2014 Hall of Fame
August, 2, 2014
8/02/14
10:05
PM ET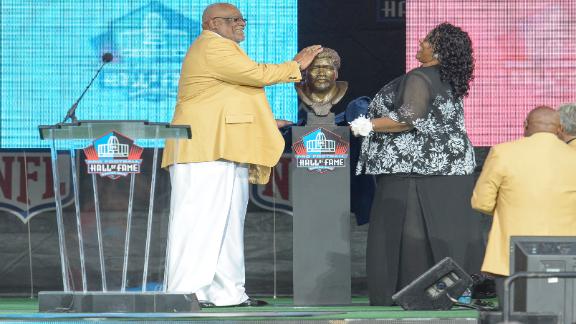 You knew Claude Humphrey's Pro Football Hall of Fame induction speech was going to be one for the ages simply based on the former
Atlanta Falcons
defensive end's opening line.
[+] Enlarge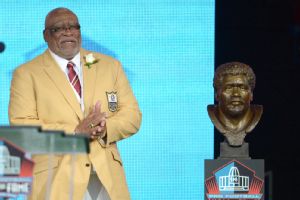 Kirby Lee/USA TODAY SportsFormer Atlanta Falcons and Philadelphia Eagles defensive end Claude Humphrey made his Hall of Fame induction count with an epic speech.
"They told me that I only had 10 minutes up here," he started, "but let me start off by telling you, I've waited almost 30 years to get to this podium. So, don't rush me, guys. I'm going to be here for a minute."
Every second of Humphrey's address was enjoyable, as he recollected about personal tragedy, made mention of overcoming racial barriers and reflected on his storied football career. The Memphis, Tennessee, native even thanked the sports writers for finally voting him into the Hall of Fame after so many unsuccessful attempts.
"I want to pay special recognition to the sports writers, the people who voted for me," Humphrey said. "I know you had a hard time because most of you guys weren't even alive when I played. So I know you worked hard to get me in, and I do appreciate it."
Humphrey, 70, was presented by his oldest daughter, Cheyenne Humphrey-Robinson. He drew the biggest reaction, however, when he called out the youngest of his three daughters.
"She came purely by accident," Humphrey said with a laugh. "… She's been the love of our lives. My wife adored my baby daughter."
The tone changed when Humphrey talked about his late wife, Sandra.
"I've had Sandra in my life until a year ago, when she subsided to ovarian cancer," Humphrey said. "She worked with me, man. I'll tell you: All those years that I was a finalist for the Pro Football Hall of Fame -- and I think it was four times -- every year, my wife worked diligently. She called everybody and talked to people and do everything she could to get [me] in the Pro Football Hall of Fame. And it never worked. And after every campaign, she and I would sit down and cry about it and hug each other. … My wife was a special person."
Humphrey, who recognized a few doctors, noted how he avoided ending his career after tearing ligaments and cartilage in his knee, moving on from Atlanta to Philadelphia and getting to the Super Bowl and finishing his career. He retired briefly before being traded to the Eagles.
As for the Falcons, he managed to interconnect the past and present by acknowledging former Falcons coaches Marion Campbell and Jerry Glanville, then acknowledging team owner Arthur Blank and current general manager Thomas Dimitroff.
Humphrey made it to the Hall of Fame by recording 122 career sacks before sacks officially became a statistic. On Saturday, he was able to corral the moment.
August, 2, 2014
8/02/14
8:36
PM ET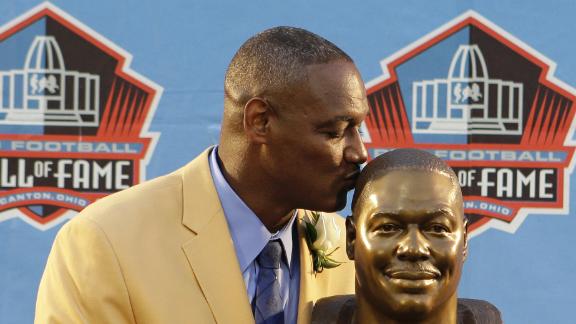 In his 24-minute Pro Football Hall of Fame induction speech, Derrick Brooks thanked dozens of people from every stage of his career.
There were plenty of emotional moments, but one stood out to me: when Brooks thanked the late Lee Roy Selmon, the first draft pick and the first Hall of Famer in the history of the
Tampa Bay Buccaneers
.
"Lee Roy set the standard, and we're just trying to walk the path he set for us," Brooks said.
Selmon was much more than a football player. He was elegant, classy and heavily involved in the Tampa Bay community long after his playing days were over. Selmon left this world too soon, and he left a void in Tampa Bay.
But now that void is being filled. Brooks is as close to Selmon as you can get. Of course, Brooks was a tremendous football player. But, like Selmon, Brooks is so much more. Brooks now is the biggest icon in the Tampa Bay region, but he wouldn't like hearing that. That's because Brooks is especially humble.
That was best demonstrated when Brooks asked all his Buccaneers teammates who made the trip to Canton, Ohio, to stand and be recognized.
"Please stand up and let me bow and salute you guys," Brooks said.
Brooks had plenty of help. But, perhaps more than anyone, Brooks was responsible for turning around a dismal franchise.
"The Tampa Bay Buccaneers [were] the team that invented losing," said ESPN's Chris Berman, who served as the master of ceremonies.
Brooks was drafted in 1995 by a team that hadn't had a winning season since 1982. Joining forces with coach Tony Dungy and teammates such as Warren Sapp, Hardy Nickerson, John Lynch and Ronde Barber, Brooks ushered in the most successful era in franchise history. The Bucs became regular playoff contenders and, eventually, Super Bowl champions.
Brooks last played in 2008, but he's more visible than ever. Brooks founded a high school in Tampa, does all sorts of charity work and works as the president of the Tampa Bay Storm.
"As a servant leader, I just want to do the best I can to make something better when I come into touch with it," Brooks said.
Brooks always has made the things he comes into contact with better. Selmon started that path, but now it's Brooks' turn to follow in the footsteps.
February, 1, 2014
2/01/14
7:30
PM ET
Former
New Orleans Saints
kicker
Morten Andersen
wasn't selected for the Pro Football Hall of Fame on Saturday. Although he was one of 15 finalists for enshrinement, Andersen was one of the first five candidates eliminated when the panel of 46 selectors trimmed the list down to 10.
This was Andersen's second year of eligibility. He at least made some progress after failing to make the list of 15 finalists as a "rookie" last year.
It's tough to predict whether Andersen will ever get over the hump. He certainly has impressive credentials as the leading scorer in NFL history and the league's all-time leader in games played over 25 seasons with the Saints,
Atlanta Falcons
,
New York Giants
,
Kansas City Chiefs
and
Minnesota Vikings
.
However, it's obviously tough for a kicker to kick down the door to Canton, Ohio. Only one true kicker is in the Pro Football Hall of Fame -- Jan Stenerud -- and he was enshrined 23 years ago.
Andersen said earlier this week that it would be "awesome" to make the Hall of Fame, not only for himself and those who helped him along the way, but for the entire fraternity of kickers and punters whom
he believes are under-represented
.
So Andersen probably took some solace in the fact that punter Ray Guy finally became the first punter selected for the Hall of Fame on Saturday as a senior candidate.
The seven members selected for Hall enshrinement were defensive back Aeneas Williams (a New Orleans native), linebacker Derrick Brooks, offensive tackle Walter Jones, receiver Andre Reed, defensive end Michael Strahan and senior candidates Guy and Claude Humphrey.
The five other finalists who made it past the first cut were running back Jerome Bettis, linebacker/end Kevin Greene, defensive end Charles Haley, receiver Marvin Harrison and guard Will Shields.
And the five who missed the first cut were Andersen, receiver Tim Brown, owner Eddie DeBartolo, coach Tony Dungy and safety John Lynch.
February, 1, 2014
2/01/14
7:30
PM ET
In a league that shines the spotlight on individual achievements, former
Carolina Panthers
outside linebacker Kevin Greene was shunned for his -- once again.
Greene on Saturday failed for the third straight year to make the cut from the final 15 to selection into the Pro Football Hall of Fame.
A veteran of 15 seasons with the Los Angeles Rams,
Pittsburgh Steelers
,
San Francisco 49ers
and Panthers, the five-time Pro Bowler remains the only player among the top four in the NFL in sacks not in the league's shrine.
No. 1 Bruce Smith (200 sacks), No. 2 Reggie White (198) and No. 4 Chris Doleman (150.5) already are in.
Greene had 160, 41.5 with Carolina (1996, 1998-1999) where he ended his career in 1999.
Some argue Greene was a one-trick pony, that he collected his sacks playing outside linebacker in a 3-4 scheme. Some argue he wasn't a great all-around defensive player.
That is sort of like saying Dominique Wilkins was a great dunker, but he shouldn't be in the basketball hall of fame because he wasn't great on defense.
Or that Denver quarterback
Peyton Manning
throws a lot of touchdown passes and wins a lot of games, but he's not much of a runner.
Green played in six conference championship games and one Super Bowl. He helped Green Bay win a Super Bowl as an outside linebackers coach, a position from which he recently resigned to spend more time with his family.
Teams he's been around have been better because of the pressure he put on some of the greatest quarterbacks to play the game.
"I guess it wouldn't be such a letdown if I knew my stats and my production didn't match up to those that are going in or have gone in," Greene told me this week as he tempered his hopes of making the Hall.
"The Hall of Fame voters, if they would look at my entire body of work, how I played, maybe they'll see fit to put me in. ... commitment, passion, study habits, workout habits ... everything I did I think I did it the right way."
Greene will make it one day. In a league where individual accomplishments are glorified, it only makes sense.
February, 1, 2014
2/01/14
7:30
PM ET
Morten Andersen
said it was time for fellow kicker Jan Stenerud to have company in the Pro Football Hall of Fame.
Unfortunately, Andersen won't be joining Stenerud just yet.
The former
Atlanta Falcons
kicker was not voted into the Hall of Fame on Sunday after being announced as one of 15 modern-day finalists. He failed to survive the Saturday-afternoon cut from 15 to 10 finalists in this, his second year of eligibility.
However, the Falcons did have a representative in the group. Defensive end Claude Humphrey was elected into the Hall of Fame as a senior nominee. He received the necessary 80 percent of the vote.
Humphrey was an All-Pro five times -- four times with the Falcons -- and was selected to six Pro Bowls during his 14-year career. Although sacks didn't become an official stat until 1982 after Humphrey retired, he still was credited with 122 sacks.
Humphrey, the defensive rookie of the year in 1968 after being the third-overall pick from Tennessee State, certainly deserved the honor.
As for Andersen, an All-Pro during his first year with the Falcons in 1995, he played the majority of his career with the
New Orleans Saints
, but had two stints with the Falcons. He finished his 25-year career in Atlanta back in 2007.
Andersen no doubt deserved strong consideration. The Denmark-born journeyman is the NFL's all-time leading scorer with 2,544 points. But, as Andersen noted in a recent interview with ESPN.com's Mike Triplett, it's hard for kickers to get such recognition. Stenerud was the last true kicker to be enshrined, in 1991.
The fact that Andersen kicked at such a high level for such a long time -- he was named to two All-Decade teams -- shouldn't be overlooked. He converted 565 of 709 field goal attempts, and led his team in scoring 22 times.
At the same time, he wasn't a perennial All-Pro, and had a handful of mediocre seasons.
Defensive end/linebacker Chris Doleman is the last former Falcon to be inducted into the Hall of Fame, back in 2012. With the addition of Humphrey, the Falcons now have five in the Hall of Fame: Deion Sanders, Eric Dickerson, Tommy McDonald, Doleman, and Humphrey.
Maybe Andersen will be next.
February, 1, 2014
2/01/14
7:12
PM ET
TAMPA, Fla. -- When I voted (as an alternate) for Warren Sapp as a candidate for the Professional Football Hall of Fame, I did so unenthusiastically.
Don't get me wrong -- I thought Sapp was a Hall of Fame football player. I just didn't think of him as a Hall of Fame person. I had covered Sapp in his early years with the
Tampa Bay Buccaneers
when I worked for The Tampa Tribune and had seen plenty of boorish behavior out of him. But the Hall of Fame rules state that the only thing that matters is what a player did on the field.
Sapp made the Hall of Fame and he deserved it, but I didn't feel any joy when he was elected. It's completely different this year with Derrick Brooks getting selected the first time he was on the ballot.
Brooks and Sapp were the cornerstones of Tampa Bay's turnaround from a doormat to a regular playoff contender. They were best friends. But they're as different as two people can be.
Brooks is a Hall of Fame person. Through his lengthy career and since then, Brooks always has carried himself with class and dignity. I'm genuinely happy for Brooks.
I would have been even happier if former Buccaneers coach Tony Dungy and safety John Lynch, two other guys who were great on and off the field, were selected along with Brooks. But Dungy and Lynch came up short in the balloting this year. I think both have a good shot to get in at some point.
But this is about Brooks. Following Sapp and the late Lee Roy Selmon, Brooks is only the third player who spend the majority of his career with the Bucs to make the Hall of Fame. He'll also join them in the team's Ring of Honor, and probably have his jersey (No. 55) retired.
For years, Selmon was the standard when it came to talking about the best player in franchise history. Plus, Selmon was as great off the field as he was on it. Sapp entered the argument for best player in franchise history when he went into the Hall of Fame last year. But even die-hard Tampa Bay fans were lukewarm with their feelings about Sapp -- the person -- because they'd seen or heard about his moodiness.
There are countless stories about Sapp blasting fans who had the nerve to approach him in public. There are almost as many stories about Brooks stepping in and preventing what could have been uglier scenes.
When Brooks and Sapp were in their heyday, they often went out to dinner together. Brooks knew how to read his friend's mood, which often was far from welcoming. On those occasions, Brooks would politely intercept fans and tell them, "This isn't a good time."
But Saturday's selection of Brooks to the Hall of Fame marks a great time for Tampa Bay and fans of the Bucs. There are no bittersweet feelings about Brooks in Tampa Bay. There's only adoration for a guy who firmly proved good things can happen to good people.
January, 30, 2014
1/30/14
12:00
PM ET
CHARLOTTE, N.C. -- The door opened to a room adjacent to the
Carolina Panthers
locker room. Standing there was an imposing figure with long blond hair. He ushered me in and then put one hand in the chest of the team's communications director, a not-so-subtle hint that he should wait outside.
The door was closed. Locked. The shades were pulled.
My heart raced.
I wondered if this man that eventually would sack more quarterbacks than anybody in NFL history not named
Bruce Smith
and
Reggie White
was going to zero in on me.
Instead, he sat down and apologized.
Former Carolina outside linebacker
Kevin Greene
is one of 15 finalists for the Pro Football Hall of Fame. When I thought of memories from his three seasons with the Panthers, this one stood out.
Not because he apologized. But because it showed the great passion that epitomized his career that began in 1985 with the then-Los Angeles Rams and ended in 1999 with the Panthers.
Greene laughed about that moment when we walked earlier in the week. He again apologized if he had offended me.
If you're wondering why he apologized on this day in 1996, it was over a locker room confrontation we had the day before. He didn't want to talk about his first meeting against the
Pittsburgh Steelers
since leaving the team in free agency, and let me know it in a loud way.
When I think of Greene, I think of loud. I think of passion. It's what made him so relentless at getting to the quarterback 160 times, which trails Smith with 200 and White with 198.
Forty-one and a half of those sacks came at Carolina. He had a league-best 14.5 in 1996, teaming with
Lamar Lathon
(13.5 sacks) to lead the Panthers to the NFC championship in the organization's second season.
That same passion is what led to Greene being released by Carolina following the 1996 season after a lengthy contract dispute, what led him to return in 1998 after a year with San Francisco to lead the team in sacks with 15, what led to him to be suspended for a game during the '98 season for attacking an assistant coach on the sideline.
"One of the reasons Kevin is a good player is that he is an emotional guy,'' then-Carolina coach Dom Capers said after Greene attacked assistant Kevin Steele. "But [he] hew he was wrong.''
He did. Greene was almost in tears apologizing after the game.
"I lost my composure in the heat of the moment," Greene said at the time. "It's an emotional game and I will apologize to the entire team tomorrow."
Capers knew that emotion and passion is what made Greene special and at the same time seem . . . well, out there, which may explain his brief career as a professional wrestler.
It's why in 2009, as the defensive coordinator of the
Green Bay Packers
, Capers made Greene his outside linebackers coach.
It may be why Greene, without warning, recently left the Packers to pursue other opportunities and focus on his two children.
That Greene did this somewhat spontaneously shouldn't come as a surprise. Emotional and passionate people often make spontaneous decisions.
They often say and do things that they later come back and apologize for.
But that same passion is why Greene had a career that makes him worthy of serious Hall of Fame consideration.
He owes nobody an apology for that.
January, 29, 2014
1/29/14
1:33
PM ET
Of all the plays that former Tampa Bay safety
John Lynch
made during his lengthy NFL career, one stands out to me.
Lynch's signature moment came in a 1997 game against the
Chicago Bears
. Lynch already was developing a reputation as a fierce hitter, but that was forever cemented on that day.
Lynch put a vicious hit on
John Allred
and knocked the Chicago tight end out. It's important to note here that Allred is Lynch's brother-in-law. Lynch's wife, Linda, later would joke that if she was a receiver her husband wouldn't hesitate to tackle her. She might not have been exaggerating.
The thing that Lynch did best on a football field was tackle people. The strong safety was one of the hardest hitters of his generation and that's part of the reason he's a finalist for the Pro Football Hall of Fame (the voting will be conducted Saturday).
But there's irony in the fact that Lynch is best known for his vicious hits. He might have been a terror on the field. But, off it, Lynch quite possibly was the nicest and most refined player I've ever covered. He always had time for the media and gave insightful answers.
I remember asking Lynch at the Pro Bowl one year about the contradiction between his personality on the field and off it. Lynch basically said there was a switch he flipped when he walked onto the field.
That switch worked quite nicely as Lynch was a cornerstone of one of the best defenses of its era.
Is Lynch a Hall of Famer? I think he's got a chance to get there. It might be tough this year because the class is strong and it isn't easy for safeties to get in. But at some point down the road, I think voters will flip the switch and Lynch will be selected to the Hall of Fame.
January, 29, 2014
1/29/14
8:31
AM ET
When I first encountered Tony Dungy, I didn't think he was going to make it as an NFL head coach. Now, he's a finalist for the Pro Football Hall of Fame.
So what changed about Dungy? Absolutely nothing. He stuck to his philosophy, no matter what. At times, he bordered on being stubborn, but that turned out to be part of the key to his success.
Let's flash back to when Dungy first became the head coach of the
Tampa Bay Buccaneers
. It was the 1996 season and I was covering the Bucs for The Tampa Tribune.
The season started badly for Dungy and the Bucs. They went 0-5 and I remember thinking that Dungy was a very nice guy, but didn't know what he was doing. His defense wasn't clicking and his offense was terrible.
But Dungy stuck to his core beliefs and, all of the sudden, everything changed. The Bucs got a win against the
Minnesota Vikings
, the team Dungy previously had worked for as the defensive coordinator. You started to see signs of hope as the Bucs finished the season on an upswing.
The next season, Dungy had the Bucs in the playoffs for the first time in a generation. The rest is history. Dungy made the Bucs into a regular playoff contender and won a lot of games. Those were good days in Tampa Bay, but they didn't last forever.
Largely due to a stagnant offense, Dungy was fired after the 2001 season and Jon Gruden came in and won the Super Bowl. Dungy landed quickly on his feet with the
Indianapolis Colts
and eventually led that franchise to one Super Bowl.
As the Hall of Fame voters debate Dungy's candidacy, some detractors will point to the fact he won only one Super Bowl despite having a great defense in Tampa Bay and
Peyton Manning
in Indianapolis. Those are valid points.
I don't know if Dungy will get in during his first year of eligibility. But I still think he belongs in the Hall of Fame at some point. His record in Indianapolis speaks for itself. His time in Tampa Bay was long ago, but people should remember how Dungy turned around a franchise that had been having hard times for a long time.
January, 29, 2014
1/29/14
8:00
AM ET
Morten Andersen
said it would be "awesome" to be selected for the Pro Football Hall of Fame on Saturday. Not just for himself and those who helped him along the way -- but for the entire kicker fraternity.
Andersen, who spent the majority of his 25-year career kicking for the
New Orleans Saints
and
Atlanta Falcons
, said this week that he's also rooting for fellow finalist Ray Guy to become the first punter enshrined.
[+] Enlarge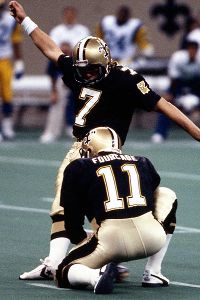 AP Photo/NFL PhotosKicker Morten Andersen is the NFL's all-time leader in points (2,544) and games played (382).
"I think it's due time for a kicker or punter to get into the Hall so Jan Stenerud has some company," Andersen said -- referring to the only true kicker in Canton -- who was enshrined 23 years ago.
"I think the time is right," Andersen said. "I think kickers have been at the forefront for the last number of years, playing at a high level. More games than ever are being decided by three points or less. The position is relevant.
"And it's being talked about. These guys are getting so good that we have to change the rules."
Andersen referenced a handful of rules "tweaks" in recent years, as well as the growing talk about possibly eliminating the extra point -- which, by the way, he is not in favor of. ("That's like messing with apple pie and Chevrolet," Andersen said. "Make it longer maybe, but I just don't think you abolish it.")
"The most important thing," Andersen said of his Hall of Fame hopes -- whether it be himself or Guy or Gary Anderson or
Adam Vinatieri
or someone else kicking down the door, "I want to recognize the position in the context of the history of the game. (Kickers in recent generations) have made a significant contribution and also changed the way the position was viewed.
"I think you can make that argument for Ray Guy. I won't say whether you can make that argument for me -- I'll let you decide. But I think there are several guys who have."
It's not hard to make that argument for Andersen.
The "Great Dane," who came to the NFL by way of his native Denmark and Michigan State, is the NFL's all-time leading scorer with 2,544 points and the league's all-time leader with 382 games played. Andersen scored at least one point in 360 consecutive games -- which is the most in NFL history by nearly 100 games. He was a member of the NFL's all-decade team for both the 1980s and 1990s, a seven-time Pro Bowler and a five-time All-Pro.
Andersen is the leading scorer in both Saints and Falcons history. He was a go-to guy for coaches like Bum Phillips, Jim Mora and Dan Reeves. He was on four Saints playoff teams, and kicked the Falcons into the Super Bowl in 1999 with a 38-yard field goal in overtime of the NFC Championship Game against the
Minnesota Vikings
. Andersen also spent time with the
New York Giants
,
Kansas City Chiefs
and Minnesota Vikings.
And he wasn't just a "compiler." He had one of the game's strongest legs. He set then-records for most 50-yard field goals in a season (eight in 1995) and a career (40).
Andersen's biggest hurdle to Hall enshrinement is probably his accuracy. He was good in that department, but not elite (79.7 percent for his career). That is probably why he didn't make the list of 15 finalists last year in his first year of eligibility. But he's making progress, having cracked the final 15 in Year 2.
When asked what he is most proud of in his career, Andersen said, "I would say consistency over a long period of time."
"Scoring in 360 consecutive games, when the next guy (at the time) had 180-some games, that's sort of a record no one ever talks about. But it's significant. That's a lot of games," Andersen said. "Just the high level of consistency over a quarter-century, that's what I'm most proud of. And then being able to deliver big kicks when they counted, when the game was on the line."
Andersen said he never envisioned a 25-year career when he started out. In fact, he wasn't sure he'd make it past Year 1 after he suffered an ankle injury during his opening kickoff with the Saints as a rookie in 1982. And he only made 2 of 5 field-goal attempts in that strike-shortened season.
"I'm just very fortunate that Bum Phillips gave me a chance to stay around for a couple years," Andersen said. "It didn't start out too well."
Andersen spent his first 13 NFL seasons in New Orleans after arriving as a fourth-round draft pick. Then he spent a total of eight seasons in Atlanta in two different stints with the Falcons.
He now lives north of Atlanta, where he started an international consulting company and remains heavily involved in charity work. But Andersen also still has strong ties to New Orleans. In fact, he'll be in New York for the Super Bowl this weekend, representing New Orleans for the third straight year in the annual Taste of the NFL charity event, along with Commander's Palace chef Tory McPhail.
It's hard for Saints and Falcons fans to imagine that anyone could have such a close bond with both rival franchises. And of course, Andersen has been asked often over the years whom he would represent if he had to choose one in the Hall of Fame. Luckily for him, that is not a concern since there is no helmet on the Hall of Fame busts.
"It would be a nice bridge to cross if I ever get to it. I'll just say that," Andersen said. "But I think most of my body of work was in New Orleans, my formative years were there. I would be hard-pressed not to look at that. ...
"Just being a part of that culture and that team, I realized that no one is bigger than the game. Those fans are so die-hard down there, it's almost like a religious experience, how the people loved the team down there. And becoming a part of a community and working with places like Children's Hospital, you understand what a huge platform you have."
Both cities will celebrate Andersen's induction if it happens. But perhaps neither city will be as proud as his native Denmark.
"Oh, absolutely, they're keeping a close eye, I can tell you that," Andersen said. "It would be front-page news."
January, 27, 2014
1/27/14
10:00
AM ET
TAMPA, Fla. -- In his office at the Tampa Bay Storm's headquarters last week,
Derrick Brooks
looked the part of a successful president of an Arena Football League team. He also looked as though he could still go out and play linebacker in the National Football League.
But something was different about the Brooks of past week and the one I've known since he entered the NFL in 1995. I couldn't quite put my finger on it until I asked Brooks if he was nervous about being a finalist for the Pro Football Hall of Fame. The Class of 2014 will be selected Saturday and Brooks, who played 14 seasons for the
Tampa Bay Buccaneers
, is on the ballot for the first time.
"I must admit I think about it every day," Brooks said. "There's a nervous energy about it. It's kind of like the feeling you get before you play a game. But here's the difference: If I'm playing a game, I know I can do something about it and I have a say in it. This situation here, you don't have any say in it.
"The résumé has been written. My career is what it is. If I could write the next chapter, I'd be going in with this class. But the nervousness about it is you just don't know. It's human beings making a vote and there's no guarantee of anything."
[+] Enlarge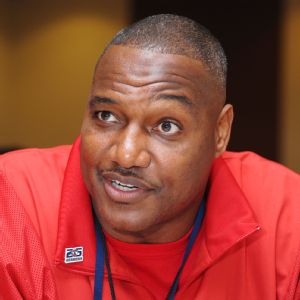 Kirby Lee/Image of Sport/USA TODAY SportsDerrick Brooks will find out on Saturday if he's a first-ballot Hall of Famer.
That's a stunning admission from a guy who always seemed to have supreme confidence. Brooks was ice to
Warren Sapp
's fire during the Buccaneers' glory years, which included a victory in Super Bowl XXXVII. Brooks, now 40, always seemed calm as he was earning 11 Pro Bowl berths, nine All-Pro honors, the 2002 Defensive Player of the Year award and the 2000 Walter Payton Man of the Year award.
But
now
Brooks is nervous?
Sure he is and it's understandable. That's largely because he always has been a student of the game and knows plenty about its history.
"You talk about the founders of football," Brooks said. "You talk about the history of the game. You talk about the first African-American players. You talk about greatness for centuries. You get a chance to have your bust sit in that room and share that history."
That's where the nervousness kicks in.
"I always watched the process," Brooks said. "But now I watch it with a different intent, like, 'Am I worthy of being in that company?' I guess it presented more questions for me about my career. 'Am I worthy of a bust?'"
Absolutely. Brooks deserves to be a first-ballot selection. He's the best player I've ever covered and that includes Sapp, who went in on the first ballot last year.
More than anyone -- with the possible exception of coach Tony Dungy, who also is a Hall of Fame finalist -- Brooks was responsible for one of the greatest turnarounds in NFL history. Prior to Brooks' arrival in Tampa Bay, the Bucs had been a laughingstock for a generation. That point was driven home in 1996 when Brooks and Sapp were sitting in a San Diego hotel room, getting ready to play the Chargers.
"Playing a late game, we got a chance to see the pregame shows," Brooks said. "Those guys were making jokes about the Yucks, the Yuckaneers, the quarterback rating for Trent [Dilfer]. They were making fun of us. It kind of resonated with us and Warren and I just looked at each other. I was upset. But he was pissed. He went to a new level with his anger.
"I internalized and said, 'I'm going to do something about this.' But he externalized it. We went to pregame and he just went off on how we were being so disrespected by everybody. We went out there and went down 14-0 before you could sneeze. But then we fought back and won that game. I think the confidence that we built on the road that day was the turning point. I don't think it's ironic or a coincidence that we came back a few years later and won a Super Bowl in that same stadium."
In 1997, the Bucs turned the corner and made the playoffs for the first time in a generation. It also was around that time that two wise men got in Brooks' ear and planted the first ideas that he could have a Hall of Fame career.
[+] Enlarge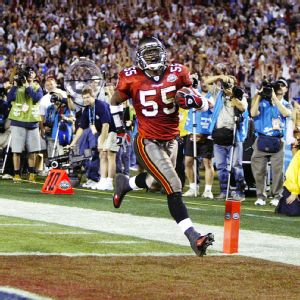 Al Bello/Getty ImagesBrooks returned an interception 44 yards for a touchdown in the Bucs' Super Bowl XXXVII victory.
Early in his tenure, Dungy, who had played for the
Pittsburgh Steelers
during their 1970s heyday, sat down Brooks and Sapp for a chat.
"He had a conversation with Warren and myself and said, 'You can be Joe Greene, Jack Ham or Jack Lambert,'" Brooks said. "It was intimidating. He laid it on the table what his expectations were for us."
Then, there was the late Tom McEwen. He was the legendary sports editor for the Tampa Tribune. McEwen was a grandfatherly figure who cared deeply about Tampa Bay sports. At the time, he also was Tampa Bay's voter for the Hall of Fame and he always was on the lookout for someone to join Lee Roy Selmon, the Bucs' first Hall of Famer.
"I had a ton of respect for Tom," Brooks said. "After the 1997 season, we started to have some pretty serious conversations. Tom kept telling me, 'Hey, you've started this turnaround. Keep it going and you can have a Hall of Fame career.'"
McEwen was a sage because Brooks only continued to become a greater player. He was a do-it-all linebacker, a leader and a model citizen. He also led the Bucs to their only Super Bowl championship and made the All-Decade Team for the 2000s.
Brooks played through 2008 and the Hall of Fame credentials are there. Still, the guy who seemed unflappable for so many years is nervous.
On Saturday, Brooks will make some appearances in New York and do a radio show. He knows the nerves will continue to grow as afternoon turns into evening.
"I'll just be sitting and waiting," Brooks said. "What's a couple hours more when you put up years of work to get to this position?"
Not much I guess. But Brooks shouldn't have to be nervous. He did his work. Now, it's time for the Hall of Fame voters to confirm him as what he made himself into -- a first-ballot Hall of Famer. With no reason to be nervous.