NFC South:

2014 NFL Combine
February, 24, 2014
Feb 24
8:00
AM ET
Remember on Friday when I wrote the
Carolina Panthers
should
consider drafting a backup quarterback
for
Cam Newton
? They are at least talking to prospects at the NFL combine.
Clemson's
Tajh Boyd
told reporters in Indianapolis the Panthers were one of about 20 teams he'd talked to.
He also told them he wasn't satisfied with the backup label he's been given.
History tells us that can change quickly. Seattle selected
Russell Wilson
in the third round of the 2012 draft as a backup to starter
Tarvaris Jackson
and
Matt Flynn
. He quickly became the starter and has since won a Super Bowl and been selected to two Pro Bowls.
This is not to suggest if the Panthers drafted Boyd he could beat out Newton. Carolina, which considered drafting Wilson as Newton's backup, has made it clear the first pick of the 2011 draft is their franchise quarterback.
But a player such as Boyd would be a good fit behind Newton in terms of his running ability. And as I said on Friday, Newton is one of only nine quarterbacks that has started every game since 2011, so having a quality backup with similar styles could be beneficial if he gets hurt.
The question is whether a player such as Boyd will fall to the latter rounds as ESPN draft analyst Mel Kiper has predicted. Boyd's career statistics definitely are worthy of a higher pick.
And he doesn't lack for confidence.
"I'm confident in my abilities. Game tape doesn't lie," Boyd said at the combine. "You can refer to the Senior Bowl [7-for-16, 31 yards, INT] if you want, but that doesn't take the place of three years''
In three years, Boyd was 32-8 at Clemson.
"Ultimately, man, I just feel like I win games,'' Boyd said.
. . . While we're on the subject of quarterbacks, Texas A&M's
Johnny Manziel
has sought out Newton for advice.
"Being another Heisman Trophy winner I got a chance to really reach out to him probably in the spring, this summer, sometime through there,'' he told reporters in Indianapolis. "I probably had a two-hour conversation just getting to talk about everything, just about the people he has around him, what has made him so successful.
"Very eager to listen to him. Very fun-loving, fun-natured guy. I'm really thankful to be able to pick up the phone and call him if I ever did need anything.'
February, 24, 2014
Feb 24
8:00
AM ET
The highly-touted wide receiver class lived up the hype this weekend at the NFL scouting combine in Indianapolis. With so many prospects expected to be worthy of first-round grades this year, I could absolutely see the Saints taking a receiver in Round 1 of this year's draft.

As I write every year, I don't think the Saints will lock themselves into any one positional need in the draft -- especially not all the way down at pick No. 27. But I do think the receiver position will rank among their top draft priorities. I think they could use more of a dynamic speed element in the short term. And they'll need to restock the position in the future with longtime veterans like
Marques Colston
,
Lance Moore
and
Robert Meachem
getting older.
That's why I think the draft makes even more sense than free agency for the Saints when it comes to the receiver position.
Even before the combine workouts began, many analysts were talking about this being a deep draft class for wide receiver talent. Then the buzz only grew louder once the prospects went through their drills -- as you can read here in these breakdowns from ESPN's
NFL Insider John Clayton
and ESPN.com's Jets
reporter Rich Cmini
.
LSU's
Odell Beckham Jr.
and Vanderbilt's
Jordan Matthews
were two prospects, in particular, who reportedly strengthened their case to be drafted in Round 1 with impressive 40-yard dash times, among other drills. If they're too impressive, they might wind up being taken even before the Saints get a crack at them. Nevertheless, the overall depth at a need position is a good thing.
Beckham is a particularly intriguing prospect in New Orleans since he brings that dynamic speed element -- and because Saints fans are so familiar with his work from just down the road in Baton Rouge. Beckham ran the 40 in 4.43 seconds.
LSU's other top receiver prospect
Jarvis Landry
didn't fare as well this weekend after reportedly pulling a hamstring. The Times-Picayune's Jim Kleinpeter
broke down their performances.
February, 22, 2014
Feb 22
2:38
PM ET
INDIANAPOLIS -- As he strolled down the hallway moments after addressing a large contingent of NFL combine reporters, South Carolina defensive end
Jadeveon Clowney
paused for a moment as he pondered an inquiry about the
Atlanta Falcons
.
"I wish they could trade up for me," Clowney told ESPN.com, "but I hope I don't fall to No. 6. I like Atlanta – a lot. They're pretty good. They've got some guys from South Carolina on the team, also. And it's close to home."
[+] Enlarge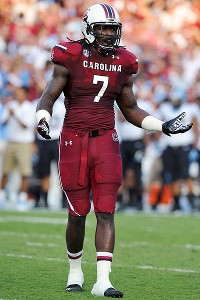 AP Photo/Stephen MortonJadeveon Clowney would fit the Atlanta Falcons' need for an impact pass-rusher.
The 6-foot-5, 266-pound Clowney is touted as the most athletically gifted player in this year's draft class. The Falcons desperately need to improve their pass rush, but Clowney is unlikely to be available if they keep the sixth overall pick.
However, Falcons general manager Thomas Dimitroff said during the Senior Bowl that he would keep open the option of trading up. He reiterated his stance this week at the combine.
"I've said that from Day 1 since 2008 that I always want to have the light on for business," Dimitroff said. "I never want to be one of those teams that people pick up the phone and they quickly throw the phone back down and hesitate to reach out thinking that we're not going to be straight up. … Whenever you're able to cultivate trades, it's about being honest with people in your dealings. And I think that we've done a nice job with that. And we're always going to be open for business."
Dimitroff pulled the trigger on a blockbuster deal before, when he surrendered five draft picks in order to move up from the 27th overall pick to sixth for game-changing receiver
Julio Jones
in 2011. Dimitroff admitted trading up from the sixth overall pick this year would be less taxing.
"Yes, in the top 10, I believe it's a little easier to move around," he said.
Clowney maintained he wants to be the No. 1 overall pick to Houston, but the Texans could target a quarterback for new head coach Bill O'Brien. St. Louis, with the second pick, and Jacksonville, with the third, both have expressed a willingness to trade down. Rams general manager Les Snead and Jaguars general manager David Caldwell worked under Dimitroff in Atlanta.
As for Clowney, he seems likely to solidify his high draft status with strong workouts at the combine. Defensive linemen take the field on Monday.
Clowney hadn't met with any teams as of Saturday afternoon because flight issues got him into Indianapolis late Friday night. He said he anticipated running the 40-yard dash in 4.4 seconds and boasted that his speed is his greatest asset.
Clowney addressed the issue of his work ethic when asked about South Carolina coach Steve Spurrier's recent comments about other players he coached working harder.
"I believe I did work hard," Clowney said at the podium. "You pull out any practice tape from last year, you'll see that. I'll tell anybody that. I'm always going to be working hard. No matter where I end up, I'm going to work hard and give the team everything I've got."
As Clowney mentioned, defensive tackle
Travian Robertson
, fullback
Patrick DiMarco
, and defensive end
Cliff Matthews
are the three Falcons from South Carolina.
February, 21, 2014
Feb 21
6:16
PM ET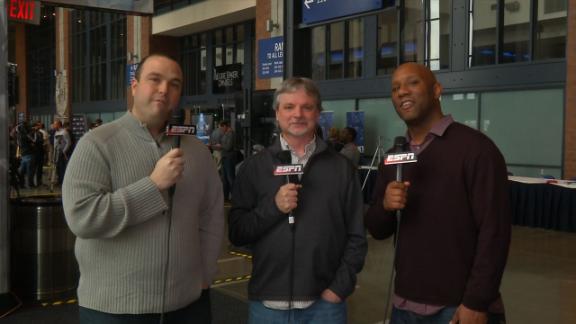 INDIANAPOLIS --
Atlanta Falcons
general manager Thomas Dimitroff made it clear Friday that he wants to add more rugged players -- but not, in his words, a "thug."
Well, meet
Greg Robinson
.
The Auburn offensive tackle has the type of qualities the Falcons sorely need up front. He's a big, intimidating presence at 6-foot-5, 332 pounds. He put up 32 reps in the bench press at the combine, which would be welcomed strength for a Falcons team that has been pushed around as of late. And Robinson accounted for 130 pancake blocks this past season, which would make any running back trailing behind him get wide eyed.
You just get the feeling that Robinson could be so nasty on the field. But not thuggish, of course.
"I'm far from a thug," Robinson said Friday at the NFL scouting combine. "I've never been in any trouble besides growing up; I was kind of bad, but that's because I had older brothers. But if [the Falcons] aren't looking for a thug, they can invest in me."
[+] Enlarge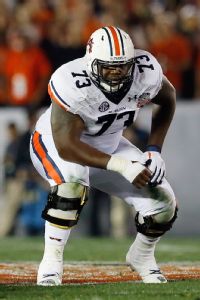 Kevin C. Cox/Getty ImagesWith St. Louis looking to improve its offensive line, a prospect like Greg Robinson could be a potential fit.
Robinson, 21, continues to make a steady rise up the draft board and might not be there if the Falcons stand pat with the sixth overall pick. Maybe he's one of those guys worth trading up for, such as South Carolina defensive end
Jadeveon Clowney
.
The Falcons should prioritize drafting an offensive tackle such as Robinson if Clowney isn't a legitimate option. Robinson's makeup reminds me of
D.J. Fluker
, who looked like a man among boys during his combine appearance last year before being drafted by the
San Diego Chargers
. Fluker made an immediate impact as the Chargers' starting right tackle.
Robinson and Texas A&M's
Jake Matthews
have been the offensive tackles most linked to the Falcons this draft season. Michigan's
Taylor Lewan
wants to be considered among the elite group as well. Notre Dame's
Zack Martin
and Alabama's
Cyrus Kouandjio
are right behind.
"Honestly, there's probably four or five offensive tackles that can come in and start," Dimitroff said. "There will be challenges like any new player has, but these guys can come in and be starters in this league."
Dimitroff is fully confident in both his and his staff's ability to evaluate offensive linemen, so as Dimitroff prepares to evaluate this year's draft prospects at the combine, he won't go into it overly concerned about the outside perception of Atlanta drafting busts along the offensive line in recent years.
But Dimitroff needs to be conscious about constructing a group of five offensive linemen capable of working in unison. Such was far from the case for the Falcons during a pathetic 2013 showing.
The Falcons sorely need to improve up front.
Matt Ryan
was the most pressured quarterback in the league last season, in large part due to offensive line woes.
Steven Jackson
and crew couldn't prevent Atlanta from having the league's worst rushing offense, because the Falcons couldn't get it done in the trenches.
So what's the quick fix? The process started with the firing of offensive line coaches Pat Hill and Paul Dunn and the hiring of former head coach and long-time NFL tough guy Mike Tice. The next step was adding Scott Pioli -- a guy who drafted Pro Bowl offensive linemen
Logan Mankins
and
Matt Light
to the
New England Patriots
-- as assistant general manager to bring more expertise to the scouting process. Then, the Falcons added former NFL offensive lineman Russ Bolinger as a scout and extra pair of eyes. You just have to wonder if all those minds will think alike.
While free agency is the next phase in the retooling process, the Falcons won't target a veteran offensive tackle -- not when the draft is so deep at that position. Signing an offensive guard, however, has to be the priority.
So then comes the draft, with the Falcons having to weigh which side of the ball needs to be addressed first as they strive to get tougher up front. Robinson seems to have that mean streak in him.
Robinson was asked Friday if he plays angry.
"I wouldn't say angry," he said. "But I'm not trying to be nice."
The Falcons could trade up to land Clowney or even stand pat at No. 6 and draft a pass-rusher such as Buffalo's
Khalil Mack
or UCLA's
Anthony Barr
. Such a move would mean digging deeper into the draft pool of offensive tackles with a player such as Virginia's
Morgan Moses
or Tennessee's
Antonio Richardson
.
Whatever the case, both Dimitroff and head coach Mike Smith agree the draft is full of talented offensive tackles. If the Falcons find a starting tackle later in the draft, it could be just a matter of whether that player would come in to play on the left or right side.
"I think it's going to be much more of a mental thing for those guys," Dimitroff said. "Some people are more comfortable being off of one side or the other. It's going to be a transition for them to ever do that.
"But, again, if they're athletic, I think the transition can be fairly sound as long as you have a good coach, and we believe we do in Mike Tice."
Dimitroff believes Tice is capable of making the current group of offensive linemen into better players. That's why Dimitroff still has faith in players such as
Peter Konz
,
Lamar Holmes
and newly signed
Gabe Carimi
-- even if most people outside the organization don't. That's why Dimitroff believes
Sam Baker
will be the same player he was back in 2012 as he returns from a serious knee injury.
Tice will be in charge of instilling the toughness that the Falcons sorely need.
"A team will be much more apt to give up a little bit in athleticism if the trade-off is getting more toughness, ruggedness, passion and strength," Dimitroff said.
If the Falcons decide to go with Robinson, they might find someone with all those characteristics -- plus the athleticism to go with it.
February, 21, 2014
Feb 21
6:05
PM ET
Wide receiver
Steve Smith
spent the week before the
Carolina Panthers
played the
San Francisco 49ers
in a January NFC playoff game making up random percentages on whether his knee injury would allow him to play.
It did.
Smith
Now there's a mystery as to whether the team's all-time leading receiver will play again.
On consecutive days at the NFL scouting combine in Indianapolis, general manager Dave Gettleman and head coach Ron Rivera were vague on whether Smith would be back for his 14th season.
It apparently has nothing to do with the injury, which was minor. It apparently has everything to do with either money or whether Smith wants to play another two or three seasons to finish in the top 10 in the league in all-time receptions and receiving yards.
"Steve's had a great career. None of us are here forever," Gettleman told reporters in Indianapolis on Thursday. "He's part of the evaluation."
Asked about Smith's future on Friday, Rivera said, "I'm not quite sure."
"We're going through the process," he added. "We've got to see. He's a veteran guy that has played a lot of games for us. We'll see. I'm at the point where we're sitting here talking about something we don't know anything about."
Asked if he foresaw a scenario in which Smith wouldn't return, Rivera was equally vague, saying the organization would sit down next week after the combine and evaluate where it is headed.
Smith was emphatic during Carolina's playoff run that his goal was to play until he had 1,000 receptions and "close to" 14,000 receiving yards, which would put him in the top 10 all-time in both categories.
Smith had 64 catches for 745 yards this past season to run his career totals to 836 and 12,197.
A third-round pick out of Utah in 2001, Smith will turn 35 in May. He has three years left on his contract, carrying a cap number of $7 million for 2014.
The team has between June 1 and June 30 to exercise a 2016 option that carries a $1.5 million bonus. Also to be considered, Carolina will have to execute a $3 million non-exercise fee if Smith is on the roster on July 1 and does not pick up the option year.
Regardless of what happens with Smith, Rivera acknowledged the Panthers will be looking for a "dynamic" receiver in either the draft or free agency.
The draft is at least two rounds deep of quality receivers, which means Carolina could get a potential replacement or future replacement for Smith with the 28th pick or in the second round.
The Panthers also potentially could target free agents such as
Hakeem Nicks
or
Nate Burleson
should Smith retire. If that happened, they may also draft a quality second receiver.
Brandon LaFell
,
Ted Ginn
Jr. and
Domenik Hixon
, Carolina's No. 2, 3 and 4 receivers from 2013, all are free agents. Of the three, Ginn is the most valuable because he is a deep threat and one of the league's top kick returners.
LaFell has yet to step up as a consistent No. 2 receiver.
Asked what he would be looking for receiver-wise in the draft, Rivera said, "We're going to look for a guy that is very dynamic that can come in and contribute right away."
The Panthers will need that regardless of whether Smith returns or not. If it makes sense financially for Smith to return, his experience in teaching a young receiver would be invaluable.
As for now, it appears that's all up in the air.
"Steve's part of who we are," Rivera said. "We'll go from there."
February, 20, 2014
Feb 20
1:15
PM ET
INDIANAPOLIS --
Atlanta Falcons
head coach Mike Smith was careful not to single out any one draft prospect as his team prepares to break down players at the NFL combine.
Smith did, however, speak in general terms about the guy touted as the most physically gifted specimen in this year's class: South Carolina defensive end
Jadeveon Clowney
.

Clowney
"Well, he's got the measurables that you're looking for," Smith said of the 6-foot-6-inch, 274-pound Clowney. "Obviously, we're all anxious to see him perform here at the combine to validate those measurables. He's been a dominating player at the University of South Carolina in arguably the best conference in college football."
Clowney said he wants to be the No. 1 overall pick, but the
Houston Texans
, who own the selection, could target a quarterback. The Falcons currently have the sixth-overall pick.
Smith compared the buzz around Clowney to what happened in 2006 when another imposing defensive end.
"Well, I think that he has similar measurables to
Mario Williams
," Smith said of Clowney. "Mario Williams is, when you talk about the defensive end, he fits the criteria that you're looking for. And, of course, Mario went on to be the first pick in the draft."
Clowney gets a chance to back up the hype when the defensive linemen go through workouts on Monday.
February, 20, 2014
Feb 20
8:11
AM ET
BRADENTON, Fla. --
Zack Martin
is going to his hometown this weekend, but that doesn't mean he's going home.
Aside from dinner with his family Saturday night, the trek to Indianapolis is purely a business trip. Martin will be taking part in the scouting combine and trying to help his draft stock.
The Notre Dame product already is considered one of the top offensive linemen in the draft. But there are differing schools of thought about which position Martin should play. He spent his college career at left tackle, but some teams envision him as a guard
"It doesn't really matter to me,'' Martin said earlier this week during a break in his combine training at IMG Academy. "I just want to be on an NFL team. I'm most comfortable at tackle, but I feel I could make the transition to guard fairly easily.''
Martin started to make that transition at the Senior Bowl. Multiple teams asked to see Martin work at guard, so he spent part of his practice time there and played about 15 snaps at guard during the game.
"Zack can play tackle and he also can play inside,'' IMG Academy director of football operations Chris Weinke said. "He's one of the smarter guys I've been around. This kid can process information. He's probably one of the quicker linemen I've been around. When you put him in a box, he's as quick as they come and he's powerful. He just has a great combination of quickness and power. He's going to translate nicely, wherever they use him at the next level.''
Martin could be on the
Tampa Bay Buccaneers
' radar. The Bucs could be looking to overhaul their offensive line after it underachieved last season. The Bucs could be looking for upgrades at guard and tackle and Martin might be an answer at either position.
February, 19, 2014
Feb 19
12:00
PM ET
Carolina Panthers
general manager Dave Gettleman needed less than 90 seconds to select defensive tackle
Star Lotulelei
with the 14th pick of the 2013 draft.
Probably half of that time was spent in stunned amazement that the 6-foot-2, 315-pound giant he had rated near the top of his draft board still was available at a position the team considered a top priority.
Don't expect it to be that easy this year.
The Panthers head to the NFL scouting combine that begins Wednesday in Indianapolis with three huge needs -- wide receiver, offensive tackle and cornerback. It's more unlikely that a star such as Lotulelei will fall to them this year since their first pick isn't until No. 28 after a 12-4 season.
[+] Enlarge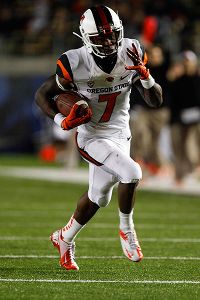 Kelley L Cox/USA TODAY SportsThe Panthers need to add a playmaker like Brandin Cooks who has the potential to eventually replace Steve Smith.
They'll have to be even more thorough with their homework at the combine and individual workouts to find players to fill major gaps.
And they were pretty thorough last season, making sure the heart condition that forced Lotulelei to pull out of last year's combine was not serious.
They may need to find the next
Greg Hardy
, a sixth-round pick in 2010 who developed into the team's sack leader (15) and a Pro Bowl selection this past season -- and into a player who could be lost to free agency if Carolina can't reach a new deal or use the franchise tag on him.
The good news is Gettleman & Co. appear pretty good at evaluating talent. Three of their first four picks -- Lotulelei, defensive tackle
Kawann Short
(second) and outside linebacker
A.J. Klein
(fifth) -- were huge successes as rookies.
Sixth-rounder
Kenjon Barner
never got to show what he could do because of a logjam at running back and fourth-round pick
Edmund Kugbila
spent the year on injured reserve.
"Of the three guys we got on the field, we're real pleased with,'' Gettleman said in his season review.
Which brings us to the combine, where the Panthers will be looking for players who can make similar contributions. Here's a closer look at their top three needs and why:
Wide receiver:
This is where many of the draft analysts have the Panthers focused, and with good reason. No. 1 receiver
Steve Smith
is heading into his 14th season and wideouts Nos. 2, 3 and 4 are unsigned in
Brandon LaFell
,
Ted Ginn Jr
. and
Domenik Hixon
. In all likelihood, the Panthers will re-sign one or two of their free agents. Ginn makes the most sense because he's a proven threat as a return specialist as well as a deep threat. But the Panthers need a solid No. 2 receiver who could develop into a No. 1 when Smith retires. LaFell hasn't done that. This is one of the deepest receiver classes in years, so this an attractive spot regardless of whether it's the first or second round.
Possible at No. 28
: Oregon State's
Brandin Cooks
, Florida State's
Kelvin Benjamin
, LSU's
Jarvis Landry
, UCLA's
Shaq Evans
.
Offensive tackle:
Gettleman loves to talk about the "hog mollies," his term for the men in the trenches. He also loves drafting them, as we saw last season when the Panthers went one-two with defensive tackles. He believes in building a team from the inside out, which is why I believe this is where the Panthers will go in the first round if the right player is there. Left tackle
Jordan Gross
is either going to return for his 12th season or retire. Either way, he's not getting younger and the Panthers need to find a future replacement for him. Ideally, they could find a starter at left tackle in the draft and move Gross to right tackle. Or groom a draft pick at right tackle as they did Gross for a year in 2003. The chances of finding a starter here is much greater in the first round.
Possible at No. 28:
Virginia's
Morgan Moses
, Tennessee's
Antonio Richardson
, Ohio State's
Jack Mewhort
.
Cornerback:
As I noted after the Super Bowl, the biggest difference between Carolina and Seattle was the secondary. The Seahawks simply were bigger and better. Carolina must upgrade this position even if it re-signs starter
Captain Munnerlyn
. While I believe this is third among priorities for a first-round pick, if one of the top three corners (
Justin Gilbert
,
Darqueze Dennard
and
Lamarcus Joyner
, according to Scouts Inc.) were to fall to 28 he would have to get serious consideration. It's definitely a position that should get attention in the top three rounds -- and at the combine.
Possible at No. 28:
Florida's
Marcus Roberson
, Virginia Tech's
Kyle Fuller
, Nebraska's Stanley Jean-Baptiste.
Other needs:
Don't be surprised to see Carolina go after a tight end to give quarterback
Cam Newton
another option there after
Greg Olsen
, a linebacker and a backup quarterback in the late rounds. Clemson quarterback
Tajh Boyd
could be an intriguing pick if he falls to the fifth round as ESPN draft analyst Mel Kiper has projected. He has many of the same qualities Newton has as a running quarterback and could learn a lot from Newton as he makes the transition into the NFL. Tight end actually was under consideration last year when Lotulelei became available.

NFC SOUTH SCOREBOARD
Friday, 8/22
Saturday, 8/23