NFC South:

2014 NFL Preseason Week 4 TB at BUF
August, 23, 2014
Aug 23
9:44
PM ET
ORCHARD PARK, N.Y. – Buccaneers receiver
Mike Evans
put the past in the past twice Saturday night.
First, the rookie caught a 24-yard touchdown pass from
Josh McCown
in the second quarter of Tampa Bay's 27-14 victory against Buffalo. That helped make up for last week when Evans, who was carrying the ball in the wrong arm, was stripped and fumbled at the 1-yard line against Miami.
Evans
"I was telling everybody I was going to try to redeem myself," Evans said. "I did and I'm happy I got in. I talked to (defensive tackle)
Clinton McDonald
(who scored a touchdown on a fumble recovery) and I said, "Why you got to score one before me?''
But getting in the end zone wasn't the only thing Evans was asked about. He became the center of controversy Friday when TMZ aired a video of Evans in a brawl at a Miami nightclub. TMZ initially reported the incident happened last week. But Evans and his agent said it took place in March, two months before he was drafted No. 7 overall by Tampa Bay.
"Honestly, I forgot about the whole situation," Evans said. "I put that behind me and it came up. I guess somebody's trying to make some money or something. I don't know what it is. I put it behind me. The situation was unfortunate. I could have handled it better and I plan on handling it better in the future. It happened and I can't change it. But I put it behind me and I'm just worried about the season."
The Bucs said Evans has been a model citizen since joining the team.
"As I said, I'm aware of it," Bucs coach Lovie Smith said. "Mike, as a 20-year-old, before he became a Tampa Bay Buccaneer, got into a fight. We couldn't be more pleased to have him on our football team. We started judging Mike from the time he became a Tampa Bay Buccaneer."
August, 23, 2014
Aug 23
9:22
PM ET
ORCHARD PARK, N.Y. -- Since his arrival in Tampa Bay, we've heard coach Lovie Smith talk a lot about "Buc Ball". But what that meant exactly never was very clear.
On Saturday, we started to get a picture of what Smith's been talking about. His defense produced three turnovers and a touchdown in a 27-14 preseason victory against the
Buffalo Bills
. The offense wasn't spectacular but it was opportunistic.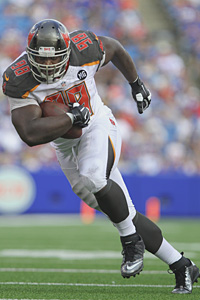 Bill Wippert/Associated PressClinton McDonald returned a fumble for a touchdown against the Buffalo Bills on Saturday.
"I talk about a full game," Smith said. "When I say full game I'm talking about offense, defense and special teams. We talk a lot about taking the ball away. We talk about scoring on defense. It's not a good defensive game unless we're able to do that. I thought the defense did a great job of setting the tempo on what type of day it will be.''
Linebacker
Lavonte David
forced a first-quarter fumble that was recovered by
Mason Foster
. That set up a quick touchdown by the offense. In the second quarter, defensive tackle
Clinton McDonald
scored a touchdown after picking up a fumble that was caused by an
Adrian Clayborn
sack and a
Michael Johnson
strip.
Is that what Buc Ball is all about?
"Yeah, man," All-Pro defensive tackle
Gerald McCoy
said. "The defense takes the ball away and puts it back in the offense's hands and the offense puts it in the end zone. That's kind of what we want to do. It felt good and we want to keep that going. It felt good to actually see it come alive today and now we have to take this into next week and into the regular season.''
It had been difficult to see any signs of Smith's philosophy in the first two preseason games, both losses. The Bucs produced only one turnover and the offense was largely ineffective.
But the offense showed some promise against the Bills. With some of the starters playing into the third quarter, the Bucs built a 24-0 lead before the backups let the Bills back in the game. Quarterback
Josh McCown
completed 13 of 16 passes for 112 yards with one touchdown and an interception.
Doug Martin
rushed 12 times for 38 yards,
Vincent Jackson
had five catches and rookie
Mike Evans
had three receptions, including one for a touchdown.
That's a pretty good sample of what Tampa Bay's offense is going to look like.
"I think we had 17 rushes in the first half," Smith said. "That's what we want to do. To be a running football team you need to have attempts as much as anything."
We haven't seen all of Buc Ball yet because the team likely is keeping tricks up its sleeve for the regular season. But what we saw Saturday was a rough outline of the type of product Smith wants to put on the field.
August, 23, 2014
Aug 23
7:38
PM ET
ORCHARD PARK, N.Y. --
Tampa Bay Buccaneers
coach Lovie Smith said earlier this week that he wanted to see more sacks and takeaways. Mission accomplished.
Tampa Bay's first-team defense forced three turnovers in Saturday's
27-14
victory against the
Buffalo Bills
at Ralph Wilson Stadium.
Lavonte David
forced a first-quarter fumble by
C.J. Spiller
that was recovered by
Mason Foster
. Tampa Bay's offense punched the ball in for a quick touchdown. Tampa Bay's offense was far from spectacular, but the defense more than made up for it.
The defense produced a touchdown of its own. As
Adrian Clayborn
sacked Buffalo quarterback
EJ Manuel
,
Michael Johnson
reached in and knocked the ball loose. Defensive tackle
Clinton McDonald
picked the ball up and ran it in for a touchdown with 8:21 left in the second quarter.
All of Buffalo's points came in the second half after Tampa Bay's starting defense had left the game. The Bucs held a 24-0 lead at halftime.
Some other observations:
Tampa Bay's offense hadn't been putting together long drives this preseason. That finally changed late in the second quarter. The Bucs had an 11-play drive that covered 82 yards and ended with a touchdown pass from Josh McCown to Mike Evans. That shows the Bucs can sustain a drive. But it's important to remember that we've seen only a very small sampling of coordinator Jeff Tedford's offense. The Bucs are saving most of that for the regular season.
I've got a feeling what we saw Saturday will be repeated a lot during the regular season. The Bucs played fantastic defense and were rather ordinary (but opportunistic) on offense. That's not flashy, but that fits Smith's philosophy perfectly.
Smith said he wanted to take an early look at recently acquired defensive end Larry English. He did, putting English into the game early. He responded with two sacks. The former first-round pick by San Diego still faces an uphill battle to make the team but might be gaining ground on Da'Quan Bowers, who missed the game with a groin injury.
Smith said he wanted to play his starters into the third quarter. He did play his starting offense into the second half, with one notable exception. Backup quarterback Mike Glennon replaced McCown to start the third quarter. That was a smart move. With the offensive line still a work in progress, there's no sense in exposing McCown to possible injury before the regular season starts.
Linebacker Jonathan Casillas did not play for the Bucs. He was held out for a disciplinary reason, according to a team official. Danny Lansanah got the start in his place and played well. Lansanah has had a strong preseason and appears to have secured a roster spot.