NFC South:

2014 Senior Bowl
January, 24, 2014
1/24/14
9:45
AM ET
One player who obviously stood out during the week of Senior Bowl practices was Pittsburgh defensive tackle
Aaron Donald
, who was named the most outstanding overall practice player by a group of respected scouts.
[+] Enlarge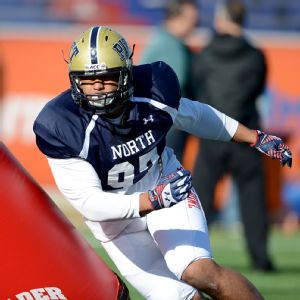 AP Photo/Johnny VyPitt's Aaron Donald, who has impressed the Falcons during Senior Bowl workouts, might be a good fit in their' 4-3 defense.
The
Atlanta Falcons
staff coached Donald on the North team all week. New defensive line coach Bryan Cox applauded just about every maneuver Donald completed during drills. And the feeling was mutual as Donald talked about his admiration of Cox and being able to fit right in with a team such as the Falcons.
"Their 4-3 system is just something that I'm used to," Donald said. "I feel like it's similar to a lot of things we did in college."
It will be interesting to keep track of Donald's draft status over the next few months, particularly for a Falcons team in need of defensive line help. The 6-foot, 288-pound dynamo obviously is worthy of first-round consideration, but maybe not as high as the sixth-overall pick that the Falcons currently have. However, general manager Thomas Dimitroff left open the possibility of trading down, so maybe targeting Donald later in the first round is a possibility.
Whatever the case, Donald's motor is as impressive as any defensive tackle you'll see. He opened eyes with his burst, his technique, and his ability to stop the run.
Falcons defensive coordinator Mike Nolan surely was impressed.
"He's extremely hard to block," Nolan said. "He's very quick. He's an intelligent kid; uses his hands well. He's a playmaker."
Donald already had the production and accolades after the All-American won every major award for a defensive lineman: Bronko Nagurski Trophy, Chuck Bednarik Award, Outland Trophy and Rotary Lombardi Award. It made him the most decorated college defensive lineman since
Ndamukong Suh
(Nebraska) in 2009.
His numbers at Pittsburgh included 29.5 career sacks and 66 career tackles for a loss, 28.5 of them this past season.
Even more impressive about Donald is his desire to improve. He talked about what he had learned from Cox in just a short period of time.
"On double teams, at times, I tend to turn my shoulders a little bit," Donald explained. "Coach Cox is just trying to work with me on staying square a lot more and, with my run stance, a lot more flat-footed instead of standing on my tippy toes. It's just little things like that."
Donald would be an immediate upgrade for any team looking for an impact interior defensive lineman. He has drawn comparisons to
Cincinnati Bengals
two-time Pro Bowler
Geno Atkins
(6-1, 303).
The Falcons have three defensive tackles headed to free agency in
Jonathan Babineaux
,
Corey Peters
, and
Peria Jerry
. Peters is recovering from an Achilles injury, while Jerry is recovering from a sprained knee.
January, 23, 2014
1/23/14
8:30
AM ET
MOBILE, Ala. -- There will be plenty of speculation regarding which draft prospects the
Atlanta Falcons
will target from now until the NFL draft starts on May 8.
Free agency, which begins March 11 after 4 p.m. Eastern, should answer some questions about which way the Falcons are leaning in the draft. Until then, the guessing game will continue.
Falcons general manager Thomas Dimitroff sat down with ESPN.com at the Senior Bowl and touched on a handful of top prospects that could be considered with the sixth-overall pick based on the most pressing needs -- protection along the offensive line and consistency with the pass rush. Dimitroff also left open
the possibility of trading up in draft
, as his considers every season:
•
Jadeveon Clowney (6-6, 274), defensive end, South Carolina
: "Who? When I first heard that he was the best that people had seen in 20 years or whenever, I was skeptical because I never fall into the trap of comparing people over that many years. But obviously, he is an incredible talent with wild upside. He's going to be a very big contributor on a football team from Day 1. We all know that. The league knows that. He has the potential to be one of the marquee-type pass rushers."
•
Jake Matthews (6-5, 305), offensive tackle, Texas A&M
: "Think about it: He is a such a technique-sound individual. He has such an understanding of the game, being from a historic NFL football family (son of Hall of Famer lineman Bruce Matthews). He's just so well-rounded in so many ways on and off the field that he's going to be a guy who is going to turn a lot of heads. A guy like that has the potential to go No. 1 in this draft, if he turns the right heads."
•
Greg Robinson (6-5, 320), offensive tackle, Auburn
: "Another fantastic athlete. He's got such natural ability. He's a little younger. As the season went on, he really started to dominate at that level. It's always a very important thing to see a guy who still has a little bit of development to show how much upside he has. It's about his athleticism. It's about his upside. It's about his ability and his range on the football field."
•
Taylor Lewan (6-8, 315), offensive tackle, Michigan
: "He's a tough, tough dude with a lot of upside. He's a very technique-sound guy as well. Has the ability to play both sides."
•
Anthony Barr (6-4, 245), outside linebacker/defensive end, UCLA
: "Barr is another fine athlete who has the ability to play both 4-3 and 3-4 outside linebacker. He also has the ability to move around and drop. He's just a very versatile athlete with a very good understanding of the game."
•
Khalil Mack, (6-3, 241), outside linebacker/defensive end, Buffalo
: "Again, he's another top-notch athlete. Great range. His ability to follow the ball is top-notch. Another versatile athlete who can get up around the corner and also drop. He's got that versatility to play 4-3 and 3-4."
January, 22, 2014
1/22/14
10:00
AM ET
MOBILE, Ala. -- After
losing quarterbacks coach
Joe Lombardi to the
Detroit Lions
on Tuesday,
New Orleans Saints
general manager Mickey Loomis was asked about another hot name in the organization -- player personnel director Ryan Pace.
Earlier this month, the Saints denied the
Miami Dolphins
permission to interview Pace for their general manager vacancy. Loomis said Tuesday that they denied the request because the Saints were still in the playoffs at the time. But Loomis said he expects Pace to get away at some point.
When asked if he could describe what makes Pace so talented, Loomis said, "Yes, I can, but I don't like to. I kind of feel like he's been our secret for a while."
"But look, he's a great, young personnel director," Loomis continued. "He's got a great eye for talent and guys that fit with what we are doing and what we want to do. He's very talented. He's a guy that we're going to lose at some point."
Pace originally joined the Saints in 2001 as an assistant in areas like game-day and training-camp operations before working his way up through the scouting department. He was promoted last year from pro scouting director into his current role, where he oversees all pro and college scouting.
January, 22, 2014
1/22/14
8:00
AM ET
MOBILE, Ala. -- Count
New Orleans Saints
general manager Mickey Loomis among the proponents for NFL playoff expansion. (And it sure
seems like he'll get his wish
with the league leaning toward adding a seventh team in each conference).
Loomis has long been an advocate for expanding the playoff field. If it were up to him, he'd probably go all the way up to eight teams per division.
The way Loomis sees it, more playoff teams is better for more organizations, coaches, players, fans and the league. Clearly, he isn't worried about the loss of byes for top seeds or the fear of a watered-down playing field.
"I've been in favor of it for a number of years," Loomis said while discussing a variety of topics while attending Senior Bowl practices this week. "I just like the fact that we have more events. I think these playoff games are great events for the city, the communities that they're in. I think it's good for the organization. The first measure of success is making the playoffs. I personally don't like the byes. There's no byes in the NBA. That's just the way I feel about it."
Perhaps surprisingly, Loomis doesn't feel as strongly about the idea of reseeding playoff teams based on overall record -- even though the Saints have had to go on the road as a wild-card team against a division winner with a worse record twice in the past four seasons.
In 2010, the 11-5 Saints had to play at 7-9 Seattle (and lost). This year, the 11-5 Saints played at 10-6 Philadelphia and won.
"I don't know. I'd have to put more thought into that," Loomis said. "I've read some things. And yet, I personally think that winning a division should have some meaning to it, some significant meaning to it. Look, there's a pretty stark contrast when you have an 8-8 team versus a 12-4 or an 11-5 wild card. But what about the times when you have a division winner is 9-7 and the wild card is 10-6, so it's a one-game difference and maybe the division winner had a much tougher schedule? There are a lot of variables here. I tend to think that we've got a pretty good system now that has worked well.
"There has been the occasional anomaly and obviously [the Saints' situation was unusual in 2010]. But we could have answered that by going there and beating them. So they beat us fair and square."
While we're on the subject of potential NFL rule tweaks, it's worth mentioning that Saints coach Sean Payton has long been an advocate for the college football system of replay review, where the decisions to review plays are done by officials upstairs instead of being based on coaches' challenges. Payton thinks it's more efficient and accurate.
And based on the reaction to the fumble that wasn't able to be challenged late in the
San Francisco 49ers
-
Seattle Seahawks
game this past weekend, it seems like a lot of public and media sentiment is shifting in the same direction -- though there has been no indication yet that the league will consider such a change.
January, 21, 2014
1/21/14
7:39
PM ET
MOBILE, Ala. --
Atlanta Falcons
head coach Mike Smith played it cool when news broke of offensive coordinator Dirk Koetter interviewing for the
Cleveland Browns
' head coaching job. ESPN's Adam Schefter confirmed Koetter would interview.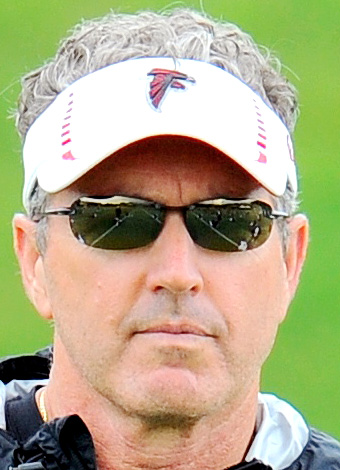 Koetter
"It's not appropriate for me to talk about another team's coaching search," Smith said.
Smith had no problem discussing the attributes Koetter brings to any team, no matter the coaching position. Koetter has been a head coach before in college at both Boise State and Arizona State. He even considered returning to Boise State next season after talking with the school in December, but a canceled flight to meet with school officials altered those plans.
Koetter has interviewed for NFL head-coaching jobs before, including Denver's in 2011 before John Fox got the job. Koetter turned down a chance to interview for several opportunities following the 2012 season, including the Browns opening that went to the recently fired Rob Chudzinski.
"Dirk's done good job for us over the last two seasons," Smith said. "His expertise is quarterbacking and putting together an offense, and he's done a wonderful job for us for the last two seasons."
Smith recalled when Koetter was a hot coaching candidate in '12.
"Yeah, I do remember it," Smith said. "I lived it. I don't recall exactly how many [opportunities he had]."
And Smith's advice to Koetter during that time?
"Be yourself," Smith said. "I thought Dirk and all of our coordinators did a very good job last year when they were in that situation."
If all goes well with the Browns, the Falcons could find themselves in quite a predicament. Smith was counting on Koetter to guide the offense back to prominence following a 4-12 season. This week at the Senior Bowl practices, Koetter talked about having a past chemistry with new offensive line coach Mike Tice. Koetter also talked about having a renewed emphasis on establishing the running game with changes expected to beef up the offensive line.
Now, the Falcons better have a Plan B.
January, 21, 2014
1/21/14
4:30
PM ET
MOBILE, Ala. --
New Orleans Saints
general manager Mickey Loomis visited with the media Tuesday to review the 2013 season and look ahead to 2014. The hottest topic, obviously, was the
looming contract talks with free agent
tight
Jimmy Graham
and the possible battle over his franchise-tag designation.
But Loomis also broke down a variety of interesting topics during the lengthy Q&A session. He also spoke about the
departure of quarterbacks coach
Joe Lombardi to the
Detroit Lions
and the Saints' growing coaching tree. I'll break down more of the highlights in a variety of specific posts over the next couple days.
But first, some of Loomis' overall thoughts on the season that just ended – an 11-5 campaign that fell short of the ultimate goal when the Saints lost in the divisional round of the playoffs at Seattle.
"I think this: We had a good year, a lot of real good things to feel good about. And yet it wasn't a great year because we're not in the Super Bowl," Loomis said. "And that's just where we're at as a program. We expect and want to play in that game, and we want to win it. And we had a chance. I thought our coaches and players did a great job. And yet when you lose that last one, you're always wanting more.
"And I think Sean [Payton] said this after the Super Bowl, 'Once you've eaten steak, you don't want hamburger any longer.' So that's kind of where we're at. We're still in that mode. ...
"We're right there. We were in the playoffs and had opportunities to win the game in Seattle and we didn't. They were the better team in that game. [But] we're confident in our building that we can play and beat any team on a given day. We've felt that way for quite some time."
Loomis admitted that the salary cap will be a hurdle once again for the Saints this year. They're currently about $12.5 million over the projected cap of $126.6 million. And they'll have to make room for Graham's new deal, among others.
Starting right tackle
Zach Strief
, starting center
Brian De La Puente
and starting safety
Malcolm Jenkins
will likely rank as the other highest-priced free agents among this year's class.
But the Saints dealt with similar constraints in each of the past two years, as well. As Loomis said, "We'll navigate our way through it. It's not our first rodeo in terms of having this circumstance. And yet it does limit us."
"It's all part of the puzzle," Loomis added. "If we were flush with cap room, obviously we'd be able to do more. It's just a puzzle that we have to piece together and make sure all the pieces fit. And yet, the overriding variable is, 'Hey, are we improving our team?' We're not trying to just stay level. We're trying to improve."
In recent years, the Saints have let some of their veterans go in free agency (like All-Pro guard
Carl Nicks
and Pro Bowl left tackle
Jermon Bushrod
). They've worked out pay cuts with other veterans. And they've moved a lot of money around through restructured contracts.
Yet through it all, the Saints have also aggressively added pieces in the open market like cornerback
Keenan Lewis
and linebackers
Victor Butler
and
Parys Haralson
last year; and linebackers
Curtis Lofton
and
David Hawthorne
, guard
Ben Grubbs
and defensive tackle
Brodrick Bunkley
in 2012.
"Well, you know, we're always trying to improve our team," Loomis said. "And I think the biggest challenge of that is that you just can't afford to make many mistakes. That your margin for error is decreased. So whether we're able to do that this year remains to be seen."
January, 21, 2014
1/21/14
8:45
AM ET
MOBILE, Ala. -- Lionel Vital will get his opportunity, at some point.

The
Atlanta Falcons
' director of player personnel was in the running to become the general manager of the
Tampa Bay Buccaneers
alongside new head coach Lovie Smith. However, the job apparently will go to one of the other candidates such as Marc Ross of the
New York Giants
or Jason Licht of the
Arizona Cardinals
.
As a minority candidate, Vital made a positive step by going through the interview process. He could join the list of black general managers in the future, following in the footsteps of Jerry Reese of the Giants, Reggie McKenzie of the
Oakland Raiders
, Martin Mayhew of the
Detroit Lions
, Ozzie Newsome of the
Baltimore Ravens
, and Rick Smith of the
Houston Texans
.
The Buccaneers interviewed at least four minority candidates for the general manager position: Vital, Ross, Morocco Brown of the
Washington Redskins
, and Lake Dawson of the
Tennessee Titans
.
"There are of talent guys out there," Reese said of the minority candidates such as Vital. "It's a testament to the National Football League understanding the diversity issues and addressing it along with the owners and the Fritz Pollard Alliance. It's a beautiful thing.
"It seems like there are more candidates this year. Sometimes the cycle just goes that way. Guys just need opportunities."
Rod Graves, senior director of football administration for the
New York Jets
, was one of handful of black general managers when he held the title for the Arizona Cardinals. He is well aware of the work guys such as Vital have put in to get to this point. Vital has 20-plus year of experience in scouting and player personnel.
"It's exciting to see guys have those types of opportunities because those guys bring a certain experience level, in my opinion, equivalent to what we see across the league and, in some case, even stronger," Graves said. "And those guys have done a great job of paying their dues. And they have great reputations.
"Who knows the reason why guys don't get opportunities at certain times. But the fact of the matter is, those are the names that deserve opportunities. And I'm glad they are getting considered now."
January, 20, 2014
1/20/14
7:52
PM ET
MOBILE, Ala. -- Although the
Atlanta Falcons
staff got a close view of the Senior Bowl prospects it coached during the first day of practices Monday, it was too early to say which players made the biggest impression.
Defensive coordinator Mike Nolan couldn't pinpoint one player when discussing the group of pass-rushers he watched. Nolan, however, did give an overall assessment of what he's looking for in a pass-rusher as the Falcons try to improve an area of dire need.
"You have to have ability, of course, first," Nolan said. "To me, I like to see guys that if something doesn't work, they come back and try something new. They don't keep banging their head against the wall.
"Some guys are just naturally gifted and have a natural feel all the time. Like a running back finding the hole, some guys just have a natural feel and find the hole. And that's the same thing with good pass-rushers. Some of them just naturally have a way to feel the soft spot. Other guys are just so gifted that they just run around guys."
A handful of defensive linemen, on the North team showed a quick first step from the edge and the interior. Both Minnesota defensive tackle
Ra'Shede Hageman
and Virginia Tech defensive end
James Gayle
made plays in the backfield. Stanford defensive end
Trent Murphy
stuffed out a reverse. Pittsburgh
Aaron Donald
showed his explosiveness in drills and drew praise from new Falcons defensive line coach Bryan Cox.
Missouri's
Michael Sam
, a college defensive end playing with the linebackers at the Senior Bowl, made an impression, too. He even knocked Nolan over during a drill.
"I saw several guys, but it's always that way early," Nolan said. "I would have to name 15 guys. That's why I don't go there. But as the week goes along, some guys kind of elevate and some guys kind of go down. But all these guys will be on an NFL team next year, in some capacity."
Head coach Mike Smith discussed what he looks for in a pass-rusher.
"We want to look at guys who have the ability to run the edge in their pass rush, so I think athleticism is very important in rushing the passer," Smith said. "So we're going to be looking for guys that can create a mismatch on the offensive line with their athleticism."
It's fair to wonder if the Falcons will address their need for a pass-rusher with the No. 6 overall pick in the draft. South Carolina defensive end
Jadeveon Clowney
could be gone by then and the next best pass-rushers after Clowney are UCLA outside linebacker
Anthony Barr
and Buffalo outside linebacker
Khalil Mack
.
The Falcons finished tied for second-to-last in the league with 32 sacks.
January, 20, 2014
1/20/14
8:55
AM ET
TAMPA, Fla. -- It's Senior Bowl week and that means it's time for the guessing game about the 2014 draft to start.
You'll start hearing rumblings about which players teams are watching and interviewing. You'll start to get a better idea about which positions teams may be addressing in the draft and you'll hear that stock is rising and falling on certain players.
For the Buccaneers, the biggest question is what, if anything, they'll do at quarterback. The new regime has had some nice things to say about
Mike Glennon
so far, but coach Lovie Smith and offensive coordinator Jeff Tedford have stopped short of firmly saying he's their starter.
If the Bucs decide Glennon's not their quarterback, they could look to free agency where the prospects aren't overly attractive. It's more likely they would look to the draft, where they hold the No. 7 overall pick.
Scott Reynolds throws out an intriguing scenario in his
mock draft
. He has the Bucs using their first-round pick on Fresno State quarterback
Derek Carr
. Reynolds is going on the assumption that
Teddy Bridgewater
,
Johnny Manziel
and
Blake Bortles
already will be gone.
Carr makes sense for a number of reasons, starting with talent and athleticism that may give him a higher upside than Glennon. But there's more than that. There's history and familiarity here.
Tedford coached Carr's brother, David, at Fresno State.
David Carr
flopped in the NFL, mostly because he was stuck behind one of the worst offensive lines in history with the
Houston Texans
. But Derek Carr has more mobility than his brother.
He could be a logical fit for the Buccaneers. Carr will be taking part in the Senior Bowl and it's a safe bet to say the Bucs will be watching him closely.