April, 29, 2011
4/29/11
7:02
PM ET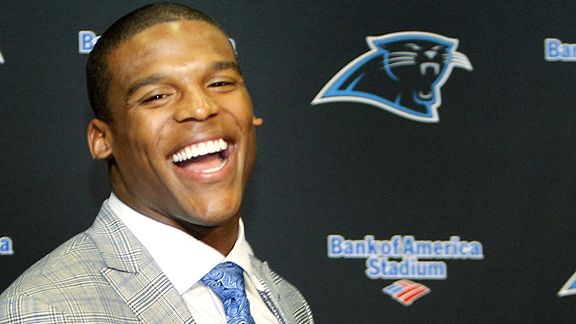 Bob Donnan/US PresswireCam Newton may have enough natural ability to be successful in the NFL if he puts in the work.
CHARLOTTE, N.C. -- Every time the question came, I silently rooted for
Cam Newton
to have some fun.
It's gallows humor, but the question is getting old.
"Do you want to be great?'' the new quarterback of the
Carolina Panthers
was asked in about seven different forms during a 20-minute introductory news conference at Bank of America Stadium on Friday afternoon.
It's a question Newton was repeatedly asked Thursday night, and in the weeks and months leading up to the draft.
I'll tell you what would have been great. Newton should have said something like, "No, I really have no desire to be great. In fact, I'm shooting for mediocrity. I'm thinking I'd like to be some sort of combination of
JaMarcus Russell
,
Ryan Leaf
,
Akili Smith
and
David Carr
. Heck, I think I could be worse than any of them.''
None of that happened. Instead, Newton said all the right things.
"I'm saying it right now: I'm trying to be the best," Newton said. "I strive to be great."
Good answer, but I still think the question is borderline ridiculous. Does anybody really aspire to mediocrity and what does a "desire to be great'' really mean?
Does it mean Newton's got to spend the rest of his life in the film room at Bank of America Stadium except to come out to practice and play in games? Does he need to eat, drink and sleep football to achieve greatness?
I don't think that's really necessary. I think if Newton simply works reasonably hard at his craft, he'll be just fine. The knock by a lot of media members and some anonymous sources as he went through the draft process was that Newton might not totally dedicate himself to the game.
Well, guess what? Everywhere he's been -- high school, junior college and college -- he's done enough to be great.
Yeah, you hear stories about some big-name NFL quarterbacks who spend massive hours watching film and do nothing but work out in their free time. Some of those stories are true and some might be a little inflated.
And sometimes being too driven can be counter-productive. I've been around a few intensely-driven people in my life (a baseball teammate in high school and a couple guys in my current business). They went around beating their chests, telling you they were great and telling anyone who would listen how they worked harder than anybody, even though that wasn't really true. The reality is none of those people were great at what they did. Even with all their effort, they were only good and they never really made it big.
The high school baseball teammate came with the ultimate Little League father, always pushing, but ultimately burning out his son, physically and mentally, for life. Call it the Marv/Todd Marinovich system.
Heck, I think Newton comes with less concerns in this area than
Jimmy Clausen
, the quarterback the Panthers selected in the second round last year. Clausen seemingly has been groomed for greatness all is life, but I don't think you can say he truly has achieved that.
Newton talked a lot about how he plans to put in the work in the NFL and that's great. But he admits it will be a process.
"I understand it's not something that's going to be instant, like instant grits," Newton said. "It's more like collard greens. You've got to let it sit and wait. But at the same time it's going to be a fun process. I know that."
Newton has physical talents as good or perhaps better than any quarterback ever has come into the league with. I think that's the most important thing to start with. No matter how much heart and desire you have, you're not going to achieve greatness if you don't have the physical tools.
Newton doesn't need to go around telling the world he's great or wants to be great. It's a lot more simple than that.
All he has to do is go out and put in a reasonable amount of work, expend a reasonable amount of effort, have some fun, use his natural ability and it just might be easy for him to be great.
April, 28, 2011
4/28/11
8:30
AM ET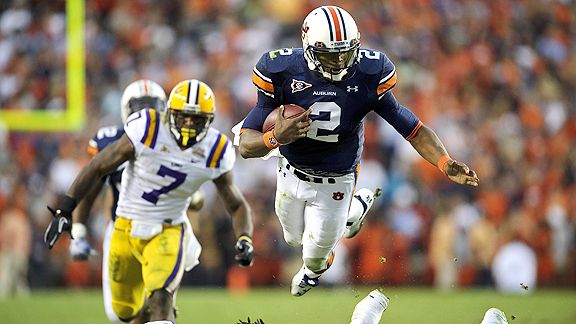 Paul Abell/US PresswireCam Newton has been compared to both Ben Roethlisberger and JaMarcuss Russell.
Cam Newton
has been a huge success just about everywhere he has been.
He won a national championship and a Heisman Trophy at Auburn, and a national junior college title at Blinn College. Coaches, scouts, decision-makers and media draft gurus frequently mention the quarterback in the same context as players such as
Ben Roethlisberger
and
Josh Freeman
. Some will tell you Newton has the potential to be even better than Roethlisberger and Freeman.
So why is it that some people in those very same jobs talk about Newton and mention players such as
JaMarcus Russell
and
Akili Smith
?
Well, it's mainly because most see the 21-year-old as a player who could go either way. The one thing virtually every expert agrees on is that the only thing as huge as Newton's upside is his downside.
Nobody is sure which way the pendulum will swing once Newton gets into the NFL. But in an age when the league is driven by quarterbacks more than ever, it seems a certainty someone will take a chance on Newton in the first 10 picks of the draft.
It could be the
Carolina Panthers
at No. 1, the
Buffalo Bills
at No. 3, the
Arizona Cardinals
at No. 5 or the
Washington Redskins
at No. 10. Or maybe another team will trade up to grab him.
"If he's successful, people are going to love him and the coach and general manager that take him are going to look like very smart guys," a former NFL talent evaluator said. "If he's not successful, it's probably going to cost that coach and general manager their jobs."
If it sounds like Newton is a boom-or-bust prospect, that's because he is.
Here are three reasons Newton has a chance to be a huge NFL success.
1. His athleticism is extremely rare.
Think about quarterbacks who have had big success lately --
Aaron Rodgers
,
Michael Vick
, Roethlisberger and Freeman. They're all extremely mobile. Vick is as quick as a running back, and Rodgers is as elusive as most running backs. Roethlisberger and Freeman aren't as fast, but they're so big and strong that coaches don't mind seeing them take off because they're capable of running over linebackers. Newton has a little of the best features of all those players. He can make plays outside the pocket with his feet. Plus, he has an exceptionally strong arm.
2. Charisma; Newton has won at every level dating to high school.
Teammates follow his lead, and he isn't afraid of the spotlight. As he walked into his session with the media at the NFL combine, one talent evaluator described it as "the moment time stood still." Newton has the type of personality that can charm fans and help sell tickets.
3. The right situation could make him perfect.
In talking to talent evaluators, the general opinion is that Newton would benefit most if he went to a team that didn't ask him to carry it right away. Some suggest he'd be better off in a situation in which he plays sparingly in his rookie year or sits at least half a season with a transition quarterback bridging the gap. Buffalo, with
Ryan Fitzpatrick
already in place, could be an ideal setting. But those same evaluators look at a Carolina roster that, at the moment, includes receiver
Steve Smith
, running backs
DeAngelo Williams
and
Jonathan Stewart
, tight end
Jeremy Shockey
, and a decent offensive line, and say Newton's presence instantly could improve a team that went 2-14 this past season.
Now, let's look at three reasons Newton could be a big failure in the NFL.
1. He hasn't played in an NFL-style offense.
At Auburn, Newton lined up in the shotgun formation frequently, and he doesn't have much experience taking snaps from under center. The Auburn offense didn't rely much on the complicated routes that are prevalent in NFL offenses. As great as Newton's college career was, it wasn't very structured and there are strong concerns that he could fail miserably if he tries a freelance approach in the NFL.
2. In some ways, he's not Freeman, Matt Ryan, Sam Bradford or Joe Flacco.
Those young quarterbacks all have had early success.
"I sat down with Ryan, Flacco, Freeman and Bradford," one talent evaluator said. "Those are four of the smartest quarterbacks I've ever interviewed coming out of college. You could cue up the film to a certain play, and they'd walk you right through every step of it for the entire offense. I saw
Cam's interview with Jon Gruden
, and the look on Cam's face when Jon asked him to walk him through a play scared the absolute heck out of me."
The concerns go beyond Newton learning a complicated NFL playbook. Talent evaluators say they're not sure whether Newton can handle pre-snap reads because he didn't have to do that in college and they have no idea how he'll read and react once he takes the snap.
3. The background and so-called character issues could come back to haunt him.
By now, you've heard all the reports about alleged computer theft when Newton was at Florida, and talk about alleged offers to play for pay when Newton was looking to transfer from Blinn and how that prompted an NCAA investigation. (The NCAA ruled
in December that the Heisman Trophy winner was unaware
of the pay-for-play scheme devised by his father, Cecil.) There have even been reports questioning Newton's work ethic and attitude. NFL teams have been doing a ton of homework on Newton, and they should. If you're going to hand the keys to your franchise to someone, you want to be certain he's not going to go straight out and crash it.
March, 11, 2011
3/11/11
3:21
PM ET
The debate on whether the
Carolina Panthers
should take Auburn quarterback
Cam Newton
with the No. 1 overall pick in the draft has been swirling for months. That's probably going to continue right up until the draft at the end of April.
[+] Enlarge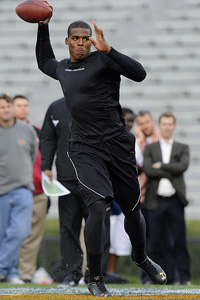 AP Photo/Todd J. Van EmstCam Newton has tremendous upside, but he carries enormous risk as well.
There are lots of mixed views of Newton and I see both sides. But I just got a transcript of a conference call that ESPN draft guru Mel Kiper Jr. did with the national media. In just a few sentences, I think Kiper summarized the entire Newton debate as well as anyone I've seen or heard.
"He's the one player in this draft that presents the biggest upside and he's the one player in this draft that presents the biggest risk, and that's Cam Newton,'' Kiper said. "If you hit with Newton, you're going to have a sensational NFL quarterback down the road. But if you miss, it sets you back three, four or five years. That's what it does to any quarterback you miss on that you take in the first round. Not in the second round, but if you miss in the first round and you take a quarterback in the top 10 it will set you back three, four or five years. That is where the big risk and upside is with Newton. Newton is a one-year wonder.
Akili Smith
was a one-hit wonder out of Oregon and look what happened to him with the
Cincinnati Bengals
. So that's the issue."
Let's continue to debate this one in the comments section and in our upcoming NFC South chats. It makes for great conversation.
But in the end, it's all going to come down to the Panthers deciding if Newton is worth the risk or not.
March, 10, 2011
3/10/11
10:15
AM ET
Time for a trip through some NFC South headlines.
Martin Fennelly writes that signing Tiki Barber
runs contrary to everything the Bucs are doing
. He's absolutely right. The Bucs are building with youth. But until the running back signs somewhere else or decides to stay retired, there will be speculation about the Bucs. With twin brother Ronde in Tampa Bay, this is a great storyline, even though it's an extreme long shot.
Some residents in the neighborhood of Atlanta's proposed open-air stadium
worry that it could turn out to be like baseball's Turner Field
. That facility was supposed to spark all sorts of other development around it, but essentially remains on an island.
Although he doesn't have a contract and appears headed for free agency, fullback Heath Evans
said he's confident he'll re-sign with the Saints
once the labor situation is resolved. This is one where there shouldn't be any complications. Evans wants to play for the Saints and the team obviously likes him and wants him back.
While praising the upside of Auburn quarterback Cam Newton, who could be a candidate for the No. 1 overall draft pick with the Carolina Panthers, ESPN draft analyst Mel Kiper also
addressed the downside
. He did that in the harshest of ways, comparing Newton to Akili Smith. That may sound cold, but that gives an honest portrayal of how unsure many are about Newton. He's drawn comparisons to Pittsburgh's Ben Roethlisberger and Tampa Bay's Josh Freeman and those are flattering. But the comparisons to Smith and JaMarcus Russell make you wonder if he's worth the risk at No. 1.