February, 3, 2010
2/03/10
1:56
PM ET
MIAMI -- Courtesy of ESPN Stats & Information, we've got a good omen for
Reggie Bush
and New Orleans fans.
Bush is a running back and he's originally from San Diego. Those two items are somewhat significant. Running backs from San Diego have a strong history in Super Bowls.
[+] Enlarge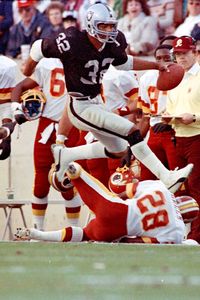 AP PhotoSan Diego native Marcus Allen got 191 yards on the ground for the Raiders in Super Bowl XVIII.
Here's a look:
Marcus Allen -- Super Bowl XVIII -- 20 Rush, 191 yards, 2 TDs vs. Redskins (Super Bowl MVP)
Allen used Super Bowl XVIII as his personal race track rushing for 191 yards on 20 carries in a blowout victory over the defending Super Bowl champion Redskins, 38-9. The most memorable play of that Super Bowl came when Allen scampered for a 74-yard touchdown. Allen took home MVP honors and gave Al Davis and the Raiders his last Super Bowl victory.
Terrell Davis -- Super Bowl XXXII -- 30 Rush, 157 yards, 3 TDs vs. Packers (Super Bowl MVP)
Super Bowl XXXII was a homecoming for the San Diego native Davis and he did not disappoint in his hometown. Davis carried the ball 30 times for 157 yards and three touchdowns, including the game winner. To cap off the perfect game, Davis took the MVP award, giving John Elway and the Broncos the first Super Bowl win in franchise history while denying
Brett Favre
his second straight Super Bowl title. Davis rushed for over 100 yards despite battling migraines throughout the game.
Davis -- Super Bowl XXXIII -- 25 Rush, 102 yards vs. Falcons
The next year, Davis and the Broncos returned for an encore in Super Bowl XXXIII, this time in Miami against the Falcons. Davis had another 100-yard performance rushing for 102 yards in the 34-19 win over Atlanta . Davis played well, but the spotlight belonged to Elway, who passed for 336 yards and a touchdown in what would be his last game.
November, 23, 2009
11/23/09
11:02
AM ET
Time for a trip through the NFC South with the local columnists.
Mark Bradley
writes
that, although the Falcons lost a game, they got quarterback Matt Ryan back. After struggling for the last month or so, Ryan bounced back and played the way he did last year. If that continues, Atlanta has a shot at a playoff spot.
After Atlanta's overtime loss, Daniel Cox
wonders
if the NFL's coin-toss, sudden-death system is fair.
Joe Henderson takes a look at how Tampa Bay's Josh Freeman came
back to earth
after playing so well in the first two starts of his rookie season.
Carolina Huddle has a
good overview
on the situation with coach John Fox and his future with the Panthers. I heard two national radio guys debating this over the weekend. One said it's ridiculous to say Fox is on the hot seat because owner Jerry Richardson has never said that. Umm, other than Al Davis and Jerry Jones, what owner ever has come out and said a coach is on the hot seat? I'm not ready to say Fox is gone, but he's definitely on the hot seat. There's disappointment in the fan base that the Panthers have been mediocre after going 12-4 last year. I also know ownership is painfully aware that Fox never has been able to put together back-to-back winning seasons.
Jeff Duncan writes about how the Saints and
their fans
took over Raymond James Stadium on Sunday.
In his new role at NewOrleans.com, Brian Allee-Walsh has a
detailed account
of the Saints' victory Sunday.
August, 26, 2009
8/26/09
4:29
PM ET
Posted by ESPN.com's Pat Yasinskas

TAMPA, Fla. -- There could be even another element to the quarterback situation for the Buccaneers.

The team could be looking to trade one of its quarterbacks for a draft pick. Coach Raheem Morris wouldn't confirm an NFL.com report that the Bucs are shopping three of their quarterbacks for a trade, but he didn't deny it either.

"Oh, man, they're Nostradamus," Morris said when asked about the report. "Everybody in this league, all 32 teams around this time start calling front offices. I can't control who calls us. Everybody's interested in everybody's roster and everybody's looking to nit-pick off everybody's roster. Everybody has talent and you're trying to accumulate the best talent on your football team. That's just all that talk is what that is."

But it makes total sense for the Bucs to at least try to find out what the market value might be for Byron Leftwich, Luke McCown or Josh Johnson. They're not about to let go of rookie Josh Freeman, who they call their franchise quarterback.

But that's likely in the future. For now, it appears the Bucs will open the season with either Leftwich or McCown as their starter. They're about even at this point and a potential trade could play into Morris' decision, although the Bucs likely would be able to get only a late-round pick (at best) for any of their quarterbacks.

Leftwich, a former starter in Jacksonville, probably has more trade value because of his experience. McCown has only seven starts. Johnson, a second-year pro, has yet to play in an NFL game and probably wouldn't bring much in a trade.
July, 24, 2009
7/24/09
10:30
AM ET
| | |
| --- | --- |
| | |
| | Al Messerschmidt/Getty Images |
| | Former Falcons quarterback Michael Vick may get conditionally reinstated, but even if he does, will any team want him? |
Posted by ESPN.com's Pat Yasinskas
Anybody want Michael Vick?
That's not a question. It's a plea. Seriously, I'd be thrilled to trade you the former Atlanta quarterback for anything. Heck, for nothing. Take him and the mountain of baggage he carries, please.
Still no takers?
Don't feel isolated. It appears nobody is lining up to take Vick. Selfishly, I'm not real happy about that because I've had more than my share of the ugly Vick saga, which has dragged on seemingly forever.
As the NFC South blogger, my territory includes Vick until he signs with a team in another division. My readers write me every day to ask me to stop writing about Vick because they're so tired of hearing about him. That's probably not going to change any time soon.
Yes, Vick is out of prison and done with home confinement. Yes, ESPN's Sal Paolantonio is reporting Commissioner Roger Goodell has decided to grant Vick a conditional reinstatement for training camp, although there remains a chance the quarterback could face a four-game suspension.
Even with the conditional reinstatement, there's no guarantee an NFL team will step forward to take an immensely talented athlete, who may or may not be suited to play quarterback or some other position and is certain to bring a swarm of media and protesters if he shows up anywhere near a stadium. And the cloud of a possible four-game suspension doesn't make Vick any more appealing.
Still, I thought there was a chance some owner (Jerry Jones? Al Davis?) might take a shot. Now, I'm thinking there's a very real chance 32 owners will pass on Vick.
October, 1, 2008
10/01/08
3:29
PM ET
Posted by ESPN.com's Pat Yasinskas
TAMPA, Fla. -- Monte Kiffin is known for putting together aggressive defenses on the field.
When it came time to defend his son, Kiffin took a passive-aggressive approach. Lane Kiffin was fired as coach of the Oakland Raiders on Tuesday and was criticized by owner Al Davis in his news conference announcing the move.
"It was a long day and I really don't want to go there and all due respect to you guys and you guys have been great in this matter,'' Monte Kiffin said.
Kiffin was asked if he was proud of how his son had handled the situation.
"Take the high road,'' the Tampa Bay defensive coordinator said. "That's all you can do.''
Kiffin declined to comment on Davis' contention that Lane Kiffin wanted to bring his father to Oakland as the defensive coordinator.
October, 1, 2008
10/01/08
2:55
PM ET
Posted by ESPN.com's Pat Yasinskas
TAMPA, Fla. -- Some hilarious stuff from Denver coach Mike Shanahan on his conference call with the Tampa Bay media.
Shanahan, who had a well-publicized parting with Oakland and Al Davis, provided a unique perspective on the Raiders' firing of Lane Kiffin.
"I was a little upset because Lane actually lasted 34 days more than me,'' Shanahan said with a laugh. "That means Al likes Lane better than me. I was a little upset with that. Our records were fairly close, but I just thought I'd lighten the mood a little bit.
Shanahan then kept the mood light.
"You think about it, it doesn't seem fair,'' Shanahan said. "I was 8-12. He was 5-15, but he got 34 days more paid than I did. It doesn't seem right.
Shanahan sure sounded like a man who believes he's had the last laugh on Davis.
"Anyway, I told people the press conference speaks for itself,'' Shanahan said. "I don't have to say anything.''
September, 30, 2008
9/30/08
6:28
PM ET
Posted by ESPN.com's Pat Yasinskas
Just watched the press conference where Raiders owner Al Davis officially announced the firing of coach Lane Kiffin and there were a couple of revelations tied to the NFC South.
Davis said Kiffin wanted to hire his father, Monte Kiffin, as defensive coordinator. Monte Kiffin was at the time, and still is, the defensive coordinator for Tampa Bay. Davis said the team never attempted to hire Monte Kiffin and that he called Tampa Bay general manager Bruce Allen to tell him what Lane Kiffin wanted to do. Davis said he did not violate the NFL's tampering rules.
I will try to get Monte Kiffin's reaction to this tomorrow when I go out to Bucs' practice.
Also, Davis revealed Lane Kiffin was a candidate for the University of Arkansas job late in the 2007 season. Davis said he told Arkansas officials they could pursue Kiffin after Oakland's season was over. Davis said Bobby Petrino, who was coaching the Atlanta Falcons at the time, learned of Lane Kiffin's interest in the Arkansas job. Davis implied Petrino stepped up his interest in the Arkansas job to get ahead of Kiffin and that's why he left the Falcons with four games remaining in the 2007 season.
September, 30, 2008
9/30/08
3:34
PM ET
Posted by ESPN.com's Pat Yasinskas
Oakland's firing of Lane Kiffin may be an AFC West story, but it brings to mind two current NFC South head coaches.
Tampa Bay's Jon Gruden and Carolina's John Fox have done just fine since getting away from Al Davis' dysfunctional empire. Gruden won a Super Bowl and Fox has been to one.
The fact that neither of them could stand to be with Davis any longer and they both have moved on to better things should provide some encouragement for Kiffin. He'll get another coaching job, whether it's in the NFL or at the college level.
There is no shame in clashing with Davis. In fact, it's a badge of honor. I remember when Fox was on the verge of being hired by the Panthers in 2002. I asked an NFL executive if Fox's mysterious departure from his spot as Oakland's defensive coordinator raised a red flag. The executive said the fact Fox didn't see eye-to-eye with Davis would be viewed as a plus by many around the league.
Fox had to pay his dues, first as a consultant for the Rams and, later, as defensive coordinator for the Giants, but he's done just fine. So has Gruden. He got himself "traded" out of Oakland and beat the Raiders in the Super Bowl the next season.
September, 17, 2008
9/17/08
8:00
AM ET
Posted by ESPN.com's Pat Yasinskas
All right, time for the first-ever mailbag on this space devoted entirely to Panthers fans. We're breaking it up into four individual mailbags (one for each team), but I still would like to have some more questions to work with from Falcons fans. For now, onto the Panthers:
Jim in Charlotte writes: Miss you in Charlotte, keep up the good work. With the upcoming schedule, can you see the Panthers going 8 and 0 or 7 and 1 over the first half? And how do you think they will finish? Thanks, Jim
Pat Yasinskas: 8-0 or 7-1 is not impossible, but certainly very ambitious. With wins very possible against Minnesota, Atlanta and Kansas City coming in the next three games, a 5-0 start is realistic. But division games with Tampa Bay and New Orleans loom after that and I still think this is going to be a very competitive division. I see the Panthers in the playoffs and, perhaps, winning the NFC South. I'll put the usual disclaimer here that injuries, etc., can always change things, but Carolina's shown in the first two weeks it's for real.
---
David in Charlotte writes: Pat, Enjoyed the Steve Smith article. I thought the picture of Leadership w/ Integrity 1st was painted very well. I'm left hanging though wondering if this was because of the owner - who was a player for the Colts once - so he's lived these situations in the locker room and he has strong NFL relationships? Or was this all his staff? The reason it matters is because we will go through many coaches - but the owner makes his/her expectations known. Wouldn't it be fun to contrast the owners....some have the win at all cost mentality -- others care more about the future of the NFL and the character of the sport. regards, David
Pat Yasinskas: Great points. Panthers owner Jerry Richardson is the only owner to play in the league. He also is very big on integrity and one of the most impressive people I've ever known. The Panthers like to say all football decisions are left up to John Fox and Marty Hurney and that's almost entirely true. At very least though, Hurney and Fox work for Richardson and know what he expects. In the Steve Smith case, I wouldn't be at all surprised if Richardson was involved in the decision. I'd say it's a strong possibility, but we'll probably never know for sure. Richardson likes to keep a very low-profile and for most of the last few years I worked for The Charlotte Observer, he would only give one interview a year and he would do it with me at the NFL's spring meeting. I wish -- and I told Mr. Richardson this many times -- that he would talk to the media more often. He's a fascinating man with lots of stories and insight. But it's his choice and he chooses to keep quiet most of the time. Richardson gets unfairly portrayed because some local media and fans see him as being an incommunicado owner and that's flat-out wrong. If that host would look around the league and at the other sports, he'd see a lot of owners who talk far less than Richardson. In the five seasons I covered the Buccaneers, Malcolm Glazer and I had one conversation. He said hello and I said hello. Or when's the last time you heard Al Davis address the media?