December, 13, 2013
12/13/13
10:00
AM ET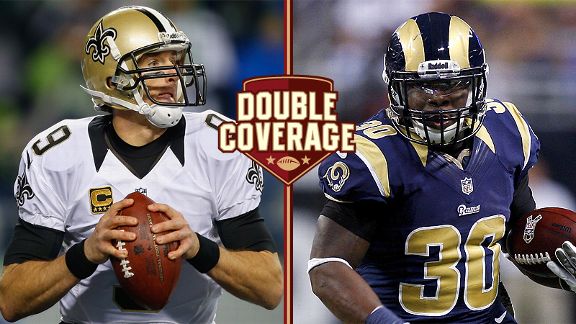 Getty Images, USA TODAY SportsDrew Brees and the Saints are piling up numbers, but Zac Stacy and the Rams may give them trouble.
While the
New Orleans Saints
come to the Edward Jones Dome on Sunday with plenty to play for, the
St. Louis Rams
have been eliminated from playoff contention.
The scenario of the Rams playing out the string and the Saints pushing for prime seeding in the NFC is one we've seen before. But, for whatever reason, the Rams have beaten or played the Saints tough in recent meetings. In addition, Rams coach Jeff Fisher has a history of success against New Orleans.
In this week's edition of Double Coverage, ESPN.com Rams reporter Nick Wagoner and Saints reporter Mike Triplett discuss the Rams' relative success against the Saints, and much more.
Wagoner:
The Rams are out of the mix for the postseason and again playing a much better New Orleans team at home. In 2011, the Rams stunned everyone by knocking off the Saints in a somewhat similar situation. It seems New Orleans has struggled to find traction on the road this year. Anything in particular you can point to for those problems?
Triplett:
Well, first of all, the Saints hate that question. But it keeps coming up this year because they have struggled quite a bit on the road -- they're 3-3, and two of their wins were surprisingly low-scoring. The Saints actually have the best road record in the NFL since 2009 (24-14). But part of the reason they catch so much heat for looking so human on the road is because they play so super-human at home (as former linebacker
Scott Shanle
said recently).
There's no one real consistent theme for their road struggles. Sometimes it has been weather conditions or footing -- neither of which will be an issue on Sunday. And sometimes, of course, they just come out flat. But I don't expect that from the Saints this week since they know how much is on the line with the playoffs looming.
Nick, with no playoff hopes to inspire the Rams, do you see them treating this game with the same intensity? I know they're coming off two losses on the road. Have you seen any signs that they can bounce back and cause trouble for the Saints?
Wagoner:
Speaking of questions teams hate, Fisher doesn't appreciate anything that looks at the big picture or beyond the next game. For all the problems this team has, effort and buy-in aren't on the list. The Rams have nothing tangible to play for this season, but this is the youngest team in the league and there are plenty at Rams Park who have long insisted that the target year for a breakout is 2014. To get there, they need to continue to make strides over the final three weeks, so I would expect them to put up more of a fight to close out the season.
As it pertains to the Saints specifically, the Rams have a habit this season of playing good teams pretty tough, save for San Francisco. They've beaten Arizona, Indianapolis and Chicago, and they gave Seattle all it could handle at home. There's no guarantee they can carry that over to Sunday, but after two bad performances the past two weeks, I expect a more representative performance against New Orleans.
One storyline that intrigues me here is the presence of Rob Ryan. The Saints went from a former Rams head coach at defensive coordinator (Steve Spagnuolo) in 2012 to one who looked like he was about to become the Rams' coordinator this year. How has Ryan been able to turn around that defense in one year, and what are the biggest differences?
Triplett:
Yeah, the Saints definitely owe the Rams an apology for that one -- or a thank-you note. Ryan has made a huge impact. His two most important qualities are probably his attitude and his creativity. Players immediately responded to his enthusiasm and his energy level. They say Ryan makes the game fun, something players have said about him throughout his career. Just as important, he has shown enough flexibility to mold his defense around the players he's working with (which became a necessity when they suffered a handful of key summer injuries).
I've been especially impressed by the way Ryan has featured young pass-rushers
Cameron Jordan
and
Junior Galette
and rookie safety
Kenny Vaccaro
, among others. And he'll throw a ton of different looks at teams from week to week and series to series. I'm shocked that this is the first time Ryan's had a winning season as a defensive coordinator. He obviously found the right fit for himself in New Orleans.
Tell me about the Rams' defense. Any chance they can hang with the Saints' potent offense? Who might match up against tight end
Jimmy Graham
and the running backs who catch passes out of the backfield?
Wagoner:
The Rams' defense has been especially hard to figure. They expected to be a top-10 group but haven't been able to do it for a few reasons. The pass rush has games where it absolutely dominates and takes over.
Robert Quinn
has emerged as one of the game's best and
Chris Long
is still dangerous. When the pass rush is humming, it makes life miserable for opponents. That's the Rams' best hope for slowing down the Saints.
But the Rams don't match up all that well with New Orleans on the back end. The secondary has struggled mightily, especially at safety. Graham is a matchup nightmare for all teams, and he could really expose the Rams' issues at safety. The Rams drafted linebacker
Alec Ogletree
to help neutralize guys like Graham, and he could get the call on Sunday. He's a former safety playing linebacker and has at times flashed elite cover skills for a linebacker. But I think he's flattened out a bit in that area in recent weeks while his run-stopping skills have improved. The secondary is going to require major upgrades in the offseason, and given the Saints' weapons, anything short of a dominant pass rush will make for a long day for the Rams.
While we're talking about the Saints' offense, it seems like it's as good as ever, with
Drew Brees
putting together another monster season. You see that group every day and every week in games. Are there weaknesses that can be exploited, and how have teams found success in slowing them down?
Triplett:
Every once in a while, the Saints' passing offense does get slowed down. The best way to succeed against them is to get physical and disruptive in coverage -- bumping and chipping guys at the line, pushing the envelope within the five yards of contact and trying to stay tight on them down the field. It worked for New England (in heavy man coverage) and Seattle (more zone coverage). But it's easier said than done. The Panthers tried to play physical this past week, but they didn't have the manpower to stop Graham and receiver
Marques Colston
. The Saints usually burn defenses with their "pick your poison" offense since they are so deep and versatile.
Interesting that you brought up Ogletree. I liked him as a possible pick for the Saints in April. Instead, they drafted another disruptive athlete -- Vaccaro -- who has made a nice impact in a versatile role. One of the main reasons the Saints drafted Vaccaro was because they liked his ability to cover slot receivers like
Tavon Austin
. I saw Austin's breakout performance a couple weeks ago. Any chance he can be that X factor on Sunday?
Wagoner:
Well, Austin suffered an ankle injury against Arizona last week and Fisher has called him day to day. If Austin plays, it's possible his ankle could slow him down a bit. Considering his game relies so much on speed and elusiveness, an ankle injury could affect him more than it might other players. If he's OK, he certainly could be an X factor. Without
Sam Bradford
at quarterback, the Rams really struggle to put together long drives. They need big plays to keep up in most games, and Austin is the one guy capable of consistently providing them. If they don't have him, it's going to make an already difficult task even tougher.
April, 15, 2013
4/15/13
3:10
PM ET
For those of you that read this blog regularly, you know I see LSU defensive end/linebacker
Barkevious Mingo
and Georgia linebacker
Jarvis Jones
as the two most logical draft possibilities for the
New Orleans Saints
at No. 15.

My thinking hasn't changed at all. The Saints need a strong pass-rusher as they switch to the 3-4 scheme and Mingo and Jones each fit that profile.
But, as I get ready to make New Orleans' first-round pick in next week's blog network mock draft, I'm trying to prepare for all scenarios. And one scenario could be that Jones and Mingo both are off the board.
Georgia's
Alec Ogletree
also has been tied to the Saints in some mock drafts. He's an inside linebacker and a good one. The Saints have
Curtis Lofton
and
Jonathan Vilma
at inside linebacker. However, Vilma might be nearing the end of his career and it might be time to look to the future.
If Missouri defensive tackle
Sheldon Richardson
is available at No. 15, I'd have to consider him. The Saints already have Brodrick Bunkley, but they need all the help they can get for a run defense that was hideous last year.
There's another spot on the defense that I'd also consider. That's cornerback. Florida State's
Xavier Rhodes
and Washington's
Desmond Trufant
would have to be considerations. I'm not sure the Saints can afford to count on
Patrick Robinson
as the third cornerback after
Keenan Lewis
and
Jabari Greer
.
As much as the Saints need help on defense, I'm not completely ruling out a surprise. Sean Payton is an offensive coach. The Saints are a little thin at wide receiver beyond
Marques Colston
and
Lance Moore
. I'm not completely ruling out West Virginia receiver
Tavon Austin
.
Those are my thoughts on the Saints' scenarios. Let's hear what you have to say in the comments section below. And I'm more than open to alternative scenarios that I didn't mention.
April, 5, 2013
4/05/13
11:01
AM ET
Todd McShay's latest
Insider mock draft

is out and he's going against the conventional wisdom that says the
Tampa Bay Buccaneers
will take a defensive player in the first round.
McShay has the Bucs taking West Virginia receiver
Tavon Austin
at No. 13. The Bucs recently have added receivers
Kevin Ogletree
and
Steve Smith
to compete with
Tiquan Underwood
for the backup jobs behind
Vincent Jackson
and
Mike Williams
.
Would the Bucs really use their first-round pick on a guy that's projected as a slot receiver? I wouldn't rule it out. Tampa Bay appears to be committed to giving quarterback
Josh Freeman
all the tools he needs to succeed and Austin is a dynamic playmaker.
At No. 14, McShay has Carolina taking Missouri defensive tackle
Sheldon Richardson
. That's a very common pick for the Panthers in mock drafts. If Richardson is there, I think he'd be a solid fit for the Panthers.
McShay has the
New Orleans Saints
taking Georgia linebacker
Alec Ogletree
. That's entirely possible. But I think Ogletree's college teammate, linebacker
Jarvis Jones
, also could be a possibility for the Saints.
At No. 30, McShay has the
Atlanta Falcons
taking Florida State defensive end Cornellius Carradine. I'd like to see the Falcons add a cornerback, but I'm not sure they'll be able to get good value in the first round. Adding a pass-rusher like Carradine wouldn't be a bad alternative because he could make the cornerbacks look better.
April, 1, 2013
4/01/13
2:05
PM ET
Let's take a look at Todd McShay's latest
Insider mock draft

from an NFC South perspective.
At No. 13, he has the
Tampa Bay Buccaneers
taking West Virginia receiver
Tavon Austin
. I wouldn't totally rule this one out because the Bucs want to give quarterback
Josh Freeman
all the help they can. Austin could be explosive as a slot receiver. But the Bucs already have signed Kevin Ogletree to compete with
Tiquan Underwood
for the spot as the third receiver. I think Tampa Bay's needs on defense are much greater and the Bucs should use that pick on the defensive side of the ball.
At No. 14, McShay has Carolina taking Missouri defensive tackle
Sheldon Richardson
. That's a decent possibility. But I could see the Panthers going with a cornerback, like
Desmond Trufant
or
Xavier Rhodes
.
McShay has the
New Orleans Saints
taking Georgia linebacker
Alec Ogletree
at No. 15. I like that pick a lot. The Saints are in the process of switching to a 3-4 defense and they need more athleticism at linebacker.
At No. 30, McShay has Atlanta taking Florida State defensive end
Cornellius Carradine
. Atlanta's big need is at cornerback, but Trufant and Rhodes could be off the board before the Falcons get to pick and there's no other corner that would bring good value at that point. Adding a pass-rusher to go with
Osi Umenyiora
might be the next best option.
March, 6, 2013
3/06/13
2:03
PM ET
Todd McShay has the latest edition of his
Insider mock draft

up and he's going heavily with defense for most of the NFC South.
At No. 13, McShay has the
Tampa Bay Buccaneers
taking Texas safety
Kenny Vaccaro
. This seems to go hand in hand with the growing sentiment that veteran
Ronde Barber
won't be back (either by his choice or the team's choice). I'd like to see the Bucs get a cornerback in the first round, but there's no one available with good value in this scenario. Drafting Vaccaro a year after drafting safety
Mark Barron
might be a little unusual, but it would put the Bucs in good shape at safety for the long term.
At No. 14, McShay has Carolina taking Missouri defensive tackle
Sheldon Richardson
. If Richardson is indeed available at No. 14, I think this would be a great pick for Carolina. The defense improved last year and solidifying the middle of the line could turn the defense into an elite unit.
At No. 15, McShay has New Orleans taking Georgia linebacker
Alec Ogletree
. He's athletic and quick and that's what the Saints need at linebacker.
The only NFC South team McShay doesn't have going with a defensive player in the first round is Atlanta. He has the Falcons taking Stanford tight end
Zach Ertz
at No. 30. That makes plenty of sense if you believe
Tony Gonzalez
is going to retire. But I'm not convinced that's going to happen. I'd rather see the Falcons go with a defensive end here and take Texas A&M's
Damontre Moore
, LSU's
Sam Montgomery
or SMU's
Margus Hunt
.
March, 1, 2013
3/01/13
8:38
AM ET
Let's take a quick trip through the headlines from all four NFC South precincts:
ATLANTA FALCONS
Jeff Schultz writes that University of Georgia products Jarvis Jones and Alec Ogletree both seem to have their
stock falling
after the combine. Both could be available at No. 30 when the Falcons draft. Would Atlanta take either one of those guys? I'd say it's a long shot. Ogletree has had some off-field problems and Jones comes with health issues.
CAROLINA PANTHERS
Joseph Person writes that defensive tackle Dwan Edwards, a potential free agent,
wants to return
to the Panthers. I'm pretty sure the Panthers want to re-sign Edwards, who was a pleasant surprise last season. Carolina has cap issues, but the Panthers should be able to clear enough room to keep Edwards. If they can re-sign Edwards and draft a defensive tackle fairly early they should be able to stabilize the middle of their defensive front.
NEW ORLEANS SAINTS
Bradley Handwerger has
a summary
of how the Saints have put themselves within striking distance of getting under the salary cap. But he brings up a good point when he mentions that the Saints also are likely to need room to make tenders to restricted free agents -- center Brian De La Puente, long-snapper Justin Drescher, defensive end Junior Galette and running back Chris Ivory. The Saints aren't done with their cap moves yet and we're still waiting to see if they restructure or release veterans Jonathan Vilma and Will Smith.
TAMPA BAY BUCCANEERS
In his
latest mock draft
, Scott Reynolds has the Bucs taking Oklahoma offensive tackle Lane Johnson in the first round. That runs counter to the popular belief that the Bucs will go with defense. But this scenario makes some sense. The Bucs might not be able to get a defensive player they really want in the middle of the first round. Johnson could come in and provide an instant upgrade over Demar Dotson at right tackle and could be the eventual successor to Donald Penn at left tackle.
January, 16, 2013
1/16/13
2:02
PM ET
Mel Kiper Jr. has put out his first
mock draft

, so let's take a look at what he's projecting from the NFC South in the first round.
Tampa Bay Buccaneers.
He has Tampa Bay taking Georgia linebacker Alec Ogletree. In some ways, I like this call. Put Ogletree with
Lavonte David
and
Mason Foster
and the Bucs could have a very good linebacker corps for a long time. But part of me would like to see the Bucs get a cornerback with this pick. They certainly have a huge need at that position. But Kiper has Alabama's Dee Milliner going in the top five. Florida State's Xavier Rhodes is the only other cornerback he has going (late) in the first round. Maybe Milliner's stock drops between now and the draft, but I doubt it. The more likely scenario is that Rhodes or some other cornerback climbs draft boards with good workouts.
Carolina Panthers.
Kiper has them taking Missouri defensive tackle Sheldon Richardson. I'm all for that move. The Panthers have been weak at defensive tackle since
Kris Jenkins
left the team after the 2007 season. It's time to invest an early draft pick in the position.
New Orleans Saints.
Kiper also has the Saints taking a defensive tackle -- Ohio State's Jonathan Hankins. This one also makes plenty of sense. Former first-round pick
Sedrick Ellis
never has become a star and he's about to become a free agent.
Atlanta Falcons.
We don't know Atlanta's exact draft position yet, but it will be late in the first round. Kiper has the Falcons taking SMU defensive end Margus Hunt. That's logical because the Falcons need to get John Abraham's eventual replacement. But you can't lock in on any one player or position when you're drafting as late as the Falcons will be. Depending on if they keep
Brent Grimes
and
Sam Baker
, I could see them drafting a cornerback or a left tackle. I could also see them drafting a tight end to replace
Tony Gonzalez
.