February, 19, 2014
Feb 19
1:00
PM ET
BRADENTON, Fla. -- What is turning out to be one of the best stories of this year's NFL draft almost ended with
Terrance West
selling clothes.
After a year at a prep school, the running back didn't have any scholarship offers.
"I went back home to Baltimore and got a job at Jimmy Jazz," West said this week at IMG Academy, where he has been preparing for the scouting combine. "I have a son, Brendan, and I needed to make some money. I started to think I would never get a chance to show the world what I could do. I never had a doubt in my mind that I could play on the next level, but it was looking like I just wasn't going to get the opportunity."
[+] Enlarge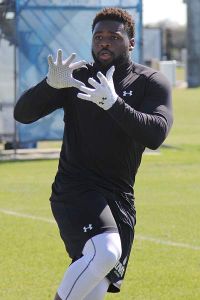 Photo courtesy of IMG AcademyTerrance West set FCS records for rushing yards (2,509) and rushing touchdowns (41) in 2013.
But West didn't give up his dream of playing college football. He continued working out on his own and sending tapes and letters to college coaches. At long last, West got the opportunity to walk on at Towson and the rest is history.
West is expected to be taken anytime from the second round on in the May draft. That comes after an improbable, but stellar career at Towson. West won the Jerry Rice Award as the top freshman in the FCS in 2011. He also set FCS records for rushing yards (2,509) and rushing touchdowns (41) in 2013.
"Terrance West is the unknown, and whoever gets him is going to be very fortunate," IMG director of football operations Chris Weinke said. "Here's a kid that's faced a lot of adversity in his life and he's overcome it. All he did in college was produce when they gave him the football. No one really talked about
Alfred Morris
(of the
Washington Redskins
) coming out. Here's a guy that I think has a lot of the same things Alfred did and, in some ways, probably has a little more. He's more of a receiving threat out of the backfield than Alfred. Terrance West is an explosive guy. He's just a guy that's going to find a way to get it done.''
West knows he's going to get questions from NFL teams in Indianapolis about the level of competition he played against, and he's got his answer ready.
"The game doesn't change," West said. "You get a lot of guys that transferred from bigger schools. The competition is strong. It's not like I was playing against robots and now I'm going to go play against human beings. It's no different. The game and the rules don't change. I'm not worried about the competition."
West might not have the pedigree of someone that went to a bigger school. But he has plenty of confidence.
"I'm a humble guy," West said. "But I feel as though I'm the best back in this draft. People say I went to a small school, but I played against some elite guys. I just feel with my talent and my size, I'm the best back in this draft. I've just got to go out there and prove it."
The
Tampa Bay Buccaneers
seem to be pretty well set at running back with starter
Doug Martin
and backups
Mike James
and
Bobby Rainey
. But last year showed that you never can have enough running backs. If, at some point, West is the top player on Tampa Bay's board, the Bucs would have to consider drafting him. Whatever team drafts West might be getting one of this year's biggest sleepers.
"They'd be getting a running back that's consistent and determined," West said. "No matter what obstacle is thrown in front of him, he's going to overcome everything. He's a team player and he's coachable. He's well balanced, he's quick, he's got great vision, he can catch the ball out of the backfield. I've got everything you could ask for, an all-around back."
December, 27, 2012
12/27/12
3:51
PM ET
In at least one regard, Tampa Bay rookie running back
Doug Martin
is the closest thing to
Adrian Peterson
.
According to ESPN Stats & Information, Martin ranks No. 2 in the league in yards after contact with 614. Peterson, who is being talked about as a Most Valuable Player candidate, leads the league with 932 yards after contact.
Washington's
Alfred Morris
is third with 576 yards, Seattle's
Marshawn Lynch
is fourth with 525 yards, and St. Louis'
Steven Jackson
is fifth with 476 yards.
The other NFC South running backs haven't fared well in this category. Atlanta's
Michael Turner
has 370 yards. New Orleans'
Mark Ingram
has 276 and Carolina's
DeAngelo Williams
has 214.
October, 16, 2012
10/16/12
3:17
PM ET
As I said earlier, when the ESPN.com Power Rankings were released, I'm not really convinced the
Atlanta Falcons
are the
best team
in the NFL.
It's not like I see anyone dramatically better and it's hard to argue with putting the league's only undefeated team at No. 1. But my opinion is based largely on what I've seen the Falcons the last three weeks. They've needed last-minute drives to win against bad teams.
But let's take a look at this
Insider post
by Football Outsiders. I go by sense and feel, but the Football Outsiders go by hard numbers and they're coming up with the same conclusion I am about the Falcons.
They point out several things that throw rain on Atlanta's parade, starting with the fact the teams the Falcons have beaten are a combined 12-22 and none has a winning record. It also is pointed out that only two of Atlanta's future opponents have winning records at the moment.
Football Outsiders also points out the shortcomings of Atlanta's running game. It would be nice to have a running game, but I'm not sure this is all that big a deal. The Falcons came into the season wanting to be more of a passing team and they're accomplishing that.
But, if you're looking for a flaw that could really bring down the Falcons in the postseason, Football Outsiders has it. It points out how Denver's
Willis McGahee
, Washington's
Alfred Morris
and Kansas City's
Jamaal Charles
and Carolina's multi-faceted backfield all had an easy time running on the Falcons.
Think about the possibility of the Falcons having to stop
Matt Forte
,
Frank Gore
or
Ahmad Bradshaw
in a playoff game?
If they finally are going to win a postseason game in the
Mike Smith
era, the Falcons are going to have to improve at stopping the run.
They'll get some relief soon when defensive tackle
Corey Peters
comes off the physically unable to perform list. Peters will help, but I'm not sure he solves everything.
If the Falcons really want to go far into the postseason, coordinator Mike Nolan better start finding ways to make the run defense better.
September, 30, 2012
9/30/12
8:26
PM ET
Thoughts on the
Tampa Bay Buccaneers
'
24-22 loss
to the
Washington Redskins
at Raymond James Stadium:
What it means:
The Bucs put out another solid effort, but all it added up to was their third straight loss, all against NFC East opponents. The Bucs are 1-3 and tied with Carolina for second place in the NFC South. They could have moved to 2-2 and sole possession of second place if they had been able to hold on after taking a late lead. But that didn't happen. This team is doing some good things under Greg Schiano, but the Bucs have yet to put it all together. That's not unusual with a new coach. It took the Bucs half a season to start grasping things back when Tony Dungy took over and he wound up leading the team through its longest period of consistent success. At least these Bucs are looking better than the Bucs in the first half of Dungy's first season.


Defense collapses:
Tampa Bay's defense has been the bright spot through most of the first four games. But the defense let the Bucs down when it mattered most on Sunday. After
Connor Barth
gave the Bucs a 22-21 lead with under two minutes left,
Robert Griffin
III and the Washington offense were able to march straight down the field to set up
Billy Cundiff
's game-winning field goal. The defense didn't have a great day overall. Griffin threw for 323 yards and
Alfred Morris
rushed for 113 yards.
Hope for the offense:
There finally were some bright spots out of the Tampa Bay offense.
Josh Freeman
threw for 299 yards and had a particularly good second half to put the Bucs back in the game.
Vincent Jackson
had six catches for 100 yards. The Bucs also diversified their running game, getting
LeGarrette Blount
a bit more involved. Blount got six carries and had 17 yards and a touchdown.
Doug Martin
, who had been getting the vast majority of the carries, had eight carries for 33 yards.
What's next:
The Bucs have a bye next week. Their next game is Oct. 14, at home with Kansas City.