NFC South:

all-decade team
September, 27, 2012
9/27/12
3:42
PM ET
Former Tampa Bay stars Warren Sapp and John Lynch and former Atlanta and New Orleans kicker Morten Andersen have taken the first step toward the Pro Football Hall of Fame.

They still have a long way to go, but Sapp, Lynch and Andersen are among the 13 first-year-eligible candidates from the modern era for the Class of 2013, the Hall of Fame announced Thursday afternoon.

Those 13 join a list that totals 127 nominees. Hall of Fame voters will narrow that list to 25 in late November. The list will be further reduced to 15 modern-era finalists in early January and the final voting will take place the day before the Super Bowl.

I think all three will eventually get into the Hall of Fame, but Sapp may have the best chance of getting there on the first ballot.

Part of it is because he had an outstanding career and part of it was because he played defensive tackle. When it comes to the Hall of Fame, there's more of a premium place on defensive tackles than there is for safeties (Lynch's position) and kickers like Andersen.

Defensive end Michael Strahan figures to go in on the first ballot. But, outside of him, I'd put Sapp up against any of the other defensive linemen that are in their first year of eligibility -- Sam Adams, Ted Washington and Bryant Young.

The other defensive lineman among the 127 nominees are Carl Hairston, Charles Haley, Ed "Too Tall'' Jones, Joe Klecko, Dexter Manley, Charles Mann and Fred Smerlas.

Lynch is the only defensive back in his first year of eligibility. But Steve Atwater, Joey Browner, LeRoy Butler, Nolan Cromwell, Dennis Smith and Darren Woodson are the other true safeties among the nominees. Aeneas Williams is listed as a cornerback/safety and he was a semifinalist last year. Cornerbacks usually have an easier route to the Hall of Fame. Besides Williams, Eric Allen, Albert Lewis, Troy Vincent and Everson Walls are the cornerbacks listed among the nominees and they could delay Lynch's selection for a bit.

Although Andersen left the game as the NFL's all-time leading scorer and was the on the NFL's All-Decade Team for the 1980s and '90s, there's no guarantee he'll go in on the first ballot.

The only other punters and kickers among this year's nominees are Gary Anderson, Sean Landeta and Nick Lowery. Andersen has better numbers than them, but it's a challenge for a kicker to get into the Hall of Fame.

The only kickers in the Hall of Fame are George Blanda, Lou Groza and Jan Stenerud. Blanda also played quarterback and Groza also was an offensive tackle.

Wide receiver Keenan McCardell, who spent part of his career with the Bucs, also is among the first-year-eligible nominees. But I think McCardell is a long shot to make the cut to the next round.
August, 3, 2012
8/03/12
9:57
AM ET
Nearly 10 years before the NFC South even came into existence, there was a pivotal college game that helped shape the history of two of the division's franchises.
It took place on Sept. 26, 1992, at Alabama's Legion Field. History says that the Crimson Tide defeated Louisiana Tech 13-0 that day, but that doesn't come close to telling the whole story.
[+] Enlarge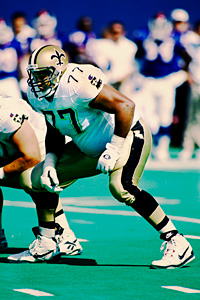 US PresswireWillie Roaf was named All-Pro seven times and was an 11-time Pro Bowl pick in 13 seasons.
What's significant about that day was the matchup of Louisiana Tech offensive tackle Willie Roaf against Alabama defensive end Eric Curry. Paired with defensive end John Copeland, Curry was one of the best-known players in the nation. Roaf, barely recruited out of high school, had started to attract some attention, but that game put him firmly on the radar of NFL scouts.
On that day, Curry's final statistical line had zeroes in the categories for sacks and tackles.
"I say that was a big game because they were the No. 1-ranked defense and those guys got drafted real high,'' Roaf said in a recent conference call. "I had a pretty good game and pretty much got after them. It was a step-up game for me as far as playing those guys.''
On Saturday, Roaf will take the ultimate step up. He'll be inducted into the Pro Football Hall of Fame in Canton, Ohio. He'll become just the second player to spend the bulk of his career with the Saints to be inducted (linebacker Rickey Jackson was the first). Roaf played for the Saints from 1993 through 2001, then went to the Kansas City Chiefs until 2005. In his career, he was selected to 11 Pro Bowls; he was named first-team All-Pro four times with the Saints and three times with the Chiefs. He made the NFL's All-Decade Team for the 1990s and the 2000s.
But let's go back to that day in 1992 and look a little more at how it affected two franchises. Although the Saints were up and down during Roaf's time with them, they always could count on having one of the league's best left tackles. Part of what sold the Saints on Roaf was how well he played against Curry. That game, no doubt, played a major role in why the Saints selected Roaf with the eighth overall pick in the 1993 draft.
Maybe Tampa Bay's scouts, coaching staff and front office should have watched the tape of Curry and Roaf a little more closely, because it might have shown some warning signs. Instead, the Bucs learned their lesson the hard way.
They used the No. 6 overall pick in that draft to take Curry. Aside from an overly enthusiastic hug of former NFL commissioner Paul Tagliabue on draft day, Curry provided no highlights during his time with the Buccaneers. He produced 12.5 sacks in five seasons in Tampa Bay and went down with Broderick Thomas as one of the Bucs' all-time draft busts.
Speaking of busts, Roaf will have his on display in the Hall of Fame.
February, 4, 2012
2/04/12
6:02
PM ET
As they near their 50
th
year of existence, the
New Orleans Saints
finally have a legacy.
The arrival of coach Sean Payton and
Drew Brees
in 2006 has made the Saints one of the league's top teams since, and they won the franchise's first Super Bowl in the 2009 season. But the real cool thing is the recent success undoubtedly has helped people remember some of the bright spots of what had been a mostly inglorious franchise history.
[+] Enlarge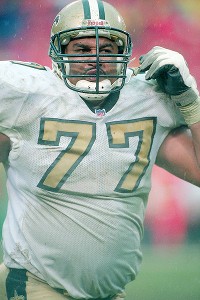 AP Photo/G. Newman LowranceThe Saints weren't a dominant team in the 1990s, but don't blame Willie Roaf. In his 13-year career, Roaf was selected to 11 Pro Bowls.
The latest example of that came Saturday, as offensive tackle Willie Roaf was elected to the Pro Football Hall of Fame. This summer, Roaf joins linebacker Rickey Jackson, a 2010 inductee, as the only other player to spend the bulk of his career with the Saints in the Hall of Fame.
Roaf's selection was more than deserved. In a 13-year career, he was an All-Pro seven times and a Pro Bowl selection 11 times. He also was selected to the All-Decade team for the 1990s and 2000s.
Roaf played for the Saints from 1993 through 2001, then went on to finish his career with the
Kansas City Chiefs
. His final season was 2005. There's no doubt Kansas City fans are celebrating this one as well, but this is bigger for New Orleans because Roaf spent the bulk of his career there.
The Saints weren't great during Roaf's tenure. They won two NFC West titles (that's the division they played in before the NFC South came into existence in 2002) but little else. That could have worked against Roaf, but it didn't. His résumé was strong enough because he was viewed as one of the elite tackles of his era.
He and Jackson now represent the Saints in the Hall of Fame, even though this isn't like baseball's Hall of Fame, where an inductee has to choose which team's cap he wants forever on his plaque.
Roaf did some time with Kansas City, and Jackson also played in San Francisco. But they'll be viewed mostly as Saints, and that's great for the franchise's legacy.
There's some pride from the old days now, and the legacy is only going to continue to grow with the success of the modern-era Saints. It's a virtual certainty that Brees will join Jackson and Roaf five years after his retirement. And there could be more. Tight end
Jimmy Graham
is only in his second season, but he's showing signs he can be an all-time great.
Guards
Jahri Evans
and
Carl Nicks
are generally viewed as the best in the league at their position. If they keep that going, they could also get there. If Payton continues to pile up wins and offensive records, he someday could be a candidate.
The Saints have built a legacy through the years, but Roaf's selection takes it to another level, and there's going to be plenty more to come.
February, 2, 2012
2/02/12
8:47
AM ET
By the end of the day Saturday, Rickey Jackson could have some company.
[+] Enlarge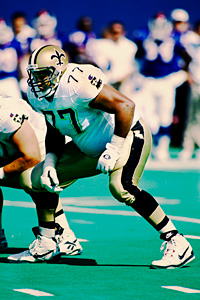 US PRESSWIREWillie Roaf was named All-Pro seven times and was an 11-time Pro Bowl pick in 13 seasons.
At the moment, Jackson is the only player to have spent most of his career with the New Orleans Saints that is in the Pro Football Hall of Fame. That could change very soon because offensive tackle Willie Roaf will be a finalist when the voters gather Saturday.
Roaf also was a finalist last year and reportedly came very close to selection. But Roaf's chances in this class might be even better than they were last year. There is no slam-dunk first-time candidate and that could open the door for Roaf.
His resume already does a pretty good job of that. Roaf played for the Saints from 1993 through 2001 and finished his career with the Kansas City Chiefs, from 2002 through '05. During those 13 seasons, Roaf was an All-Pro seven times and a Pro Bowl choice 11 times. He also was a member of the All-Decade Team for the 1990s.
The biggest obstacle I see for Roaf's selection this year is that Dermontti Dawson and Will Shields also are on the ballot. That makes three strong offensive-line candidates from the modern era, but I'd take Roaf ahead of the other two.
It's hard to quantify offensive linemen because you can't trace their statistics as easily as you can those of skill-position players. You look at things like longevity, All-Pro and Pro Bowl selections and how their teams fared.
If you go by that, I think it backs up my belief that Roaf is the best candidate. First off, he was a tackle. That's a more difficult position than center, which Dawson played, and guard, which Shields played.
Dawson and Roaf each played 13 seasons and Shields played 14, so the longevity issue is basically a draw.
Roaf's seven All-Pro selections might be the strongest argument for his candidacy. Making All-Pro is a much bigger deal than making a Pro Bowl squad because it means you're among the best in the league, not just in your conference. Dawson was All-Pro six times. Shields got the honor three times.
Roaf also made 11 Pro Bowls, while Shields went to 12 and Dawson six.
Some people may look at the fact that Dawson played for the Pittsburgh Steelers and give him a big edge over Roaf and Shields. The Saints and Chiefs were far from dominant teams when Roaf played for them. He was part of a division champion only twice. Shields, who spent his entire career in Kansas City, is in the same boat. Shields played for four division champions. But the Chiefs never won a Super Bowl or an AFC title while he was there.
But the fact Dawson played for Pittsburgh shouldn't give him as much of an edge over Roaf and Shields as some people might think. Although the Steelers have been good for most of their history, they weren't particularly dominant during Dawson's time. They did win five division championships and one conference title. But Dawson never was on a Super Bowl champion.
So the fact Roaf didn't play on great teams shouldn't hurt him. The fact he was one of the best tackles ever should land him in the Hall of Fame.
February, 1, 2012
2/01/12
10:40
AM ET
Former New Orleans offensive lineman Willie Roaf and former Carolina linebacker Kevin Greene are this year's Pro Football Hall of Fame finalists most often identified with NFC South teams. But there's
another tie
. That's seniors candidate Dick Stanfel. He did two stints as New Orleans' offensive line coach and also was interim head coach for the Saints in 1980. But his main claim to fame was as a player. Stanfel was an offensive lineman for Detroit and was selected to the All-Decade team for the 1950s.
The Atlanta Falcons
filled out their coaching staff
with two moves that were expected. Glenn Thomas was promoted from offensive quality-control assistant to quarterbacks coach and Joe Danna was hired as defensive backs coach. Thomas has been with the team since 2008 and has a good relationship with quarterback Matt Ryan. Danna previously worked with new defensive coordinator Mike Nolan in Miami the last two seasons and was a defensive assistant in Atlanta for two years before that. The Falcons also made Andrew Weidinger an offensive assistant. He spent the last four years in Atlanta, providing administrative help for the coaching staff.
Although the Panthers have unveiled a new logo, which is only slightly different from the past, there
won't be any major changes
to their uniforms, Scott Fowler writes. The new logo will be incorporated into helmets and jerseys, but the uniforms will remain the same otherwise.
Former NFL coach Steve Mariucci said he believes Carolina quarterback Cam Newton is
on his way to greatness
. I don't think Mariucci is the first to have that thought.
The Buccaneers reportedly
haven't given up all hope
of bringing in Arizona receivers coach John McNulty as their offensive coordinator, even though the Cardinals refused to grant permission for an interview. The Bucs may make a plea straight to Cardinals ownership. I suppose a trade also would be a hypothetical possibility, but it's hard to imagine a team giving up a draft pick for an assistant coach.
February, 1, 2011
2/01/11
2:58
PM ET
He was an offensive lineman, which means statistical numbers can't tell the whole story. So how do we know
Willie Roaf
should be elected to the Pro Football Hall of Fame?
[+] Enlarge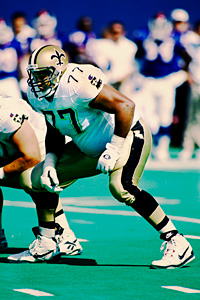 US PRESSWIREWillie Roaf was named All-Pro seven times and was an 11-time Pro Bowl pick in 13 seasons.
It's simple really. You compare him to the best offensive linemen ever. If he stacks up, he gets in. If he doesn't have the résumé, he doesn't get in.
I'll make the case right now that Roaf's résumé is sparkling and he should be elected Saturday when voters in Texas see his name as a finalist in the first year he's eligible. I've been in that election room before and I know there will be some critics that will say Roaf, who spent most of his career with the
New Orleans Saints
and finished it with the
Kansas City Chiefs
, doesn't have any Super Bowl rings and that he didn't play on a lot of great teams.
So what? The thing that really matters is that Roaf was among the best ever at what he did. Off the top of your head, who's the best offensive tackle ever? I'm guessing a lot of people will say Anthony Munoz, who was inducted into the shrine in Canton, Ohio in 1998. Some younger people might argue for Baltimore's
Jonathan Ogden
, who won't be eligible for election until 2013.
The reality is Roaf is right there with them in every way you can measure an offensive tackle. In his 13-year career, Roaf made the Pro Bowl 11 times. That's the same number of Pro Bowl berths Munoz and Odgen had. No offensive tackle has made the Pro Bowl as many times as Roaf, Munoz and Ogden.
Another good measuring stick is to see if a guy has made an all-decade team because that means he was the best at his position for at least most of a decade. Well, Roaf did that -- twice. He was selected to the all-decade team for the 1990s and the 2000s.
Roaf was durable and dominant and that means he's deserving of a spot in the Hall of Fame. Last year,
Rickey Jackson
became the first New Orleans player elected to the Hall of Fame on the day before the Saints won the first Super Bowl in franchise history.
There will be no repeat on Sunday since the Saints were knocked out in the first round of the playoffs. But there should be a repeat Saturday and the Saints should have their second Hall of Famer.
"William Roaf was one of the greatest players in our franchise's history,'' Saints owner Tom Benson said. "He's one of the greatest players to ever play his position and someone that myself and our fans have a great appreciation for. Hopefully, William will have the opportunity to join Rickey Jackson in Canton this summer."
February, 19, 2010
2/19/10
12:00
PM ET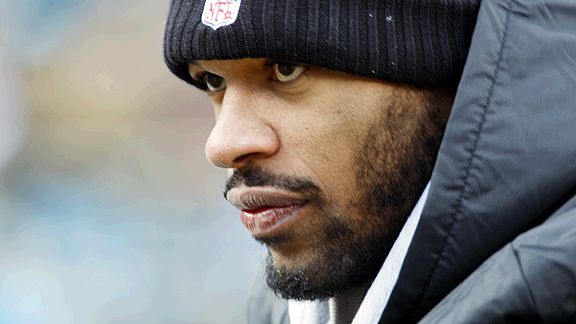 AP Photo/Nell RedmondEven after eight seasons in Carolina, Julius Peppers remains a mystery to many who follow the team.
When
Julius Peppers
first came to Charlotte back in 2002, the key to the city was under his doormat. The deeds for two states were waiting in his mailbox.
The home-grown kid was going to own both of the Carolinas and be the first true superstar to play for the
Carolina Panthers
. It would be almost like Michael Jordan getting drafted by the former Charlotte Hornets instead of the Chicago Bulls.
So what the heck is happening now? Why does it look as if the man who was supposed to be the King of the Queen City and the Count of the Carolinas is about to walk away from a franchise and a fan base that so wanted to embrace him? Why does it look like the Panthers are willing to sit back and watch the best player they've ever had go?
If you could answer those questions with one statement or even point to a single issue, this wouldn't be happening because it could have been resolved. The curious case of Peppers and the Panthers is beyond complicated. Sure, football and money are involved. But it goes way deeper than that. The divorce that appears about to happen if the Panthers don't put the franchise tag on their defensive end before Feb. 25 and let him become a free agent also involves emotions, personalities and a marriage that never was as close to being perfect as it looked on paper.
Blame can flow both ways on this and it's not accurate to say either side is entirely right or entirely wrong. But it is fair to say they both were flawed and maybe this pairing was doomed from the very start.
Let's start with Peppers. If you don't know him, don't feel bad because, basically, nobody knows him. Since the day he walked in the door of Bank of America Stadium, his teammates, coaches and team employees have tried to figure him out. They never have.
I covered Peppers on a daily basis for The Charlotte Observer from the day he was drafted until I left for this space right after the 2007 season. I saw and talked with Peppers many times, but the truth is I've had deeper conversations with my cat.
Peppers is a mystery wrapped in the body of a pass-rusher. He came in as an extremely shy and quiet kid. The only difference in that now is he's no longer a kid. He's 30 and, although he went on a Charlotte radio station recently and said he didn't want to stay with the Panthers, nobody knows what it is he really wants. Nobody really has been able to crack that one.
January, 31, 2010
1/31/10
9:02
PM ET
MIAMI -- The NFL has released its All-Decade team and it has four of what I would call true NFC South players on it and a few other guys with some ties to the division.
Former Tampa Bay linebacker
Derrick Brooks
, current Carolina defensive end
Julius Peppers
, current Tampa Bay cornerback Ronde Barber and former Tampa Bay defensive tackle
Warren Sapp
were named to the team. Brooks was automatic. He's the best player in the history of the NFC South. No argument with Peppers or Barber. Sapp left the Bucs after the 2003 season and spent four more seasons with Oakland.
Sapp should be a Hall of Famer, but I'm not so sure he belongs on this team because of the time frame of his career. Sapp was dominant in the 1990s and very early this decade, but he really didn't do much in his Oakland years and has been out of the game the past two years.
The one guy I think might have been overlooked in favor of Sapp is former Carolina and current
New York Jets
defensive tackle
Kris Jenkins
. For three or four years, he was considered the best tackle in the league, and he's resurrected his career in New York.
A few other guys from the NFC South that you could make a case for are Carolina receiver
Steve Smith
, New Orleans quarterback
Drew Brees
, former Tampa Bay safety
John Lynch
and former Carolina punter Todd Sauerbrun.
Also elected to the All-Decade team were current Atlanta tight end
Tony Gonzalez
, but he had spent his entire career with the Chiefs before joining the Falcons in 2009. Offensive tackle Willie Roaf also made the team. Roaf spent the early part of his career with New Orleans, but left for Kansas City early in the decade.
July, 29, 2009
7/29/09
3:44
PM ET
Posted by ESPN.com's Pat Yasinskas
We'll start this afternoon's NFC South mailbag with a pair of differing opinions on my comment that former Tampa Bay fullback Mike Alstott was overrated.
Mitch in Orlando writes: Pat, I have to agree with Ricky in Naples on his assessment of Mike Alstott. Your number one argument has always been that Alstott was a fullback, and therefore, should have been a better blocker. The problem with that argument is that Alstott was rarely used as a fullback until his final season with the Bucs. He was used as a complementary tailback for years, and rarely called upon to block. If you remember, the team used Jameel Cook and even Michael Pittman to block FOR Alstott. Alstott was always listed as a fullback for Pro Bowl reasons because people always wanted to see him there, just as Tim Duncan was listed as a power forward last year because he couldn't beat out Yao Ming to start at center. In Alstott's final season, he actually was moved to the starter at fullback for the Bucs, and he did rather well there. As a diehard Bucs fan, I would love to see Alstott in the Hall of Fame, but I can't really say he deserves it; however, he certainly does not deserve to be called over-rated.

Brian in Oldsmar, Fla. writes: Just have to say I agree with you about Alstott being overrated. I've been a Bucs fan since the late 80's, and have loved the A-Train from when he came to the team in 96 (If I remember right) to his retirement a few years back. He was a great teammate, person, and player. He had the respect of his peers across the league and was one of the toughest runners the NFL's seen since Csonka and Riggins. Some of the runs he made, especially the goal line carries, were staples of sports highlights for many years. All that said, Mike Alstott was a sub-par blocker. Always was, even in his days at Purdue. As much as I love what Mike did for the Bucs and the Bay area, I think many fans blow his accomplishments out of proportion. Sure his running style could electrify a stadium, and he was perfect as a change of pace back to compliment Dunn, Pittman, or whoever else was carrying the majority of the load. But, is he Canton material? I don't think so at all.
Pat Yasinskas: Both of your points are noted. Again, I'm not saying Alstott was a bad player. He was a very good one. But I think some Tampa Bay fans get carried away and call him the best fullback ever. He wasn't really a fullback -- at least not if you judge the position by the modern era.
---
Brett in Dallas, Ga. writes: I am surprised that no one voted for Rod Coleman for the all decade team, he was a dominant pass rushing DT for the falcons and most certainly one of the best in the division when healthy.

Pat Yasinskas: Yeah, as much as I agree Warren Sapp and Kris Jenkins deserved to be the defensive tackles on the NFC South all-decade team, it is a bit surprising that Coleman didn't even get a vote. He spent four seasons with the Falcons and had double-digit sacks in 2004 and '05. After a year out of the league, I'm very curious to see what Coleman can do for the Saints this year.
---
Corey in Charlotte writes: I was wondering what you think the chances of Mike Goodson showing up in the slot or even wildcat formations are this year. I've been getting pretty pumped about seeing him on the field because I believe he's the type of player that can have some immediate impact.
Pat Yasinskas: I'm also curious about what the Panthers will do with Goodson. The fourth-round pick from Texas A&M gives them some flexibility behind DeAngelo Williams and Jonathan Stewart. You know any John Fox team is going to use the running backs plenty and I think Goodson could fill several roles. With Nick Goings gone, Goodson could get significant time on passing downs. He caught 37 passes in his final year of college. I also think Goodson will get a look in the return game. Not sure the Panthers will use the Wildcat much, if at all. But Goodson certainly gives them some options.
---
Derek in Atlanta writes: Which Falcons backup do you expect to be cut? John Parker Wilson, Chris Redman, or D.J. Shockley?
Pat Yasinskas: Redman is pretty much set as Matt Ryan's backup. That means it will come down to Wilson or Shockley for the final roster spot. I give Shockley a slight edge entering camp because he's been in this offense for a year. I also thought he looked good when I visited Atlanta's minicamp. Wilson could be a candidate for the practice squad.
---
Carlos in Panama City writes: It has been kind of quiet on the status of Arron Sears and I was wondering if you could tell me what is wrong with him? He is one of our young, marquee players and I hate to see him not playing.
Pat Yasinskas: This is a very real concern because Sears has been a solid starter his first two seasons. The Bucs have said Sears is dealing with a personal issue and been very careful not to discuss the matter further. Unless Sears or the Bucs come out and say something definitive, that's about all that can be reported right now. The team has spent most of the offseason working with Jeremy Zuttah in Sears' place at left guard. We'll see if Sears comes to camp. The Bucs may end up placing him on a reserve list if he's not ready to play.