September, 21, 2012
9/21/12
10:33
AM ET
CHARLOTTE, N.C. – With some help from ESPN Stats & Information, let's take a look at how the
Carolina Panthers
lost,
36-7
, to the
New York Giants
at Bank of America Stadium on Thursday night.


Carolina quarterback Cam Newton didn't handle the Giants' blitz very well. When facing five or more pass-rushers, Newton was 5 of 10 for 83 yards with two interceptions. Newton entered the game second in the league with a 72.7 completion percentage against the blitz. New York's Eli Manning, meanwhile, was much more efficient against the blitz. He completed 7 of 8 passes for 74 yards and a touchdown when facing five or more pass-rushers.
Carolina's defense, which had a horrible game, was particularly bad in the secondary. Rookie cornerback Josh Norman and safety Haruki Nakamura struggled all night -- despite the Giants being without starting receiver Hakeem Nicks. Ramses Barden stepped in and had the game of his life, catching nine passes to match his reception total for the entire 2011 season. Barden caught all seven of his targets between the numbers for 114 yards.
Manning ate up Carolina's secondary downfield. On passes that traveled 10 yards or more, Manning was 7 of 9 for 135 yards and a touchdown. He's averaging 15.4 yards per attempt on throws of that distance, which ranks him second in the NFL behind Robert Griffin III.
Barden wasn't the only New York replacement to burn Carolina's defense. Andre Brown stepped in for the injured Ahmad Bradshaw and rushed for 113 yards and two touchdowns on 20 carries. Carolina's tackling was particularly bad against Brown and the running game. Brown finished with 71 yards after initial contact; 63 of those yards came in the first half as the Giants jumped out to a 20-0 lead.
September, 21, 2012
9/21/12
1:22
AM ET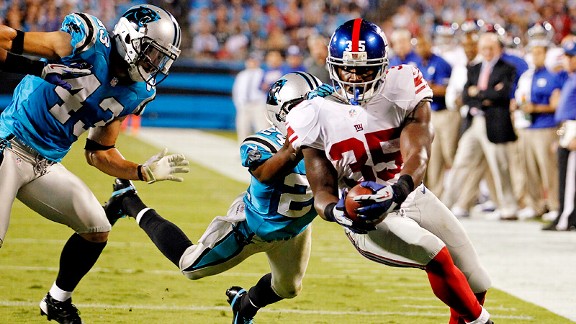 AP Photo/Bob LeveroneAndre Brown and the Giants exposed Haruki Nakamura (43), Josh Norman -- and Carolina's whole D.
CHARLOTTE, N.C. – The
Carolina Panthers
got their best defensive player back from injury, patched the middle of their defensive line, picked up the best linebacker in the draft and found an alleged "steal'' at cornerback in the fifth round.
Put all that together with talent like defensive end
Charles Johnson
' and cornerback
Chris Gamble
', and it was supposed to add up to a team that's a playoff contender.
It might be time to rethink that.
After watching Carolina's defense in a
36-7 loss
to the
New York Giants
at Bank of America Stadium on Thursday night, I think the Panthers look a lot more like the 6-10 team they were a year ago.
Their defense looked worse than it did last season. It was horrible.
"We missed tackles," Carolina coach Ron Rivera said. "We were soft in coverage. You can't do that against a good football team."
No doubt the defending Super Bowl champions are a good team. But the fact is the Panthers can't play this kind of defense and have any chance of going to the postseason.
The Giants weren't even a fully loaded team. Starting receiver
Hakeem Nicks
, starting running back
Ahmad Bradshaw
and starting tackle
David Diehl
missed the game due to injuries.
Like it mattered.
Andre Brown
stepped in for Bradshaw and ran for 113 yards and two touchdowns on 20 carries.
Ramses Barden
stepped into Nicks' spot and produced nine catches for 138 yards. Raise your hand if you had heard of Brown or Barden before Thursday night.
Yeah, it helped that they were playing with quarterback
Eli Manning
. But it was Carolina's defense that turned Brown and Barden into superstars.
The Giants scored on their first four drives and had a 20-0 lead by halftime and the game was pretty much over. Heck, it might have been over by the time the Giants built a 10-0 lead with 3:46 left in the first quarter.
"You get smacked in the face, you have to turn around and throw a punch," Rivera said. "Sometimes, we don't know how."
That's the really disappointing part -- that the Panthers don't know how to throw a punch. The whole offseason was supposed to be about the defense getting better.
Middle linebacker
Jon Beason
, the leader of the defense, was coming back from missing most of last season with an injury. Same for defensive tackle
Ron Edwards
. The Panthers went out and drafted linebacker
Luke Kuechly
in the first round and they're starting fifth-round pick
Josh Norman
at cornerback. They also brought in free-agent safety
Haruki Nakamura
and defensive tackle
Dwan Edwards
.
That was supposed to fix everything. Instead, it looks like the Panthers fixed nothing.
"One thing we're trying to do is get out of this rut," Rivera said. "We're trying to get away from how things used to be and trying to create a vibe. We'd love to have that type of vibe a team like the Giants have."
The only vibe coming out of this game was a bad one.
"If I was a fan of the Carolina Panthers, I would be holding my head down in shame at the product that was out there," quarterback
Cam Newton
said.
[+] Enlarge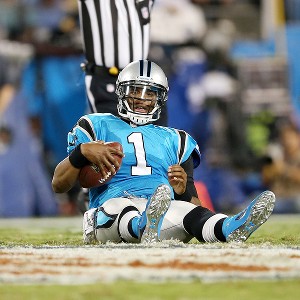 Streeter Lecka/Getty Images"If I was a fan of the Carolina Panthers, I would be holding my head down in shame at the product that was out there," Cam Newton said.
Newton (16-of-30 for 242 yards and three interceptions) and the offense were far from perfect, but they weren't the root of all evil. The offense never had a chance because the defense was so bad from the very start.
"We never stopped the bleeding on defense," Carolina cornerback
Captain Munnerlyn
said. "They came out and did everything they wanted. Nobody really made a play tonight."
Maybe the Panthers can turn it around. Maybe the defense can bounce back and Carolina can contend for a playoff berth for the first time since 2008.
But it's not looking really promising right now. It's looking as though the Panthers should have done a lot more to patch up their defense in the offseason. Maybe Ron Edwards really is just a guy. Maybe there was a reason why Buffalo released Dwan Edwards at the start of the preseason.
Maybe the Panthers, who like to preach about building through the draft, should have drafted a good interior defensive lineman sometime in the past few years. Heck, the last good defensive tackle they drafted was Kris Jenkins in 2001. George Seifert was calling the shots then, so you have to assume the Panthers fell into that one.
Kuechly overran several plays against the Giants, just as he did in the first two games. Norman got lit up by New York's receivers.
"I thought Josh Norman was a little soft, and that's uncharacteristic of him," Rivera said.
Makes you wonder if starting a fifth-round pick at cornerback right off the bat really is a good idea. Then there's Nakamura. The Panthers went out and signed him simply because he was
Ed Reed
's backup in Baltimore.
There was a reason why Nakamura was a backup in Baltimore. Go look at the film from Thursday night. Watch him standing still 30 yards off the line of scrimmage and not giving the cornerbacks any help. Watch the angles he took on a couple of tackle attempts that didn't even come close to being successful. I'm having a hard time believing that
Sherrod Martin
, who was benched in favor of Nakamura, is any worse.
"What this was was a lesson that you get from your big brother," Rivera said. "They came in and slapped you around and dragged you through the gravel a little bit."
Yep, even after all that offseason work, Carolina's defense is still the little brother. If that defense doesn't somehow grow up soon, it's going to be another long season in Carolina.
November, 16, 2010
11/16/10
6:06
PM ET
The
Carolina Panthers
appear to be getting ready to face Baltimore on Sunday without quarterback
Jimmy Clausen
.
The team announced this afternoon that it had promoted quarterback
Brian St. Pierre
from the practice squad. That's a sign the Panthers want St. Pierre to get some work in practice Wednesday because he'll end up as the backup to rookie
Tony Pike
if Clausen isn't cleared to play.
Clausen suffered a concussion against Tampa Bay on Sunday. Pike, a rookie, has played only briefly and opening-day starter
Matt Moore
is on injured reserve.
The Panthers designated rookie receiver
Armanti Edwards
as the third quarterback against Tampa Bay. Although Edwards was a quarterback in college, the Panthers moved him to receiver and have shown no inclination of viewing him as a full-time quarterback.
To make room for St. Pierre, the Panthers waived running back
Andre Brown
. They also signed Sean Ware to the practice squad.
November, 14, 2010
11/14/10
11:50
AM ET
November, 9, 2010
11/09/10
6:09
PM ET
FLOWERY BRANCH, Ga. –- Time for a couple of quick injury notes on the Falcons and Panthers.
Let's start with the Panthers. They put right tackle
Jeff Otah
on the injured reserve list Tuesday afternoon. Otah had not played this season after having knee surgery in August.
With quarterback
Matt Moore
and middle linebacker
Dan Connor
already on injured reserve, the Panthers filled the three roster spots by claiming running back
Andre Brown
off waivers from Indianapolis, signing running back Josh Vaughn and linebacker
Abdul Hodge
.
With the rest of the NFC South off Tuesday, the Falcons practiced because they have a Thursday night game with Baltimore. Receiver
Roddy White
, center
Todd McClure
and linebacker
Sean Weatherspoon
did not participate. White and McClure are good possibilities for Thursday, coach
Mike Smith
said. Weatherspoon continues to sit with a knee injury and it seems likely he'll miss another game.