November, 8, 2013
11/08/13
10:00
AM ET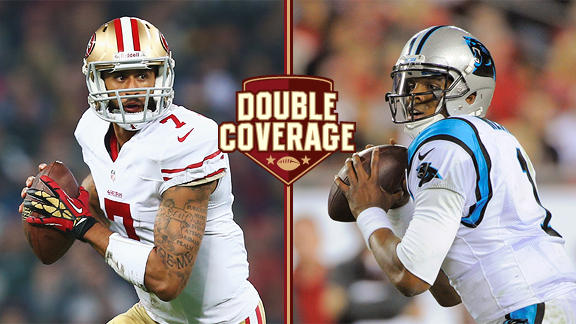 Getty Images, AP PhotoQuarterbacks Colin Kaepernick, left, and Cam Newton highlight a matchup of NFC playoff contenders.
SAN FRANCISCO -- A few weeks ago, this didn't appear to be a premier game.
But the
Carolina Panthers
kept on winning. Now, before the
San Francisco 49ers
have to tangle with potential playoff opponents New Orleans and Seattle in the coming weeks, looms another major NFC test in the form of the Panthers on Sunday at Candlestick Park.
This will be matchup featuring two of the hottest teams in the league. The 49ers have won five straight, the Panthers four straight. ESPN.com 49ers reporter Bill Williamson and Panthers reporter David Newton take a look at the intriguing matchup:
Newton:
These teams appear similar, built around a strong running game, a versatile quarterback and strong defense. Where do you believe the 49ers have the biggest advantage?
Williamson:
They totally believe in what they do. This is a confident team in all phases of the game. San Francisco is deep and focused, and it rarely misfires as a team. The 49ers stick to their plan and have confidence it will eventually wear opponents down. That is particularly true concerning the ground game on both sides of the ball. The 49ers know they are better than most opponents, and they just go out and try to prove it. I think they will try to stuff the Panthers early and get in their heads. David, the Panthers are certainly clicking themselves. Do you think they are up to this task?
Newton:
Because their five wins came against teams with a combined 8-33 record, the critics are wary. So, the Panthers are relishing the opportunity to prove that their winning streak isn't a fluke, that they deserve to be mentioned as a serious contender. The only team they have faced with a record currently above .500 is Seattle, which beat Carolina 12-7 in the season opener. The Panthers believe they should have won that game, too. Like San Francisco, this group is very confident. The Panthers have an attitude and hunger that, with a decent amount of talent, make them dangerous. They won't be intimidated by San Francisco's résumé, particularly Carolina's defense, which is playing as well as any in the league. Just ask the Seahawks, who struggled to score 12 on Carolina, then scored 29 against the 49ers in Week 2. This is a playoff-caliber defense that should keep the Panthers in most games. Their biggest challenge will be stopping
Colin Kaepernick
. He appears to have picked up where he left off last season. How has he improved?
Williamson:
He's a perfect fit for this coaching staff. What coach Jim Harbaugh and offensive coordinator Greg Roman excel at is taking what opposing defenses give them. They will run inside or outside, will use Kaepernick on the ground or through the air and can exploit defenses using receiver
Anquan Boldin
or tight end
Vernon Davis
, depending on what is given to them. Kaepernick plays along perfectly. He is patient and doesn't care about his own stats. He happily executes the game plan. David, do you think Panthers have a chance of frustrating Kaepernick by closing all those gaps?
Newton:
That's the game plan, whether it's a running quarterback such as Kaepernick or a pocket passer. The goal is to stuff the run and make a team one-dimensional, and they've done that well enough to rank second in the league against the run. But running quarterbacks are a concern. Seattle's
Russell Wilson
didn't put up huge numbers in the opener, but he kept the chains moving and completed a high percentage of throws (76 percent, 25 of 33). Buffalo's
EJ Manuel
did the same thing. Carolina had a combined three sacks in those games. The Panthers have averaged more than three a game since. What will the 49ers do to counter the play of
Cam Newton
?
Williamson:
The 49ers respect Newton. They have been talking about how physical Newton is and how they must respect his game. Again, the defense in San Francisco starts with stopping the run. Then, the 49ers tee off on the passing game. This has been a very stingy defense, but Newton is on a roll and will be the best quarterback this San Francisco defense has seen since
Andrew Luck
beat it at home in Week 3. David, do you see Newton succeeding in this game?
Newton:
Most of Newton's success this season has come against defenses ranked in the lower half of the league. Most of it has come because he has gotten comfortable taking what the other team gives him, mostly short stuff, so he's been completing a high percentage of passes the past month. San Francisco has one of the best pass defenses in the league, so I look for Newton to use his legs more early to get into a rhythm, and I look for the Panthers to try to run to take the pressure off Newton. His confidence is at an all-time high, but the 49ers have a defense that can change that quickly.
.
December, 15, 2011
12/15/11
5:23
PM ET
ATLANTA — I'm at the Georgia Dome, which is pretty close to empty, but that will change in a few hours.


I'll be back with the inactives roughly 90 minutes before kickoff. But let's get ready for the game between the
Atlanta Falcons
and
Jacksonville Jaguars
by taking a look at some numbers from ESPN Stats & Information.
Since the arrival of coach Mike Smith in 2008, the Falcons have the best home record in the NFC. They're 24-6 at the Georgia Dome. The New Orleans Saints have one less home win in that same span and that ties them for second in the NFC with the Green Bay Packers.
Smith was the defensive coordinator for the Jaguars from 2003 until he took the Atlanta job.
Atlanta receiver Julio Jones has four 100-yard games this season. That's the most by a rookie since New Orleans' Marques Colston had four such games in 2006. Anquan Boldin set the post-merger rookie record with five 100-yard games in 2003.
Atlanta's Michael Turner hasn't had 100 rushing yards in any of the last three games. If Turner doesn't reach 100 against the Jaguars, he'll match a four-game streak from 2009 in which he didn't reach the century mark.
January, 21, 2010
1/21/10
3:37
PM ET
We've got some quick news from elsewhere in the NFC South.
The
Carolina Panthers
have hired Tyke Tolbert as their wide receivers coach. The job came open after Richard Williamson retired.
Tolbert has spent the last six seasons as the wide receivers coach with Buffalo and also spent time with the
Arizona Cardinals
. Tolbert played wide receiver at Louisiana State and made several stops as a college assistant before joining the Cardinals in 2003.
That was the same season Arizona receiver
Anquan Boldin
earned Offensive Rookie of the Year honors and was the only rookie in the Pro Bowl.
January, 16, 2010
1/16/10
3:18
PM ET
NEW ORLEANS – As expected, running back
Deuce McAllister
will not be active for today's game against Arizona.
McAllister was signed yesterday after sitting out all season. He's expected to lead the Saints onto the field as a ceremonial gesture. Defensive back
Chris Reis
, linebacker
Anthony Waters
, guard
Jamar Nesbit
, tight end
Darnell Dinkins
, tight end
Tory Humphrey
and defensive end
Paul Spicer
also are inactive to the Saints.
Chase Daniel
is the third quarterback.
Arizona's inactives are quarterback
Brian St. Pierre
, fullback
Nehemiah Broughton
, safety
Rashad Johnson
, linebacker
Gerald Hayes
, offensive lineman
Herman Johnson
, defensive end
Jeremy Clark
, receiver
Anquan Boldin
and tight end
Stephen Spach
.
April, 24, 2009
4/24/09
5:54
PM ET
Posted by ESPN.com's Pat Yasinskas
Just a quick mailbag to address some of the notes that are coming in rapidly on the eve of the draft.
William in Atlanta writes: Have you heard anything about a trade sending Glenn Dorsey from Kansas City to Atlanta?
Pat Yasinskas: Lots of Atlanta fans are asking this. Nothing to report on this at the moment. I know the rumors are out there. Dorsey was drafted fifth overall last year, but may no longer fit in Kansas City's defensive scheme. I know the Falcons liked him a lot last year and considered drafting him instead of quarterback Matt Ryan. It would be pretty amazing if they could bring in Dorsey now. I think the challenge here could be the price tag -- both in trade compensation and in terms of the salary cap. You have to think the Chiefs would want something like a top 10 pick for Dorsey. The Falcons don't have that to offer. If they could get him for the No. 24 pick, you'd have to view that as a steal. But the other issue would be taking on Dorsey's contract. They'd have to pay top five money to Dorsey and Ryan. Stay tuned. A lot of things can happen between now and Saturday evening. Scott Pioli and Thomas Dimitroff worked together for the Patriots and they put together the Tony Gonzalez deal on Thursday. I'm sure they know how to reach one another.
---
Jon in Rock Hill, SC writes: Just a question that keeps repeating casually in mind. Peppers wants out of Carolina... bad! Anquan Boldin wants out of Arizona! Any rumbles? Any chance Peppers would take the trade to leave, even though it would mean not going to an ideal team right away?
Pat Yasinskas: Anything is possible as the draft gets closer and I still say the Peppers situation isn't over even though the Panthers are doing their best to clear the way for him staying. But I don't see the Boldin scenario. Carolina's already got a No. 1 receiver in Steve Smith and I don't see them trading for another guy who wants to be paid like a No. 1 receiver. If the Panthers give up Peppers for anything, I think it will be for draft picks, including one in the first round.
April, 18, 2009
4/18/09
3:24
PM ET
Posted by ESPN.com's Pat Yasinskas
Time to start catching up on some of your mailbag questions. There are a lot of them and I'll probably do this again Sunday or Monday, but wanted to at least start into the stack of letters now. Here we go:
ChrisC in Charleston, S.C., writes: I'm in the Air Force, so most of my friends are all huge fans of different teams, making every sunday a lot of fun. We pretend during the offseason to be our favorite teams' owners and throw out possible trade scenarios. Mine was thrown out to a Cincy fan: JP for 85 and a draft pick. I know Smitty doesn't want to compete for the number 1 spot, but Chad has somewhat fallen to a number 2 guy, and they did play high school ball together if I remember correctly. Any feasibility here? And if so, ya mind whispering the thought into Hurney's ear?
Pat Yasinskas: Steve Smith and Chad Ocho Cinco (formerly Johnson) did play together in junior college. Even though that would probably help them co-exist, I don't see this move happening. Marty Hurney and John Fox are no-frills guys and Ocho Cinco comes with a lot of frills.
---
Ricky in parts unknown writes: Hey Pat, What are the chances Bucs go LB with the 19th pick? After losing Brooks and June...it makes sense right?
Pat Yasinskas: I think linebacker is at least a possibility, but I think there are greater needs at defensive tackle, defensive end and maybe cornerback. The Bucs did sign linebacker Angelo Crowell and are moving safety Jermaine Phillips to linebacker. They've also got some promising young linebackers on their roster. Still, I wouldn't totally rule out the possibility of a linebacker if Brian Cushing or Clay Matthews is sitting there at No. 19.
---
Rob in Houston writes: I understand this is not necessarily realistic with Fox dedicated to the 4-3, but there are a plethora of good LB on the roster. If Carolina made a switch to a 3-4 scheme, do you think Peppers would be happy to stay so he could reach his "full potential"? Or even in that scenario, do you think Peppers wants to leave because he can't reach his "full potential" with the coaching staff in place?
Pat Yasinskas: I don't think it would make much difference to Julius Peppers if the Panthers changed schemes and I don't see that happening because Fox is a 4-3 coach. The change would be dramatic and the roster was built to play the 4-3. Peppers hasn't been real clear about his reasons for wanting out, but it's pretty obvious if you read between the lines that it's about a lot more than the defensive scheme. For whatever reason, it doesn't seem like he's happy with Fox and wants a change of scenery.
---
ANTHONY writes: hey, man im a die hard panthers fan but i bet my bottom dollar that if you could even get the fact or idea out of A PEPPERS BOULDIN TRADE OR EVEN GET THE PANTHERS TO SHOW INTREST IN BOLDIN TO HELP TAKE PRESSURE OFF SMITH YOU WOULD GET A GREAT BUZZ? PLEASE COMMENT BACK HOW AND COULD THAT EVEN BE POSSIBLE! ( HMMMMM, ALSO DIDNT THEY PLAY EACH OTHER IN THE PLAYOFFS LAST YEAR LIKE I SAID GREAT BUZZ! JUST A FAN WITH A QUESTION AND IDEA!
Pat Yasinskas: You're not the only one throwing out that idea and there's buzz about it among Carolina fans. But I don't see it happening. The Panthers have very good No. 1 receiver in Smith and they've also got a lot of money tied up in him. If the Panthers are going to trade Peppers at all, I think it will be for draft picks because they've got bigger needs at defensive tackle, defensive end and cornerback.
---
Richard in Baton Rouge writes: Your colleague Mosley predicts the Saints to go 0-4 against the mighty NFC East. If you and he are both at the Dallas/New Orleans saturday night game, then would you pass along to us the expression on his face when the Saints roll the 'boys? Again.
Pat Yasinskas: I'll be happy to share Matt's reaction with you if the Saints beat the Cowboys. Matt and I had the debate about whether the NFC East or South was the best division last year and I think the final results spoke pretty highly for the South. Also, I usually try to avoid gloating over predictions that come true because predictions don't mean much and they're wrong as often as they're right. But, to all those Cowboys fans who filled up my mailbag with some pretty sick letters when I picked Dallas to finish third in the NFC East and out of the playoffs at the start of last season, you've been silent for months now. I miss you.
---
Brian in Emerald Isle writes: Just wanted to know about the health of Jerry Richardson?
Pat Yasinskas: Glad you asked because I do have a little update that I haven't gotten around to sharing yet. I was in Charlotte earlier this week and had lunch with a couple of Panthers officials. I asked how owner Jerry Richardson is doing and the update is positive. He continues to make steady progress in his recovery from a heart transplant and is in good spirits. He still has some ground to cover and hasn't set an exact target date for when he plans to resume his regular duties, but that's what he's shooting for.
---
Brett in Tallahassee writes: Hey Pat! With the 2009 Tampa Bay team beginning to sort coalesce, do you think Anquan Boldin would be a good fit for a deep-threat WR? Thanks, love the column. All the best, Brett
Pat Yasinskas: There's no doubt Anquan Boldin will help any team he plays for and I like the idea of him with the Bucs. However, I think it would be very difficult for the Bucs to pull off a deal like that. After trading their second-round pick for Kellen Winslow, they don't have a lot of ammunition for a trade and I'd hate to see them give up their first-round pick because they have some big needs on defense that really haven't been addressed yet.
February, 13, 2009
2/13/09
1:00
PM ET
Posted by ESPN.com's Pat Yasinskas
It is dream season in the NFC South.
Julius Peppers to the Falcons? Hey, pair him with John Abraham and opposing quarterbacks won't be able to throw a pass. And while the Falcons are at it, why not go out and grab Kansas City tight end Tony Gonzalez if he really is available? That would give Matt Ryan a stud at every skill position.
And all Carolina really needs to do to make up for losing Peppers is go out and land Tennessee defensive tackle Albert Haynesworth, who just may be the biggest name on the market, if he makes it to free agency. That would fix everything.
But there's another school of thought down in Tampa Bay. With more than $40 million in cap space, the Bucs can bring in Haynesworth and Peppers. At the same time, they're going to re-sign Antonio Bryant, bring in Cincinnati receiver T.J. Houshmandzadeh and perhaps even pay a king's ransom for New England quarterback Matt Cassel or Arizona receiver Anquan Boldin. Next stop? Miami for the Super Bowl.
| | |
| --- | --- |
| | |
| | NFL.com Video |
| | The Titans Albert Haynesworth shows why he is one of the top defensive tackles in the NFL. |
Over in New Orleans, fans have tempered things just a bit because general manager Mickey Loomis came out and said the Saints aren't going to be big players in free agency because they don't have a lot of salary-cap space.
But the Saints' faithful seemed to have hijacked Loomis' calculator because they think they can get Oakland cornerback Nnamdi Asomugha, who just has to be better than the 74 other cornerbacks the Saints have signed in the last three years. Plug Asomugha into Gregg Williams' new defense and the dynamic duo of Charles Grant and Will Smith suddenly will crank out 45 sacks. Drew Brees will throw for another mile and all will be right with the world, if the Saints just make this one little move.
Now, everybody wake up.
February, 11, 2009
2/11/09
6:04
PM ET
Posted by ESPN.com's Pat Yasinskas
It's been (so far anyway) a very quiet news day in the NFC South. No major headlines, but a couple of interesting items in the local coverage.
For all those Tampa Bay fans drooling at the possibility of adding Julius Peppers, Albert Haynesworth, Anquan Boldin or anybody else that's available, remember one thing. While it's true, the Bucs have more than $40 million in cap space right now, some of that's going to go to keep the guys already on the roster. It's believed the Bucs want to re-sign receiver Antonio Bryant before he becomes a free agent and they also are looking into locking up left tackle Donald Penn for the long term.

If the Falcons aren't able to work out a long-term deal with punter Michael Koenen very soon, they're reportedly prepared to place the franchise tag on him. The cost would be a relatively reasonable $2.48 million in 2009.

Linebacker Landon Johnson is still hurt, so the Panthers might not be able to cut him as quickly as they would like (and they really want to erase this mistake from last year's free-agent class). But there's an easy way around this. It's called an injury settlement.

The Saints and Louisiana officials continue to work on a deal that would make sure the team stays in the city for the long term. They might want to hurry a bit because there's an April 1 deadline to submit bids to host the 2013 Super Bowl, which seems to be something everyone involved wants to do.
February, 9, 2009
2/09/09
4:30
PM ET
Posted by ESPN.com's Pat Yasinskas
Since the Bucs just re-signed quarterback Luke McCown, we'll strike while the iron is hot and make Tampa Bay the next stop on our team-by-team mailbag tour.
By the way, co-worker John Clayton just got some details on McCown's contract. It's a two-year deal that should be worth about $7.5 million, with $5 million guaranteed in salary and bonuses for 2009. However, the deal also has some incentives that could make it worth up to $14 million.
Pete in Largo writes: I just read that the Buc's just resigned McCown?...who pulled the trigger on this? Do you see this as a quick fix to get us through the year until next year's draft? How does this impact bringing up Josh Johnson?
Pat Yasinskas: Yes, the Bucs have re-signed Luke McCown. I'd strongly suspect that general manager Mark Dominik and coach Raheem Morris pulled the trigger on this. It's the first significant move of their regime. Not certain McCown is the answer, but there are a lot of personnel folks out there who think he has a lot of upside. Dominik and Morris were around McCown in practice every day last year and I think the fact they re-signed him speaks a lot about what they think of him. Not sure that this move has a big impact on Josh Johnson. He was a project under Jon Gruden, and I think he's still a project.
---
Walter writes: Hey Pat, I'm a big fan of your blogging. I have a couple questions actually. 1.) Who will start at QB for the Bucs in 2009? 2.) Who wins the NFC South crown in 2009? Thanks man!
Pat Yasinskas: Even with the McCown signing, I still could see the Bucs making another move at quarterback, perhaps in the draft. As it stands right now, they've got McCown, Johnson and Brian Griese under contract. Jeff Garcia can become a free agent, and I suspect he will. If the Bucs stay with their current roster of quarterbacks, I think McCown emerges as the starter, Griese the backup and Johnson No. 3. As for predicting the NFC South, let's hold on a bit. I want to see what happens in free agency and the draft before making any calls on that.
---
Miles in Orlando, Fla., writes: Just saw in the chat that the bucs resigned Luke McCown. What do you think the odds are that he ends up the starter next year? And is this an indication that they don't want to draft a QB? And since everyone's all abuzz about the cap space the bucs have, what do you think the most likely names will be to end up in pewter next year?
Pat Yasinskas: Again, I don't think the McCown signing necessarily means the Bucs are done at quarterback. I still think they could draft one. This just means they don't absolutely have to go out and make a desperate move for a quarterback. As far as free agency, I expect the Bucs to be very active at a number of positions and we'll discuss some names in the questions below. But, one thing to keep in mind with all that cap space is, the Bucs need to use some of that to keep some of their own free agents, mainly receiver Antonio Bryant.
---
Daniel in Tampa writes: what are the chances of the bucs getting boldin... and what would they have to give up to get him.
Pat Yasinskas: Anquan Boldin has made it pretty clear he wants out of Arizona, and I suspect the Bucs, like a lot of other teams, are monitoring the situation. Even if the Bucs do re-sign Bryant, they still need another receiver. I think Boldin would be a consideration, but I think the outcome will be determined on what his market value is and some teams may be more aggressive than the Bucs as potential trade partners. I can't see Dominik and Morris giving away a large chunk of their first group of draft picks.
---
Charles in Mt. Dora, Fla., writes: Check out Doug Williams' career stats. Trent Dilfer won the Super Bowl too. Williams is extremely overrated.
Pat Yasinskas: I'm well aware of Doug Williams' career stats. I'm going to disagree with you and say the guy was underrated. Yeah, his stats weren't always pretty, but think back to what was around him and the style of offense the old Bucs played. I'm not saying he's Johnny Unitas, but I'd take Doug Williams in his prime as my quarterback any day. The guy had great intangibles and was as good a leader as you'll ever find.
---
Casey in Phoenix writes: Just curious on your thoughts about several Bucs vets, including Joey Galloway, Michael Clayton and Jeff Garcia. It is obvious that all were in Gruden's doghouse for one reason or another and that probably played a major role in why they didn't play at times. What are the chances that these three, or various combinations, are back next year to prove that they still have something to give. I'm not totally sold that Galloway is washed up and the same for Clayton. I'd personally like to see what they really can do with a fresh start, but hopefully that doesn't have to come from a new team.
Pat Yasinskas: I think the signing of McCown is the end of the road for Jeff Garcia in Tampa Bay. But I think he has something left and can help another team. I also think Joey Galloway is on his way out. His age, cap number and injuries last season work against him. I think the Bucs will look heavily at wide receivers in free agency. Michael Clayton might be a slightly different story. If Jon Gruden had stayed, I'd say Clayton definitely would be gone. With Morris and Dominik taking over, I think there's at least a chance the Bucs try to re-sign Clayton. He's got some talent and a new coaching staff might be enough to inspire him.
---
Dean in parts unknown writes: Lee Roy Selmon the only past Buc in the HOF? Did you forget that Steve Young played two seasons with the Bucs. How about coaches, Joe Gibbs was an assistant on the Bucs staff in the early days.
Pat Yasinskas: I think you got my point. Lee Roy Selmon is the only real Buccaneer in the Hall of Fame -- for now. Do you seriously count Steve Young and Joe Gibbs? Young was a nobody in his brief time with the Bucs and made his career in San Francisco. If you want to claim Joe Gibbs, I think there are some fans in Washington who might argue with you on that. If you really want to go overboard, why don't you add Anthony Munoz to your list, too? He once practiced a few times with the Bucs in training camp before deciding his career was over. Selmon will have some company in a few years when Derrick Brooks and Warren Sapp join him.
---
Roderick in Brooklyn writes: Pat how's it goin I'm a extremely happy Bucs fan now that Gruden is gone but I was wondering w
ith the problems in the D-Line do you believe the Bucs will try to purse a player like Julius Peppers or Albert Hanesworth(If he becomes available) and could you enlighten me on what OC Jeff Jagozinski's offensive style is because I'm a bit unfamiliar with him.
Pat Yasinskas: The defensive line is an area I expect the Bucs to be very aggressive with. Chris Hovan and Kevin Carter wore down at the end of the year, Jovan Haye is a free agent and Gaines Adams still is a work in progress. The Bucs certainly have enough cap room to make a play for Julius Peppers or Albert Haynesworth, and I suspect they'll at least test the waters. As for Jeff Jagodzinski's offense, it's going to be different than Gruden's and I think that can be a good thing. Jagodzinski favors a vertical passing game and the Bucs were way too horizontal last year. I also think you'll see a pretty fair split between the run and pass.
January, 10, 2009
1/10/09
11:26
PM ET
Posted by ESPN.com's Pat Yasinskas


CHARLOTTE, N.C. -- Jake Delhomme is going to be credited with one of the worst performances in postseason history.
It all may be justified because Delhomme threw five interceptions and may even have put his future with the Panthers in jeopardy.
But, before Delhomme takes the blame, let's just throw out a few questions.
Why was the game even in Delhomme's hands in the first place? Long before it got out of control, the Panthers had an opportunity to try to run their vaunted "Double Trouble'' running game. Inexplicably,
| | |
| --- | --- |
| | |
| | NFL.com Video |
| | Watch highlights from Arizona's 33-13 win over the Panthers. |
they didn't.
DeAngelo Williams
and
Jonathan Stewart
combined for nine carries in the first half. That falls on coach John Fox and offensive coordinator Jeff Davidson.
And what happened to Steve Smith? When you've got a guy who is arguably the best receiver in the NFL shouldn't he get a few catches? That falls on Fox, Davidson and Delhomme, not Smith.
And speaking of the best receiver in the NFL, why didn't Carolina have some defenders in the vicinity of Larry Fitzgerald, especially when Anquan Boldin is not playing? Fox is supposed to be a defensive genius, especially at playoff time, but he didn't look like it against Kurt Warner and the Cardinals.
All right, now forget all that and put the blame on Delhomme.
January, 10, 2009
1/10/09
7:16
PM ET
Posted by ESPN.com's Pat Yasinskas
CHARLOTTE, N.C. -- No big surprises on Carolina's list of inactives, but the Panthers are catching a break from Arizona.
Cardinals receiver Anquan Boldin, whose injury status had been uncertain, has been declared inactive tonight. That means Steve Breaston will start in Boldin's place and lighten an Arizona receiving corps that's highlighted by Larry Fitzgerald.
Carolina's inactive list wasn't impacted much by injuries, but Carolina will start Jeremy Bridges at right guard in place of Geoff Hangartner. Carolina's inactives are D.J. Hackett, Quinton Teal, Adam Seward, Mackenzy Bernadeau, Kenneth Moore, Darwin Walker and J'Vonne Parker. Matt Moore is the third quarterback.
January, 8, 2009
1/08/09
5:24
PM ET
Posted by ESPN.com's Pat Yasinskas
If there's one position that stands out in Saturday's matchup between Carolina and Arizona, it's wide receiver.
Arizona's trio of Anquan Boldin, Steve Breaston and Larry Fitzgerald and Carolina's Steve Smith and Muhsin Muhammad are among the best combinations in the league -- and it doesn't matter if you're talking trios or duos.
Fitzgerald, Breaston and Boldin (whose status is uncertain because of injury) have been targeted a total of 385 times this season. That's the most of any receiver trio in the playoffs:
Arizona's receivers
Receiver
Thrown To
Rec
Comp pct
Pct of team's att
Fitzgerald
152
96
63.2
24.1
Boldin
124
89
71.8
19.7
Breaston
109
77
70.6
17.3
Smith and Muhammad have combined to be the targets on 56 percent of Carolina's pass attempts. That's the most for any two teammates in the playoffs:
Carolina's receivers
Receiver
Thrown To
Rec
Comp pct
Pct of team's att
Smith
125
78
62.4
30.2
Muhammad
106
65
61.3
25.6
August, 20, 2008
8/20/08
6:11
PM ET
Posted by ESPN.com's Pat Yasinskas.
Appreciate you guys filling up the mailbag so quickly. I had been doing mailbag posts once a week, but it didn't take long to realize that's not often enough to keep up with your questions. Keep sending them and I'll keep answering.
Here's the next edition:
Daryl in Alberta, Canada writes: I see nothing wrong with holding Galloway out of camp and exhibition games, especially if he does actually have an injury, even if it's minor. I would play him more than need be even if he wasn't. But should I be worried that this is a sign? Galloway is 36 now and never been the most durable, without him this team is in huge trouble. Garcia's injury really has me worried though. I know he's tough and plays through pain but he hasnt played 16 games since '02 and I have little faith in the players backing him up. This seems like soemthing that has already dragged out and something that could hinder him to start the season. What do you think? Is Garcia going to be 100% in Week 1 and is Galloway something to be concerned about?
Pat Yasinskas: Galloway's back at practice now and I think the Bucs were just being overly cautious with a veteran player who already knows the system. Nothing wrong with that because Galloway is so critical to this offense. He just needs a couple weeks of practice to get his timing down with Garcia. I think they'll both be fine by the start of the regular season. If not, the Bucs have plenty of depth behind Garcia and I really think Antonio Bryant can have a nice season at receiver. Bryant appears headed for the No. 3 spot. But, if something happens to Galloway, I can see him jumping up to No. 1.
---
Roger in New Jersey writes: Pat, I know you covered the Panthers for a while and that is my favorite NFL team, Do you think with a HEALTHY roster the Panthers can make a push for the Super Bowl and if not are they at least a legit playoff contender?
Pat Yasinskas: Definitely a playoff contender. Take last year's 7-9 team and give it a healthy Jake Delhomme for the entire year and the Panthers would have been in the playoffs. All indications are Delhomme is going to be fine and that's going to make a big difference. Plus, the Panthers improved the rest of the offense -- bringing in receivers Muhsin Muhammad and D.J. Hackett and running back Jonathan Stewart. The defensive line, particularly Julius Peppers, needs to be better than last year, but John Fox can coach and he seems to have the personnel to play his kind of football again.