October, 26, 2014
10/26/14
9:00
PM ET
TAMPA, Fla. -- If someone makes a lowlight film of the
Tampa Bay Buccaneers
' season, they now have the perfect opening scene.
It came in Sunday's 19-13 overtime loss to the
Minnesota Vikings
and it summed up the way things have been going for the 1-6 Buccaneers. It came on the first play of overtime.
Rookie tight end
Austin Seferian-Jenkins
caught a pass from
Mike Glennon
that would have been a first down. But what happened next decided the game. Minnesota's
Anthony Barr
knocked the ball out of Seferian-Jenkins' hands. Barr grabbed the ball and ran 27 yards for a touchdown to win the game.
"No excuse," Seferian-Jenkins said. "I've got to hold onto the ball better than that.''
Seferian-Jenkins' mistake might have been one of youth. He was fighting for extra yardage when the fumble took place.
"You have to get down in that situation," coach Lovie Smith said. 'We had a positive play. In an overtime situation, when you know if you score a touchdown down there, you've got to protect the ball. If you take the ball right away, then you have to protect it and you can't have a takeaway on that end of the field. That's Football 101 and we have to correct it.''
Seferian-Jenkins' play was crucial. But it wasn't the only reason the Bucs lost. The offense did nothing for three quarters and the defense didn't do anything special against rookie quarterback
Teddy Bridgewater
. The Bucs could have won the game in regulation if cornerback
Johnthan
Banks had held onto a potential interception, but he did not.
"It's not [Seferian-Jenkins'] fault that we lost the game,'' wide receiver
Mike Evans
said. "There were a lot of other plays. We only scored 13 points as an offense. We've got to be better.''
October, 23, 2014
10/23/14
8:00
AM ET
Don't expect any fine offensive displays Sunday at Raymond James Stadium.
That's because the
Minnesota Vikings
and
Tampa Bay Buccaneers
both are struggling on offense. The Vikings (2-5) and Bucs (1-5) are starting young quarterbacks and ranked near the bottom of the league in most offensive categories.
The Vikings, led by rookie quarterback
Teddy Bridgewater
, rank No. 29 in overall offense and are last in passing offense. The Bucs have been starting second-year pro
Mike Glennon
and they're ranked No. 30 in overall offense.
ESPN Vikings reporter Ben Goessling and ESPN Buccaneers reporter Pat Yasinskas preview the matchup:
Yasinskas:
Ben, I know the numbers aren't pretty. But has Bridgewater been showing any signs of progress?
Goessling:
He has shown some. He hit 12 of his 15 throws after a pair of interceptions in Buffalo on Sunday, and I thought he did a better job of trusting himself to find his receivers downfield than he has in recent weeks. He has looked great at times, especially in the Vikings' win over Atlanta last month, but he's still figuring a lot of things out.
He needs to be better about throwing on target, and he has fallen victim to the same problems that plague many rookies, when he has held the ball a little too long or thrown late because he didn't make up his mind soon enough. But it's important to remember Bridgewater doesn't have
Adrian Peterson
,
Kyle Rudolph
and an offensive line that can protect him. The Vikings have given up 27 sacks this season, which is the second-most in the league, and they've forced Bridgewater to run for his life on a number of other occasions.
Speaking of quarterbacks, will Glennon remain the starter or will
Josh McCown
get the job back now that he's getting healthy?
Yasinskas:
Coach Lovie Smith has been coy about his plans. My best guess is Glennon will get at least one more start because McCown returned to practice only this week and was out for more than a month. I think Glennon has played well enough to be the full-time starter, but I'm not sure Smith sees it that way. McCown was Smith's hand-picked quarterback and the two have history together from their Chicago days. Smith's history has shown he prefers to go with veterans. Back in Chicago, he once benched
Kyle Orton
, who was playing well, as soon as Rex Grossman got healthy. It wouldn't surprise me if Smith goes back to McCown.
You mentioned Minnesota's offensive line. I know it has been banged up. Will it be any healthier this week, and can it at least give Bridgewater some protection against a Tampa Bay pass rush that hasn't been good?
Goessling:
It's hard to say at this point if it will be healthier. Guard
Vladimir Ducasse
is optimistic about his chances to play after injuring his knee on Sunday, but
John Sullivan
is still going through the concussion protocol, and his loss would be a big one. He's the Vikings' most reliable blocker, and does plenty to help Bridgewater set protections.
The biggest problem, though, has been left tackle
Matt Kalil
, who got beat again several times on Sunday and has struggled in pass protection all season. Kalil was the No. 4 pick in the draft in 2012 and made the Pro Bowl as a rookie, but got hurt last year and hasn't looked like the same guy. The Vikings were able to protect Bridgewater effectively against Atlanta, another team with an underwhelming pass rush, so I'd expect they'll fare better this week than they have against Detroit and Buffalo.
Shifting to the defensive side of the ball, how has the Vikings' old coach, Leslie Frazier, fared as the coordinator? The Bucs have obviously been shredded on defense; how much of that do you think is Frazier and Smith's old Cover 2 scheme and how much is personnel?
Yaskinsas:
Tampa Bay ranks last in total defense and also is No. 32 in pass defense. That's shocking since Smith and Frazier are supposed to be defensive gurus. I think this team has good defensive personnel, especially with tackle
Gerald McCoy
and linebacker
Lavonte David
. But the pass rush has been non-existent, and that has taken a toll on the secondary. The main problem might be Smith's stubbornness. He's sticking with the Tampa 2 scheme even though it looks like it might be outdated. I'm not saying he should totally ditch the Tampa 2, but it might be wise -- and productive -- to mix in some man coverage at times.
The Vikings lost a last-minute game against Buffalo last week. That reminded me that the Vikings lost a lot of games in the final minutes last season. Is there some sort of flaw there or is this just a young team that needs to learn how to win?
Goessling:
They believe it's the latter. The approach the Vikings took on the final drive on Sunday didn't look like what they did last year, when they sat back in coverage on a lot of those final drives. They were aggressive with their fronts, blitzing Orton four times on the drive and sacking him twice. But there were breakdowns that probably can be traced to inexperience.
Josh Robinson
needed to reroute
Sammy Watkins
when he pressed him on third-and-12,
Xavier Rhodes
misplayed Watkins' game-winning touchdown, and first-year coach Mike Zimmer said he probably should have called a timeout before a fourth-and-20 play -- like Frazier did in a couple games last season -- to get the defense settled. The Vikings gave up a first down there after
Chad Greenway
was trying to get
Captain Munnerlyn
in the right spot in a no-huddle situation. Greenway had his head turned at the snap and didn't get deep enough in coverage to keep Orton from hitting
Scott Chandler
for a first down.
The Vikings are young in the secondary, especially, and I think that showed up Sunday, but I continue to see progress in what they're doing. They have Pro Bowl-caliber players in
Anthony Barr
and
Harrison Smith
, and Rhodes has continued to improve as a corner. It'll take another year of player acquisitions, but they're headed in the right direction.
To wrap this up, why has the Buccaneers' ground game struggled so much? It might be a function of playing from behind as much as they have, but it seems like they've struggled to run the ball in closer games, too. What do you think the problem has been there?
Yasinskas:
It's true they have had to abandon the running game at times because they've fallen so far behind. But even at the start of games, they've struggled to run the ball. That's puzzling because they have a rebuilt offensive line and running back
Doug Martin
is healthy after missing much of last season with a shoulder injury. I put the majority of the blame on the offensive line. But I also put some blame on Martin. He is averaging only 2.9 yards per carry. His backup,
Bobby Rainey
, is averaging 4.9 yards a carry. Martin needs to make more out of his opportunities.
March, 21, 2014
3/21/14
9:18
AM ET
[+] Enlarge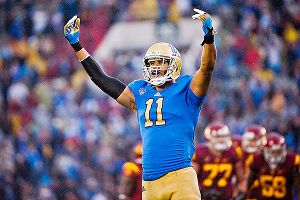 Jonathan Moore/Getty ImagesUCLA's Anthony Barr had a decent combine, but Buffalo's Khalil Mack might be passing him on some teams' boards at OLB.
Despite all the clever moves made in free agency, the
Atlanta Falcons
are still in need of a pass-rusher. Specifically, their move to a 3-4-based defensive scheme means the desire for outside linebackers capable of getting to the quarterback.
Draft prospect
Anthony Barr
appears to be one of those guys, and that's why the Falcons plan to take a long look at him.
Barr has a private workout scheduled with the Falcons before the end of the month, according to a league source with knowledge of the situation. The UCLA outside linebacker had been projected as a top-10 pick immediately after the college football season, although most draft experts have now dropped him behind the other touted outside linebacker, Buffalo's
Khalil Mack
.
The 6-foot-5-inch, 255-pound Barr has a great combination of size and athleticism. He ran the 40-yard dash in 4.66 seconds at the NFL combine, but UCLA coach Jim Mora said Barr improved his time to 4.45 at UCLA's pro day. Mora also said Barr increased his bench press reps from 15 at the combine to 19.
"I think definitely in the top 10, from what I got from the (NFL personnel) today," Mora said of Barr after the pro day. "And they understand that the ceiling is so high. He's only played the position for two years. And they see the talent."
ESPN NFL draft expert Mel Kiper Jr. projected Barr to be drafted anywhere between 10-20 in the first round. The Falcons currently hold the sixth-overall pick.
In terms of the Falcons' needs, adding an offensive tackle such as Auburn's
Greg Robinson
, Michigan's
Taylor Lewan
, or Texas A&M's
Jake Matthews
would appear to take priority over a pass-rusher. Then again, all that could change depending on how things unfold at the top of the draft.
It would be hard to pass on Mack, considering how his stock continues to soar. He doesn't have a workout scheduled with the Falcons as of Friday.
If the Falcons see something in Barr during the private workout, maybe he'll rise up their draft board. Whatever happens, they are doing their due diligence in checking out capable impact pass-rushers.
Arizona State outside linebacker
Carl Bradford
(6-1, 250) said during an interview he had a workout upcoming with the Falcons, and that workout actually took place Thursday. Bradford is projected as a second-rounder, and the Falcons might have to go that route if they elect to target a tackle in the first round.
As things stand for the Falcons right now,
Kroy Biermann
,
Jonathan Massaquoi
, and
Osi Umenyiora
would be the top outside linebackers in the 3-4 setup. Umenyiora reportedly has been asked to take a paycut, so his status for 2014 remains unclear.
March, 13, 2014
3/13/14
10:30
AM ET
After a 4-12 season, the
Tampa Bay Buccaneers
hold the seventh overall pick in the draft.

It's hard to predict what the new regime of general manager Jason Licht and coach Lovie Smith will do with that pick. But the Bucs definitely have options as they start a new era.
Even after signing veteran quarterback
Josh McCown
, Smith said it remains possible the Bucs could use their first-round pick on the position. That could come into play if
Blake Bortles
,
Johnny Manziel
,
Teddy Bridgewater
and
Derek Carr
remain on the board when the Bucs pick.
If the Bucs don't go with a quarterback, there are other options on offense. Tampa Bay is overhauling its offensive line and tackles
Jake Matthews
and
Greg Robinson
could be options. If the Bucs really want to spice up their offense, wide receiver
Sammy Watkins
could be a possibility.
But Smith is a defensive coach and he might go with what he knows best. Outside linebackers
Khalil Mack
and
Anthony Barr
have been tied to the Bucs in some mock drafts.
Check out ESPN draft analyst Mel Kiper's
latest mock draft
to see which players he thinks Buccaneers should target with their first pick.
March, 1, 2014
3/01/14
10:22
AM ET
Let's turn to
Eric from Adelphi, Md.,
for today's mailbag question.
Eric wants to know if I think the Bucs should draft a linebacker in the first round. My short answer is no and my reasoning is pretty simple. The Bucs have
Lavonte David
on the weak side and
Mason Foster
in the middle.
That leaves the strong side as the only opening. In an era when teams play so much nickel defense, the strongside linebacker wouldn't be on the field very much. I can't see using a first-round pick on a part-time player.
That said, some mock drafts are linking the Bucs to
Khalil Mack
and
Anthony Barr
, a pair of guys that played outside linebacker in college. Both have pass-rush skills and it might be a wise move to draft one of them and move him to defensive end. But there's no need to draft an outside linebacker in the first round because the need isn't there.
May, 8, 2013
5/08/13
2:42
PM ET
The 2013 draft is over, but Mel Kiper Jr. already is looking ahead.
Kiper's first
Insider 2014 Big Board

is out and it's worth pondering and thinking about what NFC South teams could be in the market for next year.
The biggest issue hanging out there is whether
Josh Freeman
is the long-term answer in Tampa Bay. I think Freeman will be fine and end up eventually getting another contract with the Buccaneers. But what if that doesn't happen?
Well, the 2014 group of quarterbacks is looking better than the 2013 crop. Kiper has three quarterbacks rated in the top 25: Johnny Manziel, Teddy Bridgewater and Tajh Boyd.
And what if the
New Orleans Saints
don't find an effective pass-rusher for their 3-4 defense? UCLA linebacker Anthony Barr is No. 5 on Kiper's board.
Carolina is rolling the dice this season and going with a bunch of mid-level cornerbacks. Maybe some of those guys rise up. If they don't, Kiper has Ohio State's Bradley Roby and Florida's Loucheiz Purifoy in his top 10.
I can look ahead and see Atlanta having a potential need at defensive tackle.
Jonathan Babineaux
isn't getting any younger and
Corey Peters
and
Peria Jerry
aren't getting any younger. Unless the Falcons fall apart, they're not likely to have a top-10 pick. But they could target someone like LSU's
Anthony Johnson
, who is No. 22 on Kiper's board.