August, 25, 2011
8/25/11
11:50
PM ET
I'm not sure if Cincinnati rookies
Andy Dalton
and
A.J. Green
are going to be the NFL's next great quarterback and receiver or if Carolina cornerback
Chris Gamble
is totally washed up.
Gamble
I'm leaning toward the latter after watching Gamble get beat badly twice by Green in Carolina's
24-13 loss
in Thursday night's exhibition game. It got so bad that Cincinnati broadcaster Anthony Munoz joked that Gamble was seen being escorted to the locker room to have aloe applied to his burns.
I'm starting to think the Panthers have a big problem on their hands. It actually might have first surfaced last season, when former coach John Fox took Gamble's starting job away. Fox may have been going through a catastrophic season, but the man always has known what he's doing when it comes to defense. The Panthers shrugged it off as a conflict with Fox and decided to keep Gamble while not really addressing cornerback early in the draft or free agency.
Green first beat Gamble on a deep ball in the first quarter. Gamble caught a break when officials reviewed the play and decided that Green didn't make the catch in bounds, but it was still worrisome because the receiver got open with ease.
Gamble wasn't nearly as lucky the next time around. Dalton threw deep for Green in the second quarter and the rookie caught the pass easily in the end zone. It doesn't get much worse than that, and I'm wondering what the Panthers are going to do.
For a lot of years, Gamble was a pretty good cornerback, but he was never great. Last season and this preseason have shown that he might be in sharp decline.
Gamble is 28 and scheduled to make $6.24 million in base salary and count $9.24 million against the salary cap. Those are the kind of numbers you associate with a No. 1 cornerback. Gamble doesn't look like a No. 1 cornerback anymore.
Captain Munnerlyn
is the other starting cornerback and he's never going to be a No. 1 guy. In fact, he'd be a No. 3 or 4 on a lot of other teams. Beyond Munnerlyn, the Panthers don't have much else at cornerback.
The Panthers may have to make a move to get some help at cornerback before the regular season starts. Maybe that comes off the waiver wire or maybe via trade. The Panthers have $8 million in salary-cap room and they also might want to add some help at defensive tackle (yeah, I know they got
Kentwan Balmer
off waivers, but is he really the answer?) and receiver. But cornerback seems to have moved to the top of the shopping list.
If the Panthers go into the regular season with Gamble as their top cornerback and he continues to play like he did Thursday night, they're going to have major problems.
February, 1, 2011
2/01/11
2:58
PM ET
He was an offensive lineman, which means statistical numbers can't tell the whole story. So how do we know
Willie Roaf
should be elected to the Pro Football Hall of Fame?
[+] Enlarge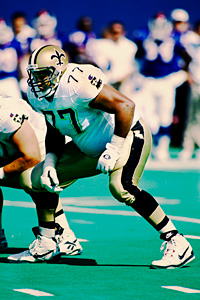 US PRESSWIREWillie Roaf was named All-Pro seven times and was an 11-time Pro Bowl pick in 13 seasons.
It's simple really. You compare him to the best offensive linemen ever. If he stacks up, he gets in. If he doesn't have the résumé, he doesn't get in.
I'll make the case right now that Roaf's résumé is sparkling and he should be elected Saturday when voters in Texas see his name as a finalist in the first year he's eligible. I've been in that election room before and I know there will be some critics that will say Roaf, who spent most of his career with the
New Orleans Saints
and finished it with the
Kansas City Chiefs
, doesn't have any Super Bowl rings and that he didn't play on a lot of great teams.
So what? The thing that really matters is that Roaf was among the best ever at what he did. Off the top of your head, who's the best offensive tackle ever? I'm guessing a lot of people will say Anthony Munoz, who was inducted into the shrine in Canton, Ohio in 1998. Some younger people might argue for Baltimore's
Jonathan Ogden
, who won't be eligible for election until 2013.
The reality is Roaf is right there with them in every way you can measure an offensive tackle. In his 13-year career, Roaf made the Pro Bowl 11 times. That's the same number of Pro Bowl berths Munoz and Odgen had. No offensive tackle has made the Pro Bowl as many times as Roaf, Munoz and Ogden.
Another good measuring stick is to see if a guy has made an all-decade team because that means he was the best at his position for at least most of a decade. Well, Roaf did that -- twice. He was selected to the all-decade team for the 1990s and the 2000s.
Roaf was durable and dominant and that means he's deserving of a spot in the Hall of Fame. Last year,
Rickey Jackson
became the first New Orleans player elected to the Hall of Fame on the day before the Saints won the first Super Bowl in franchise history.
There will be no repeat on Sunday since the Saints were knocked out in the first round of the playoffs. But there should be a repeat Saturday and the Saints should have their second Hall of Famer.
"William Roaf was one of the greatest players in our franchise's history,'' Saints owner Tom Benson said. "He's one of the greatest players to ever play his position and someone that myself and our fans have a great appreciation for. Hopefully, William will have the opportunity to join Rickey Jackson in Canton this summer."
January, 20, 2011
1/20/11
5:08
PM ET
The Saints just sent out an announcement that quarterback
Drew Brees
has been selected as the 2011 winner of the Bart Starr Award.
Voted on by players around the league, the award is designed to honor a player who exhibits outstanding character and leadership in the home, on the field and in the community.
We all know that Brees has made a huge impact on the New Orleans area since arriving as a free agent in 2006, and his accomplishments on the field speak for themselves. Some past winners of this award are
Warrick Dunn
,
Reggie White
, Anthony Munoz and
Kurt Warner
.
Brees will be given the award Feb. 5 at an event leading up to the Super Bowl.
June, 21, 2010
6/21/10
11:56
AM ET
Adam in Chapel Hill, N.C., writes:
Purely a hypothetical, but say
Matt Moore
comes in and within the Panthers system sets the proverbial world on fire. How much of a wrench would this throw in the works? How would talent scouts have to readjust/reassess QB evaluation?
Pat Yasinskas:
If Moore does play well, I don't think it will change the scouting process. Remember, guys like
Kurt Warner
,
Jake Delhomme
and
Tony Romo
have come essentially out of "nowhere'' to have good careers. Even
Tom Brady
was a late-round draft pick. It is kind of amazing that teams put so much money and effort into scouting and they seem to miss on a lot of prospects. I guess it just shows scouting is an inexact science and the human element, things like heart and intangibles, can really throw it off.
---
Zach in Atlanta writes:
I'm not sure it counts, but TECHNICALLY the "greatest player in NFC South" history would be
Brett Favre
with the Falcons in the early 90s, if like most of your exercises we go beyond 2002. He didn't play long, obviously. Nevertheless, he suited up for Atlanta, making him the greatest player to pass through all of the NFC South teams.
Pat Yasinskas:
Well, if you want to go that route, how about
Reggie White
? He played one season with Carolina. Or Anthony Munoz? He took part in a Tampa Bay training camp before deciding to retire. I suggest we stay clear of that route because it's pointless. When I think of the greatest player in the history of the NFC South, I think of
Derrick Brooks
.
---
Kyle in Tampa writes:
I just wanted to share a thought. I saw in the chat where you said that, after a "few more years"
Drew Brees
could replace Derrick Brooks as the best player in NFC South history. Brooks is almost inarguably a top 10 linebacker of all time, potentially even a top 5-er. As of now, and even after a few more years, Brees would have to fight hard to even make the top 20 of his position. My Bucs don't have too much going for us in the history department, but best player all time is ours by a landslide, at least for now.
Pat Yasinskas:
For right now, Brooks is the best player in NFC South history, in my eyes. But I think Brees could surpass him with a few more big years and another Super Bowl title or two.
---
Kenneth in Boston writes:
If there is another exciting, noteworthy season from Gregg Williams with the Saints defense, do you see a possibility of the Saints losing him to another team in search of a head coach willing to pay Williams?
Pat Yasinskas:
Yes, absolutely. Williams' stock had tumbled a bit before he joined the Saints. What he did with the New Orleans defense last year reminded a lot of people of what Williams is capable of accomplishing. I say another strong season by the New Orleans defense probably will get Williams a head-coaching job.
---
Jake in Pittsburgh writes:
What are the Bucs thinking?
Stylez White
,
Tim Crowder
,
Kyle Moore
, and
Erik Lorig
at defensive end? I know they drafted
Gerald McCoy
and
Brian Price
, but how can the Bucs possibly rush the QB?
Pat Yasinskas:
That's a very legitimate question. White's at least an average player. But there's nothing certain beyond that and I'm not sure Moore and Lorig have all that much upside. The Bucs do think the presence of McCoy and Price in the middle will help the guys on the outside and there's probably some truth to that. But Tampa Bay doesn't have anything close to a dominant pass-rusher. Then again, that's not uncommon in the NFC South. Carolina doesn't have a proven pass-rusher. Atlanta's hoping
John Abraham
can bounce back from a quiet season. New Orleans'
Will Smith
is the best pass-rusher in the division at the moment.
February, 9, 2009
2/09/09
4:30
PM ET
Posted by ESPN.com's Pat Yasinskas
Since the Bucs just re-signed quarterback Luke McCown, we'll strike while the iron is hot and make Tampa Bay the next stop on our team-by-team mailbag tour.
By the way, co-worker John Clayton just got some details on McCown's contract. It's a two-year deal that should be worth about $7.5 million, with $5 million guaranteed in salary and bonuses for 2009. However, the deal also has some incentives that could make it worth up to $14 million.
Pete in Largo writes: I just read that the Buc's just resigned McCown?...who pulled the trigger on this? Do you see this as a quick fix to get us through the year until next year's draft? How does this impact bringing up Josh Johnson?
Pat Yasinskas: Yes, the Bucs have re-signed Luke McCown. I'd strongly suspect that general manager Mark Dominik and coach Raheem Morris pulled the trigger on this. It's the first significant move of their regime. Not certain McCown is the answer, but there are a lot of personnel folks out there who think he has a lot of upside. Dominik and Morris were around McCown in practice every day last year and I think the fact they re-signed him speaks a lot about what they think of him. Not sure that this move has a big impact on Josh Johnson. He was a project under Jon Gruden, and I think he's still a project.
---
Walter writes: Hey Pat, I'm a big fan of your blogging. I have a couple questions actually. 1.) Who will start at QB for the Bucs in 2009? 2.) Who wins the NFC South crown in 2009? Thanks man!
Pat Yasinskas: Even with the McCown signing, I still could see the Bucs making another move at quarterback, perhaps in the draft. As it stands right now, they've got McCown, Johnson and Brian Griese under contract. Jeff Garcia can become a free agent, and I suspect he will. If the Bucs stay with their current roster of quarterbacks, I think McCown emerges as the starter, Griese the backup and Johnson No. 3. As for predicting the NFC South, let's hold on a bit. I want to see what happens in free agency and the draft before making any calls on that.
---
Miles in Orlando, Fla., writes: Just saw in the chat that the bucs resigned Luke McCown. What do you think the odds are that he ends up the starter next year? And is this an indication that they don't want to draft a QB? And since everyone's all abuzz about the cap space the bucs have, what do you think the most likely names will be to end up in pewter next year?
Pat Yasinskas: Again, I don't think the McCown signing necessarily means the Bucs are done at quarterback. I still think they could draft one. This just means they don't absolutely have to go out and make a desperate move for a quarterback. As far as free agency, I expect the Bucs to be very active at a number of positions and we'll discuss some names in the questions below. But, one thing to keep in mind with all that cap space is, the Bucs need to use some of that to keep some of their own free agents, mainly receiver Antonio Bryant.
---
Daniel in Tampa writes: what are the chances of the bucs getting boldin... and what would they have to give up to get him.
Pat Yasinskas: Anquan Boldin has made it pretty clear he wants out of Arizona, and I suspect the Bucs, like a lot of other teams, are monitoring the situation. Even if the Bucs do re-sign Bryant, they still need another receiver. I think Boldin would be a consideration, but I think the outcome will be determined on what his market value is and some teams may be more aggressive than the Bucs as potential trade partners. I can't see Dominik and Morris giving away a large chunk of their first group of draft picks.
---
Charles in Mt. Dora, Fla., writes: Check out Doug Williams' career stats. Trent Dilfer won the Super Bowl too. Williams is extremely overrated.
Pat Yasinskas: I'm well aware of Doug Williams' career stats. I'm going to disagree with you and say the guy was underrated. Yeah, his stats weren't always pretty, but think back to what was around him and the style of offense the old Bucs played. I'm not saying he's Johnny Unitas, but I'd take Doug Williams in his prime as my quarterback any day. The guy had great intangibles and was as good a leader as you'll ever find.
---
Casey in Phoenix writes: Just curious on your thoughts about several Bucs vets, including Joey Galloway, Michael Clayton and Jeff Garcia. It is obvious that all were in Gruden's doghouse for one reason or another and that probably played a major role in why they didn't play at times. What are the chances that these three, or various combinations, are back next year to prove that they still have something to give. I'm not totally sold that Galloway is washed up and the same for Clayton. I'd personally like to see what they really can do with a fresh start, but hopefully that doesn't have to come from a new team.
Pat Yasinskas: I think the signing of McCown is the end of the road for Jeff Garcia in Tampa Bay. But I think he has something left and can help another team. I also think Joey Galloway is on his way out. His age, cap number and injuries last season work against him. I think the Bucs will look heavily at wide receivers in free agency. Michael Clayton might be a slightly different story. If Jon Gruden had stayed, I'd say Clayton definitely would be gone. With Morris and Dominik taking over, I think there's at least a chance the Bucs try to re-sign Clayton. He's got some talent and a new coaching staff might be enough to inspire him.
---
Dean in parts unknown writes: Lee Roy Selmon the only past Buc in the HOF? Did you forget that Steve Young played two seasons with the Bucs. How about coaches, Joe Gibbs was an assistant on the Bucs staff in the early days.
Pat Yasinskas: I think you got my point. Lee Roy Selmon is the only real Buccaneer in the Hall of Fame -- for now. Do you seriously count Steve Young and Joe Gibbs? Young was a nobody in his brief time with the Bucs and made his career in San Francisco. If you want to claim Joe Gibbs, I think there are some fans in Washington who might argue with you on that. If you really want to go overboard, why don't you add Anthony Munoz to your list, too? He once practiced a few times with the Bucs in training camp before deciding his career was over. Selmon will have some company in a few years when Derrick Brooks and Warren Sapp join him.
---
Roderick in Brooklyn writes: Pat how's it goin I'm a extremely happy Bucs fan now that Gruden is gone but I was wondering w
ith the problems in the D-Line do you believe the Bucs will try to purse a player like Julius Peppers or Albert Hanesworth(If he becomes available) and could you enlighten me on what OC Jeff Jagozinski's offensive style is because I'm a bit unfamiliar with him.
Pat Yasinskas: The defensive line is an area I expect the Bucs to be very aggressive with. Chris Hovan and Kevin Carter wore down at the end of the year, Jovan Haye is a free agent and Gaines Adams still is a work in progress. The Bucs certainly have enough cap room to make a play for Julius Peppers or Albert Haynesworth, and I suspect they'll at least test the waters. As for Jeff Jagodzinski's offense, it's going to be different than Gruden's and I think that can be a good thing. Jagodzinski favors a vertical passing game and the Bucs were way too horizontal last year. I also think you'll see a pretty fair split between the run and pass.