October, 19, 2014
Oct 19
8:00
AM ET
The
Carolina Panthers
are 2-0 versus the NFC North this season and have won three straight against the division. The
Green Bay Packers
have won six straight against NFC South opponents.
Something will have to give when the defending NFC South champion Panthers (3-2-1) face the defending NFC North champion Packers (4-2) on Sunday at Lambeau Field.
Here are three things to keep an eye on in the 1 p.m. game:
Aaron Rodgers. No quarterback in the league is playing at a higher level. He has 15 touchdowns to only one interception and a passer rating of 111.4 that ranks second in the NFL. He'll be facing a defense ranked 26th overall and 20th against the pass. According to Pro Football Focus, he'll be facing two cornerbacks -- Antoine Cason and Melvin White -- against whom quarterbacks have racked up passer ratings of 113.1 and 126.1. Pressure doesn't bother Rodgers much, either. As Carolina coach Ron Rivera said, Rodgers is as efficient outside the pocket as he is in it.
The read-option. The Packers rank last in the NFL at stopping the run, and in particular have struggled against the read-option. Carolina quarterback Cam Newton is one of the best at running the read-option when healthy. He finally was considered healthy enough to run it last week and rushed 17 times for 107 yards. The best way to stop Rodgers (see above) is to keep the ball out of his hands. Carolina's best chance is for Newton and the offense to run off time with long drives. Ending with touchdowns would help.
Get off the field. The defense has struggled to do that, one reason it ranks 23rd or worse in four major categories. According to ESPN Stats & Information, the Panthers have given up first downs on third down at a higher rate (50 percent) than every team in the league not named the Raiders (51.4 percent). Last week, Cincinnati was 6-for-7 on third down in the first half and 10-for-16 for the game. If that happens against Aaron Rodgers it will be a long day.
September, 12, 2014
Sep 12
5:00
PM ET
CHARLOTTE, N.C. --
Antoine Cason
was trying to explain how he didn't handle certain things well early in his NFL career. He referred to adversity, but was vague, saying "it was just things like playing, not playing.''
Carolina Panthers
coach Ron Rivera, who was the defensive coordinator at San Diego when the Chargers selected the cornerback out of Arizona with the 27th pick of the draft, was more to the point.
"Quite honestly, I had to bench him,'' Rivera said.
But Rivera gave Cason a second chance. He started him in 15 games in 2010, his last season in San Diego before becoming Carolina's head coach.
Cason
Rivera gave Cason a second chance again this season, signing him to a one-year deal after Arizona used him as a backup for 16 games in 2013.
So far, Cason hasn't let him down. He had a team-best nine tackles and an interception in a 20-14 season-opening victory at Tampa Bay. He has reminded Rivera of the player who started 45 games during a three-year stretch (2010-2012) with the Chargers.
"When I watched tape on him from the [Tampa] game I saw things I really liked and remembered,'' Rivera said. "Just the way he was playing with vision, the position he put himself in on a couple of his snaps.''
Cason didn't draw much attention when Carolina offered him the veteran minimum ($795,000) during the offseason. But Rivera and his staff saw something that made them believe he could replace
Captain Munnerlyn
as a starter opposite
Melvin White
.
He definitely was an upgrade in size from Munnerlyn, the shortest player on the team at 5-foot-8. The Panthers have upgraded in size across the board in their secondary, now starting Cason (6-0) and White (6-1) on the corners,
Thomas DeCoud
(6-2) and
Roman Harper
(6-1) at the safety spots.
When they are in nickel, they bring in rookie Bene' Benwikere (6-0) to play the role Munnerlyn did. The first sub off the bench will be
Josh Norman
(6-0).
If there's one thing Carolina learned from watching Seattle win the Super Bowl last season, having big, aggressive defensive backs with long arm spans is an advantage with so many big wide receivers and tight ends.
The added size definitely should help in Sunday's home opener against Detroit and 6-5 receiver
Calvin Johnson
, who had seven catches for 164 yards and two touchdowns last week against the
New York Giants
.
"He's definitely one of the best receivers in this league,'' Cason said. "You bring your A game, play physical at the point of attack and get after it.''
Cason appreciates his second chance. He admits he's a better play today because of what happened with his first chance. He admits he has something to prove.
"That's every time out for me, something to prove, something to prove,'' Cason said. "Never get comfortable and never get satisfied with where I am.''
That'll come in handy on Sunday as the Carolina secondary, new with the exception of White, has something to prove against a potent Detroit passing game.
August, 26, 2014
Aug 26
8:00
AM ET
CHARLOTTE, N.C. -- The
Carolina Panthers
finally will get a look at their restructured secondary that was a big question mark entering the preseason in Thursday night's preseason finale at Pittsburgh.
Strong safety
Roman Harper
returned to practice this week for the first time since suffering turf toe after stepping on the foot of tight end
Greg Olsen
during an Aug. 1 practice in Spartanburg, South Carolina.
The two-time Pro Bowler with New Orleans was signed to a two-year, $4.5 million deal to bring stability to a secondary that lost three of four starters -- two in free agency.
[+] Enlarge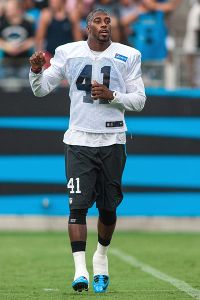 Jeremy Brevard/USA TODAY SportsStrong safety Roman Harper is eager to suit up for the Panthers following his preseason absence dealing with a turf toe injury.
"I definitely think I can help with a sense of attitude, with a sense of leadership," Harper said. "At times we can be better at open-field tackling, doing some different concepts and just kind of understanding our fit."
Coach Ron Rivera has been emphatic that Harper's absence in practice and the first three preseason games wasn't an issue even though the defense has given up some big pass plays. He's reminded that
Quintin Mikell
started last season's opener at strong safety after signing a week earlier.
He also could have reminded that free safety
Mike Mitchell
, who went to Pittsburgh in free agency, didn't become a starter until after the secondary was decimated by injuries in Week 2.
But Rivera is glad Harper is back.
"Roman does have a veteran quality to himself," he said. "We're excited to have him around. What is missing is that veteran leadership presence."
Harper is glad he's returning before playing his first regular-season game -- Sept. 7 at Tampa Bay -- as a Panther.
"Not even so much [for getting ready for] Tampa Bay, but more so for myself," he said. "I've got to get back out here and get into shape. I've tried to get in shape as best as I can, but there's nothing like football shape."
Harper won't discuss whether the toe is completely healed, reminding he doesn't discuss injuries. But he admitted being a spectator for more than three weeks with a new team hasn't been easy.
"You come in with a sense of wanting to fit in and do the different things and show your work," Harper said. "When you get injured, that kind of sets you back. Training camp is a time where guys work on things and physically come together as a team.
"For me being gone, I was here but not really out there playing with the guys and going through the wars. It was kind of difficult."
With Harper, Carolina's secondary is set.
Thomas DeCoud
, a free agent from Atlanta, will start at free safety.
Antoine Cason
, a free agent from Arizona, will start at one cornerback and returning starter
Melvin White
will be on the other side.
Harper's return means either
Anderson Russell
or
Robert Lester
likely will become expendable when the team shrinks its roster to 53 players. Russell has started the past two preseason games over Lester, who missed the past two practices with an ankle injury.
The big question now is will the new secondary be as solid as the one last season that helped Carolina rank second in the NFL in total defense?
"Communication has been fine," Harper said. "Guys are getting lined up. We've got to get to the huddle calls a little bit faster. But overall, if you look at it on tape, the defense has not played bad."
August, 20, 2014
Aug 20
5:55
PM ET
CHARLOTTE, N.C. --
Josh Norman
is one of the most physically gifted players on the
Carolina Panthers
roster.
He's got the size (6-foot, 195), speed, quickness and vision to be one of the top cornerbacks in the NFL.
Norman also is one of the most unpredictable players on the Carolina roster, which keeps him from being not just an elite cornerback, but a starter.
Norman
Just when you think he's getting it, he reverts back to old, bad habits in terms of technique. Or he loses his cool, as he did on Sunday night when he got into a jawing match with Kansas City Chiefs wide receiver
Dwayne Bowe
.
The Panthers got that one under control fast. Outside linebacker
Thomas Davis
shoved Norman out of the way before it got to the point when a penalty would have been called. Coach Ron Rivera then pulled the third-year player from the game.
Rivera appreciated Thomas' effort. Coaches like it when players are accountable and do their dirty work.
"And to me that is huge,'' Rivera said.
Having Norman play to his potential would be huge, too.
Sunday's outburst aside, he might be closer than perhaps ever to being the player the Panthers envisioned in 2012 when they drafted him in the fifth round out of Coastal Carolina.
He had a team-best six tackles and an interception in a 20-18 loss to Buffalo in the exhibition opener. He had two tackles and a defensed pass in the 28-16 victory over Kansas City.
He's gone from third on the depth chart to second. Had
Melvin White
and
Antoine Cason
not played so well in the first two games, he might be challenging one for a starting job.
"He's done a great job this camp,'' Rivera said on Wednesday. "This camp has been exceptional for him, watching him stick to those things. ... This year he's had the kind of camp you get excited about.''
Norman arrived with a reputation for being uncoachable. Rivera doesn't buy that, but he does call Norman a "work in progress.''
Because Norman is so gifted, defensive coordinator Sean McDermott and secondary coach Steve Wilks have worked overtime trying to turn that into positive production.
They've repped him tirelessly, hoping the muscle memory will turn old, bad habits into good, new ones.
"The kid's got so much ability, and that's what we're trying to get in his head,'' Rivera said. "We're not trying to take away his playmaking ability. We're trying to help him increase it and maximize his chances.''
Getting inside Norman's head is the difficult part. While his confidence unquestionably is a positive, he didn't seem to grasp after Sunday's game what he had done that was so wrong.
"What do you want us to be out there? Little puppets?'' he said. "You mean, you want us to say nothing? C'mon, it's within the game. I don't think we were taking it too far to where either one of us was getting flagged.''
Davis disagreed, remembering three unsportsmanlike penalties in the playoff loss to San Francisco that were costly in Carolina's 23-10 loss.
His message to Norman was simple.
"Be smart,'' Davis said. "Understand what's going on, understand the situation that we're in and understand the way the refs are going to be judging the game right now. They have a zero tolerance right now for trash-talking. We just have to stay clear of that stuff.''
Had Norman been smart at Buffalo in Week 2 last season, he might still be a starter. With six seconds remaining and the Bills facing second-and-1 from the Carolina 2, cornerback D.J. Moore signaled for Norman to switch on a route.
Norman said he didn't get the call, though others around him saw it. He left wide receiver
Stevie Johnson
wide open in the left corner of the end zone for the winning touchdown.
Norman was inactive for 10 of Carolina's next 15 games.
The perception was Rivera put Norman in his doghouse. Rivera's reply?
"That's perception,'' he said.
Norman insists he has moved on. He said early in camp he feels "way better'' and "a lot more confident, comfortable in what we're supposed to do.''
Outside of losing control for one play against Kansas City, he might be right.
August, 2, 2014
Aug 2
5:10
PM ET
SPARTANBURG, S.C. -- A daily review of the hot topics coming out of the
Carolina Panthers
training camp from Wofford College:
It sounded like a car crash. Only instead of crumpled sheet metal, fullback Mike Tolbert crumpled to the ground. On easily the biggest hit of training camp in the most physical practice, middle linebacker Luke Kuechly ran into Tolbert on fourth-and-goal inside the 1-yard line so hard that you could hear it at The Beacon (Spartanburg's famous greasy spoon) a few miles away. OK, maybe it wasn't that loud. But it did turn heads. And it started the eruption of a defensive celebration that didn't go unnoticed by Carolina coach Ron Rivera. "Panthers won today," Rivera said with a smile as though the play came on the final second of the Super Bowl to secure the victory. Kuechly said it was "payback" for Tolbert running over him on third-and-1 at the 15-yard line in the Pro Bowl. "I had to get him back," Kuechly said. For the Panthers it was a nice reminder that the league's second-ranked defense in 2013 will be a force again. It also was a reminder that Kuechly, the reigning NFL Defensive Player of the Year, is deserving of all the accolades he gets. "It was a very big statement," Rivera said. "To be quite honest the offense was getting after the defense and they needed to make something happen -- and they did."
Saturday marked the return of the Joshes -- cornerbacks Josh Thomas and Josh Norman. For Thomas, it was his first appearance in camp after being placed on the non-football injury list with a back injury. Neither did anything to stand out, and it's going to be tough for both to make the final 53-man roster again. Much depends on how many cornerbacks the Panthers keep. Antoine Cason, Melvin White, Bene' Benwikere (had yet another interception on Saturday) and Charles Godfrey (sat out of practice with soreness in Achilles) appear to be locks. If the Panthers keep five cornerbacks, then one of the Joshes is out.
Rivera recently said Cason eventually might get into the punt return business. Eventually has arrived. Cason led off the group on Saturday. Benwikere also got into the mix. Cason last returned a punt in 2012 -- one for nine yards. The last time he had more than one in a season was 2014, when he had 14 for a 16.5 average. This remains a spot the Panthers could look to fill with the waiver wire late in camp. Yes, they miss Ted Ginn Jr.
With starting defensive ends Greg Hardy (shoulder contusion) and Charles Johnson (hamstring) out, second-round pick Kony Ealy got more opportunities. He still struggled, to the point quarterback Cam Newton began taunting him, but did more good things than he has in any other practice.
The Panthers practice again on Sunday at 9:25 a.m. before getting an off day on Monday. Rivera indicated prior to practice that the team would go without pads after going five straight days in them. That Saturday's practice was so physical as the team focused on short-yardage situations and goal-line plays makes that more likely.
July, 28, 2014
Jul 28
5:20
PM ET
SPARTANBURG, S.C. -- A daily review of the hot topics coming out of
Carolina Panthers
training camp from Wofford College:
The scariest moment of camp for the Panthers came Monday morning when rookie wide receiver Kelvin Benjamin complained of soreness in his left knee after bumping it on the knee of a teammate the day before. He was sent to Charlotte, North Carolina, for an MRI, which revealed a bone bruise but no structural damage. Benjamin will miss only a few days, possibly a week, recovering, which is good news for quarterback Cam Newton. They've developed a lot of chemistry and it's obvious Newton looks for the 6-foot-5, 240-pound Benjamin early and often in practice. Without Benjamin, 31-year-old Jerricho Cotchery stepped up to the No. 1 spot and everyone else adjusted forward. Nothing against Cotchery, but he doesn't have the speed or the size to make the catches Benjamin does. The sooner Benjamin gets back the better because he'll need all the reps he can get before his first season.
Coach Ron Rivera liked the tempo of Monday morning's practice so much that he extended a no-huddle drill by three series. The energy definitely was better than on Sunday. Players began practice by yelling "energy'' and "fresh legs'' in individual huddles. They seemed to run faster between drills. It was slightly cooler in the morning than it had been the previous afternoon when the temperature was in the lows 90s and there was a breeze, so that may have had something to do with it. Rivera also noted the media had more energy, but that had more to do with being able to stand under the shade trees on the far side of the field. Coach declined our request for chairs.
Charles Godfrey's transition from safety to cornerback has been slow. He continues to have what Rivera calls "dirty eyes,'' peaking into the backfield and getting beat deep on plays. At this point it's hard to see him beating out Antoine Cason or Melvin White for one of the every-down corner jobs. But it's early, and Rivera likes the speed and physicality Godfrey has shown.
With backup cornerbacks Josh Thomas and Josh Norman nursing minor injuries, undrafted rookie Carrington Byndom is getting a few more snaps. He's made the most of it, intercepting a pass in each of the past two practices. In case you aren't familiar with Byndom, he is 6-foot and 180 pounds. He didn't have an interception last season at Texas, but was second on the team in solo tackles. He's a long shot to make the team, but so was White last season and he wound up the starter.
Breaking: Middle linebacker Luke Kuechly, the reigning NFL Defensive Player of the Year, finally has cable television at his home in Charlotte. As for his POY trophy, it remains somewhere at his parent's home in Cincinnati. And he doesn't have cable at training camp. He doesn't even have a TV. He is all about football and sleep, leaning heavy on football.
July, 26, 2014
Jul 26
9:40
PM ET
SPARTANBURG, S.C. -- A daily review of the hot topics coming out of the
Carolina Panthers
training camp:
Cam Newton looked sharper from the get-go during Saturday night's "Back to Football" practice at Gibbs Stadium. He didn't bumble his first handoff =, as he did the night before, and he completed a 70-yard touchdown to Kealoha Pilares on his first pass. Yeah, there were moments when the timing was off and he had a few drops, but for the most part he appeared much more under control -- although he had a pass intercepted and returned for a touchdown late. It helped Newton and backup Derek Anderson that the defensive backs had what coach Ron Rivera called "dirty eyes,'' looking inside and getting beaten deep a few times.
Carolina's running back position, which was deep during offseason workouts, keeps getting thinner. First, Jonathan Stewart pulled a hamstring a week-and-a-half ago and will miss 2-4 weeks. On the first play of Friday night's workout, rookie Tyler Gaffney suffered a knee injury that ended his season. That leaves DeAngelo Williams, Mike Tolbert and Kenjon Barner as the healthy backs as the team heads into Sunday's first practice (3:10 p.m.) in pads. The Panthers will replace Gaffney with another back just for depth. They need it. Williams is 31 and the team doesn't need to overload him with carries in camp. It could be good for Barner, who didn't get a lot of looks last season.
Marvin McNutt was one of the young wide receivers the Panthers said they wanted to get a good look at after cutting Steve Smith. From what McNutt has shown in training camp and through offseason conditioning, he has to be worried about a roster spot, particularly with the staff raving about Brenton Bersin and Pilares making an impression. McNutt dropped a couple of passes before making a nice grab late in the two-hour workout.
Tight end Ed Dickson says he didn't intentionally flatten safety Thomas DeCoud in Friday night's practice. Dickson claimed he was just protecting himself when he sent DeCoud to the ground after a catch. But one thing is clear: Dickson will be a factor in the passing game. He'll be sure to take some catches from Greg Olsen, the only tight end to catch a pass last season and Carolina's leading receiver in 2013.
Running back Barner, wide receiver Corey Brown and cornerback Antoine Cason were fielding punts. Barner and Cason are locks to make the team, Cason as a starter and Barner a backup. For Brown, this could be a passage to the 53-man roster, as he's not likely to be among the top five wide receivers.
March, 21, 2014
Mar 21
8:30
AM ET
SEARCH: NFL free agent wide receivers and cornerbacks that will play for pennies on the million dollars. Funky hairdos, inexperience and unimpressive statistics not a factor.
Google has become my best friend as the
Carolina Panthers
continue their Dollar General trip through free agency.
Sometimes you wonder if general manager Dave Gettleman needs a search engine to get the lowdown on some of his prospects. It reminds me of the line from "Butch Cassidy and the Sundance" kid as they try to avoid a mystery posse.
[+] Enlarge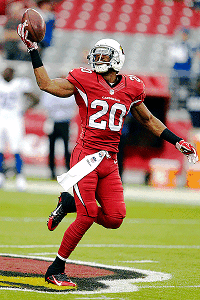 AP Photo/Rick ScuteriCornerback Antoine Cason is among the latest free agents to visit Carolina.
"Who are those guys?" Butch, otherwise known as Paul Newman, repeatedly asked.
Today's shopping list of "those guys" includes Tampa Bay free agent wide receiver
Tiquan Underwood
, Arizona cornerback
Antoine Cason
and Texans wide receiver
Lestar Jean
.
All three, which you would have to say fall into the bargain-basement category, began their visits on Thursday.
And bargain-basement isn't meant as an insult. Free safety
Mike Mitchell
had done little to nothing before the Panthers signed him from Oakland last season, and he had arguably a Pro Bowl season. Wide receiver
Ted Ginn Jr.
caught two passes in 2012 at San Francisco and he had five touchdown catches for Carolina in 2013.
Both went on to sign lucrative deals with other teams in free agency this season.
Underwood, Cason or Jean could be next.
Underwood is known more for his stacked hairdo than catching passes. In five seasons with three teams (Jacksonville, New England and Tampa Bay) he has 63 catches, or one less than former Carolina receiver
Steve Smith
had during a down year in 2013.
Last season was somewhat of a breakout year as he caught 24 passes for 440 yards and four touchdowns.
At 6-foot-1 and 183 pounds out of Rutgers, he's probably no better than a third or fourth receiver, perhaps a special teams player. But the Panthers, who don't have their top four wide receivers from last season, need those type of players.
Cason's name you might recognize. He was a first-round pick in 2008 by the
San Diego Chargers
. He worked with Carolina coach Ron Rivera and secondary coach Steve Wilks when both were with the Chargers.
He started 45 games for the Chargers between 2010 and 2012. He has 14 career interceptions. He just got lost in the shuffle last season at Arizona, making him expendable after a 14-tackle season.
The Panthers began talking to his former agent at the NFL combine. Cason recently fired that agent and hired the more high-profile Drew Rosenhaus, which is why his visit to Charlotte was delayed by a day or so.
At 6-1 and 195 pounds, Cason could be the bigger cornerback the Panthers have been looking for to replace Captain Munneryln, who signed with Minnesota.
Jean you definitely need a search engine for. In two seasons with the Texans he has 10 catches, which on paper makes him a perfect fit for the Carolina receiving corps outside of Thursday free-agent signee
Jerricho Cotchery
.
He's a big target at 6-3 and 202 pounds.
And like the others, he won't cost a lot.
If the "Price is Right," I can see two or maybe all three becoming Panthers.
March, 8, 2013
3/08/13
11:30
AM ET
»
NFC Eight in the Box
:
East
|
West
|
North
|
South
»
AFC
:
East
|
West
|
North
|
South
Welcome to Eight in the Box, an NFL Nation feature that will appear each Friday during the offseason. This week's topic: Who should be the primary target (including trades) for each team when free agency begins?

Atlanta Falcons.
After releasing veteran
John Abraham
, the team is without an elite pass-rusher. That's why the Falcons should make
Cliff Avril
their top target in free agency. Sitting near the end of the first round, they're not likely to land an impact pass-rusher in the draft. They have to bring in someone from the outside, and Avril is the closest thing there is to a sure thing. At 26, Avril still is very much in his prime. He won't be inexpensive, and the Falcons have made it clear their priority is to re-sign their own free agents. But there aren't many other places to turn for a pass-rusher, so this is one spot where the Falcons can devote some money.

Carolina Panthers
. The Panthers have a glaring need at cornerback.
Josh Norman
and
Josh Thomas
can be role players, but they're not No. 1 cornerbacks. That's why the Panthers should go after San Diego free agent
Antoine Cason
. Ron Rivera knows him from their time together with the Chargers, and Rivera has a history of bringing in players from San Diego. Cason, 26, already is good but could become even better. Put him behind a pass rush anchored by
Charles Johnson
and
Greg Hardy
, and Cason could become a star.

New Orleans Saints.
There is very little cap room to work with in New Orleans, but general manager Mickey Loomis is a creative guy. He can free up enough money for the Saints to make a few moves in free agency. As the Saints switch from a 4-3 defense to a 3-4, they can't afford to sit still with their personnel. More than anything, they need a pass-rusher. Indianapolis defensive end/linebacker
Dwight Freeney
is on the market and would be a good fit here. Freeney has played on a Super Bowl champion team, and his presence could go a long way in helping new coordinator Rob Ryan rebuild the defense.

Tampa Bay Buccaneers.
The Bucs are in a cap position in which they can do just about anything they want. The thing they should do is trade for
New York Jets
cornerback
Darrelle Revis
. The Bucs are one of the few teams with the ability to take on his long-term cap ramifications. The Bucs also are desperate for help at cornerback. Adding Revis would give them a shutdown corner, and that could help a defense that ranked No. 32 against the pass last season.
April, 7, 2011
4/07/11
12:00
PM ET
»
NFC Draft Watch
:
East
|
West
|
North
|
South
»
AFC
:
East
|
West
|
North
|
South
Each Thursday leading up to the NFL draft (April 28-30), the ESPN.com NFL blog network will take a division-by-division look at key aspects of the draft. Today's topic: history in that spot.

Carolina Panthers
The Panthers' top pick is No. 1 overall. Here are the last seven players taken in that spot, with their NFL team in parentheses:
2010 QB
Sam Bradford
(Rams)
2009: QB
Matthew Stafford
(Lions)
2008: OT
Jake Long
(Dolphins)
2007: QB
JaMarcus Russell
(Raiders)
2006: DE
Mario Williams
(Texans)
2005: QB
Alex Smith
(49ers)
2004: QB
Eli Manning
(Giants via Chargers)
Analysis:
It's still early, but indications are the Panthers are seriously considering taking a quarterback, and that probably narrows it down to Auburn's
Cam Newton
and Missouri's
Blaine Gabbert
. Part of the reason the Panthers are looking down this road is because they saw what the Rams got in Bradford last year. The early results from Bradford and Stafford have been encouraging. But Russell was a tremendous flop, and Smith hasn't been much better. Manning is the only quarterback taken No. 1 overall in this time period to make a Pro Bowl. Even before Manning, the history of quarterbacks at No. 1 was shaky for a long time.
Carson Palmer
and
Michael Vick
have had some good years and some bad ones.
David Carr
and
Tim Couch
rank right up there with Russell. To find a quarterback drafted first overall who has been an unquestioned success, you have to go all the way back to
Peyton Manning
in 1998, and there were some people at the time who thought
Ryan Leaf
could be just as good. Long story short: there might not be such a thing as a surefire quarterback, even with the No. 1 pick.

Tampa Bay Buccaneers
The Buccaneers' top pick is No. 20 overall. Here are the last seven players taken in that spot, with their NFL team in parentheses:
2010: CB
Kareem Jackson
(Texans)
2009: TE
Brandon Pettigrew
(Lions)
2008: CB
Aqib Talib
(Buccaneers)
2007: CB
Aaron Ross
(Giants)
2006: DE
Tamba Hali
(Chiefs)
2005: DE
Marcus Spears
(Cowboys)
2004: DE
Kenechi Udeze
(Vikings)
Analysis:
The Bucs have been in this territory recently and have had tremendous results and one very big complication. The Bucs were at No. 19 heading into the 2009 draft, which was the first for general manager Mark Dominik and coach Raheem Morris. They feared missing out on a chance to get the guy they believed would be their franchise quarterback. That's why they traded up to No. 17 and took
Josh Freeman
. You can't question that move because Freeman single-handedly turned the franchise around last season. Even taking Talib at No. 20 -- and it should be pointed out that move was made by former general manager Bruce Allen and coach Jon Gruden -- brought some positive results. When on the field, Talib showed flashes of being one of the best young cover corners in the game. But the latest in a series of off-field troubles means Talib is probably on his way out of Tampa Bay. The lesson to be learned here is that you can get big-time talent in the draft but it's wise to do your homework on the character and attitudes of players. It's common knowledge the Bucs desperately need a defensive end. Look at Hali and Spears. They represent two ends of the spectrum. Hali came with some questions about being undersized but had no character issues, and he has turned out to be a solid pass-rusher. Spears came with some questions about attitude and never has panned out.

New Orleans Saints
The Saints' top pick is No. 24 overall. Here are the last seven players taken in that spot, with their NFL team in parentheses:
2010: WR
Dez Bryant
(Cowboys)
2009: DT
Peria Jerry
(Falcons)
2008: RB
Chris Johnson
(Titans)
2007: DB
Brandon Meriweather
(Patriots)
2006: CB
Johnathan Joseph
(Bengals)
2005: QB
Aaron Rodgers
(Packers)
2004: RB
Steven Jackson
(Rams)
Analysis:
Johnson, Rodgers and Jackson are proof that you can get a big-time player this late in the round. The Saints aren't looking for a quarterback because they have
Drew Brees
. But running back isn't out of the realm of possibility, and when you see that guys such as Johnson and Jackson have been available at this spot, it makes you wonder about the Saints taking a shot if Alabama's
Mark Ingram
is there. Yes, defensive end and outside linebacker might be greater needs, so those positions are possibilities.
Pierre Thomas
re-signed,
Reggie Bush
is expected to stay and
Chris Ivory
is recovering from injury, but the Saints still have to think back to the end of last year when they basically ran out of running backs.

Atlanta Falcons
The Falcons' top pick is No. 27 overall. Here are the last seven players taken in that spot, with their NFL team in parentheses:
2010: CB
Devin McCourty
(Patriots)
2009: RB
Donald Brown
(Colts)
2008: CB
Antoine Cason
(Cardinals)
2007: WR
Robert Meachem
(Saints)
2006: RB
DeAngelo Williams
(Panthers)
2005: WR
Roddy White
(Falcons)
2004: OLB/DE
Jason Babin
(Texans)
Analysis:
Although nearly every draft guru is projecting that the Falcons will take a defensive end, it's not out of the question that a wide receiver or running back could be the pick here. General manager Thomas Dimitroff and coach Mike Smith have talked a lot about wanting to add explosive players. If they look at their own history and the recent history of NFC South teams that have been in this spot, the idea of going with a receiver or running back could get stronger. Although it took some time for him to develop, White has turned into one of the game's top receivers. Meachem also took some time and dealt with some injuries, but he has emerged as a force in the New Orleans passing game. Williams had some explosiveness as soon as he joined the Panthers.