NFC South:

Anton Clarkson
June, 18, 2011
6/18/11
1:10
PM ET
Time for a plunge into the NFC South mailbag
Bobby in Burlington, N.C.,
wrote to say he loved
Cam Newton's comments
at Steve Smith's football camp and wonders if those two would make a good tandem and if Smith would be a good mentor for Newton.

Pat Yasinskas:
Definitely a smart move by Newton to make it clear he wants Smith back. If that happens, Newton has an elite receiver to throw to and that's a positive. But let's not go projecting Smith into the role of mentor, a role he's never embraced. He didn't exactly help
Jimmy Clausen
along, and he was never known as a mentor when Carolina had young receivers like
Keary Colbert
,
Drew Carter
and
Dwayne Jarrett
. Smith is very good at going out and catching passes, and he's always prepared himself well to do that. If Smith decides he wants to stay in Carolina, then Newton will have an excellent target to throw to.
Daniel in Jamestown, N.Y.,
wrote to ask if it's na´ve to think Tampa Bay quarterback
Josh Freeman
can throw so few interceptions every season.

Pat Yasinskas:
Freeman threw just six interceptions last season, which is a very low figure. Obviously, Tampa Bay had a very young offense, and as the wide receivers mature there might be temptation to take more chances and go deep more often. That could lead to more interceptions. But Freeman is a perfectionist, and I doubt he's ever going to be a guy to throw a lot of interceptions. Look back at
this story
where I talked to Anton Clarkson, Freeman's private quarterback coach. Clarkson said one of Freeman's goals is to go through a season without throwing an interception. That's probably impossible. But if you use that as your goal and come somewhere close, you should be in good shape.
Chris in Augusta, Ga.,
asks if being exciting to watch helps Drew Brees'
case for the Pro Football Hall of Fame
?

Pat Yasinskas:
Sure. Let's be honest. Fans love to watch teams that throw the ball a lot and score a lot of points. So does the media. Brees and the Saints have been entertaining to watch since he got there. He's brought them national attention and raised the franchise's profile, and those kinds of things will help him when it's time to vote on his Hall of Fame candidacy.
Adam in West Virginia
asks if
Matt Ryan
doesn't stretch the field enough because he's not an elite quarterback or because he's the victim of conservative play calling.

Pat Yasinskas:
I think Ryan already is an elite quarterback or, at the very least, will become one soon. I believe the Falcons haven't really let him maximize his talents. I think that's about to change. I think the coaching staff realizes it's time to put more on Ryan's shoulders. That's part of the reason they went out and got
Julio Jones
. Last year,
Roddy White
was Atlanta's only real downfield threat. Defenses knew that and gave White lots of attention. The other receivers couldn't make big plays, and Ryan frequently was left to throw short passes to tight end
Tony Gonzalez
. I think the arrival of Jones and a conscious effort by the coaching staff will lead to more big plays from Ryan.
June, 17, 2011
6/17/11
10:40
AM ET
He has not been able to speak to head coach Raheem Morris, offensive coordinator Greg Olson or quarterbacks coach Alex Van Pelt during the lockout, but
Josh Freeman
still is getting some coaching.
The Tampa Bay quarterback has acted as a coach while organizing and running workouts for his teammates. But, behind the scenes, he's been getting help from the outside. Freeman has continued a tradition that started after his first season at Kansas State. He's been working with private quarterbacks coach Anton Clarkson. Here's the
link the to Clarkson's website
.
[+] Enlarge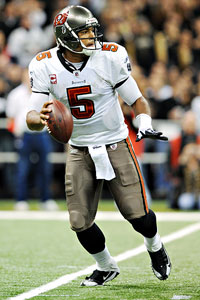 Chuck Cook/US PresswireAnton Clarkson believes Josh Freeman has what it takes to be an elite NFL quarterback.
"We've still worked some on the on-field stuff, but this year has been different because of the lockout,'' said Clarkson, who played quarterback at Oregon State and Hofstra and is based in Southern California. "This year, we've focused more on defenses, understanding the coverages and the blitz protections. We've spent more time looking at film.''
Clarkson, whose client list also includes rookie
Jake Locker
and several college and high school quarterbacks, including Joe Montana's sons, has traveled to Florida several times to work with Freeman and the quarterback has gone out to California on multiple occasions.
"The other thing we've worked on and talked a lot about is working on leadership,'' Clarkson said. "That comes pretty easily and naturally to Josh. He might only be 23, but he's a wise-old soul. When the lockout was coming down, I was about to talk to him about the idea of setting up some workouts for his teammates, but he already beat me to the punch.''
Although most of Freeman's workouts so far have been for offensive skill-position players, he has said the Bucs will hold more of a minicamp session the last week of June, with offensive linemen and defensive players expected to take part.
As soon as that's over, there's another step in place to get ready for the start of training camp. Clarkson said Freeman will come to California as soon as the workouts end and, this time, he's bringing guests. According to Clarkson, receivers
Mike Williams
,
Arrelious Benn
and
Sammie Stroughter
are expected to join Freeman in California for a series of on-field workouts and time in the film room. Clarkson has a strong knowledge of Tampa Bay's playbook and knows Morris, another Hofstra product, very well.
Freeman and Clarkson first began working together at the urging of the Kansas State staff and have continued each offseason since. They also talk during the season and Clarkson said Freeman is one of the best pupils he's ever worked with.
"First off, Josh has a great deal of natural talent,'' Clarkson said. "He's gigantic and he's naturally athletic. But, more than that, he's one of the most competitive and driven people I've ever been around. When I'm working with him and talking to him, he's almost trying to steal the words out of my mouth. He's so desperate to add information and make himself a better player and he's never satisfied. As good as his numbers were last season, if you talk to him, they weren't good enough. The fact the Bucs went 10-6, but didn't make the playoffs has given him another chip on his shoulder.''
Freeman threw 25 touchdowns and just six interceptions last year.
"Every year since I've worked with him I've asked him what his goals for the team are and what his personal goals are,'' Clarkson said. "He's given the same answer every year. His team goal is to win the championship. Individually, he always says he wants a season without an interception and I always tell him, 'Josh, that's not really possible,' but he darn near proved me wrong on that one last year.''
Clarkson said Freeman's nature is to never be satisfied. That's why Clarkson believes Freeman soon will be among the league's elite quarterbacks.
"Just a Pro Bowl alternate wasn't good enough for him last year,'' Clarkson said. "He looks up to guys like
Drew Brees
,
Peyton Manning
and
Tom Brady
. He wants to get to a point where he can put his name up there with those guys.''
Can he do it?
"Absolutely, there is no doubt in my mind,'' Clarkson said. "Physically, he's more talented than those guys in terms of size and strength. He's a remarkable athlete. Those guys have set themselves apart by putting in an enormous amount of work on the field and in the film rooms and meeting rooms. Josh obviously is younger than them, but he's working to catch up to them by really focusing in on all the things they did to set themselves apart.''
NFC SOUTH SCOREBOARD
Sunday, 11/23
Monday, 11/24