March, 12, 2013
3/12/13
3:19
PM ET
Tony Gonzalez
, who said multiple times he was 95 percent sure he would retire after last season, showed that numbers don't always tell the whole story Tuesday when he said he was
returning
to the
Atlanta Falcons
next season.
Gonzalez
But I still trust numbers, especially when they come from ESPN Stats & Information. They've got a handy file on Gonzalez and all his numbers. So, on this day when Atlanta fans are celebrating, let's take a look at some of the numbers on Gonzalez.
His 13 Pro Bowls are tied for the second most in history. Only Bruce Matthews (14) has been to more Pro Bowls.
Gonzalez is the all-time leader in receptions by a tight end with 1,242. Shannon Sharpe (815) is second.
Gonzalez is the all-time leader in receiving yards by a tight end with 14,268. Sharpe is second with 10,060.
Gonzalez is the all-time leader in receiving touchdowns by a tight end with 103. Antonio Gates is second with 83.
Gonzalez still played at a high level last season. He ranked second among tight ends with 93 receptions.
Gonzalez will get a chance to build on his lead for regular-season starts by an active player. He has 238 career starts. Tampa Bay's Ronde Barber is second with 232.
Here's a record Gonzalez, who turned 37 in February, should have no problem breaking. The only tight end to have at least 20 catches at age 37 or older was Wesley Walls with 20 catches in 2003.
We'll close it out with an amazing stat. Gonzalez had 27 receptions with no drops on throws of 10 yards or more last season. Since joining the Falcons in 2009, Gonzalez has had only one drop on those throws while making 86 receptions.
April, 4, 2012
4/04/12
12:29
PM ET
Carolina quarterback
Cam Newton
is the only NFC South player remaining in the "Madden 13" cover vote.
The list has been trimmed to eight players and Newton is matched against Arizona receiver
Larry Fitzgerald
in the latest round. You can cast your vote
here
.
Newton was a big winner against San Diego tight end
Antonio Gates
in the previous round. New Orleans quarterback
Drew Brees
was knocked out, losing narrowly to Baltimore running back
Ray Rice
.
April, 2, 2012
4/02/12
12:14
PM ET
He didn't win a lot of games, but former Tampa Bay coach Raheem Morris easily was the best quote among the four NFC South coaches.
In the media business, it's always helpful when a guy is a good quote. New Tampa Bay coach Greg Schiano probably never will be as animated or open as Morris. But, early on, I'm sensing a lot of depth out of Schiano and that can be a good thing.

Schiano
Take the case of Schiano being asked at the owners meetings last week why there aren't a lot of great tight ends in college football and why the NFL seems to turn to former basketball players (see
Jimmy Graham
,
Tony Gonzalez
and
Antonio Gates
) to play tight end. Schiano provided some pretty strong insight into why so many potential tight ends opt to play basketball in their teen years.
"It's AAU basketball,'' Schiano said. "Guys who are 6-2 as ninth-graders and have an opportunity to go to Las Vegas on a weekend trip, an opportunity to go to California or Florida in a basketball tournament, get a nice pair of shoes, a sweatsuit, and then they stop growing and there's not a lot of 6-foot-3 power forwards. That's the kind of athletes you need to play tight end. That was the hardest position to recruit in college. You had to project. Quite frankly, it's the hardest position in this league to find. With the special guys, you can work mismatches.''
In Tampa Bay, Schiano has
Kellen Winslow
as his top tight end. Winslow comes from a unique background. He's the son of former NFL great Kellen Winslow Sr. and was schooled in football from an early age. At 6-4, Winslow has good size and his athleticism, at times, appears to match that of any of the former basketball players. There's been some speculation the Bucs could look to trade Winslow, who will turn 29 in July, has chronic knee problems and is coming off a relatively quiet 2011 season. Some of the speculation also has pointed to the fact that new offensive coordinator
Mike Sullivan
is coming from the
New York Giants
, who didn't throw to their tight ends a lot last season.
But I'm not so sure Winslow is on the trading block. Butch Davis, a special assistant to Schiano, recruited Winslow when he was head coach at the University of Miami. Davis also drafted Winslow when he was the head coach of the
Cleveland Browns
. Schiano and Davis have access to all the medical reports on Winslow's knee. They may try to add some tight end depth in the draft. But I think they realize they have a tight end that has been a productive pass-catcher in the draft. Unless they've got their eye on some former basketball player and somehow plan to use their tight ends the same way New Orleans uses Graham, I expect they'll stick with Winslow.
March, 29, 2012
3/29/12
8:19
AM ET
The Madden 13 Cover Vote is down to 16 players, including just two from the NFC South.
Carolina quarterback
Cam Newton
defeated Tampa Bay running back
LeGarrette Blount
in the last round and New Orleans quarterback
Drew Brees
defeated Atlanta quarterback
Matt Ryan
.
You can
go here
to cast your vote. In this round, Newton faces San Diego tight end
Antonio Gates
and Brees takes on Baltimore running back
Ray Rice
.
October, 6, 2011
10/06/11
11:07
AM ET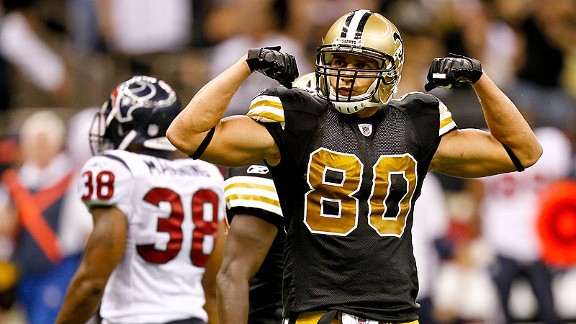 Derick E. Hingle/US PresswireJimmy Graham and the tight ends in the NFC South are the strongest in the NFL.
Back when Randy Shannon was attempting to talk basketball player
Jimmy Graham
into trying football, the former University of Miami football coach used a very powerful recruiting pitch.
"He said, 'We are Tight End U,'" Graham said. "He said, 'Look at the guys who've been through here --
Greg Olsen
,
Kellen Winslow
and
Jeremy Shockey
. Look where they are now. They're in the NFL. You can do the same thing.'"
Shannon's out at Miami, but he turned out to be a prophet. Graham, now with the
New Orleans Saints
, is doing a lot of the same things Olsen and Shockey are doing for the
Carolina Panthers
and Winslow is doing for the
Tampa Bay Buccaneers
.
Throw in Atlanta's
Tony Gonzalez
, who didn't go to Miami but has another common bond with Graham, and you can make a pretty strong case that the NFC South has the league's best collection of pass-catching tight ends.
"None of those guys are guys you want to end up covering," said New Orleans linebacker
Jonathan Vilma
, who played at Miami. "I had to do it in college and thought I was getting away from it and I did for a few years. But now I've got to deal with it in this division and I've got to deal with it every day in practice. It's not a lot of fun."
It's not mere coincidence that the NFC South, once a wasteland for tight ends, is suddenly filled with some of the best pass-catchers in the league. And it's no coincidence that most of them came through the Miami pipeline.
When one team has success with something, other teams tend to follow. And when you're looking for good tight ends, you look for the guys who come from the best factory.
The Saints started this trend back in 2008 when they traded for Shockey. The next offseason, the Falcons traded for Gonzalez and the Bucs traded for Winslow. In 2010, the Saints used a third-round pick on Graham, who played only one year of college football. He showed them so much potential that the Saints released Shockey after last season.
[+] Enlarge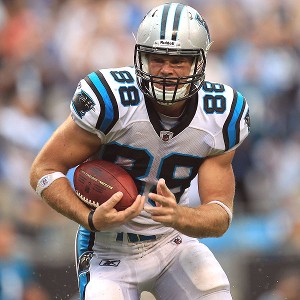 Streeter Lecka/Getty ImagesUniversity of Miami product Greg Olsen has 17 catches for 219 yards and two touchdowns this season.
He didn't stay unemployed for long. Before the lockout started, the Panthers scooped up Shockey. They later made a trade with Chicago to get Olsen. There was some very strong logic behind both moves.
Ron Rivera had just taken over as Carolina's coach and he brought Rob Chudzinski as his offensive coordinator. Yep, you guessed it. Chudzinski once was the tight ends coach at the University of Miami.
"We're caught up in the same boat to a degree, but we're young at a couple positions and we have enough playmakers at tight end that you have to account for both of them," Rivera said.
The Panthers, who pretty much ignored offense in the John Fox days, found their franchise quarterback in
Cam Newton
. And now they're using their tight ends as frequently as the other teams in the division.
Watch an NFC South game these days and you'll think you're on the practice field in Coral Gables.
"As soon as I made the decision to play football, they started showing me tapes," Graham said. "I watched tapes of Olsen, Winslow and Shockey. I guess that was pretty much like reading a textbook on how to play tight end. Heck, even when I was getting ready for the draft and my combine workout and pro day, I watched a tape of Olsen's pro day over and over because everybody told me that was like the greatest workout ever for a tight end. It's pretty amazing because I didn't have a lot of football experience, but I feel like those guys cleared the way for me. I learned a lot by watching tape of them and I think the reputation they created for Miami tight ends also helped me a lot."
But the commonality Graham has with Gonzalez might have played a role. Like Graham, Gonzalez played some college basketball. There are people who say Gonzalez could have played in the NBA, but he chose football. That turned out to be the right move because Gonzalez has been the most prolific pass-catching tight end in the history of the NFL.
It also didn't hurt that San Diego's
Antonio Gates
, another former basketball player, has probably been the closest thing to Gonzalez.
"I think when someone has success like Antonio Gates had and the league sees that, I think all of us pay attention to another area to scout than just the college football field," New Orleans coach Sean Payton said.
Payton's having fun drawing up plays for the former basketball player. In Sunday's victory at Jacksonville, Graham had the best game of his career -- 10 catches for 132 yards and a touchdown.
"He's a guy that is going to give you headaches if he can stretch your team vertically," said Rivera, who will face Graham and the Saints on Sunday. "He has enough athletic ability and route-running ability and good hands to cause you problems underneath. And if you're not careful and you try to match him up with the wrong guy, he could take advantage of that."
But it's not just Graham that Rivera and the other NFC South coaches have to worry about. Every time an NFC South team takes the field these days, you have to worry about the tight ends.
They're a huge part of every passing game. Graham is second in the league with 36 targets. At 35, Gonzalez hasn't slowed a bit. He has 21 catches for 229 yards and is tied for second among the league's tight ends with four touchdown catches. Winslow and Olsen each have been targeted 27 times, which ties them for seventh in the league among tight ends, and each have 17 catches. Shockey's been targeted 19 times and has 11 catches.
"All those guys are like wide receivers playing tight end and they can block too," Vilma said. "As a defense, you have to account for them on every play. It's not really supposed to be like that. But, in our division, that's the reality now."
July, 1, 2011
7/01/11
9:36
AM ET
Let's take a quick run through the NFC South headlines.
Cecil Newton, the father of Carolina rookie quarterback Cam Newton, gave a
rare interview
to Joe Person. Cecil Newton wouldn't go into detail about the ongoing investigation about him allegedly asking colleges for money for his son, but said he wants to put that situation behind him.
Here's an
interesting debate
about whether Atlanta's Tony Gonzalez or San Diego's Antonio Gates has been the NFL's best tight end since 2000.
New Orleans running back Reggie Bush said last September that he would forfeit the Heisman Trophy he won at USC. But the trophy
hasn't been returned
to the Heisman Trust. For now at least, it's in the San Diego Hall of Champions museum.
Second-year defensive tackle Gerald McCoy has taken it upon himself
to be the mentor
for rookie defensive end Adrian Clayborn. Yeah, McCoy isn't exactly a seasoned veteran, but Tampa Bay's defensive line is so young that he's as knowledgeable in the system as anyone the Bucs have. This is a nice gesture by McCoy, but it's also in his best interest. Defensive end was a huge weak spot for the Bucs last season. If Clayborn can solidify that position, it's only going to help McCoy.
New Orleans safety Roman Harper, a potential unrestricted free agent, said he's
hoping to re-sign with the Saints
.
June, 2, 2011
6/02/11
12:00
PM ET
By
Scouts Inc.'s Matt Williamson
| ESPN.com
Scouts Inc.'s Matt Williamson looks at NFC South players on the verge of a breakout in 2011.
Jimmy Graham
entered the NFL last season with just one year of college football experience -- he played basketball during his undergrad years at Miami and took up football during his first year of graduate work -- but he far exceeded expectations as a rookie.
His quick assimilation has me jumping out of my chair to see what he will do in his second year, and this time next year we could very well be lumping him in with
Antonio Gates
,
Vernon Davis
and
Jermichael Finley
as the top pass-catching tight ends in the league.
Graham's size is the first thing you notice about him. He has a basketball build (extreme height, long arms) and will continue to fill out as he mature, but Graham's movement skills are those of a much smaller, more compact man.
He seems to glide across the field and rarely looks uncoordinated despite his lack of football experience, and his routes are natural and will only get better with time. Even his run and pass blocking are serviceable, and they, too, will continue to improve.
Graham can run past linebackers out of the slot and stretch the field in the passing game, and it won't be long before he is one of the elite red zone targets in the NFL. He wasn't much of a factor early in 2010 but got more playing time later in the season, scoring four touchdowns in the final three games of the regular season.
The New Orleans offense is perfect for Graham's skill set. Having
Drew Brees
distributing the ball helps any receiving target, but coach Sean Payton also uses a diverse attack with varied personnel groupings that can move a player like Graham around the formation to get favorable matchups based on his combination of size and speed, and the attention he commands can also open up room for his teammates.
Given the Saints' offseason commitment to solidifying their running game Graham should see looser coverages this season, and based on how easy he made things look in his rookie year I can't wait to see what he does in 2011.
Scouts Inc. watches games, breaks down film and studies football from all angles for ESPN.com.
March, 29, 2011
3/29/11
1:05
PM ET
Our Power Rankings for the tight ends are out and we've got two NFC South representatives.
Atlanta's
Tony Gonzalez
came in at No. 6 and Tampa Bay's
Kellen Winslow
is No. 7. It should be as simple as that, but it's not. I've already gone out and bought a steel-reinforced floor to support the NFC South mailbag because I'm expecting heavy (and not necessarily happy) responses from fans of the
San Diego Chargers
and
Antonio Gates
.
The reason is I voted Gonzalez No. 2, one spot behind Dallas'
Jason Witten
and one ahead of Gates. Every other ballot had Witten and Gates in one of the top two spots and it turns out Gates came up one point short of Witten in the final tally. You can blame that on me or the three other voters who put Witten at No. 1.
Go ahead and fill up the mailbag, but understand one thing: I wasn't out to undercut Gates' chances of landing at No. 1. I think he's a great tight end, but I made a conscious decision to rank Gonzalez as highly as I did.
There aren't any firm parameters on these Power Rankings, and I fully realize Gonzalez is nearing the end of his career and his numbers are dipping. But the reason I put him at No. 2 is because I strongly believe Gonzalez is the best tight end ever to play the game. In my eyes, that means something. I even considered putting him No. 1 on my ballot.
Even in his old age, Gonzalez still caught 70 passes last season and the Falcons went 13-3 and made the playoffs. Dallas and San Diego didn't, so I've got no regrets about putting Gonzalez at No. 2.
I had Winslow at No. 6 on my ballot and that's the highest vote he received. When we do these Power Rankings next year, I've got a hunch others will be giving Winslow some more attention. He's made some noise about wanting to double his statistics next season. Well, that's a little optimistic because it would put him at 132 catches for 1,460 yards and 10 touchdowns. But, hey, didn't we all think Tampa Bay coach Raheem Morris was a little crazy last season when he started saying the Bucs would win 10 games?
January, 18, 2011
1/18/11
4:00
PM ET
The word was out yesterday the Panthers were hiring Rob Chudzinski as their offensive coordinator. But the team waited until a contract was signed to formally announce the move and that just happened.
"I have worked with Rob and know that he is a very good offensive coach who possesses a strong knowledge on that side of the ball," Carolina coach Ron Rivera said. "I have seen him work with players and he has the communication skills and expertise to make a most positive contribution to our coaching staff as offensive coordinator."
Chudzinski was the tight ends coach and assistant head coach for the
San Diego Chargers
, who had the NFL's No. 1 offense in 2010. Rivera was with the Chargers as the defensive coordinator before being hired by Carolina.
Chudzinski, 42, was Cleveland's offensive coordinator in 2007, a season in which the Browns went 10-6, ranked eighth in the league in offense and sent quarterback
Derek Anderson
, tight end
Kellen Winslow
and receiver
Braylon Edwards
to the Pro Bowl.
We'll hear more about Chudzinski's plans for the Carolina offense once he gets a chance to meet with the media. But, at the moment, I think it's fairly safe to assume the tight ends will be much more involved in the passing game than they ever were in the John Fox years. The Panthers haven't had a true pass-catching tight end since
Wesley Walls
.
Chudzinski worked with
Antonio Gates
in San Diego and Winslow in Cleveland and at the University of Miami. While an assistant at Miami, Chudzinski also coached tight ends
Jeremy Shockey
and
Bubba Franks
.
Carolina's tight ends last season were
Jeff King
,
Dante Rosario
and
Gary Barnidge
. King and Rosario are potential free agents. Each of those guys has some receiving skills that weren't used all that much in Fox's system and could be retained. But I think there's a very good chance the Panthers will look for a pass-catching tight end in the draft or free agency.
That's a novel concept for the Panthers, but it might help make them more competitive in the NFC South, where the other three teams have strong pass-catching tight ends. New Orleans has Shockey and
Jimmy Graham
, who developed nicely in his rookie season. Tampa Bay has Winslow and Atlanta has
Tony Gonzalez
, who probably is the best tight end in history.
Now, if Chudzinski, Rivera and the rest of the Carolina organization can figure out a way to get a quarterback who is in the same league as
Drew Brees
,
Matt Ryan
and
Josh Freeman
, the Panthers might have a chance.
August, 26, 2009
8/26/09
4:29
PM ET
Posted by ESPN.com's Pat Yasinskas

TAMPA, Fla. -- There could be even another element to the quarterback situation for the Buccaneers.

The team could be looking to trade one of its quarterbacks for a draft pick. Coach Raheem Morris wouldn't confirm an NFL.com report that the Bucs are shopping three of their quarterbacks for a trade, but he didn't deny it either.

"Oh, man, they're Nostradamus," Morris said when asked about the report. "Everybody in this league, all 32 teams around this time start calling front offices. I can't control who calls us. Everybody's interested in everybody's roster and everybody's looking to nit-pick off everybody's roster. Everybody has talent and you're trying to accumulate the best talent on your football team. That's just all that talk is what that is."

But it makes total sense for the Bucs to at least try to find out what the market value might be for Byron Leftwich, Luke McCown or Josh Johnson. They're not about to let go of rookie Josh Freeman, who they call their franchise quarterback.

But that's likely in the future. For now, it appears the Bucs will open the season with either Leftwich or McCown as their starter. They're about even at this point and a potential trade could play into Morris' decision, although the Bucs likely would be able to get only a late-round pick (at best) for any of their quarterbacks.

Leftwich, a former starter in Jacksonville, probably has more trade value because of his experience. McCown has only seven starts. Johnson, a second-year pro, has yet to play in an NFL game and probably wouldn't bring much in a trade.
March, 4, 2009
3/04/09
8:16
PM ET
Posted by ESPN.com's Pat Yasinskas
The Falcons will host a visit with tight end L.J. Smith, D. Orlando Ledbetter reports.
Adding a tight end who can catch some passes is something a lot of Atlanta fans have been crying out for. Apparently, the Falcons realize that's a need and Smith would be a nice fit.
He's, by no means, in the Tony Gonzalez/Antonio Gates category. But the Falcons don't need that type of tight end. Mike Mularkey's offense isn't going to suddenly change and start going to the tight end 80 times a season. The Falcons have plenty of talent at the other skill positions.
The only thing they're missing on offense is a tight end that can go out and catch 30 or 40 balls. That would be a nice new toy for quarterback Matt Ryan.