April, 25, 2012
4/25/12
4:27
PM ET
Todd McShay has his latest
mock draft

out and it includes some major changes from what he's had in the past for the NFC South.
This draft goes seven rounds deep and McShay has help from Steve Meunch and Kevin Weidl. But we'll just focus on the first round here and that means we're talking about the Bucs and Panthers, the only two division teams with first-round picks.
It long has been thought that Tampa Bay's choice at No. 5 would come down to LSU cornerback
Morris Claiborne
and Alabama running back
Trent Richardson
. But McShay is buying into growing speculation that Minnesota is going to throw off the direction many saw this draft going. McShay now has the Vikings taking Claiborne at No. 3. He follows that up by giving Richardson to Cleveland at No. 4.
Then he goes in a direction that many suddenly seem to be headed. He has Tampa Bay taking Boston College linebacker
Luke Kuechly
at No. 5. I don't have a big problem with that scenario, assuming new coach Greg Schiano's defense is ready to put increased emphasis on the middle linebacker position. Back in the Cover 2 days, middle linebacker wasn't all that important and the Bucs relied on outside linebacker Derrick Brooks to make the big plays.
If the Bucs want a strong presence and are willing to make a significant investment on middle linebacker, then go with Kuechly. He's viewed as a can't-miss prospect with no real questions on or off the field. (That in itself would be a departure from the approach Tampa Bay took with some picks in the past.)
But, I also see some other scenarios for the Bucs if Claiborne and Richardson are gone. They probably could trade down a few picks and still get Kuechly and they also would add a pick or two.
Even if the Bucs stay put, I'm not certain Kuechly really is the guy they would take. They at least would have to consider Southern California offensive tackle
Matt Kalil
or Oklahoma State receiver
Justin Blackmon
. Neither plays a position where the Bucs have a huge need, but they might be hard to pass up. Kalil is viewed as the kind of guy who can be an elite left tackle for a decade.
The Bucs are pretty well set on the offensive line. The interior is very strong and left tackle
Donald Penn
is above average. Right tackle
Jeremy Trueblood
is a bit of a question mark. The Bucs could take Kalil and start him off on the right side and eventually have him switch spots with Penn. Or the Bucs could take Kalil and switch Penn, who has a history of getting off to fast starts and then not playing as well down the stretch, to the right side. That could give them one of the league's best offensive lines and it's become clear one of Schiano's priorities is to structure this team to help quarterback
Josh Freeman
.
Speaking of helping Freeman, Blackmon also could do that. I know the Bucs just signed
Vincent Jackson
and they have a bunch of young guys with potential. But
Mike Williams
and
Arrelious Benn
haven't really shown they are big-time players. The Bucs already have given Freeman one big playmaker in Jackson. They could give him two if they take Blackmon.
McShay also departs from previous conventional wisdom by selecting South Carolina cornerback
Stephon Gilmore
for Carolina at No. 9. There are rumblings that Gilmore is a player on the rise. He's also a local kid. He grew up just over the South Carolina border in what qualifies as a suburb of Charlotte. Cornerback is certainly a need and owner Jerry Richardson likes to bring in players from the Carolinas. I can see this one happening. But there's another local guy who could be in the mix. That's North Carolina defensive end
Quinton Coples
. General manager Marty Hurney and coach Ron Rivera drove up to Chapel Hill for a meeting with Coples on Monday and I don't think they would have made that trip if they weren't seriously considering him.
November, 30, 2011
11/30/11
7:24
AM ET
The
Tampa Bay Buccaneers
, who are on a five-game losing streak, aren't at the top of the league in many categories.
But they are tied for No. 1 in the NFL in one department. That's dropped passes. According to ESPN Stats & Information, the Bucs are one of five teams tied for the league lead with 23 dropped passes.
Go ahead an insert your joke about them being
all thumbs
. That's fair game because they opened that can of worms by themselves.
Second-year receivers
Mike Williams
and
Arrelious Benn
are the biggest culprits. Williams is tied for third in the league with seven drops. Benn is tied for seventh with five drops. Tight end
Kellen Winslow
is right behind them with four.
Atlanta's
Roddy White
, who has come on strong in recent weeks after a slow start, still leads the NFL with nine drops. As a team, the Falcons are tied for No. 6 with 20 drops.
The Saints are tied for No. 17 with 15 drops and the Panthers are tied for No. 20 with 13.
On the flip side, New Orleans'
Lance Moore
and
Devery Henderson
are the only NFC South receivers – who have seen significant playing time – who have yet to drop a pass.
Moore has been targeted 54 times and has 39 catches. Henderson has been targeted 36 times and has 23 receptions.
November, 26, 2011
11/26/11
7:24
AM ET
As Tampa Bay has struggled through a four-game losing streak, it's become trendy to pick apart the Buccaneers.
They've got plenty of problems on both sides of the ball. Coach Raheem Morris and his staff are frequent targets of criticism, having the league's youngest team and a difficult schedule are convenient and somewhat-legitimate excuses, and injuries (particularly the loss of defensive tackle
Gerald McCoy
and running back
Earnest Graham
) have played roles.
But let's take a look at a big problem spot, one that I never would have guessed would have been an issue at all. After watching quarterback
Josh Freeman
and tight end
Kellen Winslow
work out together at the University of South Florida during the lockout, I was certain I was seeing a special chemistry building. As a matter of fact, if I had time to have a fantasy football team, I would have drafted Freeman and Winslow very early.
That would have been a huge mistake. As it turns out, Freeman and Winslow simply aren't clicking. With lots of help from NFC West colleague Mike Sando, who works part time as a rocket scientist and actuary, I got a breakdown of how Freeman has fared when targeting each of his receivers. We'll leave out
Collin Franklin
and
Micheal Spurlock
because they each have been targeted only three times.
Although Winslow leads the team with 47 receptions and is second with 476 receiving yards, it wouldn't be a stretch to call his connection with Freeman horrible. Winslow has been targeted 78 times. When throwing to Winslow, Freeman's NFL passer rating is a dismal 48.9. Winslow has caught two touchdown passes. But seven of Freeman's 15 interceptions have come on passes intended for Winslow.
Freeman's passer rating when throwing to Winslow is worse, by far, than any other wide receiver, running back, fullback or tight end on the roster.
In fact,
Mike Williams
, who allegedly is Tampa Bay's No. 1 wide receiver, is next as we move up from the bottom of the list. When throwing to Williams, Freeman's passer rating is 70.0.
Here's Freeman's passer rating when throwing to all of the other Tampa Bay players who have been targeted more than twice and we'll continue to work our way up from the bottom:
August, 13, 2011
8/13/11
11:03
AM ET
One of the bigger stories of Tampa Bay's training camp so far has been rookie middle linebacker
Mason Foster
. Now that the preseason is here, the story just keeps getting bigger.
[+] Enlarge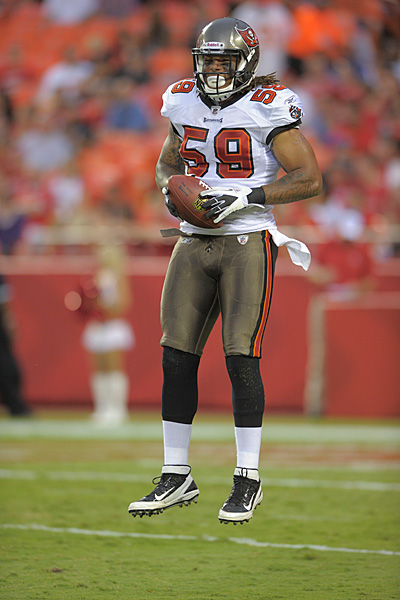 AP Photo/Reed HoffmannBucs rookie linebacker Mason Foster recovered a fumble on Friday against Kansas City.
After letting
Barrett Ruud
leave as a free agent, the Bucs seemed poise to put their defense in the hands of their third-round draft pick. Although
Tyrone McKenzie
got some first-team work early in camp, Foster has been getting most of the reps lately.
He got the start in Friday night's preseason opener, a 25-0 victory against Kansas City. Here's what coach Raheem Morris had to say about Foster after the game.
"We talked about wanting to see him in pads, and he was able to go out there and really put his pads on people,'' Morris said. "Obviously, I've got to go grade the tape to see all the plays and see what he was able to do. But, I did see him recover a fumble, I did see him get a big third-down stop, and those are the things we want to see him do. I was so excited about what he did in that first quarter; in that first half, I took all his nickel reps away. I didn't even want to play him in the second half. Hopefully, next game we're going to get him out there in nickel and see some other things out of him. (We) put him on special teams a little bit, let him play a little bit. If he is going to be a two-down backer, he'll have to give us a little bit on special teams.
One of the other big stories of Tampa Bay's preseason has been
Dezmon Briscoe
. The Bucs stashed him on the practice squad for much of last season. But Briscoe's had a great training camp and, with
Arrelious Benn
still recovering from a major knee injury, has a chance to start opposite
Mike Williams
.
Briscoe had four catches for 60 yards against the Chiefs.
"I was fired up about Dez,'' Morris said. "I remember talking about him a while ago, saying how he might be one of our better receivers. He's done nothing but show me and prove to us that he can play this game, and we're fired up to have him. We were fired up when we got him last year at the time we did. And to incorporate him in our offense like he's been able to do, I think it's been special for him."
June, 21, 2011
6/21/11
9:55
AM ET
As owners begin meeting in Chicago for a session that could have big implications on the labor system, let's take a quick look at the headlines around the NFC South.
Nakia Hogan has a story and lots of video about the
renovations to the Superdome
. The work, which is the second phase of an overhaul that began last year, is just about finished.
Atlanta receiver Roddy White said the Falcons' offense is going to
bring back memories
of the "Greatest Show on Turf'' during the glory days of the St. Louis Rams.
There's a battle brewing in North Carolina over
the future of the secondary-ticket market
, which could have an impact on Panthers' fans.
Top draft pick Sam Bradford got $50 million in guaranteed money last year. But the Panthers still don't have a real strong idea what they'll have to pay Cam Newton, this year's No. 1 overall pick. Owner Jerry Richardson
admitted there is uncertainty
on that front as owners and players continue to discuss a rookie wage scale.
Charlie Campbell
has a list
of 10 Bucs poised for breakout seasons. It's no surprise that Gerald McCoy and Arrelious Benn, who had their rookie seasons halted by injury, are at the top of the list. I really like the inclusion of receiver Dezmon Briscoe on this list. Tampa Bay's coaches and front office are higher on Briscoe, who spent part of last season on the practice squad, than many people realize.
March, 3, 2011
3/03/11
5:19
PM ET
Colleague Mike Sando wrote a great story about players who have a lot to lose in a potential labor lockout. All the division guys fed stuff to Sando, he compiled it and you can see his
entire story here
.
If you just want to see the NFC South component of the story, here it is:
There aren't many NFL players with more to lose in a potential lockout than Tampa Bay wide receiver Arrelious Benn.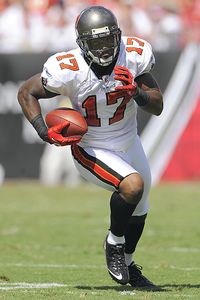 Scott A. Miller/US PresswireA lockout would force Arrelious Benn to complete his rehab away from the team's facilities.
A second-round draft pick last season, Benn was just starting to show flashes of his potential when he tore an anterior cruciate ligament in his left knee in Week 16. In a normal offseason, Benn would rehab his knee under the microscope of the team's medical staff and get some valuable offseason work with quarterback
Josh Freeman
and fellow receiver and draft classmate
Mike Williams
on the field.
But this offseason might be far from normal. A lockout would prevent Benn (and all the other players) from even entering One Buccaneer Place. He wouldn't be able to interact with any team personnel, and that includes the medical staff. In other words, Benn would have to finish rehabilitating the injury on his own.
The Bucs have said they aren't going to comment on the offseason progress of individual injuries, and they declined to make Benn available for comment for this story. But, in
a recent interview
with PewterReport.com, Benn said he already is getting around without a brace and is confident he'll be ready for the start of training camp.
He wouldn't go into great detail, but said he has alternative plans for his rehab if there is a lockout.
"Oh, yeah, I have a plan for what I'm going to do in rehab to get better," Benn said. "I'll just be ready and go full speed ahead."
The speed may have to continue to come back with an independent medical and rehab team. But all indications are that Benn is progressing well. He took over the starting position opposite Williams last season, and the plan is for them to be together with Freeman for the long term.
The Bucs could have more to lose in a lockout than a lot of teams, and that's not just because of Benn's situation. After going 3-13 in 2009, Tampa Bay went 10-6 last season and had the league's youngest roster. The arrow seemed to be pointing up for this franchise. But a lockout and the possible loss of offseason workouts with the coaching staff could be a blow to this team's progress.
There is uncertainty, but Benn said he remains focused on being healthy for a productive second season. He might have to handle the rehab part of that on his own and, in some ways, the on-field work might have to be handled in a similar manner. Freeman has said several times he plans to lead regular workouts with his receivers if there is a lockout. Benn plans to take part in those workouts.
"We are a young team, but we have a lot of guys that want to be leaders,'' Benn said. "I'm pretty sure we will organize something if we have to.''
July, 26, 2010
7/26/10
1:49
PM ET
Remember, everything is very much in flux as we near the start of training camps later this week. But the NFC South isn't in bad shape when it comes to unsigned draft picks.
As of the moment, and this could change at any time, there are only eight division rookies not signed.
Atlanta has only first-round pick
Sean Weatherspoon
left. Carolina has only quarterback
Jimmy Clausen
not under contract.
Tampa Bay and New Orleans each have three players left to sign. The Bucs haven't signed first-round pick
Gerald McCoy
, second-round pick
Arrelious Benn
or seventh-rounder
Cody Grimm
. The Saints still are working on first-rounder
Patrick Robinson
, second-round choice
Charles Brown
and third-round pick
Jimmy Graham
.
I wouldn't worry too much about Grimm. That one should be just a formality and should come soon. Brown, Graham and Benn probably will come before camps start. Their agents are just waiting for some more players in similar draft spots to sign and establish the market values.
Clausen may be just a second-round pick, but his deal could be complicated. As a quarterback who the Panthers have said they viewed as a first-round talent, he might be looking for more than the draft picks around him. This likely will have to be a creative contract with lots of incentives that would pay Clausen nicely if he ends up as the starter.
There hasn't been a lot of action on first-round picks yet, and the fact Robinson and Weatherspoon were taken later in the round probably means the framework for similar deals will come in the next few days. As the No. 3 overall pick, McCoy could be a challenge for the Bucs to have done for the start of camp.