December, 25, 2011
12/25/11
12:00
PM ET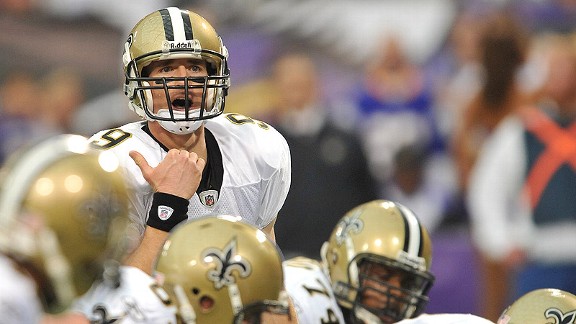 Tom Dahlin/Getty ImagesDrew Brees doesn't want to talk about Dan Marino's record or his contract. He just wants to win.
Even if you had
Drew Brees
' cellphone number, there's no way you could reach him right now.
You wouldn't even get a ring; you'd hear, "This mailbox is full.'' It's been that way for weeks now, and you can't really blame the quarterback of the
New Orleans Saints
.
Contract talks? They can wait until after the season.
Dan Marino? He can wait, too.
"[Marino] actually reached out to me this week and wanted to do something, but I'd really like to just focus on the game,'' Brees told the New Orleans media Thursday. "I respectfully just kind of said let's wait here and just kind of let everything fall into place the way it is, and then we'll definitely sit down. I would love to do that.''
There's no disrespect toward Marino intended, and we will get to how much respect Brees has for Marino's record of 5,084 passing yards in a season in a minute. You also can bet Brees will be more than willing to resume the contract talks he tabled weeks ago.
Just,
not right now
!
The way Brees is approaching life these days is pretty much the same way he approaches a drop-back. He's still looking at his first read.
A contract extension that could make him the highest-paid player in history and sitting down with a Hall of Famer are also in the playbook. But they're down the list of progressions, and Brees isn't ready to check off any time soon.
[+] Enlarge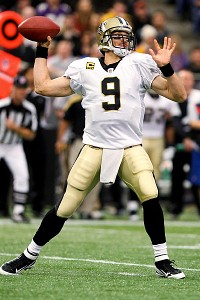 Brace Hemmelgarn/US PresswireDrew Brees needs just 305 yards in his final two games to surpass Dan Marino's NFL record for passing yards in a season.
It may sound corny or clichéd, but Brees is focused entirely on one thing. He wants what he and the Saints got in the 2009 season. He wants a Super Bowl championship.
"Honestly, I've tried to just kind of numb my senses to the whole thing right now and just think about winning football games, executing this offense, being prepared as I can be, focusing on the process and just knowing that the result will take care of itself,'' Brees said.
If you've spent much time around Brees, you'd know that what might seem corny and clichéd from others is simply Brees being himself. You can't shake Brees on the field with an 11-man blitz, and it's the same way off the field.
Brees is every bit as aware as the rest of us that he needs only 305 passing yards to break the record Marino set in 1984. He's also very aware his contract expires the moment the season ends, and he's smart enough to know he has as much market value as any other football player on the planet.
But Brees wants to talk about only one thing. He wants to talk about the "Monday Night Football'' game with the
Atlanta Falcons
. If the Saints (11-3) win, they'll clinch the NFC South title. Brees has been locked on this progression for months.
"We all looked at the calendar prior to the season starting,'' Brees said. "We all said, 'Hey, Monday night. The day after Christmas. Atlanta. Week 17. That's going to be a meaningful game obviously within the division.' Then you add on some of the other stuff, and it just makes it more meaningful. I guess we can't make this game any bigger than it already is.''
Even though that's precisely what Brees is trying to avoid, you can make Monday night much bigger than he describes it. Brees is on the verge of breaking a record that was set just before he celebrated his fifth birthday.
This is football's version of Hank Aaron breaking Babe Ruth's record or Sammy Sosa and Mark McGwire slugging it out. This is history, and Brees has been down this road before. In 2008, he spent much of the season on pace to break Marino's record.
But he finished that season with 5,069 yards, which seemed appropriate at the time because that New Orleans team was mediocre and didn't make the playoffs. At that point, Brees did sit down with Marino, who took his team to the Super Bowl in his record-setting season.
"We talked about it after the '08 season,'' Brees said. "At the time it was kind of just like, 'OK, we made our run at it, and the chances of that happening again are probably really, really slim.'"
Well, it's happening again. The Saints are winning, and in Brees' eyes, it won't be a shame if he breaks the record this time around, as long as some other things happen.
"Is that a significant record?'' Brees said. "Yeah, I'd say that's very significant. ... All those are significant records, but the most important thing is winning this game to win the division, to continue our win streak and also stay in line with our goals to continue to progress as we move towards the playoffs here.''
Critics have said that breaking Marino's record won't mean a lot. They say the league has changed to make life easier for quarterbacks and much more difficult for defenses. They also point to the fact that New England's
Tom Brady
also is on pace to break the record, and
Aaron Rodgers
and
Eli Manning
aren't far off.
There's some validity to the argument about the game changing to favor offenses. But you can't blame Brees for that.
The guy just happened to come along and hook up with coach Sean Payton, an offensive mastermind who probably could have taken Brees and exploited defenses in any era.
"Having Sean Payton has been everything for me,'' Brees said. "Having the opportunity here to be with him, to be coached by him and mentored by him. I think he brought out a confidence in me that I didn't have before. I've always been a really confident guy, but I think there were certain things that might not have ever come out unless I was with him. I think that that has showed. Each and every year I feel like I've gotten a little bit better and that's always been my goal, was just to get a little bit better. And statistics don't always show that. But in my heart, I know that that's true, and he's a huge part of that.''
The statistics are showing that Brees is getting better. In his heart, the record and the new contract will mean a lot more if they come in tandem with another championship.
August, 20, 2010
8/20/10
12:00
PM ET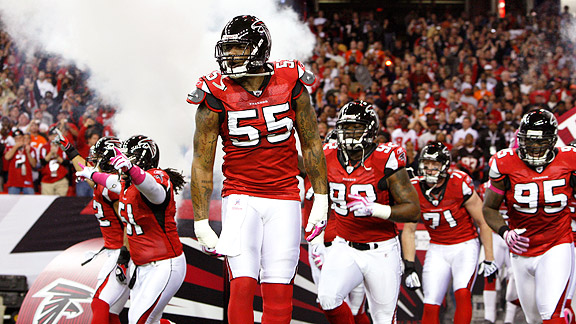 Todd Kirkland/Icon SMIThe Falcons' "Rise Up" advertising campaign is putting more pressure on the team, but the players don't seem to have a problem with that.
Let's play a little game here. I want you to
watch the television commercial
where actor Samuel L. Jackson is telling the world it is time for the
Atlanta Falcons
to "Rise Up."
But, before you watch it, a couple of other ground rules. Pretend that every reference is not to the Falcons, but to the
Tampa Bay Buccaneers
or
Carolina Panthers
. Then, pretend you're Bucs coach Raheem Morris or Panthers coach John Fox. Watch the commercial through their eyes with their rosters in your hand.
Then, still posing as Morris or Fox, leave your office and drive home. On your way, you'll see a half-dozen or so billboards with "Rise Up'' in really big letters. Do that a few times and the only thing that's going to rise is your blood pressure.
What the Falcons are doing with this campaign would not work everywhere. Heck, it wouldn't even have worked in Atlanta through most of the franchise's existence. They're not exactly Babe Ruth calling his shot or Joe Namath guaranteeing a Super Bowl victory. Heck, they're not even the
Oakland Raiders
touting a "tradition of excellence'' at a time when even mediocrity would be a step up.
But there is no doubt the Falcons are out on a bit of a limb with this one. Ownership, the marketing department or whoever made the ultimate decision on this campaign has turned up the heat on the team. In Tampa Bay, where the Buccaneers are rebuilding, or in Carolina, where Fox is in the last year of his contract and the Panthers have a lot of question marks, this theme just wouldn't fit.
It would create undue pressure and would open the entire organization to ridicule if the team struggles.
But you know what? "Rise Up'' fits perfectly in Atlanta right now.
"We have something special going on here right now,'' middle linebacker
Curtis Lofton
said. "Everyone knows it. We feel like we're about to rise up to the occasion and hopefully make it to the Super Bowl.''
Lofton went a little beyond the company line when he brought up the Super Bowl. But, let's be honest, why shouldn't that be the goal?
Nobody -- I'm talking coaches, front office and players -- within the Falcons has a problem with the "Rise Up'' campaign. In fact, it pretty much rhymes with the goals they all share for the season.
If ever there was a time for the Falcons to rise up, this is it. They're coming off back-to-back winning seasons for the first time in franchise history. They're built around a young group of core players who might be just entering their primes and they've got a handful of important veterans.
They're on board with the idea of rising up. In fact, just by doing what they've done the last two seasons, they're the ones who unknowingly hatched the whole idea.
"The very interesting thing and the very positive thing about this organization is that it's a very collaborative effort on so many levels,'' general manager Thomas Dimitroff said. "Although [coach Mike Smith] and I don't work on the business side of the building, we interact very well with them and we have discussions about everything. They were very forthright with their ideas. We talked about it and certainly there was concern about not coming across as too brazen. There's no question it has some aggression about it as sort of rising to another level and that connotation. We're fine with that.''
The Falcons should be fine with it. Although last season's 9-7 finish was disappointing because the Falcons failed to make the playoffs after getting there in the 2008 season, they're sitting in a pretty good spot.
[+] Enlarge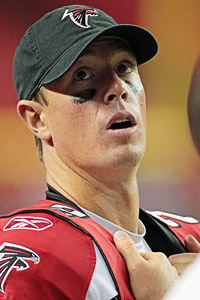 AP Photo/Dave MartinQuarterback Matt Ryan said "we have the kind of talent to take it to the next level."
They've got a whole bunch of injured guys back from last year. They've got a 2008 draft class -- guys like quarterback
Matt Ryan
, Lofton,
Harry Douglas
,
Kroy Biermann
and
Thomas DeCoud
-- that already has been good and should only continue to get better. They've got running back
Michael Turner
back in good physical condition. Their defense was a little shaky last year so they signed cornerback
Dunta Robinson
and drafted linebacker
Sean Weatherspoon
and defensive tackle
Corey Peters
.
"We know that this is the time that we need to continue to ramp up our abilities on the field and off the field to make sure that we bring this fan base along and give them reason to continue to believe in the Atlanta Falcons,'' Dimitroff said. "Although seemingly aggressive, both Smitty and I were very comfortable it.''
Aggressive? Yeah, maybe a little. But let's be real honest, Dimitroff and Smith probably could have killed the "Rise Up'' campaign if they didn't think it fit. The fact is, they're just like everyone else in Atlanta. They look at the current Falcons and they realize that anything less than a winning season and a playoff berth will be a disappointment.
"I think our team's arrow is pointing up,'' Smith said. "We are rising up. I think it is an appropriate campaign. In our third year, I think we continue to add to our roster. Barring any unforeseen injuries, I think we will continue to progress. Does that mean we're going to win more games? We don't know that. But I believe the arrow on this team is definitely pointing up. It's not flat or going in the other direction.''
Even Ryan, who's the face of the Falcons and generally is very careful to be politically correct, believes it really is the time for the franchise to rise up.
"I feel like we have the kind of talent to take it to the next level,'' Ryan said.
Notice, the campaign itself does not mention or even hint at the
New Orleans Saints
. When the coaches, players and front office talk about rising up, they don't talk about the Saints and are careful not to make any direct implications about the reigning Super Bowl champions, who just happen to also be in the NFC South.
Doing anything like publicly projecting themselves ahead of the Saints would create undue pressure and set the Falcons up for possible failure. That's the last thing anyone involved with this franchise wants or expects. The Falcons walked a fine line in establishing the "Rise Up'' campaign. They easily could have botched it with a wrong word or two or fired up the Saints with any implication about taking over the division.
The Falcons didn't do any of that. They got this one right simply by staying within themselves. After all, the feeling by everyone at the team's Flowery Branch headquarters is that it truly is the time for the Falcons to rise up.
"It's the third year in the system for a lot of us,'' Lofton said. "It's time for us to take that next step. There's no surprises. It's the same coaches and it's the same players with a few upgrades that we needed. We're just ready for more.''