December, 23, 2014
Dec 23
8:00
AM ET
METAIRIE, La. -- The salary cap is not the
New Orleans Saints
' biggest problem.
Yes, it's daunting. The Saints have more cap dollars on the books for 2015 than any team in the NFL (a whopping $161.3 million, according to ESPN Stats & Information).
But they've been in the same boat for three years, and they've proven time and again that they won't be paralyzed by the cap. Last year they signed
Jairus Byrd
,
Jimmy Graham
and
Junior Galette
to mega-deals under similar circumstances.
It will be relatively easy for the Saints to trim the necessary $20 million or so by restructuring deals, releasing aging veterans and working out pay cuts. They'll trim $10 million with a simple tweak to Galette's deal, for instance.
[+] Enlarge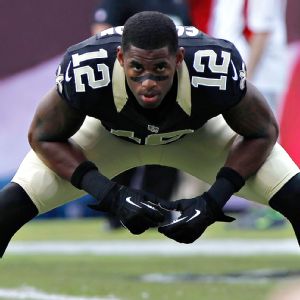 Kim Klement/USA TODAY SportsThe only way the Saints could bring back Marques Colston would be at a significantly-reduced rate.
And yes, that means New Orleans will have to keep "kicking the can" into future years. But it can keep doing that until
Drew Brees
retires -- especially since the NFL cap is expected to keep soaring.
The bigger problem for the Saints, however, is that they didn't get anywhere near the expected returns out of the players they invested those mega-millions in this season.
Byrd tops that list -- he struggled for four weeks before suffering a major knee injury. Brees, Graham,
Jahri Evans
,
Ben Grubbs
,
Marques Colston
,
Cameron Jordan
and a number of younger defensive players are also on that list of underachievers.
The Saints absolutely must get bounce-back years from those guys to have any chance in 2015 and beyond.
If general manager Mickey Loomis and coach Sean Payton knew they could count on those guys, then the specific roster decisions facing the team next year would be manageable. But it might be their toughest offseason yet, because for the first time they don't really know if their arrow is pointing in the right direction.
Here's a breakdown of the other major personnel decisions facing the team:
BREES' CONTRACT:
Brees' salary will soar next year to $19 million, including a workout bonus. As a result, his cap figure will be $26.4 million. In 2016, those numbers will climb to $20 million and $27.4 million.
He's still worth it. Despite Brees' struggles with turnovers this year, he still gives the Saints their best chance at building a championship contender. And I don't think the Saints will or should approach him about taking a pay cut -- especially since he played so well for so long at below-market value in the past.
However, it will be interesting to see if Brees considers following the path of
New England Patriots
quarterback
Tom Brady
, who worked out a team-friendly contract extension last year. Brady added three years to the end of his deal at an affordable total of $27 million in new money -- in exchange for more guaranteed money in the short term.
It appeared to be a win-win deal, and I could absolutely see Brees and the Saints doing something similar in the next year or two.
FREE AGENTS:
Unrestricted:
RB
Mark Ingram
, C
Jonathan Goodwin
, WR
Robert Meachem
, QB
Luke McCown
, CB
Patrick Robinson
, S
Jamarca Sanford
, LB
Parys Haralson
, LB
Ramon Humber
, LB
Moise Fokou
, DL
Brandon Deaderick
, K
Shayne Graham
.
Restricted:
DL
Tyrunn Walker
, RB
Travaris Cadet
, OT
Bryce Harris
.
Thoughts: This is the best news for the Saints in 2015 -- this list isn't overwhelming. They'll have to make a tough decision on Ingram, since they've never valued any one individual running back more than the rest of the NFL market. But if they do want Ingram back, his salary shouldn't escalate well beyond $4 million per year or so. Everyone else should be either affordable to re-sign or expendable.
STRONGEST POSSIBILITIES FOR RELEASE OR PAY CUTS:
WR Marques Colston (due $7 million in salary and bonuses; cap cost of $9.7 million)
DT
Brodrick Bunkley
(due $4.5 million in salary and bonuses; cap cost of $6.1 million)
LB
David Hawthorne
(due $4.5 million in salary and bonuses; cap cost of $6 million)
Thoughts: Colston's departure would be the most emotional since Deuce McAllister. But his production clearly doesn't match his salary anymore. The only way Colston would come back is at a significantly-reduced rate. The question is whether Colston would want to do that after taking such a physical pounding for nine years, or if he might even consider retirement.
Bunkley and Hawthorne will almost certainly be released if they don't agree to significant pay cuts -- though Hawthorne has played some of his best football over the past two weeks.
OTHER NOTABLE SALARIES:
G Jahri Evans (due $7.5 million in salary and bonuses; cap cost of $11 million)
G Ben Grubbs (due $6.6 million in salary and bonuses; cap cost of $9.6 million)
LB
Curtis Lofton
(due $7 million in salary and bonuses; cap cost of $9 million)
RB
Pierre Thomas
(due $2.15 million in salary and bonuses; cap cost of $2.6 million)
Thoughts: The guys on this list are tougher to predict, because they're still playing at a solid level -- and because the Saints don't have any obvious backup plans waiting in the wings. Evans and Grubbs didn't play at a Pro Bowl level, but they weren't that far off -- especially Evans. Finding one or two guards for the future has to rank as a top priority.
Lofton is having his best season yet with New Orleans, so losing him would hurt. But he's due a $4.5 million roster bonus. Chances are, the Saints will convert it to a signing bonus if they keep him.
RESTRUCTURING DEALS:
The easiest way to save cap space is to restructure a contract -- which isn't the same as an extension or a pay cut. It's a win-win proposition where the team converts a players' salary or roster bonus into a signing bonus, so the cap costs can be spread out over multiple years. The Saints do this with several players every year, and they will again this offseason with guys like Galette and possibly Lofton, among others.