NFC South:

Benjamin Watson
July, 11, 2014
Jul 11
4:20
PM ET
Tight end
Benjamin Watson
is confident there won't be any lingering animosity between teammate
Jimmy Graham
and the
New Orleans Saints
once they finally get their contract negotiations resolved.
Watson, who visited ESPN's campus in Bristol on Friday to serve as a guest analyst on a variety of programs, admitted Graham's negotiations have been more public than most because of his franchise-tag grievance hearing. But he said it's really no different than typical contract situations, which can also get heated at times.
[+] Enlarge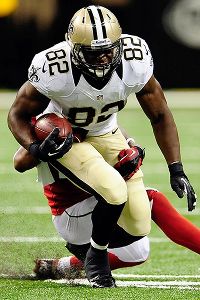 Stacy Revere/Getty ImagesBenjamin Watson, 82, says he expects no lingering issues in the wake of Saints teammate Jimmy Graham's contract negotiations.
"I'm very confident that it'll be resolved the right way and guys can move forward," Watson said during a break between his on-air appearances. "Obviously it's always tough when you go through litigation with somebody, and it can probably get heated. And I'm sure there are emotions on both sides. But that is the business side of the game.
"And it's unfortunate that it came to that and that it was so public. But I really think -- I know, I don't think -- I know that Jimmy loves New Orleans and I know that he loves our team and the organization and he loves playing here. And we love him, everybody wants him here, coaches included. So when it comes down to contract situations, that's just a necessary evil ... not even evil, but just a necessary progression of getting a player here."
Watson was asked specifically by host Robert Flores on the "Football Today" podcast about the unique situation where Saints coach Sean Payton essentially testified against Graham during Graham's grievance hearing. And Watson admitted that he found that interesting, but he still classified it as part of the business side of the game.
"Welcome to the business side of football," Watson said. "And a lot of times we don't see this part because rarely does a situation make it all the way to arbitration. But that's the business side of football. And it's kind of no different than a contract situation where there's a heated discussion over contracts, things are said back and forth. And in the end both sides are able to amicably move on and back to the business of football once there's an agreement in place.
"But I'm with you. I was thinking much the same thing when I heard that Coach Payton was having to testify, and I don't know if he was testifying on his own accord or was being forced to, and I also don't know what conversations he's had with Jimmy since then and where their relationship stands. But I do know that if and when Jimmy makes it back, and hopefully sooner than later, things will be smoothed over and we'll get to trying to play Saints football and winning championships."
Graham and the Saints have until Tuesday to work out a long-term contract agreement. Otherwise, Graham can only sign a one-year deal this season under the league's franchise-tag rules. If a long-term deal is not reached by Tuesday, the "business" could get even uglier since it could lead to a lengthy training camp holdout. But many times, deals get done at the 11th hour before these mid-July deadlines -- as was the case with the Saints and
Drew Brees
in 2012.
As for how the grievance hearing played out -- with arbitrator Stephen Burbank ruling that Graham is, in fact, a tight end instead of a wide receiver -- Watson said he always thought it would be a 50-50 proposition. But he thinks it will be important for the NFL and NFLPA to better clarify things in the future since the new breed of hybrid tight/end receiver is only growing around the league.
"You can even see with the decision, he kind of just had to make a line of demarcation when he talked about the four yards away from the tackle. So it's still kind of vague," Watson said of Burbank's ruling. "I think that Jimmy is somewhat of a pioneer in that area because it got all the way to arbitration, but I think it's going to come up again with other tight ends, especially because so many tight ends are coming up and being used as more traditional wide receivers, kind of in that in-between area. The NFL goes through change a lot and things evolve. And as the game changes and as players change, there has to be different conversations."
Watson also talked about topics ranging from Brees to LeBron James on ESPN's "First Take." However, James' signing began to dominate the news as the day went on, cutting short some of Watson's appearance schedule.
This was the second time Watson has gone through the ESPN "Car Wash" during his 11-year NFL career. He has also served as a guest analyst frequently on the NFL Network and previously did some local TV work while with the
Cleveland Browns
and
New England Patriots
.
Watson, who took part in the NFL's "Broadcast Boot Camp" last year said he "definitely" has an interest in broadcasting as a post-football career, and he just wanted to get in some "reps" during the offseason.
April, 21, 2014
Apr 21
11:45
AM ET
The
New Orleans Saints
' players are officially back to work for the start of the 2014 season. Monday marks the beginning of the team's offseason conditioning program.
Participation is optional and limited to strength and conditioning activities. Typically the full squad will get together for a team meeting on the first day.
The morning chatter on Twitter had a "first day of school" feel to it:
Gettin back to the grind today... #whodatnation first day back liftin lets get it today http://t.co/o7laQNesNg

— cameron jordan (@camjordan94) April 21, 2014
First day back at the office for the 2014 season. Let's get it started! #WhoDat

— Benjamin Watson (@BenjaminSWatson) April 21, 2014
First day of @Saints off-season, Excited to meet my new teammates and prepare for the 2014 season #WhoDat

— Thomas Morstead (@thomasmorstead) April 21, 2014
On-field practice sessions are scheduled to begin the week of May 27 and last through June 19. The team's mandatory three-day minicamp is scheduled for June 10-12.
The Saints have not yet announced their starting date for training camp, which will begin at the Greenbrier resort in West Virginia sometime in late July.
April, 4, 2014
Apr 4
5:35
PM ET
One thing is for sure.
Champ Bailey
's new teammates with the
New Orleans Saints
are fired up about the arrival of the 12-time Pro Bowler and future Hall of Famer.
Several of the Saints' players expressed their excitement to play alongside one of the NFL's all-time great defensive backs, via social media. Here's a sampling:
.
January, 8, 2014
Jan 8
8:00
AM ET
METAIRIE, La. -- I'll admit that I didn't think too much of it when I heard there were
hundreds of fans lined up
in the wee hours of Sunday morning to greet the
New Orleans Saints
when their plane returned from Philadelphia.
I guess I'm used to it by now, after so many years of that being the usual routine among the "Who Dat Nation" after big games -- even losses.
Apparently not everyone is used to it, though. First-year Saints veterans
Benjamin Watson
and
Shayne Graham
both talked this week about how they'd never seen anything like it -- despite a combined 23 years in the NFL.
"In my 10 years in the NFL, I have never witnessed anything like that," Watson said earlier this week. "I've never witnessed anything like when we lose a game, there are still people out there welcoming us back. I knew coming to New Orleans, being that I have my wife and family down here, this is a special place. They love their team, and the team is a part of the community. You are talking about a couple hundred people out there at 4:30 in the morning welcoming a football team back. You just don't see that at a lot of other places. It's a credit to the fans and it is a credit to our team that the guys on this team connect with the community.
"Even though most of us aren't from here when we play here, and I have only been here for a year, you start to feel somewhat of a connection with your neighborhood and the people that come to support you every Sunday."
Added Graham on Tuesday: "I was impressed, shocked really. It was 4:30 in the morning and there was so many people out there, people shooting off fireworks and lining the street. It was a very interesting scene and one that showed the dedication of the fans here. I've never seen anything like that."
Coach Sean Payton, who has seen it many times before, still enjoyed the spectacle.
"It's amazing," Payton said. "You kind of clear the one group, you make a turn and then you have five times as many down the homestretch. It's a pretty cool thing that's unfolded over the years here. We never take it for granted."
Worth repeating:
Saints rookie left tackle
Terron Armstead
, when asked if he still "feels like a rookie" with three starts under his belt: "I don't know what a rookie is supposed to feel like. I'm just going to go out and play hard and play fast."
Worth re-tweeting:
Former Saints defensive end
Bobby McCray
's response when he saw that Payton had the Seahawks logo painted on the Saints practice fields: "I'd be pissed… So therefore Brilliant idea by @SeanPayton"
More Payton ploys:
We wrote about plenty of Payton's motivational tactics last week. But he rolled out another one the day before the game that NBC talked about during the broadcast. Payton showed the team video clips of players like
Drew Brees
and
Darren Sproles
thriving in cold-weather games when they were in college, set to the tune of "Winter Wonderland." And he even brought in dry ice for effect to help continue his week-long approach of embracing/mocking the "Saints can't win in the cold" story line.
Worth a click:
November, 14, 2013
11/14/13
8:30
PM ET
METAIRIE, La. – Safety
Kenny Vaccaro
and tight end
Benjamin Watson
were held out of practice again for the
New Orleans Saints
on Thursday as they recover from concussions, decreasing the chances that they will play Sunday against the
San Francisco 49ers
.
The outlook is better for the rest of the Saints' roster, though. Linebacker
Curtis Lofton
(hamstring/ankle) and defensive lineman
Akiem Hicks
(back) returned to practice on a limited basis Thursday.
Tight end
Jimmy Graham
(toe/elbow) and defensive end
Cameron Jordan
(ankle) practiced on a limited basis for the second straight day. Everyone else practiced fully – including safeties
Malcolm Jenkins
(hamstring) and
Roman Harper
(knee) and defensive lineman
Tyrunn Walker
(knee).
Jenkins' issue was previously listed as a knee injury, but he said Thursday that it has been a hamstring issue all along. He seems likely to play Sunday, since coach Sean Payton said the team went back and forth on whether to play Jenkins last week.
If both Jenkins and Harper are able to return, the Saints should have enough depth to make up for the loss of Vaccaro. They also have experienced backups in safeties
Rafael Bush
and
Isa Abdul-Quddus
and nickel/dime backs
Corey White
and
Chris Carr
.
June, 19, 2013
6/19/13
10:26
AM ET
By
ESPN.com staff
| ESPN.com
Atlanta Falcons
The
design concept for the new Falcons stadium was approved
by the Georgia World Congress Center Board of Governors, Jay Adams of AtlantaFalcons.com reports. "Our discussions and decisions have focused on creating an iconic asset for the city and state, a great game-day experience for our fans and attendees of other events that will be held in the new stadium, and a connection with the surrounding communities," Falcons President/CEO Rich McKay said. The new design concepts can be seen
here
.
Tight end Tony Gonzalez was
chosen to be the 2013 Good Guy Award winner
by the Professional Football Writers of America. The award is given annually to a player for his professionalism in helping pro football writers do their jobs.
The Falcons
signed veteran tight end Colin Clohery
and released tight end Anthony Miller, reports D. Orlando Ledbetter of the Atlanta Journal-Constitution.
Carolina Panthers
The News & Observer's Joseph Person lists
five "pleasant surprises
" from last week's minicamp.
Defensive tackle Linden Gaydosh -- a native of Peace River, Alberta, Canada -- was the No. 1 overall pick in the CFL draft.
He dreamed of playing in the NFL
, but teams showed little interest until the Panthers came calling, writes Bryan Strickland for the team's website. "I had nothing, nothing up until the Panthers contacted me. I was stunned, realizing that it was a reality. Then I realized quickly that I had to show them what I could do," Gaydosh said. "If this doesn't work out, I have a job playing professional football in Canada. Not many people get that opportunity to begin with, so I'm blessed in both worlds."
New Orleans Saints
The Times-Picayune is
counting down the top 25 players
on the Saints. Next up at No. 24: tight end Benjamin Watson.
Jason Smith, the former Rams offensive tackle who was selected No. 2 overall in the 2009 draft, is
hoping to resurrect his career
with the Saints, writes the Times-Picayune's Mike Triplett. Offensive line coach Bret Ingalls: "As far as the character and want-to, it has been tremendous. He's dying to learn. He's going to fix whatever isn't right. He's showing improvement every day, so we're excited. ... But we'll know more once we get the pads on in training camp."
Tampa Bay Buccaneers
The Bucs are hoping to
reap the rewards of stability
on offense, writes Ira Kaufman of the Tampa Tribune. "We know this offense," receiver Mike Williams said. "We know when to break off routes and what zone to read. It's a knowing instead of reacting to something. Josh Freeman's got this offense down pat. The big problem last year was we couldn't get on the same page, knowing when to break our routes off."
New Bucs cornerback
Darrelle Revis paid $50,000 to safety Mark Barron
for his No. 24, the jersey number he has worn throughout his career, reports David Satriano of the New York Post.
June, 14, 2013
6/14/13
3:06
PM ET
Time for a look at some team-by-team highlights from Friday's NFC South chat:
ATLANTA FALCONS
Bobby G (Agawam, Mass):
I expected after Clabo's official June 1st exit that Atlanta would have made one last move, has Ryan's contract moved to a higher priority from three weesk ago ?
Pat Yasinskas:
Still think you could see something with
Richard Seymour
.
big blue (smynra, ga) [via mobile]:
While not being politically correct who would you take first roddy or Julio?
PY:
Probably Julio, especially if your parameters are for a few years down the road. But Roddy is still a very good receiver.
Patrick (Charlotte):
Even though Jackson is younger than Turner shouldn't there be some concern that in terms of carries Jackson has a lot less tread on the tires (Jackson 2395 to Turners 1639).
PY:
Just look back to last season. Turner obviously ran out of gas. Jackson looked like he still had something left.
CAROLINA PANTHERS
Ayodele Alakija (Manchester, England):
Pat, so much talk of
Armanti Edwards
doing well at OTA's has me interested about our WR's. Do you see the Panthers taking 5 or 6 WR's into the season? Who do you honestly think gets cut??
PY:
Can easily see them keeping six. They're going to have some tough choices. Ginn and Edwards looked good in minicamp. But they also have Adams, Gettis and Pilares besides the two starters.
Marcus (Asheville, NC):
What is your assessment of Armanti Edwards' mini camp performance? It seems like each year we hear rumblings of how good of a camp he is having.
PY:
Not to over-hype it, but I was there and it was very noticeable that he was having a very good minicamp.
Brad (Fayetteville):
Recently there has been additional talk about
Steve Smith
going into the Hall of Fame. Reality or does he still have a lot to prove?
PY:
Probably needs to put up big numbers for a few more years. With
Marvin Harrison
coming eligible for HOF next year, that's going to raise the bar for WR numbers.
NEW ORLEANS SAINTS
Sean (Vegas):
Can we just get this out of the way and agree Graham is certainly a top 100 player and due to Gronk's current injury, the clear cut best TE in the NFL?
PY:
I think he's easily a top 100 player. He'll be ranked highly in my NFC South top 25, which will kick off Monday.
Saints Fan Up North (new jersey):
Will the Saints try to get someone in F.A. to take Butlers place or go with what they have?
PY:
I think they'll give
Martez Wilson
a long look in the preseason. If he's ready, they'll go with him. If not, you could see them pick somebody up.
RockKnuteney (Slidell, LA):
Do you know if
Benjamin Watson
has one of these no practice clauses, like
Tony Gonzalez
? Did not see him all of the OTAs or minicamp? Would like him to be part of a two-headed monster at TE for the Saints.
PY:
He was there, but not participating in workouts. Was working with trainers on the side. Think he's recovering from some sort of injury, but can't remember right now what it was. Didn't seem like they were too worried about it though.
TAMPA BAY BUCCANEERS
Clayton (Atlanta):
How much of an impact do you think Revis will have in the early season?
PY:
I think he'll be ready for start of season and will be highly motivated for opener against the Jets.
Josh (the burg):
Do you really think that
Luke Stocker
will step up this season for the Bucs?
PY:
I think he'll be a role player. Crabtree might catch more passes.
Scott (Northglenn, CO):
TB possibly kick the tires on
Willis McGahee
?
PY:
Have not heard anything definitive on that. But I started to wonder about that the moment he was released.
Here's the
complete transcript
of Friday's NFC South chat.
April, 22, 2013
4/22/13
9:45
AM ET
With the NFL draft approaching, I'm going to kick off a series in which I rank the team needs at each position group. We'll start with the tight ends.
The earlier the ranking, the greater the need.
Tampa Bay Buccaneers:
If the season started today, they'd be in big trouble at tight end.
Dallas Clark
, last year's starter, remains an unsigned free agent.
Luke Stocker
isn't suddenly going to turn into a stud. I think there's a very good chance Tampa Bay tries to get a tight end fairly early in the draft. If that doesn't happen, the Bucs might have to bring back Clark or find some other veteran.
Atlanta Falcons:
Tony Gonzalez
is back for one more year (at least). There's a school of thought that the Falcons should draft a tight end early and use this year to groom him. That might not be a bad idea. But I think the Falcons have more pressing needs. They're in a win-now mode and they'll probably be in a similar situation next season. It's not an absolute necessity for them to get a tight end now.
Carolina Panthers:
There's no need for the Panthers to consider drafting a tight end early because
Greg Olsen
is firmly entrenched as the starter. Carolina could look for some depth to go with
Ben Hartsock
and
Richie Brockel
later in the draft.
New Orleans Saints:
I can't see the Saints drafting a tight end because it's one of their strongest positions with
Jimmy Graham
and
Benjamin Watson
in place.
April, 15, 2013
4/15/13
9:32
AM ET
Let's take a run through some odds and ends from around the NFC South:
ATLANTA FALCONS
D. Orlando Ledbetter throws out the scenario of the Falcons
trading up
to get Alabama cornerback Dee Milliner in the draft. I'm not ruling this out. General manager Thomas Dimitroff traded way up to get another Alabama product, receiver Julio Jones, a couple years ago and that's worked out well. Ledbetter also mentions the possibility of the Falcons trading into the 20s to get Xavier Rhodes or Desmond Trufant. I'm not a big fan of that move. I'd prefer to see the Falcons stay at No. 30 and get Boise State cornerback Jamar Taylor. Some scouts I've talked to like Taylor better than Rhodes and Trufant.
CAROLINA PANTHERS
Joseph Person writes about how Rock Hill, S.C., which is just over the border from Charlotte, has become a
football factory
. New Orleans tight end Benjamin Watson and Atlanta safety Chris Hope are among the Rock Hill products currently in the NFL. They're about to be joined by Tennessee receiver Cordarrelle Patterson. Although the Panthers seem to have bigger needs on the defensive side of the ball, I wouldn't rule out the possibility of them taking Patterson at No. 14, if he still is available. Owner Jerry Richardson always has like having players from the Carolinas on his roster. Plus, the Panthers could use a guy who eventually could take over for Steve Smith as the No. 1 receiver.
NEW ORLEANS SAINTS
Running back Chris Ivory visited the New York Jets last week. Ivory is a restricted free agent and the Jets would have to give the Saints a second-round pick if they sign him. But Connor Orr points out that the two teams could work a trade for a
later draft pick
. That would make a lot of sense because the Saints have a crowded backfield and are a little light on draft picks that could help them fill needs at other positions.
TAMPA BAY BUCCANEERS
Scott Reynolds writes that the Bucs
could target
Alabama offensive tackle D.J. Fluker at No. 12. There's logic in that. The recent contract extension given to right tackle Demar Dotson was for something close to backup money. Fluker would be an upgrade from Dotson and coach Greg Schiano is big on having a power running game. Schiano also isn't opposed to using first-round picks on Alabama players. He took one last year in safety Mark Barron.
It's well known that general manager Mark Dominik likes to front load contracts. Roy Cummings points out that
shouldn't be a potential obstacle
if the Bucs trade for Darrelle Revis and sign him to a long-term extension. Revis shares the same agent as Vincent Jackson, who signed a front-loaded deal with the Bucs last year. Dominik's philosophy is unique, but I can't see why Revis would balk at it. He presumably would be getting a huge part of the contract in the first couple of years.
April, 5, 2013
4/05/13
12:00
PM ET
»
NFC Eight in the Box
:
East
|
West
|
North
|
South
»
AFC
:
East
|
West
|
North
|
South
A look at the top under-the-radar move made by each NFC South team thus far this offseason:

Atlanta Falcons:
Most of the attention has gone to the additions of running back
Steven Jackson
and defensive end
Osi Umenyiora
. But the re-signing of safety
William Moore
might have been just as significant. Moore is coming off his first Pro Bowl season and is just hitting his prime. He should only continue to get better. He and free safety
Thomas DeCoud
have a chance to become one of the best safety tandems in the NFL.

Carolina Panthers:
The salary cap has prevented the Panthers from making any significant moves in free agency. But they've been active in signing some role players. One addition who should be a nice fit is linebacker
Chase Blackburn
. New general manager Dave Gettleman knows him well from their time together with the
New York Giants
. The Panthers are set with
Luke Kuechly
,
Thomas Davis
and
Jon Beason
as their starting linebackers. But Blackburn will give them a top-notch backup, which is important because Davis and Beason have had injuries in the past. He also is likely to be a regular on special teams.

New Orleans Saints:
Most of the moves this offseason have been focused on the defensive side of the ball. But the Saints quietly made a move that should make a great offense even better when they signed veteran tight end
Benjamin Watson
. They already have one of the game's best tight ends in
Jimmy Graham
. But Watson also is a good pass-catcher. Coach Sean Payton is an innovator, and I have no doubt he's going to have a lot of sets in which he'll use both tight ends to create nightmare matchups for opposing defenses.

Tampa Bay Buccaneers:
The signing of safety
Dashon Goldson
was Tampa Bay's biggest move of the offseason, but the Bucs have done a nice job of bringing in role players. One of them is running back
Brian Leonard
. He's a jack of all trades and should fill the role as the third-down back. Leonard played for Tampa Bay coach Greg Schiano at Rutgers. The Bucs are so confident in Leonard that they released
D.J. Ware
, who was the third-down back last year.
April, 2, 2013
4/02/13
12:02
PM ET
Almost all of the offseason talk about the
Tampa Bay Buccaneers
has focused on a defense that ranked No. 31 in the NFL last season. But there's one huge need on the other side of the ball that hasn't drawn a lot of talk.

The Bucs need a pass-catching tight end. All the other teams in the NFC South have one (
Tony Gonzalez
in Atlanta and
Greg Olsen
in Carolina) or two (
Jimmy Graham
and
Benjamin Watson
in New Orleans).
But the Bucs, who like to say one of their priorities is to surround quarterback
Josh Freeman
with talent, have a gaping hole at tight end.
They have not re-signed free agent
Dallas Clark
. They did add
Tom Crabtree
, but he never has caught more than eight passes in a season. Crabtree can compete with
Luke Stocker
,
Nate Byham
,
Drake Dunsmore
and
Zach Miller
for the role as the complementary tight end. But the Bucs need a pass catcher.
The problem is, there aren't a lot of pass-catching tight ends left in free agency. Take a look at our
Free-Agent Tracker
. Clark is tied for the highest grade among the unsigned unrestricted free agents. And the guy he's tied with is
Kellen Winslow
, who I highly doubt will be returning to Tampa Bay anytime soon.
The Bucs may have to bring back the aging Clark, who was decent last season, but not nearly as prolific as he was in his prime in Indianapolis. Unless some veteran gets released, there aren't many other proven pass catchers on the market.
The draft features two premier tight ends in
Tyler Eifert
and
Zach Ertz
. But it's hard to imagine the Bucs using the 13th overall pick on a tight end when they have such big needs on defense.
Maybe the Bucs will draft a tight end after the first round. Or maybe they'll find one somewhere else in free agency.
But the Bucs have to find a pass-catching tight end for Freeman somewhere.
March, 22, 2013
3/22/13
12:00
PM ET
»
NFC Eight in the Box
:
East
|
West
|
North
|
South
»
AFC
:
East
|
West
|
North
|
South
A look at whether each NFC South team has been a winner or a loser in free agency:

Atlanta Falcons:
The process is far from over, but the Falcons are winners so far. They made a significant upgrade to their running game by signing
Steven Jackson
to replace
Michael Turner
. That alone made the offense instantly better than it was last season. I also like the way the Falcons have kept their own, re-signing potential free agents
Sam Baker
and
William Moore
, and coaxing tight end
Tony Gonzalez
back for another season. If the Falcons can re-sign cornerback
Brent Grimes
at a reasonable price and add a pass-rusher, this would look like a team without any holes.

Carolina Panthers:
You have to call the Panthers losers in free agency so far, unless you want to give them credit for leading the league in signing mediocre defensive backs (
Mike Mitchell
,
Drayton Florence
and
D.J. Moore
and re-signing
Captain Munnerlyn
). I didn't expect the Panthers to be big players in free agency, because their salary-cap situation prohibits that. The Panthers had to let go of No. 1 cornerback
Chris Gamble
because of the salary cap. That was inevitable, but replacing him with a slew of No. 3 cornerbacks doesn't generate much hope or excitement.

New Orleans Saints:
Despite a tight salary-cap situation, the Saints have been winners so far. Yes, they have a major hole to fill after losing left tackle
Jermon Bushrod
via free agency. But the Saints have pulled rabbits out of hats on their offensive line in the past, and they can do it again. The upside is that the Saints made themselves a lot better at cornerback by adding
Keenan Lewis
, and at tight end with the addition of
Benjamin Watson
. Lewis is a player with lots of upside, who should provide much-needed help for the secondary. The Watson signing probably hasn't received as much praise as it deserves because people assume he'll be nothing more than a backup to
Jimmy Graham
. But coach Sean Payton is crafty, and I expect Watson to play an important role in the passing game.

Tampa Bay Buccaneers:
You have to call the Bucs winners because they got Pro Bowl safety
Dashon Goldson
right out of the gate. That was a great start, but the Bucs have been quiet since then. Can they afford to let every quality free-agent cornerback go elsewhere as they wait to see if the
New York Jets
blink in their talks about a trade for
Darrelle Revis
? It's also somewhat bizarre that the Bucs were so willing to let defensive end
Michael Bennett
and defensive tackle
Roy Miller
leave as free agents even though they didn't get big money. The Bucs will tell you that Bennett and Miller were "just guys" and they might have a point. But Bennett and Miller must have been doing something right, because the Bucs ranked first in the league in run defense last season.
March, 18, 2013
3/18/13
3:22
PM ET
Let's take a quick trip through some headlines from around the NFC South:
ATLANTA FALCONS
Another step toward a new downtown stadium could come Monday afternoon. Atlanta City Council may
vote on a hotel tax
that would help finance stadium construction.
CAROLINA PANTHERS
The agent for defensive end Greg Hardy has approached the Panthers about a
contract extension
. Hardy finished last season with 11 sacks and seems to be a player on the rise. He's under contract through the end of this season. But I'm not so sure this is the best time for Hardy to be looking for an extension. First off, the Panthers don't much salary-cap room this year or next. Second, the market for defensive ends isn't great right now. Former Tampa Bay defensive end Michael Bennett, who might be a more complete player than Hardy, just signed a one-year deal with Seattle for a reported $5 million. Hardy might be better off going out and having another big season and then talking about an extension.
NEW ORLEANS SAINTS
The team has
added some depth
by signing veteran tight end Benjamin Watson. Jimmy Graham is the main tight end on this team, but the depth was lacking after the release of David Thomas. Watson should fix that. He caught 49 passes for Cleveland last season. The Saints also announced they have re-signed backup linebacker Ramon Humber to a one-year deal.
TAMPA BAY BUCCANEERS
It has been widely reported that the Bucs are trying to trade backup running back LeGarrette Blount. But Stephen Holder wonders what happens if
no team is willing to deal
for Blount. Would the Bucs simply release him? It's possible. The Bucs kept him around as a backup to Doug Martin last season, but Blount got very little playing time. It's pretty obvious the coaching staff isn't that sold on Blount.