NFC South:

best coach in NFC South history
June, 16, 2010
6/16/10
10:44
AM ET
Lots of good reaction in the mailbag to Tuesday's column in which I gave my opinion that
Tony Dungy is the best coach
in the history of the NFC South.
Craig in Fort Worth, Texas, writes:
Tony Dungy never coached in the NFC south, right? Jon Gruden was the coach of the Bucs in 2002, when the division got its start.
Pat Yasinskas:
Absolutely correct. Not sure if you're suggesting that should make Dungy ineligible, but I think I made it very clear throughout the process that anyone who ever coached for one of the four franchises that now make up the NFC South was eligible. In other words, guys like Jim Mora and John McKay also were eligible.
---
Steven in Ontario, Calif., writes:
I am a Bucs fan and I read your blog before anything else about the Bucs. I respect your knowledge, but without Manning and what he did with the Colts, Dungy would be with Jim Mora on your list. I am sure Gruden is a pain (for the media), but he got the Bucs to the "holy land". Football is about winning and the best play.
Pat Yasinskas:
Let me say this: Gruden was not "a pain'' to cover. In fact, he was great for media purposes. He was colorful as could be, always saying very good quotes and never afraid to be controversial. Dungy, on the other hand, could be very dry and boring for those purposes. I went with Dungy over Gruden (and several other coaches over Gruden) for the reasons I stated in my column.
---
Mark in Honolulu writes:
I have no issues with your selections of best coaches, but think you may have left out one important criteria. One task of management, in all businesses, is the development of those who work for you. Head Coaches are tasked with the development of assistant coaches. How many assistants did the head coach develop into a peer?
Pat Yasinskas:
Well, I think that would only support Dungy's case. Among the guys he had as assistants were Herm Edwards, Lovie Smith, Rod Marinelli, Monte Kiffin, Mike Tomlin and Jim Caldwell. That's a pretty strong list.
---
Curtis in Cordova, Tenn. writes:
I just finished your blog about the best coach in the NFC South. While your reasoning is strong, I feel there is one thing you left out. Yes, both Sean Payton and Dungy have won a Super Bowl, but you fail to look at the quality of the opponent. Payton and the Saints defeated the Colts and Peyton Manning coming off of a near-perfect season and only one year removed from being led by Dungy. Dungy and the Colts on the other hand defeated
Rex Grossman
and the Bears. Three years later, Grossman can barely hold a back-up job after imploding in the Super Bowl and the Bears now are largely considered irrelevant. I doubt you'll find anyone that believes the Colts and Manning will be in the same position three years from now. So, are all Super Bowl wins equal?
Pat Yasinskas:
Actually, Dungy's Super Bowl with the Colts had nothing to do with my decision. Nothing Dungy did with the Colts had anything to do with my decision. I think I made it pretty clear I was only looking at what the coach did while he was with an NFC South franchise. If I included other stops, guys like Mora and Dan Reeves would have been higher on the list and Mike Ditka would have made the list.
June, 15, 2010
6/15/10
8:00
AM ET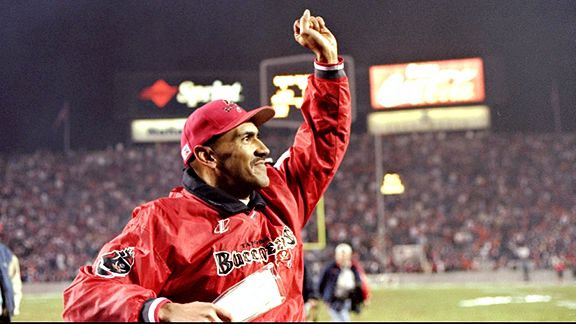 Jamie Squire/AllsportTony Dungy's influence on the Buccaneers can still be felt today -- almost nine years after he coached his final game for Tampa Bay.
In the end, I went with my gut. My heart and head, too. In the end, I went with Tony Dungy.
Yes, I'm going to go ahead and declare Dungy the greatest coach in NFC South history. (For background purposes, here's
how all this started and some of the ground rules we laid out
. And here are
some of your opinions
on the topic.)
Let me make it clear, I came real close to going with New Orleans' Sean Payton. I agonized over this one for days and I don't think going with either one would have been a wrong decision.
But I know going with Dungy is right. I looked at win-loss records, Super Bowl titles and all that stuff. But I'm not really a numbers' guy. I like to look at the big picture and have some flexibility outside the lines. That's why, even though I gave some thought to guys like Jon Gruden, John Fox, Dan Reeves, Jim Mora, John McKay and Ray Perkins (well, not really on Perkins), I knew right away they belonged a little further down my list.
This was a two-man race between Dungy and Payton. In a lot of ways, they're the same guy. Cover your eyes toward times, dates and places and Dungy and Payton did basically the same thing.
They came into franchises that were beyond destitute. They built winning teams, shaped character, pulled communities together and completely changed the way their franchises were viewed from up close and afar.
When it came right down to it, I guess the main reason I'm giving Dungy the slightest of edges over Payton might not even be fair. It's mainly because Payton is still coaching and Dungy's legacy in Tampa Bay already has plenty of angle and distance. In fact, there probably is way too much distance and angle between where the Bucs are at right now and where they were under Dungy.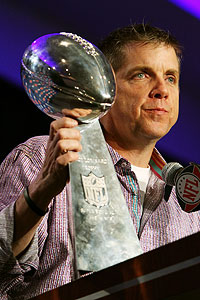 Doug Benc/Getty ImagesBy the end of his career, Sean Payton will probably top this list.
Payton probably can put himself as the undisputed winner of this argument with another Super Bowl title or even a couple more playoff years. But, for the moment at least, I'm going with Dungy.
Yeah, Dungy never won a Super Bowl until he got to Indianapolis (and that factored into my thought process). Dungy did set the table for Gruden, but he did so much more than that. He came into a franchise that hadn't had a winning season in a generation, was beyond dysfunctional and was on the verge of moving to Cleveland, Sacramento, Orlando or anywhere that would give the Bucs a new stadium.
The Bucs stayed in Tampa Bay. They started winning games with Dungy. They got a sparkling new stadium built and, for the first time in franchise history, made it fashionable for people to go to games on Sundays.
That trend has lasted and the Bucs have sold out every game since the opening of Raymond James Stadium. That streak probably is going to come to an end this season, unless Raheem Morris suddenly becomes the second coming of Dungy.
The Saints and New Orleans are as high as a franchise can be right now and fans should be grateful they're watching history in the making. That's why I'm going with Dungy because I see fans in Tampa who remember how it used to be. They remember how it was when Dungy coached the Bucs. They don't even remember what it was like before him, even though the team is playing like that again.
Beyond Dungy and Payton, my list of the greatest coaches in the history of the NFC South goes like this:
3. John Fox, Carolina Panthers.
Yep, I did it. I picked Fox over a guy who won a Super Bowl (Gruden). If I wanted a guy to come in and draw up one offensive play, it would be Gruden. If I wanted a guy to come in and provide consistent excellence for a franchise, well, let's just say I already have three guys ahead of him. I'll explain what I view as the downside of Gruden in a minute, but, first, let's talk about the virtues of Fox.
He's the only head coach who has been with a single NFC South team for the entire existence of the NFC South. If Fox could have put together back-to-back winning seasons once or twice, he might even be higher on my list. But Fox has kept the Panthers at least respectable for the entire time he's been in Carolina and that's a pretty big accomplishment these days. Fox cleaned up George Seifert's 1-15 mess and had Carolina in a Super Bowl two seasons later. When Fox is at the top of his game, he's as good as any coach in the league.
4. Jim Mora, New Orleans Saints.
I'm doing it again. I'm looking at the big picture. Remember what I said about Dungy and Payton about how they changed the climate of their franchises? Well, Mora did the same thing in New Orleans in the 1980s. He came out of the United States Football League and made the Saints respectable -- something they never had been before.
5. Jon Gruden, Tampa Bay Buccaneers.
All right, Gruden won a Super Bowl and you can never take that away from him. He put Tampa Bay over the top after Dungy couldn't. He won a Super Bowl with
Brad Johnson
as his quarterback and no true superstars on offense. I'm not going to say Dungy or defensive coordinator Monte Kiffin deserve the credit for that Super Bowl. Gruden deserves the credit. But what did Gruden really do beyond that? He was supposed to be an offensive guru, but he never could find a franchise quarterback or anyone to truly build his offense around. General manager Bruce Allen made some questionable personnel moves, but Gruden was heavily involved in each one. In the big picture, Gruden deserves credit for the Bucs winning the Super Bowl. He also deserves credit for them being where they are right now.
6. Dan Reeves, Atlanta Falcons.
There was a part of me that wanted to put Reeves ahead of Gruden for this simple fact: He reached a Super Bowl with
Chris Chandler
as his quarterback. What Reeves and the Falcons did in the 1998 season came before the official birth of the NFC South, but they won 14 games and were spectacular. If Reeves could have followed up that season with something better than the 5-11 and 4-12 years that followed, he might have been much higher on this list.
June, 14, 2010
6/14/10
10:52
AM ET
It's been several days now since loyal reader Stephen
posed the question about who is the best coach in NFC South history
. I tossed the question out to you and the response in the mailbag was tremendous.
I didn't break it down to a scientific count because some ballots were split or undecided, but I can pretty much say readers called it a tie between former Tampa Bay coach Tony Dungy and current New Orleans coach Sean Payton.
John Fox, Jon Gruden, Jim Mora, Dan Reeves and even Mike Smith each got plenty of consideration. I've come to my own conclusion and will share that with you Tuesday.
But, first, I'd like to share some samples of what the readers had to say.
The case for Sean Payton.
Geoff in Navarre, Fla. writes:
Hands down, I fully believe Sean Payton deserves that title. Look at the story line. Hurricane Katrina destroys the home of the Saints. Sean takes over the team as head coach. Four years in the books, two NFC Championship appearances and a Super Bowl victory for the first time in franchise history. The man took a team and believed in them as they did him to get the job done and it was in outstanding fashion to my recollection. Underdog pulls the surprise onside kick to start the second half and electrify the crowd and team into victory. Saints Nation came alive again with his coaching.
The case for Tony Dungy.
J.P. in Inverness, Fla. writes:
Color me partial, but I think we have to go Dungy as the greatest. I would have said that Dan Reeves had put together the best career overall, except when you take in what Dungy did in Indianapolis and the string of his students and what they are doing now, I just do not see how you deny him. He has become a legacy coach, I think he is only a step down from a Parcells or a Belichick. Yes Gruden coached the Bucs through that Super Bowl season but he did with a team that Dungy built. I think that Payton is a good coach, but you have to take into effect what mark on the sport is this guy leaving, and Dungy's mark is undeniable.
Rich in North Port, Fla. writes:
Tony Dungy. Gruden should pay him royalties.
The case for John Fox.
Donnie in Kenner, La. writes:
Best coach in NFC South history: Saints season ticket holder for life, Saints' life that is. But, what coach Fox has done with the talent he has had over the years at Carolina is very impressive. Payton may in time prove me wrong but if I had a game to win with equal talent on both sides of the ball my money would be on coach Fox.
The case for Jim Mora.
Aaron in Louisville, Ky. writes:
With the best coach in the NFC I am biased as I am a die-hard Saints fanatic, However I think you should strongly consider Jim Mora Sr. for the top guy. He led the Saints to their first playoff berth and gave us Saints fans years of fun and winning ways to be proud of and if not for the brutal NFC and the lack of a explosive offense they could have very well won a Super Bowl. You also have to look at the fact he went 7 years without a losing season (87-93) with a franchise that had only 1 winning season in the previous 19 years! Although he never won a playoff game or a Super Bowl he was very successful and an icon for Saints fans that never had any winning ways up to that point. From the Dome Patrol to Bobby Hebert and Eric Martin I will always remember the great coaching of Mora and the Dome Patrol Days he brought to New Orleans!
The case for going way outside the box.
Charles in Kansas City writes:
By far the best coach of the NFC south was Monte Kiffin. Even though he was just an assistant coach, he changed football forever. He invented and installed his own version of a defense that will be used and remembered for years. He had countless seasons of top 5 defenses. Jon Gruden's name wouldn't even be mentioned in this article without Monte. Monte put Tampa Bay football on the map. I would put Monte's resume against any other coach(head or assistant) in the NFC South. I like Gruden a lot and I think he got a bad rap in Tampa but don't give him all the credit. It was Monte's defense that won the Super Bowl that year.
The case for a shrug of the shoulders.
Adam in Columbia, SC writes:
I think it's hard to say who the best coach in South history is. Dungy really built the team that Gruden won his Super Bowl with, but I still give credit for getting the Bucs over the hump when Dungy couldn't (can't give it to Dungy b/c he didn't win with a South team). Payton is the hot pick because he just won a SB, but if you think about it Payton (in his early career) is very similar to Fox. Both took over abysmal teams and built SB teams within four years. Only difference was a late second field goal by the Pats to take the win from Fox. That being said I think that Payton has to put into a couple of more winning season to be considered the greatest coach in South history (so far). I'm not really sure who to give the award to but these are my thoughts.
The case for waiting another year or two to answer this question.
Jamie in parts unknown writes:
Best coach in NFC South history? Mike Smith took the worst team in the league and turned them into a playoff team in one year, and got consecutive winning seasons the next year. Without injuries the Falcons would have made the playoffs.
June, 12, 2010
6/12/10
12:33
PM ET
I just took a look in the mailbag and I want to thank you for providing tons of input on
the best coach in NFC South history.
I'm going to give you a couple more days to voice your opinions before I run a post with selected thoughts from readers. And I'll also be voicing my rankings.
I'm still undecided, but a quick scan of your responses has Tony Dungy with a pretty good lead over Sean Payton right now. Again, we're going to save this topic for the coming days. Right now, we'll go with a mailbag on other topics, but the first letter is relevant to the best coach in NFC South history question.
Lloyd in Baton Rouge, La., writes:
I would like a clarification with your best head coach "assignment." Based on how I read your requirements, I interpret that any coach EVER from Tampa, Atlanta, New Orleans, and Carolina should be considered. Meaning people like Hank Stram could be included. So do I have it right? Plus, are we to take into account ONLY what they did with the NFC South team or can we included what they've done with other teams also?
Pat Yasinskas:
Yes, let's go with anyone who ever was a head coach for the Bucs, Panthers, Falcons and Saints. So someone like Stram certainly is eligible. But I want to emphasize that I think we should limit it only to what a coach did while coaching an NFC South team. In other words, let's judge Stram only on what he did with the Saints. In that setting, Dungy's success with the Colts doesn't count. What Dan Reeves did with the Broncos and Giants doesn't matter either. Only what they did with NFC South teams.
Brandon in Destrehan, La., writes:
With all of the uncertainty about who will replace
Scott Fujita
at linebacker this year, I have a lot of confidence that one of the young players that are already on the roster will be able to step up and be a contributor. Personally, I'm a big fan of both
Jo-Lonn Dunbar
and
Jonathan Casillas
. That being said, do you think that either one of them is the front-runner to get the starting spot?
Pat Yasinskas:
I think the Saints agree with you about the potential of their young linebackers. Dunbar was getting a lot of work with the first team in minicamp and I think he's a real candidate to start. The Saints also picked up
Clint Ingram
, who had been a starter in Jacksonville. He's coming back from an injury and could challenge Dunbar.
ATLJBO in Atlanta writes:
Has a player created any buzz in the Falcons camp?
Pat Yasinskas:
I think the guy who has lifted spirits most in Atlanta is running back
Michael Turner
. That's simply because he's in great shape. That wasn't really the case at this time a year ago and it might have played a role in him getting banged up last season. Turner is working very hard on his conditioning and is determined to prove that his brilliant 2008 season was not a one-time thing.
Oscar in Charlotte writes:
Now that
Muhsin Muhammad
is retired, do you think the Panthers might try to make a deal with
Terrell Owens
?
Pat Yasinskas:
Not going to happen. First off, it doesn't fit what the Panthers are doing with their youth movement. If the Panthers wanted a veteran receiver, they would have kept Muhammad for another year. At first, he wanted to continue playing and the Panthers didn't offer him a contract. We all know Muhammad fit well in Carolina's system and in the locker room. Owens comes with a lot more baggage. Owner Jerry Richardson won't touch him because of that and my guess is coach John Fox and general manager Marty Hurney wouldn't have any interest in Owens anyway.
Ollie in Gulfport, Miss., writes:
According to nola.com, if Pierre Thomsas doesn't sign his tender by Monday , the Saints front office will lower his tender offer. Mickey Loomis is dug in and he not giving Thomas anymore than his first offer? What you think Pat?
Pat Yasinskas:
This is going to be an interesting one to watch. I think Loomis and the Saints have taken the smart approach. They've placed a value on Thomas and they're not going to overpay him. He's a very nice running back, but he's not a dominant one. With
Reggie Bush
and
Lynell Hamilton
already there, the Saints can bring in another role player at running back if they can't get things resolved with Thomas.