NFC South:

Best of the NFL summer 2011
June, 30, 2011
6/30/11
1:00
PM ET
»
Best of NFC
:
East
|
West
|
North
|
South
»
AFC
:
East
|
West
|
North
|
South
As part of Best of the NFL Week on ESPN.com, here are five bests for the NFC South:
Best training camp venue, Wofford College in Spartanburg, S.C.
,: That's where the
Carolina Panthers
train, and they're the only division team right now that goes away for training camp. There's been a league-wide trend of moving camps back to regular-season facilities. But if you're going to go away, this might be the best setup in the NFL. Spartanburg isn't all that picturesque or glamorous. But the Wofford campus is gorgeous, particularly the football facilities. In case you've forgotten, team owner Jerry Richardson played football for Wofford -- and later, the Baltimore Colts, before starting to make his fortune with his first Hardee's restaurant in Spartanburg -- and he paid for those facilities.
[+] Enlarge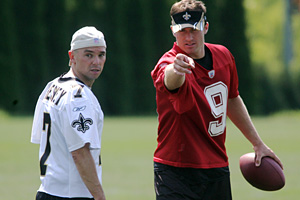 AP Photo/Tony TribbleKenny Chesney, pictured here with Drew Brees, has been known to show up at Saints practice.
Best coaching staff, Falcons:
Coach Mike Smith's going to be challenged a bit this year because the Falcons lost quarterbacks coach Bill Musgrave to a coordinator job in Minnesota, but they've replaced him with Bob Bratkowski. The rest of the staff is a group of all-stars, highlighted by coordinators Mike Mularkey (offense) and Brian VanGorder (defense). Offensive line coach Paul Boudreau isn't a household name, but he's one of the best in the business. For the past three years, the Falcons have given
Matt Ryan
great protection without having a lot of big names up front.
Best celebrity fan, Kenny Chesney:
He's not just a fan of the
New Orleans Saints
, he played for them. Well, sort of. A few years back the Saints held a press conference to announce they were signing the country singer/wide receiver to a contract. They never really did, but it was coach Sean Payton's way of having fun with one of his best friends. It's not unusual to see Chesney around the Saints. Heck, he's even gone out on the practice field and attempted to catch punts.
Best team facility, One Buccaneer Place:
It's referred to as "One Buccaneer Palace'' by some, and it is a palace on the inside. Also, despite popular belief, it was not paid for with taxpayer money. The Glazer family paid for the facility. The lobby and team meeting room are awesome and the locker room is the nicest in the NFC South. Heck, even the media room is, by far, the nicest in the division. The Falcons' facility gets a strong honorable mention. In some ways, it's just as nice as Tampa Bay's facility, but the media room doesn't even come close.
Best meddling owner, Arthur Blank
: He's not the Cowboys' Jerry Jones or the Redskins' Daniel Snyder, but I think it's accurate to say Blank is hands-on in a healthy way. You'll see him on the sidelines at the end of games, and he sits in on Smith's postgame press conferences, which is pretty unusual for an owner. But I see Blank as more of a guy who cares passionately about his team and likes to keep a close eye on everything. He lets his people do their own thing, but he observes everything. Nothing wrong with that. After all, he owns the team.
June, 29, 2011
6/29/11
2:00
PM ET
»
Best of NFC
:
East
|
West
|
North
|
South
»
AFC
:
East
|
West
|
North
|
South
As part of Best of the NFL Week on ESPN.com, here are five bests for the NFC South:
Best delegator: Mike Smith.
The Atlanta head coach is not an ego-driven guy. He has a great defensive background and easily could run this team's defense as some other coaches handle playcalling duties on that side of the ball. Smith certainly has some input on the defense, but he lets defensive coordinator Brian VanGorder run the show. Given his defensive background, Smith felt it was important to hire a strong offensive coordinator when he first arrived. He went out and got a former head coach in Mike Mularkey, who has done a masterful job of developing
Matt Ryan
.
[+] Enlarge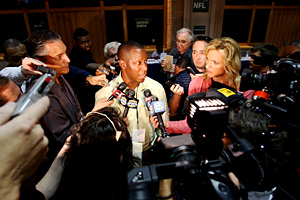 Matthew Emmons/US PRESSWIRETampa Bay coach Raheem Morris is a favorite among reporters.
Best postgame interview: Raheem Morris.
The Bucs' head coach is animated and doesn't hold much back. There are some in the organization who wish Morris would throttle it back a bit. But from a media standpoint, there's not another NFC South coach who is nearly as good a quote as Morris. There aren't too many coaches around the rest of the NFL who are in his league.
Best at telling it like it is: Ron Rivera
. Fans and media are still getting to know the new Carolina coach, but so far, he's come across as a very straight shooter. Unlike predecessor John Fox, Rivera actually answers questions. He's not the dynamic quote that Morris is, but he doesn't follow Fox's lead and turn interview sessions into dodgeball games.
Best X's and O's: Sean Payton
. If you had to take one NFC South coach to win one game, Payton is the guy. If you expanded the field to the entire NFL, he still might be the guy. There's not a coach and quarterback more on the same page than Payton and
Drew Brees
, and that's why the Saints have become a consistently good team. It also doesn't hurt that Payton went out and got Gregg Williams to handle the defense a couple years ago.
Best motivator:
Payton.
He's done things such as hand out baseball bats as a reminder for his team to "bring the wood'' and brought back
Deuce McAllister
as a ceremonial leader during the playoff run at the end of the 2009 season. Payton seems to pay a lot of attention to the mood of his team and knows what buttons to push and when to push them.
June, 28, 2011
6/28/11
2:00
PM ET
»
Best of NFC
:
East
|
West
|
North
|
South
»
AFC
:
East
|
West
|
North
|
South
As part of Best of the NFL Week on ESPN.com, here are five bests for the NFC South:
Best leader: Drew Brees.
I'll make a case that he's the best leader in the entire NFL. There are some other great leaders in this division, but Brees stands above them all. He's gone out of his way to keep the Saints together during the lockout and that should pay dividends when the season gets here. Even before the lockout, Brees had complete control of the New Orleans locker room. A lot of people thought the Saints were taking a bad gamble when they brought in
Jeremy Shockey
a few years ago. Shockey was a controversial figure in New York and literally pushed quarterback
Eli Manning
around. Shockey had a short and relatively productive career in New Orleans and you rarely heard a peep out of him. That's largely because Shockey was smart enough to realize you don't challenge Brees.
[+] Enlarge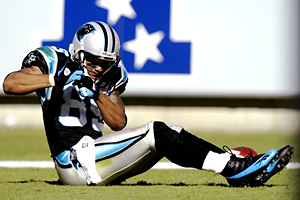 Craig Jones/Getty ImagesSteve Smith celebrated a touchdown against the Vikings by rowing a boat.
Best celebrator: Steve Smith.
The Carolina receiver has been limited a bit in recent years as the NFL has tightened its rules on celebrating. But think back a few years to when the
Minnesota Vikings
were in the middle of a scandal after a bye-week cruise on a party boat on a lake. The Panthers played the Vikings while the story was still hot. Smith scored a touchdown, sat down and began doing a rowing motion. When reporters asked him what that was all about after the game, Smith said something like "I was out on the lake." Smith had some other good celebrations, but that was the funniest I've ever seen.
Best short fuse: Smith
. Do we even need to explain? He's had at least three physical altercations with teammates. And there are some in Charlotte who say they've been able to literally hear ticking as Smith awaits the end of the lockout and some clarity on his future.
Best QB arm: Josh Freeman.
Brees and Atlanta's
Matt Ryan
have very good arms, but they're not the kind of guys who can throw the ball 70 yards down the field. Freeman can do it. Heck, I was out at one of his offseason workouts in May and he and backups
Rudy Carpenter
and
Josh Johnson
were throwing at the goal post from the 50 yard line. That's 60 yards. Carpenter and Johnson hit the middle of the post a couple of times, but you could tell they were putting everything they had into the throws. Freeman hit the middle of the post with ease and it didn't even look like he was putting anything close to his full body into the throws.
Best actor (penalty division): Roddy White
. Opponents will tell you the Falcons' wide receiver is a master at pushing off defensive backs. I've witnessed it on several occasions. Heck, I've even been in postgame interviews when White has kind of chuckled when asked if he might have gotten away with a push off on a big pass play.