January, 23, 2013
1/23/13
8:59
AM ET
By
ESPN.com staff
| ESPN.com
Atlanta Falcons
The Falcons released strength coach Jeff Fish over "
philosophical differences
," Fox Sports reports. The move is something of a surprise, the Journal-Constitution adds, given that the likes of
Tony Gonzalez and Matt Ryan had credited Fish
for improved performance.
Carolina Panthers
The team will
promote Ken Dorsey to quarterbacks coach
, the Observer reported. Dorsey, 31, starred at the position at the University of Miami before losing stints with San Francisco and Cleveland. He's been a team scout the past two years.
New coordinator Mike Shula promised to "
try to keep all the good stuff
" in a Carolina offense led by Cam Newton and with a stable of veteran running backs, he tells the Rock Hill Herald.
New Orleans Saints
NFL types in Mobile, Ala., ahead of Saturday's Senior Bowl, told the Times-Picayune they were
happy that Saints coach Sean Payton will be back
in the league next season. "He's a football coach; he deserves to be coaching football," said Raiders head coach Dennis Allen, a former Payton assistant.
The Saints are ready to put the bounty saga behind them and
make up for lost time
.
Tampa Bay Buccaneers
Despite Josh Freeman's struggles down the stretch, Bucs general manager Mark Dominik told the Tampa Tribune that
the team has faith in the quarterback
.
Tampa Bay Times columnist Gary Shelton
offers his thoughts on Tim Brown's recent comments that former Raiders coach Bill Callahan "sabotaged" the Super Bowl 10 years ago so the Buccaneers could win. Shelton: "Look, I love a good conspiracy theory as much as the next guy. I don't care if it's about the Kennedy assassination or the moon landings or whether Manti Te'o might find his next girlfriend in Narnia. Back when the late Bubba Smith was suggesting that Super Bowl III might have been fixed, I was listening to every word. This time? The word 'hooey' comes to mind."
June, 28, 2010
6/28/10
10:45
AM ET
Notable players:
LB
Derrick Brooks
, DT
Warren Sapp
, S
John Lynch
, CB
Ronde Barber
, QB
Brad Johnson
, WR
Keyshawn Johnson
, FB
Mike Alstott
.
[+] Enlarge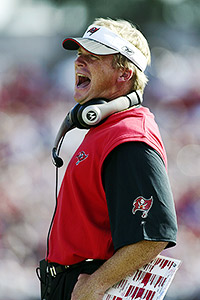 Andy Lyons/Getty ImagesThe Bucs sent two first-round picks and two second-round picks, plus $8 million, to the Raiders for Jon Gruden.
Analysis:
In the first year of the NFC South's existence, the Glazer family, which owns the Buccaneers, pulled one of the boldest moves in sports history. The Glazers fired coach Tony Dungy, who was beloved by players and fans and the only coach in franchise history to have any extended success.
They thought they had Bill Parcells lined up as the replacement, but Parcells backed out of the deal. That led to desperate measures as the Glazers overstepped general manager Rich McKay, who wanted to hire Marvin Lewis, and worked out a rare trade for a coach. They shipped four draft picks and $8 million in cash to Oakland for Jon Gruden.
Gruden came in and did what Dungy couldn't -- he won a Super Bowl. Still relying heavily on a defense built by Dungy and coordinator Monte Kiffin, Gruden was able to infuse a little bit of offense into the Buccaneers.
With Brad Johnson at quarterback and Brooks, Lynch, Sapp and Barber all in their prime on defense, the Bucs were pretty much dominant as they went 12-4 and became the first NFC South champions.
In the irony of all ironies, Gruden wound up facing the Raiders, then coached by Bill Callahan, in the Super Bowl. Although the Raiders had the league's No. 1 offense, Gruden outdid his former team and the Buccaneers won 48-21.
Most impressive win:
A 26-14 victory in Week 3 in which the Bucs intercepted St. Louis quarterback
Kurt Warner
four times.
Research room:
Tampa Bay's defense held opposing quarterbacks to a 48.4 passer rating for the season.
Honorable mention
1997
: This was not the best Tampa Bay team ever, but it might have been the most important in franchise history. In Dungy's second season, the Bucs went 10-6 and made the playoffs for the first time since 1982. That raised expectations and changed the entire football climate in Tampa Bay.
1979
: The Bucs were formed in 1976 under some harsh expansion rules and lost their first 26 games. But with Doug Williams and Lee Roy Selmon leading the way, John McKay took this team to the NFC Championship Game in only its fourth season.
1999
: This might have been the Tampa Bay defense at its absolute best. With rookie quarterback
Shaun King
, the Bucs still managed to go 11-5. The Bucs lost the NFC Championship Game, 11-6, to St. Louis in a game that involved a controversial non-catch by receiver
Bert Emanuel
.
June, 25, 2010
6/25/10
12:00
PM ET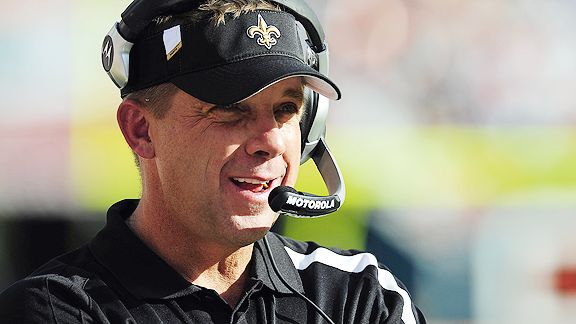 Steve Mitchell/US PresswireThe usually guarded Sean Payton pulls back the curtain on the Saints' 2009 season in a new book.
You know the story already. Now, Sean Payton's filling in the details.
The coach of the Super Bowl champion
New Orleans Saints
has written a book that is scheduled to hit stores Tuesday. It is called "Home Team." The subtitle is "Coaching the Saints and New Orleans back to life."
That last line sums up the book in one sentence. But I recommend you read the book even if you're a Saints fan and think you already know all about the Super Bowl season and the three seasons that preceded that. If you do, you'll find out a lot of things you didn't know.
We're not talking any headline-grabbing revelations here, because there aren't any. The big picture has played out very publicly. What Payton is doing with co-author Ellis Henican is coloring in the outline that already was sketched.
Like just about all football coaches, Payton runs a tight ship. When addressing the media, he's generally guarded with what he shares, especially about the inner-workings of his team. That's why this book is a rare opportunity to see what really has gone on with the Saints since Payton first interviewed for the job in 2006.
Payton's playing by different rules in this book and, in a lot of ways, opening the locker room doors and his mind for fans to really see how the Saints went from the devastation of Hurricane Katrina to the top of the football world. Written entirely in Payton's voice, the book chronicles just about everything, from Payton's first flight into New Orleans right up through the post-Super Bowl celebration.
Like I said, there's nothing that's going to grab a headline or really shock you. But there are a few significant confessions that haven't been public knowledge.
Start with the daring onside kick to start the second half of the Super Bowl. That decision has brought Payton acclaim for making one of the boldest moves in Super Bowl history. Well, truth be told, Payton reveals the onside kick was not initially the surprise play Payton wanted to run.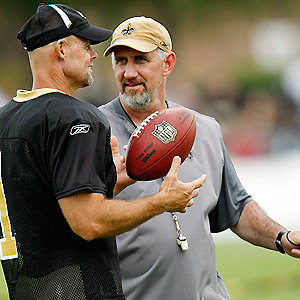 AP Photo/Bill HaberPayton's new book reveals it was special-teams coach Greg McMahon who suggested the Saints use an onside kick in the Super Bowl.
In the days leading up to the Super Bowl, Payton said he wanted to steal a possession from
Peyton Manning
and the
Indianapolis Colts
and his first thought was to run a fake punt. He floated the idea by his coaching staff for several days and word trickled down to the players. Veteran long-snapper
Jason Kyle
finally went to Payton and delicately suggested the fake punt might not be a great idea.
"They didn't tell me what I wanted to hear," Payton said. "They told me what I needed to hear."
Payton backed off the idea and special-teams coach Greg McMahon offered a counterproposal. That was the onside kick. Payton grabbed onto that and it worked masterfully.
There's also a little revelation about why the Saints were so late in showing up for media day on Tuesday of Super Bowl week. Payton said that five players --
Tracy Porter
,
Bobby McCray
,
Roman Harper
,
Usama Young
and
Jermon Bushrod
-- missed the team bus that morning. After each of the players made it to the locker room on their own, Payton shut the door and began blistering his team.
"I can smell a team that looks like they're just happy to be in the Super Bowl," Payton said he told his team. "You guys reek of that team."
The Saints quickly stopped reeking and you already know how they went out and won the Super Bowl. Payton shares the details of the postgame joy and how he virtually had to be dragged to the morning-after news conference.
July, 3, 2008
7/03/08
3:24
PM ET
Team
Personal Fouls Since 2001
Personal Fouls vs. Opponents
Differential
Oakland
109
80
-29
Miami
110
85
-25
Chicago
112
89
-23
Tennessee
119
97
-22
Tampa Bay
127
110
-17
NY Giants
119
104
-15
Green Bay
101
87
-14
New England
116
102
-14
Washington
117
103
-14
Jacksonville
93
80
-13
Baltimore
108
96
-12
Detroit
124
114
-10
Arizona
124
115
-9
Philadelphia
105
97
-8
Cleveland
95
88
-7
Atlanta
113
108
-5
Cincinnati
104
100
-4
St. Louis
8
6
87
1
Houston
71
75
4
Dallas
93
101
8
NY Jets
87
96
9
New Orleans
108
117
9
Pittsburgh
86
100
14
Denver
95
109
14
San Diego
92
107
15
San Francisco
93
108
15
Minnesota
85
101
16
Kansas City
89
107
18
Indianapolis
77
99
22
Carolina
107
132
25
Buffalo
99
134
35
Seattle
57
93
36
Posted by ESPN.com's Mike Sando
We move from dirty players to dirty teams to the unfortunate case of the Raiders, whose reputation for making their own rules apparently hasn't tarnished opponents.
Oakland has committed 109 personal-foul penalties since 2001, slightly more than average, but officials have flagged their opponents only 80 times, tied with Jacksonville's opponents for the league low.
The Raiders' differential, minus-29, is the biggest in the league.
We cannot know if the Raiders' opponents are getting a pass or if they are simply on their best behavior when they play Oakland.
Bills fans should have no such worries. Officials flagged Buffalo's opponents for 134 personal-foul penalties over the same span.
Officials flagged Carolina's opponents for 132 such penalties.
Buffalo's plus-35 margin was second-highest in the league behind Seattle's plus-36, a total reflecting the Seahawks' league-low 57 personal-foul penalties since 2001.
We'll break it down by head coaches a bit later (see you there, Bill Callahan).