October, 10, 2013
10/10/13
12:00
PM ET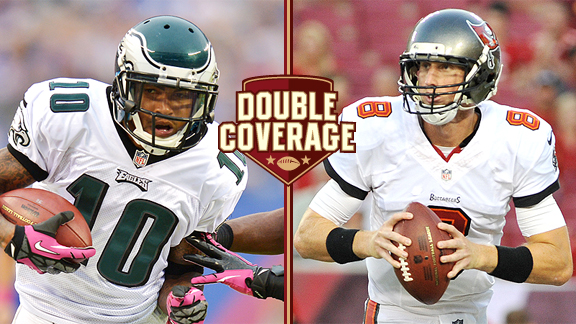 Getty ImagesDeSean Jackson is on pace for over 1,600 yards, while Mike Glennon is looking for his first win as an NFL starter.
TAMPA, Fla. -- Sunday's meeting between the
Philadelphia Eagles
and
Tampa Bay Buccaneers
represents a culture clash of offensive styles.
The Eagles have been making headlines with their fast-paced offense, while the Bucs have been plodding along with a passing offense that ranks No. 32.
ESPN.com Eagles team reporter Phil Sheridan and Bucs team reporter Pat Yasinskas discuss the matchup.
Phil Sheridan:
Eagles fans are familiar with Bucs coach Greg Schiano through his Rutgers and Penn State connections. Has he been able to hold the locker room together through this
Josh Freeman
episode?
Pat Yasinskas:
It has been a challenge and I guess you could say it remains a work in progress. There have been some reports that some veteran players aren't sold on Schiano's old-school ways. He might be a little overboard with his thoughts on order and discipline. But this was a team that was in disarray when he arrived. The Freeman episode was a major distraction, but it's over now. Schiano needs to take this team and move forward from all the Freeman stuff.
Speaking of coaches who have come from college backgrounds, Chip Kelly fits that profile and his offense has generated a lot of headlines. From a distance, it seems as though Kelly's offense has been up and down. What are your thoughts on whether this offense can be successful in the NFL over the long term?
Sheridan:
Talk about a work in progress. We all saw the Eagles burst out of the blocks in that Monday night opener in Washington. We really haven't seen much of the Kelly offense -- uptempo, innovative, aggressive -- since then. The Eagles have the NFL's top rushing offense, but that seems inflated by quarterback
Michael Vick
's rushing yards as well as defenses' willingness to let the Eagles amass yardage as long as it doesn't translate to a lot of points. Meanwhile, it does seem as though the offense wears down in games after trying to push the tempo early. I'm not sure that means Kelly's scheme won't work in the NFL or if he just doesn't have the personnel to run it.
On that note, it's especially tough on a team when one side of the ball is playing at a high level and the other is struggling. How has the Bucs' defense been able to hold opponents to such low-scoring totals?
Yasinskas:
Pitting the defense against the offense is another concern for the Bucs. Their defense has played well, overall, while the offense has struggled mightily. Although no one has griped publicly, I sense that the defensive players are frustrated with the lack of production from the offense. The secondary, the defensive line and the linebackers all have had some very bright moments. But the offense has been dismal. If things continue like they are, it's only a matter of time before there are some ill feelings from the defensive players.
Speaking of the defense, how has Philadelphia's been so far? It seems like all the talk has been about the offense, but we really don't know much about the defense.
Sheridan:
Talk about a work in progress -- oops, did I already say that? Kelly hired Bill Davis to install a 3-4 defense with a bunch of new starters (three quarters of the secondary, plus
Connor Barwin
), or old starters at new positions (
Trent Cole
, especially). The defense was OK in the opener, terrible for long stretches against San Diego, Kansas City and especially Denver, then OK again against the Giants on Sunday. There are no real playmakers, the kind who keep offensive coordinators up at night, but overall, this group seems to be jelling a bit better. The equation this year always had the offense producing enough points to carry a developing defense. So far, the offense has let down the defense.
Other than he's tall,
Mike Glennon
is an unknown to people around here. Can he play on this level or do you sense the bigger plan is to get through this season and find a quarterback in the draft?
Yasinskas:
The jury is very much out on Glennon. But Schiano has liked Glennon since he tried to recruit him out of high school and would like to make things work. Glennon is the kind of quarterback Schiano likes -- he's a rah-rah, fiery leader (something Freeman was not). Perhaps more importantly, Glennon has the big arm that Schiano covets. Schiano's core offensive philosophy is to run the ball well and take some deep shots with the passing game, so Glennon fits the profile of what Schiano is looking for in a quarterback.
Speaking of quarterbacks fitting in, how much different should we expect Philadelphia's offense to be with
Nick Foles
playing in place of Vick?
Sheridan:
I won't use the work-in-progress joke again because I'm better than that. Kelly swears it is the same offense regardless of who is playing quarterback. That is what we football insiders technically call balderdash. Kelly went with Vick because the veteran still represents a serious threat to run the ball, which in turn gives Kelly's read-option the edge it needs. Foles can move in the pocket and elude a pass rush, but his mobility doesn't translate to 20-yard read-option runs. But he does get the ball out more quickly in a rhythm passing game, so it will be interesting to see if the receivers who haven't been open for Vick -- talking
Riley Cooper
,
Jason Avant
and the tight ends -- are more involved if Foles plays.
.
January, 22, 2013
1/22/13
9:35
AM ET
Let's take a morning look at the top headlines from around the division:
ATLANTA FALCONS
Although tight end Tony Gonzalez has said it's likely he'll retire, the team is hoping he
returns for another season
. I still don't think that's out of the question. Gonzalez played at a very high level and looks like he could continue to contribute. Some teammates have been lobbying Gonzalez. But I think he'll take a month or so to back away from the game and then make a final decision on what he wants to do.
CAROLINA PANTHERS
The team reportedly
interviewed
Bill Davis for its vacancy at linebackers coach. But Joseph Person also writes that the Panthers are expected to meet with Brian VanGorder, who spent four seasons as Atlanta's defensive coordinator before moving to Auburn.
NEW ORLEANS SAINTS
Defensive coordinator Steve Spagnuolo said he's
looking forward
to the return of head coach Sean Payton from suspension. Although Payton is known almost exclusively as an offensive mind, Spagnuolo said he thinks the head coach will bring plenty of ideas on how to fix a defense that allowed more yards than any defense in NFL history.
TAMPA BAY BUCCANEERS
Stephen Holder takes a look at some of the
cornerback prospects
at the Senior Bowl. It's no secret the Bucs will be in the market for at least one cornerback. But the way this draft appears to be shaping up so far, the Bucs might not get good value at cornerback in the middle of the first round. They might have to address the position beyond the first round.
October, 28, 2009
10/28/09
1:00
PM ET
| | |
| --- | --- |
| | |
| | Getty Images |
| | Kurt Warner's Cardinals and Jake Delhomme's Panthers have gone in different directions since their playoff meeting last season. |
Posted by ESPN.com's Mike Sando and Pat Yasinskas
The
Arizona Cardinals
did more than knock the
Carolina Panthers
from the 2008 postseason.
Their 33-13 victory in Charlotte delivered a knockout blow from which the Panthers' organization has yet to recover. What should be a Week 8 grudge match between playoff contenders is looking more like a mismatch.
Arizona is 4-2 and riding high following a nationally televised victory over the Giants, the Cardinals' fourth consecutive road victory dating to their divisional-round upset of Carolina. The Panthers are 2-4 and contemplating whether to bench veteran quarterback
Jake Delhomme
, who has more interceptions through six games (13) than he had in 16 starts last season (12).
What happened?
NFC West blogger Mike Sando and NFC South counterpart Pat Yasinskas pick up the discussion.
Pat Yasinskas:
That playoff game changed the momentum for both franchises. Going into that game, the thinking was how the Panthers would thump the Cardinals. Arizona had beaten Atlanta in the wild-card round to get its playoff victory, but the Cardinals were ultimately a 9-7 team from a weak division. They would be no match on the road against a 12-4 team. The upset vaulted the Cardinals toward the Super Bowl while absolutely crumbling the Panthers. Carolina hasn't recovered from it, starting with the quarterback and extending to the defense. The game led to changes on the coaching staff. The Panthers still could have a mental block heading into the rematch at University of Phoenix Stadium.
Mike Sando:
These teams share quite a few similarities. Both re-signed older quarterbacks during the offseason. Both made significant changes to their coaching staffs. Both faced salary-cap limitations in free agency after naming franchise players. The results have been vastly different.
Fateful QB decisions
| | |
| --- | --- |
| | |
| | Chris Keane/Icon SMI |
| | Jake Delhomme and the Panthers haven't been the same since last season's playoff loss to Arizona. |
Pat Yasinskas:
After the playoff game, I personally had some doubts about Delhomme, as did a lot of fans. He threw those five picks and I thought there was a chance they would at least bring in someone to compete with him -- not to replace him, but to compete with him. They did not do that. He had one year left on his deal and they signed him to a contract extension. I understand the loyalty coach John Fox and general manager Marty Hurney felt toward Delhomme because he has obviously done a lot for that franchise and he is a leader in the locker room. But in hindsight, that game against the Cardinals and even a few late-season games last year showed that he was declining and they should have sought out alternatives.
Mike Sando:
The Cardinals had little choice but to re-sign Warner. In the back of their minds, though, they would have been entitled to wonder when Warner might hit the wall. Quite a few other quarterbacks have faded at around age 38. Would Warner be next? He made the trip to San Francisco in free agency, but there was still a sense the Cardinals were bidding against themselves. Committing $22 million to him over two seasons was a necessary risk. In the end, Arizona could not walk away from the quarterback who put them ahead in the final stages of Super Bowl XLIII. The Cardinals made the right move.
Coaching turnover
Pat Yasinskas:
I think the playoff debacle against Arizona contributed to a rift on the Panthers' coaching staff over the direction of the team. Defensive coordinator Mike Trgovac decided he no longer wanted to be a coordinator. His departure started a near-total disbandment of the defensive staff. Line coach Sal Sunseri left for the University of Alabama. Linebackers coach Ken Flajole bolted to become defensive coordinator for the Rams. Secondary coach Tim Lewis left for the Seahawks. On the offensive side, Delhomme's longtime position coach, Mike McCoy, became offensive coordinator in Denver. Fox had passed over him for the same position on his staff a couple of years earlier. Some on the staff felt McCoy should have gotten that job.
| | |
| --- | --- |
| | |
| | Jason Bridge/US Presswire |
| | Kurt Warner has thrown for 1,672 yards and nine touchdowns this season. |
Mike Sando:
The Cardinals had a good thing going on the offensive staff when coordinator Todd Haley left to coach the Chiefs. I think Arizona is still sorting through the aftermath of that one. Haley and Warner were tight. Haley knew how to push players' buttons. He called the plays and the offense was in a rhythm. The offense is still finding its identity a little bit. On defense, Whisenhunt failed to land Keith Butler from the Steelers after firing coordinator Clancy Pendergast. He promoted linebackers coach Bill Davis instead. Either way, the defense was going to become more straightforward, with an emphasis on reducing big plays allowed. It's still too early to pass judgment on Davis, but the defense has played very well recently. Overall, Whisenhunt is certainly on the rise, whereas there's a perception Fox has possibly run his course in Carolina.
Pat Yasinskas:
Absolutely, Mike. There's a sense of that.
Julius Peppers
asked out after last season, shocking given that Fox is supposedly a defensive wizard. There was precedent for this.
Kris Jenkins
asked out for two years before Peppers did. People shrugged and said Jenkins was a flake. But when Peppers, who was born and raised in North Carolina, asked for the same, it raised some eyebrows. Fox used to build his team around the defensive line and suddenly you had the two cornerstones of that line asking to get out of there. That tells you something pretty major right there.
Salary-cap limitations
Pat Yasinskas:
Franchising Peppers cost about $18 million total in cap space. The Panthers re-signed tackle
Jordan Gross
to a long-term deal. With those moves, they tied up their cap to a point where they could not do anything else. They did not sign any free agents. They had to let veteran cornerback
Ken Lucas
go. They could not even re-sign veteran snapper
Jason Kyle
, even though the savings for letting him go was only $600,000. That severely affected their depth across the board, which was demonstrated when defensive tackle
Ma'ake Kemoeatu
went down with an injury on the first day of training camp and there were no decent replacements behind him. The Panthers have struggled on the interior of their defensive line ever since. They bragged coming into the season that they had 21 of 22 starters back, but the salary-cap issues meant they had absolutely no depth behind those starters.
Mike Sando:
The Cardinals charged $9.678 million against their cap by naming
Karlos Dansby
their franchise player. They paid more than $10 million per year to Warner.
Larry Fitzgerald
was already making that kind of money. Re-signing
Adrian Wilson
ate up another huge chunk of cap room, although some of that seemed by design. Arizona did manage to sign cornerback
Bryant McFadden
from the Steelers in free agency. When defensive end
Antonio Smith
left in free agency for $8 million a year, the Cardinals plugged in second-year player
Calais Campbell
, who has played well. Again, the Cardinals' moves have simply worked out better.
Divergent outlooks
Pat Yasinskas:
I think we're seeing the end of the Fox era in Carolina. The Panthers still have talent, but Delhomme appears finished. It's time to blow up the roster and rebuild.
Mike Sando:
The Cardinals are a good team with the potential to get better. The Cardinals were 4-2 at this point last season heading into their 30-24 regular-season defeat at Carolina. They should beat the Panthers this time. The rest of the schedule sets up favorably. Some of the games that once appeared toughest this season -- at Seattle, at the Giants, at Tennessee -- are either in the bank already or looking like they will be.