March, 30, 2010
3/30/10
6:03
PM ET
TAMPA, Fla. -- It's obvious we can't be at every pro day around the country. But there was one almost literally in the backyard of NFC South Blog headquarters on Tuesday, so I went and checked it out.
My main purpose was to work ahead on an upcoming column on University of South Florida defensive end
Jason Pierre-Paul
that will come out as we get closer to the draft. But I took down a bunch of observations that I'll share with you now.
Read into this whatever you want, but the three head coaches I spotted out there were Tom Coughlin, Marvin Lewis and Lovie Smith. Head coaches generally don't show up to watch potential late-round picks.
I didn't see an NFC South head coaches or general managers out there. But I did see New Orleans defensive line coach Bill Johnson. He helped lead some of the drills. Not sure Pierre-Paul's going to last anywhere near where New Orleans is scheduled to pick at No. 32. But South Florida had another defensive end, George Selvie, working out and he could be around in the third or fourth round.
Speaking of NFC South defensive line coaches in attendance, I also spotted Carolina's Brian Baker. Carolina doesn't even have a first-round pick at the moment, so I don't think Pierre-Paul was the main reason Baker was there. He might have been checking out Selvie.
Safety Nate Allen didn't run the 40-yard dash. He said he passed because he's not completely healthy. But he did the other drills and said he believes he fared well.
Besides the head coaches mentioned above, I saw a few other dignitaries out there – Tampa Bay personnel executive Doug Williams, mega-agent Drew Rosenhaus (he represents Pierre-Paul), new South Florida coach Skip Holtz, Cincinnati defensive coordinator Mike Zimmer and Cleveland defensive coordinator Rob Ryan.
Nice move by South Florida quarterback Matt Grothe to full take part in the workout. Grothe suffered a major knee injury last season. He worked out with a bulky brace on his left knee and his throws didn't appear all that spectacular. But this was a kid who came in with doubts about his height and arm strength even before the injury. He had nothing to lose by working out. In fact, he probably scored some attitude points just by showing up. Grothe is a long shot to even get to camp with an NFL team and admitted he may have to head to the Canadian Football League. But he's got a private visit with the Bucs coming up in less than two weeks and the workout might have reminded some teams Grothe is out there.
February, 4, 2010
2/04/10
1:00
PM ET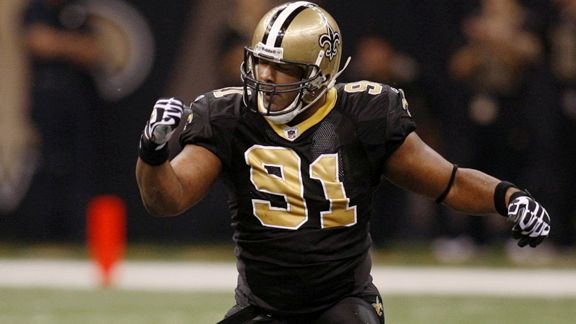 Chris Graythen/Getty ImagesSaints defensive end Will Smith, often labeled an underacheiver, had 13 sacks this season.
MIAMI –- The defensive line coach of the
New Orleans Saints
and his best player got into an argument about numbers Tuesday.
Relax, Bill Johnson and
Will Smith
were just having some fun, sending messages back and forth through a reporter during Super Bowl XLIV week.
"The one thing I'll admit is I feel bad that we've overworked Will,'' Johnson said. "He wound up playing close to 800 snaps. The next highest guy on the defensive line was somewhere between 500 and 600.''
"Eight hundred snaps?'' Smith asked, looking shocked. "I played 1,000 snaps. Actually, I think the exact number was 1,008. You go tell him that.''
Johnson was gone by the time the reporter came back.
"You couldn't find him?'' Smith asked a few minutes later. "That's all right. I'll tell him 1,008. It was no 800, I can tell you that.''
The actual number of snaps can be hashed out between Smith and Johnson. The point is that Smith was on the field a lot, and, after being labeled as an underachiever at various points in his career, the defensive end produced what easily was his best season.
"I've always liked to rotate guys a lot,'' Johnson said. "But he's a hard guy to take off the field because he does everything so well. I think the most impressive thing was his stamina. If you go back and really look, I think you'll see that he was at his most productive in the fourth quarter and there aren't a lot of guys like that. I went against my instincts on the rotation thing with him. But I think it was the right move.''
[+] Enlarge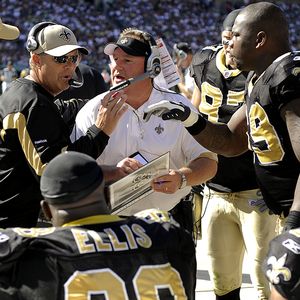 Howard Smith/US PresswireWill Smith said defensive line coach Bill Johnson, center, and defensive coordinator Gregg Williams, left, were a "big part" of his career season.
There's almost no doubt about that. Former Denver Broncos assistant Johnson took over as Saints defensive line coach in January 2009, about when Gregg Williams became the defensive coordinator. It's no coincidence Smith responded with a career-best 13 sacks.
"I definitely think it was my best season,'' Smith said. "Working with Bill and Gregg was a big part of it. I went out and accomplished the things I wanted to accomplish, like getting more sacks, more hits and more pressures on quarterbacks.''
This might be the first time Smith has been able to reflect on a season in a totally positive light. It's also the first time there hasn't been room for critics. A first-round pick out of Ohio State in 2004, Smith and defensive end
Charles Grant
, another former first-round pick, have been frequent targets for fans and media when things haven't gone well for the Saints. Both have had their flashes of brilliance, but they've been better known for inconsistency.
After recording 16 sacks in his first two seasons, Smith seemed to turn the corner in 2006, when he had 10.5 sacks and made the Pro Bowl. But, then, his production took an unexpected drop. Smith had only seven sacks in 2007 and just three in 2008, despite starting all 32 games spanning those two seasons.
"I had heard the stories or the rumblings or whatever you want to call them before I got here,'' Johnson said. "Basically, the word was that he was an underachiever and didn't work that hard. But I never saw that. Right away, I could see he was more athletic than I expected and all I saw was a guy who wanted to do well. All I saw was a guy who came to work every day.''
If Smith seemed more athletic than in the past, there's a reason for that. Soon after Williams and Johnson were hired, Smith went on a diet.
"I knew we were going to be a faster defense,'' Smith said. "I knew I had to get faster.''
Smith went out and dropped 12 pounds, playing most of this season at about 282 pounds.
"I changed what I ate,'' Smith said. "It's hard to just give up cheeseburgers and pizza and things like that, but I knew I had to do that to get faster. I used to eat anything. Now, I just eat what I know is right for me. That really allowed me to play my game and I realize now that I wasn't really playing my game before.''
The Saints defense went from being very bad in 2008 to being pretty good in 2009, and that improvement is one reason why they are in the Super Bowl. Most of the attention has gone to a secondary that underwent a big personnel overhaul in the offseason. But Smith might have shown the most improvement of any defensive player who was with the Saints last year.
He did it so quietly that he didn't get selected to the Pro Bowl. But fans, coaches and teammates noticed that Smith emerged as New Orleans' best pass rusher and -- this season –-- there was no talk about him underachieving. If anything, Smith played up to his potential.
"I'm a defensive lineman, and as a defensive lineman you love to pass rush,'' Smith said. "I think, with Gregg and Bill here, we got more serious about rushing the passer. And I know that I was more ready to rush the passer because I was lighter and faster. I was able to do what I love to do this year and that made it fun.''
Smith's numbers might reflect the fact that he was on the field so much, but he prides himself on endurance. Smith said he played about 80 percent of the defensive snaps through the earlier part of his career, and he wasn't happy when Johnson and Williams came in and started talking about cutting down his playing time.
"Bill and I got into a lot of fights early on,'' Smith said with a laugh. "He wanted to use me about 40 snaps a game and I didn't like that. But the way it worked out, we were having some close games and I'd end up getting about 70 or 80 snaps and that just started becoming a regular thing.''
Part of that was because Grant got banged up and reserve end
Anthony Hargrove
had to slide inside after the Saints had some injuries at defensive tackle. There wasn't a lot of depth after that. Besides, Smith started playing so well that the Saints needed him on the field as much as possible.
"The only guy I've ever played close to this much was
Patrick Kerney
when I was in Atlanta,'' Johnson said. "I really never planned to do this with Will, but it just kind of worked out this way. He's a complete defensive end, who can play the run and rush the passer, so you almost want him out there all the time. That can wear some guys out and make them less effective. But that never happened with Will. In fact, it seemed like he got better the longer he was out there.''
Smith said that was largely because of his weight loss.
"I really took a lot of pride in my conditioning this year,'' Smith said. "I felt so much better without the extra weight. There was a change in the overall attitude of this defense to be more aggressive and there was a change in my attitude to just go out there and keep battling the whole game.''
Whether it was 800 snaps or 1,008 snaps or somewhere in between, Smith made the most of every one.
August, 31, 2009
8/31/09
6:23
PM ET

Posted by ESPN.com's Pat Yasinskas
So much for the comeback attempt by defensive tackle
Rod Coleman
in New Orleans. It's over before it ever really got going. The Saints just announced they released Coleman as they trimmed their roster to 75 players.
It was an admirable attempt by Coleman, who spent last year out of football and thought he had something left in the tank. And it was nice of defensive line coach Bill Johnson, who was with Coleman in Atlanta, to clear the way for another try.
If Coleman had anything left, it would have been a win-win situation for the player and the team. But Coleman never was able to flash the form that once made him a Pro Bowler. The Saints would have been thrilled if he did, but they weren't counting on a lot from Coleman and have plenty of alternatives on the defensive line.
The Saints also waived cornerback
Greg Fassitt
and receiver
D'Juan Woods
.
August, 7, 2009
8/07/09
12:00
PM ET
Posted by ESPN.com's Pat Yasinskas
METAIRIE, La. -- To find the one New Orleans Saints' defensive tackle who's been to the Pro Bowl, you need to look at the roster, instead of the practice field.
Look closely because Rod Coleman is surrounded by a bunch of other names on that roster. You see his name on there and you look out on the field for the guy who used to roll up double-digit sacks and you don't really see him yet. He's very quiet on the field, which isn't really Coleman's nature.
| | |
| --- | --- |
| | |
| | Scott Boehm/Getty Images |
| | Rod Coleman spent a year away from football. The Saints hope he has something left in the tank. |
But talk to him and you quickly realize Coleman might still be Coleman before all is said and done. He still likes to talk and he still has that confidence that carried him through nine very productive seasons with the Oakland Raiders and Atlanta Falcons.
After a year out of football -- a year in which Coleman thought he was retired -- he still has the gift of gab. The Saints, and Coleman, are hoping he's still got the gift of being able to terrorize quarterbacks. Nobody is sure what Coleman, who turns 33 on Aug. 16, has left. But his comeback story is intriguing and it's certainly not dull. That's something Coleman has never been.
"Few players can do what I'm trying to do,'' Coleman said after Thursday afternoon's practice in temperatures above 90 degrees. "I want to be the exception to that because it seems like I've always been the exception. I came into the league and I was undersized and always had knocks against me. My whole career was all about proving people wrong, so this should be no different.''
This is really a no-lose situation. If Coleman can give the Saints, who are trying to rebuild a defense that has been putty the last two seasons, anything, he'll be happy and they'll be happy.
For now, Coleman is just happy being back on a football field. That's a location where he hasn't been for a while and, even when he was last there, he wasn't even close to happy.
Coleman's last season was 2007. It was in Atlanta, where the sky was falling. Michael Vick's legal troubles were just starting to play out. Coleman was so banged up that he played in only five games. Around him, the Falcons were crumbling. Losses were piling up and Bobby Petrino's ill-fated tenure as coach was wearing heavily on Coleman.
"I just wasn't ready to play after that because of all the stuff that happened in Atlanta, unheard of stuff with the coach quitting on you,'' Coleman said. "They hired a college guy to coach men and he just quit and left us hanging. It was just a stressful situation. A few teams called me last year, but I just didn't have it in me.''
The Falcons officially cut ties with Coleman, releasing him in February 2008, after new coach Mike Smith took over. Coleman thought that was the end and focused on spending his time on business ventures and with his sons.
"I was done,'' Coleman said. "I wanted to put my retirement papers in, but my agent told me to hold off and wait. I wasn't even watching games. I was busy with my sons and was just completely away from the game. Then around Christmas time, around playoff time, I watched a few games and I started getting the itch again.''
Was there one particular moment that brought the itch back and prompted Coleman to start working out and working toward a comeback? Not really. It's better than that.
"Just watching games did it,'' Coleman said. "Watching the interior play, it seemed like the sacks were down. Warren Sapp was gone and John Randle and all the great interior linemen. There were no more left. It was like the whole league just wanted big body guys, like it all disappeared within one year. That was part of motivation to come back and show that some guys still can make plays on the inside.''
Coleman got in touch with the Saints, who had just hired Bill Johnson as their defensive line coach. They had Sedrick Ellis and Kendrick Clancy as their starters, but not a lot beyond that, and they remembered the guy who put up 22 sacks between 2004 and 2005 and agreed to give him a shot.
It's still too early to tell if Coleman can be a starter, a situational player or even make the roster. But it's definitely worth a look.
"I think he's doing well,'' coach Sean Payton said. "He's getting in shape. He's a guy that played at a high level in Atlanta. Bill Johnson had some experience in coaching him at Atlanta and we felt like he was worth the opportunity to look at and see if he can get his body back and get in the shape we think he can. We think he still has some miles left. So far, he's been able to battle through it. I think he's handling things well. We'll get a chance to see in the preseason how he's doing."
The preseason games are going to be Coleman's real chance to see if he can still play.
"We're just trying to see what I've got left,'' Coleman said. "I mean, 10 years, it's supposed to be over. But I'm not ready for it to be over.''
It's not over yet and don't bet against Coleman because you just might lose.
"I've got to prove it to myself, the organization and the whole NFL,'' Coleman said. "Everybody's like, 'He's done. He's washed up.' My mindset is that I'm going to go out there and prove them wrong.''
May, 13, 2009
5/13/09
2:30
PM ET
Posted by ESPN.com's Pat Yasinskas
Ray Hamilton, Brian Baker, Bill Johnson, Todd Wash and Robert Nunn have more in common than being defensive line coaches in the NFC South.
They also might face the biggest challenges of any coach on their individual staffs this season. There's a common theme through all the NFC South teams this year -- the defensive lines have to get better.
That's going to be largely up to the guys in charge of the defensive lines. Here's a look at the NFC South defensive line coaches and the challenges they face.
ATLANTA FALCONS

Ray Hamilton. He's a veteran and has long been recognized as being one of the best in the business. Hamilton did a fine job last year as veteran end John Abraham had a huge season and the Falcons were able to get by with the aging Grady Jackson in the middle of their line. But the Falcons had almost no pass rush outside of Abraham and Jackson is now gone. That brings new challenges for Hamilton. He's worked very hard this offseason with underachieving end Jamaal Anderson and there's hope Anderson can emerge in his third year. But the Falcons have Chauncey Davis as an insurance policy and drafted a project in Lawrence Sidbury. In a perfect world, Anderson steps up, Davis plays a role and Sidbury can be groomed as an eventual replacement for Abraham. Hamilton's also got a lot of work to do in the interior. Jonathan Babineaux has emerged as a very solid tackle, but Hamilton will have to break in rookie Peria Jerry next to him.
CAROLINA PANTHERS

Brian Baker. He's new to the Panthers and so is most of the defensive staff. Baker has a fine resume and has gotten big results out of Leonard Little, Robert Porcher, Luther Elliss and Kevin Williams in his previous stops. That's a good start because the coaching of the defensive line has been a controversial issue for the Panthers for most of John Fox's tenure. Once upon a time, the Panthers had Julius Peppers, Mike Rucker, Kris Jenkins and Brentson Buckner up front and they were coached by Mike Trgovac, who was regarded as one of the best defensive line coaches in the game. But Trgovac moved up to coordinator in his second season. That led to the hiring of Sal Sunseri as defensive line coach and some raised eyebrows around the league. A lot of people thought Sunseri, who was new to the NFL and had a background with linebackers, wasn't ready for the position and was hired because he was Fox's friend. Some players on the defensive line also held that view and the perception never went away. For reasons that haven't been fully explained, Jenkins asked out and got traded to the Jets, and Peppers still is asking out. Sunseri left after the season to coach at Alabama. Baker inherits a group that doesn't have nearly the talent level the Panthers once did, even if Peppers stays. He's going to have to coach up rookie Everette Brown very quickly and get some role players to overachieve. In the old days, Fox's teams were built around the defensive line. That's no longer the reality, but Baker has to bring this unit up to a respectable level.
NEW ORLEANS SAINTS

Bill Johnson. This was a critical hire as the Saints, once again, overhauled their defense and brought in coordinator Gregg Williams and a bunch of new personnel. Johnson's inheriting a group with lots of talent, but some players who haven't consistently lived up to their potential. It's Johnson's job to draw that from them and he'll start with defensive ends Charles Grant and Will Smith. In his first season with Denver, Johnson helped second-year pro Elvis Dumervil get 12.5 sacks. There's no reason why Smith and Grant both shouldn't be around the double-digit mark in sacks. One way Johnson will try to help those two is to give them some help from the inside, and the Saints have the potential to get that from second-year pro Sedrick Ellis, who had a solid rookie season. But Johnson's not counting on just Ellis. He helped bring veteran Rod Coleman out of retirement. There's history with Johnson and Coleman. They worked together in Atlanta and Coleman produced 28 sacks in their time together. Coleman's age may prevent him from being the force he once was, but he gives Johnson another guy who can make things happen up front.
TAMPA BAY BUCCANEERS

Todd Wash and Robert Nunn. Wash is coaching the defensive ends and Nunn is handling the defensive tackles. That combo approach is probably a good thing because the Bucs need all the help they can get up front. The defensive line was a major player in last year's late-season collapse, and there will be at least two new starters as end Kevin Carter and tackle Jovan Haye have left the team. Wash's main task is to get third-year end Gaines Adams to be more productive. There's talent there, but Adams needs to add some moves to go with his physical skills. Nunn's got to get young tackles Roy Miller and Dre Moore ready quickly because Chris Hovan didn't look like he had a lot left at the end of last season, and Ryan Sims and Jimmy Wilkerson are role players. New coordinator Jim Bates is bringing a whole new scheme to the Bucs, but that transition should be helped by the fact that Nunn worked with Bates in Miami and Green Bay.
February, 10, 2009
2/10/09
2:40
PM ET
Posted by ESPN.com's Pat Yasinskas
Again, thanks for flooding the mailbag. There literally were over 100 questions just on the Saints and a similar number on the Falcons, whose mailbag will be coming later today. Obviously, I can't answer every single question. So I went with ones that represented what you wanted to talk about most.
Here we go:
David in Vancouver writes: Assuming Mike McKenzie comes back 100% from his latest injury, do you see the Saints attempting to transition him to Free Safety ?
Pat Yasinskas: Mike McKenzie's health is a big question at this point. He did a great job coming back from a knee injury last year. But he was hit by bad luck and tore up his knee again. He faces a long recovery and he is going to be 33 in April. If he can get back on the field, I think a move to safety might be wise for McKenzie and the Saints. Free safety Kevin Kaesviharn didn't have a good year last season and the Saints clearly need to upgrade in free agency. Again, assuming McKenzie can get healthy, I don't think a transition to free safety would be too difficult for a sharp veteran like him.
---
Gordon in New Orleans writes: Think Charles Grant & Will Smith will feel bulls eyes on their backs this training camp, or was their play the scapegoat?
Pat Yasinskas: I think defensive ends Charles Grant and Will Smith should feel some pressure. They're both very talented, but they didn't play anywhere near their potential last year, although injuries played a role in that. I suspect new defensive coordinator Gregg Williams and defensive line coach Bill Johnson will try to late a fire under them. If, Grant and Smith can start producing, I think New Orleans could have a pretty good pass rush. I like Bobby McCray as a pass-rush specialist in the No. 3 defensive end role and I saw signs last year that rookie defensive tackle Sedrick Ellis can generate a push in the middle.
---
Ryan in New Orleans writes: What positions on defense do you think the saints will try to upgrade in the draft and free agency? What players would they look to get in the draft and free agency?
Pat Yasinskas: That's a pretty long list. We mentioned free safety above and I think cornerback also is a priority. I liked what I saw out of Tracy Porter before he got hurt last season. But I think the Saints need another top-notch corner. I also think it might be time to bring in another defensive end to help push Grant and Smith. Another defensive tackle to go with Ellis also would be nice. Assuming the Saints are able to re-sign middle linebacker Jonathan Vilma and outside linebacker Dan Morgan is able to come out of retirement and stay healthy, the Saints aren't in bad shape at linebacker. Scott Fujita and Scott Shanle need to make the plays they're supposed to, but I think adding one more young, speedy linebacker would help. Free agency and the draft right now are a bit of a challenge for the Saints. As of the moment, the Saints are over the salary cap. They'll do some trimming to get under, but I don't think they'll have a lot of money to play with, so I think they'll focus on some mid-level guys. They're also in a strange spot with the draft because, as of this moment, they only have four draft picks.
---
Tyler in Reynoldsburg Ohio writes: What are the Saints going to do with only a 1st round pick in the first 3 rounds and their salary cap all out of whack with people like Vilma, Moore,and Jahri Evans needing resigned? i know deuce needs to go or retire for cap space but what about restructuring Smith's and Grant's monster contracts?
Pat Yasinskas: Although the cap situation is far from ideal, it's not a disaster. General manager Mickey Loomis is a smart guy and he knows how to work the cap and there are plenty of ways to free up space. The Saints likely will release some players (Deuce McAllister) and that will help. Restructuring contracts of some veterans also is a common and painless way to free up money. The Saints should be able to do some of that and have enough room to re-sign their own guys. But, again, don't expect them to be big spenders in free agency.
---
Aaron in London writes: Do you see New Orleans Saints with a questionable secondary making a play for Leigh Bodden after his release. Bodden is a young press cover corner who would fir the Saints scheme perfectly. His stock is down due to an inept franchise and playing in a zone scheme that mis-cast him. I think Bodden could be the bargain of the off-season. If not the Saints, where will his likely destination be? I'm worried the savvy Patriots in need or corner help may snap him up and transform Bodden into a pro bowler.
Pat Yasinskas: I like Leigh Bodden as a player and someone like him could help solve a lot of problems. He's definitely a possibility, but a lot depends on what kind of interest there is in him around the league. As we've said several times, the Saints aren't in a position to spend big money on a free agent. If they could land Bodden at a reasonable price, though, I think that would be a nice move.
---
Gerald in Jennings, Louisiana writes: Hey Pat, loved your article all year. I'm looking forward to reading more. With the offense that the Saints possess, it seems if we can get consistent on the running game our offense will be able to carry us to the SuperBowl. The main concern for the Saints is there defense. I personally believe we have some of the personnel on defense to be a top 15 unit, but I feel its our scheme that hurt us the most. What are your thoughts on the Saints and there chances of reaching the SuperBowl with Gregg Williams running our defense?
Pat Yasinskas: I think Sean Payton might already have made his best move of the upcoming season by hiring Gregg Williams. The Saints clearly had problems on defense last year. They do have some talent in place and they'll add more in the offseason. But I think the biggest thing is attitude and approach. Williams is known for having an aggressive defense and I think he'll push some players who haven't been pushed before. If the Saints can just get their defense to be average, they can be a very good team.
---
Jarrod in morgan city,La writes: With the Saints having the number one offense in the NFL this year and not making it to the playoffs. Do you think that this could be attributed to play calls? (third/forth and short not using D.
McAllister). Wouldn't it seem plosible to move R. Bush to a slot reciever position, making P. Thomas your premiere running back and holding on to D. McAllister for one more year as a third down back?
Pat Yasinskas: I'm with you on using Pierre Thomas as the main back and using Reggie Bush as more of a receiver. But I truly don't think Deuce McAllister will be back. I know that's painful and difficult for Saints' fans to accept. But Payton barely played McAllister last year. I just don't think he figures into Payton's plans. I think the Saints will add a short-yardage back through free agency or the draft.
---
Tom in South Carolina writes: Do you expect Dan Morgan, after sitting out basically 2 years due to injury and retirement, to make a major impact and make a run for a starting spot, or will he more likely only be a serviceable backup and veteran leader, assuming he is healthy?
Pat Yasinskas: Obviously, there's no guarantee Dan Morgan can stay healthy. But I will say the Saints would get a huge boost if Morgan comes back and can stay on the field. I covered Morgan throughout his career and I don't think people truly realize how great a player he was, when he was healthy. The Saints have nothing to lose and everything to gain if Morgan comes back.
January, 10, 2009
1/10/09
9:14
PM ET
Posted by ESPN.com's Pat Yasinskas
CHARLOTTE, N.C. -- There's some movement on the coaching staffs of the NFC South teams that aren't playing tonight.
The Saints reportedly have hired Bill Johnson to coach the defensive line. He previously was with the Broncos.
The Bucs have lost linebackers coach Casey "Gus'' Bradley, who has been hired as Seattle's defensive coordinator. That loss isn't a big surprise. Bradley's contract was up in Tampa Bay. But here's the kicker: Joe Barry, the former Tampa Bay linebackers coach who seemed like the logical replacement for Bradley, won't be staying. Barry is going to Seattle as a member of Bradley's staff.
January, 1, 2009
1/01/09
12:04
PM ET
Posted by ESPN.com's Pat Yasinskas
There's a very interesting story in the New Orleans Times-Picayune about Saints coach Sean Payton being relieved that defensive line coach Ed Orgeron has left for the University of Tennessee.
Payton should be relieved because it allows him to begin making improvements to a defense that really needs them. Orgeron, who was a cornerstone to last year's offseason defensive overhaul, didn't really work out. He came with a reputation as being a great college defensive line coach, but he wasn't able to draw the potential of a talented New Orleans defensive line.
Although rookie defensive Sedrick Ellis had a promising season, defensive ends Will Smith and Charles Grant weren't able to produce a steady pass rush, and the Saints had a bunch of injuries to their other defensive tackles.
The line was underachieving even before it became obvious that Orgeron wanted out and rumors started flying about him going to Tennessee or LSU. There's no doubt that was a distraction.
The Times-Picayune also reports former Denver defensive line coach Bill Johnson may be the top candidate to replace Orgeron. Payton needs to get this hire right this time because he's got a defensive line that has some talent, but needs to produce.