January, 16, 2013
1/16/13
8:13
AM ET
As the media waited to hear from coach Mike Smith after Atlanta's victory against Seattle this past Sunday, a television played in the news conference room next to the Falcons' locker room in the Georgia Dome.

Falcons owner Arthur Blank was waiting with the media. He didn't seem to react when one television announcer went ahead and declared the
San Francisco 49ers
a prohibitive favorite over the Falcons in the NFC Championship Game and another broadcaster instantly agreed. Maybe that's because Blank, like so many Atlanta fans, is used to his team getting sold short.
But let's interrupt all the talk about how wonderful the 49ers are with this PSA (Positive Stat Atlanta): It's been more than a little while since the 49ers have won a playoff game on the road.
We're not counting Super Bowls in neutral stadiums. To find the last time the 49ers won a playoff game on the road, you have to go back to the 1988 season.
On Jan. 8, 1989, the 49ers defeated the
Chicago Bears
, 28-3, at Soldier Field. Bill Walsh was coaching the 49ers at that time.
Oh, one more PSA: The last time the 49ers played a postseason game in the Georgia Dome was at the end of the 1998 season. The Falcons won that game, 20-18, and eventually went on to the Super Bowl.
November, 17, 2011
11/17/11
3:23
PM ET
TAMPA, Fla. -- Coach Raheem Morris is taking a lot of heat from the media and from Buccaneers fans these days. That's totally natural.
[+] Enlarge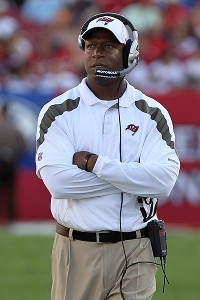 Kim Klement/US PresswireBucs' head coach Raheem Morris is under contract through 2012.
When your team is on a three-game losing streak and coming off an embarrassing loss to Houston, you're not going to be the most popular guy in town. Throw in the fact that the Bucs came into this season looking like a very promising young team after going 10-6 last season. Then, add the fact that they're sitting at 4-5 this season and facing the Super Bowl champion Packers in Green Bay this Sunday, and there is bound to be some criticism.
There was a general observation by fans and media, later confirmed by Morris, that the Bucs (or at least a fair amount of them) didn't play hard in the loss to Houston. If that continues the rest of the season, it will not reflect well on Morris.
There even have been suggestions that Morris could be on the hot seat. That's at least possible if the Bucs don't finish the season well. But let's put the raw emotions aside for just a minute and look at some facts and the bigger picture.
Morris is under contract through 2012. The Bucs initially signed him to a two-year contract with an option for 2011 and 2012. They picked up that option.
For the moment, let's ignore the current losing streak and the fact that the Bucs seem to have some big issues. Let's look only at the numbers of what Morris has done in his first three seasons, and then compare that to what some prominent coaches have done in their first three seasons.
Morris is 17-24. That's' not great, but Morris already has more wins than some very big names had in their first three seasons as a head coach. Tom Landry had nine wins. Jeff Fisher had 16. Chuck Noll had 12 and Mike Shanahan had 16.
Morris and the Bucs still have seven games left to play. That means he's in striking distance of the win totals put up by Bill Belichick (20), Bill Walsh (21), Marv Levy (19), Bill Parcells (22) and Dick Vermeil (18) in their first three seasons.
For the sake of comparison, let's see what the other current NFC South coaches did in their first three seasons. New Orleans' Sean Payton was 25-23. Atlanta's Mike Smith was 33-15. Carolina's Ron Rivera is in his first season and is 2-7, but predecessor John Fox was 25-23 in his first three seasons.
So Morris isn't far out of line with what some big-name coaches did in their first three seasons. But he certainly could look a lot better if the Bucs stop their slide and have a strong finish.
Below is a sampling of what some prominent coaches did in their first three seasons.
February, 7, 2010
2/07/10
2:17
PM ET
MIAMI -- Already, there's an NFC South flavor to the Super Bowl and we're not even talking about the
New Orleans Saints
yet.
One thing I've tried to do this week is give you a bit of a behind-the-scenes glimpse into how things work at the biggest show in sports. The Saints may be the only NFC South team playing in this game, but the other three franchises have people working the game.
Just a few minutes ago, I had the opportunity to run into Charlie Dayton, the dean of NFC South public relations directors, and several branches of his version of the Bill Walsh coaching tree. Dayton, who has been with the
Carolina Panthers
since before they played their first time, spent a little time catching up with me and Ted Crews, who, as best anyone can figure, is the only P.R. director to endure two 1-15 seasons.
Crews joined the
St. Louis Rams
as the main man last season after spending his career with the Panthers and Falcons. Crews said the Rams' season wasn't nearly as miserable as the 1-15 season the Panthers endured under George Seifert in 2001. In that season, there was no hope for Carolina fans and a coaching legend fell apart. At least the Rams are young and have room to grow.
Also in the media room is DeeDee Mills, who has worked for the Panthers since the start. She, Dayton and Crews will be helping the media throughout the day and night. The
Atlanta Falcons
also have Brian Cearns here and I've seen an intern from the Buccaneers helping out.
There's another behind-the-scenes NFL connection to this game: That's Carolina's Brandon Beane, who basically handles all travel and logistical issues for the Panthers. Beane was brought in by the league to help out with logistics throughout the Pro Bowl and Super Bowl.
Some other NFC South dignitaries I've run into throughout the week include
Tampa Bay Buccaneers
co-chairman Bryan Glazer, current ESPN broadcaster and former Carolina and Tampa Bay receiver Keyshawn Johnson and current ESPN broadcaster and former Tampa Bay quarterback Trent Dilfer. Atlanta coach and Mike Smith and general manager Thomas Dimitroff also have been making the rounds.
February, 5, 2010
2/05/10
7:15
AM ET
MIAMI -- There has been a lot of talk this week about where Sean Payton's style of coaching comes from.
[+] Enlarge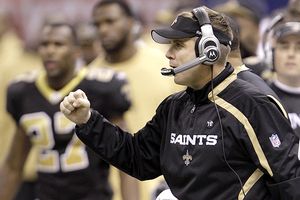 AP Photo/David J. PhillipPlayers describe Payton's style as "balanced."
He spent time with Bill Parcells, Jon Gruden and Jim Fassel. But Payton really isn't a clone of any one of those coaches. The best way to describe him might be that he's a blend of all those guys and even a few others he never worked for.
"I know that Jon (Gruden) worked under Mike Holmgren, and my first years in Philadelphia were really coming up in that system and cutting my teeth on the terminology," Payton said. "The systems in our league and how you call plays vary. There's probably three or four different strains, if you will. And yet they end up being more just like computer programs. You can get the same play design, the same type of play. One system might call it a word and the other system might use a number. In the end, that just becomes merely the language.
"The key to a good offense is deeper than that. That being said, Jon was with Holmgren in Green Bay, and Mike was with Bill Walsh. When a terminology carries through coaches, there are always tweaks and changes to it. I would say there's a portion of it there, and some of it from Dallas."
Payton's offensive roots might stem from guys like Gruden, Fassel, Holmgren and Walsh. But don't underestimate the influence of Bill Parcells, who Payton worked for in Dallas. Parcells had a reputation for being a bit of a control freak and often came across as surly.
Although Payton isn't as extreme, he does have some of those qualities and some recent columns have described him as arrogant. The reports detailed how he and the Saints repeatedly tried to ban a reporter from a New Orleans Web site, even though the NFL repeatedly advised them against such a move.
That may be one side of Payton, but he also has been described as a players' coach at times this week. He doesn't like that at all.
"The whole players' coach thing … I cringe a little bit," Payton said. "I'm not going to describe myself -- it would probably be better for a player to (do so). I think it's important that you're demanding. I think it's important that you're fair. I think you don't want to settle for anything less than exactly what you're looking for. It's not our job to be the players' friend. It's our job to teach and motivate, give them a plan to be successful and make tough decisions.
"I think what's important is that at some point, we are also selling a game plan offensively and defensively and kicking game, and selling a system and creating that confidence within the team. I think those are all things that are important. So I don't know how they'd describe me."
Well, it wasn't hard to find out how players describe Payton. As soon as his press conference ended Thursday, we put the question to veteran linebacker Scott Fujita.
"Sean's more balanced than any coach I've ever been with and I've been with some great coaches, like Parcells," Fujita said. "Sean balances things really well and has such a good sense of knowing his team and what it needs. He's a young coach and he's in touch. He's got young kids and he can understand what we're going through at home with young kids. He's perfectly in tune with our needs and our obstacles."
Balance might be the best word to describe Payton's style. He's not a true players' coach, but he's not a Parcells replica either. He's somewhere in between and that might represent the best of all worlds.