January, 9, 2013
1/09/13
5:26
PM ET
Time for an afternoon look at some odds and ends from around the division:
TAMPA BAY BUCCANEERS
Scott Reynolds
mentions
Florida State cornerback Xavier Rhodes, LSU linebacker/defensive end Barkevious Mingo and Texas A&M defensive end Damontre Moore as players the Bucs could target with the No. 13 overall pick in the draft. A lot can change with the college all-star games and the combine. But I don't think it's a stretch to expect the Bucs to look long and hard at a bunch of defensive prospects.
NEW ORLEANS SAINTS
General manager Mickey Loomis had a season
wrap-up session
with the local media. There were a fair amount of questions about the future that he couldn't touch. But Loomis did say that contracts have been offered to the assistant coaches whose deals are expiring. There have been reports that offensive coordinator Pete Carmichael Jr. and offensive line coach Aaron Kromer no longer are under contract. Carmichael has interviewed for the spot as the head coach in Chicago.
The Saints made the
official announcement
that coach Sean Payton has signed a contract extension. The two sides agreed to the terms of a deal more than a week ago, but it took some time to work out the final details.
CAROLINA PANTHERS
The Panthers have hired Dave Gettleman as their general manager. I'll have analysis on this shortly.
ATLANTA FALCONS
Defensive end John Abraham (ankle) and safety William Moore (hamstring) each
practiced on a limited basis
Wednesday. Coach Mike Smith said he expects both players to be ready for Sunday's playoff game with Seattle.
January, 5, 2013
1/05/13
4:33
PM ET
The Carolina Panthers' search for a general manager won't be limited to the borders of the United States.

Long-time Canadian Football League general manager Jim Popp is getting some attention and likely will be one of five or six candidates to interview for the job next week, according to league sources. Although Popp has spent the bulk of his career in Canada, he does have some ties to the Carolinas.
He's a native of Elkin, N.C., and also was an assistant coach at The Citadel and the University of North Carolina. Owner Jerry Richardson is a North Carolina native, and has always shown a willingness to hire people from the Carolinas.
The Panthers also reportedly will talk to Dave Gettelman, Marc Ross and George Paton, and there has been one report that they also could be interested in Lake Dawson.
But, as I've been saying, don't rule out the possibility of Richardson simply promoting interim general manager Brandon Beane. Although Beane doesn't have a deep scouting background, he's a longtime Carolina employee, who worked his way up through the ranks to become the right-hand man of former general manager Marty Hurney and had been taking on added responsibilities in recent years. Beane already knows the landscape in Carolina, and has a good relationship with Richardson.
Saturday's news that Ron Rivera will
stay as the coach
also could work in Beane's favor. Rivera and Beane worked well together, and the Panthers won the final four games of the season and got contributions from several players Beane signed.
January, 5, 2013
1/05/13
1:34
PM ET
Ron Rivera is staying as the coach of the
Carolina Panthers
, but that doesn't mean he's off the hot seat.
Owner Jerry Richardson's Saturday decision to keep his coach means Rivera will enter the 2013 season on a seat that might be the hottest in the league. Richardson wants to win, and he wants to win immediately.
[+] Enlarge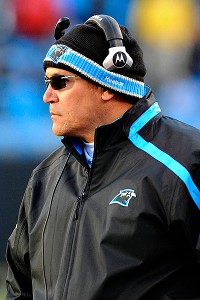 Sam Sharpe/US PresswirePanthers coach Ron Rivera will have to win next season with a roster that won't be bolstered much in free agency.
The only NFL owner to have played in the league is very impatient because the Panthers haven't had a winning season since 2008 and haven't won a playoff game since 2005. So why does Richardson think Rivera can get the job done in 2013?
There's no doubt Richardson likes the fact that Rivera and the Panthers finished 2012 on a four-game winning streak. Richardson also must believe that Rivera can turn around his early-season trend of losing close games.
I can see Rivera turning things around and getting the Panthers to the playoffs, which would be the only way he'll keep his job for 2014. But it's not automatic.
Rivera probably will have to tweak his coaching staff a little bit. I've heard the chemistry on the offensive coaching staff wasn't great. Rivera also is going to have to change his ways a little bit, perhaps becoming a bit more aggressive, and it wouldn't hurt him in the eyes of the fans to become just a bit more animated on the sideline.
But the biggest thing Rivera needs to do is get more out of the players who stay on his roster. The Panthers face a
salary-cap nightmare
, and lots of veterans are going to have to depart just to get the Panthers under the cap in mid-March.
The Panthers aren't going to be players in free agency. Their cap situation means the only way they can add any talent to the roster will be through the draft.
That means they have to get more out of the players who stay on the roster. But I still can see the nucleus for a playoff team.
Guys such as quarterback
Cam Newton
, linebacker
Luke Kuechly
, defensive end
Charles Johnson
, center
Ryan Kalil
and running back
Jonathan Stewart
still are going to be around. They'll have to step up and be better than ever, and so will some other guys.
If that happens, Rivera will be just fine. If not, the Panthers will be looking for his replacement at this time next year.
Now that Rivera is set, the Panthers have to hire a new general manager. There's talk that Dave Gettleman, Marc Ross and Lake Dawson are candidates from the outside, and there could be others.
But I think there's at least a decent chance interim general manager Brandon Beane could become the permanent general manager, although that might come with some restructuring of the personnel department. The Panthers already have pro personnel director Mark Koncz, college scouting director Don Gregory and salary-cap manager Rob Rogers in place, and each is competent. But fans might not be very happy if the Panthers simply elevate Beane and stick with what they have. I can see a situation in which Beane is promoted but someone with a strong personnel background is brought in to oversee the personnel department.
However the Panthers structure things, they have to win in 2013 because Richardson isn't going to be patient any longer.
January, 5, 2013
1/05/13
10:11
AM ET
Carolina Panthers
owner Jerry Richardson reportedly is
meeting
with Ron Rivera on Saturday, but that doesn't mean the coach's fate is going to be decided immediately.

Indications are that Richardson wants to hear what lessons Rivera learned from a 7-9 season and what personnel and staff changes he wants to make. In other words, it's almost like Rivera is interviewing for his job. If he can convince Richardson he can win big next season, he'll stay. If not, he'll go.
But I'm not expecting Richardson to make the decision immediately. I think he'll listen to Rivera and then take a little time to make a decision. But Richardson can't wait too long, especially if he is going to make a change. Other vacancies are being filled and the pool of candidates is shrinking.
Plus, deciding Rivera's fate isn't the only major issue Richardson is facing. He also has to decide on a general manager. Interim general manager Brandon Beane is expected to get an interview. Several personnel executives from around the league (Dave Gettelman, Marc Ross and Lake Dawson) also are likely to be interviewed. And at least one candidate that was not employed by an NFL team this season already interviewed before the season ended.
Richardson has moved very slowly on all this. But at least he and Rivera are finally sitting down to talk. Again, I don't think that means a decision will come Saturday. But, at least this is a step toward some clarity on who will coach the Panthers in 2013.
January, 4, 2013
1/04/13
2:32
PM ET
The passion of NFC South fans never ceases to amaze me.
Although the Falcons don't play until next week (and we don't know yet who they'll play) and the other three teams are done for the season, Friday's NFC South chat was even more active than a lot of our chats during the regular season.
Let's take a team-by team look at some of the highlights:
ATLANTA FALCONS
Johnny B/ sw Florida [via mobile]:
Do you feel that Mike Smith's approach for the week 17 game against the Bucs was more about staying sharp than actually (to the dismay of Herm Edwards) "winning" the game? Does that bode well for falcons starters in the divisional round or does this loss cause regression?
Pat Yasinskas:
Don't think it will cause regression. If anything, it might have been a bit of a wake-up call.
Thomas (ATL):
Think
Harry Douglas
could have more catches if the o-line gave Ryan more time to go through his progressions. With Jones, White and Gonzo, hea??s usually a last ditch effort.
PY:
Yeah, but might also be because Jones, White and Gonzo always get open.
Jeremy Cartersville GA [via mobile]:
What do the falcons do at RB in the off season this feels like turners last year?
PY:
No doubt it's Turner's last year with Falcons. They'll bring in an RB to go with Rodgers. Just don't know if it will be through draft or free agency.
CAROLINA PANTHERS
justin (Woodruff South Carolina):
hey pat, honestly do you feel that ron rivera will return to the carolina panthers in 2013 and with the same coaching staff?
PY:
I'm not saying that's the right call, but it is what I think is going to happen. However, I think there probably will be some changes on the coaching staff. Not necessarily the coordinators.
Paul (Charlotte):
Hi Pat, what do you know about Brandon Beane's background? Does he have scouting experience? Don't want a Hurney re-tread in Charlotte.
PY:
Brandon Beane is a great guy. But, no, no scouting experience. He's been their logistics guy -- setting up travel, setting up training camp, etc.
mike (greensboro):
pat, why would panthers let williams go? look what he did when stuart got hurt (which is always!). i like stuart, but williams, even with a big contract is a better runner in my opionon
PY:
I've said all along I think Williams is better than Stewart. But the fact is they need salary cap room. They can get it by letting Williams go. They'd lose cap room if they let Stewart go.
NEW ORLEANS SAINTS
Ronen (México):
Is it only me or did you also see flash of greatness in the young Akeem Hicks, for a third round in a awful defence, he had some good plays right?
PY:
He certainly showed some promise. One of the few bright spots for that defense.
Mookie (Snellville):
I know it's Spagnuolo's first year, but in my mind 7,042 yards given up in his first season means he has to get fired. I don't want this team, while trying to figure out Spags defense, ruin the 4 years Brees has left on his contract, Any chance they take that into consideration and fire him ?
PY:
I think anything is possible on that one. That story that came out the other day certainly didn't reflect well on Spags.
Davis (Virginia):
It seems like the Saints have lots of needs on defense and another WR and have no cap room, what is the best we can hope for next year?
PY:
Difference between the Saints and Panthers is there are reasonable ways for the Saints to free up some cap room. They're not completely buried under long-term contracts. Loomis will get them to a spot where they can at least bring in some free-agent help.
TAMPA BAY BUCCANEERS
Brandon (Vancouver):
I really can't believe how many Buc fans are calling for Freeman's head because he had two bad games. The Bucs didn't make the playoffs this year because our secondary and pass rush were awful.
PY:
I'm with you on that. Freeman was far from perfect. But, at times, he did some good things. That team had much bigger problems in other places.
Kevin (Tallahasseee):
Greg Schiano seems to be a reincarnation of Ray Perkins...Perkins was also known to run his teams ragged and the teams fade throughout the season.
PY:
Yeah, but it's not quite the same. Perkins was doing three-a-day practices in training camp. The new rules don't allow Schiano to do anything close to that.
Mario (Tampa):
But in Tampa, isn't there a lack of leadership in Freeman? I know there are problems in other areas, but starts from QB, don't you think?
PY:
Lack of leadership??? Never seen or heard anything to suggest that about him. You certainly can question his play, but not his leadership.
Here's the
complete transcript
of Friday's NFC South chat.
January, 4, 2013
1/04/13
11:07
AM ET
It's sounding more and more to me like owner Jerry Richardson, not a new general manager, will be the one to decide if Ron Rivera remains as coach of the
Carolina Panthers
.

Rivera
Joseph Person reports the
much-awaited meeting
between Rivera and Richardson will take place this weekend. This is just my hunch, but I don't think Richardson is heading into that meeting with any decision already made. If he had already decided Rivera wasn't coming back, I think the coach already would have been fired.
I think this will be a meeting where Rivera is asked what he learned from this season and what changes he has planned for staff and personnel if he stays. If Richardson likes what he hears, I think there's a good chance Rivera, who won his final four games to finish 7-9, will stay.
According to Person, a choice on a general manager won't come until after Richardson and Rivera meet. Interim general manager Brandon Beane is a candidate to take over the position on a permanent basis. New York Giants' executives Marc Ross and Dave Gettelman also reportedly will interview and Person reports
Tennessee Titans
personnel guru Lake Dawson also could be a candidate. The Panthers also interviewed at least one candidate, who is not presently employed by another team, before the regular season ended.
Richardson is moving very slowly, but that might not be a bad thing. He clearly is agonizing over the Rivera decision. That's understandable because Richardson likes Rivera and there have been some signs he can be a successful head coach, but the results so far haven't been spectacular.
It's going to be up to Rivera to use this weekend to convince Richardson he can get the Panthers to take the next step.
December, 31, 2012
12/31/12
6:22
PM ET
At least for the moment, the
Carolina Panthers
are proceeding with business as usual.
Earlier Monday, coach Ron Rivera, whose future with the team has been the center of much speculation, addressed the media and said he hopes to keep his job. Rivera said he expects to meet with owner Jerry Richardson soon.
As of Monday night, interim general manager Brandon Beane also still appeared to be acting as the general manager. Several writers covering the Chic-fil-A Bowl in the Georgia Dome have told me Beane's name is on the seating chart in the press box.
Apparently, Beane will be scouting the game between LSU and Clemson. Beane is a long-time team employee, but his previous role focused much more on logistics, such as team travel and making training camp arrangements, than on personnel matters.
But I've been told not to be surprised if Beane ends up as the permanent general manager. Beane may not have the deep football background, but Richardson may view him as someone who can be a strong administrator that can act as a go-between among coaches, the personnel and salary-cap departments and the business side of operations.
It still is possible Richardson could go outside for a general manager. There have been reports he wants to talk to New York Giants' executives Dave Gettleman and Marc Ross. But I also think it's possible the Panthers stick with what they have.
December, 28, 2012
12/28/12
4:27
PM ET
We held our final NFC South chat of the regular season on Friday (don't worry, we'll still do the chat for all of the postseason and most of the offseason). Let's take a look at some of the team-by-team highlights.
ATLANTA FALCONS
Anthony (NJ):
Would the Falcons make
Matt Ryan
the highest paid nfl player if he wins a playoff game?
Pat Yasinskas:
I think so. He's put himself in line for that and a postseason win (or two) would only seal the deal.
Kevin (Valdosta, Ga):
Pat- Any chance Mike Smith loses his job if the Falcons are one and out in the playoffs?
Pat Yasinskas:
I don't think so. The man has won a ton of regular-season games. However, if that does happen, he then is under enormous pressure to win big in 2013 season.
CAROLINA PANTHERS
Rod (Tarboro):
If Ron Rivera is let go, do you think the panthers will be the desirable team that coaches will be aiming for?
Pat Yasinskas:
Absolutely. There's a potential franchise QB already on the roster and a fair amount of other talent. And Charlotte is a good place to live.
JM (Charlotte ):
Have you heard who is being considered in the panthers gm search?
Pat Yasinskas:
Dave Gettleman is the one name I keep hearing. But I've also been told not to be surprised if they make interim GM Brandon Beane the permanent GM.
NEW ORLEANS SAINTS
matt(tupelo) [via mobile]:
I think we all know big changes are coming to the saintswhich big name do you see gone first?
Pat Yasinskas:
Vilma and Smith would free up a lot of cap room.
Casona (Houston):
Aside from getting Payton in the fold, what are the Saint's priorities in the offseason?
Pat Yasinskas:
Overhaul the D-line, improve the secondary and get some younger legs at WR. Also, have to make a big decision on if they're going to pay Bushrod or get a left tackle somewhere else.
TAMPA BAY BUCCANEERS
RJ (Ft. Drum, NY):
Pat, do you think this could be it for Freeman, or do they give him one more season. There is really nobody coming out in the draft. Or, could they maybe go after Flynn or Vick?
Pat Yasinskas:
Think they give him one more season. But could bring in a better alternative than Orlovsky.
Phil (West Palm Beach):
Now that Jackson and Nicks have restructured their contracts and with the impending releases of Trueblood, Black, and Wright (since he voided his contract and doesn't count against the cap next year), will they sign any major free agents?
Pat Yasinskas:
They're going to have some room to work with. Not sure it will be as dramatic a free agency period as last year, but think they'll be reasonably active.
Here's the
complete transcript
of Friday's NFC South chat.
December, 17, 2012
12/17/12
4:35
PM ET
I just arrived back at NFC South blog headquarters, so let's take a quick run through some headlines from around the division:
ATLANTA FALCONS
Coach Mike Smith needs to shut down Roddy White's Twitter account. White, who has a history of offending people on Twitter,
criticized
Jeff Green of the Boston Celtics. I stopped following the NBA after Larry Bird, Robert Parrish and Kevin McHale left the Celtics and find the NBA quite boring these days. But the last thing I want to hear is White's opinion on anything outside of football. And I'm not even sure that letting White share his opinions on football is a very good idea.
Center/guard Joe Hawley will
return to the team
Tuesday after serving a four-game suspension for violating the NFL's policy on performance-enhancing substances. I wouldn't count on Hawley's return making much difference. Hawley is a guy the Falcons once hoped would be the eventual replacement for veteran center Todd McClure. But I don't think the team's hopes for Hawley are too high these days.
CAROLINA PANTHERS
Tom Sorensen writes that a lot of people within the Panthers' organization believe that the season could have gone in a totally
different direction
if the Panthers had held on in and won against the Falcons in the Georgia Dome in a game in late September. The fact is the Panthers didn't win that game and it put their season into a downward spiral. They won the rematch with Atlanta, they won on Sunday at San Diego and, if they finish their season with strong performances in the final two games, coach Ron Rivera stands a good chance of keeping his job.
A group of Panthers' fans took out a
full-page ad
(there's no indication center Ryan Kalil was involved in this one) in The Charlotte Observer on Monday, imploring owner Jerry Richardson to get rid of Rivera. I'm happy to see advertising money flowing to any newspaper at a time when the industry is struggling. But I'm not so sure the plea carries much weight. Like I said above, I think there's a decent chance Rivera keeps his job. I also think there's a growing chance interim general manager Brandon Beane moves into that role on a permanent basis.
NEW ORLEANS SAINTS
Jeff Duncan writes that there still is a very
remote chance
the Saints could make the playoffs. It would take something close to a miracle. But, hey, if it doesn't happen, maybe the Saints can file another appeal.
Nakia Hogan writes that Sunday marked the
first time
a defense coached by Steve Spagnuolo ever shut out an opponent. That's great. But don't get too excited. Tampa Bay was dismal on offense and that might have had as much to do with the shutout as anything the Saints did.
TAMPA BAY BUCCANEERS
Quarterback Josh Freeman said that a team that got shut out by the NFL's worst defense still is "
unified
.'' I don't think the Bucs are in complete disarray like they were under former coach Raheem Morris at the end of last season. But I think new coach Greg Schiano needs to get better results out of his team in the final two games or else the Bucs will face a very long offseason. Schiano's hard-line approach seemed to work nicely early in the season, but what's happened recently makes you wonder if his methods are wearing thin on his players.
November, 1, 2012
11/01/12
4:12
PM ET
You can forget all that speculation about the
Carolina Panthers
trading running back
DeAngelo Williams
or even receiver
Steve Smith
.
"We are not trading anyone," interim general manager Brandon Beane
told The Associated Press
shortly before Thursday afternoon's trade deadline.
This might not have been Carolina's choice alone. Williams' contract might have scared off potential trade partners. There might not have been any serious offers or the Panthers might not have wanted to deal with the acceleration of Williams' bonus money against the salary cap.
In the case of Smith, there were reports the Panthers fielded some calls about the veteran receiver. But Smith said Wednesday he wants to spend the rest of his career with the Panthers. Given Smith's strong relationship with owner Jerry Richardson, I don't think the team would have considered trading Smith against his wishes.
Smith still is playing a vital role as the No. 1 receiver. Williams has lost his starting job to
Jonathan Stewart
. Since Williams is going to be around the rest of the season, it might be wise for the Panthers to at least give Williams a chance to continue to get some playing time in a rotation with Stewart.
February, 7, 2010
2/07/10
2:17
PM ET
MIAMI -- Already, there's an NFC South flavor to the Super Bowl and we're not even talking about the
New Orleans Saints
yet.
One thing I've tried to do this week is give you a bit of a behind-the-scenes glimpse into how things work at the biggest show in sports. The Saints may be the only NFC South team playing in this game, but the other three franchises have people working the game.
Just a few minutes ago, I had the opportunity to run into Charlie Dayton, the dean of NFC South public relations directors, and several branches of his version of the Bill Walsh coaching tree. Dayton, who has been with the
Carolina Panthers
since before they played their first time, spent a little time catching up with me and Ted Crews, who, as best anyone can figure, is the only P.R. director to endure two 1-15 seasons.
Crews joined the
St. Louis Rams
as the main man last season after spending his career with the Panthers and Falcons. Crews said the Rams' season wasn't nearly as miserable as the 1-15 season the Panthers endured under George Seifert in 2001. In that season, there was no hope for Carolina fans and a coaching legend fell apart. At least the Rams are young and have room to grow.
Also in the media room is DeeDee Mills, who has worked for the Panthers since the start. She, Dayton and Crews will be helping the media throughout the day and night. The
Atlanta Falcons
also have Brian Cearns here and I've seen an intern from the Buccaneers helping out.
There's another behind-the-scenes NFL connection to this game: That's Carolina's Brandon Beane, who basically handles all travel and logistical issues for the Panthers. Beane was brought in by the league to help out with logistics throughout the Pro Bowl and Super Bowl.
Some other NFC South dignitaries I've run into throughout the week include
Tampa Bay Buccaneers
co-chairman Bryan Glazer, current ESPN broadcaster and former Carolina and Tampa Bay receiver Keyshawn Johnson and current ESPN broadcaster and former Tampa Bay quarterback Trent Dilfer. Atlanta coach and Mike Smith and general manager Thomas Dimitroff also have been making the rounds.

NFC SOUTH SCOREBOARD
Friday, 8/22
Saturday, 8/23