NFC South:

Brandon McDonald
February, 12, 2013
2/12/13
3:52
PM ET
The knock on Tampa Bay defensive tackle
Gerald McCoy
in his first two seasons was that he couldn't stay on the field.
Arm injuries ended each of McCoy's first two seasons prematurely and there was talk the former No. 3 overall draft choice was a bust.
Funny, but McCoy, who was selected to his first Pro Bowl, barely came off the field in 2012. He took part in 939 of Tampa Bay's 1,078 defensive plays. McCoy's 87.11 playing-time percentage ranked second among all NFL defensive tackles. Only San Francisco's
Ray McDonald
had a higher percentage (90.85).
Here's a look at the rest of the playing-time percentages for Tampa Bay's defensive players.
December, 12, 2012
12/12/12
9:23
AM ET
Time for a run through the Wednesday morning headlines from around the NFC South:
ATLANTA FALCONS
Mark Bradley makes an
excellent point
when he writes that the fact the Falcons already have clinched the NFC South title essentially puts them into another preseason. But the Falcons can't afford to look at it that way. They still need to wrap up the No. 1 seed throughout the NFC playoffs, and they need to build some momentum as they head into the playoffs.
CAROLINA PANTHERS
The team placed safety Haruki Nakamura on
injured reserve
. That gives the Panthers 16 players who are out for the season. That's two short of last season's franchise record.
NEW ORLEANS SAINTS
Jeffri Chadiha writes that coach Sean Payton is the person
most responsible
for the whole bounty scandal. I'd put former defensive coordinator Gregg Williams up there, too. But Chadiha's point is that Payton's arrogance set a tone in which an unhealthy culture grew out of control, and I think that's a pretty accurate assessment of this sordid affair.
Jonathan Vilma has until Wednesday afternoon to decide if he wants to continue with his
defamation lawsuit
against NFL commissioner Roger Goodell. Vilma's attorney said Tuesday that his client plans to continue with the suit, but we'll see what happens in the next few hours.
TAMPA BAY BUCCANEERS
Just in time for Christmas, the Bucs announced they're
cutting prices
on about 35 percent of their seats for next season. The team also said prices won't increase for the other seats. Smart move by a team that's only had the local television blackout lifted for two home games this season.
Cornerback Brandon McDonald, who was with the team earlier in the season, was
re-signed
. McDonald should provide some depth after Myron Lewis was placed on injured reserve.
November, 6, 2012
11/06/12
4:29
PM ET
We've got a few minor transactions that have come out around the division in the last little bit.
None quite rose to the level of an individual post, so let's throw them all together and go through them:
November, 1, 2012
11/01/12
5:08
PM ET
The
Tampa Bay Buccaneers
traded away their best cornerback Thursday, which may sound like a risky move.
But I'll go ahead right now and cast a vote for Mark Dominik for general manager of the year simply for getting something
via trade
in return for the troubled
Aqib Talib
. The Bucs also sent their seventh-round pick along with Talib to the Patriots and said their compensation is New England's fourth-round pick in 2013, which is about three rounds higher than I would have expected. Dominik deserves praise for getting
anything
in exchange for this guy.
[+] Enlarge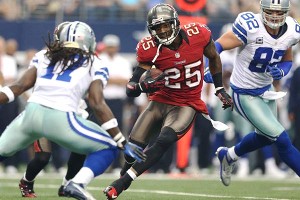 Matthew Emmons/US PresswireTampa Bay dealt cornerback Aqib Talib to the Patriots in a deadline deal on Thursday.
Heck, Talib isn't even eligible to play for the Patriots right away. He still has one game left on his four-game suspension for violating the NFL's policy on performance-enhancing substances. In a statement released by the Bucs when the suspension was announced, Talib said he took Adderall without a prescription.
There also has been a Fox Sports report that Tampa Bay's other starting cornerback,
Eric Wright
, soon will face a similar suspension for using the same substance. If that's true, it may seem risky to go ahead and trade Talib, but it's not.
This was a move that was long overdue. And, even though coach Greg Schiano previously said Talib would be back with the Bucs after the suspension, you knew it wouldn't be for long. Talib's contract is scheduled to end at the end of the season and I'm pretty sure the Bucs simply would have let him walk into free agency.
From the moment the Bucs hired Schiano, you knew he and Talib were the oddest couple since Oscar Madison and Felix Unger. When
Kellen Winslow
and
Tanard Jackson
quickly were shown the door, I was surprised Talib wasn't with them.
This is a guy the Bucs put up with way too much trouble from in the past. Jon Gruden and Raheem Morris let Talib run amok because he had some talent. But Schiano isn't Gruden or Morris.
He's a coach who doesn't put up with off-field problems. And Talib was a constant problem. He had a well-publicized
incident with a cab driver
, some altercations with teammates and was
charged with assault with a deadly weapon
in Texas, although the charges were later dropped.
At times, Talib would give the media the old song and dance about how he'd grown up and matured. But then he'd turn right around and do something immature. Talib had such difficulty managing his anger, I once saw him come very close to getting into a physical altercation with a member of the local media.
The Bucs might have to rely on young guys like
Leonard Johnson
,
Brandon McDonald
and
Myron Lewis
at cornerback in the short term, especially if Wright does face a suspension.
But the Bucs will be better off in the long run without Talib. Even if they had kept him just for the remainder of this season, there's a pretty good chance they would have faced another headache or two along the way.
This way, the Bucs got rid of a headache and got something in return. That's a win. Let's see how well Talib and New England coach Bill Belichick get along.
By the way, I now have dropped my dysfunction rating on the Bucs in this
earlier column
from 35 percent to 25 percent, in light of the Talib trade.
October, 24, 2012
10/24/12
5:55
PM ET
Time for a look at the day's top headlines from around the division:
ATLANTA FALCONS
There was a time when the matchup between Philadelphia quarterback
Michael Vick
and his former team would have been a huge story. But, as Michael Cunningham writes, it's
more like a footnote
now. Vick hasn't played for the Falcons since 2006. Matt Ryan's been Atlanta's quarterback since 2008. The NFL is a league where time moves quickly. Vick never will be forgotten in Atlanta, but Vick, the Falcons and fans have moved on.
A lot of critics have been saying the Falcons haven't beaten a good team. That's about to change. It's not like the Falcons are about to face the four best teams in the league, but
Mark Bradley
points out
that Philadelphia, Dallas, New Orleans and Arizona are better than what the Falcons already have faced.
Coach
Mike Smith
said defensive tackle
Corey Peters
is progressing as he works to return from a foot injury. But Smith said Peters isn't in
football shape
. If he's not in football shape on Wednesday, I don't know that he'll be there Sunday. It might be another week before Peters plays.
CAROLINA PANTHERS
As we told you earlier, it looked like linebacker
Jon Beason
was
headed for injured reserve
. That now
is official
, according to coach Ron Rivera. Rookie
Luke Kuechly
has played middle linebacker as Beason was banged up in recent weeks and will continue in that role.
Scott Fowler writes that quarterback
Cam Newton
was
more open than usual
when meeting with the media Wednesday. Among the topics of conversation, Newton explained why he's not a fan of Twitter and also said he wished he had done more on the field to keep general manager Marty Hurney from getting fired.
NEW ORLEANS SAINTS
Although the NFL Players Association is asking former NFL commissioner Paul Tagliabue to
recuse himself
as the hearing officer for next week's appeals in the player suspensions in the bounty saga, Andrew Brandt writes that Tagliabue might be the best option for the players. Although Goodell and Tagliabue are close, Brandt points out that they are different in some ways. He also points out that Tagliabue no longer is an NFL employee, which basically is another way of saying the former commissioner is his own man and isn't going to be a puppet.
Sunday will mark Joe Vitt's first game as the interim coach. It also will be a
family reunion
. Denver quarterback Adam Case is married to Vitt's daughter.
There was some good news on the injury front. Tight end
Jimmy Graham
, who missed Sunday's game at Tampa Bay,
practiced on a limited basis
. Vitt said Graham fared well in practice. Fantasy football players: Keep monitoring Graham as the week goes on, but I think there's a pretty good chance you might want to put him back in your lineup.
TAMPA BAY BUCCANEERS
Cornerback
Brandon McDonald
(ankle) is the only player listed as anything worse than probable on the
injury report
for Thursday night's game against Minnesota
Minnesota defensive end
Jared Allen
presents a challenge for any left tackle. But Dory LeBlanc
points out
that Tampa Bay's
Donald Penn
has fared pretty well against Allen in the past.
September, 16, 2012
9/16/12
5:11
PM ET
Thoughts on the
Tampa Bay Buccaneers
'
41-34 loss
to the
New York Giants
at MetLife Stadium on Sunday.


What it means:
I'm not a big believer in moral victories, but what the Bucs did Sunday came about as close to that as possible. They went on the road and took the defending Super Bowl champions right down to the wire. They blew a big lead, but showed plenty of character by rallying to tie the game late on a touchdown pass from
Josh Freeman
to
Mike Williams
. I look at the Bucs and see a team that definitely is way better than last season. But this one showed they haven't turned the corner yet. They're a .500 team right now.
What I liked:
A defense that intercepted
Eli Manning
three times (
Mason Foster
,
Brandon McDonald
and
Eric Wright
each had a pick) in the first half.
What I didn't like:
A defense that, when all was said and done, allowed Manning to throw for 510 yards and three touchdowns. You can win a lot of games when you're scoring 34 points, but not too many when your defense is giving up 41 points.
Free agents paying off:
So far, it looks like Tampa Bay's decision to spend big money in free agency was a wise one. Wright had the big interception and the Bucs finally have given Freeman a true No. 1 wide receiver.
Vincent Jackson
had five catches for 128 yards, including a 41-yard touchdown.
What's next:
The Bucs travel to Dallas next Sunday to play the Cowboys.
September, 11, 2012
9/11/12
6:10
PM ET
It's the players' day off around the NFC South, but some news and notes are still surfacing. Let's take a run through the latest headlines:
September, 5, 2012
9/05/12
12:43
PM ET
Now that we're into the first week of the regular season, the way salary-cap figures for each team are calculated has changed.
In the offseason, only the top 51 figures count against a team's cap. Now, every contract counts and that includes practice squad players and guys who are no longer on the roster, but are counting for outstanding pro-rated bonus money.
I just got a look at where each NFC South team stands under the cap, so let's run through it.
The Falcons are only $1.049 million under the cap. If this team suffers a serious injury and wants to sign a replacement of any significance, it likely will have to restructure a contract or two to free up room. The Falcons are carrying a lot of "dead money," including some that stretches back to guys who haven't played for Atlanta since 2010.
Jamaal Anderson
,
Michael Jenkins
,
Chauncey Davis
and
Ovie Mughelli
are taking up more than $2 million in salary-cap space.
The
Carolina Panthers
are at $5.1 million and some of that is due to smart accounting. Former guard
Travelle Wharton
is costing the team $1.9 million, but the hit for this year is spread out equally for next year. The Panthers do have about $550,000 tied up in former punter
Jason Baker
and kicker
Olindo Mare
and they also lost an injury grievance to safety
Nate Salley
, which is costing them $440,000. The Panthers already are projected to be close to the 2013 cap and would like to carry some of this year's room over to next year.
The
New Orleans Saints
are $8.7 under the cap, but that's misleading. Defensive end
Will Smith
's $5.1 million figure is off the books during a four-game suspension, but comes back on as soon as it's over. Smith also could come back on the books if the NFL Players Association gets a temporary restraining order on his suspension.
Jonathan Vilma
's $3.3 figure isn't counting as he serves a season-long suspension. But, like with Smith, the Saints have to keep room open for him in case he is reinstated, even if it's only temporary.
The
Tampa Bay Buccaneers
have $14.9 million in cap space. That figure doesn't include Wednesday's re-signing of cornerback
Brandon McDonald
and the release of offensive lineman
Derek Hardman
, but those moves likely will have only a minor impact. The Bucs rank third in the league in cap space, but don't call them cheap. They spent a fortune in free agency and front-loaded the contracts of
Carl Nicks
,
Vincent Jackson
and
Eric Wright
. I wouldn't anticipate the Bucs using most of their remaining salary-cap space. They want to carry it over to next year because they already are projected to be close to the 2013 salary cap. Carrying over some of this year's cap space would give the Bucs room to add a few more free agents next year.
September, 2, 2012
9/02/12
12:02
PM ET
Let's catch up on a bunch of roster moves around the NFC South.
-- The
Carolina Panthers
signed veteran defensive tackle
Dwan Edwards
and released defensive tackle
Terrell McClain
. Edwards was a second-round pick by Baltimore in 2004 and most recently was with Buffalo. The release of McClain comes as a bit of surprise. He was pressed into starting duty by injuries as a rookie last season and showed some promise. But the move shows the Panthers want more experience to go with veteran
Ron Edwards
up front.
The Panthers also signed guard
Bryant Browning
, receiver Lamont Bryant, defensive tackle Nate Chandler, receiver Jared Green, tight end Nelson Rosario, running back
Armond Smith
and guard Zack Williams to their practice squad.
-- The
New Orleans Saints
claimed safety
Rafael Bush
off waivers from the
Denver Broncos
and waived safety
Jonathon Amaya
.
Isa Abdul-Quddus
emerged as New Orleans' top backup safety and Amaya wasn't much more than a special-teams player. Amaya's claim to fame was that he came as part of the
Reggie Bush
trade in 2011.
-- The
Tampa Bay Buccaneers
have signed running back
D.J. Ware
and released cornerback
Brandon McDonald
. The Bucs already seemed set at running back with
Doug Martin
,
LeGarrette Blount
and
Michael Smith
. Ware has history with offensive coordinator
Mike Sullivan
from their time together in New York. Makes you wonder if the Bucs might be looking to trade Blount.
The Bucs signed defensive tackle
Corvey Irvin
guard
Julian Vandervelde
and guard/center Cody Walllace. They also released defensive tackle
Wallace Gilberry
and
Cody Wallace
. The fact that the Bucs still are bringing in guards is a strong sign they haven't made a firm decision on how they'll replace Pro Bowl guard
Davin Joseph
, who suffered a season-ending injury.
-- The Falcons signed receiver Drew Davis, tackle Bryce Harris, receiver Marcus Jackson, cornerback Peyton Thompson and defensive tackle Micanor Regis to their practice squad.
August, 20, 2012
8/20/12
5:38
PM ET
Let's make a quick swoop through some NFC South headlines on a day when much of the news involves the Tampa Bay Buccaneers.
December, 5, 2011
12/05/11
10:03
AM ET
NEW ORLEANS –
Drew Brees
was at his best when throwing between the numbers in Sunday night's 31-17 victory against the
Detroit Lions
.
That was probably by design because the Lions were without injured defensive backs
Louis Delmas
,
Chris Houston
and
Brandon McDonald
.
According to ESPN Stats & Information, Brees completed 15 of 18 attempts (83.3) between the numbers. He averaged 12.9 yards on those attempts and threw three touchdowns without an interception.
In Weeks 1 through 12, Brees had completed 71.7 percent of his throws between the numbers and averaged 7.9 yards per attempt while throwing 11 touchdowns and six interceptions.
December, 4, 2011
12/04/11
7:27
PM ET
NEW ORLEANS -- Running back
Chris Ivory
is inactive for Sunday night's game against the
Detroit Lions
.
Ivory is healthy, but the Saints made him inactive last week as well. They've been using
Darren Sproles
,
Pierre Thomas
and rookie
Mark Ingram
in a backfield rotation.
Also inactive for the Saints are receiver
Adrian Arrington
, cornerback
Johnny Patrick
, linebacker
Martez Wilson
, lineman
Will Robinson
, defensive end
Turk McBride
and tight end Michael Higgins.
Linebacker
Jonathan Vilma
, who had been out with a knee injury, is active and is expected to start.
The inactives for Detroit are safety
Louis Delmas
, defensive back
Chris Houston
, quarterback
Drew Stanton
, defensive end
Lawrence Jackson
, guard
Leonard Davis
, running back
Aaron Brown
and cornerback
Brandon McDonald
are inactive.