NFC South:

Brandon Pettigrew
January, 15, 2013
Jan 15
12:00
PM ET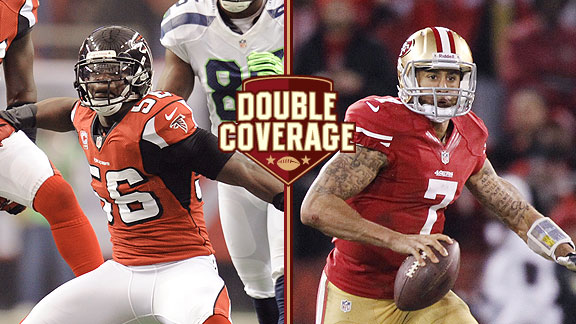 USA TODAY SportsAtlanta and San Francisco will square off Sunday with a trip to the Super Bowl on the line.
Coach Mike Smith, quarterback
Matt Ryan
and the
Atlanta Falcons
finally have that elusive playoff victory. One more home victory stands between them and the Super Bowl after Atlanta outlasted Seattle in the divisional round.
The
San Francisco 49ers
, overtime losers in the NFC Championship Game last year, are back on the verge of their first Super Bowl since the 1994 season. That 49ers team won it all with one of the all-time great ex-Falcons,
Deion Sanders
, playing cornerback for them.
Which team will represent the NFC in the Super Bowl this year? NFC West blogger Mike Sando and NFC South blogger Pat Yasinskas talked through the possibilities.
Sando:
Pat, you just finished watching QBs
Russell Wilson
and Matt Ryan put on a show in the divisional round. If anyone upstaged them in these playoffs, it was 49ers QB
Colin Kaepernick
with his 181-yard rushing performance against Green Bay. Kaepernick had 263 yards passing, two passing touchdowns and two rushing touchdowns. Kaepernick now owns victories over
Tom Brady
,
Drew Brees
and
Aaron Rodgers
in his first eight starts. It's looking like he's going to be the key variable in this game against the Falcons.
Yasinskas:
No doubt, Mike. I'm still trying to process what Kaepernick did against Green Bay, and I'm sure the Falcons are looking hard at that. They have to be worried, especially after what they put on tape against Seattle. They played a great first half, but Seattle QB Russell Wilson exploited them in the second half. The Falcons struggled with QB
Cam Newton
and the read-option offense in the regular season. The Falcons allowed quarterbacks to run for a league-high 8.9 yards per attempt (excluding kneel-downs) this season. Kaepernick can do the read-option, but the 49ers also can turn to RB
Frank Gore
in the traditional running game, and they can throw the ball. That's a scary combination, and defensive coordinator Mike Nolan is going to have to come up with an innovative game plan against the team he once coached.
Sando:
Some NFL coaching people I've spoken with thought the Packers had a horrible plan. Of course, that's easy to say after a team gives up 181 yards rushing to a quarterback. But from this view, it appeared as though the Packers played too much man coverage, turning their backs to Kaepernick and giving him too many free running lanes. Even before Kaepernick became the starter, San Francisco was known around the league for having a higher volume of running plays in its arsenal than other teams do. Kaepernick opens up another dimension. What was the key to Cam Newton's running success against Atlanta this season?
[+] Enlarge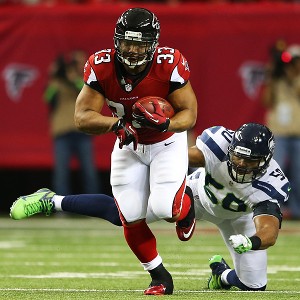 Mike Ehrmann/Getty ImagesMichael Turner averaged 7.0 yards per carry in Sunday's win over Seattle.
Yasinskas:
Newton and the Panthers used the read-option pretty much to perfection against Atlanta. Carolina got the defensive ends and linebackers to commit and Newton made the right calls. He's a unique talent, and so is Kaepernick. But I think San Francisco could present even more of a challenge due to Gore. Atlanta's defense had issues with the read-option. But the Falcons weren't all that great against any sort of running game. The Falcons use a lot of nickel packages, and that may put them at a disadvantage against the run. They might have to use a little more of their 4-3 base defense and keep middle linebacker
Akeem Dent
on the field more.
Sando:
The 49ers' offensive personnel are heavier than just about any other team. That will force the Falcons to play their base defense on early downs. I dug up a couple of numbers from ESPN game charts to illustrate the point. The 49ers' opponents played nickel or dime defense on only 128 first- or second-down plays this season; for the Falcons' opponents, that number was 396. Against the Packers' nickel/dime defenses, Kaepernick carried 11 times for 107 yards, including his 20-yard touchdown run. He carried three times for 76 yards against the Packers' base 3-4 personnel. That included his 56-yard run. The 49ers can present matchup problems from their two-tight end offense because
Vernon Davis
(4.38 40-yard dash) and
Delanie Walker
(4.49) run well. Davis' 44-yard reception against the Packers was a great sign for San Francisco.
Yasinskas:
Yes, I think San Francisco's offense is going to present all sorts of problems for Atlanta's defense. But I think the flip side is that Atlanta's offense is going to present matchup problems, even for a very good 49ers defense.
Roddy White
and
Julio Jones
command a lot of attention. But no defense can overlook tight end
Tony Gonzalez
and slot receiver
Harry Douglas
. Both are dependable and dangerous, as shown on Atlanta's game-winning drive against Seattle. Those are four very solid weapons. And let's not forget the fact that Atlanta's run game came to life against the Seahawks. If
Michael Turner
can show up again, San Francisco's defense is going to have its hands full.
Sando:
The 49ers have sometimes let
Patrick Willis
match up with opposing tight ends. Willis has covered pretty well much of the time, in my view. The 49ers gave up a league-low 613 yards to tight ends, but they ranked only 21st in passer rating allowed (98.5) when opponents targeted the position. San Francisco allowed eight touchdown passes to tight ends. Only five teams allowed more.
Kyle Rudolph
had two scoring catches against San Francisco.
Jermichael Finley
,
David Thomas
,
Brandon Pettigrew
,
Anthony McCoy
,
Anthony Fasano
and
Aaron Hernandez
also caught touchdowns against the 49ers this season. The key for San Francisco will be pressuring Ryan without blitzing. That appears possible now that defensive end
Justin Smith
is back and playing pretty well.
Yasinskas:
Yes, San Francisco's pass rush will be a key to this game. Atlanta's offensive line, which was a problem spot last season, has enjoyed a resurgence this season with the arrival of offensive line coach Pat Hill. He's had the line playing well most of the season, and the unit was particularly good against Seattle. Ryan wasn't sacked and was barely pressured. Hill's biggest accomplishment has been getting a solid season out of left tackle
Sam Baker
. Baker was a first-round draft pick in 2008. His first four seasons were filled with inconsistency and injuries, but he has stayed healthy this season and has played at a high level. The rest of Atlanta's offensive line doesn't have great individual talent. But Hill has this line blocking well for the passing game. The running game has been a different story. Turner had a big game against Seattle. But during the regular season, he wasn't the same back he was in past years. I think part of it is because age is catching up to him, but part of it is because the run blocking wasn't great. Atlanta has made the transition toward being a pass-first team, and the offensive line is much better at pass blocking than it is at run blocking. Still, coach Mike Smith believes it's important to have a running game, and he's going to try to establish one with Turner and
Jacquizz Rodgers
against San Francisco.
[+] Enlarge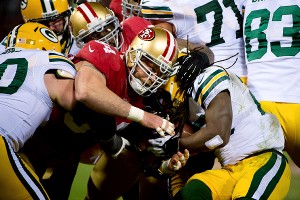 Jose Luis Villegas/Sacramento Bee/MCTJustin Smith turned in a strong performance Sunday in his first game back from a torn triceps.
Sando:
Seattle, despite leading the NFL in fewest points allowed, ranked 30th in yards per rush allowed since Week 7. The Seahawks resorted to risky tactics after losing their best pass-rusher,
Chris Clemons
, to injury in the wild-card round. Seattle simply couldn't get to Ryan without compromising its coverage. Ryan threw an early pick against DB pressure, but after that, he completed 7 of 8 passes for 111 yards and a score when the Seahawks rushed a member of their secondary, according to ESPN Stats & Information. San Francisco rushed a DB just twice against the Packers on Saturday night. Justin Smith's ability to play 91 percent of the snaps for the 49ers following a triceps injury was huge for San Francisco. The 49ers need him. Outside linebacker
Aldon Smith
has 19.5 sacks this season, but none since he had two against Miami in Week 14. The 49ers need the Smiths to pick up where they left off before Justin's injury. That is a key to this game.
Yasinskas:
Yes, Atlanta's offensive line has to give Ryan time to throw the ball. A lot of Ryan's critics say he doesn't have a strong arm. But I think he has plenty of arm strength and he showed that with his long touchdown pass to White against Seattle. The key for Ryan in the deep game is for his offensive line to give him time. The Falcons like to use play-action, and that will help. But I think it also helps the offensive line that this game is in the Georgia Dome, so false starts won't be a problem. You brought up a good point last week in showing that Ryan's statistics haven't been as good at home as on the road. That's true. But the Falcons need to capitalize Sunday on the home-field advantage. This franchise has been around since 1966, but it's the first time a championship game will be played in Atlanta. After years of playing second fiddle to the Braves and college football, the Falcons have become the biggest thing in town. Fans finally are embracing this team, and the noise in the Georgia Dome could be a big help for the Falcons.
Sando:
The 49ers allowed 38 pass plays of 20 or more yards this season. That was tied for third-fewest (Seattle allowed 40, sixth-fewest). I kept waiting for Seahawks safety
Kam Chancellor
to deliver a game-changing hit. It never happened.
Dashon Goldson
and
Donte Whitner
are the big hitters for the 49ers. They need to be tone-setters down the field. I'm really looking forward to seeing how the physical aspect of this game plays out. That's an area where the 49ers need to win. I tend to think they will, as long as Justin Smith can give them 90 percent playing time once again. How do you see this one going?
Yasinskas:
The 49ers probably are the more physical team, and I was very impressed with how they played overall against Green Bay. But following a hunch, I'm taking the Falcons 31-27. I think putting an end to the playoff-win drought will allow Atlanta to be loose and relaxed, especially in the case of Ryan. Playing at home also helps. Atlanta's defense needs to show up for 60 minutes this time. If it does, I think Atlanta has enough offensive firepower to score points even against a good defense and win this game. I see the Falcons going to the Super Bowl for only the second time in franchise history.
Sando:
I'm not sure if I feel better or worse about the Falcons after watching that game against Seattle. The Seahawks had zero pass rush and I think that was the difference in the game, particularly at the very end. Looking ahead to Sunday, the Falcons have the more accomplished quarterback, but so did the Packers and Patriots and Saints. Kaepernick beat them all. I would give the Falcons the edge at receiver despite
Michael Crabtree
's development. Atlanta has the better kicker. I'd give the 49ers an edge on the offensive and defensive lines, at linebacker and in the secondary. We were talking about Tony Gonzalez earlier. Great player, but would he even start for the 49ers? Not over Vernon Davis, crazy as that sounds. San Francisco is better at running back, too. Maybe the Falcons will pull out another wild one at home, but I just think the 49ers are better. I'll take them to win it 30-17. If the Falcons win, they were better than I thought at every step this season.
April, 7, 2011
4/07/11
12:00
PM ET
»
NFC Draft Watch
:
East
|
West
|
North
|
South
»
AFC
:
East
|
West
|
North
|
South
Each Thursday leading up to the NFL draft (April 28-30), the ESPN.com NFL blog network will take a division-by-division look at key aspects of the draft. Today's topic: history in that spot.

Carolina Panthers
The Panthers' top pick is No. 1 overall. Here are the last seven players taken in that spot, with their NFL team in parentheses:
2010 QB
Sam Bradford
(Rams)
2009: QB
Matthew Stafford
(Lions)
2008: OT
Jake Long
(Dolphins)
2007: QB
JaMarcus Russell
(Raiders)
2006: DE
Mario Williams
(Texans)
2005: QB
Alex Smith
(49ers)
2004: QB
Eli Manning
(Giants via Chargers)
Analysis:
It's still early, but indications are the Panthers are seriously considering taking a quarterback, and that probably narrows it down to Auburn's
Cam Newton
and Missouri's
Blaine Gabbert
. Part of the reason the Panthers are looking down this road is because they saw what the Rams got in Bradford last year. The early results from Bradford and Stafford have been encouraging. But Russell was a tremendous flop, and Smith hasn't been much better. Manning is the only quarterback taken No. 1 overall in this time period to make a Pro Bowl. Even before Manning, the history of quarterbacks at No. 1 was shaky for a long time.
Carson Palmer
and
Michael Vick
have had some good years and some bad ones.
David Carr
and
Tim Couch
rank right up there with Russell. To find a quarterback drafted first overall who has been an unquestioned success, you have to go all the way back to
Peyton Manning
in 1998, and there were some people at the time who thought
Ryan Leaf
could be just as good. Long story short: there might not be such a thing as a surefire quarterback, even with the No. 1 pick.

Tampa Bay Buccaneers
The Buccaneers' top pick is No. 20 overall. Here are the last seven players taken in that spot, with their NFL team in parentheses:
2010: CB
Kareem Jackson
(Texans)
2009: TE
Brandon Pettigrew
(Lions)
2008: CB
Aqib Talib
(Buccaneers)
2007: CB
Aaron Ross
(Giants)
2006: DE
Tamba Hali
(Chiefs)
2005: DE
Marcus Spears
(Cowboys)
2004: DE
Kenechi Udeze
(Vikings)
Analysis:
The Bucs have been in this territory recently and have had tremendous results and one very big complication. The Bucs were at No. 19 heading into the 2009 draft, which was the first for general manager Mark Dominik and coach Raheem Morris. They feared missing out on a chance to get the guy they believed would be their franchise quarterback. That's why they traded up to No. 17 and took
Josh Freeman
. You can't question that move because Freeman single-handedly turned the franchise around last season. Even taking Talib at No. 20 -- and it should be pointed out that move was made by former general manager Bruce Allen and coach Jon Gruden -- brought some positive results. When on the field, Talib showed flashes of being one of the best young cover corners in the game. But the latest in a series of off-field troubles means Talib is probably on his way out of Tampa Bay. The lesson to be learned here is that you can get big-time talent in the draft but it's wise to do your homework on the character and attitudes of players. It's common knowledge the Bucs desperately need a defensive end. Look at Hali and Spears. They represent two ends of the spectrum. Hali came with some questions about being undersized but had no character issues, and he has turned out to be a solid pass-rusher. Spears came with some questions about attitude and never has panned out.

New Orleans Saints
The Saints' top pick is No. 24 overall. Here are the last seven players taken in that spot, with their NFL team in parentheses:
2010: WR
Dez Bryant
(Cowboys)
2009: DT
Peria Jerry
(Falcons)
2008: RB
Chris Johnson
(Titans)
2007: DB
Brandon Meriweather
(Patriots)
2006: CB
Johnathan Joseph
(Bengals)
2005: QB
Aaron Rodgers
(Packers)
2004: RB
Steven Jackson
(Rams)
Analysis:
Johnson, Rodgers and Jackson are proof that you can get a big-time player this late in the round. The Saints aren't looking for a quarterback because they have
Drew Brees
. But running back isn't out of the realm of possibility, and when you see that guys such as Johnson and Jackson have been available at this spot, it makes you wonder about the Saints taking a shot if Alabama's
Mark Ingram
is there. Yes, defensive end and outside linebacker might be greater needs, so those positions are possibilities.
Pierre Thomas
re-signed,
Reggie Bush
is expected to stay and
Chris Ivory
is recovering from injury, but the Saints still have to think back to the end of last year when they basically ran out of running backs.

Atlanta Falcons
The Falcons' top pick is No. 27 overall. Here are the last seven players taken in that spot, with their NFL team in parentheses:
2010: CB
Devin McCourty
(Patriots)
2009: RB
Donald Brown
(Colts)
2008: CB
Antoine Cason
(Cardinals)
2007: WR
Robert Meachem
(Saints)
2006: RB
DeAngelo Williams
(Panthers)
2005: WR
Roddy White
(Falcons)
2004: OLB/DE
Jason Babin
(Texans)
Analysis:
Although nearly every draft guru is projecting that the Falcons will take a defensive end, it's not out of the question that a wide receiver or running back could be the pick here. General manager Thomas Dimitroff and coach Mike Smith have talked a lot about wanting to add explosive players. If they look at their own history and the recent history of NFC South teams that have been in this spot, the idea of going with a receiver or running back could get stronger. Although it took some time for him to develop, White has turned into one of the game's top receivers. Meachem also took some time and dealt with some injuries, but he has emerged as a force in the New Orleans passing game. Williams had some explosiveness as soon as he joined the Panthers.
April, 24, 2009
4/24/09
1:35
PM ET
Posted by ESPN.com's Pat Yasinskas
Let's hope Atlanta coach Mike Smith and general manager Thomas Dimitroff have an easier time deciding what to do with the No. 24 pick than our readers did. As I went through the votes for the Falcons in our readers' mock draft, I actually had to go back and do a recount because the margin between the winner and the second-place finisher was only two votes.
We'll let a few readers announce the pick.
Steve Salvo in North Haven writes: The Falcons should take LB Clay Matthews. This was hard because there's a lot of players we could take, Cushing, Delmas, English etc. Matthews will help finish out our starting LB core for next year which'll leave us with Peterson, Lofton, and Matthews. Clay Matthews fits the Tom Dimitroff type player("tough hombre") as I've heard him say, which, is smart, consistent, and hard-nosed.
Joe in Atlanta writes:
The Falcons should take Clay Matthews. They definitely need to select a defensive player here. The front office is character driven, and after
Michael Vick
will shy away from anyone with character issues, which would eliminate
Vontae Davis
. Matthews versatility would enable him to step in and fill multiple holes in the Falcons defense.
Jason in Lexington, Ky., writes:
The Falcons should take USC OLB Clay Matthews. Why? Because they need another strong, young OLB and while I would probably draft Cushing before Matthews (assuming Curry is long gone) I believe CM will be a great addition to the defense.
Pat Yasinskas: Yes, Matthews edged out Western Michigan safety Louis Delmas by two votes. Matthews' USC teammate and fellow linebacker Brian Cushing also was within a dozen votes of the top two, although some of you think Cushing will be off the board before the Falcons pick.
There also was fairly strong support for defensive tackle Ziggy Hood and defensive end Michael Johnson. There also were about 15 votes for tight end Brandon Pettigrew, but those came before Thursday afternoon's trade for Tony Gonzalez.
April, 23, 2009
4/23/09
11:45
AM ET
Posted by ESPN.com's Pat Yasinskas
Time for a quick trip into the mailbag.
Matt in Boone,NC writes: Hey Pat, I was wondering if their was any interest in Atlanta in acquiring TE Tony Scheffler from Denver. They've already shown interst in Gonzalez and I believe they offered a second round pick for him. Bill Williamson believes the Broncos would let Scheffler go for a second rounder and hes beginning to emerge as a good pass catching TE comparable to Gonzalez as they both stand in at 6 ft 5, 250 pounds. One of the benefits of Scheffler over Gonzalez is his age at 26, while Gonzalez could leave the nfl within the next three years.
Pat Yasinskas: I have not heard anything specifically about the Falcons having any talks with Denver about Scheffler. But your scenario makes lots of sense. Scheffler is younger than Tony Gonzalez, who has been linked to the Falcons in some trade reports, although I'm getting indications Atlanta's interest in Gonzalez is minimal, if it exists at all. Clearly the Falcons are looking at options at tight end and Brandon Pettigrew is an option in the first round. I don't think the Falcons would make a deal for a tight end until after they've used their first-round pick. If they draft Pettigrew, all the trade talk goes out the window. Also, I have a tough time seeing the Falcons, who keep saying they want to build through the draft, parting with a second-round pick.
---
Joseph in Fayetteville AR writes: I have been keeping up with the mock drafts consistently and one thing that i have wondered about is why haven't the Saints targeted someone like Brian Cushing. If there is one constant theme for the Saints defense the past few years is that the unit has underachieved. From a locker room perspective and athletic perspective (he could be an upgrade over the weak side or strong side LB the Saints have already), wouldn't be prudent to draft an overachiever like Cushing to help with the D? This same logic could apply against drafting a guy like Vontae Davis who has been pegged as a guy who has tremendous ability but lapses in play.
Pat Yasinskas: Good point about the Saints having their share of underachievers on defense. I wouldn't rule out Cushing at all with this pick. But I've seen some mocks where he's gone before No. 14. If he's available, I think the Saints at least have to consider him. They've got some linebackers who are getting up there in age and it wouldn't hurt to bring in some fresh legs.
---
Kevin in Charlotte writes: I am torn between DE or CB for Tampa at #19. There is a lot of quality DE's that should be there in mid first round, but the CB pool is very small. What do you think?
Pat Yasinskas: More and more, I'm hearing Florida State defensive end Everette Brown could be available at No. 19. If he is, I think the pick comes down to Brown and cornerback Vontae Davis, who would come with some questions. Brown doesn't have a lot of questions. He's also a pass-rusher and I think that's a more valuable commodity.
---
Jason C. in parts unknown writes: Pat, love your blog. With the draft coming up this weekend, are Gm's going to pass up a quarterback this year seeingthat next years crop of quarterbacks is going to be much better with Colt McCoy, Time Tebow, and Sam Bradford? Also, are there any indications that the Saints will trade away anything to move into the second or third rounds?
Pat Yasinskas: Aside from Matthew Stafford and Mark Sanchez, this draft isn't very deep for quarterbacks. Some view Josh Freeman highly as well. But if you're looking for a potential franchise quarterback, there's nobody beyond those three. I think that once they're gone, you might not see another quarterback taken until the fourth or fifth round because teams know next year's class of quarterbacks should be a lot stronger. As far as the Saints adding a second- or third-round pick, I think it's very possible, but it won't happen until they're on the clock. If they could trade down a few spots in the first round and get another pick, I think that's something they'll see as very intriguing.
---
Dakota in Charlotte, NC writes: Hey Pat, Love the blog. Loved it when you used to work for the observer. You guys run these NFL blogs wonderfully. Anyway, I'm a Carolina fan, and I'm curious about the upcoming draft. There's no doubting that Carolina needs help at DE, WR, QB, possibly a young CB or a good recieving TE. But is there any player that if he were to fall enough in the draft Carolina would want to trade up for them? Last year, it was clear that the powers that be were keen on two guys: Stewart and Otah. Once they picked Stewart, they watched and Otah fell below where they thought he would go. They called Philly, and picked him up. Now, instead of a first round pick, they have Peppers to offer for a deal. Is there anyone who is a guaranteed first rounder who Carolina would even think about trading up to get?
Pat Yasinskas: It's very complicated because of Julius Peppers. He hasn't signed his franchise tender, so that means the Panthers can't approach other teams about trades. However, Peppers' agent can solicit trade offers and bring them back to the Panthers. I suspect there will be some interest and I think the Panthers will consider any offer that gives them a first-round pick. I don't think the Panthers can afford to lock in on any one guy because there's no telling where they might end up in the first round if they do get a pick. But I think it's safe to say guys like defensive ends Everette Brown and Michael Johnson and defensive tackle Peria Jerry would be possibilities in this scenario.
April, 21, 2009
4/21/09
5:19
PM ET
Posted by ESPN.com's Pat Yasinskas
Earlier Tuesday morning, I asked for your mock draft suggestions for each of the four NFC South teams. I just took a look at my mailbag for the first time since posting that item and the response is overwhelming. Keep it going.
In just about six hours, there already are several hundred responses. As I said earlier, I'll plow through all your answers and post a consensus pick for each team Friday afternoon or evening.
But I thought the early response was a pretty strong sign that you might want to know how the early voting is going. Again, I just skimmed the notes quickly, but here's a brief glance at the early results from the polls for each NFC South team.
New Orleans: Ohio State defensive back Malcolm Jenkins appears to have a comfortable early lead. But his college teammate, running back Beanie Wells, also is getting a lot of votes.
Tampa Bay: This one's all over the board. Just on a quick glance, Illinois cornerback Vontae Davis appears to have a slight lead. But there also are a good amount of votes for defensive tackle Peria Jerry and linebackers Brian Cushing and Clay Matthews.
Atlanta: Somewhat surprisingly, I'm not seeing a lot of support for tight end Brandon Pettigrew. A lot of media members have been tying his name to the Falcons. But the early results are showing readers are looking for defense for the Falcons. Davis, the two Southern California linebackers and Western Michigan safety Louis Delmas seem to be the favorites so far. There also are a fair amount of votes for Georgia Tech defensive end Michael Johnson.
Carolina: Speaking of Johnson, he seems to be an early favorite for the Panthers along with Utah defensive end Paul Kruger. Utah defensive back Sean Smith and West Virginia quarterback Pat White seem to be in the running as well.
Again, we're asking for your first pick for your favorite NFC South team or all four teams as the draft order currently stands (we'll deal with trades if they happen). You can send it to my mailbag and please start each vote with "The Saints (or appropriate team) should draft (fill in the blank)'' and feel free to add a reason or two for your choice.
April, 21, 2009
4/21/09
3:18
PM ET
Posted by ESPN.com's Pat Yasinskas
Todd McShay's got a new mock draft up -- this one goes the full seven rounds -- and I like most of his NFC South picks.
Here's the link to McShay's mock, but I'll share his first-round pick for each team with you and provide my take.
New Orleans
McShay's pick -- No. 14: Malcolm Jenkins, defensive back, Ohio State
My take: Todd had running back Beanie Wells going here in his last draft, but has switched over to Jenkins. I'm with him all the way. I've been saying all along Jenkins is the guy the Saints should pick. They need defense and can get their power runner somewhere else.
Tampa Bay
McShay's pick -- No. 19: Brian Cushing, linebacker, Southern California
My take: I definitely can see this happening, if Cushing's available. A lot of mocks have him gone before No. 19, but you never know. I can also see Florida State defensive end Everette Brown, Mississippi defensive tackle Peria Jerry or Illinois cornerback Vontae Davis going to the Bucs. And, no -- I'll say it again -- I don't see Tampa Bay taking quarterback Josh Freeman.
Atlanta
McShay's pick -- No. 24: Brandon Pettigrew, tight end, Oklahoma State
My take: It could happen and Pettigrew certainly is a great prospect. But I still think Atlanta goes with defense. I think Davis and Western Michigan safety Louis Delmas are possibilities. I also could see the Falcons going with Jerry to help the middle of the run defense or any one of about four linebackers.
Carolina
McShay's pick -- No. 59: Michael Johnson, defensive end, Georgia Tech
My take: Although some have Johnson going in the first round, a lot of people in the know think he'll fall to the second round. If he's available, I think this would be a solid pick for the Panthers. No matter if Julius Peppers stays or goes this season, the Panthers eventually will need someone to replace him. Johnson has a similar skill set.
April, 17, 2009
4/17/09
12:00
PM ET
Posted by ESPN.com's Pat Yasinskas
When it comes to next week's NFL draft, the NFC South should take a lesson from Carolina's DeAngelo Williams and Jonathan Stewart.
While the rest of the world was debating the real "Smash and Dash" last season, the Carolina backfield went in a different direction and dubbed itself "Double Trouble."
That's what the NFC South should do in the draft -- let flash go the same route as "Smash and Dash." What the NFC South -- and we're talking all four teams -- needs to do is forget all the hype fans and other teams are caught up in about offensive skill positions. Heck, just forget offense altogether (at least until later in the draft).
With its first draft pick, each NFC South team should go with a defensive player.
April, 16, 2009
4/16/09
6:40
PM ET
Posted by ESPN.com's Pat Yasinskas
Todd McShay has his latest first-round mock draft up and he's got some interesting choices for the three NFC South teams (Carolina doesn't have a first-round pick).
Let's break down his choices a bit.
No. 14: New Orleans
McShay's pick: Chris "Beanie" Wells, RB, Ohio State
My thoughts: I'm thinking all this talk about getting a power back is a smoke screen. Yeah, the Saints can use a short-yardage runner, but why use a first-round pick on a role player? I say draft Wells' college teammate, defensive back Malcolm Jenkins and give defensive coordinator Gregg Williams another toy.
No. 19: Tampa Bay
McShay's pick: Peria Jerry, DT, Mississippi
My thoughts: It's possible, but I don't think Jerry is the big defensive tackle the Bucs are looking for. I could see them going after Georgia Tech defensive end Michael Johnson. But I'm thinking Raheem Morris is a former defensive backs coach. Right now, my guess is cornerback Vontae Davis.
No. 24: Atlanta
McShay's pick: Brandon Pettigrew, TE, Oklahoma State
My thoughts: This would make sense for value. But I just don't see the Falcons using their tight end enough in the passing game to justify a first-round pick. I think a linebacker or a defensive tackle are possibilities, but I'm going with Western Michigan safety Louis Delmas -- at least for now.
April, 9, 2009
4/09/09
1:17
PM ET
Posted by ESPN.com's Pat Yasinskas
ESPN's Mel Kiper has unveiled his latest mock draft. There's plenty of logic in his picks, which speak for themselves.
Mel may be right on all three first-round picks for the NFC South teams. But I see some alternatives for all three picks. I still think the Saints will go defense, possibly with defensive backs Malcolm Jenkins or Vontae Davis at No. 14.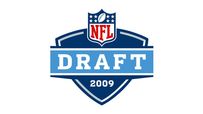 Mel's been consistent with quarterback Josh Freeman to the Bucs and that could happen. But I think the Bucs may go wide receiver (Darrius Heyward-Bey), defensive tackle (Peria Jerry) or cornerback (Jenkins or Davis, if available) at No. 19.
Mel lines up the Falcons with Brandon Pettigrew at No. 24. That wouldn't surprise me, but I still think the Falcons go with a linebacker, defensive end, defensive tackle or defensive back here.
Anyway, here are Mel's picks for the first four rounds for NFC South teams:
SAINTS
1: 14, Chris "Beanie" Wells, RB, Ohio State
4: 116, Tyrone McKenzie, LB, South Florida
4: 118, A.Q. Shipley, C, Penn State
BUCCANEERS
1: 19, Josh Freeman, QB, Kansas State
3: 81, Alex Magee, DT, Purdue
3: 90, Antoine Caldwell, C, Alabama
4: 120, Austin Collie, WR, BYU
FALCONS
1: 24, Brandon Pettigrew, TE, Oklahoma State
2: 55, Sherrod Martin, DB, Troy
4: 125, Brandon Gibson, WR, Washington State
PANTHERS
2: 59, Roy Miller, DT, Texas
3: 93, Kraig Urbik, G, Wisconsin
4: 128, Mike Wallace, WR, Mississippi
April, 8, 2009
4/08/09
6:22
PM ET
Posted by ESPN.com's Pat Yasinskas
Here's a little ammunition for all those who think the Atlanta Falcons should take Oklahoma State's Brandon Pettigrew with the 24th pick in the upcoming draft.
According to ESPN Stats & Information, the Falcons gained only 211 yards on passes to tight ends last season. That ranked last in the NFL.
Here's a quick look at the five lowest teams in that category.
Falcons: 211 yards
Cardinals: 237 yards
Patriots: 302 yards
Bengals: 360 yards
Rams: 382 yards
That said, I still don't see the Falcons taking Pettigrew. They have bigger needs on defense (linebacker, defensive tackle, defensive end, safety and maybe even cornerback). Also, I don't see offensive coordinator Mike Mularkey changing his system so dramatically that there suddenly will be a need for a tight end to catch 60 or 70 balls.
But the Falcons do recognize the only toy that quarterback Matt Ryan doesn't have is a tight end who can catch some passes. I'm thinking there's a strong chance the Falcons could draft a tight end any time after the first round. Missouri's Chase Coffman and South Carolina's Jared Cook could be possibilities if they last until the Falcons pick in the second round.
I think someone like Florida's Cornelius Ingram or Wisconsin's Travis Beckum could be very real possibilities in the middle rounds. Give Ryan somebody like that and you'll probably get 25 or 30 catches and a pretty safe bet that the Falcons won't rank last in this category again.
April, 6, 2009
4/06/09
11:11
AM ET
Posted by ESPN.com's Pat Yasinskas
We'll go in alphabetical order (by city) today and start our series of team-by-team mailbags with the Atlanta Falcons.
OG in Ft. Lauderdale, FL writes: I see a lot of people mocking Brandon Pettigrew to be drafed by the Falcons. Don't you think LB and DT (i think there are no first round Safeties) would be a more pressing need, ala Clay Matthews, Evander Hood, Brian Cushing, or Peria Jerry? From my perspective, TEs like Shawn Nelson, Travis Beckum, and Chase Coffman will be available in the later rounds while there is more of a dropoff in LBs and DTs after round 3. In my opinion, wouldn't it be better to draft LB, then S, then DT or DT, then S, then LB and pickup a TE in round 4 or 5?
Pat Yasinskas: I know there are a fair amount of people thinking Brandon Pettigrew will end up with the Falcons. But I'm with you and I don't think it will happen. That's no knock on Pettigrew. He's the best tight end in the draft. But I just can't see the Falcons taking a tight end in the first round. Like you said, they've got bigger needs on defense. Also, I just don't see them changing Mike Mularkey's offense to make the tight end a huge part of the passing game. Yes, they might want to get a little more out of their tight ends as receivers, but they can find a guy who can help in that area in the middle rounds.
---
Allen in New York writes: Hey Pat, do you think the Falcons should get another cornerback in free agency. There seems to be too many holes to fill in the draft and there seems to be a decent market still out there for corners. I just dont see Chris Houston as a No.1 and I like Chievus Jackson, but I dont know if he is ready for a starting role. Im hoping Atlanta tries to sign a veteran. What are your thoughts?
Pat Yasinskas: Not sure you'll see the Falcons add a cornerback in free agency. If anything, it might happen in the draft. That's just the way the Falcons are operating now -- building through the draft. I agree, there is some uncertainty at cornerback. But Mike Smith and his staff might be higher on Chris Houston and Chevis Jackson than the rest of us are and they see those guys every day in practice. They've also got Von Hutchins returning from injury and Brent Grimes back. Not a desperate situation, but I would like to see the Falcons add one more cornerback to the mix.
---
Carter in Virginia Beach writes: Does the Atlanta coaching staff feel confident in the linebackers they already have or do you think they will try to add one in the draft or late in free agency?
Pat Yasinskas: I think it's very possible the Falcons use their first pick on a linebacker such as Clay Matthews or Brian Cushing. The coaching staff is sold on middle linebacker Curtis Lofton and probably will make him an every-down player. The Falcons signed Mike Peterson, who has a history with Smith in Jacksonville and he appears to be set as one of the outside linebackers. There are also high hopes that Stephen Nicholas can step into a starting role or be a key backup. But I think you'll see the Falcons add a linebacker somewhere early in the draft.
---
G Falcons in Miami writes: I'm hearing tony scheffler the tight end from the broncos wants a trade do you see us the falcons being interested in him and why are not signing free agents such as tank johnson or other DTs to help us at the line?
Pat Yasinskas: I don't think either truly fits the profile of what the Falcons are trying to do. They want to build through the draft.
---
Pro from College Park, GA writes: Pat, keepp the good work! Every year the Falcons say they are going to use Norwood more in the running game but all seem to use him about the same which is not alot. Do you think we will see more of him this year in a 2 back system, especially after the year Turner had. Or more of the same?
Pat Yasinskas: I think it's critical that the Falcons get Jerious Norwood more carries this year. Michael Turner is a workhorse, but the Falcons pushed the envelope by running him so much last year. They know that and they know they've got to lighten his load a bit. I believe they'll work on getting Norwood more playing time this year.
---
Jeff in Atlanta writes: Hey Pat, why have the Falcons not given Roddy White a contract extension yet? Is there any logic in waiting until the closing weeks of next season? I don't see any, and I think I speak for the majority of Falcons fans when I say: If the front office doesnt get him re-signed there will be riots in Atlanta. - Thanks
Pat Yasinskas: I think the Falcons are quietly working toward getting Roddy White locked up for the long term. In fact, I think that's a priority and part of the reason they've kept a decent chunk of salary-cap room open. I think you could see something happen with White before the season starts.
April, 4, 2009
4/04/09
3:05
PM ET
Posted by ESPN.com's Pat Yasinskas
A quick trip through the Saturday headlines around the NFC South:
PANTHERS
Carolina was one of the teams with a representative at the workout of Oklahoma State tight end Brandon Pettigrew on Friday.
FALCONS
Pettigrew reportedly will make a pre-draft visit to the Falcons next week.
A lot of Atlanta fans have griped that the Falcons haven't done much in free agency. Daniel Cox makes a good point in explaining Atlanta's free-agency period really started last season when the Falcons signed receiver Michael Jenkins and defensive tackle Jonathan Babineaux to contract extensions. And don't be surprised if the Falcons try to lock up receiver Roddy White at some point.
SAINTS
Liberty running back Rashad Jennings reportedly will make a pre-draft visit to the Saints on April 14.
BUCCANEERS
The father-in-law of tight end Kellen Winslow is missing in California. Winslow's father-in-law suffers from Alzheimer's and has been missing since Wednesday.
February, 16, 2009
2/16/09
10:45
AM ET
Posted by ESPN.com's Pat Yasinskas
We'll work in alphabetical order with our team-by-team mailbags. That means we'll start with the Atlanta Falcons.
Jimmy in Dalton, GA writes: Pat, this is why the Falcons do have leverage. Why does no one consider this scenario except me. If Vick refuses to rework his contract and is reinstated, the Falcons could wait until the day before the season starts or until the 53 man cut down to release Vick. This way his salary isn't guaranteed, only his bonuses that will count against the team anyways. If a team traded for the rights to Vick they could have a playbook in his hands ASAP at prison or the halfway house with tons of time on his hands. Why would a team want to wait until the regular season to sign him when he would be so much more valuable with preseason and training camp if the commisioner is willing to reinstate him. Hopefully the commisioner would keep him out of camp or delay his reinstatement similar to what he did before his conviction and with the way he handled Favre last year by not reinstating him from retirement until something was worked out. No one wants the media circus to be even greater than what it will be. I don't think it would play out like this because I believe he will be traded before the draft but at least the Falcons would have some leverage to work out a trade this way. Hopefully it will force Vick to restructure his deal so that his value doesn't drop and he can make the salary he's promised the bankruptcy judges that he'd make.
Pat Yasinskas: Love your enthusiasm, but I think you're looking at this from an absolute best-case scenario that I can't see playing out this way. Sure, that would be nice for the Falcons, but I don't think they'd carry Michael Vick on the roster until just before the season starts because that would create the kind of media circus you mentioned. Also, Vick's base salary wouldn't be guaranteed, but it (along with his pro-rated bonuses) would count against Atlanta's salary cap once he is on the roster again and that wouldn't change until he's off the roster. I don't think the Falcons really would be looking to clear up major cap room as they start a season. I think the Falcons want to wash their hands of Vick as quickly as possible. Yes, they'd love to trade the rights to Vick before the draft and have this all out of their hair. But I don't know that teams are going to line up to trade for Vick. The Falcons may simply have to release him and I think they're well aware that's a good possibility. Also, there are no guarantees on Vick being reinstated in time for this season.
---
Shane in Wisconsin writes: With the falcons looking to trade the right to Michael Vick, do you think the Vikings should give this serious thought? Micheal Vick and Adrian in the same back field is very intriguing.
Pat Yasinskas: I'm definitely of the belief that Vick can help a team, assuming he gets reinstated. This guy was a decent NFL quarterback before and he certainly has plenty of talent. I'll leave it up to our NFC North friend, Kevin Seifert, to discuss Minnesota's scenarios in more detail. But I will say that if I were the Vikings and the options were Vick and Tarvaris Jackson, I'd go with Vick.
---
Stan in Atlanta writes: Hey Pat, you do a great job with the blog, wanted to thank you for keeping us abreast of all the happenings in the NFC South. We all know the Falcons have massive needs on the defensive end. I completely agree with you that Dimitroff and the Front Office will be focused on building through the draft and that we shouldn't expect any big FA signings or really any "sexy" draft picks. My question is, and it might be a bit early to ask, but what players do you think might provide value 1) outside of the first round of the draft and 2) at the mid-level of free agency? In other words, who can we hope to see suited up and playing for the Birds that will make other teams go "how did we miss him?" Thanks a bunch for the great columns.
Pat Yasinskas: I'm going to hold off just a bit on the draft question (until we at least get through the scouting combine and see how players are sorting out). As for mid-level free agents, I'm always hesitant to name too many names at this point. We're still almost two weeks away from the start of free agency and the list of free agents is going to change repeatedly as teams re-sign their own guys and teams cut players to create salary-cap room. However, since you asked, I'll throw out a few names that I think could fit the profile for the Falcons. Start with a couple of Tampa Bay defensive backs. Safety Jermaine Phillips and cornerback Phillip Buchanon are scheduled to become free agents (although I think the Bucs will make an effort to keep both). I think those guys, or players with similar talent, could fit nicely in Atlanta's secondary. I also think the Falcons need to look at defensive ends and the guy I like is Arizona's Antonio Smith, who is scheduled to be a free agent, although, again, I think the Cardinals will make an attempt to keep him. I was impressed with Smith in the playoff game between Arizona and Atlanta. He's still a young guy with upside and I don't think his price tag will be too high -- if he makes it to free agency.
---
Matt from Lawrenceville writes: Hey Pat. I'm a big Falcons fan, and I agree with you about our defense. What players do you think we should go after in free agency to strengthen our linebacker and cornerback positions? Also, who do you think would be the Falcons' best bet with their first round draft pick? I've read a lot of draft predictions and I've heard BJ Raji, Brandon Pettigrew, and a lot of other names thrown out there, and I'm not sure who the best choice would be. Who's their best option? Thanks Pat.
Pat Yasinskas: I touched on free agency in the previous question and I'll throw in cornerback Leigh Bodden, who already is a free agent because he was released. I think Bodden is a guy who still has upside and I think that's what Thomas Dimitroff and Mike Smith are looking for. As far as the draft, we're still a long ways off. And the scouting combine is going to cause some guys to rise and fall. I like what I've heard about Boston College defensive tackle B.J. Raji. He's the kind of big, run-stuffing tackle who could take over for the aging Grady Jackson. Only problem, right now, is I don't know that Raji will last long enough for the Falcons to have a chance. Again, that could change in the next few months, but I think defensive tackle will be a big priority. If you could pair someone like Raji with Jonathan Babineaux, you'd be very solid in the middle of the defensive line. As far as Oklahoma State tight end Brandon Pettigrew, that's a nice idea, but I don't see it happening. I do think the Falcons will look for a tight end who can catch some passes, but I think that will come later in the draft or in free
agency. As much as everyone would like Matt Ryan to have another toy, I don't think the Falcons will go crazy to get a big-name tight end. The position never is going to be used in Mike Mularkey's offense as a spot that gets a tremendous amount of passes. I think the Falcons will be looking more for a tight end who can give them 30 or so catches in a season and you don't use a first-round draft pick or a lot of free-agent money to get that.