NFC South:

breakout player
January, 20, 2011
1/20/11
2:30
PM ET
By
Patt Yasinskas
| ESPN.com
We've already presented the offense, defense and specialists on our All-NFC South team. Now, it's time for some division-wide awards.
[+] Enlarge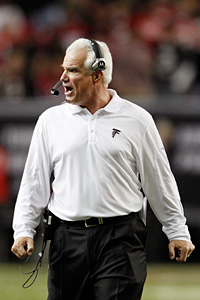 AP Photo/David GoldmanMike Smith led the Falcons to 13 victories this season.
Coach of the Year: Mike Smith, Atlanta Falcons.
There was strong temptation to go with Tampa Bay's Raheem Morris here. He did a fantastic job, but I'm also trying to spread things out. I'll go with Smith. Forget the debacle in the playoff loss to Green Bay. The Falcons won 13 games, and they did that by playing disciplined, smart football.
General Manager of the Year: Mark Dominik, Tampa Bay Buccaneers.
With the league's lowest payroll and a slew of injuries, the Bucs managed to win 10 games. Dominik pulled some rabbits out of a hat by finding some impact players late in the draft, off the waiver wire and off the practice squads of other teams.
Rookie of the Year: Mike Williams, Tampa Bay Buccaneers.
Exhibit A of Dominik's success. Williams was a fourth-round draft pick, but he immediately was Tampa Bay's No. 1 receiver.
Coordinator of the Year: Greg Olson, Tampa Bay Buccaneers.
Atlanta offensive coordinator Mike Mularkey and New Orleans defensive coordinator Gregg Williams are bigger names. But I'll take Olson just on this season. With
Josh Freeman
in his first full season as a starting quarterback, a bunch of young guys playing at receiver and running back, and an offensive line that was hit hard by injuries, Olson still made this the most entertaining offense in franchise history.
Defensive Player of the Year: John Abraham, Atlanta Falcons.
This was probably the hardest choice on this list. It was not a banner year for defense in the NFC South. I narrowed the list to Abraham and New Orleans'
Jonathan Vilma
and
Malcolm Jenkins
. Vilma might be the most consistent and best overall defensive player in the division, and Jenkins probably has the most upside. But Vilma didn't make a lot of big plays, and I'm hesitant to give Jenkins this honor in his first full season as a starter. Abraham had 13 sacks and made more big plays than any defensive player in the division.
Offensive Player of the Year: Roddy White, Atlanta Falcons.
Yes,
Drew Brees
,
Matt Ryan
and Freeman got consideration here. So did Atlanta running back
Michael Turner
. All those guys are good. But when you look at their production this season only, can you really make a case that they were the best in the league at their position? I think you can do that with White, and that's why I'm going with him.
Special Teams Player of the Year:
Eric Weems
, Atlanta Falcons. He did it all for the Falcons, returning kickoffs and punts and also helping out on the coverage units. He became a big-play guy as a return man, and that's why he's going to the Pro Bowl.
Breakout Player of the Year: Malcolm Jenkins, New Orleans Saints.
He moved from cornerback to free safety, and even made a brief return to cornerback when injuries piled up. He made some huge plays and showed signs he could become a force for the long term.
Equipment Manager of the Year: Jackie Miles, Carolina Panthers.
Hey, I had to get the Panthers involved somehow, and there really wasn't a legitimate case for any of their players, coaches or executives. But the one guy with the Panthers who is the absolute best in the league at what he does is Miles. He might not be an owner, player, coach or general manager, but there are times you watch Miles do his thing and you feel like you are watching Ted Williams (the baseball player, not the guy with the big voice) taking batting practice.
Most Valuable Player:
You'll have to wait a bit. That's going to be announced in a column that is to appear Friday afternoon.
September, 3, 2010
9/03/10
12:30
PM ET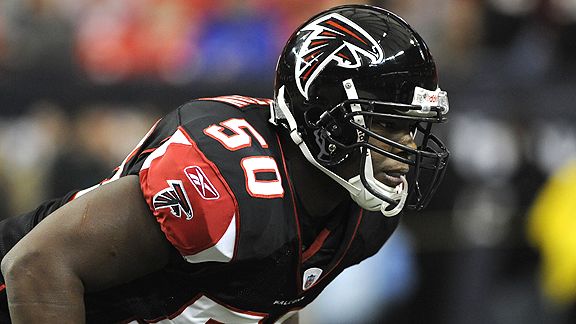 Al Messerschmidt/Getty ImagesLeading the NFL in tackles and making the Pro Bowl are goals for Atlanta linebacker Curtis Lofton.
On an August morning, Atlanta Falcons defensive tackle Peria Jerry walked off the practice field and promptly played two games of "Follow The Leader.''
Asked how his surgically repaired knee was coming along, Jerry did what coach Mike Smith does when the topic is injuries. He gave some very general answers. He kept his eyes on the ground and kept mumbling things like, "You'll have to ask coach Smith about that''.
Then, the second round started and that's when Jerry's eyes picked up and glistened and his mouth started spewing out a steady stream of words, an act that had seemed impossible only a moment ago.
The change all came with one very simple question – "Tell me about Curtis Lofton?''
"Big Bro? Big Bro? He's the Big Bro,'' Jerry said in a sing-song cadence. "That's what we all call him. If things aren't going right, Curtis is going to tell you. That's why I call him Big Bro. It's his defense. If he's saying something, then you know something's not right. People respect him when he tells you something.''
Make no mistake about it, the Atlanta defense is now Lofton's defense. After deferring to Keith Brooking as a rookie two seasons ago and Mike Peterson last season, the middle linebacker has taken control of a unit that very well could determine if the Falcons, 9-7 last season, live up to their "Rise Up'' advertising campaign.
"You can't be anointed as the leader,'' Smith said. "You've got to play efficiently and you've got to play effectively. You've got to walk the walk, and he does that. Curtis has earned the right to be a leader, and the fact he earned it is what's going to make him good at it.''
As I made my trek through training camps this summer, I talked to coaches, players and front-office people about candidates to call this year's "breakout player.'' I got it right last year when I gave the title to New Orleans receiver Robert Meachem, who responded with nine touchdown catches and helped the Saints win the Super Bowl.
I want to get it right again, and I considered a bunch of names that were thrown at me. But Lofton was the one I kept coming back to, and a lot of it had to do with what his coaches and teammates said about him. A lot of it had to do with what Lofton said when we sat down and talked on a bench in Flowery Branch, Ga. He's a man with some very lofty goals.
"I'd like to make the Pro Bowl,'' Lofton said. "I'd like to lead the NFL in tackles. Just push myself to be a more complete player, that's my No. 1 goal.''
That's a pretty good goal for someone who already was a pretty good player. Lofton's been starting since he joined the Falcons as a second-round pick in 2008, and he finished second in the NFL in tackles last season.
Can you really consider someone like that a breakout player? Well, if you look at it the way Lofton does, I think you can.
"Last year, I had the tackles and I had the forced fumbles,'' Lofton said. "But I never had the game-changing plays.''
That might happen, because the game now has changed for Lofton.
"He's been productive in his first two years,'' defensive coordinator Brian Van Gorder said. "But the big thing right now is he's taking a little bit more ownership of our defense. He's much more vocal and much more confident, and that's going to be very important for us.''
That was obvious on the practice field this summer. With Jerry returning from injury, a strong camp by defensive tackle Corey Peters, the acquisition of free-agent cornerback Dunta Robinson and the arrival of first-round pick Sean Weatherspoon at outside linebacker, the Falcons are expecting big things from their defense.
If you watched the defense practice at all, two things jumped out immediately. The overall speed of the defense is significantly faster than last season. The volume also is a lot higher on the practice field. Much of that's coming from Weatherspoon, who is a non-stop talking machine. He's the rah-rah rookie, which is nice.
But watch and listen long enough and you'll see and hear that Lofton is the voice that counts most on this defense. He's the guy grabbing other players when they mess up or giving them a shout of encouragement when they make a good play.
[+] Enlarge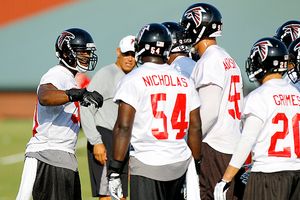 Kevin C. Cox/Getty ImagesCurtis Lofton (left) has become Atlanta's unquestioned vocal leader on defense.
"He'll get in your face and tell you if you're not doing what you're supposed to do,'' safety Thomas DeCoud said. "People can tell if you're doing it because you're told to do it or if you're doing it because you want to. You can tell he wants to do this now, and that's why everybody listens to him.''
There was no sit-down where Smith told Lofton it was time to step up and be a leader. It's been a natural evolution. When Lofton came in as a rookie, Brooking still ran the show because he seemingly had been there forever. Besides, Lofton didn't really feel comfortable talking much then, because he was only a two-down player. He came off the field in obvious passing downs.
That began to change last season when the Falcons decided to make Lofton an every-down linebacker. He adjusted well to dropping in coverage, but he left the vocal part to Peterson, who had been brought in as a free agent, in large part to provide some veteran leadership for a young defense.
Brooking left for Dallas in 2009. Peterson is getting near the end of his career and sat out much of camp with an injury.
A new leader needed to emerge, and a new leader has emerged. It's Lofton. The Falcons knew it was time and Lofton knew it was time.
"As a middle linebacker, you're the guy that people look to to be the leader of the defense,'' Lofton said. "You're the guy that makes all the calls and adjustments. My first two years, I was learning and still growing into that position. Now, in the third year, I feel like it's really my defense. I take responsibility for lining everyone up. If something goes wrong, I want the coach to come to me so I can handle it.''
That's why the Falcons think Lofton is about to handle a breakout season.
September, 2, 2010
9/02/10
3:23
PM ET
As we get ready to wrap up the preseason, a few programming notes.
The quarterbacks are going to be next on our list of NFC South position rankings. Usually, quarterbacks go last, but I'm going to switch things up and save the running backs for last. That's simply because the running backs are more interesting. We already know
Drew Brees
is the best quarterback in the NFC South.
I've been posting the position rankings early each morning, but the quarterback rankings will come a little bit later Friday because I want to review all four team's preseason finales. I know what order I'm using on the four starting quarterbacks, but want to take one last look at the backups before completing my final list.
I haven't quite figured out where I'm going to watch Thursday night's preseason games. I know I can get the Buccaneers game locally, because they're playing on the road. But I think I'll head out to a place with a lot of televisions and hope I can catch at least parts of all four games.
Also on Friday, I'm going to do a column on a guy I'm predicting will be this year's breakout player in the NFC South. That's scheduled to appear Friday afternoon, so you'll have to wait to see who I've chosen.
The NFC South chat will be held Friday at 1 p.m. ET. Going back to the position rankings, since it's a holiday weekend, I'll save the rankings on the running backs until Tuesday.
July, 27, 2010
7/27/10
11:18
AM ET
As I make my trips through the NFC South training camps, one thing I'll be looking for is a candidate for breakout player.
That's something we do every year. Last year's choice was New Orleans receiver
Robert Meachem
and I don't want to be a helicopter and beat my own chest, but it wasn't just a random pick. At each camp, I trusted my own eyes and talked to coaches, front office guys and players about possibilities. After doing all that, I then chose Meachem and he did have a breakout year.
For full disclosure, I should reveal that, as best as memory serves me, the other two players I considered were Carolina center
Ryan Kalil
and wide receiver
Dwayne Jarrett
. I wouldn't have gone wrong if I had chosen Kalil, who went on to the Pro Bowl for the first time in his career. I would have been dramatically wrong if I had chosen Jarrett. Some Carolina people were talking him up in camp last year, but one person I trust a lot said, "I'd be careful with that one."
Anyway, since Jarrett still hasn't had a breakout year, he's a candidate again this year. I've got a few guys I'm already planning to keep an eye on -- virtually all the Tampa Bay receivers, Carolina defensive ends
Everette Brown
and
Charles Johnson
, New Orleans safety
Malcolm Jenkins
and Atlanta defensive ends
Lawrence Sidbury
and
Kroy Biermann
.
There might be a few more candidates that pop up as I make my rounds, but that's my list for the moment. I'm sure I'm overlooking some possibilities and that's why I'm throwing it to you for your thoughts on candidates for breakout players in the NFC South. If you've got one, discuss it in the comments section below or send a note to my
mailbag
.
November, 22, 2009
11/22/09
1:38
PM ET
TAMPA, Fla. -- Back around the start of the season, I picked New Orleans receiver
Robert Meachem
as the NFC South's breakout player.
I'm feeling a lot better about that choice now. Meachem just caught a touchdown pass from
Drew Brees
. This is the third straight game in which Meachem has caught a touchdown pass. He also has a touchdown catch in four of the past five games.