NFC South:

Brentson Buckner
January, 24, 2013
1/24/13
11:45
AM ET
By
ESPN.com staff
| ESPN.com
Atlanta Falcons
The team is in talks with the state of Georgia over the level of public financing for a new $1 billion stadium, the Atlanta Journal-Constitution reports -- with Gov. Nathan Deal saying he wants the figure to be
lower than the $300 million
upon which the team previously agreed with the state convention authority.
"Everything is designed to go out there and win. We had our chances. Just a few plays here and there," said Falcons' third-year linebacker Sean Weatherspoon,
who tells team website reporter Daniel Cox
that he's already preparing for next season.
Carolina Panthers
Florida State quarterback EJ Manuel told the Charlotte Observer that he "
would be a good fit
" as backup for quarterback Cam Newton; Derek Anderson, Newton's understudy in 2012, is a free agent and could follow former Panthers offensive coordinator Rob Chudzinski to Cleveland.
Former Panthers defensive tackle Brentson Buckner is on the verge of a deal to become the Arizona Cardinals' defensive line coach,
he tells the Rock Hill Herald
.
New Orleans Saints
Saints players including linebacker Curtis Lofton and kicker Garrett Hartley passed out gifts and posed for photos at spots around New Orleans
as part of a charity campaign
pegged to the city's celebration of hosting its 10th Super Bowl.
Sean Payton is relying on "closure,"
as the Times-Picayune reports the coach's top priority
during his first visit with the media was to clearly try to put the bounty controversy in the rearview mirror.
San Diego-based Integrated Sports Marketing, the promoter being sued by Drew Brees' charitable foundation,
says it was Brees -- not the firm -- that failed to meet obligations
involving the quarterback's signature celebrity golf tournament, reports the Union-Tribune.
Tampa Bay Buccaneers
Bucs brass gathered in Mobile, Ala., ahead of Saturday's Senior Bowl has been
focused on defensive backs
, but, after star cornerbacks Dee Milliner of Alabama and Johnthan Banks of Mississippi State, pickings are slim -- which means the team might need to get creative, the Tampa Tribune notes.
Officials in the Bucs' ticket office
have been contacting season-ticket holders to inquire if they would move their seats. Jose Patino Girona of The Tampa Bay Tribune explains the reason why.
November, 11, 2011
11/11/11
1:00
PM ET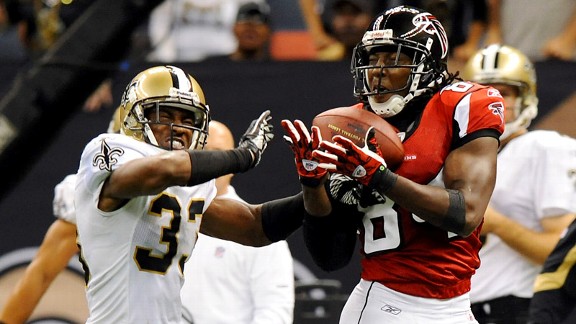 Chuck Cook/US PresswireAfter saying plenty about the Saints last season, Roddy White's twitter account has been quiet.
Perhaps the best indicator of how big Sunday's game is between the
New Orleans Saints
and
Atlanta Falcons
is Roddy White's
verified Twitter account.
For nearly a week now, it's gone almost silent. White, who never has been one to hold back what's on his mind, has weighed in a few times on the Joe Paterno controversy, but he hasn't written a word about the Saints.
That says a lot about what this NFC South rivalry has become. If White's staying quiet and the Saints aren't getting their cameras ready for postgame pictures, you know players from both teams are taking this game very seriously. There also is a very good chance they're following orders from New Orleans coach Sean Payton and Atlanta coach Mike Smith, who realize you don't need to throw gas on a fire that's been burning for about four years, and still may not have reached its peak.
It might not have the historic significance of, let's say, Green Bay-Chicago or Washington-Dallas, but it's hard to find a rivalry that's been more heated the past few years.
"This is one of the most overlooked rivalries in football right now,'' Atlanta running back
Michael Turner
said. "We've been playing some great games. We know we don't like each other. We've been fighting each other since 2008 for this division. It's a rivalry game."
The part about not liking each other is about as close as any Saint or Falcon has come to fanning the flames. But that part is pretty well known if you've spent any time around either team. It extends even to the fans.
"If you're just kind of walking around town, fans say, 'If you do one thing this year, just beat Atlanta,' " New Orleans quarterback
Drew Brees
said. "I think that's probably the sentiment of fans that have been longtime Saints fans, I'm sure. Maybe longtime Falcons fans say the same thing to them about beating the Saints, I don't know.''
It's pretty safe to say that Atlanta fans -- longtime or not -- do feel the same way about the Saints.
Two incidents from last season demonstrate just how strong this rivalry has become.
[+] Enlarge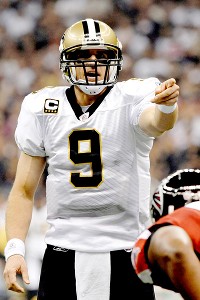 Chuck Cook/US PRESSWIRE"If you're just kind of walking around town, fans say, 'If you do one thing this year, just beat Atlanta,' " Drew Brees said.
One came long before White turned to more tame tweets -- or Smith ordered him to. Before a game with New Orleans last season, White tweeted that the "grace of God'' was the reason the Saints won their Super Bowl so the "city wouldn't fall apart."
That caused outrage by New Orleans fans and probably didn't score much goodwill with the Saints. But this rivalry flows both ways. After New Orleans defeated Atlanta in the Georgia Dome last season, some of the Saints were seen dancing and having their pictures taken on the Falcons' logo. Former New Orleans defensive tackle
Remi Ayodele
made a comment that indicated the Saints were intentionally showing the ultimate disrespect to the Falcons.
That caused a stir, but the Saints insisted they had the utmost respect for the Falcons and the pictures were taken to commemorate an important victory.
As word of that scene spread through the Atlanta locker room, defensive end
John Abraham
, generally one of the more subdued Falcons, grew visibly angry.
"We can never let that happen again,'' Abraham said.
The Saints and the Falcons weren't biting this week when the media asked them about that incident. Not even White.
"They came down here and got a W,'' White said. "They can kind of do whatever they want to do. That's kind of what happens. When we won down there, we kind of went on the field. It happens. We kind of did our thing when we went down there and won the game. They won, so congratulations to them.''
But don't let the diplomacy fool you.
"I'm not too familiar with that. I heard about it,'' said Atlanta linebacker
Sean Weatherspoon
, who tried to be coy when first asked about the incident.
That didn't last.
"But at the same time, I don't forget a lot of stuff,'' Weatherspoon said. "Sometimes you have to have the memory of an elephant."
Although the Saints and Falcons are the oldest of the four NFC South franchises and played together in the NFC West before realignment in 2002, the rivalry hasn't been this volatile for long. Both teams struggled through much of their early existence. When one team was good, the other wasn't.
When Carolina entered the league in 1995, the NFL tried to make the Falcons and Panthers a natural rivalry because the cities are less than a four-hour drive apart. But that never really took off because the Panthers and Falcons were seldom good at the same time.
Without any encouragement by the NFL, the
Tampa Bay Buccaneers
and
Carolina Panthers
became the NFC South's only real rivalry, soon after the division came into existence. In those days, Carolina's
Brentson Buckner
and
Kris Jenkins
and Tampa Bay's
Warren Sapp
and
Kenyatta Walker
, lobbed verbal shots back and forth. Even Carolina punter
Todd Sauerbrun
and Tampa Bay kicker
Martin Gramatica
got into the rift and the teams played a series of brutally physical games through the middle of the past decade.
That rivalry has faded. But it's been replaced by the Falcons and the Saints.
"If you look at the past four years, ever since Mike Smith has been there and Sean has been here, both teams have been up there as far as first or second in the division quite a few times,'' Brees said. "So I'd say that's part of the reason why it's even more competitive now than maybe it ever has been."
There's no doubt. When two good teams are going at each other, it makes things more interesting. The Saints are 6-3 and the Falcons are 5-3 and they'll be playing for first place when they meet Sunday in the Georgia Dome.
Things tend to get heated between the Falcons and Saints these days. But that's a good thing. It's the sign of a healthy rivalry. The best rivalry the NFC South has ever had.
May, 19, 2011
5/19/11
1:00
PM ET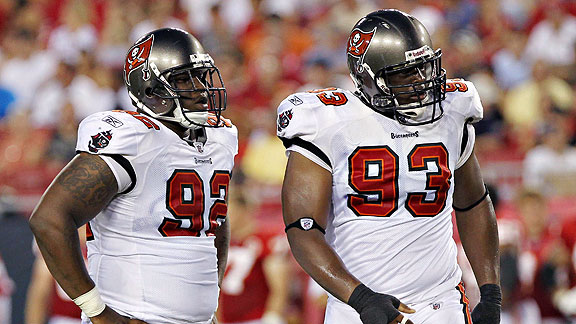 Kim Klement/US PresswireTampa Bay is hoping it has found an interior tandem in Brian Price (92) and Gerald McCoy (93).
There was a time in the early years of the NFC South when top-notch defensive tackles roamed and controlled the division.
Tampa Bay's
Warren Sapp
and Carolina's
Kris Jenkins
were making Pro Bowl rosters and All-Pro teams and publicly arguing that each was the best defensive tackle in the game. They were rare talents, but there were other members of the species in the division in those days. Guys like
Brentson Buckner
and
Anthony McFarland
weren't bad, and Carolina's defensive line once refused to pose for a four-person picture unless the frame was expanded to five to include super-sub
Shane Burton
.
But then, sometime in recent years, the last of the space-eating dinosaurs disappeared. Defensive tackles became a non-factor, even an embarrassment around the NFC South.
Take the game in Charlotte near the end of the 2008 season when Tampa Bay, featuring journeymen
Chris Hovan
and
Ryan Sims
in the middle, looked like it was giving Carolina's running backs a 7-yard head start. Or think back to 2007 and 2008 when New Orleans was scoring all those points and
Drew Brees
was throwing for all those yards. At the same time, the Saints were turning in mediocre records. That was because of the defense's poor play all around, particularly in the middle of the defensive line.
Things have started to change in recent years with NFC South teams realizing they need to get back to their roots. They've been investing early-round draft picks and big money in defensive linemen and it's about to pay off.
Let's go ahead and make a prediction now. If there is a 2011 season, it will be the year of the defensive tackle in the NFC South. Everywhere you look there's a defensive tackle -- in some places, two defensive tackles -- poised to emerge as a force. It could be the year when the NFC South gets back to having Pro Bowlers or All-Pros at defensive tackle.
Let's survey the landscape of who's on the verge of emerging.
Buccaneers.
After Hovan and Sims contributed to Jon Gruden losing his job, the Bucs weren't able to do much right away at defensive tackle because they were too busy landing franchise quarterback
Josh Freeman
. But in 2010, they used their first two draft picks on
Gerald McCoy
and
Brian Price
and they also discovered
Roy Miller
, a valuable role player.
This is still a project because McCoy and Price suffered season-ending injuries in their rookie years. But these are two extremely talented players and the Tampa Bay coaching staff is convinced they'll emerge.
Price, a second-round pick, looked like he was going to be an instant star when he showed up for his first minicamp and training camp. There was a buzz that he might be better than McCoy, a first-round pick. But Price got banged up in camp, never got completely healthy and appeared in only five games before the Bucs sat him down and he had surgery that included the insertion of four screws into his pelvis.
When the lockout ended very briefly in late April, Price showed up at One Buccaneer Place and indications were that he's well on the way to being ready for this season. Same for McCoy, who had arm surgery. After a slow start, McCoy had come on with several strong games in a row right before the injury.
[+] Enlarge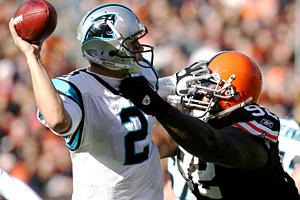 Matt Sullivan/Getty ImagesThe Saints are hoping Shaun Rogers can be a disruptive force in the NFC South this season.
McCoy is completely healthy and has spent much of the offseason in San Diego working to add upper-body strength. Throw a healthy McCoy and Price out there with newly drafted defensive ends
Adrian Clayborn
and
Da'Quan Bowers
and the Bucs suddenly could have a star -- or two -- in the middle.
Saints.
Sedrick Ellis
was drafted in the first round in 2008 and his first two seasons were interrupted by injuries. He played a full season in 2010 and responded with a career-high six sacks while playing the run well.
At the end of last season, the only thing between Ellis and greatness was having another strong defensive tackle next to him. That's why the Saints signed
Shaun Rogers
just before the lockout started. Rogers is coming off three mediocre seasons in Cleveland, but he had some big years before that in Detroit.
New Orleans is a place where there's a track record of veterans getting their careers going again. If Rogers can bring anything to the table, Ellis has a chance to emerge as the division's best defensive tackle.
Falcons.
For the past two years,
Jonathan Babineaux
has been the division's best defensive tackle. But that's sort of like putting a kid on a Little League baseball all-star team even though he came from the league's worst team because every team has to be represented. Babineaux is solid, but he has been the best by default.
Babineaux probably is going to stay solid for the next few years, but the player the Falcons think really has a chance to become a force this year is
Peria Jerry
. He was their top draft pick in 2009 and his career has been kind of a sad story. He got hurt early as a rookie, suffering a major knee injury that the Falcons have never fully described.
Jerry returned last season, but ended up playing behind rookie
Corey Peters
, a third-round draft pick. Just when it looked like you could go ahead and declare Jerry a bust, coach Mike Smith and general manager Thomas Dimitroff stepped up and shed a little more light on his situation.
They still wouldn't go into exactly what his surgery entailed, but at the NFL owners meeting in March, Smith and Dimitroff independently admitted last year was something of a "recovery'' season for Jerry. They said their plan was to play him sparingly because his knee was not 100 percent.
They went on to say people with Jerry's type of injury usually take two full years to recover and said they have high hopes for him. If Jerry can somehow get back to being the kind of player the Falcons thought he was when they drafted him, they could plug him in next to Babineaux and Atlanta suddenly could have a new face as its best defensive tackle.
Panthers.
You can make a case that this position has been the weakest unit for any NFC South team since the moment Jenkins finally was granted his two-year request for a trade after the 2008 season. Yeah,
Maake Kemoeatu
could fill as much space as Jenkins, but he couldn't move.
With Kemoeatu gone last year, the Panthers used a collection of journeymen, got pushed all over the field and went 2-14. Carolina has a major rebuilding program and they started it by using the first pick in this year's draft on quarterback
Cam Newton
. But right after that, it instantly became obvious where new coach Ron Rivera was turning his attention.
The Panthers didn't have a second-round pick, but had two in the third round. They used them to take defensive tackles
Sione Fua
and
Terrell McClain
. Both could start right away. After they were drafted, Rivera kept talking about how Fua and McClain would allow the linebackers to play "downhill." That's a start.
It's hard to say right now that a third-round draft pick is going to be a star. But if either or both of those players can allow linebacker
Jon Beason
to run free or make plays, Carolina's defense instantly will be better than it has been in several seasons.
August, 5, 2010
8/05/10
2:58
PM ET
ESPN.com NFL Power Ranking (pre-camp): 22
SPARTANBURG, S.C. -- In the kindest of terms, fans and media are referring to the
Carolina Panthers
as a team in a youth movement.
There's some basis for that as they opened camp with the league's third-youngest roster after saying farewell to popular veterans such as
Julius Peppers
,
Jake Delhomme
and
Brad Hoover
.
In the harshest of terms, fans and media have referred to those departures as a "bloodletting'' and are talking about the Panthers as a team without an identity, a team that's not going to be very good.
Now, let's turn to two guys who beg to differ.
"How do you say we're going through a youth movement, when we beat those teams late in the season using the same key components?'' running back
DeAngelo Williams
said. "People can say what they want to say. But we know what it takes to win and we have what it takes to win.''
"The way I look at it is, I like our core guys,'' linebacker
Jon Beason
said. "I think we have a great nucleus. Now we're looking for a few good men, a few young guys who are talented. For those young guys, it's an opportunity to come in and do great things.''
Maybe Beason and Williams have valid points. They're two team leaders with a pretty good feel for the pulse of the locker room. They also have impressive résumés. Williams was one of two Carolina running backs (
Jonathan Stewart
was the other) to run for 1,100 yards last season. Scouts, coaches and players everywhere will tell you Beason is one of the best linebackers in the NFL.
Can you really call the Panthers a team without a face?
That's kind of a difficult statement to make when you look at Carolina's roster and see Beason and Williams. Then, keep looking and you see Stewart, left tackle
Jordan Gross
, center
Ryan Kalil
, right tackle
Jeff Otah
, receiver
Steve Smith
and cornerbacks
Chris Gamble
and
Richard Marshall
. Those are all guys the Panthers view as core players. Look around the league and see how many teams have that many core players in place.
"There are question marks, sure,'' coach John Fox said. "Anytime you have question marks, the expectations on the outside might not be that high. But on the inside, we know we've got some very good core players and those core players are going to have to have big seasons.
THREE HOT ISSUES
[+] Enlarge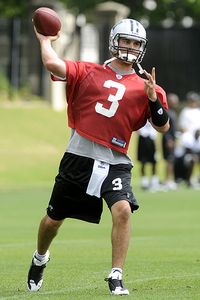 Sam Sharpe/US PresswireThe Panthers' confidence in quarterback Matt Moore appears to be growing.
1. Can this team win with Matt Moore as the quarterback?
Let's cut to the chase. This team already has won with Moore as the quarterback. Moore started the final five games of last season after Delhomme was injured. The Panthers won four of those games and Moore looked sharp the entire time.
Sure, that's not the longest of track records and the Panthers did draft
Jimmy Clausen
in the second round. But this isn't the Carolina camp of 2001, where the Panthers were kind of expecting Jeff Lewis to fail and to hand the job to rookie Chris Weinke.
Williams' point about the youth movement taking place last year might be right. Moore won this job with his play down the stretch and, so far in camp, the team's confidence in him is only growing.
"Matt Moore is a gamer,'' Williams said. "When he mentally locks in, the game comes easy for him. All quarterbacks in the league are pretty much the same. They can all throw the ball or they wouldn't be here. The thing that separates the good ones from the bad ones is decision making. Matt Moore can make decisions. Matt's going to be fine.''
Let's keep one other thing in mind. With an excellent offensive line, two very good running backs and Smith at wide receiver, Moore has a pretty strong supporting cast. He doesn't need to be
Peyton Manning
or
Drew Brees
. He just needs to keep mistakes to a minimum and the job can be his as long as he wants.
2. Can the defensive line be any good?
For much of Fox's tenure, the defensive line has been the foundation of the team. But Peppers was the last in a line of supernovas that used to include
Mike Rucker
,
Kris Jenkins
and
Brentson Buckner
. There are no current stars on this defensive front.
But Fox and the Panthers don't appear to view that as a bad thing. They're not expecting any single guy to come in and replace Peppers. They believe they can get quality out of quantity and are hoping the defensive front can attack in waves. They've got high hopes for
Charles Johnson
and
Everette Brown
, and rookies
Eric Norwood
and
Greg Hardy
have been very impressive in camp. They brought back
Tyler Brayton
for a bit of continuity, but they feel they've got some pass-rushers who can emerge.
They also have a better feeling about defensive tackles
Louis Leonard
,
Tank Tyler
and
Ed Johnson
than a lot of people realize. This might not be the traditional Fox defensive front with a huge run-stuffer in the middle and a big name on the outside. But, keep in mind, the Panthers brought in Ron Meeks as defensive coordinator last year and his system is based more on speed than power up front.
"We were eighth in the league in defense a year ago with a new scheme,'' Fox said. "It's kind of early to tell, but we should be better with our scheme the second time around.''
[+] Enlarge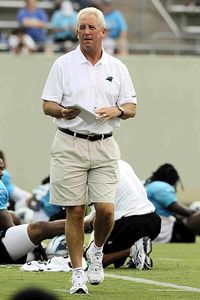 AP Photo/Chuck BurtonJohn Fox owns a 71-57 record in eight seasons with the Panthers.
3. Does all this talk about Fox being in the last year of his contract really make a difference?
Not at all. Fox is a creature of habit and he's going to coach the way he always has coached.
He's a confident guy with a pretty solid résumé. He's not losing sleep because he knows he can get another job if it comes to that. But he wants to make it work in Carolina, a place where his family has set down roots. Keep in mind, Fox never has had a truly bad season. There have been some disappointing years, but the record's always been close to or above .500. He's sometimes stumbled a bit when expectations were high, but he always has done his best job when people weren't counting on much out of the Panthers.
BIGGEST SURPRISE
Greg Hardy. The defensive end was a sixth-round draft pick because his college career didn't end all that well. But the Panthers took a shot because they thought there was uncommon physical talent sitting out there late in the draft. So far, they feel as if they might have hit a home run. Hardy has looked great in camp. Coaches are noticing him and so are other players. There were some questions about Hardy's ability to focus on football at the pro level. But so far, so good on that end. Brayton, Johnson and Brown are competing for the starting jobs, but Hardy appears to be carving out some playing time.
BIGGEST DISAPPOINTMENT
Dwayne Jarrett
. As they've been doing for his entire career, the Panthers are hoping the light suddenly comes on for this wide receiver. He's still running with the first team, but all indications are it's just not happening for Jarrett. There's still some work to be done and polish to be added, but the Panthers are starting to think rookie
Brandon LaFell
is their best option at the starting position opposite Smith. Jarrett basically is fighting for a roster spot at this point. The fact he's still making mental mistakes this far into his career means there's a good chance he's gone before the preseason is over.
[+] Enlarge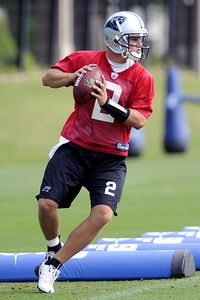 Sam Sharpe/US PresswireCarolina has been pleased with how Jimmy Clausen has looked in the early part of camp.
OBSERVATION DECK
As mentioned above, the Panthers are singing Moore's praises and that's all very legitimate. But behind the scenes, the Panthers also are thrilled with what they've seen from Clausen. His physical skills and mechanics are as solid as expected and Clausen's doing everything right on and off the field. There's not a sense of urgency to play him because Moore has looked so solid. But the Panthers believe they got a steal when they took Clausen in the second round.

There's been a lot of hype about third-round draft pick Armanti Edwards. Understandable because he was a college quarterback and came from Appalachian State, which automatically makes him popular in the Carolinas. The Panthers aren't disappointed with Edwards by any means, but the reality is he's just feeling his way as a receiver and a return man. Don't look for him to be a huge contributor instantly. There's big upside here because Edwards is so dynamic and he might be in a few packages early on. But it's going to take some time for him to become a staple in this offense.

The Panthers let go of Keydrick Vincent, who played every snap at right guard last season, for a reason. He was older and they had Duke Robinson waiting in the wings. Coaches, players and the front office believe Robinson can be a punishing run-blocker. Put him on the right side with Otah and the Panthers believe that side of the line can be just as good as the left, where Gross and Travelle Wharton are outstanding.

If you're looking for a long shot to make the roster, I'll throw out Trent Guy's name. This is a tiny wide receiver, but every time I looked up during my visit to Wofford College, Guy seemed to be making a play. He's got rare speed and good hands, and also could be a factor in the return game.

Thomas Davis, who had major knee surgery in June, has been hanging around at camp and working hard at his rehab. The Panthers haven't ruled out a possible return for him later this season, but I don't see that happening for a guy who has torn his ACL twice in less than a year. The Panthers wouldn't have moved Beason from the middle to the weak side unless they thought he'd stay there for the long haul. At the moment, they're happy with what they've seen from Dan Connor in the middle and James Anderson on the strong side. That better stay that way because, aside from Jamar Williams, there's no real depth at linebacker.

A lot of people have questioned why the Panthers would take Beason out of the middle where he's been such a dominant player. The answer is simple. Under Meeks, the Panthers run the "Tampa 2'' defense. In that scheme, everything goes through the Will linebacker. Think Derrick Brooks.
August, 2, 2010
8/02/10
3:59
PM ET
SPARTANBURG, S.C. -- One of the things I like about coming to see the
Carolina Panthers
is that I get to catch up with -- and on -- a lot of people I covered back in my newspaper days.
Most of what I write usually is focused on current players. But we're going to go in another direction for just a moment here because I picked up a couple of interesting tidbits on two former Carolina players that are making moves that might lead them back to football.
Former linebacker Dan Morgan is doing an internship with the
Seattle Seahawks
in the personnel department. Current Carolina linebacker
Jon Beason
told me that news. Morgan had to stop playing a bit prematurely because of repeated injuries and that was unfortunate. Morgan has had some success in the restaurant business, but, as Beason reminded me, Morgan has a deep love for football. This might be a way for him to get back into the game.
Another player I covered back in the day was defensive tackle Brentson Buckner. He's been doing some radio work in Charlotte and certainly could have a career in broadcasting because he's a very smart and talkative guy. But Buckner is at least testing the waters in the field of coaching. He's doing a coaching internship with the
Pittsburgh Steelers
.
March, 3, 2010
3/03/10
12:00
PM ET
»
NFC Schemes/Themes
:
East
|
West
|
North
|
South
»
AFC
:
East
|
West
|
North
|
South
»
Draft Watch
:
Biggest needs
(2/17) |
Busts/gems
(2/24) |
Schemes, themes
(3/3) |
Recent history
(3/10) |
Needs revisited
(3/17) |
Under-the-radar needs
(3/26) |
History in that spot
(3/31) |
Draft approach
(4/7) |
Decision-makers
(4/14) |
Dream scenario/Plan B
(4/21)
Each Wednesday leading up to the NFL draft (April 22-24), the ESPN.com blog network will take a division-by-division look at key aspects of the draft. Today's topic: Schemes and themes.

Atlanta Falcons:
There is little doubt what Atlanta's biggest need is. It clearly is a pass-rusher, specifically a defensive end. The Falcons thrived in 2008 when
John Abraham
was having a career year and struggled last season as he suddenly got old. Coach Mike Smith wants speed on the outside to help protect his secondary.
Lawrence Sidbury
and
Kroy Biermann
have some potential as pass-rushers. But the Falcons don't have anything truly close to an every-down defensive end in their 4-3 scheme. There's little doubt they'll try to find one early in this draft.

Carolina Panthers:
The defensive line used to be the foundation of a John Fox football team. The Panthers went to a Super Bowl with
Mike Rucker
,
Julius Peppers
,
Kris Jenkins
and
Brentson Buckner
dominating up front. That was a long time ago and, with Peppers about to walk out the door, there's not a marquee player on the defensive line. Fox likes defensive ends who are quick, even if they're a bit undersized. He likes defensive tackles who take up a lot of space. The return of
Maake Kemoeatu
from injury should help, but he's not getting any younger. The fact the Panthers don't have a first-round pick is going to make it difficult to get any sure things along the defensive front.

New Orleans Saints:
It's kind of ironic how the secondary has gone from being an area of need to a huge strength in just one year. Even if the Saints let safety
Darren Sharper
walk in free agency, they don't need to do much with the secondary. That leaves the front seven as the biggest area of need. Outside linebacker could be an issue with
Scott Fujita
headed toward free agency and
Scott Shanle
carrying a big salary. Fujita and Shanle played well last season, but defensive coordinator Gregg Williams prides himself on playing an aggressive style. It might be time to get some younger legs to surround middle linebacker
Jonathan Vilma
.

Tampa Bay Buccaneers:
Quarterback
Josh Freeman
has hinted he wouldn't mind having a burner at wide receiver. That's something the Bucs desperately need. Freeman has one of the strongest arms in the league and the Bucs would like to take advantage of that. The problem right now is they don't have a true downfield threat on the roster. They've got some decent possession receivers and
Sammie Stroughter
might be perfect for the slot. But Freeman is the franchise and you're about to see the Bucs start building around him. On defense, Raheem Morris decided to get back to the Tampa 2 scheme late last season and the results were positive. But cornerback
Ronde Barber
is near the end of his career and safety
Sabby Piscitelli
struggled mightily. It's time to get some younger legs in the secondary.
February, 19, 2010
2/19/10
12:00
PM ET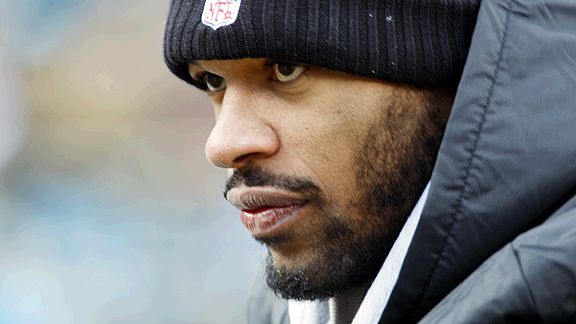 AP Photo/Nell RedmondEven after eight seasons in Carolina, Julius Peppers remains a mystery to many who follow the team.
When
Julius Peppers
first came to Charlotte back in 2002, the key to the city was under his doormat. The deeds for two states were waiting in his mailbox.
The home-grown kid was going to own both of the Carolinas and be the first true superstar to play for the
Carolina Panthers
. It would be almost like Michael Jordan getting drafted by the former Charlotte Hornets instead of the Chicago Bulls.
So what the heck is happening now? Why does it look as if the man who was supposed to be the King of the Queen City and the Count of the Carolinas is about to walk away from a franchise and a fan base that so wanted to embrace him? Why does it look like the Panthers are willing to sit back and watch the best player they've ever had go?
If you could answer those questions with one statement or even point to a single issue, this wouldn't be happening because it could have been resolved. The curious case of Peppers and the Panthers is beyond complicated. Sure, football and money are involved. But it goes way deeper than that. The divorce that appears about to happen if the Panthers don't put the franchise tag on their defensive end before Feb. 25 and let him become a free agent also involves emotions, personalities and a marriage that never was as close to being perfect as it looked on paper.
Blame can flow both ways on this and it's not accurate to say either side is entirely right or entirely wrong. But it is fair to say they both were flawed and maybe this pairing was doomed from the very start.
Let's start with Peppers. If you don't know him, don't feel bad because, basically, nobody knows him. Since the day he walked in the door of Bank of America Stadium, his teammates, coaches and team employees have tried to figure him out. They never have.
I covered Peppers on a daily basis for The Charlotte Observer from the day he was drafted until I left for this space right after the 2007 season. I saw and talked with Peppers many times, but the truth is I've had deeper conversations with my cat.
Peppers is a mystery wrapped in the body of a pass-rusher. He came in as an extremely shy and quiet kid. The only difference in that now is he's no longer a kid. He's 30 and, although he went on a Charlotte radio station recently and said he didn't want to stay with the Panthers, nobody knows what it is he really wants. Nobody really has been able to crack that one.
September, 11, 2009
9/11/09
9:59
AM ET

Posted by ESPN.com's Pat Yasinskas
We mentioned the
passing
of longtime High Point (N.C.) Enterprise columnist Tom Berry recently. It's a tragic loss to anyone who ever ran across Tom or read his columns.
There's no way to cushion that blow, but there's a wee bit of positive news Friday about a way Tom will be remembered. Tom's name now will be attached to an annual award.
The Enterprise had the
full story
this morning, but I wanted to share this with all of you. As the NFC South chairman for the Pro Football Writers of America, I'm proud to say that the Carolina chapter of that organization will present the Tom Berry Good Guy Award to a member of the Panthers each year.
Writers who cover the Panthers on a regular basis, as Tom did, will vote on the player who is most cooperative with the media and the winner will be announced at the end of the season.
When I worked in Carolina, we gave a Good Guy Award several times and past winners included Mike Minter and Brentson Buckner. Those were guys who were true pros, always treating others with respect.
If that description sounds a lot like Tom Berry, it should. His name and the phrase "good guy'' should be linked together forever. Through this award, they will.
July, 29, 2009
7/29/09
2:52
PM ET
Posted by ESPN.com's Pat Yasinskas
While Michael Vick has been in the spotlight since his conditional reinstatement to the NFL on Monday, his agent has remained pretty much behind the scenes.
Don't look for that to change. Agent Joel Segal made a rare radio appearance on The Frank and Buck Show on Charlotte's WFNZ. The show is hosted by former Panthers Frank Garcia and Brentson Buckner. Segal used to represent Buckner.
"There's no doubt my style has been to do it low key,'' Segal said. "Try to be respectful of the process. Let everything happen slowly and procedurally. There's no way there's going to be daily updates.''
Although some teams have come out and said they're not interested in Vick, Segal didn't shed much light on if any teams are showing interest. At least for the moment, Segal didn't want to talk about the possibility of Vick playing in the United Football League.
"I've never commented on the UFL,'' Segal said. "I have no comment yet. We're just taking it one day at a time."
May, 13, 2009
5/13/09
2:30
PM ET
Posted by ESPN.com's Pat Yasinskas
Ray Hamilton, Brian Baker, Bill Johnson, Todd Wash and Robert Nunn have more in common than being defensive line coaches in the NFC South.
They also might face the biggest challenges of any coach on their individual staffs this season. There's a common theme through all the NFC South teams this year -- the defensive lines have to get better.
That's going to be largely up to the guys in charge of the defensive lines. Here's a look at the NFC South defensive line coaches and the challenges they face.
ATLANTA FALCONS

Ray Hamilton. He's a veteran and has long been recognized as being one of the best in the business. Hamilton did a fine job last year as veteran end John Abraham had a huge season and the Falcons were able to get by with the aging Grady Jackson in the middle of their line. But the Falcons had almost no pass rush outside of Abraham and Jackson is now gone. That brings new challenges for Hamilton. He's worked very hard this offseason with underachieving end Jamaal Anderson and there's hope Anderson can emerge in his third year. But the Falcons have Chauncey Davis as an insurance policy and drafted a project in Lawrence Sidbury. In a perfect world, Anderson steps up, Davis plays a role and Sidbury can be groomed as an eventual replacement for Abraham. Hamilton's also got a lot of work to do in the interior. Jonathan Babineaux has emerged as a very solid tackle, but Hamilton will have to break in rookie Peria Jerry next to him.
CAROLINA PANTHERS

Brian Baker. He's new to the Panthers and so is most of the defensive staff. Baker has a fine resume and has gotten big results out of Leonard Little, Robert Porcher, Luther Elliss and Kevin Williams in his previous stops. That's a good start because the coaching of the defensive line has been a controversial issue for the Panthers for most of John Fox's tenure. Once upon a time, the Panthers had Julius Peppers, Mike Rucker, Kris Jenkins and Brentson Buckner up front and they were coached by Mike Trgovac, who was regarded as one of the best defensive line coaches in the game. But Trgovac moved up to coordinator in his second season. That led to the hiring of Sal Sunseri as defensive line coach and some raised eyebrows around the league. A lot of people thought Sunseri, who was new to the NFL and had a background with linebackers, wasn't ready for the position and was hired because he was Fox's friend. Some players on the defensive line also held that view and the perception never went away. For reasons that haven't been fully explained, Jenkins asked out and got traded to the Jets, and Peppers still is asking out. Sunseri left after the season to coach at Alabama. Baker inherits a group that doesn't have nearly the talent level the Panthers once did, even if Peppers stays. He's going to have to coach up rookie Everette Brown very quickly and get some role players to overachieve. In the old days, Fox's teams were built around the defensive line. That's no longer the reality, but Baker has to bring this unit up to a respectable level.
NEW ORLEANS SAINTS

Bill Johnson. This was a critical hire as the Saints, once again, overhauled their defense and brought in coordinator Gregg Williams and a bunch of new personnel. Johnson's inheriting a group with lots of talent, but some players who haven't consistently lived up to their potential. It's Johnson's job to draw that from them and he'll start with defensive ends Charles Grant and Will Smith. In his first season with Denver, Johnson helped second-year pro Elvis Dumervil get 12.5 sacks. There's no reason why Smith and Grant both shouldn't be around the double-digit mark in sacks. One way Johnson will try to help those two is to give them some help from the inside, and the Saints have the potential to get that from second-year pro Sedrick Ellis, who had a solid rookie season. But Johnson's not counting on just Ellis. He helped bring veteran Rod Coleman out of retirement. There's history with Johnson and Coleman. They worked together in Atlanta and Coleman produced 28 sacks in their time together. Coleman's age may prevent him from being the force he once was, but he gives Johnson another guy who can make things happen up front.
TAMPA BAY BUCCANEERS

Todd Wash and Robert Nunn. Wash is coaching the defensive ends and Nunn is handling the defensive tackles. That combo approach is probably a good thing because the Bucs need all the help they can get up front. The defensive line was a major player in last year's late-season collapse, and there will be at least two new starters as end Kevin Carter and tackle Jovan Haye have left the team. Wash's main task is to get third-year end Gaines Adams to be more productive. There's talent there, but Adams needs to add some moves to go with his physical skills. Nunn's got to get young tackles Roy Miller and Dre Moore ready quickly because Chris Hovan didn't look like he had a lot left at the end of last season, and Ryan Sims and Jimmy Wilkerson are role players. New coordinator Jim Bates is bringing a whole new scheme to the Bucs, but that transition should be helped by the fact that Nunn worked with Bates in Miami and Green Bay.
February, 10, 2009
2/10/09
10:15
AM ET
Posted by ESPN.com's Pat Yasinskas
| | |
| --- | --- |
| | |
| | Greg Trott/Getty Images |
| | Julius Peppers' situation has made things complicated in Carolina. |
Primary issue
: The Panthers face one of the league's most challenging starts to the offseason with defensive end
Julius Peppers
and offensive tackle
Jordan Gross
eligible to become free agents. Both are Pro Bowlers and were critical in Carolina's 12-4 season. They also were the first two draft picks by coach John Fox and general manager Marty Hurney, and would play their entire careers in Carolina if the Panthers had their way.
The problem is this isn't a perfect world. There's only one franchise tag and the Panthers could use it on Peppers at around $17 million or Gross at nearly $9 million. This gets even more complicated because Peppers has made it clear he wants out of Carolina and Gross has said he wants to stay.
The Panthers have to come out of this with something in return. They can get two first-round picks if they franchise one of these guys and another team signs him to an offer sheet. But it's more likely and realistic that they'll franchise one and turn around and trade him.
Solution: The bottom line here is you might as well keep the guy who wants to be with you. Pay Gross his money before the start of free agency. Franchise Peppers and unload him for whatever you can get.
Secondary concern: No matter what happens with Peppers, the Panthers need to juice up their defensive line. A few years back, it was supposedly the best in the league when Peppers played with Mike Rucker, Kris Jenkins and Brentson Buckner. Those three are long gone and Peppers is about to join them.
The Panthers have some nice role players in guys like Maake Kemoeatu, Damione Lewis and Charles Johnson. But they don't have any cornerstones.
Solution: The Panthers need to get a first-round pick for Peppers and use it on a defensive end. The other option would be signing a high-priced free agent, but there's not a lot out there and the Panthers aren't flush with cap space. They've got to be aggressive in pursuing some midlevel defensive tackles in free agency.
---
| | |
| --- | --- |
| | |
| | G. Newman Lowrance/Getty Images |
| | Jonathan Vilma (top) and the Saints have yet to agree on a deal. |
Primary issue:
Linebacker
Jonathan Vilma
was one of the few bright spots on the defense last season, but he can become a free agent. Vilma has said he wants to return and the Saints have said they want him back. But there is no deal in place yet and the Saints are waiting until the start of free agency to keep down the cost of draft picks they owe the
New York Giants
and Jets in trades for Vilma and tight end
Jeremy Shockey
.
It's a little risky to let Vilma hang out there because another team could swoop in and steal him away. But you have to believe the Saints will make sure they keep Vilma. They need him to be the centerpiece of the defense for new coordinator Gregg Williams to succeed.
Solution: Hope they've already got a handshake deal in place with Vilma. The Saints have a bunch of other needs and they can't afford to let their one certainty get away.
Secondary issue: The Saints need to overhaul their secondary -- again. They've got a keeper in cornerback Tracy Porter, who missed much of his rookie year with an injury. Roman Harper is passable as a strong safety if the Saints can add some cover guys around him. Cornerback Mike McKenzie is 34 and coming off another major injury, and free safety Kevin Kaesviharn got beat far too often last year.
Solution: The Saints have to get at least one more quality cornerback and a free safety. The problem is they don't have a lot of cap room and have only four draft picks at the moment. But the good news is the Saints are pretty much set on offense. They need to use pretty much their entire draft and whatever cap space they can clear on getting some defensive help.
---
| | |
| --- | --- |
| | |
| | Dale Zanine/US Presswire |
| | Antonio Bryant was the Bucs' top receiver last year, but he's up for free agency. |
Primary issue:
Under offensive guru Jon Gruden, the Bucs never had much consistency on offense. New coordinator Jeff Jagodzinski will install a much-needed vertical passing game and it looks like the Bucs will give
Luke McCown
a chance to win the quarterback job.
But the Bucs need to give McCown a fair chance and Jagodzinski's offense an opportunity to succeed. The best way to do that is with some downfield targets and the Bucs didn't have many of those last year. Veteran Joey Galloway is likely on his way out of Tampa Bay because of age and last year's injuries.
Antonio Bryant stepped up as the No. 1 receiver last year and he's scheduled to become a free agent. After Bryant, the Bucs got almost nothing out of their wide receivers last year.
Solution: With more than $40 million in cap space, the Bucs absolutely have to re-sign Bryant before free agency starts. But they can't stop there. There should be a good crop of free agents available and several more receivers could be available by trade. Tampa Bay's passing game was horizontal last season. Jagodzinski wants to make it vertical this year. But the Bucs need to get him some guys who can get open downfield.
Secondary issue: Much like the rest of the team, the defensive line fell apart at the end of last season. Kevin Carter and Chris Hovan started looking old. Defensive tackle Jovan Haye was hurt much of last season and not very effective when he was on the field.
Solution: With all that cap money, the Bucs almost have to make a run at defensive tackle Albert Haynesworth or Peppers. All they really have on the defensive line is end Gaines Adams, who is still a work in progress. They can let Haye walk as a free agent and it's not inconceivable that they might free up more cap room by cutting Hovan and Carter. The Bucs need to work on the line heavily in free agency and the draft.
---
| | |
| --- | --- |
| | |
| | Kirby Lee/US Presswire |
| | The Falcons will have to find a replacement for the aging Lawyer Milloy. |
Primary issue:
The Atlanta defense overachieved last season and the coaches and front office know upgrades are needed at several spots. The most notable might be the two outside linebacker spots, where
Michael Boley
played his way out of the starting lineup last season and
Keith Brooking
showed his age.
The Falcons liked Coy Wire after he took over for Boley late last season. Wire and Boley are both scheduled to be free agents and Brooking presents a dilemma for the Falcons.
Brooking has spent his entire career with Atlanta, grew up in Georgia and played at Georgia Tech. He's been a good soldier through some good and bad times. But it's clear Brooking is near the end of his career. The Falcons found a good middle linebacker in Curtis Lofton in last year's draft. Now, they have to surround him with talent.
Solution: The Falcons might as well let Boley walk. The Brooking situation could work itself out. Brooking did some broadcasting after the season and it's possible he could decide to retire. That would end things gracefully. If that doesn't happen, the Falcons might have to release him. They should make a decent attempt to keep Wire, but linebacker has to be a priority in the draft and free agency.
Secondary issue: Safety Lawyer Milloy's experience was one of the reasons the secondary played beyond its talent level last season. He made guys like safety Erik Coleman and cornerbacks Chris Houston and Domonique Foxworth better than they really were. But Milloy is near the end of his career and it doesn't make a lot of sense to re-sign him to a long-term deal.
Solution: The Falcons will continue to try to help the secondary out by generating some pass rush from someone other than defensive end John Abraham. But, even with more pressure on opposing quarterbacks, the Falcons need some younger legs in the secondary. They need a replacement for Milloy and it wouldn't hurt to get another quality cornerback, too.
September, 11, 2008
9/11/08
2:00
PM ET
Posted by ESPN.com's Pat Yasinskas
It started as a verbal heavyweight bout with Warren Sapp, Kris Jenkins and Brentson Buckner arguing about who was the best defensive tackle in football. They're all gone, but that trio helped create the best rivalry in the NFC South.


Sure, everything's relative in a division where the four teams haven't been around forever and none of them have a very gaudy history, but the rivalry between the Carolina Panthers and Tampa Bay Buccaneers is very strong and very real.
It started with some training camp words from Buckner, who endorsed Jenkins as the best interior lineman in the league in 2003 and Sapp took exception. Things only escalated when the Panthers went down to Tampa and blocked three kicks in an overtime game that was one of the most physical contests in recent memory.
Through the years Carolina defensive lineman Kavika Pittman essentially had his career ended by what teammates said was a cheap block by Kenyatta Walker and Tampa Bay quarterback Chris Simms eventually lost his spleen after being hit front and back by Jenkins and linebacker Thomas Davis.
Oh, by the way, no account of this rivalry would be complete without mention of one of the more infamous stories of the last few seasons. Early on the morning before a 2005 meeting between these two teams, two members of Carolina's cheerleading squad were arrested after an incident in the restroom of a Tampa nightclub.
+ INTENSITY RATING: 2 (Have 911 on your cellular phone's speed dial)