July, 29, 2014
Jul 29
8:00
AM ET
WHITE SULPHUR SPRINGS, W. Va. --
New Orleans Saints
offensive tackle
Zach Strief
made a bold proclamation Monday, saying, "I think we can be as good as a running team as we have ever been."
And running back
Pierre Thomas
talked in a similar excited fashion about the run game the other day, saying among other things that, "We are putting in more time on the running game than I have ever seen before."
It would be natural to hear comments like that and be a little skeptical. The Saints seem to talk every summer about putting more emphasis on the run game -- but then the results have been decidedly hit and miss each season.
However, I've begun to sense one big difference while hearing folks talk about the run game this summer: Confidence.
[+] Enlarge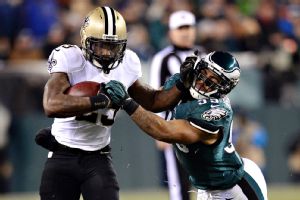 Joe Camporeale/USA TODAY SportsThe Saints found their running groove late in the 2013 season and during their playoff win at Philadelphia.
Both Strief and coach Sean Payton sounded Monday like they were very encouraged and energized by the success the Saints started to have in the run game late last season -- especially in their playoff victory over the
Philadelphia Eagles
.
And they seem to genuinely expect that progress to continue in the second year under offensive line coach Bret Ingalls, who introduced more of a zone-running scheme last year.
"I think that Pierre is right," Strief said after the Saints' run blocking was particularly impressive during Monday's practice session. "I think that last year there was kind of a renewed focus, and yet there was a big change that happened last year. I think going into this year there is a lot more understanding, a much better consistent understanding from linemen, tight ends, backs, on what exactly we are doing.
"There's that same emphasis that we had last year. (But) there's a little bit of success early, and I think there is a lot more confidence in it right now. And I think guys are really excited in that part of the practice."
Payton, meanwhile, has consistently talked about how he wants to do a better job of "controlling" the final four minutes of close games -- whether that's running the ball or stopping the run. The Saints struggled at times in both areas last year before improving late in the season.
When asked if the Saints need to counteract the dominant teams in the NFC like Seattle and San Francisco, Payton said, "Well, we think we're one of those teams."
"We played that way in our first playoff game against Philadelphia and really approached the second playoff game (at Seattle) much the same way," Payton said. "Now, do we want to improve in that area? Yes. But we feel like that's going to be important for us, and we feel like we're one of those teams."
The Saints certainly have the talent to do it. They have a deep running back corps led by Thomas,
Mark Ingram
and
Khiry Robinson
(who continued to impress in Monday's practice). And they have proven veteran blockers like Strief, Pro Bowl guards
Jahri Evans
and
Ben Grubbs
and tight end
Benjamin Watson
, among others.
The Saints also have shown an ability to run the ball efficiently in the past, especially in their two most prolific offensive seasons of 2009 and 2011 (when they twice had the No. 6-ranked rushing attack in the NFL).
And that's the blueprint here. Nobody is talking about the Saints changing their offensive identity.
They're talking about being more efficient when they run -- and being able to consistently make teams pay for trying to sit back in coverage like Philadelphia or New England did last year.
The Saints would have no problem with a repeat of 2011, when they threw for more than 5,300 yards and still ran for more than 2,100.
"We have one of the best quarterbacks (
Drew Brees
) in the history of the NFL, and we are going to throw the football," Strief said. "But when we get a chance to run it, I know we want five (yards) a carry. I know that we want to be efficient. And if you look back at the years that we have been successful, I think that is really where the importance is. ...
"I don't think that we need to be the 49ers where we are running the ball 50 times a game, because I think that we have different pieces in place to be effective in the passing game. But I think the mindset of this camp is that we have to be a lot more efficient than we have been. I think we are off to a good start with it."
February, 18, 2013
2/18/13
8:42
AM ET
Let's take a look at some odds and ends from around the division:
ATLANTA FALCONS
Owner Arthur Blank put out
a statement
saying his intention remains to get a new stadium built in downtown Atlanta. That came several days after team president Rich McKay implied the team might look to the suburbs if a deal can't be worked out in the city limits. But I think a move to the suburbs remains a back-burner option if a deal can't be reached for a downtown stadium.
Daniel Cox has a
great statistic
. The Falcons were 11-2 last season against quarterbacks that have been to at least one Pro Bowl.
CAROLINA PANTHERS
In this
radio interview
, defensive tackle Chris Canty said he would give the Panthers a hometown discount if they want to sign him. Canty, who recently was released by the New York Giants, is a Charlotte native. The Panthers have a glaring need at defensive tackle, so there's plenty of logic for a potential homecoming. But Canty might have to give the Panthers a huge discount to make this happen because they have very little salary-cap room.
NEW ORLEANS SAINTS
The team has
hired
former Michigan State offensive coordinator Dan Roushar as its running backs coach. Bret Ingalls, who previously was the running backs coach, will now become the offensive line coach. Ingalls has plenty of past experience working with offensive lines.
TAMPA BAY BUCCANEERS
Roy Cummings writes that maybe the Buccaneers should
bring back
Aqib Talib, the cornerback they traded away last season. Talib certainly is more talented than most of the cornerbacks that will be available in free agency. But I have a hard time seeing coach Greg Schiano bringing back a player with trouble in his past.
February, 13, 2013
2/13/13
4:26
PM ET
Time for an afternoon run through some odds and ends from around the division:
ATLANTA FALCONS
Quarterback Matt Ryan, who sprained his left shoulder in the NFC Championship Game, has
fully recovered
and started working out in the weight room.
North Dakota's boxing commission has
suspended a fighter
for taking a dive in a recent bout with former Atlanta defensive end Ray Edwards. Too bad Edwards wasn't able to find offensive tackles who would take a dive. If he had, he still might have a job with the Falcons.
CAROLINA PANTHERS
While
making a pitch
to state officials for $62.5 million in funding, owner Jerry Richardson said he would never move the team. Although there were the usual Los Angeles rumblings a while back, I can't see Richardson, who is so deeply rooted in the Carolinas, ever even attempting to move his team out of Charlotte.
NEW ORLEANS SAINTS
The team reportedly will
interview
former Kansas State coach Rob Prince as a potential running backs coach. Bret Ingalls has held that role and remains with the team. But the Saints reportedly plan to switch Ingalls over to offensive line coach.
The Saints have the best
regular-season record
of any division team since the start of the 2006 season.
TAMPA BAY BUCCANEERS
The Bucs have
signed
punter Chas Henry. I don't think incumbent punter Michael Koenen has much to worry about. Henry will get a look through the offseason and preseason, but Koenen has a pretty firm grip on the job. But coach Greg Schiano has made it clear he wants competition at every position and that even includes special teams.
January, 12, 2009
1/12/09
6:47
PM ET
Posted by ESPN.com's Pat Yasinskas
Here's the full update to the previous item we had on assistant coach Bret Ingalls joining the Saints. That move is one domino in a series of moves the Saints just announced to solidify and offensive coaching staff that was shaken up late last season when coordinator/offensive line coach Doug Marrone left for the head job at Syracuse.
Ingalls has been added to the staff as running backs coach. Along with that move, the Saints have made three other moves, promoting Pete Carmichael Jr. to offensive coordinator and Aaron Kromer to offensive line coach and naming Joe Lombardi quarterbacks coach.
Carmichael has been with the Saints since 2006, when coach Sean Payton took over. He previously was quarterbacks coach. Kromer had been the running backs coach, although he also took over the offensive line when Marrone left before the final two games last season.
Ingalls was at Northwestern the last three seasons, starting as offensive line coach and taking on the title of running game coordinator last year.
"My philosophy in hiring coaches has always been to make finding teachers of the game and enthusiasm the biggest priorities during the interview process," Payton said. "Bret is well respected for his knowledge and communication skills with players. He has a wealth of experience working with several position groups and as a coordinator and I am very excited with what he will bring to our coaching staff."
Promoting from within on offense is a wise move since the Saints have been excellent in the passing game throughout Payton's tenure. Payton is heavily involved in the offense, so there shouldn't be much difficulty with the transition.
"Pete's promotion is well-deserved and I can't say enough about his ability, and Aaron did a great job with the running backs last year, particularly with the development of Pierre Thomas,'' Payton said. "Moving to the offensive line, where the majority of his NFL experience is, was a natural progression on our staff, and he'll also contribute to our game-planning with the running game.
"Joe worked closely with Pete last season and has a strong understanding of our philosophy on offense. I like the way these moves complete our offensive staff, and the promotions from within maintain our continuity on an offense that has been extremely successful."
Still waiting to hear what the Saints are going to do on defense, where they fired coordinator Gary Gibbs.
January, 12, 2009
1/12/09
6:25
PM ET
Posted by ESPN.com's Pat Yasinskas
Looks like the Saints are adjusting an offensive coaching staff that was shaken up when coordinator Doug Marrone left late in the season to take the head job at Syracuse.
ESPN.com's Adam Rittenberg reports that Bret Ingalls has left Northwestern to take a position with the Saints. Presumably, it's as offensive line coach, an area Marrone specialized in before his departure.
Running backs coach Aaron Kromer handled the offensive line for the last two regular-season games. The Saints are expected to make an announcement soon on Ingalls' hiring and what it means for the coaching staff.