August, 31, 2013
8/31/13
6:27
PM ET

Most significant move:
The Falcons were 13-3 last year and kept most of their team together. That's why it's more than a little surprising that four undrafted free agents made the roster. That's a tribute to the scouting staff. OT
Terren Jones
, LB
Paul Worrilow
, LB
Joplo Bartu
and OT
Ryan Schraeder
made the team. Worrilow and Bartu should contribute immediately on special teams. Schraeder has shown the ability to play both right and left tackle.
Fan favorite:
He was a long shot all the way, but Banks was being followed closely by fans. That's because he had a unique history. Banks spent five years in prison and later was exonerated. Banks' attempt to make the team was a great story while it lasted. But it may not be completely over. The Falcons reportedly may offer Banks a position working with the team.
What's next:
The Falcons could be combing the waiver wire for offensive line help. Second-year pro
Lamar Holmes
is unproven at right tackle and the Falcons, who lost projected starter
Mike Johnson
to injury, might want to bring in an alternative. Even if Holmes plays well, the line still could use more depth. It also is possible the Falcons could bring in a veteran quarterback because backup
Dominique Davis
never has taken a snap in the regular season.
Players cut:
Waived LB
Brian Banks
, G
Theo Goins
, DT
Neal Huynh
, CB
Terrence Johnson
, S
Charles Mitchell
, DT
Micanor Regis
, T
Alec Savoie
, LB
Pat Schiller
, K
Jeremy Shelley
, CB
Peyton Thompson
, RB
Ronnie Wingo
, FB
Patrick DiMarco
, LB
Robert James
, WR
Darius Johnson
, CB
Jordan Mabin
, G
Phillipkeith Manley
, G
Jacques McClendon
, WR
Martel Moore
, DT
Adam Replogle
and WR
James Rodgers
. The Falcons also placed QB
Sean Renfree
and TE
Andrew Szczerba
on injured reserve.
August, 22, 2013
8/22/13
5:49
PM ET
I'll be back later tonight with observations on the
Carolina Panthers
from their preseason game with Baltimore. But in the meantime, let's touch on a couple of headlines worth noting.
New Orleans wide receiver Marques Colston, who has been bothered by a foot injury, returned to practice Thursday. Coach Sean Payton said he was encouraged with what he saw, but said Colston likely will sit out Sunday's preseason game.
Atlanta linebacker Brian Banks has been one of the feel-good stories of this preseason. He's getting a chance at the NFL after 10 years away from football. But Banks hasn't played much in the first two preseason games. But coach Mike Smith said Banks will get more playing time in the final two. Banks might be a long shot to make the regular roster, but he could end up on the practice squad.
July, 30, 2013
7/30/13
8:26
AM ET
Let's take a morning run through some odds and ends from around the division:
ATLANTA FALCONS
Linebackers coach Glenn Pires said rookie Brian Banks is
progressing well
. Banks is one of the best stories in the league this year. He's playing football for the first time in more than 10 years after being exonerated of a charge that kept him in prison for more than five years. Banks quickly has become a fan favorite, but it remains to be seen if he'll make the roster.
CAROLINA PANTHERS
Injuries have been a problem for the Panthers since the arrival of coach Ron Rivera. They've had 16 players on injured reserve each of the past two seasons. But Rivera has made
multiple changes
to his camp routine in an effort to keep his team healthier.
NEW ORLEANS SAINTS
Larry Holder reports that the elbow injury outside linebacker Martez Wilson suffered Monday is likely to
sideline him two to four weeks
. That means Will Smith and Junior Galette will get all of the first-team work for the rest of the preseason. It also could open the door for rookie Rufus Johnson to have a shot at some playing time.
TAMPA BAY BUCCANEERS
Coach Greg Schiano has brought plenty of ideas from college to the NFL. Here's another one: Instead of keeping Adrian Clayborn and Da'Quan Bowers at the same positions all the time, the Bucs plan to
flip-flop
their defensive ends between the right and left side.
July, 23, 2013
7/23/13
5:13
PM ET
Let's run through some odds and ends from around the division:
ATLANTA FALCONS
One of the more intriguing storylines of this preseason is the tale of linebacker Brian Banks, who spent more than five years in prison before being exonerated. The Falcons are giving Banks a chance to make their roster. I encourage you to read Banks'
blog post
as he heads to camp because it's pretty powerful.
D. Orlando Ledbetter ranks Roddy White at No. 3 on his list of the
top 25 Falcons
. That's a couple spots ahead of fellow receiver Julio Jones. I'd argue that one a bit. I still think White is a elite receiver, but I think this is the year Jones becomes the go-to guy.
CAROLINA PANTHERS
Coach Ron Rivera
confirmed
our earlier report that offensive lineman Travelle Wharton met with the team Tuesday. Wharton is coming off a knee injury and the Panthers wanted their medical staff to get a look at him. Still no word on if Carolina will sign Wharton, who spent eight seasons with the Panthers before going to Cincinnati last year.
NEW ORLEANS SAINTS
Larry Holder has an overview of the
situation at inside linebacker
. Curtis Lofton is a certainty at one spot. But the bigger question is whether or not Jonathan Vilma can bounce back from knee injuries and fit in a 3-4 defensive scheme. Vilma didn't like playing in the 3-4 when he was with the New York Jets, but the Saints seem confident the veteran will be able to adapt.
TAMPA BAY BUCCANEERS
Rick Stroud starts of his list of Bucs that need a
bounceback season
with defensive end Adrian Clayborn. There's been a lot of talk about fellow defensive end Da'Quan Bowers needing to step up. But it's critical that Clayborn, who missed most of last season with a knee injury, returns to full health. Clayborn had 7.5 sacks as a rookie in 2011 and could end up being Tampa Bay's biggest pass-rushing threat.
July, 16, 2013
7/16/13
10:29
AM ET
Time for a look at the top morning headlines from around the division:
ATLANTA FALCONS
D. Orlando Ledbetter has running back Steven Jackson at No. 10 on his list of the
top 25 Falcons
. I think, when all is said and done, Jackson could be more than the 10
th
most important player on this team. He won't carry the heavy load he did in St. Louis, but he'll give the Falcons a better running game than they had last year and he also will catch a lot of passes out of the backfield.
Daniel Cox writes that defensive coordinator Mike Nolan
likes the maturity
he has seen out of rookie linebacker Brian Banks, who hasn't played football since high school. Banks has a very real chance to make the team as a backup and special-teams player.
CAROLINA PANTHERS
Bryan Strickland brings up a
good point
when he suggests Carolina fans might have been spoiled by having receivers Steve Smith and Muhsin Muhammad together for so long. Perhaps as a result of that, a lot of fans don't see Brandon LaFell as an adequate No. 2 receiver. Back in the old days, you could argue whether Smith or Muhammad was No. 1. LaFell is not a threat to overtake Smith as the No. 1 receiver, but he's a decent No. 2 guy.
NEW ORLEANS SAINTS
Bradley Handwerger
points out
that from Nov. 10 through Dec. 2, the Saints will play the Cowboys, 49ers, Falcons and Seahawks. That's a brutal stretch and Handwerger writes that the Nov. 21 game in Atlanta could go a long way in deciding the NFC South race.
TAMPA BAY BUCCANEERS
Chief operating officer Brian Ford said overall
ticket sales have increased
by 60 percent over this point a year ago. Ford wouldn't guarantee that the Bucs will sell enough tickets to have all their game aired live on local television this season, but he sounded optimistic and said the Bucs once again will take advantage of the NFL option to use the 85-percent threshold of general admission tickets to determine if a game will be televised locally.
June, 26, 2013
6/26/13
10:42
AM ET
By
ESPN.com staff
| ESPN.com
Atlanta Falcons
Before Matt Ryan arrived in Atlanta, the Falcons had never achieved back-to-back winning records, notes David Teel of the (Newport News, Va.) Daily Press. Ryan started from day one and has
led the Falcons to five consecutive winning seasons
and four playoff appearances. "I think consistency's probably the hardest thing to ... maintain throughout your professional career," Ryan told reporters Tuesday.
Daniel Cox of AtlantaFalcons.com writes that Ryan's start to his career compares favorably with
some of the best quarterbacks ever
.
Falcons linebacker Brian Banks, who was wrongly imprisoned for five years, said he was "
eating [himself] alive with this negative energy
" in jail, writes NFL.com's Dan Hanzus.
Carolina Panthers
Why have the Panthers done a
poor job at managing public expectations
? Cat Scratch Reader's James Dator explores.
Panthers linebackers coach Al Holcomb gave Max Henson of Panthers.com some
early observations on his three starters
-- Luke Kuechly, Jon Beason and Thomas Davis -- following minicamp practices.
New Orleans Saints
The Times-Picayune continues its series on the Saints' top 25 players, with No. 18:
linebacker Jonathan Vilma
.
Tampa Bay Buccaneers
Will the Buccaneers' defensive line
be better in 2013
than it was last season? The Pewter Plank's Leo Howell takes on that question in his latest mailbag.
Vincent Jackson's inaugural Youth Camp aimed not only to entertain the children of deployed soldiers, but to
help them handle the absence of their military parents
.
June, 25, 2013
6/25/13
10:30
AM ET
By
ESPN.com staff
| ESPN.com
Atlanta Falcons
Defensive end John Abraham is still a free agent, and the Atlanta Journal-Constitution's Jeff Schultz says the
Falcons could use the veteran's help
.
Running back Steven Jackson "has always been among the most impressive physical specimens in the league, and now he'll have a chance to show off the well-rounded game that comes with it,"
writes Robert Mays of Grantland's Triangle blog
.
Here are
five under-the-radar battles that will determine if the Falcons
will have some quality depth in 2013, courtesy of the AJC's D. Orlando Ledbetter.
Falcons rookies are getting pumped up for training camp -- and it's only June. Linebacker
Brian Banks tells the team's website
, "To finally put on pads, to finally get physical out here -- Steven Jackson is the same size as me. It makes no sense how big he is, but I can't wait to go against him and everybody else."
Carolina Panthers
Who is the most overrated player in Panthers' franchise history? If you immediately blurt out Sean Gilbert,
NFL.com has a different suggestion
.
Offensive coordinator
Mike Shula tells the National Football Post that the Panthers
are streamlining the game plan for QB Cam Newton. Shula: "We're looking at different ways for him to think faster and play faster on the field."
Contrary to one online report, running back
Jonathan Stewart does not have cancer
.
Linebacker
Chase Blackburn doesn't hesitate when asked why he wants
to be a Carolina Panther: "I've won two championships; I want to win more."
New Orleans Saints
Marques Colston is now one of 14 players on the Saints' 90-man roster over 30
, and one of the 14 left of the dwindling numbers from the 2009 Super Bowl team, but Katherine Terrell of NOLA.com reports the wide receiver is showing no signs of slowing down.
Athlon Sports analyzes the Saints' 2013 schedule
, including a "3-1 mark to start the year is a very real possibility."
The Times-Picayune continues its series on the Saints' top 25 players,
including No. 19 center Brian de la Puente
.
Tampa Bay Buccaneers
Can the Bucs afford to have the NFL's
highest paid punter in Michael Koenen
?
More from the former NFL players gossip mill,
Tiki Barber responds to former Buccaneer Warren Sapp's comments on Michael Strahan
. "Warren's an idiot. He just wants to say things to be idiotic. I played with Stray for my whole career. He is the greatest of the great. He is a great teammate, he kept things light, but on game day he was as serious as a heart attack and it showed in his play."
June, 17, 2013
6/17/13
10:46
AM ET
By
ESPN.com staff
| ESPN.com
Atlanta Falcons
Free-agent defensive tackle
Richard Seymour told NFL.com's Steve Wyche
that negotiations with the Falcons might be visited again closer to training camp.
A
woman who falsely accused Falcons rookie linebacker Brian Banks
of rape has been ordered to pay The Long Beach Unified School District $2.6 million.
Robert Alford, Atlanta's second-round pick, has signed a four-year contract with the team. The Atlanta Journal Constitution's D. Orlando Ledbetter
reports the Falcons have now signed six of their eight
draft picks.
No surprise here, as some of the
biggest offseason questions surrounding the Falcons
involve the defensive side of the ball.
Carolina Panthers
When will
Steve Smith hang up the cleats
? The Pro Bowl wide receiver fills in some dates with the Charlotte Observer's Tom Sorensen, and discusses his post-NFL career plans.
Domenik Hixon and Chase Blackburn went to rival high schools in Ohio, played and lived together at Akron and won two Super Bowls with the New York Giants. Now,
the pair is reunited on a Panthers squad
that could use a little championship experience, says Joseph Person of the Charlotte Observer.
Carolina has scheduled
its annual Fan Fest at Bank of America Stadium
for Aug. 3.
New Orleans Saints
Former New Orleans Saints special teams star
Steve Gleason guest-writes for Peter King and his MMQB column
. With humor and wit, Gleason writes on topics including the connection between football and brain disease, and the technology that enables him to write a 4,500-word column. Also,
Alex Restrepo of NewOrleansSaints.com writes a column on Gleason
and his family. "Every day is an adventure of discovery," said Steve through email.
It's
40 days and counting till the Saints take the field again
for training camp. The Advocate's Brian Allee-Walsh takes a look at questions including Victor Butler's injury impact, Rob Ryan's 3-4 defense and Drew Brees' backup.
Former Saints defensive end
Joe Owens passed away last week
at the age of 68.
Tampa Bay Buccaneers
Quarterbacks coach John McNulty tells the Tampa Bay Times that
quarterback Josh Freeman is demonstrating
"his urgency, his inflection, his demeanor. Everything has been high energy and positive and going at a fast pace. Guys don't have a choice but to go along with him."
Will the Bucs make the playoffs this season? NFL.com's
Marc Sessler gives five reasons Tampa Bay
will be playing in January.
The aftermath of losing two Pro Bowl guards to injury last fall helped create what appears to be very good offensive line depth and flexibility heading into 2013,
according to the team's website
.
May, 29, 2013
5/29/13
2:31
PM ET
The
Atlanta Falcons
had an OTA (organized team activity) that was open to the media. Obviously, I was out at Tampa Bay's session and can't be in two places at once, so let's turn to the links to check in on the Falcons:
First-round draft choice Marcus Trufant isn't at OTAs because he's finishing school at the University of Washington. But the team is using technology to try to keep Trufant up to speed. He has been videoconferencing with coaches and teammates. That might not be ideal. But the Falcons are making the most of the situation and doing everything in their power to make sure Trufant has a feel for the defense by the start of training camp. That's significant because the Falcons are expecting Trufant to be one of their starting cornerbacks.
According to several reports wide receiver Roddy White and tight end Tony Gonzalez were not at Wednesday's session. They're both veterans so I doubt they're missing out on very much.
Rookie linebacker Brian Banks is doing perhaps the smartest thing he can. He's using veteran linebacker Sean Weatherspoon as his mentor. Weatherspoon is the heart and soul of Atlanta's defense and he should be able to help Banks with the learning curve.
May, 5, 2013
5/05/13
10:01
AM ET
Time for a look at the Sunday morning headlines from around the NFC South:
ATLANTA FALCONS
Brian Banks opened
rookie minicamp
working at middle linebacker. Banks was signed by the Falcons in April. He spent more than five years in prison before being exonerated. Banks will be trying to earn a backup spot behind Akeem Dent. Playing on special teams also could help his chances of making the roster.
Daniel Cox has a feature on
the hands
of rookie defensive end Malliciah Goodman. That may seem a little unusual, but Goodman has unusually large hands. That could give him an advantage against offensive linemen. Goodman also has long arms, which could help him bat down some passes.
CAROLINA PANTHERS
The Panthers may not have any superstars at cornerback, but Joseph Person points out that Drayton Florence brings
plenty of experience
. Florence said he's ready to fill whatever role is asked and will be happy to help tutor young corners Josh Norman and Josh Thomas.
NEW ORLEANS SAINTS
Steve Spagnuolo, who was fired as defensive coordinator after one season with the Saints, has been hired by Baltimore as a
senior defensive assistant
. Despite what happened in New Orleans last year, Spagnuolo still is a good coach. New Orleans was just the wrong place at the wrong time for him. The defensive side of the ball didn't have a lot of talent and the Saints were going through a lot of turmoil with coach Sean Payton serving a suspension.
TAMPA BAY BUCCANEERS
After letting Roy Miller go in free agency, the Bucs are hoping rookie Akeem Spence can become their
starting nose tackle
.
In
this radio interview
, general manager Mark Dominik said he fully expects cornerback Darrelle Revis to be ready for the start of the regular season. Revis is coming off a major knee injury. The team's medical staff did its homework on Revis and is confident his knee won't be a problem.
April, 9, 2013
4/09/13
4:07
PM ET
Time for a quick look at the day's top headlines from around the NFC South:
TAMPA BAY BUCCANEERS
In the latest twist of the saga of a possible trade with the New York Jets for cornerback Darrelle Revis, Mark Cook reports that the Bucs
might not be willing
to give up a first-round pick in 2013 or 2014. That's contrary to a lot of previous reports that have said the Bucs would be willing to give up a first-round choice in one of those years. I suspect this is just more posturing as both sides try to angle for the best possible deal.
CAROLINA PANTHERS
Check out this
Sports Science video
featuring Kenny Vaccaro, who I see as a potential draft pick for the Panthers. If Vaccaro doesn't make it as an NFL safety, he could have a future as an Olympic hurdler.
NEW ORLEANS SAINTS
Center Brian de la Puente has
signed his tender
as a restricted free agent.
ATLANTA FALCONS
Recently-signed linebacker Brian Banks went on Atlanta's KTLA and talked about
the ordeal
he went through, which included serving more than five years in prison for a charge he later was exonerated of.
April, 3, 2013
4/03/13
1:45
PM ET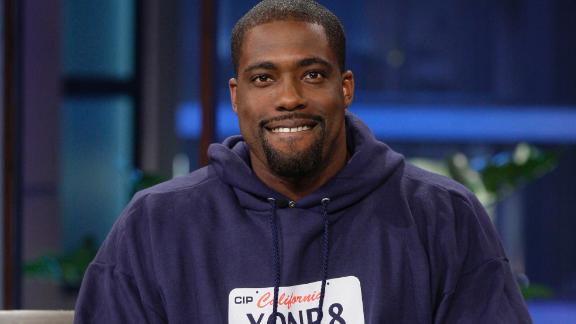 Atlanta Falcons
coach Mike Smith might be one of the straightest shooters in the NFL. That's why he just might be the perfect coach for Brian Banks.
If you don't know Banks' story already, he's the linebacker who had it all -- once upon a time -- and lost it. Banks was a top recruit coming out of high school and had committed to the University of Southern California. But Banks never got to play college football.
He was charged with rape and kidnapping, then convicted, and spent more than five years in prison. Eventually, he was exonerated as his accuser recanted her claims.
The Falcons, who worked out Banks last summer and had stayed in touch, signed him to a contract Wednesday morning. But the deal didn't come with any promises.
"I had a really amazing one-on-one conversation with [Smith] where he congratulated me and said that he was happy for me to be here, but this is just the beginning of a long road to taking that next step and making the 53-man roster," Banks said in a conference call with the Atlanta media. "We both agreed that I don't expect any handouts or favoritism. I'm here to work like everybody else. The result of my hard work will be whatever they deem necessary. All I can do is do my best."
Banks' best might be good enough. He's 27, and the Falcons must have seen some physical talent in a player who spent last year with Las Vegas of the United Football League. Despite Banks' age, there's no need for the Falcons to rush him.
If Smith and his staff think Banks shows enough in training camp to play in the NFL, they can groom him slowly as a reserve behind middle linebacker
Akeem Dent
or on the practice squad. There also is the matter of the attention that comes with Banks because of his past.
In some markets, that might create a distraction. But I think Atlanta is a different situation. Banks is a one-day story, because the Falcons are a veteran team that came 10 yards from the Super Bowl last season. Taking the next step is the big offseason story for the Falcons, and that will keep the attention off Banks.
He's also coming into a locker room that has strong veteran leadership, and he'll be coached by a good defensive staff led by coordinator Mike Nolan.
Banks said all he can ask for is a chance.
"That's why I work so hard now for the dreams I want to succeed in, because there's one point in my life where I lost everything," Banks said.
With the Falcons, Banks will at least get a fair chance to show whether he can play in the NFL.
April, 3, 2013
4/03/13
10:14
AM ET
At age 27, Brian Banks will get his first real chance to make an NFL roster.

Although he's been given a few tryouts in the past, Banks never has been through an NFL offseason program. He'll get that chance this year.
The linebacker, who spent more than five years in prison before being exonerated, was signed by the Atlanta Falcons on Wednesday morning. Banks will join the Falcons when they begin their offseason program this month.
Banks was a highly recruited prospect and committed to the University of Southern California. But he never got to play college football. Banks was charged with rape and kidnapping when he was 17 and sent to prison when he turned 18. He later was exonerated of all charges after his accuser recanted her claim.
Banks played for Las Vegas in the United Football League in 2012.
We'll hear more from Banks in a few hours. He is scheduled to do a media conference call, and we'll be back with the highlights.