November, 2, 2014
11/02/14
8:15
PM ET
CLEVELAND -- The running game looked better than it has most of the season and the passing game was decent. The defense also did some good things.
So why did the
Tampa Bay Buccaneers
lose 22-17 to the
Cleveland Browns
on Sunday?
The easy and most accurate answer is the special teams. The Bucs had three catastrophic special-teams plays that each led to Cleveland points.
[+] Enlarge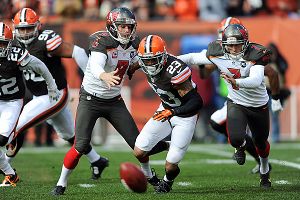 Ken Blaze/USA TODAY SportsPatrick Murray's field goal attempt in the first-quarter was blocked, leading to Cleveland points on the ensuing drive.
"Special teams really hurt us today," coach Lovie Smith said. "Can't have a punt blocked, a field goal blocked, jump offsides and let them continue a drive to score a touchdown. All those plays really hurts us."
Let's run through the litany of errors. The first came early in the game when
Patrick Murray
's 31-yard field-goal attempt was blocked by
Billy Winn
. That came with 9:43 left in the first-quarter and the Browns followed it up with a field goal.
The more costly plays came in the second half. The one that seemed to anger Smith the most came with 10:10 left in the third quarter. The Bucs had shut down Cleveland in the red zone and the Browns were about to settle for a field goal.
But that's when
William Gholston
was called for a neutral-zone infraction. That gave the Browns a first down. Three plays later, Cleveland scored a touchdown to take a 16-10 lead.
It didn't end there. With 9:42 left in the fourth quarter,
Michael Koenen
lined up to punt. Officially, the play was not called a blocked punt, but it had the same impact. A Cleveland player deflected the ball and Koenen was credited with a 1-yard punt.
That gave the Browns possession at the Tampa Bay 35-yard line. Two plays later,
Brian Hoyer
hit
Taylor Gabriel
with the game-winning touchdown pass.
"Good plays on their part," Smith said. "One jumped over us. Got to be able to get that. A guy coming up the middle, we should have him blocked. And then, you move on the snap of the ball and let a drive keep going. Those were all blunders that really cost us in the end."
October, 30, 2014
10/30/14
3:33
PM ET
TAMPA, Fla. -- All-Pro defensive tackle
Gerald McCoy
knows how to deal with the media better than any of the other Buccaneers. He knows he's the most powerful voice in the locker room, and he isn't afraid to say what's on his mind.
McCoy
McCoy, obviously, had something on his mind Thursday. Unsolicited, he opened his weekly chat with the media with glowing praise of Cleveland quarterback
Brian Hoyer
. At the same time, McCoy certainly seemed to be taking a shot at
Johnny Manziel
without ever using the rookie's name.
"First off, I want to say from me how much respect I have for Brian Hoyer and what he represents on the field,'' McCoy said. "I don't know who he is or what type of guy he is off the field. He's in the starting role for a reason. He rightfully earned that role through all the circus that was going on in Cleveland.
"He never wavered. He kept his mouth shut, and he just performed, and he's the guy who should be starting. He's led them the way he should. He's an athletic guy, smart, can make all the throws and is a huge reason why they are where they're at. Starting with him, we've got to make sure we neutralize him.''
The Browns drafted Manziel in the first round amid all sorts of hoopla. Manziel was the focus of all the preseason media hype. But Hoyer won the job and has a pretty firm grip on it with the Browns off to a 4-3 start.
April, 7, 2009
4/07/09
5:11
PM ET
Posted by ESPN.com's Pat Yasinskas
The Tampa Bay Buccaneers are our final stop in the series of mini-mailbags (two questions per team).
James in Tampa writes: Pat,I'm a huge Buccaneers fan and I was just wondering if you see Tampa going after any of the big receivers or defensive linemen that are available?I think this is a team that needs every weapon and pass rusher they can get? What are your thoughts and predictions on this?
Pat Yasinskas: Wow, it's kind of nice to get a Bucs' question that doesn't involve the quarterback position. I think a defensive lineman (end or tackle) or a wide receiver is very possible in the first round. Not sure there's going to be good value for an end at No. 19 in the first round. If the Bucs decide to go defense with that pick, I say go with one of the tackles. B.J. Raji could fall after reportedly failing a drug test. Ron Brace or Peria Jerry could be available at that spot and either could be a big boost for a run defense that needs some help. But I truly like the idea of getting a receiver at that spot. The Bucs have Antonio Bryant and Michael Clayton and that's a nice start. Bryant and Clayton are both big receivers and are good in the possession game. If you could throw a downfield receiver like Maryland's Darrius Heyward-Bey into that mix, I think Luke McCown suddenly would be in a position where he'd have a pretty strong chance to succeed as the starting quarterback.
---
Daniel in Jamestown, N.Y., writes:
Hey Pat, say the Bucs stick with a defensive player in the first round, do you see them drafting a quarterback later on? The likes of
Pat White
even?
Pat Yasinskas: Not even a mini-mailbag on the Bucs would be complete without some sort of quarterback question. But I think Daniel might be on the right path here. I know there are schools of thought out there that the Bucs might take Josh Freeman or trade up to get Mark Sanchez. But I don't think Freeman's ready to start and I think the price tag to move up for Sanchez may be too steep. I definitely can see the Bucs taking a quarterback a bit later on. Not sure if Pat White's the guy for Jeff Jagodzinski's offense because he's undersized and isn't the classic drop-back passer. But I could see someone like Michigan State's Brian Hoyer or Purdue's Curtis Painter being a possibility in the middle or late rounds.
March, 19, 2009
3/19/09
10:00
AM ET
Posted by ESPN.com's Pat Yasinskas
Here's one for everyone who likes to take every pre-draft tidbit and turn it into a huge deal -- and aren't we all guilty of that? Anyway, Carolina Panthers offensive coordinator Jeff Davidson ran the workout for quarterback Brian Hoyer at Michigan State's pro day Wednesday.
Yep, go ahead and start thinking about the Panthers drafting Hoyer to be the eventual replacement for Jake Delhomme. There's logic here. Delhomme's getting older and Hoyer is a prospect. He didn't have a great senior season in a run-first offense. But he's been climbing up the charts with good showings in the East-West Shrine Game, the scouting combine and at Wednesday's workout. He has decent size (6-foot-2 and 215 pounds), a good arm and some intangibles. Sounds like a young Delhomme.
Can't you just see Hoyer getting picked by the Panthers in the middle rounds, sitting behind Delhomme for a year and, then, taking over as Carolina's next franchise quarterback?
Hey, it's nice to dream and don't rule out the possibility of Hoyer landing with the Panthers. But don't read too much into who's at what workouts or what players make pre-draft visits to what teams. Everybody's watching workouts and going through the visiting process. It's all part of the routine.
Davidson as the front man for Hoyer's workout doesn't mean all that much. A lot of times, those things happen because a college coach knows a pro coach or all the coaches show up and somebody says, "All right, who wants to run this workout?" and somebody volunteers. There's not a lot of rhyme or reason in these things.
But go ahead and think about this one a bit. Davidson was running Hoyer's workout. Do the math. Two and two can come to four. But, at this time of year, it sometimes can add up to five or nothing.