November, 16, 2012
11/16/12
9:38
AM ET
Time for a quick look at the top Friday morning headlines from around the division:
ATLANTA FALCONS
Kent Somers writes that offensive coordinator Dirk Koetter is likely to be
a candidate
for a job as a head coach after the season. That might happen, but Koetter can only help his chances at a bigger job if he can develop some sort of running game to go with Atlanta's passing game.
Speaking of Atlanta's running game, the Falcons came into the season saying they planned to limit the number of carries for Michael Turner. The running back said he still is
adjusting to that role
. He better adjust quickly, because the Falcons already are into the second half of their season.
D. Orlando Ledbetter writes that defensive ends Lawrence Sidbury, Cliff Matthews and Jonathan Massaquoi all have a chance at
increased playing time
after the release of Ray Edwards. Matthews is the guy I'd keep an eye on. He has the most value on special teams, and that means he's likely to be active on game days and should get a spot in the rotation at defensive end.
CAROLINA PANTHERS
Ron Green Jr. has a nice story on how linebacker Thomas Davis has made a
successful comeback
from his third torn ACL. Davis is believed to be the first NFL player to accomplish that, and that alone should make him a candidate for Comeback Player of the Year. But Denver quarterback Peyton Manning and Minnesota running back Adrian Peterson probably have a better shot at the award because they have higher profiles.
Although the Panthers named Richard Rodgers as their special teams coach after firing Brian Murphy this week, they're using a
committee approach
, and other assistants are now involved with the special teams.
NEW ORLEANS SAINTS
Mike Triplett writes that Sean Payton probably will
take his time
in getting a new contract done with the Saints. That would give Payton time to see if the Dallas job, which Triplett says is the only job that might lure him away from the Saints, does come open. If you're a Saints' fan, it's time to start rooting for the Cowboys to go on a playoff run so that coach Jason Garrett keeps his job.
Deuce McAllister said he'll be happy to see receiver Marques Colston
break his franchise record
for touchdowns scored. The two are currently tied with 55 apiece. McAllister said he has always admired how hard Colston has worked.
TAMPA BAY BUCCANEERS
Erik Erlendsson has a feature on how fullback Erik Lorig
has emerged
as an important part of Tampa Bay's offense. Lorig already has a career-high nine receptions, and has been doing a nice job blocking for Doug Martin.
Cornerback Aqib Talib
spoke with the Boston-area media
for the first time since he was traded from Tampa Bay to New England. Talib wouldn't talk about his past troubles and said, when he met with Patriots coach Bill Belichick, the focus was only on the present.
November, 13, 2012
11/13/12
9:51
AM ET
FALLING
Atlanta's offensive line.
This team is a yard away from being 9-0. But the Falcons are 8-1 because they couldn't score when they were at the goal line late in the game. Running back
Michael Turner
has taken tons of criticism and it's obvious age is catching up and he's not the same back he was a few years ago. But I put at least as much blame on the offensive line. The Falcons weren't able to run the ball at all against the Saints, who don't have a good defense. The Falcons haven't run the ball with any consistency all season. It's mostly because the holes aren't there. Even when
Jacquizz Rodgers
or
Jason Snelling
have carried the ball, there hasn't been a lot of room to run. I don't care how much speed Turner has lost. He's still big and powerful and should be able to gain a single yard if there's any kind of blocking in front of him.
[+] Enlarge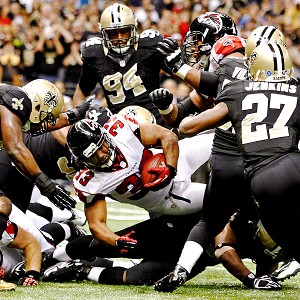 Derick E. Hingle/US PresswireFalcons RB Michael Turner had little room to run against the Saints, but that's not entirely his fault.
Ron Rivera, coach, Panthers.
So, now he's fired special teams coach Brian Murphy in the middle of the season. Like that's really going to make a difference? The Panthers are still going to have the same players on special teams, so I don't think it matters who is coaching them. Rivera is fighting to keep his own job and maybe he thinks a move like this will help his cause. I doubt it. Rivera's the guy that hired Murphy in the first place.
Atlanta's locker room.
Although Monday night's release of defensive end
Ray Edwards
certainly had a lot to do with lack of production, I think there was more to it than that. Ordinarily, you don't make major moves when your team is 8-1. But I think coach Mike Smith and general manager Thomas Dimitroff sensed the atmosphere in the locker room wasn't perfect. Edwards hadn't made any strong effort to re-claim the starting job he lost earlier in the season and I think there was some concern his lackadaisical attitude was spreading into other parts of the locker room. Removing him was probably a good idea, but the Falcons better hope that Edwards' attitude hadn't spread too far and they might need their veteran leaders to make sure everyone is on the same page.
RISING
Vincent Jackson and Mike Williams, receivers, Buccaneers.
Jackson is averaging 21.4 yards per catch and Williams is averaging 18.3. They're the top two in the league among receivers with 30 or more catches. They're classic evidence that Tampa Bay's offense is exactly what coach Greg Schiano and offensive coordinator Mike Sullivan said it would be. The Bucs are running the ball and taking shots down the field and the formula is working nicely.
New Orleans' defense.
Yes, I put New Orleans' defense in the "rising'' category. This unit has taken tons of criticism all season and every bit of it has been deserved. There still are major problems that probably can't be fixed until the offseason. But the defense played a big role in the victory against Atlanta. The Saints stopped the Falcons twice in the final few minutes and also got the Falcons off the field a few other times. That's major progress.
Joe Vitt, interim coach, Saints.
Despite an 0-4 start, Aaron Kromer held the team together nicely until Vitt returned from suspension. Since Vitt's return, the Saints have played some good football and are starting to look like the Saints of old. They still may face an uphill battle to make the playoffs. But Vitt is a motivator and he has the Saints playing very hard right now.
November, 12, 2012
11/12/12
6:11
PM ET
I just got settled back into NFC South Blog headquarters, so let's take a run through the top headlines from around the division:
ATLANTA FALCONS
Veteran center Todd McClure said the
woes in the running game
aren't all due to the five offensive linemen. He's got a point and I don't think McClure is pointing fingers at the tight ends. Tailback Michael Turner clearly doesn't have the quickness he had a year or two ago. Although I really like what new offensive coordinator Dirk Koetter has done for the passing game, I don't think he has come anywhere close to figuring out what he wants out of the running game. I don't know what the answer there is, but Koetter better make a decision on that before the season gets too far along.
CAROLINA PANTHERS
In response to some recent reports that the Panthers could be a candidate to move to Los Angeles, owner Jerry Richardson
issued a statement
saying that's not going to happen and points to his deep roots in the Carolinas. Like I've said many times before I have a tough time letting this team leave a region he loves. But, more and more, I can't help but wonder if Richardson, who is 76, has had health issues and fired his two sons from executive roles a few years back, wants to stay in this and own a team for the long haul.
The Panthers
fired
special-teams coordinator Brian Murphy on Monday. There's no doubt the Panthers have had issues on special teams since Murphy arrived last year. But this move seems like another in a series of insulation removal. The Panthers previously fired general manager Marty Hurney. With Murphy taking the fall, offensive coordinator Rob Chudzinski and defensive coordinator Sean McDermott are the only layers remaining for head coach Ron Rivera. Then again, the layers don't mean much in this case. Unless the Panthers turn things around dramatically in a hurry, Rivera and his entire staff won't be around after this season.
NEW ORLEANS SAINTS
The war of words between the Falcons and Saints only continues to get better. New Orleans veteran linebacker Scott Shanle said the Falcons are
"like our little brothers''
. He has a point. New Orleans has won 11 of the last 13 meetings between the two teams. But Shanle's words might have carried a little more weight if he had been active for Sunday's game.
Interim head coach Joe Vitt was
very vague
about the injury cornerback Corey White sustained in Sunday's game. The team said Sunday White suffered an injury to his left leg, but Vitt wouldn't elaborate on if the damage is to White's thigh or knee Monday. We probably won't get a real read on how serious the injury is until the Saints resume practicing Wednesday. But losing White would be a blow to a New Orleans defense that has struggled all season. A fifth-round pick, White has been one of the few pleasant surprises on the defense.
TAMPA BAY BUCCANEERS
Coach Greg Schiano said early indications are that linebacker Quincy Black
did not suffer serious damage
to his spine after a helmet-to-helmet hit in Sunday's victory against San Diego. But Schiano did say Black could miss substantial time due to the injury. Adam Hayward filled in for Black after the injury. But Schiano said rookie Najee Goode and Jacob Cutrera also could be possibilities at strong-side linebacker.
Cornerback Eric Wright
tweaked an injury
to his Achilles tendon that had caused him some problems in the past. It's unclear at this point if the injury will cost Wright any playing time. There also have been previous reports that Wright soon could face a suspension for violating the league's policy on performance-enhancing substances. Either way, the Bucs already are thin on depth at cornerback, although LeQuan Lewis and Leonard Johnson did come up with interceptions Sunday.
November, 15, 2011
11/15/11
7:47
AM ET
Time for a look at the top Tuesday morning headlines from around the NFC South.
Former NFL vice president of officiating Mike Pereira says the replay assistant
made the right call
in spotting the ball on a critical overtime play in the game between Atlanta and New Orleans. Officials ruled on the field that Atlanta fullback Mike Cox had gotten the first down. But the replay assistant reviewed the play and the call was reversed. The ball was spotted inches short of the first down. I looked at the replay again several times Monday night and thought Cox had the first down, or at least that there was not indisputable evidence to change the initial call. But Pereira knows a lot more about the rules than I do.
Although Carolina's special teams have been struggling, coach Ron Rivera
came to the defense
of special teams coordinator Brian Murphy on Monday. Rivera said he's satisfied with the job Murphy has been doing and pointed to a series of injuries that has forced Carolina to use lots of different players on special teams as the main reason for the problems.
Bradley Handwerger has his
bye-week report card
on the Saints. They got good, but not great, grades. I'd say that's pretty accurate based on the first 10 games. The Saints have been good, but they definitely haven't been perfect.
Coach Raheem Morris has been taking the blame for Tampa Bay's struggles. But his players now are coming out and saying they
deserve the blame
. Either way, the Bucs are going to be practicing harder. The new labor deal limits the amount of times a team can practice in pads during the season. But the Bucs are going to put the pads on this week in an effort to try to become more physical. It can't hurt.
January, 17, 2011
1/17/11
8:48
PM ET
Looks like Ron Rivera is kicking his efforts to fill his coaching staff into high gear.
The Charlotte Observer reports that the Panthers
have agreed to a deal
with Rob Chudzinski to be their offensive coordinator. That comes after Chris Mortensen reported Sean McDermott will be their defensive coordinator and after the team announced that Brian Murphy will coach their special teams.
The Chudzinski hiring should come as no surprise. He interviewed for the job last week and had worked on San Diego's staff with Rivera. Chudzinski was the tight ends coach for the Chargers.
January, 17, 2011
1/17/11
5:08
PM ET
The Panthers just announced several moves for their new coaching staff.
Coach Ron Rivera has hired Brian Murphy as special-teams coordinator. The team will also retain Ron Meeks and Sam Mills III, who were on John Fox's staff. No announcement has been made by the team, but ESPN's Chris Mortensen is reporting the Panthers have
hired Sean McDermott as defensive coordinator
. McDermott was fired as Philadelphia's defensive coordinator Saturday.
Murphy held a similar role in Minnesota the past two seasons and was the assistant special-teams coach for three seasons prior to that. Meeks was the defensive coordinator on Fox's staff, but will now slide over and become the defensive backfield coach.
Mills, whose late father Sam Mills was a linebacker and assistant coach for the Panthers, joined Fox's staff in 2005. He previously worked as a quality control assistant on defense and also helped with the defensive line. He will continue working in those roles.