NFC South:

Brian Robiskie
October, 24, 2013
10/24/13
8:45
PM ET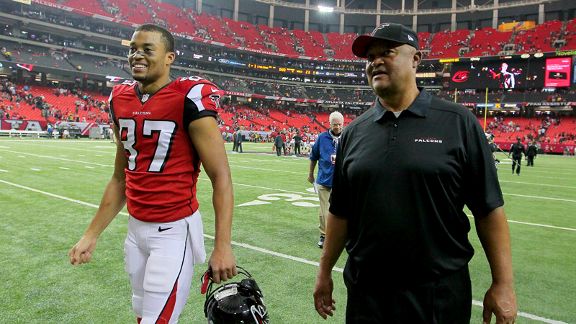 Todd Kirkland/Icon SMIBrian Robiskie and Terry Robiskie enjoyed their first game together, a Falcons victory.
FLOWERY BRANCH, Ga. -- If there was one thing Terry Robiskie always preached to his oldest son, Brian, it was not to worry about being pretty.
The advice had nothing to do with time spent in front of mirror or inside a high-end department store. It had everything to do with the manner in which the elder Robiskie, the
Atlanta Falcons
' assistant head coach, viewed the change in attitude for wide receivers over the years.
"These guys coming out of college now, they're always trying to worry about how they look," said Terry Robiskie, who works with the Falcons' receivers. "They always have their gloves on. They have their high stockings. Some of them have the white sleeves on. And when they run their routes, they run them to be pretty.
"I'm not concerned with you looking pretty. I'm concerned with you playing fast and making a play. I don't care how dirty and ugly and bad you look. But do it fast, and go make a play."
It the past, Terry Robiskie's only method of reiterating those words to his son was via telephone. He never coached Brian at any level and didn't try to intervene with his son's coaches.
[+] Enlarge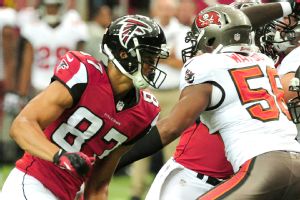 Scott Cunningham/Getty ImagesBrian Robiskie played mostly on special teams during his Falcons debut.
So when Brian, a former second-round pick of the
Cleveland Browns
in 2009, joined the Falcons' receiving corps on Oct. 10, you could imagine the feeling that trickled down the father's spine.
"It's a good feeling -- a great feeling -- being able to coach your son," Terry said. "I'm going to enjoy it. I'm going to have a great time with it.
"I was able to sit and watch him all those years and call him and say, 'Hey, you did this wrong. This was nice. This was wrong.' Now I've got a chance to stand up next to him and say, 'Do it this way, don't do it that way.' We just have to see if we can carry it over into the game."
Brian Robiskie
saw his first action for the Falcons last week with two snaps on offense and 11 on special teams. He didn't catch pass in his Falcons debut, but he was targeted once in the end zone.
It remains unclear if he'll have an increased role on offense Sunday at Arizona. But the 25-year-old already has made an impression on special teams, head coach Mike Smith said.
No matter how the remainder of the season unfolds, Brian Robiskie is sure to relish the experience of working alongside his father. He already appreciates the tough love given to him throughout the years.
"I remember one time in high school, I had like 10 catches in a game my junior year," Brian Robiskie recalled. "I thought I played well. My dad got the tape and looked at it and didn't like how I was blocking. He took me out the next day, found a field, and we were out there doing blocking drills until 10 p.m.
"I enjoy him all the time. I've got a dad who is coaching football, so he understands everything I'm going through."
It's no surprise who Brian turned to during the difficult times in his short NFL career. He came to the NFL with great promise out of Ohio State but didn't fulfill those expectations. His stint with the Browns lasted 31 games before he got released. He had a short stay in Jacksonville when current Falcons offensive coordinator Dirk Koetter orchestrated the Jaguars' offense, but Robiskie never appeared in a regular-season game while there.
"

It's a good feeling -- a great feeling -- being able to coach your son. I'm going to enjoy it. I'm going to have a great time with it.

"

-- Terry Robiskie
Last season, Brian played in six games for Detroit and even caught a pass in front of his father when the Falcons beat the Lions, 31-18. But he was released twice by the Lions this past offseason.
"My dad just told me to control the things I could control," Brian said. "That was something I didn't really understand at first. But there are only so many things you can do. And the end of the day, you have to just do your job."
Although the younger Robiskie made no excuses for why his NFL career hasn't panned out thus far, the father had no problem speaking up on his son's behalf.
"As you've watched over the years, I think Cleveland has gone through a lot of changes and a lot of things have happened," said Terry Robiskie, once the interim head coach for the Browns (2004). "I think sometimes, kids just end up in situations where you don't really get to jell. They ended up taking a quarterback -- Colt [McCoy, in 2010]. Then we went on strike. They had the lockout [in 2011]. Next thing you know, they're all down in Texas just kind of throwing the ball around. And everybody thinks that's football. It's not organized football. They never jelled.
"I thought Brian had a pretty good stint for Jacksonville. But Jacksonville, at that particular time, had a lot of money tied up in their receiver spots. I think he was going to be No. 5 or No. 6. Unfortunately, they had a guy they liked better on special teams. So he went to Detroit, and I thought he did well. Then unfortunately this summer, he was in the weight room doing some benching and he hurts his back. And lo and behold, they say it's going to be an eight-week injury, so Detroit decided to let him go."
Season-ending foot surgery for
Julio Jones
and lingering hamstring and ankle injuries to
Roddy White
have given Brian Robiskie a chance to stick with the Falcons. The father vowed not to be partial toward his son, despite the circumstances. In fact, he stopped and yelled at his son during their first practice together.
"It might be a different deal that I'm coaching a kid named Brian Robiskie," Terry Robiskie said, "but I tell people all the time that Roddy White isn't Roddy White and Julio Jones isn't Julio Jones. Roddy is Roddy Robiskie. Julio is Julio Robiskie.
Harry Douglas
is Harry Robiskie.
"All my guys that I coach, I coach them the same. I think the difference is with this one, I'm sleeping next to his mom."
October, 9, 2013
10/09/13
8:40
PM ET
Following the loss of top receiver
Julio Jones
to season-ending foot surgery, the
Atlanta Falcons
have agreed to terms with free-agent receiver
Brian Robiskie
on a one-year contract, a league source confirmed to ESPN.com.
Robiskie
The 6-foot-4, 212-pound Robiskie has the size to fill the role of a big receiver. He was a second-round pick of the
Cleveland Browns
in 2009 following a stellar career at Ohio State. Robiskie started 14 games in three seasons with the Browns. He then spent time with Jacksonville, and last season played in six games for Detroit.
Robiskie has 43 career receptions for 485 yards and four touchdowns. His longest reception was a 46-yard touchdown with the Browns. The Falcons became accustomed to such explosive-type plays with Jones.
Jones is scheduled to have surgery Monday, and will be placed on season-ending injured reserve. Robiskie will fill Jones' roster spot.
Robiskie is the son of Falcons assistant head coach Terry Robiskie, who works with the wide receivers.
June, 3, 2011
6/03/11
12:00
PM ET
By
Scouts Inc.'s Matt Williamson
| ESPN.com
Scouts Inc.'s Matt Williamson looks at NFC South players on the verge of a breakout in 2011.
McCoy
A biceps injury cut
Gerald McCoy
's rookie year short in 2010, and comparisons to 2010 Defensive Rookie of the Year and All-Pro
Ndamukong Suh
of Detroit probably have overshadowed just how promising McCoy's rookie season was. However, I think McCoy is going to be a superstar who Tampa Bay can build its entire defense around.
The Bucs used the third overall selection in last year's draft on McCoy, and adding in other young players like fellow defensive tackles
Roy Miller
and
Brian Price
, and 2011 draft picks
Adrian Clayborn
and Da'Quan Bowers at defensive end, Tampa Bay's defensive line is loaded with talent. Make no mistake, though, it's McCoy who is the most special player of the bunch.
The transition to the NFL is difficult for many rookie defensive tackles, in large part because they can no longer whip most players across from them with raw natural ability the way they did in college. McCoy has physical gifts but took some time to learn patience and to read and feel blocking schemes before his injury, and he is still a work in progress from that standpoint, but he did record four sacks in the last three games he played in 2010.
Overall, though, he is one of the quickest, most explosive and most athletic defensive tackles in the league. McCoy has a long linear build that should gradually fill out over the next few years, better enabling him to deal with the double teams and extra attention that he is sure to attract, and taking on multiple blockers will free up his teammates to get to the ball. McCoy has the ability to disrupt on his own and make the players around him better, which is exactly what you want from a 3-technique in a 4-3 defense.
Scouts Inc. watches games, breaks down film and studies football from all angles for ESPN.com.
April, 19, 2009
4/19/09
10:00
AM ET
Posted by ESPN.com's Pat Yasinskas
Team needs: Defensive line, cornerback, wide receiver
| | |
| --- | --- |
| | |
| | AP Photo/Darron Cummings |
| | The Panthers are going to be looking for help at defensive end and might tab Paul Kruger with their first pick. |
Dream scenario: At the moment, the Panthers don't have a pick until the second round (No. 59 overall). They traded away their first-round pick to get tackle Jeff Otah in last year's draft. There's no doubting that move because it worked out well. The Panthers could still possibly end up back in the first round depending on how the Julius Peppers situation plays out. In a perfect world, the Panthers would trade Peppers for two first-round picks. But they probably would take a first-round choice combined with another pick. That would allow them to have a shot at a replacement for Peppers or a quality defensive tackle. Much would depend on where they landed in the first round, but defensive end Michael Johnson and defensive tackle Peria Jerry could be possibilities if the Panthers can move somewhere into the top 32.
Plan B: Even if they stay at No. 59, the needs don't change, but the talent pool does. The Panthers need to find a replacement for Peppers, even if he stays because he won't stay for long. Utah defensive end Paul Kruger could be the pick. He's athletic and could become an every-down player if he adds some bulk. The Panthers have had very good luck with Utah players, hitting big when they drafted Steve Smith and Jordan Gross. Another possibility could be Ohio State wide receiver Brian Robiskie. Although he might not have great measurable skills, he's a very polished receiver and could contribute right away behind Smith and Muhsin Muhammad and be an eventual replacement for Muhammad.
Who has the final say: General manager Marty Hurney and coach John Fox pride themselves on saying neither truly has final say because they're able to reach an agreement on every decision. That's true and Hurney and Fox are very good and methodical at working through the tough choices and reaching a consensus that includes input from their scouts and coaches.
Previous On the Clock: Detroit Lions. The team-by-team series.
March, 28, 2009
3/28/09
12:58
PM ET
Posted by ESPN.com's Pat Yasinskas
I just did an interview with ESPNEWS in which we talked about the upcoming draft for Carolina.
The segment will air several times Saturday afternoon and we'll talk about the Atlanta Falcons on Sunday afternoon.
Carolina's in the most unique position of all the NFC South teams because the Panthers don't hold a first-round pick. That was traded away last year to draft tackle Jeff Otah. You can't question that move because Otah had a very nice rookie season and should only get better.
But the Panthers will have to wait until 59th overall to draft a player (here's the complete list of Carolina's picks), assuming things stay as they are. Nobody knows exactly how things will play out with defensive end Julius Peppers. The Panthers could end up with a first-round pick if they trade Peppers, but that may or may not happen.
For now, we have to assume the Panthers are staying put. This team has some needs on the defensive line and also could use some depth at wide receiver and cornerback. No matter what happens with the Peppers situation, my guess is that Carolina will focus on the defensive line.
That's always been the strength of a John Fox football team, and the Panthers have to rebuild up front. With or without Peppers, I think the Panthers go with a defensive end at this pick. The two guys I like that might be available are Utah's Paul Kruger and Cincinnati's Connor Barwin.
For the moment, I'm going to project Kruger as the pick. Just a hunch, but Carolina has had good luck with guys from Utah (Steve Smith and Jordan Gross) and general manager Marty Hurney can be a little superstitious.
If you want to go outside the box and say there's no defensive lineman the Panthers like at No. 59, here's a hunch: How about Ohio State receiver Brian Robiskie? Carolina's got Smith and Muhsin Muhammad as the starters and Dwayne Jarrett as the backup. Muhammad's not getting any younger. Jarrett finally showed some promise near the end of last season and the Panthers are hoping he can have a breakout year. But there are no guarantees on Jarrett. Robiskie is a very polished receiver and could be ready to contribute right away.

NFC SOUTH SCOREBOARD
Thursday, 9/18
Sunday, 9/21