NFC South:

Brian Schottenheimer
January, 12, 2012
1/12/12
3:02
PM ET
It looks like the
Atlanta Falcons
are aiming high in their search for an offensive coordinator.

They need to replace Mike Mularkey, who left to become Jacksonville's head coach. The early list of candidates includes some pretty big names.
Reportedly, former Baltimore head coach Brian Billick, former Jacksonville coordinator Dirk Koetter, former Jets coordinator Brian Schottenheimer and Green Bay quarterbacks coach Tom Clements
are on the list
.
Koetter and Billick each have deep ties to Atlanta coach
Mike Smith
. Koetter and Smith worked together in Jacksonville. Smith once was on Billick's staff in Baltimore and the two are related through marriage
Atlanta quarterbacks coach Bob Bratkowski, who previously was a coordinator in Cincinnati, also could be a possibility.
Whatever direction the Falcons end up going in, they need to make some adjustments to their offense. Atlanta's offense was very inconsistent in the 2011 season. There were times when
Matt Ryan
,
Roddy White
,
Julio Jones
,
Tony Gonzalez
and the passing game looked good and there were times when
Michael Turner
ran the ball well.
But the Falcons never truly were able to establish an offensive identity. Smith and whoever he hires as his new coordinator need to come up with a clear plan of exactly what kind of offense the Falcons want to have in the future.
December, 19, 2010
12/19/10
1:08
PM ET
As John Fox is about to coach his last game in Bank of America Stadium as coach of the
Carolina Panthers
, a lot of fans are wondering who will replace Fox.
We've touched on it from time to time and thrown out names like Russ Grimm, the Arizona assistant coach, who, ironically will be on the opposing sideline today. Grimm's a logical target. He might end up with the job, but he's not going to be the only guy who gets a look.
Joseph Person takes a good look at
Carolina's history when hiring coaches
and lays out some philosophies that might factor into this decision. I'll add a little more now. The Panthers have a decent history of hiring rising defensive coordinators, and that remains a possibility.
But don't rule out the possibility of the Panthers going on the offensive after nine years of Fox's conservative offense. Although Grimm is an offensive coach, his background suggests he would favor more of a grind-it-out approach. That might not be exactly what the Panthers are looking for and someone like
New York Jets
offensive coordinator Brian Schottenheimer could offer a little more spice. Or the Panthers could look to someone with a proven track record in developing young quarterbacks, such as Atlanta coordinator Mike Mularkey, to build around possible No. 1 draft pick Andrew Luck or this year's rookie
Jimmy Clausen
.
Forget the big names: Bill Cowher or Jon Gruden. Carolina owner Jerry Richardson wouldn't pay big money to keep Fox and he made a disastrous move back in 1999 when he hired George Seifert. At the time, Seifert was the equivalent of a Gruden or a Cowher. He was a huge name and he'd been out of the league for a bit.
The Panthers paid Seifert a ton of money. He might have been a good Xs and Os coach, but he definitely wasn't a builder. Richardson's not going to pay huge money to a coach this time around either, and that's why I think a rising NFL coordinator will be the choice. Besides, there aren't any real strong indications that Cowher or Gruden have interest in the Carolina job.
But I'm not ruling out the possibility of a college coach. General manager Marty Hurney is going to stay and he's going to lead the coaching search. But team president Danny Morrison
is going to be his partner in this one
, just like former team president Mark Richardson (the owner's son) was back when Fox was hired in 2002. Richardson will have ultimate say in the hiring. But he's got his hands more full with the league's labor negotiations than anyone realizes and will rely on Hurney and Morrison to put solid candidates in front of him.
Don't overlook the Morrison factor, and that's a large part of the reason I'm
not ruling out a college coach
, although it's not the leading scenario. Morrsions's background was as a college administrator. As the main guy in the team's business operation, Morrison's also looking for a certain type of personality.
Although a Cowher or Gruden might generate an initial burst of interest for the fan base, Morrison and Hurney won't be looking necessarily for a guy whose name will sell tickets in the long term. The coaching part is very important, but they also are going to be looking for someone with some personality and energy. They want a guy who will be active and involved with the fan base. They want someone the fans will embrace over the long term, even if there is some initial disappointment about not getting a big name.
One other thing to keep in mind here. This is not a situation where the Panthers already have a certain coach firmly in mind. Sure, they've got some guys on their radar already, but Morrison and Hurney are going to do a lengthy search. They're going to take their time with this process.
When Seifert was fired, it was about three weeks before Fox was hired and second interviews were involved. I'd expect a similar time frame and process this time around.
December, 10, 2010
12/10/10
12:20
PM ET
I am not saying this will happen, but I am saying it could.
It's purely hypothetical at this point, but I'm going to say I wouldn't be totally surprised if the
Carolina Panthers
bring in a coach from the college ranks to replace John Fox, who will be out the door the moment the season is over.
[+] Enlarge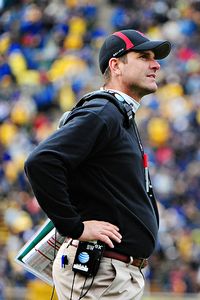 Kyle Terada/US PresswireWill Carolina target Stanford coach Jim Harbaugh to replace John Fox?
I've been saying all along I thought the Panthers would go with a rising NFL coordinator or assistant and I've thrown out names like Russ Grimm, Mike McCoy and Brian Schottenheimer as examples. I still think that is the most-likely scenario.
As I said in
this recent post
, I believe general manager Marty Hurney and team president Danny Morrison will spearhead the search. Owner Jerry Richardson will be involved and have ultimate say, but he's pretty busy working on the league's labor situation.
The reason I'm amending my theory, and at least leaving open the possibility of a college coach, is Morrison. Yeah, he runs the business side and Hurney runs the football side, but Morrison holds a great deal of power and comes from a college background. He knows people at the college level all across the country and I think he'll at least bring some college names to the table.
I also think Hurney is bright enough and has enough of an open mind that he at least would consider going the college route.
People already have been throwing around Jim Harbaugh's name and I think there are at least logical reasons for the Panthers to take a look at him. Harbaugh's had success at Stanford and he's young and enthusiastic. He also is the guy who has been coaching
Andrew Luck
. In case you haven't heard, there is a pretty good chance Luck will be the first player chosen in the 2011 draft. There's an even better chance the 1-11 Panthers will hold that pick.
A package deal? Perhaps. But I'm not convinced the people who still will be in power are ready to give up on
Jimmy Clausen
, although Fox never embraced him. It's possible the Panthers could hire Harbaugh and ask him to develop Clausen. It's possible they could try to trade the top pick to add more picks. But if Luck is as good as everyone seems to think he is, it would be awfully hard to pass on a franchise quarterback.
Harbaugh may be a college coach, but he had a lengthy NFL career, so the transition wouldn't be that dramatic.
Now, I'm going to throw out one other college name that I think could fit Carolina's profile. That's Notre Dame's Brian Kelly. He has no NFL experience, but neither did Morrison before he was hired. Like Morrison as an athletic director, Kelly has moved steadily up the college ranks. He had great success at Cincinnati and that got him the Notre Dame job.
Again, I'm not saying the Panthers definitely will hire a college coach. But I think it's at least a consideration. Keep in mind, this is a team that got stale the past few years under Fox.
The Panthers need a guy who will liven things up. Starting fresh with a college coach might not be a bad option.
December, 2, 2010
12/02/10
7:30
AM ET
Let's start Thursday's series of team-by-team mailbags with the
Carolina Panthers
.
Haile in Durham, NC writes:
Do you think that
Jimmy Clausen
can prove his worth in before the season ends so that management will not fill compelled to draft Andrew Luck?
Pat Yasinskas:
It's possible and I know some important people in the organization were somewhat encouraged by some of what Clausen showed in Sunday's loss to Cleveland. He needs to continue to make strides to make a strong impression. But it's going to be very difficult to come up with a strong opinion on what Clausen has done this season because he's played without much of a supporting cast in an offense that has been dysfunctional. Whoever is the new coach is going to have to watch Clausen's film, going back to college, and make a very difficult decision.
---
Kevin in Mooresville, NC writes:
What do you think Jerry Richardson will do if the Panthers get the No. 1 pick? With the way he's pushed the youth movement and his fear of the lockout, will he really keep the draft pick and have to pay the price tag that comes with a number 1 pick? Or do you think he'd want to trade it away?
Pat Yasinskas:
Just a guess here, but I think Richardson gladly would trade the pick to add more picks. The Panthers need help in many areas and the price tag of a No. 1 pick might scare Richardson off. Keep in mind, he had the No. 1 pick in 1995 and traded down. We could see something similar.
---
Greg in Forest, Va. writes:
John Fox is gone after this year, but why is it looking like Marty Hurney is staying? I really don't think three winning seasons in nine years is much of a recommendation for him to keep his job either.
Pat Yasinskas:
That's a very valid point. But the rumbles I get out of Carolina are that Hurney will stay and probably be the main force in the hiring of the next coach. From everything I know, Richardson likes and trusts Hurney. They're on the same page and that seems to be what matters most to Richardson these days.
---
Chuck in Charlotte writes:
I'd love to get some information on the coaching candidates that might be coming to Carolina after this season. Until then, all I can do is root for the number one pick and waste Sundays watching mediocre football.
Pat Yasinskas:
It's very early yet and we might not know until after the season who will be available. But the guys I'm kind of keeping an eye on at this point are Arizona assistant Russ Grimm (has ties to Hurney), Denver offensive coordinator Mike McCoy (former Carolina quarterbacks coach) and Jets offensive coordinator Brian Schottenheimer (a rising star). Is a defensive coach also a possibility? Yes, but my hunch is the Panthers will go with an offensive guy after nine years of very conservative and dull offense.
November, 15, 2010
11/15/10
12:28
PM ET
The only interesting storyline for the
Carolina Panthers
this season is how it all ends.
Here's my best guess:
[+] Enlarge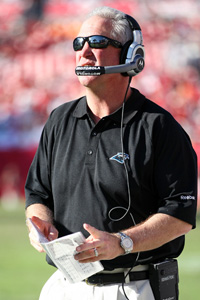 AP/Margaret BowlesIt's highly unlikely that the Panthers will replace coach John Fox during the season.
Even if the team keeps losing, owner Jerry Richardson will not pull the plug on John Fox and go with an interim coach. The only way that would change would be if Fox takes shots at the front office or ownership, which is not out of the realm of possibility, or completely loses control of the team.
As soon as the season ends, though, Fox will be gone. His contract is up after the season and he's not getting a new one with the Panthers. The rest of the coaching staff will go as well, although there might be an assistant or two that gets to stick around. But don't look for the Panthers to turn to defensive coordinator Ron Meeks or offensive coordinator Jeff Davidson as their next head coach.
Like it or not, general manager Marty Hurney probably will stay. At one point, Fox and Hurney were viewed as a package deal, but it hasn't been that way for several years. Hurney remains in Richardson's good graces, and he and team president Danny Morrison, who runs the business side, will probably be the ones conducting the search for the next head coach.
Don't get your hopes too high on big names. If Bill Cowher, Jon Gruden or Tony Dungy want to coach, it will be elsewhere. With the labor situation likely to still be unsolved, Richardson is not going to pay the kind of money one of the big names would command.
He was burned by that once before when he hired George Seifert. Besides, a big-name coach isn't necessarily what the Panthers need right now. They've got a fan base that's not very happy and they need a coach who will bring in fresh air and also be a bit of a cheerleader.
What they need is a guy like Fox was in 2002. Back in those days, Fox would grab the microphone at training camp and talk to the fans. He was part cheerleader and part coach.
Somewhere along the way, probably right after the Panthers went to the Super Bowl in the 2003 season, Fox started frowning on doing anything but coaching. His contract called for certain public duties and Fox did them, but he did them reluctantly and it was noticed.
When Hurney, Morrison and Richardson look for the next guy, they'll look for someone who is willing to be a salesman as well as a coach. But will they go the total anti-Fox route?
That would mean going with an offensive-minded coach, something the Panthers never have had. That choice probably will be up to Hurney, and it will be interesting to see if he's willing to go that route.
Part of the reason for Fox's downfall is that he never was willing to change, never was willing to adapt. Hurney might be wise to keep that in mind.
The general manager has a full-blown youth movement on his hands. But, as he sat in Raymond James Stadium on Sunday, Hurney at least got to see the upside of a youth movement. He saw the
Tampa Bay Buccaneers
, who are flourishing after getting rid of almost all their veterans following the 2009 season. The Bucs are 6-3, mainly because they've put their total trust in quarterback
Josh Freeman
, and coach Raheem Morris has fully embraced the youth movement.
Keep in mind, Hurney is the guy that drafted quarterback
Jimmy Clausen
this year. Just a hunch here, but I'm thinking the guy who ultimately gets the Carolina job is the guy who says the magic words to Hurney – "I can turn Jimmy Clausen into a good NFL quarterback.''
Who is that guy?
I don't think anyone's been identified by the Panthers just yet. But Hurney has old ties to Arizona assistant head coach Russ Grimm. Denver offensive coordinator Mike McCoy used to be Carolina's quarterbacks coach and is respected within the organization. Kansas City offensive coordinator Charlie Weis coached Clausen at Notre Dame.
There are other rising stars out there like
New York Jets
offensive coordinator Brian Schottenheimer. Or let's really step off the charts here; what about Tampa Bay offensive coordinator Greg Olson?
Look at what he's done with Freeman in a very short period of time. And look at that clear-out route he ran for a touchdown pass to rookie
Arrelious Benn
on Sunday. I think it's safe to bet the current Panthers don't even have a play like that in their playbook.
Speaking of that playbook, Hurney, Morrison and Richardson need to rip it up. Sometimes the best way to go is in the exact opposite direction. Fox was a good coach in Carolina for a relatively long time. But his system and his methods got stale because he never adjusted.
The Panthers need more than a coaching change. They need a change in mindset.