NFC South:

Brian Van Gorder
September, 3, 2010
9/03/10
12:30
PM ET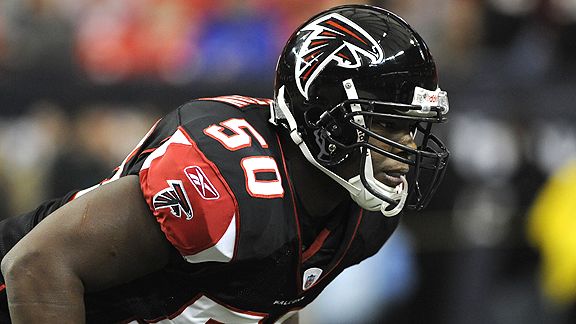 Al Messerschmidt/Getty ImagesLeading the NFL in tackles and making the Pro Bowl are goals for Atlanta linebacker Curtis Lofton.
On an August morning, Atlanta Falcons defensive tackle Peria Jerry walked off the practice field and promptly played two games of "Follow The Leader.''
Asked how his surgically repaired knee was coming along, Jerry did what coach Mike Smith does when the topic is injuries. He gave some very general answers. He kept his eyes on the ground and kept mumbling things like, "You'll have to ask coach Smith about that''.
Then, the second round started and that's when Jerry's eyes picked up and glistened and his mouth started spewing out a steady stream of words, an act that had seemed impossible only a moment ago.
The change all came with one very simple question – "Tell me about Curtis Lofton?''
"Big Bro? Big Bro? He's the Big Bro,'' Jerry said in a sing-song cadence. "That's what we all call him. If things aren't going right, Curtis is going to tell you. That's why I call him Big Bro. It's his defense. If he's saying something, then you know something's not right. People respect him when he tells you something.''
Make no mistake about it, the Atlanta defense is now Lofton's defense. After deferring to Keith Brooking as a rookie two seasons ago and Mike Peterson last season, the middle linebacker has taken control of a unit that very well could determine if the Falcons, 9-7 last season, live up to their "Rise Up'' advertising campaign.
"You can't be anointed as the leader,'' Smith said. "You've got to play efficiently and you've got to play effectively. You've got to walk the walk, and he does that. Curtis has earned the right to be a leader, and the fact he earned it is what's going to make him good at it.''
As I made my trek through training camps this summer, I talked to coaches, players and front-office people about candidates to call this year's "breakout player.'' I got it right last year when I gave the title to New Orleans receiver Robert Meachem, who responded with nine touchdown catches and helped the Saints win the Super Bowl.
I want to get it right again, and I considered a bunch of names that were thrown at me. But Lofton was the one I kept coming back to, and a lot of it had to do with what his coaches and teammates said about him. A lot of it had to do with what Lofton said when we sat down and talked on a bench in Flowery Branch, Ga. He's a man with some very lofty goals.
"I'd like to make the Pro Bowl,'' Lofton said. "I'd like to lead the NFL in tackles. Just push myself to be a more complete player, that's my No. 1 goal.''
That's a pretty good goal for someone who already was a pretty good player. Lofton's been starting since he joined the Falcons as a second-round pick in 2008, and he finished second in the NFL in tackles last season.
Can you really consider someone like that a breakout player? Well, if you look at it the way Lofton does, I think you can.
"Last year, I had the tackles and I had the forced fumbles,'' Lofton said. "But I never had the game-changing plays.''
That might happen, because the game now has changed for Lofton.
"He's been productive in his first two years,'' defensive coordinator Brian Van Gorder said. "But the big thing right now is he's taking a little bit more ownership of our defense. He's much more vocal and much more confident, and that's going to be very important for us.''
That was obvious on the practice field this summer. With Jerry returning from injury, a strong camp by defensive tackle Corey Peters, the acquisition of free-agent cornerback Dunta Robinson and the arrival of first-round pick Sean Weatherspoon at outside linebacker, the Falcons are expecting big things from their defense.
If you watched the defense practice at all, two things jumped out immediately. The overall speed of the defense is significantly faster than last season. The volume also is a lot higher on the practice field. Much of that's coming from Weatherspoon, who is a non-stop talking machine. He's the rah-rah rookie, which is nice.
But watch and listen long enough and you'll see and hear that Lofton is the voice that counts most on this defense. He's the guy grabbing other players when they mess up or giving them a shout of encouragement when they make a good play.
[+] Enlarge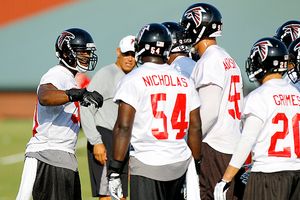 Kevin C. Cox/Getty ImagesCurtis Lofton (left) has become Atlanta's unquestioned vocal leader on defense.
"He'll get in your face and tell you if you're not doing what you're supposed to do,'' safety Thomas DeCoud said. "People can tell if you're doing it because you're told to do it or if you're doing it because you want to. You can tell he wants to do this now, and that's why everybody listens to him.''
There was no sit-down where Smith told Lofton it was time to step up and be a leader. It's been a natural evolution. When Lofton came in as a rookie, Brooking still ran the show because he seemingly had been there forever. Besides, Lofton didn't really feel comfortable talking much then, because he was only a two-down player. He came off the field in obvious passing downs.
That began to change last season when the Falcons decided to make Lofton an every-down linebacker. He adjusted well to dropping in coverage, but he left the vocal part to Peterson, who had been brought in as a free agent, in large part to provide some veteran leadership for a young defense.
Brooking left for Dallas in 2009. Peterson is getting near the end of his career and sat out much of camp with an injury.
A new leader needed to emerge, and a new leader has emerged. It's Lofton. The Falcons knew it was time and Lofton knew it was time.
"As a middle linebacker, you're the guy that people look to to be the leader of the defense,'' Lofton said. "You're the guy that makes all the calls and adjustments. My first two years, I was learning and still growing into that position. Now, in the third year, I feel like it's really my defense. I take responsibility for lining everyone up. If something goes wrong, I want the coach to come to me so I can handle it.''
That's why the Falcons think Lofton is about to handle a breakout season.
July, 23, 2010
7/23/10
11:50
AM ET
The good news for the
New Orleans Saints
is they are defending Super Bowl champions. The bad news is that's not a great spot to be in in the NFC South.
The 2002
Tampa Bay Buccaneers
, who won the Super Bowl, and the 2003
Carolina Panthers
, who lost it, didn't even make the playoffs the following year. Since the division came into existence in 2002, there has been no such thing as a dynasty in the NFC South. No team has won the division crown in back-to-back seasons.
The Saints, who already have re-written history, will have to do it again if they want to stay on top. But the
Atlanta Falcons
might not be far behind, the Panthers have enough talent to be dangerous and the Buccaneers almost have to be better than last season.
We'll find out soon enough if anyone can challenge the Saints. The test begins next week when all four NFC South teams report to training camp.
FOUR BIG QUESTIONS
Falcons:
What does John Abraham have left?
[+] Enlarge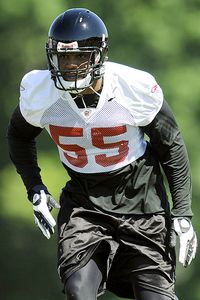 Dale Zanine/US PresswireThe Falcons are confident defensive end John Abraham still has something left in the tank.
For the past couple of years, the 32-year-old defensive end has been one of those guys who doesn't practice all the time because the Falcons go out of their way to keep him healthy and fresh. That plan isn't likely to change this season, but the Falcons will be keeping a very close eye on Abraham in camp.
His sack total dipped from 16.5 in 2008 to 5.5 last season. The obvious question is if Abraham is on the last legs of his career. Despite the statistical evidence, the Falcons believe there's something left. After closely watching film of Abraham from last season, the coaches firmly believe Abraham can get back to double-digit sacks. Part of their thinking is he'll benefit from improved play from the interior of the defensive line and that
Kroy Biermann
and
Lawrence Sidbury
are ready to generate pressure from the other side. Recent history has shown the Falcons are willing to make deals late in the preseason (trading for cornerbacks
Domonique Foxworth
and
Tye Hill
) if they feel they have a weakness. But they're hoping Abraham shows enough in camp to convince them the pass rush will be adequate.
Panthers:
What must Matt Moore do to win the starting quarterback job?
A lot of people believe this training camp will be highlighted by a battle between Moore and rookie
Jimmy Clausen
. That's not really the case -- or at least not how Carolina's brass views the situation. The truth is the Panthers are going to camp with every intention of Moore being the starter. He earned that much by playing well at the end of last season.
Coach John Fox isn't about to open the season with a rookie starting at quarterback. He could turn to Clausen later in the season if things aren't going well. But the immediate starting job is Moore's, and the only way he can lose it is to have a disastrous training camp and preseason.
Saints: Are the Saints ready for a return to the "real'' world?
Rightfully so, the Saints spent a lot of time this offseason celebrating their first Super Bowl title. Great for them and great for their fans. But all that's about to end. Coach Sean Payton runs what I think is easily the toughest camp in the NFC South, and I don't anticipate that changing. If anything, camp might be tougher this year.
Payton is an excellent motivator and he's well aware the Saints now are the jewel on the schedule of every opposing team. The track record of Super Bowl champions in the following season hasn't been all that impressive in recent years. Payton knows that, and you can bet that message is going to be conveyed to his team. A big part of the reason the Saints won the Super Bowl last season is because they had such a tough and productive camp.
Buccaneers: Who are the starting wide receivers?
The Bucs truly don't know the answer to that question right now and that's not a bad thing. The plan is to throw all the receivers out there in camp, let them compete and see who rises up. A lot of fans were frustrated and puzzled when the Bucs let
Antonio Bryant
walk in free agency, leaving the team without a clear-cut No. 1 receiver. But the Bucs believe they're better off without Bryant, who wasn't all that productive last season and didn't endear himself to the front office or coaching staff when he made public comments about the coaches and quarterback
Josh Freeman
that were far from flattering.
The Bucs used early draft picks on
Arrelious Benn
and
Mike Williams
. It's likely at least one of them will start right away. Veterans
Reggie Brown
,
Michael Clayton
and
Maurice Stovall
will compete for the other job. If both rookies look good in camp, it's possible they could be the starters because there isn't much upside with Brown, Clayton or Stovall. Second-year pro
Sammie Stroughter
also is in the mix. But, ideally, the Bucs would like to use him as the slot receiver.
HOTTEST SEATS
Falcons:
Brian VanGorder. The defensive coordinator has done a nice job of working with the talent he's had the past two seasons. The Falcons haven't always had the talent to play the kind of defense coach Mike Smith and Van Gorder want and they've gotten by with patchwork. But those days are over. Last year's top picks, defensive tackle
Peria Jerry
and safety
William Moore
, return after missing almost all their rookie seasons with injuries and the Falcons used their top two picks this year on linebacker
Sean Weatherspoon
and defensive tackle
Corey Peters
. They also spent a fortune signing cornerback
Dunta Robinson
. Although questions remain about the pass rush, the Falcons have the talent to play their scheme. That means the defense must take a big step forward.
Panthers:
Dwayne Jarrett
. A former second-round pick, Jarrett has not had much of an impact. With
Muhsin Muhammad
retired and
Steve Smith
expected to miss most of training camp with a broken arm, Jarrett is going to get a very long look in training camp. In a best-case scenario, Jarrett finally reaches his potential and earns the starting wide receiver job across from Smith. For that to happen, Jarrett must show an attention to detail and consistency; both have been lacking from his game. The Panthers drafted
Brandon LaFell
and
Armanti Edwards
early because they're not sure if Jarrett ever will blossom.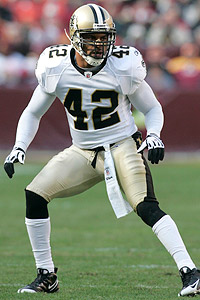 Jeff Fishbein/Icon SMIIf Darren Sharper isn't 100 percent healthy, he might not be the starter for the Saints.
Saints:
Darren Sharper
. The safety had a brilliant 2009 season. Sharper instantly became a fan favorite, but his lock on the starting job at free safety isn't nearly as secure as many people think. Sharper is 34 and coming off knee surgery. We don't even know if he physically will be able to do much during training camp. The Saints have moved
Malcolm Jenkins
, a first-round pick a year ago, from cornerback to safety. A lot of fans view Sharper as the
Drew Brees
of the defense, but I'm not so sure the coaching staff ever has seen it that way, and the Saints didn't break the bank to re-sign Sharper in the offseason. If he's 100 percent healthy, Sharper could stay in the starting lineup. Anything less and the Saints won't hesitate to go with Jenkins.
Buccaneers:
Ryan Sims
. He was a starter with
Chris Hovan
at defensive tackle the past few years. The Bucs got rid of Hovan as soon as they could after last season. With the team using its top two picks on defensive tackles
Gerald McCoy
and
Brian Price
, Sims can't be feeling too secure. With
Roy Miller
also in the mix and the Bucs in a full-blown youth movement, Sims needs a strong camp just to secure a roster spot.
SECRET WEAPON
Under-the-radar player to keep an eye out for in camp:
Clifton Smith
, return man/running back, Buccaneers. It may seem like a stretch to call a guy who has been to a Pro Bowl an under-the-radar player, but Smith fits the profile. After missing most of the second half of last season with concussion problems, Smith has sort of been forgotten. That might be a mistake. Smith established himself as a top-notch return man when he made the Pro Bowl in his rookie season two years ago and helped ease the colossal mistake in which the Bucs drafted
Dexter Jackson
in the second round. When the new coaching staff took over last season, there was some talk about getting Smith more involved on offense. That got derailed by his injuries, but the plan could get back on track this year.
Cadillac Williams
is the main running back in Tampa Bay, but you could start to see Smith get some action as a situational player. With his speed, he could be an explosive receiver out of the backfield and also might be able to handle a few carries a game.
BEST POSITION BATTLE
It's not an offensive skill position, so it won't be flashy. But the best position battle in the NFC South will be sorted out in Spartanburg, S.C., as the
Carolina Panthers
try to figure what to do with their linebackers. This was supposed to be a spot with enormous strength, but an offseason knee injury to
Thomas Davis
has turned this into a huge question. Davis probably will miss the entire season, throwing the linebacker corps into a state of uncertainty.
The only thing that's certain is that
Jon Beason
remains one of the best linebackers in the league and the unquestioned leader of this defense. But the Panthers aren't even sure where Beason will line up. He has been fantastic in the middle, but he may move to Davis' spot on the weak side. In what essentially amounts to a game of musical chairs, the Panthers are looking at four linebackers and trying to figure out the strongest starting trio. One reason they're considering moving Beason is because they believe
Dan Connor
can be solid in the middle. He'll get a chance to prove that in camp.
But the Panthers also will be keeping a close eye on outside linebackers
Jamar Williams
and
James Anderson
. If they both rise up, Beason could remain in the middle. If Connor rises up and the Panthers aren't comfortable with Williams and Anderson as their starters on the outside, they won't hesitate to move Beason.
July, 19, 2010
7/19/10
9:41
AM ET
You shared
your thoughts on the best coordinators and assistant coaches
in the NFC South. Now, I'll give my thoughts.
Best coordinator: Gregg Williams.
There's no way I'd even try to argue with the consensus on this one. Hiring Williams to run the New Orleans defense is the main reason Sean Payton and the Saints won the Super Bowl last season.
A lot of readers also mentioned Tampa Bay special-teams coach Rich Biasaccia in this category. No argument here. Biasaccia is as good as any special-teams coach in the league and he didn't have a lot to work with last year. I'll also project a bit and say you could see Atlanta offensive coordinator Mike Mularkey and defensive coordinator Brian Van Gorder surge this year.
Best position coach: Paul Boudreau.
Carolina running backs coach Jim Skipper and New Orleans receivers coach Curtis Johnson were the popular choices among readers. I'm not disputing that Skipper and Johnson are excellent coaches, but they've got some talent to work with. I'm going with Boudreau because, for the last two seasons, he's been getting a lot out of an Atlanta offensive line that's not stacked with blue-chip players.
February, 6, 2009
2/06/09
1:08
PM ET
| | |
| --- | --- |
| | |
| | Getty Images |
| | The NFC South has three head coaches returning from last season, but which team has the best coaching staff? |
Posted by ESPN.com's Pat Yasinskas
Free agency is still a few weeks away, but the Atlanta Falcons and New Orleans Saints are the NFC South's two biggest winners in the first phase of the offseason. The Carolina Panthers might have been the biggest loser and it's too early to fully judge the Tampa Bay Buccaneers.
In a very busy few weeks for most of the division's coaching staffs, Atlanta was able to keep its stellar group largely in place for the most part. The Saints didn't sit still and they made some moves that will make them a better team. Carolina curiously had most of its defensive staff walk away and also lost a very underrated offensive assistant.
The Bucs were the only team to make a change at the top, replacing Jon Gruden with Raheem Morris, and that led to an overhaul of most of the staff.
With all those changes so fresh, I'm going to rank the coaching staffs for the four NFC South teams. Keep in mind, the head coach certainly factors into this, but this ranking is for the entire coaching staff.

1. Atlanta Falcons. The best thing Mike Smith did when he took over as coach of the Falcons a year ago was to assemble an all-star team of assistants that included the likes of Mike Mularkey, Emmitt Thomas and Terry Robiskie. There's no doubt that coaching staff played a huge role in Atlanta's dramatic turnaround.
The best thing Smith has done so far this offseason was keep that staff pretty much intact. Some of that's just plain luck. Mularkey and Robiskie were mentioned in connection with head-coaching jobs, but neither became serious players. That's a huge stroke of luck because it gives the Falcons continuity on the coaching staff as they head into the second year of what Smith likes to call "the process."
That process is going to be a lot smoother because the Falcons can hit the ground running. If Mularkey and quarterbacks coach Bill Musgrave were able to get so much out of quarterback Matt Ryan in his rookie year, imagine what they can do when they've got him for a full offseason.
That's kind of the same story for this entire coaching staff. After a surprising 11-5 season, it's easy to forget that Atlanta's roster wasn't fully stocked last season. In particular, offensive line coach Paul Boudreau, Thomas and defensive coordinator Brian Van Gorder squeezed far more out of their groups than they had any right to.
Give general manager Thomas Dimitroff another offseason to fully get the roster where he wants and this coaching staff could really make the Falcons special.

2. New Orleans Saints. The jury still is very much out on head coach Sean Payton. He had a great rookie season in 2006, but the Saints have disappointed the last two seasons. There's a lot of personnel work to be done in the coming months, but Payton has made some strong moves with his coaching staff.
There's change at both coordinator positions and Payton did the smart thing by sticking with what's been working and blowing up what hasn't. After offensive coordinator Doug Marrone left for the head job at Syracuse, Payton promoted Pete Carmichael Jr. to his spot, basically tweaking an offensive staff that's had one of the league's most-productive units in recent years.
Payton took a dramatically different approach on defense, where he fired coordinator Gary Gibbs, whose group underachieved the last two years. In a move that's critical to Payton's future, he went out and (after some heavy bidding against other teams) got the best defensive coordinator available. That's Gregg Williams. There's no doubt Williams can coach and he'll bring an aggressive style to a defense that's been too passive. Now, it's up to general manager Mickey Loomis to get Williams some more players.

3. Carolina Panthers. Once upon a time -- like back in 2003 -- broadcaster and former NFL coach Jimmy Johnson said John Fox had the league's best group of assistants. You can't say that right now. Continuity had been one of the best virtues of this coaching staff -- until now. In a bizarre series of events, almost the entire defensive staff walked away from the Panthers.
A lot of fans got excited when defensive coordinator Mike Trgovac declined a new contract with the Panthers and left to become Green Bay's defensive line coach. But the venom from fans toward Trgovac the last few years was misdirected. Fox was the one ultimately calling the defensive shots and Trgovac was working within his parameters.
The Panthers brought in Ron Meeks to replace Trgovac, who might look a lot better in hindsight. Although Meeks officially resigned as defensive coordinator in Indianapolis, the fact is he was forced out. Oh, and defense wasn't exactly a big part of the reason the Colts had all those 12-win seasons.
On a more subtle note, the Panthers lost quarterbacks coach/passing game coordinator Mike McCoy to the offensive coordinator spot in Denver. This will hurt the Panthers more than many realize. McCoy was very instrumental in running this offense and the former Utah quarterback also was one of the guys the team relied on to try to keep receiver Steve Smith on an even keel.

4. Tampa Bay Buccaneers. In time, Morris might turn out to be a great head coach. But it's too early to tell if the 32-year-old, who served as a coordinator for all of two weeks, will succeed. Give Morris credit for assembling a decent staff at a time when a lot of positions around the league already had been filled.
He made a great hire in bringing in veteran defensive coordinator Jim Bates. In a lot of ways, Bates' experience will give the Bucs someone similar to former coordinator Monte Kiffin.
Morris' most critical hire was Jeff Jagodzinski as offensive coordinator. The former Boston College head coach has been a coordinator in the NFL before and he likes to throw the ball downfield. That's something Gruden's offense rarely did. In theory, Jagodzinski should be a good fit. In reality, he's going to need a very productive offseason from general manager Mark Dominik. The Bucs need to re-sign receiver Antonio Bryant and get a few more receivers. But the biggest challenge is going to be deciding on a quarterback and letting Jagodzinski, who worked with Matt Ryan at Boston College, develop
him.
November, 9, 2008
11/09/08
7:39
PM ET
Posted by ESPN.com's Pat Yasinskas
ATLANTA -- If you look at the numbers, Saints quarterback Drew Brees threw for 422 yards Sunday. If you look at reality, it might have been one of the most meaningless 400-yard games in NFL history.
| | |
| --- | --- |
| | |
| | Paul Abell/US Presswire |
| | The Atlanta defense, including linebacker Keith Brooking, center, has been a big part of the Falcons' story this season. |
The fact is the Atlanta Falcons shut down the league's most prolific offense in a 34-20 victory against the Saints at the Georgia Dome.
Forget rookie quarterback Matt Ryan (248 passing yards and two touchdowns) and running back Michael Turner (97 rushing yards and a touchdown) for just a minute.
There's another reason why the 6-3 Falcons are the NFL's most surprising team. The unsung story is the defense. It, like everything else with the Falcons these days, is far better than anybody expected.
"You've just got to remember, in the end, defense wins championships. That's the bottom line,'' said veteran safety Lawyer Milloy.
As one of the few people in Atlanta with a Super Bowl ring (he won one with New England), Milloy is more than qualified to talk about the evolution of the Falcons defense.
"I like the way we're progressing as a defense,'' Milloy said.
Words like "progressing'' and "a process'' are buzzwords for the Falcons these days. Coach Mike Smith frequently talks about "the process'' and, once again on Sunday, he refused to talk about anything beyond the next game.
But the Falcons are in a playoff race and their defense is a huge part of that. What the defense did against the Saints might have been more impressive than what it did a week earlier in a shutout of the Oakland Raiders.
For most of the first half, the Falcons made Brees and the Saints look a lot like the Raiders. Brees threw for only 112 yards and was intercepted once. That gave Ryan, Turner and the rest of Atlanta's offense a chance to build a 17-6 halftime lead.
The most impressive thing was the way the Falcons did it.
"One of our goals every week is to impose our will on the opponents,'' running back Jerious Norwood said. "I think that's exactly what the defense did today.''
Smith has a defensive background, and he and defensive coordinator Brian Van Gorder came up with a game plan that imposed heavily on the Saints (4-5). Smith and Van Gorder tried something new and it worked.
"You watch the film and opposing teams weren't really disrupting them coming off the line of scrimmage,'' linebacker Keith Brooking said.
The Falcons made it a priority to disrupt New Orleans' receivers and knock them off their routes. That helped limit the Saints to only two field goals in the first half. They did have an opportunity for another, but coach Sean Payton elected to go for it on a fourth-and-3 at the Atlanta 28-yard line with 59 seconds remaining in the half.
That's when cornerback Chris Houston made what was, to that moment, the biggest play of his career. Houston jumped in and batted down a Brees pass intended for Lance Moore on a play that made a huge statement for Atlanta's defense.
"Almost all passes were contested,'' Smith said. "There were very few where they had open receivers.''
Atlanta's defense set the tone for the entire game on the first play after the opening kickoff. Brees made one the few bad decisions he's made all season, throwing into double coverage on a deep route to Devery Henderson. Safety Erik Coleman intercepted the pass.
Brees put up some big numbers (including two touchdowns) in the second half, but it didn't really matter. Atlanta's defense still made plays when it mattered most. Rookie cornerback Chevis Jackson, who got increased playing time because of an injury to Brent Grimes, picked off a Brees pass and returned it 95 yards for a touchdown with 1:17 left in the game.
Houston might have eclipsed his first-half heroics by intercepting a pass in the end zone to kill a New Orleans drive with 4:29 left.
"We accepted the challenge,'' Milloy said. "I think everybody in the secondary knows their role and everybody played their part.''
That's kind of been the story of the Atlanta defense all season. Aside from veteran defensive end John Abraham, who recorded his 11th sack of the season, Atlanta doesn't have many big names on defense.
But the Falcons are making a name for themselves. They're doing it with a secondary that proved itself against New Orleans, a group of linebackers (rookie Curtis Lofton, Michael Boley and Brooking) who might be one of the league's best-kept secrets and Abraham's pass rushing up front.
Aside from the sack, Abraham put consistent pressure on Brees, knocking him down several times. Perhaps the only thing the Atlanta defense doesn't have yet is a playmaker -- beyond Abraham -- in the front seven. But that's a minor detail at this point. Everything else has fallen into place perfectly for this defense.