September, 26, 2013
Sep 26
12:00
PM ET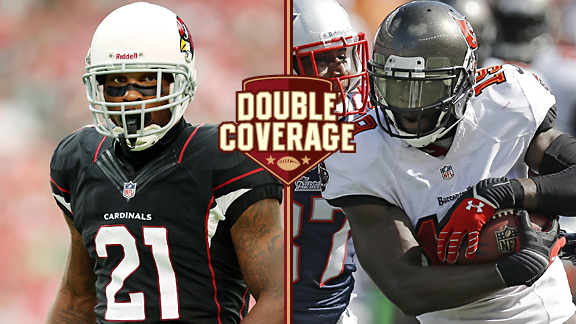 Getty ImagesMike Williams will be called on to help jump-start Tampa Bay's offense, while Patrick Peterson will be charged with helping to keep him in check.
The
Tampa Bay Buccaneers
aren't the only NFL team practicing in the Tampa Bay area this week.
The
Arizona Cardinals
are practicing at IMG Academy in Bradenton, Fla., as they get ready for Sunday's game.
Cardinals reporter Josh Weinfuss and Buccaneers reporter Pat Yasinskas talk about Sunday's game.
Yasinskas:
Josh, I know IMG has great facilities. The Buccaneers used them during the lockout, and the
Carolina Panthers
worked out there last year to avoid the congestion from the Democratic National Convention before playing the Bucs. But why did the Cardinals elect to come east early?
Weinfuss:
Having just adjusted to the two-hour time difference in New Orleans, Bruce Arians didn't want his players' bodies to get totally out of whack going back to Pacific time (technically, Arizona is on Mountain time, but the state doesn't change its clocks when the rest of the country does) and then five days later fly cross-country to the East Coast, another three hours ahead. I'm tired from thinking about it. This way, the Cardinals can adjust their body clocks to playing what would be a 10 a.m. home game in Arizona. We'll see whether it works. There's a pretty significant contingent inside the locker room that's not a fan of this, but those players might be after they realize what their bodies would have gone through. And then there's playing in the Florida humidity, which takes more than a day or two to adapt to. In Arizona, it's a dry heat (yeah, I know, everyone doubts it, but it really is), and the Cards neither practice nor play outside, so the added time in the elements could help.
Speaking of elements, is the Bucs' locker room in as much disarray right now as the perception makes people believe?
Yasinskas:
It might be in even more disarray than people realize.
Wednesday's news
that the Bucs are benching quarterback
Josh Freeman
in favor of rookie
Mike Glennon
was just more evidence of how much dysfunction is going on with this team. Freeman and coach Greg Schiano never were firmly on the same page, and Freeman's fate was sealed the moment Schiano used a third-round draft pick on Glennon in April. But the fact that Schiano now is going with "his guy" isn't going to instantly solve all the problems. Freeman is a popular figure in the locker room, and some teammates might not agree with his benching. There also have been multiple reports about players not liking Schiano's militaristic style. The Bucs have denied those reports, but I think there's something to them. I believe that where there's smoke, there's fire.
Speaking of coaching styles, it's early in the Arians era, but what is his persona and how has he been received by the players?
Weinfuss:
He's a no-nonsense type of guy, and the players love it. Well, maybe they loved it. Having a lackluster offense and starting 1-2 wasn't what this team projected out of Arians. There haven't been any signs of the players losing faith in their coach. They all raved about him during organized team activities, minicamp and training camp. The players appreciated his candidness with them. If they ever want to know where they stand, he'll tell them the truth, the whole truth and nothing but the truth. Whether they like it or not.
He has been there for only three games, but is the
Darrelle Revis
acquisition working out and how has he changed the Bucs' defense?
Yasinskas:
Revis has been everything the Bucs hoped for. They brought him in to fix a defense that led the league in passing yards allowed last season, and the early results have been good. Revis is the kind of player who makes those around him better, and his arrival really has helped strong safety
Mark Barron
. I'd imagine the Bucs will put Revis on
Larry Fitzgerald
for most -- or all -- of this game.
If Revis can neutralize Fitzgerald, do the Cardinals have enough other offensive weapons to win?
Weinfuss:
That's the $10,000 question. The short answer is yes, they do. The long answer is only if the other weapons -- most notably receivers
Michael Floyd
and
Andre Roberts
-- are not double-teamed. If they are and Revis can shut down Fitzgerald, it could be a long day for Arizona's offense. But Arians is a smart enough offensive mind, so I'm sure he has accounted for this. Expect tight end
Rob Housler
to play an integral role Sunday, and look for the Cardinals' stable of running backs --
Rashard Mendenhall
,
Alfonso Smith
,
Andre Ellington
and
Stepfan Taylor
-- to come out of the backfield for passes and to create mismatches.
Aside from Revis, how has the rest of Tampa Bay's defense looked?
Yasinskas:
The defense has been a bright spot for Tampa Bay. In addition to the secondary, linebackers
Mason Foster
and
Lavonte David
, defensive end
Adrian Clayborn
, and defensive tackle
Gerald McCoy
are off to very good starts. But the Patriots were able to run the ball against the Bucs, and Tampa Bay had trouble with the tight ends against the Jets and the Saints. The Bucs could be susceptible if Arizona can get some production from the running game or its tight ends.
September, 19, 2013
Sep 19
12:00
PM ET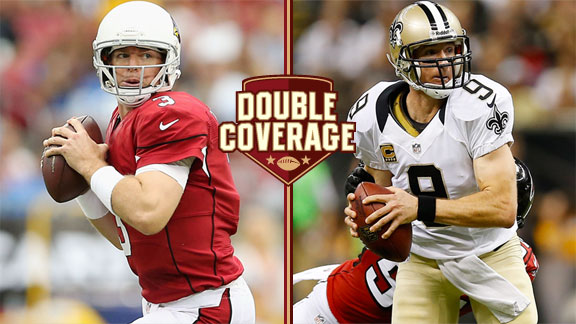 Getty ImagesBig arms will be on display Sunday in the Big Easy, as Carson Palmer faces off with Drew Brees.
Both the
Arizona Cardinals
and
New Orleans Saints
are riding the winning wave into Sunday's showdown in the Mercedes-Benz Superdome.
And both teams are starting fresh on the sidelines. The Saints welcomed back coach Sean Payton from a one-year suspension; the Cardinals are adjusting to life with first-year coach Bruce Arians. One thing both these men have in common is a love of yards.
This will be a matchup of the long ball, as quarterbacks
Drew Brees
and
Carson Palmer
like putting up big numbers with a deep passing game. Which team will continue its winning ways?
Cardinals reporter Josh Weinfuss and Saints reporter Mike Triplett break down Sunday's matchup.
Josh Weinfuss:
How much has Payton's return to the Saints been felt so far this season?
Mike Triplett:
Payton made a ton of changes in the offseason, from a dramatic overhaul of the defense to the team's conditioning program to the run-blocking schemes. But so far during the Saints' 2-0 start, I think the No. 1 area where his return has made an impact is in the team's confidence. They've pulled out two gutty victories -- one which required a last-minute goal-line stand against the
Atlanta Falcons
and one which required an improbable game-winning field goal drive in the final seconds at Tampa Bay.
Neither performance was perfect, but the Saints were incredibly resilient in both games. Last season, they became unsure of themselves -- especially as the losses started to pile up during their 0-4 start -- something rarely evident in previous years. Now, you can see they've got some of that classic "swagger" back.
Of course, the Saints have a huge advantage in the confidence department because they've got a Hall of Fame quarterback in Brees leading the way. ... Have the Cardinals started to develop some new confidence of their own in their new signal-caller, Palmer?
Josh Weinfuss:
They have, and it's obvious. For the past few seasons, the Cardinals haven't had consistency under center, and it's showed with significant losing streaks. With the addition of Palmer, who's not just an accomplished quarterback but a talented one at that, the Cardinals' offense feels it can make the plays it hasn't made in years. There have been a few examples already, such as a fade to
Larry Fitzgerald
for a touchdown in Week 1 or a 36-yard wheel route to
Andre Ellington
last Sunday. The receivers know they only have to worry about getting to where they're supposed to be and Palmer will find them -- about a 180-degree change from last season, when Cardinals receivers would hope the ball would be close enough for them to make a play. And that confidence on offense carries over to the defense. Last year, the defense believed it had to score for the team to win. This year, it feels like all it has to do is get the ball back to the offense to win a game.
While we're talking defense, what kind of major changes did Rob Ryan make when he was hired as defensive coordinator, and how are the Saints responding?
Mike Triplett:
Ryan has changed the defense significantly in everything from scheme to attitude. For starters, he's a 3-4 guy, while Steve Spagnuolo was a 4-3 guy. But Ryan doesn't really stick to one scheme or alignment -- and he's had to get especially creative, because the Saints had so many injuries on the defensive line and at outside linebacker this summer. He'll often use three or four safeties on the field together, moving them around from snap to snap. Sometimes he'll have four down linemen. Sometimes he'll have no down linemen, with all 11 guys standing up in an "amoeba" formation.
Ryan is very reminiscent of former New Orleans coordinator Gregg Williams in that sense. And the Saints players have clearly responded well to that approach under both coordinators. What they like best is they feel like Ryan tries to put them in positions and matchups that play to their strengths. And, sure, this much variety can lead to mental errors (a criticism that has dogged Ryan in past stops) -- but the players at least feel they're being aggressive and attacking rather than sitting back in read-and-react mode. As I said, that seems to have brought out their confidence and their fire so far this season.
Speaking of a little "fire" on defense, what kind of early impact has New Orleans native
Tyrann Mathieu
made in Arizona? The Cardinals have done a pretty good job of plucking defensive players from down here at LSU.
Josh Weinfuss:
Mathieu has been a pleasant surprise for everybody except the Cardinals. They expected him to come in and play at the very high level -- which is why they took the risk of drafting him in the third round in April while every other team all but ignored his presence. Palmer has compared Mathieu's closing speed to
Troy Polamalu
's; Mathieu's football IQ draws locker-room raves. And his presence on the field is that of a veteran, not of a rookie ... and definitely not of someone who missed a full year of football. Mathieu made the jump to the second team early in organized team activities and minicamp, and he was a starter in the Cards' nickel package by training camp. He's proven himself in coverage, making the game-ending tackle against Detroit's
Nate Burleson
last Sunday. And Mathieu has lived up to the Honey Badger persona, which he's gracefully re-adopted this year. He tried to distance himself from it, but neither the fans nor his play allowed for that. That includes the play of the game in Week 1, when Mathieu tracked down Rams tight end
Jared Cook
to punch the ball out of his hands and prevent a touchdown. Big plays is what this kid does.
How long can Brees maintain his own high level of play, and are the Saints a legitimate 2-0 team?
Mike Triplett:
I think Brees, at 34, is still very much in his prime, and I don't really see him slowing down anytime soon. He had an uncharacteristically sluggish performance at Tampa Bay but rallied to lead a brilliant last-minute field goal drive. He's the No. 1 reason the Saints always have a chance to win. And if the Saints can improve the defense and run game around him this season, I think he'll be back in more of a comfort zone and not feel like he has to do everything himself as he did last season (5,177 passing yards, 43 touchdown passes, 19 interceptions).
As for the Saints overall, they're very legitimate. They were obviously lucky to beat Tampa Bay after a sloppy offensive performance. But for the second week in a row, the improved D bailed them out. And we know the offense will get rolling sooner or later, making New Orleans a very dangerous team. The Saints need to fix their run game and their red zone offense. But we've already seen great flashes from go-to playmakers like
Jimmy Graham
,
Darren Sproles
and
Marques Colston
.
The Mercedes-Benz Superdome will be a tough environment for the Cardinals to come into on Sunday. Will they at least have their best weapon, Fitzgerald, at their disposal?
Josh Weinfuss:
Short answer? Yes. But there's a caveat. I think Fitzgerald will definitely play, but the question is how effective he will be. He's likely looking at a limited week in practice to ensure he doesn't re-aggravate that balky left hamstring, but the chances of Fitzgerald missing this game are slim. As he said last week, if he can't be effective as a receiver, he can at least be a decoy. The Saints will have to plan for him, because the second they don't pay attention to Fitzgerald, hurt or healthy, he'll make sure he makes them pay.
September, 19, 2013
Sep 19
9:00
AM ET
Geez. What does
Jimmy Graham
have to do to get noticed? The
New Orleans Saints
' star tight end had a career-best performance in Sunday's 16-14 victory over the
Tampa Bay Buccaneers
, with 10 catches, 179 yards and a touchdown. But it wasn't enough to earn him NFC Offensive Player of the Week honors (thanks to
Green Bay Packers
quarterback
Aaron Rodgers
' 480-yard, four-touchdown performance).
Worse yet, Graham's performance barely captured the attention of his own quarterback.
[+] Enlarge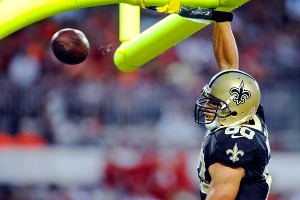 AP Photo/Brian BlancoSaints tight end Jimmy Graham punctuates his 56-yard touchdown catch in Tampa.
Drew Brees
said Wednesday that he's so used to such efforts from Graham at this point that he didn't even realize the numbers his go-to guy was racking up Sunday.
"Walking away from it, had you asked me, 'Hey, what do you think Jimmy's numbers were today?' I wouldn't have thought it was that much. But I guess looking back on it, you start adding it up and you're like, 'OK,'" Brees said. "So I guess my point is, not that you have this expectation level, but you are just used to seeing a lot of those plays being made. It's not like taking him for granted. But I think we all just expect that if we are not putting up 400-plus yards as an offense, score 30-plus points, running the ball well, throwing the ball well, hitting some big plays, doing these things … when those things don't happen is when you notice.
"When they're happening, it's just like, 'This is what we do.'"
...
Our Wednesday conference call with new
Arizona Cardinals
coach Bruce Arians was one of the more entertaining chats with the opposing coach that I can remember. He's clearly got a dynamic personality and a sharp sense of humor.
Arians shared a great story about current Cardinals and former LSU super-athlete
Patrick Peterson
. He insisted that Peterson taught himself how to play golf in a simulator in his basement, then went out and shot a 75 to win some money off of Arians.
Arians also said Peterson passionately helped sell the Cardinals on drafting his friend and former college teammate
Tyrann Mathieu
. But Arians didn't need much convincing.
"I don't give a crap about height, weight and speed. He's just a heck of a football player," Arians said of Mathieu. "I don't know any college player that dominated on defense like he did over the years."
When asked about the Saints' uncharacteristically low-scoring offense this year, Arians said, "I think's that smoke and mirrors. That offense is always high-octane."
And Arians said he warned his players about the atmosphere they'll be stepping into inside New Orleans' raucous Mercedes-Benz Superdome this Sunday.
"It's very unique. It's Halloween every night in the dome when you play there. The fans are just fantastic," Arians said. "You have to match that energy because Sean (Payton) has done a great job over the years as a play-caller and leading the league or close to leading the league in scoring on the first drive. We have to match that energy and don't be surprised by it."
...
For more on Peterson and Mathieu, check out
this story on their close bond
by The New Orleans Times-Picayune's Terrance Harris or
this piece on Peterson's athletic prowess
by the Advocate's Sheldon Mickles.
And for more on the Cardinals in general this week, make sure you keep tabs on
Arizona's NFL Nation team page
. Cardinals reporter Josh Weinfuss and I teamed up for this week's edition of Double Coverage to preview Sunday's game. Look for that later this afternoon.
...
Thought it was interesting to see that former Saints receivers coach and current Tulane head coach Curtis Johnson
singled out Saints tailback Mark Ingram
for not punching the ball into the end zone on fourth-and-goal from the 1 last Sunday at Tampa Bay (per WWLTV.com). Clearly Ingram is starting to lose the benefit of the doubt from a number of onlookers --
a topic I discussed in great detail
on Wednesday.
January, 28, 2013
Jan 28
9:41
AM ET
NEW ORLEANS -- Let's take a run through the headlines from around the division:
ATLANTA FALCONS
Mike Smith was named
Coach of the Year
by The Sporting News. Smith also won the honor in the 2008 and 2010 seasons. That puts him with Paul Brown, Chuck Knox and Joe Gibbs as the only coaches to win the award three times. The Associated Press will announce its Coach of the Year on Saturday. Smith may have a tough time winning that one due to the work of Chuck Pagano and Bruce Arians in getting the Colts to the playoffs.
CAROLINA PANTHERS
Joseph Person has a
lengthy story
on the background of Dave Gettleman. The new general manager has a lengthy background in scouting. That's great and it's very important. But Gettleman's first real challenge will be getting the Panthers under the salary cap in the next six weeks or so.
NEW ORLEANS SAINTS
Drew Brees started at quarterback and
threw one touchdown pass
in the NFC's victory over the AFC in Sunday night's Pro Bowl.
TAMPA BAY BUCCANEERS
Receiver Vincent Jackson had a
strong showing
in the Pro Bowl, catching six passes for 91 yards and two touchdowns.
January, 31, 2011
1/31/11
3:40
PM ET
The NFC South doesn't have a team in the Super Bowl. But it's got almost a full team of coaches.
Take a look at
Green Bay's coaching staff
and take a look at
Pittsburgh's coaching staff
. Between the two teams, there are 37 coaches. Twenty of them have either coached or played for an NFC South team and that includes Green Bay coach Mike McCarthy and Pittsburgh coach Mike Tomlin.
Here's a look at each staff and its NFC South ties.
Green Bay
McCarthy. Assistant coach with Saints, 2000-04.
James Campen, offensive line. Played for the Saints, 1987-88.
Dom Capers, defensive coordinator. Head coach Carolina Panthers, 1995-1998.
Tom Clements, quarterbacks. Assistant coach for the Saints, 1997-99.
Jerry Fontenot, assistant offensive line. Played for the Saints, 1997-2003.
Kevin Greene, outside linebackers. Played for the Panthers, 1996, 1998-99.
Ben McAdoo, tight ends. Assistant coach for Saints, 2004.
Chad Morton, special teams assistant. Played for the Saints, 2000.
Winston Moss, assistant head coach/linebackers. Played for the Buccaneers, 1987-90 and assistant coach with the Saints, 2000-05.
Darren Perry, defensive backs. Played for the Saints, 2000.
Jimmy Robinson, wide receivers. Assistant coach with Falcons, 1990-93 and assistant coach with Saints, 2004-2005.
Mike Trgovac, defensive line. Assistant coach with Panthers, 2002-08.
Joe Whitt Jr., cornerbacks. Assistant coach with Falcons, 2007.
Pittsburgh
Tomlin, 2001-05
Bruce Arians, offensive coordinator. Assistant with Saints, 1996.
James Daniel, tight ends. Assistant with Falcons, 1997-2003.
Al Everest, special teams. Assistant with Saints, 2000-05.
Garrett Giemont, conditioning coordinator. Assistant with Buccaneers, 2003-06.
Scotty Montgomery, wide receivers. Played for Panthers, 2000.
Kirby Wilson, running backs. Assistant for Buccaneers, 2002-03.

NFC SOUTH SCOREBOARD
Sunday, 12/22
Monday, 12/23