NFC South:

Bucs hire Greg Schiano
January, 27, 2012
1/27/12
5:06
PM ET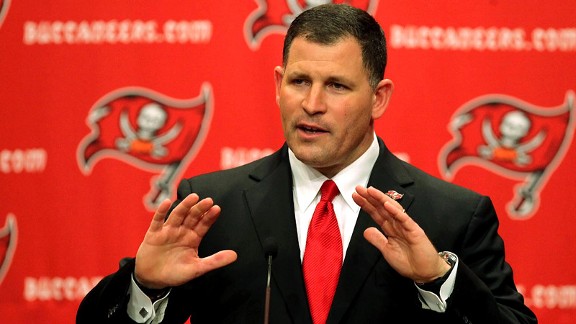 Kim Klement/US PresswireGreg Schiano's biggest tasks are to bring discipline to the Bucs and get the team back on track.
TAMPA, Fla. -- The show on the stage was impressive on every level.
The moment Greg Schiano started talking, you got the sense the
Tampa Bay Buccaneers
had more order, direction and control than at any point in the past three years. Schiano said all the right things and said them the right way. I've seen some introductory speeches for coaches through the years.
I've seen Sam Wyche trying to play cheerleader on the back of a flat-bed truck outside the old Tampa Stadium, Tony Dungy very dryly talking about what he'd bring to the Bucs (before any of us realized the depth of the man) and John Fox trying way too hard, and not really succeeding, to instantly win over the Carolina fans and media.
Schiano did none of that. He just let it flow naturally and everything he said was perfect.
But the most impressive show I saw was taking place about 30 yards away from where Schiano stood. That's where a young man sat silently. He sat completely upright and seemed to be listening intently to everything his new coach said.
That man was
Josh Freeman
. There's little doubt Schiano's hiring will be a big point in Buccaneers' history -- for better or worse. Schiano's got a huge job ahead of him and he might have the skills to succeed.
But Freeman is still the most important person in One Buccaneer Place. He is the quarterback. He now is Schiano's quarterback. If things are going to turn around for the Buccaneers after a disastrous 4-12 final season by Raheem Morris, Freeman might have to play an even bigger role than Schiano.
[+] Enlarge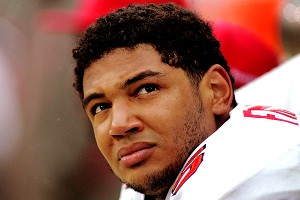 Jake Roth/US PRESSWIREJosh Freeman is looking to improve on a disappointing 2011 season.
Freeman is an enormous talent with all sorts of leadership intangibles. The only problem is Morris, his staff and Freeman's supporting cast came dangerously close to ruining him last season. Freeman threw 22 interceptions last season, after throwing only six in a very promising 2010 campaign.
This kid is too good a talent and a person to ruin. If Schiano is going to succeed, he needs to get Freeman back on track.
Perhaps the best news of the day was that the quarterback and the coach already are on the same page. Freeman was in Kansas City on Thursday when he got the call from general manager Mark Dominik, alerting him that Schiano had been hired.
Freeman did exactly what you would expect a good leader to do. He went and bought a plane ticket to Tampa. In Freeman's eyes, he
had
to be there.
"First day, first press conference and I really wanted the opportunity to meet coach Schiano and show him that I'm here and I'm ready to go,'' Freeman said.
The coach and the quarterback met before the news conference. Freeman, who publicly supported Morris to the bitter end, came away impressed.
"I love his direction,'' Freeman said. "He's a very passionate coach and I'm really excited to have the opportunity to play for him.''
As he introduced Schiano, Dominik used words like "structured," "organized" and "disciplined." As he spoke about himself, Schiano revealed one of his main mottos "Trust, belief and accountability''.
As Schiano went on about his "TBA" formula, I took a look back over my shoulder at Freeman. There seemed to be a gleam in his eyes, even more of a gleam than when Schiano mentioned that his offensive philosophy includes taking shots down field.
Every quarterback wants to hear a coach say he wants to take shots down field. But more than getting to throw some deep passes, I think Freeman needs, and wants, the "TBA''.
Freeman was a leader for the Bucs in 2010. He was a leader as he organized offseason workouts last spring and summer during the lockout. He went into last season as a leader. I don't think Freeman ever stopped trying to be that leader.
I think he simply got dragged down by the total lack of leadership and direction from the previous coaching staff. A lot of players ran wild and there was no accountability and not nearly enough leadership from other corners of the locker room. The Bucs were a ship out of control.
There's no question the Bucs need control and discipline.
"There is going to be a Buccaneer way and they are going to be Buccaneer men,'' Schiano said.
Schiano's going to run things a lot different than Morris. That's a good thing for Freeman, who is a guy that believes in structure and order. He'll get that now and he might even get some improvements in his supporting cast.
The Bucs now have a coach that just might put them in a position where they have a chance to succeed. More importantly, they've got a leader who is totally on the same page as the coach and that could take them a long way.
"That's the only way to have success in this league is to have people buying in with the trust, belief and accountability,'' Freeman said. "There's really no other way. Everybody's got to be full tilt from Day One. The direction Coach Schiano s going to take this team in is going to be great and it's exciting.''
January, 26, 2012
1/26/12
6:31
PM ET
By
Patrick Yasinskas
| ESPN.com
With Greg Schiano leaving Rutgers to take over the
Tampa Bay Buccaneers
, it naturally brings to mind other college coaches who have gone to the NFL.
The general rule of thumb, at least in recent years, is most of those guys don't have a lot of success. But San Francisco's Jim Harbaugh kind of broke that rule in 2011.
With some help from ESPN Stats & Information, let's take a look at some notable coaches who have jumped from college to the NFL and their records in their first pro year:
2011 Jim Harbaugh, 49ers, 13-3
2010-11 Pete Carroll, Seahawks, (Carroll previously was an NFL head coach twice)
2007 Bobby Petrino, Falcons, 3-10
2005-06 Nick Saban, Dolphins, 15-17
2002-03 Steve Spurrier, Redskins, 12-20
2001-04 Butch Davis, Browns, 24-34
1999-2001 Mike Riley, Chargers, 14-34
January, 26, 2012
1/26/12
5:26
PM ET
As I've been reading up on new
Tampa Bay Buccaneers
coach Greg Schiano, I've been paying close attention to coaches that have worked with him and players that have played with him.
There was one name that jumped out at me because he's one of the people I respect most in the entire NFL world. Besides, he's now a scout, so who is better than a scout to provide a scouting report on Schiano.
I called
Dan Morgan
, who now is a scout with the
Seattle Seahawks
. I had the pleasure of covering Morgan during his career as a linebacker with the
Carolina Panthers
. Morgan also played linebacker for the University of Miami when Schiano was the defensive coordinator there for two years. Schiano was there for Morgan's junior and senior seasons.
"Greg was my coach, but, in later years, he's become a very good friend,'' Morgan said. "We've stayed in touch through the years and I couldn't be happier for him. The fans in Tampa Bay might not fully realize it just yet, but they just got themselves a heck of a coach.''
Morgan credits Schiano for helping make him an All-American and a first-round pick by the Panthers in 2001.
"Playing under him, I learned a ton,'' Morgan said. "I give him most of the credit for really developing my football intelligence. From my junior year to my senior year, I started really seeing the game and anticipating things and that's all due to Greg's influence.''
I know a lot of fans are questioning Schiano because he has spent most of his time as a college coach, aside from a three-year stint with the
Chicago Bears
. That's why I asked Morgan if he thinks Schiano can make a successful transition to the NFL.
"A good football coach is a good football coach,'' Morgan said. "Sure, there may be some minor adjustments to the NFL, but Greg's a smart guy and he'll make those without any problem. The biggest thing is that he's a great leader of men. He has the football knowledge and he knows how to bring the whole locker room together and get people on the same page and buying in.''
Morgan said Schiano doesn't fit any certain stereotype and flexibility is one of his strengths.
"He's very intense and he's great with Xs and Os," Morgan said. "But he also makes the game fun. He's one of those guys that will yell when the situation calls for it. But he also can be a real encouraging guy when the situation calls for that.
"He's going to bring discipline on and off the field,'' Morgan said. "He's not a true drill-sergeant type. But he knows how to handle players and people. He'll respect his players and he'll expect it back from them. He'll get it, too, because he's just a guy that kind of commands respect and you want to play hard for him and you never want to let him down."
January, 26, 2012
1/26/12
4:40
PM ET
We've known for hours that Greg Schiano has been hired as the next coach of the
Tampa Bay Buccaneers
. But the team just sent out its official release announcing the hiring and it included the official comments the team has made on Schiano.
"We are thrilled to introduce Coach Schiano as the new head coach of the Tampa Bay Buccaneers," team co-chairman Joel Glazer said. "During our thorough search, we met with numerous impressive candidates, but Coach Schiano surely distinguished himself. From his leadership skills to his considerable track record, he is, simply put, the right man for the job."
The Bucs also included a statement from general manager Mark Dominik.
"Coach Schiano is a bright, meticulous teacher who knows how to get the most out of his players," Dominik said. "He built and ran a pro-style program at Rutgers, and he's a defensive-minded coach whose teams have always been characterized by toughness and a physical style of play."
I'll be back in a bit with a thorough scouting report on Schiano from a prominent player who played for him at one of his previous stops.
January, 26, 2012
1/26/12
4:02
PM ET
Now that Greg Schiano is the new head coach of the
Tampa Bay Buccaneers
, it's time to play a little trivia on the former Rutgers coach.
Name the two high-profile NFC South players (one current and one former) that Schiano coached when he was defensive coordinator at the University of Miami?
The answer is current New Orleans linebacker
Jonathan Vilma
and former Carolina linebacker
Dan Morgan
. Although this guy is not in the NFC South, Schiano coached another very prominent NFL player with the Hurricanes. That was Baltimore safety
Ed Reed
.
Schiano played linebacker in college at Bucknell. Unless he wins about 12 Super Bowls, he's got no chance of becoming the most famous former Bucknell athlete. Who has that honor?
Christy Mathewson has had that one locked down for more than a century. Mathewson was a pitcher for the
New York Giants
in the early 1900s and a member of the inaugural class of the Baseball Hall of Fame. He also played football and basketball at Bucknell. I'm kind of a Mathewson buff. He grew up in Factoryville, Pa., the town next to where I grew up. I played in the Christy Mathewson Little League and every day while I was in high school I rode the school bus past the house where Mathewson grew up.
January, 26, 2012
1/26/12
3:01
PM ET
As we continue to find out more about Greg Schiano, who reportedly has
finalized a deal
to coach the Tampa Bay Buccaneers, the scouting reports continue to be impressive.

Schiano
Check out these
weighty words
from a man in a hooded sweatshirt up in New England. That's Patriots coach Bill Belichick, a close friend of Schiano's.
"Obviously, he's done a great job at Rutgers," Belichick said. "And I think he's a tremendous coach, he's done a great job with that program, and his players have been very pro ready, guys that come out of that program, when they get to the NFL, most of them make it.
"They may not be first-round picks or whatever, but they have enough talent to really compete in the NFL and most of them end up staying in one way or another. I think that's a credit to the preparation and the program he has built there."
Although Belichick has a reputation for being secretive and probably isn't going to go far out of his way to help other teams, I can see him at least giving some general start-up advice to a friend who will be making his debut as an NFL head coach.
January, 26, 2012
1/26/12
1:58
PM ET
Stephen Holder
raises a very good question
that will come into play now that a deal reportedly
has been finalized
to make Rutgers coach Greg Schiano the new coach of the
Tampa Bay Buccaneers
-- who will be his offensive coordinator?
That, without doubt, will be the most important hire Schiano will make for his staff. He's a coach with a long defensive background and he needs an offensive coordinator with strong skills to straighten out an offense that wasn't very good last season, but does have some talent.
The talent starts with quarterback
Josh Freeman
, who was impressive in 2010, but took a step back in 2011. The new offensive coordinator's first order of business will be to get Freeman back on track. Same for receiver
Mike Williams
and running back
LeGarrette Blount
, who each slumped after strong rookie seasons in 2010.
Tampa Bay has some talent on the offensive line with guard
Davin Joseph
, center
Jeff Faine
and left tackle
Donald Penn
, but could use some other upgrades on the line. The Bucs also have tight end
Kellen Winslow
, but there are no guarantees he'll remain in the team's plans. Winslow also slumped in 2011, has chronic knee problems and is carrying a relatively hefty $4.8 million salary-cap figure for 2012. But the Bucs do have some built in protection if Winslow's knee problems worsen. Instead of structuring his deal with a hefty base salary, the Bucs included an incentive clause where Winslow is scheduled to receive a bonus of $34,375 for every game he's active.
January, 26, 2012
1/26/12
1:29
PM ET
Other than the fact he's had success at Rutgers, which is no small accomplishment, I don't know a lot about Greg Schiano, who appears to be
on the verge
of becoming the next coach of the
Tampa Bay Buccaneers
.

But, like a lot of other people, I'm starting to get a profile of Schiano. We know he comes from a defensive background, had a short stint as a defensive assistant with the
Chicago Bears,
and worked as a defensive assistant at several other colleges before becoming the Rutgers coach.
What about him as a person? Well, early indications are he's a big believer in accountability and doing things the right way, which should be a welcome change from the recent past around One Buccaneer Place.
This didn't happen on the football field, but I still think it's a good sign. The football team at Rutgers ranked No. 1 in the nation in Academic Progress Rate in 2010 and No. 2 in 2011.
For four consecutive years, Rutgers was ranked in the top three nationally in multi-year APR rates.
So we know Schiano expected his players to go to class and do well there. That doesn't automatically translate into success on the football field. But I view it as a positive sign.
You don't get that kind of result unless you believe in structure and discipline, and those are things the Bucs had been lacking.
Assuming Schiano takes the job, the early word is "Pass Blocking 101'' will be offered at One Buccaneer Place this spring and running back
LeGarrette Blount
will be required to take the course. There's also a rumbling that "Not Blaming the Media for Your Mistakes 201'' and a graduate-level course called "How to Avoid Constant Off-Field Problems'' will be held for cornerback
Aqib Tailb
and, possibly, a few others.
January, 26, 2012
1/26/12
11:00
AM ET
With reports ranging anywhere from Greg Schiano under heavy consideration for the Tampa Bay job to a
deal being close to finalized
, it's time to take a look at the Rutgers coach, who may not be a household name.
Schiano's claim to fame is that he took over a struggling Rutgers program in 2001 and has built it into a fairly consistent winner. Schiano's career record is 68-67, but that's skewed by losing records in his first four seasons, including 2-9 in 2001 and 1-11 in 2002.

Schiano
More recently, Schiano has had the Scarlet Knights winning on a much more consistent basis. Rutgers has gone 9-4 in two of the past three seasons and 8-5 in both 2007 and '08. Schiano's best season was 2006, when Rutgers went 11-2.
Schiano previously was a candidate for the coaching job at Michigan and his name surfaced in Penn State's coaching search in recent months.
Schiano, 45, has a reputation for being a builder and that could come in handy in Tampa Bay. The Bucs are coming off a 4-12 season, in which they had the league's youngest roster.
Schiano doesn't have deep NFL experience. He was a defensive assistant with Chicago in 1996 and '97 and became the defensive backs coach in 1998. But the rest of his career has been on the college level.
He did a stint as a graduate assistant at Rutgers in 1989 and filled the same role at Penn State a year later. He then served as defensive backs coach at Penn State from 1991 through '95, before beginning his time with Chicago.
Schiano was the University of Miami's defensive coordinator in 1999 and 2000, before taking over at Rutgers.
He played collegiately at Bucknell in Lewisburg, Pa., and coached one year of high school football in New Jersey before beginning his career as a college coach.
Without deep NFL ties and many other teams already filling out their coaching staffs, Schiano's biggest early challenge could be assembling a quality stable of assistants in Tampa Bay.
I have no idea if Schiano would succeed in Tampa Bay. He lacks the lengthy NFL background of most of the other candidates the Bucs spoke with. But he does have a proven track record as a builder. This looks like one we can't really judge immediately and it's likely Tampa Bay fans aren't running up and down Dale Mabry Highway celebrating right now. But Schiano at least has the potential to make this look like a good hire a couple years down the road.
January, 26, 2012
1/26/12
10:32
AM ET
ESPN's Adam Schefter reports that the
Tampa Bay Buccaneers
are
close to a deal
to make Rutgers coach Greg Schiano their next head coach.
I just spoke with a league source, who said the interest is "very legitimate,'' but said no deal is done. But Mike Sherman, who had a second interview with the Bucs yesterday, reportedly is in Miami, interviewing for the Dolphins' offensive coordinator job Thursday, so that lends even more credence to this story.
The Bucs had interviewed at least eight candidates with lengthy NFL experience. But hiring a college coach wouldn't be totally out of character. The Bucs attempted to hire Oregon's Chip Kelly before he reportedly pulled himself from consideration.