March, 7, 2012
3/07/12
10:01
AM ET
Reaction to the New Orleans Saints' bounty program continues to dominate the headlines around the NFC South, although there is some other news. Let's take a look at Wednesday morning's top stories from around the division.
Doug Plank said that bounties for hurting players were
never part of the system
in Buddy Ryan's famous defense in Chicago in the 1980s. Plank said there were small rewards for big plays or big hits, but said he was never aware of instructions to intentionally hurt an opponent.
Former Carolina safety Mike Minter said the Panthers had an
incentive program
among players during his career. But Minter said the rewards were for things like defensive players making interceptions or forcing fumbles and players making big plays on special teams. He said there were no incentives for causing injuries.
Randy Moss reportedly performed very well in his
Tuesday workout
with the Saints. It does not appear that New Orleans has offered the wide receiver a contract and he reportedly could be working out elsewhere in the coming days. But the Saints now have a gauge on what kind of shape the 35-year-old is in and it sounds like they're impressed. If they lose Marques Colston or Robert Meachem in free agency, the Saints then may decide to make an offer to Moss.
The Tampa Bay Buccaneers very quietly
signed tight end
Chase Coffman, who was out of the NFL last year. This might not turn out to be much of anything because Coffman has had an unproductive career. But signing him is worth a shot because Coffman appeared to have some upside when he was a third-round pick by the Cincinnati Bengals in 2009. Coffman also has a friendship with Tampa Bay quarterback Josh Freeman.
Former NFL quarterback Erik Kramer, who played for Ron Turner with the Chicago Bears, had
high praise
for Tampa Bay's new quarterbacks coach. Kramer said he thinks Turner will be a big help to Freeman. That's exactly what the Bucs are hoping for. Despite a disappointing 2011 season, the Bucs still view Freeman as their franchise quarterback and want to get him back on track.
January, 24, 2012
1/24/12
6:04
PM ET
Time for a look at Tuesday's top headlines from around the NFC South.
There's been a lot of speculation that the Panthers will use an early draft pick on a cornerback this year. It could happen, but there was one guy that showed up at the Senior Bowl that
doesn't think that's a great idea
. That's starting cornerback Captain Munnerlyn, who lives in Alabama in the offseason. Munnerlyn pledged to beat out any cornerback the Panthers draft. Munnerlyn is one of those undersized guys that plays with a chip on his shoulder. Nothing wrong with that. You want all your players to be competitive and that's a trait that comes in especially handy at cornerback.
This is just speculation, but Charlie Campbell suggests the Bucs
might want to consider
New York Giants offensive coordinator Kevin Gilbride for their open coaching spot. That's actually not a bad idea. Although he's best known for taking a sideline punch from Buddy Ryan, that was a long time ago and Gilbride has a reputation as a solid offensive coach. He might be better than some of the guys the Bucs have talked to.
There's no agreement yet, but the executive director of the Georgia World Congress Center said
negotiations are continuing
with the Falcons about a proposed open-air stadium.
Alabama coach Nick Saban, who coached Julio Jones at Alabama,
praised the Falcons
for trading up to get the receiver in last year's draft.
Former Carolina defensive backs coach Ron Meek has
landed the same position
with San Diego. Ironically, Meeks' replacement with the Panthers, Steve Wilks, had been the secondary coach for the Chargers.
Georgia cornerback Brandon Boykin
has interviewed
with the Falcons and Panthers at the Senior Bowl. As I do every year at this time, don't put too much stock into which teams interview which players in the pre-draft events and what coaches are supposedly watching certain position groups during practices and games. All teams do their homework on every player eligible for the draft. Heck, sometimes a bad interview gets a prospect pulled of a team's draft board.
This
Insider piece
says the Carolina Panthers were one of the top five underachieving teams in 2011. Let's just say I respectfully disagree with that. The Panthers won two games in 2010. They tripled their win total in 2011 and they did that in a year with no offseason, while they hurriedly installed a new offense and turned things over to rookie quarterback Cam Newton, who had a record-setting season. Yeah, the Panthers had some big problems on defense, but I think injuries to linebackers Jon Beason and Thomas Davis and defensive tackle Ron Edwards played a big roles in the defensive issues.
January, 21, 2010
1/21/10
7:14
PM ET
METAIRIE, La. -- The Saints made their coordinators for offense, defense and special teams available to the media Thursday and there's no doubt defensive coordinator Gregg Williams was the highlight.
[+] Enlarge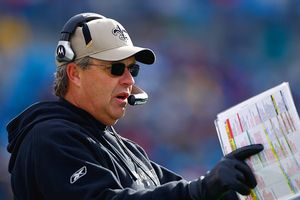 Scott Halleran/Getty ImagesSaints defensive coordinator Gregg Williams hopes his aggressive style will slow the Colts' offense.
Williams has been a head coach before and he knows how the game works with the media. He covered lots of ground in his 15-minute session and none of it was dull.
One highlight came when Williams was asked about the hit defensive end
Bobby McCray
put on
Kurt Warner
in Saturday's playoff victory against Arizona. It came after Warner had thrown an interception.
"Yeah, we're not going to apologize,'' Williams said. "This is a contact game. Not only that block on Warner, who I have tremendous respect for, you know, we don't have anybody on our defense that is a finesse player. ... But I think we can improve toughness and we can improve attitude. Everybody's got a cap, and I've got to try to get these guys to bounce up to their cap. The highest part of them. We don't believe in cover corners. We don't believe. We think everybody has a face mask and shoulder pads and you're supposed to use them. If you don't use them, then you turn into a highway cone and stand over by me. "
Williams' defense is aggressive and so is his attitude. Part of that might have been because one of his mentors was Buddy Ryan. Kind of ironic, but Minnesota defensive coordinator Leslie Frazier also came out of Ryan's school and
New York Jets
coach Rex Ryan is Buddy's son.
"You know he's got to be smiling,'' Williams said. "I thought I read something this week where I think he's going to the (Jets) game, going to Rex's game. I think he has to be smiling. And I do think that every year when I talk to him he always throws that old jab out here that he used to say to Jeff Fisher and I that we screwed his defense up because we worried too much about coverage and not enough about hitting the quarterback in the face. He's got to be smiling a little bit right now because he's got three of his guys out there that really are looking to hit the quarterback as many times as we can. So he's got to be feeling good about that. "
July, 22, 2008
7/22/08
5:31
PM ET
Posted by ESPN.com's Pat Yasinskas.
Doug Plank will join the coaching staff of the Atlanta Falcons, two sources told ESPN.com Tuesday afternoon. Team officials confirmed the move later Thursday evening and said Plank's title will be coaching assistant.
Plank, 55, has spent the last three years as head coach of the Arena Football League's Georgia Force, a team also owned by Falcons owner Arthur Blank. A team official said Plank's role will be to help with special projects for offfense, defense and special teams. The Falcons said Plank will remain head coach of the Force, which plays a spring season.
Plank spent eight years playing for the Chicago Bears and his jersey number gave coordinator Buddy Ryan's storied 46 Defense its name.