November, 23, 2011
11/23/11
1:03
PM ET
Earlier Wednesday, I ran my weekly league-wide
QB Watch column
. This week, I focused on how the Bears and Texans still can make the playoffs even though they've lost their starting quarterbacks to injury.
My point on this was the Bears and Texans are good teams. They're both 7-3. Even with
Caleb Hanie
and
Matt Leinart
now moving into starting roles, it's not a given that the Bears and Texans suddenly will fall apart. If Hanie and Leinart simply can be adequate, the players around them are good enough to get those teams to the playoffs.
But let's take the time to get NFC South specific now. Let's take a look at the backup quarterback situation for each team and think about what would happen right now if
Drew Brees
,
Matt Ryan
,
Josh Freeman
or
Cam Newton
went down with an injury.
Saints.
There's no question Brees is the most important player on the Saints. He's on pace for record numbers and he's well on his way to the Pro Football Hall of Fame. Backup
Chase Daniel
has been in the NFL for three seasons and has attempted precisely three passes. But I don't think the Saints would simply crumble if Daniel suddenly had to play. Just like the Bears and Texans, the Saints are 7-3. They might not have a defense as good as the Saints or the Bears. But I think you could plug Daniel into New Orleans' system and the Saints still could win enough to get into the playoffs. Sean Payton's offense is mapped out so well that Daniel wouldn't have much of a problem getting the ball into the hands of someone who can make a big play at any time.
Falcons.
Chris Redman
is – by far – the division's most seasoned backup. He's 34 and first arrived in the league in 2000. Redman is not Ryan. But the Falcons are 6-4 and the rest of their schedule isn't that difficult. If Redman had to play, he could hand the ball to
Michael Turner
and occasionally find
Roddy White
,
Julio Jones
and
Tony Gonzalez
enough to keep the offense moving. I could see the Falcons getting to 10 wins if Redman had to step in.
Buccaneers.
Let's be clear that Tampa Bay isn't in the same situation as the Texans, Bears, Saints and Falcons. At 4-6, the Bucs probably aren't going to make the playoffs even if Freeman stays healthy. They'd suddenly have to instantly fix a lot of flaws that have held them back all season and run the table. During Tampa Bay's current four-game losing streak, I've had readers suggest the Bucs should turn to backup
Josh Johnson
. Really? Trust me, that's not the answer. Johnson's very athletic. He throws the ball better than
Tim Tebow
and can run pretty well. But the Bucs have so many other issues that they probably wouldn't win again this season if Johnson had to play the rest of the way. That's saying a lot because Carolina's on the schedule twice.
Panthers
. Like the Bucs, the Panthers aren't in a situation where a backup could step in, play reasonably well, get some significant help from his team and still make the playoffs. But let's say the Panthers were 7-3 right now and Cam Newton couldn't play. In that scenario, the Panthers wouldn't necessarily be headed for disaster. They've got
Derek Anderson
, a relatively experienced backup, and he might be able to get them a few wins in a pinch. But, at this point in the season, I doubt the Panthers would turn to Anderson if Newton couldn't play. In their current situation, it would make more sense to take one last look at
Jimmy Clausen
, just to see if there's even a remote chance he can figure into the team's future plans. I'm thinking the team already feels Clausen won't be around long and it's significant to note that he can collect a roster bonus of nearly $1 million if he's still with Carolina in March. But, right now, it would make more sense to play Clausen than Anderson.
November, 23, 2011
11/23/11
10:26
AM ET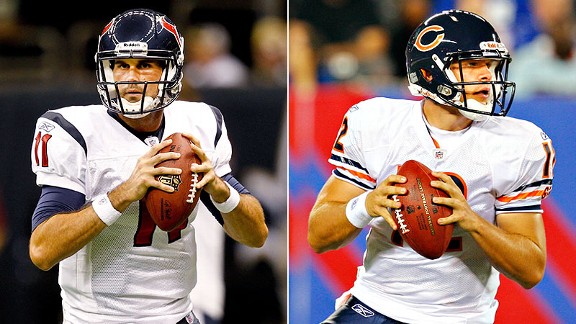 Jim O'Connor/US PresswireBecause of injuries to Matt Schaub and Jay Cutler, Matt Leinart, left, and Caleb Hanie, right, will take over the starting quarterback job for their respective teams.
Don't feel too sad for the
Houston Texans
and
Chicago Bears
.
Sure, they each have lost their starting quarterback to injuries. But the Texans still might be on a path to the playoffs for the first time in franchise history even without
Matt Schaub
. The Bears were in the playoffs last season, but, at least in the short term, they'll have to go on without
Jay Cutler
.
Schaub suffered a foot injury that's likely to keep him from playing again this season. Cutler
reportedly will have surgery
on his thumb Wednesday and the Bears say there is some hope he could return sometime around the end of the regular season.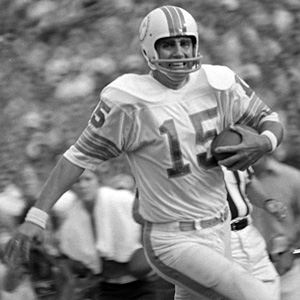 AP Photo/Steve StarrEarl Morrall (15) filled in for an injured Bob Griese during the Miami Dolphins' 1972 Super Bowl run.
If you're thinking the Texans and the Bears will fall apart with
Matt Leinart
and
Caleb Hanie
as their respective starters, you might be wrong. There's a moral to this story. It's the story of Earl Morrall.
This story of a backup stepping in for a long haul and the team not missing a beat would not apply to just any team. But the Texans and the Bears fit the profile quite nicely because they're already 7-3.
Morrall wasn't the most talented backup in the history of the world. He got traded several times, started and backed up, but never really did much of anything until finding the perfect landing spot -- twice.
In 1968, Johnny Unitas got hurt and Morrall stepped in and led the Baltimore Colts all the way to the Super Bowl before losing to Joe Namath and the Jets. Don Shula was the coach of that Baltimore team and was coaching the
Miami Dolphins
in 1972 when he spotted Morrall's name on the waiver wire. Shula spent $100 and claimed Morrall.
"I happen to have a good memory," Shula said at the time. "I remember what Earl did for me in 1968."
When Bob Griese went down in October of 1972, Morrall stepped in and helped the Dolphins complete an unbeaten regular season. Morrall started a couple of playoff games before Griese returned to lead the Dolphins to a Super Bowl victory.
The best news of all for the Texans and Bears might be that Schaub and Cutler certainly never will be confused with Unitas. Maybe not even Griese. They're decent quarterbacks who've looked good this year because they have good teams around them.
Leinart and Hanie could be confused with Morrall, who, when it came right down to it, was "just a guy." Morrall worked his magic with excellent players all around him.
You could even draw parallels to when
Jeff Hostetler
took over for an injured
Phil Simms
late in the 1990 season and led the
New York Giants
to a Super Bowl win. Hostetler also was "just a guy" who suddenly found himself playing quarterback for a good team.
It's not all that difficult to imagine Leinart taking the Texans into the postseason. He's got
Arian Foster
to hand off to, and Foster's presence means that Leinart, who hasn't thrown an NFL pass since 2009, should get some wide-open shots at
Andre Johnson
. Plus, Houston's defense isn't going to give up a lot of points. Even if the Texans go 3-3 the rest of the way, they probably make the playoffs.
Hanie faces a similar situation. Although he has only minimal NFL experience, he can rely on running back
Matt Forte
and a very good defense.
Leinart and Hanie don't have to carry the Texans and Bears. They can hop on the backs of their teammates and, as long as they hold on, everything could work out just fine.

TRENDING UP

TRENDING DOWN