November, 21, 2013
11/21/13
10:00
AM ET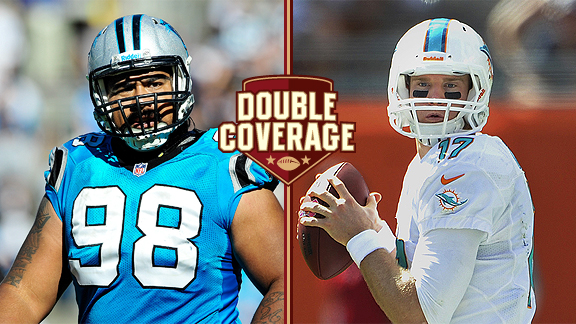 Getty ImagesStar Lotulelei and the Panthers' front four will bring pressure on Dolphins quarterback Ryan Tannehill.
Two teams battling for playoff positioning will face off Sunday when the
Carolina Panthers
travel to play the
Miami Dolphins
.
Carolina (7-3) is one of the hottest teams in the NFL behind a stout defense and improved play from quarterback and MVP candidate
Cam Newton
. The Dolphins (5-5) have fought through off-the-field distractions to win two of their past three games and are just a tiebreaker behind the
New York Jets
for the final wild-card spot in the AFC.
Who will prevail? ESPN Panthers reporter David Newton and Dolphins reporter James Walker weigh in.
James Walker:
This looks like a game of matchups. One that looks concerning from Miami's perspective is Carolina's aggressive, physical defense against the Dolphins' inconsistent offense. The Dolphins are still searching for an offensive identity 10 games into their season. There is nothing they do particularly well on that side of the football: Miami is ranked 20th in passing and 24th in rushing. In fact, the Dolphins haven't scored more than 27 points in a game all season.
Is Carolina's defense as good as advertised? What kind of challenge can Miami's offense expect?
David Newton:
It's hard to argue the numbers Carolina's defense has put up, particularly against the run, allowing just 84.5 yards per game. The front seven is as good as there is at making a game one-dimensional and forcing teams to pass; the defensive line can apply pressure on the quarterback, which allows seven, and sometimes eight, to drop back into coverage. It's really an unselfish group that is working as well together as any unit I've seen this season. The return of defensive tackle
Dwan Edwards
from a hamstring injury three weeks ago has added a more consistent third-down inside pass rush and made this unit even stronger. The defense that helped the 2003 Panthers get to the Super Bowl was good, but I believe this one is better.
The Dolphins bounced back from the loss to the
Tampa Bay Buccaneers
with a solid effort at San Diego. Has this team put the off-the-field issues behind it completely?
Walker:
I wouldn't say completely, because the investigation is ongoing. I don't see an end to the
Richie Incognito
-
Jonathan Martin
saga for at least several more weeks, if not longer. The NFL spent a lot of time at the Dolphins' training facility this week to try to get to the bottom of things, and the NFLPA will reportedly do its own investigation soon.
I thought Miami handled this situation better against San Diego, and it showed in the Dolphins' preparation. Miami put together a focused effort to pick up a big win. I think the team was a bit shell-shocked by the circumstances and the amount of media scrutiny leading up to the Tampa Bay game when everything first came out. It's really going to be a week-to-week scenario with the Dolphins as this investigation unfolds.
Carolina is coming off a short week of preparation after winning a thriller against the
New England Patriots
on "Monday Night Football." Is this a concern, especially going on the road, where the Panthers are 3-2?
Newton:
The short week shouldn't be a problem. They had a Thursday night game a few weeks ago at Tampa and played well for having only a few days of preparation. The coaching staff has really gotten into a groove with knowing when to go hard and when to back off in practice. From a defensive standpoint, because they don't rely on a lot of fancy formations with the front four so solid, it really just comes down to tweaking things for individual matchups.
The biggest issue might be from wear and tear. They played three games in a span of 12 days a few weeks ago, and they're coming off consecutive games against San Francisco and New England, elite teams that really get after you.
Speaking of physical teams, what problems will Miami's defense cause Newton and the Carolina offense?
Walker:
Miami's defense has been an enigma. There is talent and depth, especially in the front seven, but the defense hasn't lived up to its potential. The Dolphins' best chance to rattle Newton is to stop Carolina's running game and make the Panthers one-dimensional. That's a tall order. I thought Miami's defense had the talent on paper to be top 10 against the run, but that's far from the case. The Dolphins are 25th against the run.
But in games when the Dolphins have earned a second-half lead, their pass rush has been able to cause problems. Pro Bowl defensive end
Cameron Wake
is healthy again and back to his old self; he has four sacks in his past three games and 6.5 overall. Fellow defensive end
Olivier Vernon
(5.5 sacks) has been a pleasant surprise. The Dolphins have four players with three sacks or more this season. They have the ability to pin their ears back and get to the quarterback. But the Dolphins haven't had enough leads late in games.
David, one area in which Carolina has struggled is its 28th-ranked passing offense. How can the Panthers improve?
Newton:
Carolina's ranking is a bit misleading. The key number is Newton's efficiency. He's completing a much higher percentage of passes -- 63.2 -- than in his previous two seasons. He's also throwing more short passes as the offense goes with more ball control. He's more or less taking what defenses are giving him better than he has before. Because the Panthers are so balanced in rushing and passing, Newton's passing yards are down. But they have deep threats when they need them in
Steve Smith
and
Ted Ginn
. They just haven't needed them because, for most of the past two months, they've been getting big leads and running more.
James, my last question to you is, do you believe the Dolphins are a playoff team?
Walker:
The Dolphins feel confident because they are still in the hunt. They are just a tiebreaker behind the Jets, and the teams still have two games against one another. But I haven't seen any consistency from Miami since its 3-0 start. Since then, the Dolphins have gone 2-5, so there isn't much reason to believe they can go 5-1 or 4-2 down the stretch to get into the playoffs. Miami has a huge three-week stretch ahead, with Carolina and games at the Jets and at Pittsburgh. All of these games are going to be tough.
November, 11, 2013
11/11/13
8:00
AM ET
TAMPA, Fla. -- Five things to watch in Monday night's game between the
Tampa Bay Buccaneers
and
Miami Dolphins
.


Cameron Wake vs. Demar Dotson.
This matchup does not appear favorable for the Bucs. Wake has 5.5 sacks and has the ability to put a lot of pressure on rookie quarterback
Mike Glennon
. Dotson, who plays right tackle, likely will get some help from the tight ends.
Glennon's pitch count.
After averaging 45 attempts in his first four games, Glennon attempted only 23 passes against Seattle. That's the kind of territory the Bucs would like to keep Glennon in. But they would like to swap out some of the dinks and dunks with some short passes.
Mike James and the running game.
Part of the reason the Bucs didn't have Glennon throwing very much against Seattle was because James was running so well. The rookie, who has taken over for the injured
Doug Martin
, rushed for 158 yards against the Seahawks. Miami's run defense ranks No. 21.
Mike Wallace vs. Darrelle Revis.
In recent weeks, Revis has shown he's getting back to full health and that's meant a gradual increase in man-to-man coverage. He might not be on Wallace every single play, but Revis is likely to shadow Miami's top receiver most of the night.
Lamar Miller vs. Tampa Bay's run defense.
After leading the NFL in rushing defense last season, the Bucs have fallen to No. 13. Look for the Dolphins to test the Tampa Bay run defense with Lamar Miller,who has averaged 97 rushing yards in the past two games.
September, 27, 2013
9/27/13
12:00
PM ET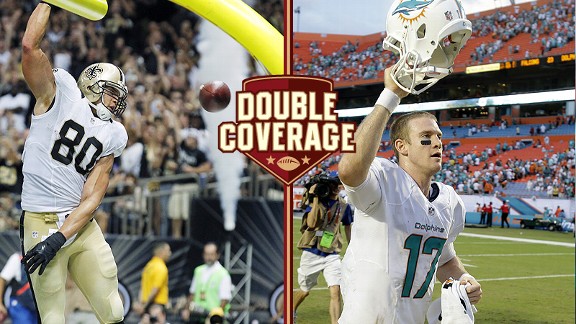 AP PhotoJimmy Graham has as many touchdown catches (4) as Ryan Tannehill has TD throws.
One team is the biggest surprise in the NFL. The other has worked its way back to prominence after the return of its Super Bowl-winning head coach.
That leads to a monumental matchup of undefeated teams when the
Miami Dolphins
travel to face the
New Orleans Saints
on ESPN's "Monday Night Football." This is the only matchup of unbeatens in Week 4.
Is Miami ready for prime time? Can the Saints stay hot?
ESPN.com's Dolphins reporter James Walker and Saints reporter Mike Triplett weigh in.
James Walker:
Mike, I don't know whether we can have this discussion without starting at the top with the head coaches of both teams. Joe Philbin in Miami and Sean Payton in New Orleans have done a tremendous job through three games. Dare I say we could be looking at two early coach of the year candidates if the Dolphins and Saints maintain their winning ways. For Philbin, I've really been impressed with his game planning and his attention to detail in his second year. Miami has committed just two penalties for 13 yards in the past two games. This is a team that doesn't beat itself. Miami also is outscoring opponents 41-16 in the second half, a credit to the coaching staff's ability to make halftime adjustments. Mike, you saw the impact of Payton when he was suspended in 2012. How much has Payton meant to New Orleans' fast start?
Mike Triplett:
Well, let's start with those two traits you just mentioned: game planning and attention to detail. I think Payton has been the best game planner and offensive schemer in the league during his tenure in New Orleans, especially exploiting mismatches in the passing game. Also, when asked that same question you just posed, players such as quarterback
Drew Brees
have said Payton's attention to detail and ability to focus on what's most important are what make him stand out. But I think, more than anything, there is just a confidence and comfort level that has returned along with Payton. The Saints believe that Payton is going to put them in the right situations to win -- and have an answer when things aren't working. I think that played a big part in their down-to-the-wire victories over the
Atlanta Falcons
and the
Tampa Bay Buccaneers
in Week 1 and Week 2.
I have to imagine that "trust" and "confidence" are some words that are starting to be used to describe Philbin and quarterback
Ryan Tannehill
around Miami. I'll admit that from afar I didn't expect this much out of Tannehill in his second season. What's working so well?
Walker:
I've seen Tannehill up close and personal from his first minicamp in 2012 after he was drafted, and even I'm surprised with how well he is playing in Year 2. If you told me before the season that Tannehill would have a better passer rating (94.3) than Brees (91.4) after three games, I would have thought you were crazy. But there really are not a lot of quarterbacks playing better football right now than Tannehill. He has outdueled
Andrew Luck
and
Matt Ryan
in back-to-back weeks. On top of that, he has made key drives in the fourth quarter in both games, something I did not see from Tannehill in his rookie year. His growth involves more than statistics. Tannehill's confidence has skyrocketed, and the game appears easier and is slowing down for him. But a big concern has been pass protection. Miami has allowed 14 sacks and faces an aggressive Saints defense. How do you view that matchup, Mike?
Triplett:
The Saints' young defense has been just as surprising -- especially the way it has been able to generate consistent pressure with its four-man front. The Saints have eight sacks (four of them last week). End
Cameron Jordan
and outside linebacker
Junior Galette
have been particularly disruptive. And players are clearly responding to new coordinator Rob Ryan's versatile schemes (a mix of 3-4 and 4-3). They're still a work in progress, but, if Miami's pass protection is suspect, the Saints sure look prepared to exploit it.
Tell me about the Dolphins' defense. I know it's been solid, but will it have answers for matchup problems such as
Jimmy Graham
,
Darren Sproles
and
Marques Colston
?
Walker:
I'm not sure Miami has a lot of answers for New Orleans defensively. That's why I think the Saints are a tough matchup for the Dolphins. Miami has had trouble for years defending tight ends. It was one of the reasons the Dolphins upgraded at linebacker in free agency, signing
Dannell Ellerbe
and
Philip Wheeler
. But Miami still struggled until the second half last week against
Tony Gonzalez
of Atlanta. Graham's athleticism over the middle could be a nightmare for the Dolphins.
Brent Grimes
has been terrific for Miami and has a good track record against the Saints. But New Orleans could have a lot of success attacking the Dolphins' second and third corners. I think Miami's best chance to disrupt the Saints is with its pass rush. Pro Bowl defensive end Cameron Wake's (knee) status is up in the air, but the Dolphins' blitz packages have been a strength. How would you assess New Orleans' offensive line, and can it improve?
Triplett:
The Saints' pass protection has been surprisingly porous. Brees has been sacked 10 times, the most in any three-game stretch since he arrived in 2006. The Saints have actually allowed the fewest sacks in the NFL over that stretch -- so it's a problem I think they'll correct. It will be huge for them if they can get All-Pro right guard
Jahri Evans
back healthy. While he was out last week with a hamstring injury, his rookie backup
Tim Lelito
allowed three sacks. But the rest of the line is still solid, including new left tackle
Charles Brown
. And Brees and Payton are savvy enough to keep him clean. The bigger issue for the Saints' offense has been its lack of a consistent run game. I think it'll still be pretty pass-heavy this week against Miami. Sounds like the run game has been an issue for the Dolphins, too?
Walker:
The only way I can describe Miami's running game, Mike, is sluggish. It just hasn't looked good, and various parts aren't on the same page. Sometimes, it's the offensive line missing blocks. Other times, it's the running backs not eluding tacklers. The play calling on runs, too, has been predictable. Add this up and you have a Dolphins team averaging 3.2 yards per carry. Miami running backs
Lamar Miller
and
Daniel Thomas
still have a lot to prove. They haven't showed much in three weeks, but Monday's game is a good opportunity. The Saints' defense has allowed 5.3 yards per carry. It's the one hole I've seen so far in the New Orleans defense. Look for Miami's offense to try to grind out yards on the ground and control the clock to some degree. That will be big playing on the road. Speaking of which, a big topic in Miami this week is playing in the Mercedes-Benz Superdome. The Dolphins are 2-0 on the road, but this could be their biggest challenge to date. How much will home-field advantage affect this game, especially in front of a rowdy Monday night crowd?
Triplett:
The Saints' home-field advantage is no joke, especially for these prime-time night games. The Saints have won 10 straight night games at home, including the playoffs, and 13 of their past 14. Whatever advantage you can get from a loud dome and a frenzied crowd, the Saints obviously seem to feed off it. I asked new Saints tight end
Benjamin Watson
about it earlier this year, and he said the loudest game he ever played in was a regular-season Monday night game in the Dome when he was with the
New England Patriots
in 2009. And you hear that kind of stuff quite a bit from visiting players. At least some folks in the crowd will be cheering for NOLA native
Mike Wallace
, though.
All right, speed round. If the Dolphins win Monday night, who will get the game ball?
Walker:
It would have to come down to Miami's defense. I don't see the Dolphins beating the Saints on the road in an offensive shootout. Someone in the secondary must have a big game for Miami to pull this out. The top two candidates are probably Grimes and safety
Reshad Jones
. Brees is going to throw the ball in the Superdome -- a lot. Someone such as Grimes or Jones probably has to get a big turnover or two to give the Dolphins momentum. Jones believes he's one of the NFL's top young safeties, and he's being paid like one after his summer contract extension. This is the type of national game to prove it, especially when matched up against Graham. Which key player could thrive for New Orleans?
Triplett:
I'm cheating if I say Brees or Graham, right? I'll give you two other names, as well -- Sproles on offense and Galette on defense. I think Sproles looks as dynamic as ever as a runner/receiver, so it might be his turn to bust out if the Dolphins concentrate too much on stopping Graham. And Galette is the Saints' speed-rusher who could best exploit the Dolphins' pass-protection issues.
.
September, 22, 2013
9/22/13
7:06
PM ET
MIAMI -- A few thoughts on the
Miami Dolphins
' 27-23
victory
against the
Atlanta Falcons
:


What it means:
The Dolphins are just one of five teams to improve to 3-0 to start the season. The
Chicago Bears
(2-0) have a chance to become the sixth undefeated team with a win Sunday night. It surely wasn't pretty for Miami. The Dolphins needed a fourth-quarter comeback from quarterback
Ryan Tannehill
, who threw the game-winning touchdown to rookie tight end
Dion Sims
, and a little luck in the form of a missed 34-yard field goal late by
Matt Bryant
. For the Falcons (1-2), this is another heartbreaking loss for a talented team that is having trouble closing out games. Many believed Atlanta had potential to go the Super Bowl in the preseason. But its failure to finish is a major concern.
Stock watch:
Falcons quarterback
Matt Ryan
got off to a fast start, completing 15 of his first 17 passes.
Julio Jones
had another big game with nine receptions for 115 yards. Tannehill was beaten up but kept his composure with several big throws on the final drive. He threw for 236 yards and two touchdowns. Trending down was Miami's surprisingly poor tackling against Atlanta. The Dolphins missed on numerous opportunities for key stops because of not finishing plays. Atlanta receiver
Harry Douglas
didn't do much on offense (one reception, nine yards) and lost a key fumble in the second half on special teams.
Wake injury:
Miami Pro Bowl defensive end
Cameron Wake
suffered a knee injury in the second quarter and didn't return to the game. He remained dressed the rest of the game but didn't return. Wake is Miami's best pass-rusher and would be a big loss if he has to miss future games. Miami starting outside linebacker
Koa Misi
also injured his shoulder in the second half and didn't return.
What's next:
This was a big game for both teams. The Falcons will host the undefeated
New England Patriots
(3-0) in a big game next week at the Georgia Dome. Atlanta could be in big trouble if it starts 1-3. The Dolphins will travel next week for a huge clash against the undefeated New Orleans Saints
New Orleans Saints
(3-0) on "Monday Night Football."
September, 22, 2013
9/22/13
7:00
AM ET
Atlanta Falcons
left guard
Justin Blalock
was brutally honest when asked to assess
Miami Dolphins
pass rush demon
Cameron Wake
.
"He's pretty damn good, obviously," Blalock said of Wake. "He's one of the elite pass-rushers in this league. And I'm glad I don't have to play tackle out there."
Blalock said the latter while holding in his laughter, but containing Wake will be no joke. The task of slowing down Wake is likely to fall on veteran newcomer
Jeremy Trueblood
, who is slated to start at right tackle for the depleted Falcons on Sunday after signing with the team Sept. 3.
[+] Enlarge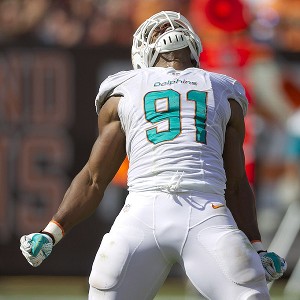 Joe Rimkus Jr./Miami Herald/MCTContaining Pro Bowl defensive end Cameron Wake will be a high priority for the Falcons on Sunday.
Starting left tackle
Sam Baker
is out with knee/foot issues, meaning
Lamar Holmes
will switch to left tackle after starting the first two games at right tackle.
Holmes became a starter after
Mike Johnson
suffered a season-ending broken left leg and dislocated left ankle. And had it not been for salary-cap concerns,
Tyson Clabo
might have been the starting right tackle for the Falconson Sunday rather than the starting right tackle for the opposing Dolphins.
Confused yet? That's exactly how Wake might make the Falcons' offensive line feel Sunday. He has 2.5 of his team's nine sacks through two games to go with a handful of quarterback hits. Wake earned his sack total in a Week 1 win over the Browns. He had 15 sacks last season and has 45.5 in 64 career games.
"All in all, you just have to be ready for whatever he throws at you," Holmes said about Wake. "His overall ability just to play the game just makes him such a good player."
Statistics would indicate Wake might have his way. The much-maligned Falcons offensive line has struggled to keep pressure off quarterback
Matt Ryan
, who was sacked three times in a season-opening loss to the Saints and twice during last week's win over the Rams. According to numbers compiled by Pro Football Focus, the Falcons rank second-to-last in the NFL in cumulative pass-blocking (minus-12.4). Baker had the lowest grade among 68 offensive tackles (minus-12) while Holmes stood 62nd (minus-3.9), according to PFF rankings.
Holmes might not be matched up on Wake much Sunday -- Wake typically lines up on the side of the right tackle -- but Holmes contends he has learned from his early-season struggles.
"You take some of it personal, but you also have to take some of it with a grain of salt," Holmes said. "We've got to keep Matt clean, keep him upright, keep the pocket wide so he can make the throws that he needs to make to get down the field."
Come Sunday, the Falcons won't expect Trueblood, Holmes or anybody else to neutralize Wake one-on-one. Anticipate double-teaming and chipping, when applicable. Ryan has to get the ball out quick, which he has shown the ability to do consistently. And the screen game to players such as receiver
Julio Jones
and running back
Jacquizz Rodgers
has to be effective, especially against a Dolphins team that likes to blitz.
Rodgers, set to get more touches with
Steven Jackson
(hamstring) out, actually hasn't allowed a single pressure in 14 pass-blocking snaps, according to Pro Football Focus. That's a great complement against a blitzing team. But much of the burden in contending with constant pressure falls on the offensive line.
"I don't think we could be any more focused on keeping Matt clean," Blalock said. "It's not a perfect world. It's not going to always happen. But that's at the forefront of our thoughts going into any game, regardless of how many people we have injured."
August, 23, 2013
8/23/13
12:49
PM ET
The latest installment of #NFLRank (Nos. 51-60) is out and the NFC South has one player on
the offense
and two players on
the defense
. Let's take a look.
Offense
Martin
51. Tampa Bay running back Doug Martin
Stats & Info:
Martin had 1,926 yards from scrimmage last season, the third-most by a rookie in NFL history behind
Eric Dickerson
and
Edgerrin James
. In Week 9, Martin became the first player in NFL history with three rushing TDs of 45-plus yards in single game
Yasinskas comment:
This ranking might be a little too low for Martin. He had a great rookie season and is only going to get better.
Defense
McCoy
51. Tampa Bay defensive tackle Gerald McCoy
Stats & Info:
Since drafting McCoy in 2010, the Buccaneers defense has allowed 4 yards per rush with him on the field and 5 yards per rush when he is off the field.
Yasinskas comment:
McCoy stayed healthy last year and ended up making the Pro Bowl. As long as he stays healthy, McCoy is one of the league's best defensive tackles.
Johnson
55. Carolina defensive end Charles Johnson
Stats & Info:
Johnson led all defensive linemen in the league with seven forced fumbles last season. He also had 12.5 sacks, third among defensive linemen behind
J.J. Watt
(20.5) and
Cameron Wake
(15.0).
Yasinskas comment:
Johnson has made Carolina fans forget all about
Julius Peppers
.
NFC South showing to date:
Offense
51. Martin
65. New Orleans wide receiver
Marques Colston
70. Carolina center
Ryan Kalil
71. Carolina wide receiver
Steve Smith
86. New Orleans guard
Ben Grubbs
87. Atlanta running back
Steven Jackson
98. Carolina offensive tackle
Jordan Gross
100. Carolina quarterback
Cam Newton
Defense
51. McCoy
55. Johnson
80. Atlanta cornerback
Asante Samuel
86. Atlanta linebacker
Sean Weatherspoon
93. Atlanta safety
William Moore
96. Atlanta defensive end
Osi Umenyiora
97. Tampa Bay safety
Mark Barron
98. Tampa Bay linebacker
Lavonte David
August, 10, 2012
8/10/12
10:29
PM ET
For the first time since October, the
Tampa Bay Buccaneers
have won a football game, defeating the
Miami Dolphins
on Friday night,
20-7
.
So what if it doesn't count in the standings because it's just a preseason game? We might look back on it in the future and remember it fondly as the start of a successful Greg Schiano era. Heck, even if Schiano's overall tenure doesn't go well, what happened in Miami sure was a lot better than what happened in the final 10 games that Raheem Morris coached this team.


Although the starters played only briefly, it's obvious Schiano has brought some order to a team that desperately needed it. The first-team offense opened with a long scoring drive, the second team followed with an even longer one and the defense got the Dolphins off the field.
Let's take a look at some observations on the Bucs:
Running back LeGarrette Blount, who is trying to hold onto his starting job, got off to a good start. Blount got the start and played well. Blount carried seven times for 30 yards and even caught a pass. Blount also scored the game's first touchdown, hurdling over a pile at the goal line, but you could make the case Blount should have gotten in on third down if he had followed Carl Nicks with more authority.
Doug Martin, the rookie Blount is trying to hold off, also fared well. Martin scored the game's second touchdown on a short run and did it behind a second-team offensive line that's not nearly as good as the first unit. Martin's highlight play came on a run in which it looked like he was tackled. He then spun free and never hit the ground. Martin also did a nice job blocking Cameron Wake on a key pass play to Luke Stocker on the offense's first drive.
Speaking of rookie running backs, Michael Smith, a seventh-round draft pick, had a 74-yard kickoff return in the third quarter.
Quarterback Josh Freeman completed 4 of 5 passes for 41 yards while playing only one series. Freeman didn't do anything spectacular, but he looked calmer than last year. Maybe that was because he had some help from the running game as the Bucs drove 59 yards on 13 plays in seven minutes and 17 seconds.
Top draft pick Mark Barron was held out due to a slight injury. Cody Grimm, who had been working with the third team early in camp, ran with the first team.
Wide receiver Preston Parker has had a nice camp. But he probably had a few points deducted by Schiano after drawing a 15-yard penalty for slapping Miami's Richard Marshall after a play ended. Things got worse for Parker in the second quarter when he fumbled a punt return. Yeah, it was raining and the ball was wet, but those same conditions can be present in the regular season.
Second-year linebacker Mason Foster and second-year defensive end Adrian Clayborn both put big hits on a Miami back on a running play near the end of the first quarter.
Rookie linebacker Lavonte David was drafted in the second round because the Bucs believe he can make big plays. He did. David intercepted a tipped pass in the second quarter.
Backup quarterback Dan Orlovsky completed all eight of his passes for 91 yards, but it wasn't as spectacular as it sounds. Receiver Tiquan Underwood bailed Orlovsky out with a catch on a 44-yard pass that a Miami safety had the angle on but failed to reach out for the ball.

NFC SOUTH SCOREBOARD
Friday, 8/22
Saturday, 8/23