NFC South:

Cardinals-Saints 011610
January, 16, 2010
1/16/10
11:07
PM ET
Drew Brees
.
In the regular season, Brees was the second best quarterback against standard pressure and that trend continued Saturday. Brees completed 80 percent of his passes and two touchdowns against standard pressure from the Cardinals.
Brees also continued his great play in the red zone, going 5-5 with 2 TD passes against the Cardinals. Brees had 21 red zone TD passes in the regular season, second-highest in the NFL.
NEW ORLEANS -- The fine folks at ESPN Stats & Information just sent over some good stuff on Saints quarterback
January, 16, 2010
1/16/10
10:48
PM ET
NEW ORLEANS -- Couple of interesting notes on
Reggie Bush
from our friends at ESPN Stats & Information.
Bush had a huge impact in the game despite running the ball just five times -- all five rushes resulted in first downs for the Saints. In fact, out of Bush's nine offensive touches, seven went for first downs.
Also, it's important to note that Bush's 46-yard touchdown run came out of a four-receiver set. Running out of a four-receiver set was rare and not very productive for the Saints during the regular season. They attempted it only five times and produced just 15 yards.
January, 16, 2010
1/16/10
10:16
PM ET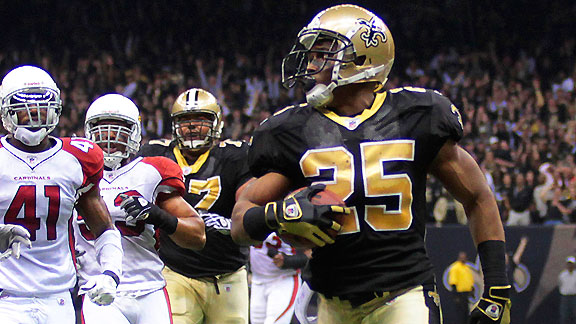 AP Photo/Dave MartinSaints running back Reggie Bush scored on a spectacular 46-yard run.
NEW ORLEANS -- He ran onto the field with
Deuce McAllister
next to him and a baseball bat in his hands. For the next three hours,
Reggie Bush
seemed to put everything into the upper deck.
"He played like a slugger,'' New Orleans safety
Darren Sharper
said of his teammate.
Keep that line in mind because it's significant. Bush played like a slugger in every way. He ran more aggressively and physically than he probably ever has in his four NFL seasons. The guy who has had his share of popups through the years was connecting perfectly.
Bush never has been what most people would call a physical runner. But he sure was one in Saturday's
45-14 divisional playoff victory against Arizona
. He rushed for 84 yards on five carries, caught four passes for 24 yards and returned three punts for 109 yards. That's 217 yards, and he scored on a 46-yard run and an 83-yard punt return.
But it wasn't so much the numbers that were most impressive. It was the way Bush ran in what probably was the most important game of his career. He ran with power and put his shoulder into defenders. We haven't really seen that before and there's a reason for it.
"A lot of people don't realize the microfracture surgery I had last year is pretty extensive,'' Bush said. "I mean, you can come back and play, but it really takes a full year to be all the way back.''
Take Saturday's performance as a sign that Bush's knee is fully healthy. Bush admitted that wasn't the case during the regular season. Bush said coach Sean Payton and he discussed the situation and were cautious with the knee throughout the season. The plan was to not overuse Bush.
"The first half of the season, I was nursing the injury,'' Bush said. "Our plan was to get me to the postseason.''
That mission was accomplished and Bush's big game has to make the Saints feel good as they head into next week's NFC Championship Game against either Dallas or Minnesota.
"Those types of games are what you live for,'' Bush said.
Those types of games are what just about everyone expected from Bush when the Saints took him with the No. 2 overall draft pick in 2006. There have been some bright moments along the way, but Bush hasn't been the consistent big-play guy he was in college.
Maybe this is a sign that, with a healthy knee, this kind of game can become the norm instead of the exception for Bush.
"Reggie works too hard sometimes,'' Sharper said. "I told him in the bye week to shut it down and let his body come back and get the freshness back. You saw that today. You haven't seen Reggie run like that in a long time.''
The fresh legs and the healthy knee showed up, but this was about more than the physical aspect. This was a statement game by Bush and it all started with him carrying that baseball bat.
Payton had bats made with the slogan "Bring the wood'' engraved on them. He gave them to all his players as a reminder to be aggressive and physical. The message got through to just about everyone as the Saints played pretty close to a flawless game in every area.
But nobody grabbed onto the message more than Bush. McAllister, the franchise's all-time leading rusher, was re-signed by the Saints on Friday. He was inactive for the game, but in one of the great ceremonial gestures of all time, McAllister led the Saints onto the field before the start of the game.
Bush was right behind him and still clinging to the bat he'd been swinging before the game in the locker room. Bush finally put the bat down when the game started, but he brought the wood all game long. At times, he even looked a bit like McAllister, who was the prototypical power runner.
"I thought Reggie did everything we asked,'' quarterback
Drew Brees
said. "He ran tough. He ran hard.''
That doesn't mean Bush is suddenly going to turn into a power back and start getting 30 carries a game between the tackles. But the willingness to be aggressive and physical gives Bush and the Saints a whole new dimension -- a dimension that makes them a threat to go to their first Super Bowl.
Think back to New Orleans' first loss. That was against Dallas in December and Bush was banged up. He carried only once and caught two passes in the game and really wasn't a factor. If the Saints get Dallas next week, it's hard to imagine Bush not being a big factor.
Say what you want about the hype that always has followed Bush, and say he has been a bust if you want. But I'll argue that. Bush has been a decent player at times. But I think it's injuries more than anything that have prevented him from living up to the expectations.
Saturday showed just how good Bush can be when he's healthy, and Payton has a way of putting Bush in situations where he can make big plays. Maybe Bush is exactly right about his knee and maybe he's just hitting his stride.
There has been a lot of talk about Bush's contract -- he's scheduled to have a salary-cap figure of more than $12 million, including $8 million in base salary, next season. There have been suggestions that's too much money.
But I'm not buying it. If Bush can play like this all the time, he' worth every cent.
January, 16, 2010
1/16/10
7:36
PM ET
NEW ORLEANS – Those three losses the Saints had to end the regular season led to a lot of talk about them lacking momentum for the playoffs.


Well, none of that mattered in a
45-14
win over the Cardinals. The Saints showed up with momentum and a lot more Saturday afternoon. Even when they were still undefeated, quarterback
Drew Brees
kept saying the Saints hadn't put it all together.
Now, we see what Brees was talking about. This was as good a game as I've seen the Saints play, and that includes the regular-season victory against New England. Whatever Sean Payton and his staff worked on in their practices after the regular season worked perfectly.
The Saints had positive momentum from the moment they were led onto the field by
Deuce McAllister
and it never stopped. If they keep this momentum going, the Saints are going to be very tough for anybody to beat.
I'm heading down to the locker room and will be back with more in a bit.
January, 16, 2010
1/16/10
7:12
PM ET
NEW ORLEANS -- A quick update on Saints running back
Pierre Thomas
. He limped off the field near the end of the third quarter and seemed to be favoring his right leg.
Trainers looked at Thomas and he came back into the game. It's good that he wasn't seriously hurt. But I think Sean Payton should start thinking about pulling his starters.
January, 16, 2010
1/16/10
7:03
PM ET
NEW ORLEANS -- Running back
Pierre Thomas
limped off the field right before the end of the third quarter.
We're awaiting word on his injury, but it appears to be something with his right leg. The trainers are looking at him right now. I'll let you know as soon as I hear anything more.
With a 45-14 lead, the Thomas injury might be a sign that it's time for the Saints to get their starters out of the game.
January, 16, 2010
1/16/10
6:08
PM ET
NEW ORLEANS – Time for some random thoughts on the first half.
January, 16, 2010
1/16/10
4:33
PM ET
NEW ORLEANS -- Give the Saints credit for firing up the crowd and for doing the right thing.
They just came onto the field, led by
Deuce McAllister
. The Saints re-signed the running back Friday in what essentially was a ceremonial gesture. McAllister hasn't played this season and won't play today. He's inactive for this game.
But his presence brought a standing ovation in the Superdome. McAllister, dressed in a sweatshirt, hat and sweatpants, led the Saints out of the tunnel and will spend the game on the sideline. McAllister also joined the captains at midfield for the coin toss.
January, 16, 2010
1/16/10
3:35
PM ET
NEW ORLEANS -- I'm all set up in the Superdome and will be reporting throughout the game.
Also, I'll be jumping in and out of NFL Nation Live throughout the game. If you want to join us over there, here's
the link
. We'll get rolling at 4:30 p.m. ET.
January, 16, 2010
1/16/10
3:18
PM ET
NEW ORLEANS – As expected, running back
Deuce McAllister
will not be active for today's game against Arizona.
McAllister was signed yesterday after sitting out all season. He's expected to lead the Saints onto the field as a ceremonial gesture. Defensive back
Chris Reis
, linebacker
Anthony Waters
, guard
Jamar Nesbit
, tight end
Darnell Dinkins
, tight end
Tory Humphrey
and defensive end
Paul Spicer
also are inactive to the Saints.
Chase Daniel
is the third quarterback.
Arizona's inactives are quarterback
Brian St. Pierre
, fullback
Nehemiah Broughton
, safety
Rashad Johnson
, linebacker
Gerald Hayes
, offensive lineman
Herman Johnson
, defensive end
Jeremy Clark
, receiver
Anquan Boldin
and tight end
Stephen Spach
.