NFC South:

Charlie Whitehurst
December, 21, 2011
12/21/11
10:00
AM ET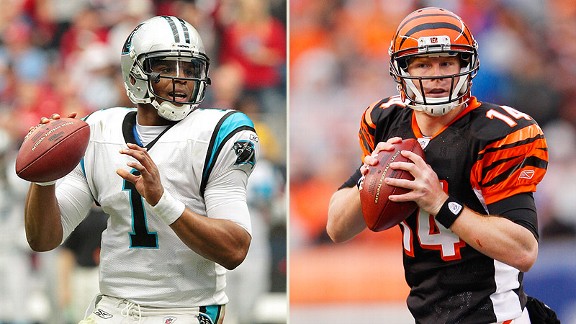 US PresswireThe Panthers (with Cam Newton) and Bengals (with Andy Dalton) are two examples of teams that successfully used the draft to fill a void at quarterback.
In the past few months, we've seen the Panthers, 49ers and Bengals discover they're just fine at quarterback. In those same few months, we've seen even more teams discover that they're not in great shape.
That's why the 2012 draft and free-agency period could provide a shopping spree for teams looking for starting quarterbacks. I'm looking around the league and seeing that roughly a quarter of the 32 teams could change starters in 2012.
Maybe they'll find solutions in the draft, as the Panthers did with
Cam Newton
and the Bengals with
Andy Dalton
. Or maybe they'll take a guy who has been around for a while, put him in the right situation and find out he can play, the way the 49ers did with
Alex Smith
.
But neither method is foolproof. Drafting a quarterback early doesn't always work. That's why I'm putting the Vikings and Jaguars on my list of teams that might look for a starter in the offseason. Bringing in a veteran, as the Cardinals did with
Kevin Kolb
, didn't bring any dramatic changes, and that's why Arizona also is on my list of teams with uncertain quarterback futures.
Let's run through the list, in no particular order.
Redskins
. Who really thought it was a good idea to go into a season with
John Beck
and
Rex Grossman
as your only options? Owner Daniel Snyder and coach Mike Shanahan must realize now that they're going nowhere with journeyman quarterbacks. That's why they have to find someone who can be a franchise quarterback.
Seahawks
. Same story as the Redskins. Pete Carroll generally had more talent and depth in his quarterback groups at USC than he did when he decided to go with
Tarvaris Jackson
and
Charlie Whitehurst
. Letting
Matt Hasselbeck
go wasn't necessarily a bad move, but heading into a season with guys who never have been and never will be any good made no sense.
Dolphins
. The tandem of
Chad Henne
and
Matt Moore
was as uninspiring as what the Seahawks and Redskins brought to the table. That's why the Dolphins will be looking for a new coach. Moore has played pretty well at times, but ownership seems intent on making a big splash to bring some life back to this franchise. The quickest way to make waves is to add a high-profile quarterback, but keeping Moore around as a backup is a nice insurance policy.
Colts
. Had Indianapolis had a backup like Moore, this season wouldn't have been so disastrous. Everything fell apart as soon as it became apparent that
Peyton Manning
wouldn't play because of a neck injury. The Colts could get a healthy Manning back, or they could draft Andrew Luck. But, if they let Manning go and draft Luck, they should go out and get a backup who is capable of starting.
Vikings
. They tried to use
Donovan McNabb
as a bridge to first-round draft pick
Christian Ponder
. The bridge quickly collapsed, and Ponder was thrown in over his head. Ponder may eventually turn into a decent starter, but we've seen no solid evidence that will happen. That's why the Vikings need to have an alternative.
Jaguars
. You can put
Blaine Gabbert
in the same category as Ponder. The jury is still out on him. Like Miami, this is another franchise that will hire a new coach and try to energize a fan base. Just a thought here, but there's a hometown guy who could sell out the stadium every week, if he somehow becomes available. (See below.)
Broncos
.
Tim Tebow
has pulled off miracles by putting the Broncos in playoff contention. The guy has all sorts of intangibles, but he doesn't throw like an NFL quarterback. That's why it looks as though John Fox and John Elway are forcing smiles every time Tebow leads them to an awkward victory. You get the sense that, deep down, Fox and Elway would rather have a conventional quarterback.
Cardinals
. The Cardinals thought they found their franchise guy when they traded for Kolb. He hasn't played like a franchise quarterback, but the Cardinals don't necessarily have to go outside on a shopping trip.
John Skelton
has played pretty well in relief of Kolb. Come training camp next summer, let Kolb and Skelton compete and settle this thing once and for all.

TRENDING UP

TRENDING DOWN
August, 16, 2011
8/16/11
9:15
AM ET
Much to the chagrin of many of their fans, the
Tampa Bay Buccaneers
have made it very clear they have a plan that involves building through the draft and largely ignoring free agency.
Other components of that plan involved developing the players the Bucs draft and, then, at some point, making sure they keep the ones they want for the long term. Whenever people point to how much salary cap space the Bucs have (at the moment it's $29.5 million because only the top 51 cap figures count in the preseason and the Bucs have about $14 million in cap room when you count all their contracts, which is how it works in the regular season), the team quietly reminds you that money will be spent.
The implication is that the Bucs are going to extend the contracts of some of their key young players to make sure they never get near free agency. We've talked several times about how quarterback
Josh Freeman
has to be at the very top of that list.
[+] Enlarge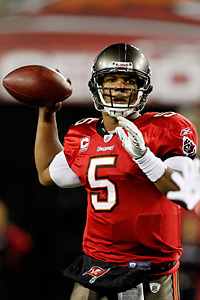 AP Photo/Margaret BowlesQuarterback Josh Freeman should be at the top of the Bucs' list of players to offer an extension to.
He's under contract through 2013, but you could make the argument that Freeman already has outperformed his rookie deal. His average per year pay is $5.24 million. That may sound like a lot to you and me, but it terms of quarterbacks, it's not great pay.
Freeman's average per year ranks 24th in the league and he's below guys like
Kyle Orton
and
Charlie Whitehurst
. If Freeman isn't already a top-10 quarterback, he will be soon.
He's also the franchise and you want to keep him happy. It's pretty much a no-brainer that the Bucs should offer Freeman a pile of money and try to lock him up for the long term. But, after Freeman, who else should the Bucs target for extensions?
When I first thought about it, not a lot of names were coming to mind. That's when I pulled out my list of the contract status for every player on the team and started really thinking about it. Once I did, I came up with a pretty lengthy list. I'll give it to you in order of importance -- at least in my eyes.
Running back LeGarrette Blount.
He's under contract only through this season and could be an exclusive-rights or restricted free agent until he's played four seasons. But the Bucs don't need to play those games. If Blount picks up where he left off last season, the Bucs should lock him up. He's not quite the franchise, like Freeman, but he's a pretty important part of the franchise. He's only making minimum ($450,000) this year and you want to keep key players happy.
Receiver Mike Williams.
He's under contract through 2013. But, like Freeman and Blount, he's already outperformed his rookie contract as a fourth-round pick. If Williams didn't have two more years on his contract, I'd rank him ahead of Blount. I think Williams has already shown that he's going to be a very good player for a very long time.
Defensive tackle Roy Miller.
He's only under contract through 2012 and he's quietly become a very solid player. We still don't know if
Gerald McCoy
and
Brian Price
are going to be good and we've seen signs both might be injury prone. Miller doesn't have the upside of McCoy and Price, but he's the one sure thing the Bucs have at defensive tackle.
Cornerback Aqib Talib.
Yeah, I said it. But humor me and listen to my logic on this one. I'm not saying the Bucs need to go out and give him an extension immediately. Talib's under contract through 2012 and he's got a trial scheduled for next March for his latest off-field incident. Let's say Talib isn't punished by the NFL and isn't convicted by the legal system. And let's say that he's a model citizen from here on out. Then, it might make some sense to extend him. The kid is a heck of a talent and there are some important people in One Buccaneer Place who believe Talib isn't a bad person, but has made some questionable decisions. They also know more about the off-field incidents than we do and they don't think Talib was the instigator in any of them.
Linebacker Geno Hayes.
He's under contract only through this year. Hayes is a decent, but not great player. But the coaches like him and he's viewed in much the same way as fellow linebacker
Quincy Black
. If the Bucs were willing to recently give Black a new contract, I think they'd do something similar for Hayes.
Cornerback E.J. Biggers.
A lot will depend on how Talib's situation plays out. Biggers is under contract through 2012.
Ronde Barber
's not going to play much longer. The Bucs could have one or two starting cornerback jobs open before long. Biggers has become a very good No. 3 cornerback and easily could transition into being a starter.
Safety Sean Jones
. He's 29 and only under contract through this season. He's not young and he's not a star. In fact, he's pretty ordinary. But the Bucs might want to extend him for a year or two. Jones brings stability to the safety spot and the Bucs don't know if
Tanard Jackson
will be back after his one-year suspension.
Offensive lineman Jeremy Zuttah
. He's only under contract through this season and he's a nice backup at center and guard. Center
Jeff Faine
's probably not going to play a lot longer and Zuttah could be his eventual replacement.
Quarterback Josh Johnson
. He's in the final year of his contract. Although he rarely has played, the Bucs like him a lot. But, even if they approached Johnson about an extension, they might not have much luck. Johnson knows he'll never start in Tampa Bay as long as Freeman is healthy. He's got some talent and might want to go to a place where he at least has a shot at a starting job.
Safety Cody Grimm
. He's under contract through 2013, but he's getting paid like the seventh-round choice he was last year. There's no need to rush. But if Grimm, who is expected to start, plays well and Jackson's not coming back, then it might be time to start thinking about extending him.
Receiver Sammie Stroughter
. Like Grimm, there's no rush on this one and the Bucs need to see more out of Stroughter, who is under contract through 2012. He looks like he could be a nice third receiver and return man. If he can provide some more evidence of that, he might be a candidate for an extension.
January, 6, 2011
1/06/11
4:12
PM ET
Two pretty major pieces of news came out as I was making the drive to Tampa International Airport. Neither one of them is good news for either of the NFC South teams involved.
First, quarterback Andrew Luck is
staying at Stanford and declining to enter the NFL draft
. Second, the
Seattle Seahawks
said
Matt Hasselbeck
will start at quarterback in Saturday's playoff game
.
The Luck news is pretty close to devastating for the
Carolina Panthers
. They hold the No. 1 pick in the 2011 draft and the team was fully intent on taking Luck if he chose to come out following his red-shirt sophomore season. Luck is viewed as most experts as a can't-miss prospect and the Panthers didn't disagree with that.
Without Luck, the draft lacks a quarterback that is clearly worthy of the No. 1 overall pick. So what do the Panthers do now?
Well, the easy answer is to try to trade the pick and add extra draft picks. But that's much easier said than done. There is a possibility no labor agreement will be in place before the draft and teams might be hesitant as they wait to see if a new agreement might include a rookie wage scale.
The Panthers could be stuck with the No. 1 pick. They'll have to use the Senior Bowl, scouting combine and personal workouts to come up with a guy to put in Luck's place at the top of their wish list. Chances are, that won't be a quarterback.
The Panthers still have hope that
Jimmy Clausen
can develop into a decent quarterback, but they're not going to go into next season without a viable alternative to Clausen. They might have to use the top pick on a player at another position and look to free agency for quarterback help.
The Hasselbeck news directly impacts the
New Orleans Saints
, who play the Seahawks on Saturday. While you still can argue the Saints are fortunate they drew a 7-9 team in the wild-card round, a healthy Hasselbeck will make things a bit more difficult.
Charlie Whitehurst
played for an injured Hasselbeck in the final regular-season game against St. Louis and helped the Seahawks get the win and the playoff berth. But Whitehurst is a career backup with very little starting experience. Hasselbeck is a proven veteran and probably provides the Seahawks with their best chance of staying with the Saints. Remember, Hasselbeck threw for 366 yards in a regular-season game against New Orleans.
Finally, we'll close this post with a bit of good news. I got a copy of Jeff Duncan's book "From Bags To Riches'' about the Saints and plan to read that on the plane to Seattle. It's a long flight, so I might get time to finish the entire book. Plus, I'll have a return flight Sunday, so I'll go ahead and promise you a book review by next week. And Duncan better have a pen ready to autograph my copy when I see him at Qwest Field on Saturday.
January, 6, 2011
1/06/11
9:30
AM ET
It's no secret New Orleans defensive coordinator Gregg Williams likes to blitz. The Saints used that tactic more than any team in the league in the 2010 regular season.
According to ESPN Stats & Information, the Saints blitzed on 49.5 percent of opponent dropbacks. The league average was 33.3 percent.
I wouldn't look for Williams to change an approach that's worked well for him. But he might have to adjust depending on who is playing quarterback for the Seahawks in Saturday's playoff game.
In a Week 11 meeting of the teams (a New Orleans victory), the Saints were especially aggressive against veteran
Matt Hasselbeck
. In addition to using five pass rushers frequently, there were six plays where the Saints sent six or more pass rushers after Hasselbeck and he capitalized in those situations. Hasselbeck went 6 for 6 for 128 yards, a touchdown and a perfect 158.3 passer rating.
If Hasselbeck is healthy enough to play, the Saints might have to dial down the blitz a bit. But it might be a different story if backup
Charlie Whitehurst
gets the call. When facing six or more pass rushers this season, Whitehurst completed just 37.5 percent of his passes and averaged 1.9 yards per attempt.
January, 2, 2011
1/02/11
11:28
PM ET
Three things to know about next Saturday's New Orleans Saints-Seattle Seahawks wild-card game:


1. Is Seattle's home-field advantage really a disadvantage for the Saints?
Qwest Field can be very loud and the weather could be a factor. But this Saints team doesn't seem to know the difference between home and the road.
In the 2009 and 2010 seasons, the Saints have lost only three games on the road. One of those losses was at Carolina at the end of the 2009 season when the Saints were resting their starters. The Saints played perhaps their worst game of the last two years at Arizona earlier this season. But the only other road loss this year was against a quality opponent (Baltimore) and the Saints won in the Georgia Dome, one of the league's toughest venues.
The logistics of a short week and traveling to the Pacific Northwest are a challenge. But the Saints are experienced at handling inconvenient situations. They traveled to London in 2008 (and won) and have practiced on the road several times in recent years when hurricanes were approaching New Orleans. Playing a team that was only 7-9 in the regular season isn't the biggest challenge the Saints have faced.
2. Don't look for a repeat of the regular-season matchup in which the New Orleans defense allowed 424 yards of offense to Seattle.
The Saints won that game 34-19, but the Seahawks moved the ball with ease.
Matt Hasselbeck
passed for 366 yards in that game.
But the Saints have been better on defense recently. They always are aggressive on defense, but they may be even more aggressive than usual against Seattle. Hasselbeck has been banged up and
Charlie Whitehurst
doesn't have a lot of experience. Defensive coordinator Gregg Williams is likely to throw a lot of blitzes at whoever is playing quarterback for the Seahawks.
3. The running game will be a key
.
Chris Ivory
ran for 99 yards in the regular season meeting. Seattle's run defense has been among the weakest in the league. The Saints need to exploit that weakness to keep the Seahawks from devoting too much attention to the passing game.
But Ivory and
Pierre Thomas
both have been banged up and
Julius Jones
hasn't done much when given playing time. The Saints have brought
Reggie Bush
back slowly from his broken leg. But it might be time to give Bush a little added work.
December, 26, 2010
12/26/10
7:13
PM ET
A quick wrap-up of Tampa Bay's victory against Seattle.
What it means:
At 9-6, the Buccaneers have clinched a winning season and remain mathematically alive for a playoff berth. I'll update you on playoff scenarios when I get to Atlanta later tonight. We'll see what the playoff situation is, but I think it's safe to go ahead and declare the season a success for the Bucs no matter what happens. A winning record is a lot better than most people expected this year.


Hero:
Josh Freeman
. I was driving to Tampa International Airport about the time Freeman was throwing two second-quarter touchdowns and the road runs pretty close to Raymond James Stadium. The wind was making my car sway and forcing me to keep both hands on the wheel. If you can throw a football with precision through that kind of wind, you have a big-time arm. By the way, Freeman had three other touchdown passes. He never had more than three touchdowns passes in a game before and the five touchdown passes tied the team record. At 22 years old, Freeman now has 23 touchdown passes this season.
Unsung hero
:
Connor Barth
. Tampa Bay's young kicker made a 46-yard field goal into a very strong wind in the first quarter. The Bucs were trailing 7-0 at that point and considered punting on fourth-and-long. But they decided to trust Barth and his line-drive kick sliced through the wind.
Stepping up:
We've talked repeatedly about how the Bucs have been getting banged up in recent weeks and how young guys continue to step up. Well, it happened again. With
Sammie Stroughter
out with injury, the Bucs gave more playing time to receivers
Preston Parker
and
Dezmon Briscoe
. Even veteran
Maurice Stovall
, who has been silent much of the season, contributed to the passing game. They also lost fullback
Earnest Graham
to injury during the game and used their tight ends as fullbacks to get through.
Look who's stepping up
:
Kellen Winslow
's been pretty good all season, even though he frequently sits out practices because of knee problems. But Winslow was great Sunday, catching two touchdown passes. Winslow's second touchdown in the third quarter capped a 98-yard drive, which tied the franchise record.
Lucky break:
Although he's not the player he once was,
Matt Hasselbeck
is still a veteran quarterback and that kind of experience can help a lot at this time of year. Hasselbeck ran for a first-quarter touchdown, but hurt his hip on the play and left the game. The Seahawks were forced to turn to
Charlie Whitehurst
.
Redemption time:
Linebacker
Geno Hayes
got into some off-field trouble a couple of weeks ago and had some very strong talks with coach Raheem Morris. Whatever was said seems to have worked. Hayes produced two third-quarter sacks.
What I liked:
Even though center
Jeff Faine
and guard
Davin Joseph
are on injured reserve, the Bucs still were productive in the running game. Most of that simply was due to
LeGarrette Blount
's physical running style, but the blocking must have had something to do with it. The Bucs should watch the film of their young linemen because Faine is aging and has been having injury problems for a couple of years and Joseph could be a free agent.
Rookie of the Year
: St. Louis quarterback
Sam Bradford
will win the league's award, mostly because he's a quarterback. But Blount and receiver
Mike Williams
are going to finish high in the voting. If you had to pick a Tampa Bay rookie of the year at this point, I think you'd have to split it between Blount and Williams.
What's next:
The Buccaneers close the regular season next Sunday against the
New Orleans Saints
at the Louisiana Superdome.
March, 27, 2010
3/27/10
4:36
PM ET
Time for a plunge into the NFC South mailbag.
Rock in Slidell, LA writes:
Since you are quarantined (joke) to the NFC South, thought you might like a little trivia. In 2002, when NFL realigned, it created a division, not on purpose, that housed the 4 teams with the worst all time winning percentage. (This is excluding the newly formed Texans). At the time the Bucs had the worst winning percentage, at .384, followed by the Falcons at .400, Saints at .401 and Panthers at .415. Since that time the NFC South has held its own going +6 over .500 over those last 8 years. The other divisions are as follows with a slight margin of error due to 2 ties. NFC East = 20, NFC North = -20, NFC West = -40, AFC South = 26, AFC East = 13, AFC West = -6 and AFC North is Even. You can see the discrepancy in that the AFC is 33 over the NFC during that span.
Pat Yasinskas:
Great note, Rock. Thanks very much for sharing. Yes, the long-ago histories of the NFC South teams sure weren't pretty. But that's changed for the better in recent years. The Saints just won a Super Bowl. The Falcons had back-to-back winning seasons for the first time in franchise history. The Panthers have been to two NFC title games since the division started. Although the Bucs are struggling now, they won the Super Bowl in the first year of the NFC South. It's a fun division and I'm thrilled I get to cover it.
---
Ed in Cape Coral, FL writes:
You said again that
Byron Leftwich
has no trade value, but if
Charlie Whitehurst
(never even thrown a meaningful NFL pass) can garner a 3rd rd pick and
Kevin Kolb
(only 2 starts) is shopped for two first-round picks why can't Leftwich or even
Josh Johnson
get something in between?
Pat Yasinskas:
At absolute best, the Bucs might be able to get a sixth- or seventh-round pick for Leftwich. But I think even that might be tough to pull off. Your points on Kolb and Whitehurst are taken, but the reason they have value is because they are younger and teams view them as quarterbacks who might ascend. Leftwich is 30 and has flopped as a starter several times. There's no upside with him. Also, every team around the league knows the Bucs probably will cut Leftwich if they can't trade him. So why give up a draft pick if you might be able to sign him as a free agent? Also, you mentioned Josh Johnson. If I were the Bucs, I'd hang onto him. Not saying he lit it up by any means, but I saw some positives when he played last year. I think he can be a decent backup to
Josh Freeman
.
---
Carlos in Panama City writes
: Would the Bucs consider taking an offensive tackle early in the draft? I have grown weary of
Jeremy Trueblood
's false starts and mediocre production.
Pat Yasinskas:
I don't think you'll see that happen in the first round. The Bucs have glaring needs at other spots and need to work on those. But I wouldn't be totally surprised if the Bucs take a tackle sometime after the first round. Their offensive line was supposed to be an area of strength last year, but it underachieved. Could be time for some changes.
---
Jeff in Atlanta writes:
Do you see
Harry Douglas
coming back and having a breakout season? I know he's anxious to come back and produce, especially because he sat out all year in 09. Do you think that his year off will help or hurt his development?
Pat Yasinskas:
Thomas Dimitroff told me the other day at the owners meeting that Douglas is doing well in his rehab and is expected to be at full health in time for the start of the season. I see no reason why he can't have a big impact this year. The Falcons were really excited about him after he showed so much promise as a rookie and had big plans for him before he got hurt in training camp last year. I know Douglas a little bit and he's a very competitive and positive guy. I'm sure he's working hard to get healthy and I think you'll see a good amount of him in the upcoming season.
---
Ryan in LaCross, WI writes:
There is a lot of talk about Carolina and
Tim Tebow
, but it's always focused around him coming in as a QB. What if Carolina is looking at him as a TE/H-back roll?
Pat Yasinskas:
I'd be in favor of Tebow in that situation. But I think he's made it pretty obvious he is intent on giving it a try at quarterback and I think there are some teams out there that will give him a chance. I know a lot of Carolina fans think the Panthers may take Tebow in the second round as a quarterback. I really don't think that's going to happen.