NFC South:

Chris 'Beanie'' Wells
April, 25, 2009
4/25/09
9:46
PM ET
Posted by ESPN.com's Pat Yasinskas
All those pre-draft reports about the Saints wanting to take Malcolm Jenkins in the first round were true. So were the reports about them wanting to take Chris "Beanie" Wells.
In his news conference after the first round, New Orleans coach Sean Payton admitted the Saints tried to get both players. This much is certain: The Saints wanted Jenkins at No. 14 all along.
"We weren't really interested once Malcolm was available of moving that pick at all,'' Payton said. "We felt that way going in. You try to have your list of players available at 14 and he was our first choice. We weren't going to entertain any offers -- not that there were any at that time.''
But Payton admitted there might have been offers made by the Saints after that. With Wells sliding further than many expected, Payton admitted the Saints had discussions with the Patriots, who held the 23rd pick. Payton admitted the price tag would have been giving up next year's first-round pick.
"Yes, it would have to be,'' Payton said. "In order to get into the first round, you'd have to be dealing with -- if you look historically that got into the first round it takes a little bit and for us it would have had to have included a pick next year. It's somewhat complicated because as each pick goes on it possibly changes a little bit, but I think those reports are accurate."
Wells ended up being drafted No. 31 by Arizona.
April, 25, 2009
4/25/09
5:51
PM ET
Posted by ESPN.com's Pat Yasinskas
Now that the Saints have Malcolm Jenkins, all they have to do is figure out where to play him.
Is he a cornerback or is he a safety?
That can be sorted out in the coming weeks, but the important thing is the Saints did the right thing by adding a defensive back. I'm sure coach Sean Payton had to be tempted to go with offense (Chris "Beanie'' Wells perhaps?) at No. 14. But Payton and general manager Mickey Loomis did what they had to do -- sticking to their offseason overhaul of the defense.
Barring an unlikely trade, the Saints are done until the fourth round. That's fine because they filled their biggest need. They got a guy who can come in as a corner or safety and help this defense right away. With Jenkins joining Jabari Greer and Darren Sharper, the Saints finally may have solved their problems in the secondary. At the very least, they've got way more talent than they've had in years.
They can get their short-yardage runner Sunday.
April, 24, 2009
4/24/09
12:30
PM ET
| | |
| --- | --- |
| | |
| | US PRESSWIRE |
| | How will NFC South defensive backs fare against the bevy of tight ends including Tony Gozalez, Kellen Winslow and Jeremy Shockey? |
Posted by ESPN.com's Pat Yasinskas
With the NFC South suddenly becoming a hub for tight ends, a very big question rises.
Who's going to cover all these guys?
Presumably, the outside linebackers and safeties. Does the NFC South have enough talent at those positions to keep up with Tony Gonzalez, Kellen Winslow and Jeremy Shockey? We'll find out in the fall, but I'm thinking linebackers and safeties could have a lot more value in the NFC South in this weekend's draft.
Think about it a bit.
Let's say you're the Saints and you're sitting there at No. 14. There's been lots of talk about taking running back Chris "Beanie'' Wells, defensive back Malcolm Jenkins or maybe even a defensive tackle. But, after Thursday's trade of Gonzalez to Atlanta, you're suddenly faced with the prospect of facing him and Winslow in four games.
You've got experience at outside linebacker in Dan Morgan, Scott Fujita and Scott Shanle, but do any of those guys have the legs to run with Gonzalez or Winslow? If you're the Saints, you suddenly might want to slide Brian Cushing and Clay Matthews, the two USC linebackers who could be available when you pick, up a few spots on your draft board.
Same story for the Bucs, who are sitting at No. 19. They've already overhauled their linebacker corps by signing Angelo Crowell and moving safety Jermaine Phillips to weak-side linebacker. But the thought of facing Shockey and Gonzalez on a regular basis might make it difficult to pass on Matthews or Cushing. For that matter, the Bucs would have to think hard about Jenkins, if he's available.
Part of the reason for moving Phillips to linebacker was a desire to get Sabby Piscitelli into the starting lineup at strong safety. But is Piscitelli ready to line up against Shockey and Gonzalez?
The Falcons, who hold the No. 24 pick, have needs at defensive tackle, defensive end and cornerback. But they might have to put more emphasis on their needs at safety because of changing landscape of tight ends in the NFC South. Matthews, Cushing and Western Michigan safety Louis Delmas might have jumped up Atlanta's board in recent days.
Carolina doesn't pick until the second round (No. 59 overall) and the Panthers are in good shape at outside linebacker. They've got some big needs on the defensive line, but they might not be able to sit still at safety in the second or third round. Strong safety Chris Harris isn't known for his coverage skills and second-year pro Charles Godfrey still is trying to grow into the free safety job.
How NFC South defenses try to counter the upgrades at tight end is one story line to follow throughout the draft. Here are four more NFC South story lines to follow.
What happens with Julius Peppers? This situation has been simmering in Carolina for months and it could be ready to boil over. Peppers has said he wants out of Carolina and the Panthers have said they want him back.
But Peppers has strapped Carolina's cap situation with his $17 million franchise tag. If some other team steps forward with a deal that includes a first-round pick, the Panthers almost have to take it. The alternative is to hang on to Peppers at his current price and the Panthers are ready to do that.
In that situation, the common assumption is that Peppers has no choice but to put in another season with the Panthers. But don't assume anything with Peppers. This thing has never been about money and Peppers is a very unique individual. It's not out of the realm of possibility that he would hold out and pass on the $17 million.
Will Sean Payton be able to keep his hands off the offense? That's not going to be easy for the New Orleans coach. Payton's background and passion is on the offensive side, but his future is on the defensive side. As tempting as it may be to draft Wells to give the Saints a power back, Payton may have to go outside his comfort zone.
The defense is the reason the Saints haven't made the playoffs the last two seasons. They've spent the offseason overhauling the defense. Now, it's time to finish the job. Payton has switched defensive coordinators and that pulls away a layer of insulation on his own job security. If defense keeps this team out of the playoffs again, it might be Payton's turn to take the fall.
Are the Bucs really content with their quarterback situation? Kansas State's Josh Freeman is at least a consideration in the first round. But Tampa Bay has so many other needs that it might not make a lot of sense to take a quarterback who might not be ready to play right away.
The Bucs signed Byron Leftwich and he certainly is a candidate to start. But think back to one of the first moves coach Raheem Morris and general manager Mark Dominik made when they took over. They re-signed Luke McCown and paid him pretty good money. There was a reason for that. Morris and Dominik want McCown to be their starter.
Can Atlanta rebuild its defense in one draft? That's pretty much what the Falcons have to do after parting ways with Keith Brooking, Lawyer Milloy, Grady Jackson, Domonique Foxworth and Michael Boley. The Gonzalez move means that the Falcons will focus almost their entire draft on defense, except for possibly adding a little depth on the offensive line.
Atlanta's only addition on defense was adding linebacker Mike Peterson. There's some good, young talent in place with defensive tackle Jonathan Babineaux, middle linebacker Curtis Lofton and cornerback Chris Houston.
But the Falcons need some more young talent on this defense. They need to walk out of this draft with at least two defensive starters.
April, 24, 2009
4/24/09
12:26
PM ET
Posted by ESPN.com's Pat Yasinskas
I asked a few days ago for your mock draft choices for each NFC South team and your responses were tremendous.
We'll start the inaugural NFC South readers' mock draft with the New Orleans Saints. That's mainly because the Saints hold the first pick (No. 14) among the NFC South teams. But it's also a good thing we're starting with the Saints because this was the easiest pick to call.
The basic premises I asked you to play by were to not project any trades and to be realistic about who would be available when each pick was made. I just read through about 500 ballots your hands-down pick for the Saints is ...
Wait, let's put this in the hands of the readers since they were making the call.
Clay in NO writes: The Saints should take Malcolm Jenkins. His versatility and ability to play either safety or cb (regardless of his 40 time the guy makes plays), would greatly help a Saints secondary in need of a playmaker. He could be tested at cb and if that didnt work out be groomed as Darren Sharpers successor at free safety. The safety position has become one of the most crucial spots on the field for a defense. Look at the impact Bob Sanders has on the Colts defense when he is in and out of the lineup. It is crazy to even think for a second that a rb should be taken at 14, especially since they will be splitting carries. A power runner can be taken in a later round. Every year the Saints badly need to improve their secondary and every year it gets ignored. Theyve made some improvements in the offseason, but this is their chance to grab a playmaker that will be there for years to come.
Troy in New Orleans writes: Saints should select M. Jenkins at 14. He is a need player with a super future ahead of him. If they select anyone else, i.e. Beanie Wells, Knowshan Moreno, this will come back to haunt them.
Neil in New Orleans writes: At no. 14 the Saints should take CB/S Malcolm Jenkins from Ohio State. As much as I'd love to see RB Chris Wells in the same backfield with Reggie Bush and Pierre Thomas, the defense should still remain as the Saints' number 1 off-season priority. Under new defensive coordinator Gregg Williams, along with a revamped secondary (Greer and Sharper signings), Jenkins has the potential to be a great addition in the near future and a mainstay on a much improved defense. The Saints may have an opportunity to select another big back later in the draft, namely Rashad Jennings from Liberty.
Jenkins outpaced the field by about 60 votes. That's easily the biggest margin for any of the NFC South mock picks, as you'll see when we post results for the other teams as the afternoon goes on. Southern California linebacker Brian Cushing was your second choice. Ohio State running back Chris "Beanie'' Wells finished a distant third and Southern California linebacker Clay Matthews was fourth.
I'll be back in a bit with your pick for Tampa Bay at No. 19.
April, 17, 2009
4/17/09
12:00
PM ET
Posted by ESPN.com's Pat Yasinskas
When it comes to next week's NFL draft, the NFC South should take a lesson from Carolina's DeAngelo Williams and Jonathan Stewart.
While the rest of the world was debating the real "Smash and Dash" last season, the Carolina backfield went in a different direction and dubbed itself "Double Trouble."
That's what the NFC South should do in the draft -- let flash go the same route as "Smash and Dash." What the NFC South -- and we're talking all four teams -- needs to do is forget all the hype fans and other teams are caught up in about offensive skill positions. Heck, just forget offense altogether (at least until later in the draft).
With its first draft pick, each NFC South team should go with a defensive player.
April, 16, 2009
4/16/09
6:40
PM ET
Posted by ESPN.com's Pat Yasinskas
Todd McShay has his latest first-round mock draft up and he's got some interesting choices for the three NFC South teams (Carolina doesn't have a first-round pick).
Let's break down his choices a bit.
No. 14: New Orleans
McShay's pick: Chris "Beanie" Wells, RB, Ohio State
My thoughts: I'm thinking all this talk about getting a power back is a smoke screen. Yeah, the Saints can use a short-yardage runner, but why use a first-round pick on a role player? I say draft Wells' college teammate, defensive back Malcolm Jenkins and give defensive coordinator Gregg Williams another toy.
No. 19: Tampa Bay
McShay's pick: Peria Jerry, DT, Mississippi
My thoughts: It's possible, but I don't think Jerry is the big defensive tackle the Bucs are looking for. I could see them going after Georgia Tech defensive end Michael Johnson. But I'm thinking Raheem Morris is a former defensive backs coach. Right now, my guess is cornerback Vontae Davis.
No. 24: Atlanta
McShay's pick: Brandon Pettigrew, TE, Oklahoma State
My thoughts: This would make sense for value. But I just don't see the Falcons using their tight end enough in the passing game to justify a first-round pick. I think a linebacker or a defensive tackle are possibilities, but I'm going with Western Michigan safety Louis Delmas -- at least for now.
April, 9, 2009
4/09/09
1:17
PM ET
Posted by ESPN.com's Pat Yasinskas
ESPN's Mel Kiper has unveiled his latest mock draft. There's plenty of logic in his picks, which speak for themselves.
Mel may be right on all three first-round picks for the NFC South teams. But I see some alternatives for all three picks. I still think the Saints will go defense, possibly with defensive backs Malcolm Jenkins or Vontae Davis at No. 14.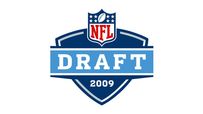 Mel's been consistent with quarterback Josh Freeman to the Bucs and that could happen. But I think the Bucs may go wide receiver (Darrius Heyward-Bey), defensive tackle (Peria Jerry) or cornerback (Jenkins or Davis, if available) at No. 19.
Mel lines up the Falcons with Brandon Pettigrew at No. 24. That wouldn't surprise me, but I still think the Falcons go with a linebacker, defensive end, defensive tackle or defensive back here.
Anyway, here are Mel's picks for the first four rounds for NFC South teams:
SAINTS
1: 14, Chris "Beanie" Wells, RB, Ohio State
4: 116, Tyrone McKenzie, LB, South Florida
4: 118, A.Q. Shipley, C, Penn State
BUCCANEERS
1: 19, Josh Freeman, QB, Kansas State
3: 81, Alex Magee, DT, Purdue
3: 90, Antoine Caldwell, C, Alabama
4: 120, Austin Collie, WR, BYU
FALCONS
1: 24, Brandon Pettigrew, TE, Oklahoma State
2: 55, Sherrod Martin, DB, Troy
4: 125, Brandon Gibson, WR, Washington State
PANTHERS
2: 59, Roy Miller, DT, Texas
3: 93, Kraig Urbik, G, Wisconsin
4: 128, Mike Wallace, WR, Mississippi
March, 27, 2009
3/27/09
12:00
PM ET
Posted by ESPN.com's Pat Yasinskas
At the NFL owners' meeting a couple days ago, New Orleans coach Sean Payton ran down his list of needs in the upcoming draft. If you know anything about Payton or the Saints, his first priority might surprise you.
Payton's perfect pick wasn't another piece for a defense that's been rebuilding all offseason. And it sure wasn't another weapon for a passing game that helped Drew Brees throw for more than 5,000 yards last season.
"I'd have running back, a powerful runner, ahead of the other two,'' Payton said when asked how he'd rank draft needs at cornerback, wide receiver and running back.
| | |
| --- | --- |
| | |
| | Kirby Lee/US Presswire |
| | Sean Payton wants a running back like Ohio State's Chris Wells to move the pile next year. |
Yes, the man who made
Deuce McAllister
stand on the sidelines while the Saints threw the heck out of the ball all last season, now wants a power runner. Payton, who never has met a pass play he wouldn't call on third-and-inches, is calling a draw play right up the gut.
A change in style? Not really. The Saints still are going to pass a lot, but Payton has come to the realization he has to move the pile at times if he's going to have a chance in the NFC South.
What previously has been referred to as the "NASCAR Division" might have to change to the "Snow Plow Division.''
About the same time as Payton was saying Ohio State running back Chris "Beanie'' Wells is a possibility with the No. 14 pick in the draft, Tampa Bay coach Raheem Morris was sitting a few tables away singing a similar song.
"If I walk around here going, "Oh God, look at the Saints,'' I'm in trouble already,'' Morris said. "It's about us becoming who we want to become, more physical, more violent, because the more violent team always wins. Ask (Super Bowl champion) Pittsburgh. We're in the best division in football -– who are we kidding?''
The best division in football? You might get some arguments there. But Morris and Payton are shooting to make the NFC South the toughest, most physical division in the league and that's why both coaches are making noise about the power-running game.
That's understandable because a simple look at last year's standings tells a pretty simple story. The Saints and Bucs weren't able to run the ball consistently. Neither made the playoffs. The Panthers and Falcons ran it like crazy. Both made the playoffs.
That's why two of Morris' first moves after taking over for Jon Gruden were hiring offensive coordinator Jeff Jagodzinski and signing running back Derrick Ward. Jagodzinski's known as the kind of play caller who likes to pound away on the ground. Ward's the kind of big, physical runner that fits perfectly in his system.
The Bucs weren't exactly a finesse team under Gruden. They already had a very good offensive line and a solid runner in Earnest Graham. But,too many times last season, the running game wasn't there when the passing game struggled. That's part of the reason Gruden got fired.
That's part of the reason Payton, who usually doesn't telegraph personnel moves, said the Saints are in the market for a power runner even if it doesn't happen with Wells in the draft.
"If a player was available through the draft or here in June -- all of the sudden there's a veteran back that we think helps us and is going to get let go, we'd have an interest in that position,'' Payton said. "But the back would be a bigger back.''
That's because the Saints already have two smaller backs in Pierre Thomas and Reggie Bush. That's the tandem Payton stuck with most of last year, even though McAllister was available. But it's become pretty obvious Payton didn't think McAllister, who had two knee surgeries, was up to playing the way he did earlier in his career.
The Saints released McAllister after last season and they haven't replaced him. But Payton has laid some of the groundwork for more consistency in the running game with his other offseason moves. The Saints brought in fullback Heath Evans, who can block and handle some carries out of the backfield and they quietly have collected a group of blocking tight ends to go with Jeremy Shockey.
All that's missing is a power runner, but that will come. Morris got his power runner in Ward, but that's not the only move made to help the running game. The Bucs are taking the running game so seriously that they re-signed wide receiver Michael Clayton, largely a bust under Gruden, mainly because he's one of the best blocking receivers in the league.
By the time the Saints and Bucs take the field in September, they'll look a bit like Carolina and Atlanta did last year. But the Panthers and Falcons won't be much different.
Atlanta's found a formula that works -- pound away with Michael Turner, give a few carries to Jerious Norwood and let Matt Ryan take a shot downfield from time to time. That's basically what Carolina does with its "Double Trouble'' backfield of DeAngelo Williams and Jonathan Stewart, although the Panthers realize they have a deep threat in Steve Smith.
The Saints have a sure thing at quarterback with Brees and the Bucs don't even know if Luke McCown or somebody else will be their quarterback. But Payton and Morris are certain about this much -- they have to start looking more like the Panthers and Falcons if they want to get through the NFC South.