November, 29, 2013
11/29/13
6:05
PM ET
METAIRIE, La. -- There were no changes to the New Orleans Saints' injury report on Friday. Running back
Darren Sproles
(ankle) and guard
Jahri Evans
(ankle) fully participated. Backup defensive end
Glenn Foster
(knee) was held out. And cornerback
Chris Carr
(hip, hamstring) was limited.
Sproles and Evans were both held out of last week's Thursday night game against the
Atlanta Falcons
after suffering injuries two weeks ago. But obviously the Saints' decision to rest them paid off. The Saints beat Atlanta 17-13. And now both Sproles and Evans have had extra time to heal up for Monday night's critical NFC showdown on the road against the
Seattle Seahawks
.
"It's hard to (sit out). But that's what they thought would be best," Sproles said. "Knowing that we've got a big game coming up this week. And they thought it would've been too early for me to go back out there and play Thursday night, and then I mess around and hurt it worse than it was."
Sproles could be a key weapon Monday for the Saints, who might want to rely on a short-range passing attack considering the possible weather conditions and the opponent. Seattle has one of the league's top defenses when it comes to both rushing the passer and covering receivers down the field.
November, 28, 2013
11/28/13
4:35
PM ET
METAIRIE, La. -- The
New Orleans Saints
had an injury report to be thankful for on Thursday. Running back
Darren Sproles
(ankle) and guard
Jahri Evans
(ankle) practiced fully after missing last Thursday's game against the
Atlanta Falcons
. The Saints' offense should be as healthy as it has been all season for Monday's critical NFC showdown at the
Seattle Seahawks
.

Obviously the extra time following a Thursday night game did the Saints some good. The only player who missed practice Thursday was backup defensive end
Glenn Foster
(knee). Backup cornerback
Chris Carr
was limited with hip and hamstring injuries. Everyone else practiced fully.
Foster has been one of the most pleasant surprises on the Saints this year, having a standout season with three sacks as an undrafted rookie out of Illinois. But the Saints will have plenty of depth on the defensive line even if Foster can't play against the Seahawks. Starters
Cameron Jordan
and
Akiem Hicks
are having terrific seasons, and backup ends
Tom Johnson
and
Tyrunn Walker
have both been solid in small doses. Walker has been a healthy inactive the past couple weeks since recovering from his own knee injury.
November, 18, 2013
11/18/13
3:30
PM ET
METAIRIE, La. -- Rob Ryan has always been known for his inventiveness and his versatility. He has been described by at least one former player as a "mad scientist" who stays up late into the night devising schemes to combat each specific opponent.
Never was that more on display than this past Sunday, when the
New Orleans Saints
' defense came up with a huge performance in a 23-20 victory over the
San Francisco 49ers
.
The Saints started the game in a package that included three linemen, five linebackers and just three defensive backs. It was a new package they implemented for the first time this past week as a way to combat the 49ers' unique style of "scheme runs," as well as the possibility that San Francisco might run some read-option (which the 49ers didn't feature much).
[+] Enlarge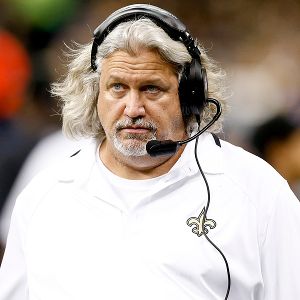 Derick E. Hingle/USA TODAY SportsRob Ryan cooked up a plan to slow down the San Francisco offense.
"We were ready for everything today," cornerback
Chris Carr
said after the game. "It's like the equivalent of being in college and facing Air Force."
"We had to stop the run. That was the game plan. … We didn't want another [Chris] Ivory highlight reel on us," said outside linebacker
Junior Galette
, referencing the Saints' struggles against the
New York Jets
running back two weeks earlier.
It worked well, as the Saints held San Francisco to a total of 196 yards and 81 rushing yards (both of the 49ers' touchdowns came via short fields after turnovers).
The Saints used a lot of that 3-5 formation (or was it a 5-3?) throughout Sunday's game. But that wasn't their only wrinkle.
On their third play of the game, a third-and-long, they switched to six defensive backs. Later in the game, the Saints had just two true defensive linemen on the field at one point -- with outside linebacker
Parys Haralson
and end
Keyunta Dawson
lining up as defensive tackles.
We may see more of that run-specific package -- or more new wrinkles -- when the Saints face the
Seattle Seahawks
and
Carolina Panthers
twice down the stretch.
"Most defensive coordinators, you have your base stuff, and maybe you put one or two new calls in, just contingent on what the other team is playing. But with Rob, he'll make up a totally new scheme, totally new defenses," said Carr, who also played under Ryan with the
Oakland Raiders
in the past. "And he has confidence in us that we'll be able to figure it out, practice it. The most important thing is if you are gonna have a defense like this, where you're gonna put in new defenses and new schemes, new fronts, that you have guys that are smart football players and that really care about learning the game and buying in.
"And we've had a lot of that this season, and I think that's one of the reasons why we've been successful, and hopefully we can just keep it up. And now it's part of the season where all this stuff we've been doing is kind of like our base package. It's not foreign to us anymore."
Ryan's approach could obviously backfire under the wrong circumstances. He drew criticism from some observers when he was with the
Dallas Cowboys
for throwing too much volume at his players and sacrificing discipline in the process. Perhaps that was even the main reason he was fired after last season by owner Jerry Jones, who wanted to simplify things.
But clearly Ryan has that "buy-in" from his players this year in New Orleans. They've embraced the way Ryan tailors his defense to suit their specific strengths and weaknesses -- especially compared to the way they felt last year's coordinator Steve Spagnuolo was too set in his ways.
Players like Galette, ends
Cameron Jordan
and
Akiem Hicks
and safeties
Kenny Vaccaro
and
Malcolm Jenkins
are thriving because they're being used in versatile roles that change depending on the package and the game situation.
"That's the great thing about Rob. He's not set in stone," said Jordan, who is having a breakout year as a hybrid 3-4/4-3 end. "He's always willing and able to change and adapt to different situations."
Meanwhile, the entire Saints defense has gone from setting a NFL record for yards allowed last year (440.1 per game) to ranking fourth in the league this year (305.4 per game).
Talk about mixing things up. They're practically unrecognizable.
November, 5, 2013
11/05/13
10:10
PM ET
The
New Orleans Saints
will re-sign veteran cornerback
Chris Carr
, according to his agent Buddy Baker. There is no word yet on who will be released to make room.
Carr
The Saints released Carr last Saturday when they activated linebacker
Jonathan Vilma
from the short-term injured reserve list. It's possible they felt Carr was expendable for their game against the
New York Jets
since they knew they wouldn't be playing as much nickel and dime defense against the run-heavy Jets. They'll certainly use more nickel and dime Sunday night against the
Dallas Cowboys
.
Carr, 30, has played well in a limited role for the Saints this season, with one interception, two passes defended and eight tackles.
November, 1, 2013
11/01/13
4:15
PM ET
METAIRIE, La. -- The
New Orleans Saints
have released veteran cornerback
Chris Carr
, according to a tweet from his agent, Buddy Baker. The Saints have not officially announced the move or how they plan to fill the roster vacancy. But it could be an opening for them to activate linebacker
Jonathan Vilma
, who is now eligible to come off of short-term injured reserve.
Vilma
Vilma, who has been back at practice for two weeks, said he's been feeling good and feels ready to return as soon as the Saints give him the green light.
"I know I'm feeling good running around, and I think I look good on film. It's really up to Coach to decide when I can play," said Vilma, who had an arthroscopic clean-up surgery performed on his knee in the preseason.
Vilma has said he would have been healthy enough to return much sooner. But after the Saints decided to put him on short-term injured reserve, he was required him to sit out for eight weeks.
"Fortunately I was able to take that long, almost like an extended rehab period. It was definitely for the better," Vilma said. "Back then of course, I wanted to try to rush and get back. But it was definitely for the better that I now am able to come back and able to just go out there and run, run around and get back into football shape, get my angles down and my timing."
Vilma said he doesn't have any extra motivation to come back in time to play against the
New York Jets
in New York for the first time since he was traded from the Jets to the Saints in 2008. He said they already played each other in New Orleans in 2009, and most of his coaches and teammates are no longer there. When asked sarcastically if he'd get "misty eyed" being back in the Jets' home stadium (which is also new), Vilma said, "Dry tears."
If Vilma does come back, the Saints would most likely ease him into a rotational role since veteran
David Hawthorne
has played so well as his replacement. When Vilma was asked if he's even more excited to rejoin the Saints since their defense was playing so well, he was only half-joking when he responded, "There's a flip side to that. You don't want to come in and mess it up."
Carr, meanwhile, had been playing well for the Saints as a backup corner, including a key pass breakup in the end zone last week against the
Buffalo Bills
. He appeared in five games for the Saints this season with five tackles, an interception and two pass breakups. The Saints will now lean more heavily on second-year cornerback
Corey White
as the backup in certain nickel and dime packages.
August, 31, 2013
8/31/13
6:14
PM ET

Most significant move:
The fact the Saints didn't release or put
Jonathan Vilma
on injured reserve or the physically unable to perform list is a very strong sign that the veteran linebacker is expected to be healthy early in the season. That's very significant. Vilma may be nearing the end of his career, but he still is the emotional leader of this defense and his mere presence makes this unit stronger.
Going in a different direction:
Courtney Roby
had been a fixture on special teams since his arrival in 2008. But the Saints have some younger, more athletic guys, like
Rafael Bush
, they want to get involved on special teams. Roby's value also was hurt by the fact he brought little as a wide receiver. The team elected to keep
Andy Tanner
over Roby because Tanner has some upside as a receiver.
What's next:
After losing outside linebackers
Will Smith
and
Victor Butler
to injuries, the Saints could look at the waiver wire to add some more help for the pass rush.
Saints moves:
Released WR Courtney Roby, DE
Jay Richardson
, CB
Chris Carr
, S
Jim Leonhard
. Waived QB
Ryan Griffin
, WR
Preston Parker
, FB
Austin Johnson
, WR,
Saalim Hakim
, G
Elliott Mealer
, TE
Keavon Milton
, TE
Michael Higgins
, G
Andrew Tiller
, C
Jeremiah Warren
, LB
Ray Shipman
, LB
Rufus Johnson
, DT
Isaako Aaitui
, S
Jerico Nelson
, LB
Baraka Atkins
, T
Marcel Jones
, CB
Korey Lindsey
and CB
Jumal Rolle
. Placed C
Eric Olsen
on injured reserve.
June, 12, 2013
6/12/13
10:33
AM ET
CHARLOTTE, N.C. -- I'm about to head out to watch the second day of Carolina's minicamp and will be back with more on the Panthers this afternoon.
But, for now, let's take a look at some news and notes from around the division:
ATLANTA FALCONS
Coach Mike Smith said linebackers Stephen Nicholas and Sean Weatherspoon, who have been held out of OTAs as they recover from injuries, have a
good chance
to return to action during next week's minicamp.
CAROLINA PANTHERS
Receiver Domenik Hixon (hamstring) and running back Jonathan Stewart (ankle) are
sitting out
minicamp. Coach Ron Rivera said Stewart, who had offseason surgery on both ankles, is progressing, but stopped short of definitively saying the running back will be ready for the start of training camp. DeAngelo Williams has been getting all the first-team work in minicamp.
NEW ORLEANS SAINTS
The team
signed
veteran cornerback Chris Carr. This move is all about adding depth. Carr isn't a strong candidate to start, but he has a chance to make the roster because the Saints could use an experienced backup cornerback and special-teams player.
TAMPA BAY BUCCANEERS
Quarterback Josh Freeman said the
comfort level
is much higher for the offense as it gets ready for the second season in coordinator Mike Sullivan's system. That may be very significant. Freeman has had three different coordinators and four different quarterback coaches in his short career. Maybe a little continuity will lead to more consistent play from Freeman.
June, 24, 2011
6/24/11
11:42
AM ET
We already have talked quite a bit about players from the NFC South who are expected to become unrestricted free agents. We're going on the assumption that players not under contract who have at least four accrued seasons can become unrestricted free agents.
With that in mind, and with some help from ESPN Stats & Information, let's take a look at some of the more prominent potential free agents from the rest of the league.
QUARTERBACKS:
Marc Bulger
,
Kerry Collins
,
Rex Grossman
,
Matt Hasselbeck
,
Patrick Ramsey
,
Alex Smith
,
Billy Volek
,
Kellen Clemens
,
Brodie Croyle
,
Trent Edwards
,
Bruce Gradkowski
, Tarvaris Jackson,
Matt Leinart
,
Troy Smith
and
Tyler Thigpen
.
RUNNING BACKS:
Cedric Benson
,
Ronnie Brown
,
Kevin Faulk
,
Mewelde Moore
,
Sammy Morris
,
Clinton Portis
,
Dominic Rhodes
,
Tony Richardson
,
Kevin Smith
,
Darren Sproles
,
Fred Taylor
,
Brian Westbrook
,
Ricky Williams
,
Joseph Addai
,
Ahmad Bradshaw
,
Jerome Harrison
,
Brandon Jackson
,
Laurence Maroney
and LeRon McClain.
WIDE RECEIVERS
:
Mark Clayton
,
Braylon Edwards
,
T.J. Houshmandzadeh
,
Randy Moss
,
Santana Moss
,
Terrell Owens
, Donte' Stallworth,
Steve Breaston
,
Malcom Floyd
,
Santonio Holmes
,
James Jones
,
Sidney Rice
,
Mike Sims-Walker
,
Brad Smith
and
Steve Smith
(of the
New York Giants
, not the Steve Smith of Carolina).
TIGHT ENDS:
Desmond Clark
,
Donald Lee
,
Randy McMichael
,
Bo Scaife
,
Kevin Boss
,
Owen Daniels
,
Daniel Fells
,
Zach Miller
,
Ben Patrick
and
Matt Spaeth
.
OFFENSIVE LINEMEN:
David Baas
,
Jammal Brown
,
Robert Gallery
,
Adam Goldberg
,
Kyle Kosier
,
Olin Kreutz
,
Matt Light
,
Sean Locklear
,
Casey Rabach
,
Chris Spencer
,
Langston Walker
,
Casey Wiegmann
,
Floyd Womack
,
Damien Woody
,
Chris Chester
,
Jeromey Clary
,
Daryn Colledge
,
Willie Colon
,
Doug Free
,
Jared Gaither
,
Charlie Johnson
,
Deuce Lutui
,
Samson Satele
,
Lyle Sendlein
and
Marshal Yanda
.
DEFENSIVE TACKLES:
Aubrayo Franklin
,
Tommie Harris
,
Chris Hoke
,
Chris Hovan
,
Kris Jenkins
,
Bryan Robinson
,
Gerard Warren
,
Jamal Williams
,
Pat Williams
,
Alan Branch
,
Barry Cofield
,
John McCargo
and
Brandon Mebane
.
DEFENSIVE ENDS:
Jason Babin
,
Dave Ball
,
Raheem Brock
,
Andre Carter
,
Shaun Ellis
,
Cullen Jenkins
,
Travis LaBoy
,
Trevor Pryce
,
Marcus Spears
,
Ray Edwards
and
Mathias Kiwanuka
.
LINEBACKERS:
Akin Ayodele
,
Keith Bulluck
,
Kevin Burnett
,
Dhani Jones
,
Kirk Morrison
,
Julian Peterson
,
Matt Roth
,
Takeo Spikes
,
Jason Taylor
,
Mike Vrabel
,
Stewart Bradley
,
Bobby Carpenter
,
Manny Lawson
,
Paul Posluszny
,
Ernie Sims
and
Stephen Tulloch
.
CORNERBACKS:
Nnamdi Asomugha
,
Phillip Buchanon
,
Chris Carr
,
Drayton Florence
,
Ellis Hobbs
,
Carlos Rogers
,
Lito Sheppard
,
Ike Taylor
,
Fabian Washington
,
Drew Coleman
,
Antonio Cromartie
,
Chris Houston
,
Johnathan Joseph
,
Dimitri Patterson
,
Josh Wilson
and
Eric Wright
.
SAFETIES:
Aaron Francisco
,
Ken Hamlin
,
Michael Lewis
,
Brandon McGowan
,
Quintin Mikell
,
Lawyer Milloy
,
Brodney Pool
,
Gerald Sensabaugh
,
Roy Williams
,
Gibril Wilson
,
Atari Bigby
,
Melvin Bullitt
,
Abram Elam
,
Dashon Goldson
,
Michael Huff
,
Dawan Landry
,
Danieal Manning
,
Bernard Pollard
,
Eric Weddle
and
Donte Whitner
.