December, 4, 2012
12/04/12
5:03
PM ET
When a team's season goes bad, one common response is to point to injuries.
Sometimes that holds merit and sometimes it doesn't. We don't have to look any further than the
Carolina Panthers
and
Tampa Bay Buccaneers
to see that.
At least at the moment, the Panthers lead the division with 13 players on injured reserve. They are linebacker
Jon Beason
, defensive tackle
Ron Edwards
, cornerback
Chris Gamble
, center
Ryan Kalil
, defensive end
Thomas Keiser
, cornerback
Nate Ness
, linebacker
Kenny Onatolu
, receiver
Kealoha Pilares
, guard
Mike Pollak
, safety Sherrod Martin, defensive lineman Antwan Applewhite, running back
Tauren Poole
and tackle
Lee Ziemba
.
The Buccaneers are right behind them with 10 players on injured reserve. They are receiver
Arrelious Benn
, linebacker
Quincy Black
, defensive end
Adrian Clayborn
, safety
Cody Grimm
, guard
Davin Joseph
, guard
Carl Nicks
, tight end
Danny Noble
, receiver
Sammie Stroughter
, tackle
Jeremy Trueblood
and offensive lineman
Desmond Wynn
.
Beason, Edwards, Gamble and Kalil were starters and Pilares was the kick returner. No doubt those injuries have hurt the Panthers.
But, guess what? Tampa Bay's injury situation is virtually the same. Black, Clayborn, Joseph and Nicks were starters and Benn was returning kicks before he went down.
The difference is Tampa Bay has used its next-man-up philosophy, especially on the offensive line, and fared pretty well. The Panthers are 3-9 and I've got a hunch their record might be pretty close to the same even if all the injured guys were healthy.
Injuries matter but they're not a cover-it-all excuse. We can look to the other two NFC South teams for proof of that. The
Atlanta Falcons
and
New Orleans Saints
each have eight players on injured reserve.
Atlanta's injured players are fullback
Bradie Ewing
, tight end
Tommy Gallarda
, receiver
Kerry Meier
, tight end
Adam Nissley
, guard
Garrett Reynolds
, safety
Shann Schillinger
and tackle
Will Svitek
.
New Orleans' injured reserve list includes linebacker
Chris Chamberlain
, receiver
Chris Givens
, tackle
Bryce Harris
, tackle
Marcel Jones
, defensive end
Greg Romeus
, guard
Andrew Tiller
, receiver
Nick Toon
and tackle
Fenuki Tupou
.
Grimes was a starter for the Falcons and Ewing might have been. Reynolds was starting up until his injury, but I think there's a chance the Falcons still might have put rookie
Peter Konz
into the lineup. Chamberlain might have been a full-time starter for the Saints, but none of the rest of their injured guys would have been key players.
You could make a case the Falcons were hit harder than the Saints by injuries. But the Falcons are 11-1 and the Saints are 5-7.
July, 30, 2012
7/30/12
12:00
PM ET
METAIRIE, La. -- As he prepares for his third NFL season, it sounds as if New Orleans tight end
Jimmy Graham
has figured out the secret to NFL success.
"I was told to never tug on Superman's cape," Graham said.
He was talking about quarterback
Drew Brees
. Graham noted how the quarterback challenged him to a sprint race at the start of training camp and said he let Brees win. Graham was partly joking, but there was some deep wisdom in his words.
More than ever, the Saints are Brees' team. They've been through an offseason unlike one any other team has faced. They've been through the painful drama of the bounty scandal and they'll move forward without coach Sean Payton, who is suspended for the season, and general manager Mickey Loomis, who is suspended for the first eight games.

Brees, the league's highest-paid player, is coming off a season in which he set a NFL single-season record for most passing yards. No, let other teams try to tug on Brees' cape. If the Saints really are going to endure all this adversity successfully, they need Brees' skill and leadership more than ever. They need to ride the coattails of the most positive thing they have at the moment.
Brees knows this high-flying offense as well as anyone, including Payton. The Saints remain loaded at offensive skill positions. There's little doubt this team still is going to score a lot, and that alone will keep it competitive.
But Brees can't do everything by himself. Even before the word "bounty" started flying in March, the Saints knew they had to overhaul their defense. That became clear in last season's playoff loss to San Francisco. That's why defensive coordinator Steve Spagnuolo was hired. Predecessor Gregg Williams had a gambling philosophy, going all-out to produce turnovers. The negative side effect was that the Saints gave up too many big plays.
Spagnuolo brings a more balanced philosophy. Sure, he wants turnovers, but he also wants to be able to shut down offenses from time to time. A big theme of this camp is the installation of Spagnuolo's defense. Even though that's not his side of the ball, Brees shows a lot of interest in the defense. Even in camp, the Saints are implementing game plans.
"[Spagnuolo] is going to try to find every flaw, just like we are going to do to them,'' Brees said. "Along the way, I am certainly going to be picking his brain as to what he is seeing with our offense, how we can improve. That is how you help one another. That is a habit that we got into, me talking to the defensive guys, even if it is just the secondary guys, saying, 'You give away that blitz whenever you do this.' We are competing against each other, but in the end we are on the same team. I want them to be able to go out and have as much success as possible, just like they want us, on game day, to have as much success as possible."
Maybe that's the best way to improve the New Orleans defense. Practice against Superman every day. After you've been through that, everything else should be easy.
[+] Enlarge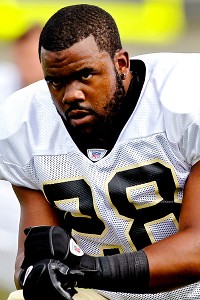 Derick E. Hingle/US PRESSWIREMark Ingram rushed for 474 yards and five touchdowns during his rookie season with the Saints.
THREE HOT ISSUES
1. Mark Ingram's playing time
. Fan expectations for Ingram might be significantly higher than the team's. That's somewhat understandable, because the Saints traded back into the first round in 2011 to draft Ingram. He played at a college powerhouse (Alabama) and won a Heisman Trophy. Instant stardom was expected by fans, but it didn't turn out that way in Ingram's rookie season.
He finished with 122 carries for 474 yards and five touchdowns. Injuries were part of the reason his numbers weren't bigger. But even before the injuries, Ingram shared playing time with
Darren Sproles
and
Pierre Thomas
, and
Chris Ivory
did a nice job joining the rotation after Ingram's injury problems started. Ingram had a couple of offseason surgeries and said he's completely healthy.
But that doesn't mean Ingram suddenly is going to become a 300-carry guy. New Orleans' offense is based on diversity, and that's not going to change. The Saints aren't going to take playing time away from Sproles, who set an NFL record for all-purpose yards last season, and Thomas is going to play because he has earned it with his performance.
Assuming Ingram stays healthy, I expect him to get more carries than last season, but a 200-carry season for about 800 yards is a reasonable expectation.
2. Will the linebackers be better than last season?
I think they'll be markedly better. Many believe the season-long suspension of
Jonathan Vilma
is going to hurt the Saints. If this were two or three years ago, I'd agree. But Vilma was bothered by knee problems last season, and his age seemed to be catching up to him. I think free-agent addition
Curtis Lofton
is an upgrade over Vilma in the middle. In fact, I think Lofton is pretty similar to what Vilma was two or three years ago. The Saints will be just fine in the middle.
Plus, the Saints didn't sit still at outside linebacker. They signed free agents
David Hawthorne
and
Chris Chamberlain
. It looks as if Hawthorne is well on his way to winning a starting job. That leaves Chamberlain competing with
Scott Shanle
,
Will Herring
and
Jonathan Casillas
for the other starting job. There's no true favorite here, and Shanle is the fallback option as the safe choice because he's smart and dependable. But Chamberlain, Herring and Casillas are more athletic and at least come with the possibility of producing big plays. The hope is that one of those three can step forward to win the starting job.
3. Can the offensive line, minus Carl Nicks, be as good as last season?
Nicks took the big money and left for Tampa Bay in free agency. Losing a player many scouts consider the best guard in the NFL must take a toll. But the Saints already had
Jahri Evans
, who might be the closest thing to Nicks. Loomis did a nice job getting
Ben Grubbs
to replace Nicks. Grubbs isn't quite on the Nicks/Evans level, but he's an above-average player and came at a much lower salary than Nicks. The Saints build their offensive line around the interior, and Evans and Grubbs will form a very strong guard tandem.
Brian de la Puente
did a nice job taking over at center last year and should be fine with Grubbs and Evans surrounding him. The tackles are more of a question. The Saints are sticking with
Jermon Bushrod
on the left side and
Zach Strief
on the right. They're serviceable, but Bushrod and Strief aren't all-pros, and the presence of Evans and Grubbs should be enough to keep this offensive line among the better ones in the league.
REASON FOR OPTIMISM
Spagnuolo's history.
There is legitimate concern about the pass rush, because Spagnuolo likes it to come mostly from his front four. Aside from defensive end
Will Smith
, who will serve a four-game suspension at the start of the season, the Saints don't have a proven pass-rusher. Many fans are worked up about the potential of
Junior Galette
and converted linebacker
Martez Wilson
. Those guys could turn into something, but maybe fans aren't looking in the right direction.
Second-year pro
Cameron Jordan
might be a big factor. Yeah, I know that sounds like a stretch because Jordan had one sack as a rookie, but he was a first-round pick and still has plenty of untapped potential. There's more than that, though. Look at Spagnuolo's past. When he became defensive coordinator for the
New York Giants
in 2007,
Justin Tuck
had gone through two NFL seasons with one sack. In Spagnuolo's first season, Tuck had 10. In 2008, Tuck recorded 12.
If Spagnuolo can get anything close to double-digit sacks from Jordan, he may have short- and long-term answers for his pass rush.
REASON FOR PESSIMISM
How much adversity can one team take?
The Saints will use all that happened to them in the offseason as a rallying cry, providing strong motivation. But it's tough for any team to ride one emotion (anger, in this case) for an entire season. This franchise has been through a lot, and you have to worry about that taking a toll at some point.
[+] Enlarge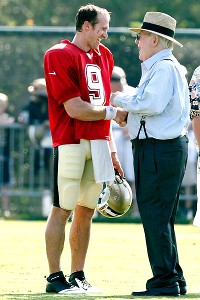 Derick E. Hingle/US PRESSWIREWith a new contract and instability in the coaching staff, Drew Brees will be asked to be even more of a leader for Tom Benson's Saints.
You also have to worry about the Saints being a target for opponents, especially those who spent the past few months hearing that the bounty program had targeted some of their own players. Then throw in the fact that assistant head coach Joe Vitt, who has run the team in Payton's absence, must serve a six-game suspension at the start of the season. At that point, the Saints are expected to make another of their assistants the acting head coach. Yes, this is a veteran team with outstanding leadership, but it sure looks like a lot of things are stacked against the Saints.
OBSERVATION DECK
April, 30, 2012
4/30/12
12:43
PM ET
The
New Orleans Saints
have agreed to terms with 18 undrafted rookie free agents.
Here's the list:
Adrian Davis DB Jacksonville State
Chris Givens WR Miami (OH)
Tyrunn Walker DE/DT Tulsa

NFC SOUTH SCOREBOARD
Thursday, 9/18
Sunday, 9/21