January, 28, 2013
1/28/13
9:41
AM ET
NEW ORLEANS -- Let's take a run through the headlines from around the division:
ATLANTA FALCONS
Mike Smith was named
Coach of the Year
by The Sporting News. Smith also won the honor in the 2008 and 2010 seasons. That puts him with Paul Brown, Chuck Knox and Joe Gibbs as the only coaches to win the award three times. The Associated Press will announce its Coach of the Year on Saturday. Smith may have a tough time winning that one due to the work of Chuck Pagano and Bruce Arians in getting the Colts to the playoffs.
CAROLINA PANTHERS
Joseph Person has a
lengthy story
on the background of Dave Gettleman. The new general manager has a lengthy background in scouting. That's great and it's very important. But Gettleman's first real challenge will be getting the Panthers under the salary cap in the next six weeks or so.
NEW ORLEANS SAINTS
Drew Brees started at quarterback and
threw one touchdown pass
in the NFC's victory over the AFC in Sunday night's Pro Bowl.
TAMPA BAY BUCCANEERS
Receiver Vincent Jackson had a
strong showing
in the Pro Bowl, catching six passes for 91 yards and two touchdowns.
November, 3, 2012
11/03/12
4:25
PM ET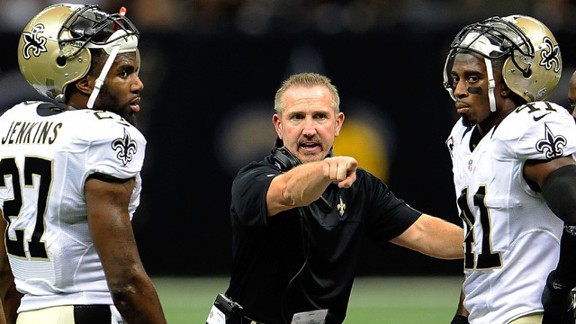 Stacy Revere/Getty ImagesIt is not time for the Saints to give up on Steve Spagnuolo's defense in New Orleans.
It's so easy to sit back, look at the numbers and say the
New Orleans Saints
simply need to blow up their defense.
They are the first team in NFL history to allow 400 or more yards in each of its first seven games. The 3,323 yards the Saints have allowed are the most through seven games since the NFL first started tracking total yards in 1933. The Saints also are the only team to allow 24 points in each game this season.
It's clear Steve Spagnuolo's defense isn't working. The Saints should just scrap it and go back to what (dare we say it?) Gregg Williams ran, right?
Wrong. That's the worst thing the Saints, who host the
Philadelphia Eagles
on "Monday Night Football," could do for their future. Long before the bounty scandal broke, it became obvious that Williams had to go, and he did, leaving immediately after last season's playoff loss to San Francisco.
When Sean Payton was making the switch, he realized the Saints needed something they'd never had in his tenure. They needed a consistently good defense.
"Listen, what we always win with around here is complementary offense and complementary defense," said Joe Vitt, who is the interim head coach as Payton serves a season-long suspension. "There have been, quite frankly, a lot of times around here since '06 that we have struggled some defensively."
Yep, the Saints struggled so badly on defense in 2008 that Payton fired close friend Gary Gibbs and replaced him with Williams, even though the two men knew going in that their personalities and egos probably would clash.
For one beautiful season, things clicked. Williams' defense, while not shutting everyone down, produced a bunch of turnovers and big plays, and the Saints won a Super Bowl. The next two seasons, the Saints got bounced in the playoffs because their defense wasn't producing much.
Payton decided to, once and for all, fix his defense permanently. He hired Spagnuolo, who came with a proven system.
It's not working as it should yet, but this is about the long term now, because the Saints aren't going to the playoffs this season.
"I think with the veteran coaches [such as] Chuck Knox, Dick Vermeil, Ted Marchibroda, if you have dramatic changes and you have [radical] changes, that's when panic sets in," Vitt said. "All of a sudden you're going to create a scheme that you have not worked on in OTAs, that you have not worked on in training camp, and all of a sudden all of the things that looked good in OTAs and looked good in training camp all of a sudden start to look bad right now. If you put that panic in, the players can smell the house burning before the match is ever lit."
Leave the panic up to the fans. The Saints have to keep their eye on the ball and work through this or else they'll never get back to being the powerhouse they've been in recent years.
Sure, Spagnuolo can make a few minor tweaks. But the best thing he can do right now is to implement his system fully. The Saints already have decided rookie DT
Akiem Hicks
is a better fit than veteran
Brodrick Bunkley
If safety
Roman Harper
can't handle the coverage duties of Spagnuolo's scheme, maybe it's time to find out whether
Isa Abdul-Quddus
can. If
Will Smith
and
Cameron Jordan
can't generate a consistent pass rush up front, maybe it's time to figure out whether
Junior Galette
and
Martez Wilson
can.
Even if the younger guys do show they fit in Spagnuolo's system, that's not going to change everything overnight. The Saints faced salary-cap issues and a lack of draft picks in the offseason, and that's why they weren't able to stock Spagnuolo's cupboard with the players he needed.
They're going to face similar restrictions in the next offseason, but general manager Mickey Loomis is smart enough to work around that. It's best to use the rest of this season to find out which guys do fit Spagnuolo's system.
Then, fill the remaining holes in the offseason.
This might seem like a lost season for the Saints. But Payton is coming back next season and, if he has the kind of defense he's always dreamed of, the Saints could be better than ever.
October, 29, 2012
10/29/12
9:25
AM ET
Atlanta coach Mike Smith probably doesn't get the credit he deserves and probably won't until he wins his first postseason game.

But give Smith credit for one thing -- the man has shown he can win regular-season games at a historically fast pace. Sunday's victory over Philadelphia was the 50th win of Smith's career. It came in his 71st game.

Since the AFL-NFL merger in 1970, only George Seifert (62 games) and Chuck Knox (65 games) have gotten to 50 wins faster than Smith.

The next three guys on the list are Joe Gibbs (72 games), Bill Cowher (73 games) and Mike Ditka (73 games).

Smith also established a new record for most wins by an Atlanta coach. The previous franchise record was 49 wins by Dan Reeves, who went 49-59-1 from 1997 through 2003.

Any way you look at it, Smith is in good company.