NFC South:

Claude Humphrey
August, 2, 2014
Aug 2
10:05
PM ET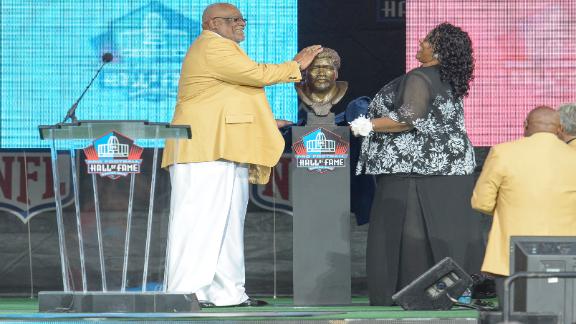 You knew Claude Humphrey's Pro Football Hall of Fame induction speech was going to be one for the ages simply based on the former
Atlanta Falcons
defensive end's opening line.
[+] Enlarge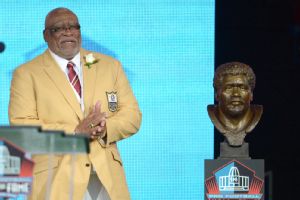 Kirby Lee/USA TODAY SportsFormer Atlanta Falcons and Philadelphia Eagles defensive end Claude Humphrey made his Hall of Fame induction count with an epic speech.
"They told me that I only had 10 minutes up here," he started, "but let me start off by telling you, I've waited almost 30 years to get to this podium. So, don't rush me, guys. I'm going to be here for a minute."
Every second of Humphrey's address was enjoyable, as he recollected about personal tragedy, made mention of overcoming racial barriers and reflected on his storied football career. The Memphis, Tennessee, native even thanked the sports writers for finally voting him into the Hall of Fame after so many unsuccessful attempts.
"I want to pay special recognition to the sports writers, the people who voted for me," Humphrey said. "I know you had a hard time because most of you guys weren't even alive when I played. So I know you worked hard to get me in, and I do appreciate it."
Humphrey, 70, was presented by his oldest daughter, Cheyenne Humphrey-Robinson. He drew the biggest reaction, however, when he called out the youngest of his three daughters.
"She came purely by accident," Humphrey said with a laugh. "… She's been the love of our lives. My wife adored my baby daughter."
The tone changed when Humphrey talked about his late wife, Sandra.
"I've had Sandra in my life until a year ago, when she subsided to ovarian cancer," Humphrey said. "She worked with me, man. I'll tell you: All those years that I was a finalist for the Pro Football Hall of Fame -- and I think it was four times -- every year, my wife worked diligently. She called everybody and talked to people and do everything she could to get [me] in the Pro Football Hall of Fame. And it never worked. And after every campaign, she and I would sit down and cry about it and hug each other. … My wife was a special person."
Humphrey, who recognized a few doctors, noted how he avoided ending his career after tearing ligaments and cartilage in his knee, moving on from Atlanta to Philadelphia and getting to the Super Bowl and finishing his career. He retired briefly before being traded to the Eagles.
As for the Falcons, he managed to interconnect the past and present by acknowledging former Falcons coaches Marion Campbell and Jerry Glanville, then acknowledging team owner Arthur Blank and current general manager Thomas Dimitroff.
Humphrey made it to the Hall of Fame by recording 122 career sacks before sacks officially became a statistic. On Saturday, he was able to corral the moment.
February, 1, 2014
Feb 1
7:30
PM ET
Morten Andersen
said it was time for fellow kicker Jan Stenerud to have company in the Pro Football Hall of Fame.
Unfortunately, Andersen won't be joining Stenerud just yet.
The former
Atlanta Falcons
kicker was not voted into the Hall of Fame on Sunday after being announced as one of 15 modern-day finalists. He failed to survive the Saturday-afternoon cut from 15 to 10 finalists in this, his second year of eligibility.
However, the Falcons did have a representative in the group. Defensive end Claude Humphrey was elected into the Hall of Fame as a senior nominee. He received the necessary 80 percent of the vote.
Humphrey was an All-Pro five times -- four times with the Falcons -- and was selected to six Pro Bowls during his 14-year career. Although sacks didn't become an official stat until 1982 after Humphrey retired, he still was credited with 122 sacks.
Humphrey, the defensive rookie of the year in 1968 after being the third-overall pick from Tennessee State, certainly deserved the honor.
As for Andersen, an All-Pro during his first year with the Falcons in 1995, he played the majority of his career with the
New Orleans Saints
, but had two stints with the Falcons. He finished his 25-year career in Atlanta back in 2007.
Andersen no doubt deserved strong consideration. The Denmark-born journeyman is the NFL's all-time leading scorer with 2,544 points. But, as Andersen noted in a recent interview with ESPN.com's Mike Triplett, it's hard for kickers to get such recognition. Stenerud was the last true kicker to be enshrined, in 1991.
The fact that Andersen kicked at such a high level for such a long time -- he was named to two All-Decade teams -- shouldn't be overlooked. He converted 565 of 709 field goal attempts, and led his team in scoring 22 times.
At the same time, he wasn't a perennial All-Pro, and had a handful of mediocre seasons.
Defensive end/linebacker Chris Doleman is the last former Falcon to be inducted into the Hall of Fame, back in 2012. With the addition of Humphrey, the Falcons now have five in the Hall of Fame: Deion Sanders, Eric Dickerson, Tommy McDonald, Doleman, and Humphrey.
Maybe Andersen will be next.
August, 21, 2013
8/21/13
5:04
PM ET
Time for a quick spin through some odds and ends from around the division:
ATLANTA FALCONS
Former Atlanta defensive end Claude Humphrey might finally get into the Pro Football Hall of Fame. It was announced Wednesday that Humphrey and Ray Guy are
the two candidates
nominated by the senior committee for the Class of 2014. The final selection will come the day before the Super Bowl.
CAROLINA PANTHERS
Former Carolina quarterback Jake Delhomme
addressed the team
Wednesday. Most of the current players never played with Delhomme, but they'd be wise to listen to the only quarterback ever to take the team to a Super Bowl. I'm glad Delhomme still has a relationship with the team. His time in Carolina didn't end well, but fans need to get over that and remember that there were a lot of good times with Delhomme.
NEW ORLEANS SAINTS
The team
released
offensive tackle Jason Smith on Wednesday. The Saints took a shot on Smith, who was the second overall pick of the 2009 draft by St. Louis because they thought he still might have some upside. They gave him a look first at left tackle, but Charles Brown and rookie Terron Armstead quickly moved ahead of him. Smith later switched to right tackle, but fell behind Bryce Harris as the backup to starter Zach Strief.
TAMPA BAY BUCCANEERS
Kicker Rian Lindell, who was signed by the Bucs on Wednesday, sent a
classy letter
to the fans of the Buffalo Bills, the team he played for the previous 10 seasons.
Quarterback Josh Freeman
took the high road
when asked about recent criticism by Hall of Famer Fran Tarkenton. Freeman said the important thing is to have the respect of his coaches and teammates.
July, 9, 2012
7/09/12
1:15
PM ET
Former Atlanta offensive tackle Georg Kunz probably won't make it to the Pro Football Hall of Fame. But he's got a shot at the Hall of Very Good.
The
Professional Football Researchers Association
has announced its finalists for the Hall of Very Good Class of 2012 and Kunz, who played for the Falcons from 1979 through 1984 and later played for the Colts, is on it. Kunz is the only player with NFC South ties on this year's list of finalists.
If Kunz makes the Hall of Very Good, he'll join former Atlanta players Claude Humphrey, who was selected in 2009, and Tommy Nobis, who was selected in 2005.
October, 22, 2010
10/22/10
2:28
PM ET
It's kind of fitting that the newest member of the
Atlanta Falcons
' Ring of Honor will be inducted during the Nov. 11 game against Baltimore that will be played in prime time. Yes, it's
Deion Sanders
.
The Falcons just announced that Sanders will be the eighth member of the Ring of Honor.
"Deion Sanders is widely regarded as one of the best cornerbacks in the 91-year history of the National Football League," Falcons Owner & CEO Arthur Blank said. "He epitomized excellence on the playing field and was a tremendously gifted athlete who possessed great speed. Deion excelled as a defender, kick returner, punt returner and on offense on his way to establishing 12 club records. He was an electrifying performer who put fans on the edge of their seats every time he manned his cornerback position or dropped back to receive a kickoff or field a punt. He is without question one of the greatest players in the history of our franchise."
Blank pretty nicely summed up what Sanders did for the Falcons from 1989 through 1993. Sanders will join William Andrews, Steve Bartkowski, Mike Kenn, Claude Humphrey, Tommy Nobis, Jessie Tuggle and Jeff Van Note in the Ring of Honor.
September, 18, 2010
9/18/10
12:30
PM ET
One of the things that's impressed me about the Falcons the last few years is how they keep former players involved in the organization.

That's largely because of player programs director Kevin Winston, who is one of the best in the league at what he does. Winston organizes an alumni day during training camp every year, and I happened to be there on the day it took place this year. The Falcons had about 80 former players out to watch practice and talk to the current players.

They're going to do it again during the regular season. The Falcons just sent out an announcement that they will honor some of their former Pro Bowlers at the Oct. 3 "Throwback Weekend'' game against San Francisco in the Georgia Dome.

Among those expected to attend are Claude Humphrey, Rolland Lawrence, Gerald Riggs, Steve Bartkowski, Scott Case, Terance Mathis and Warrick Dunn.

The current Falcons will be wearing throwback uniforms for that game. The uniforms will be replicas of what the Falcons wore in their first season, 1966.

"Once again this year we look forward to letting our fans celebrate the contributions that were made by our former players with alumni weekend," Falcons president Rich McKay said. "By recognizing former players in this way we are mirroring the NFL's time-honored traditions and we are allowing our fans to pay tribute to their accomplishments."
February, 25, 2009
2/25/09
5:40
PM ET
Posted by ESPN.com's Pat Yasinskas
TAMPA, Fla. -- We did this last week with Deuce McAllister and we'll do it again now with Derrick Brooks.
When the New Orleans Saints cut McAllister loose, I asked for your take on where the running back rated in franchise history. The consensus was that he might have been the best New Orleans player in history and, certainly, no worse than third.
Let's do the same thing with Brooks -- but take it just a step more. Let's just go ahead and say Brooks is the best player in Tampa Bay history. I already made that case at length last June.
Let's hear in the mailbag or in the comments section below if you think Brooks is the best player in the history of the NFC South. I'll post some of your responses in the blog in the coming days.
For clarity's sake, let's go ahead and put out a little background and some rules. Keep in mind, the NFC South officially came into being as a division in 2002. For this situation, let's just use that as a guideline, but we don't want the best player in the division just since 2002.
We want the best player EVER to play for an NFC South team, even officially before there were NFC South teams. For instance, Claude Humphrey, Rickey Jackson, Archie Manning, Doug Williams, Sam Mills, Warren Sapp, Lee Roy Selmon … guys like that, they're all eligible and I'm just throwing out a few examples here.
Also, guys like Reggie White, who finished his career with the Panthers, don't count as NFC South players. In general, I'm talking about guys who played the bulk of their career with an NFC South team.
I'll go on the record and say nobody's better than Brooks.
Go ahead and agree or disagree.
January, 31, 2009
1/31/09
3:23
PM ET
Posted by ESPN.com's Pat Yasinskas
TAMPA, Fla. -- Claude Humphrey has been on the Pro Football Hall of Fame ballot for 23 years and I thought this might be the year he broke through.
Humphrey, who spent most of his career playing with the Falcons, had the powerful endorsement of the Senior Committee and I thought that might put him over the top. It didn't happen.
Humphrey wasn't one of the six new members elected Saturday. I'm not old enough to really remember Humphrey as a player, although I did collect (and still have) trading cards from near the end of his career. I do know playing on some mediocre Atlanta teams didn't help Humphrey's profile.
It's also pretty apparent Humphrey's chances were hurt by the competition this year. Defensive end Bruce Smith got in on his first year on the ballot. Can't argue with that one at all. Smith set the record with 200 career sacks. The late Derrick Thomas, who technically was a linebacker whose main job was to rush the passer, also was selected. I've thought that one was long overdue.
But I think Thomas' selection shows Humphrey is at least very close to being a Hall of Famer. Thomas finished his 11-year career with 126.5 sacks. Humphrey had 122 sacks in 14 seasons. Humphrey's numbers might not be Hall of Fame numbers today, but they're at least in the ballpark.
December, 10, 2008
12/10/08
4:05
PM ET
Atlanta Falcons
The Falcons will be introducing two new players into their Ring of Fame this Sunday. Defensive end Claude Humphrey and offensive tackle Mike Kenn will be honored at halftime of this weekend's contest against Tampa Bay.
If Atlanta's Arthur Blank had the worst 2007 of any NFL owner, then perhaps he is having the best 2008, writes Terence Moore of the Atlanta Journal Constitution.
Carolina Panthers
Despite taking over the division's No. 1 spot with a win over Tampa Bay on MNF, the Panthers know the title isn't theirs quite yet.
Spending the offseason hunting for running backs is really paying off for the Panthers, who have the most heralded duo in the league in DeAngelo Williams and Jonathan Stewart.
New Orleans Saints
Despite a stellar passing game led by Drew Brees, the Saints have found the most success when the offense is balanced by the running game, writes Jeff Duncan of the Times-Picayune.
The Saints know they are a long shot, but coach Sean Payton knows as long as he sees his team's name in the "others" column, they aren't out of it yet.
Tampa Bay Buccaneers
The Bucs need to figure out how to be a better team on the road, says St. Petersburg Times columnist John Romano.
Veteran Joey Galloway did not play on Monday night, and coach Jon Gruden says the team has "moved on" from depending on him as an 18- to 20-play per game receiver.
December, 9, 2008
12/09/08
10:57
AM ET
Posted by ESPN.com's Pat Yasinskas
The Falcons just announced they're going to induct defensive end Claude Humphrey and offensive tackle Mike Kenn into their Ring of Honor at halftime of Sunday's game with Tampa Bay.
Humphrey spent 10 seasons with the Falcons and recorded a franchise-best 94.5 sacks while appearing in six Pro Bowls. Kenn spent his entire 17-year career with the Falcons, starting every game he played in.